Everyday Tossed Salad
This post may contain affiliate links.
This Everyday Tossed Salad is an easy garden salad to pull together to serve as a starter or have as a light main. I've tossed this salad with a delicious light dressing made with avocado oil, lemon juice, turmeric, garlic, Dijon mustard and honey.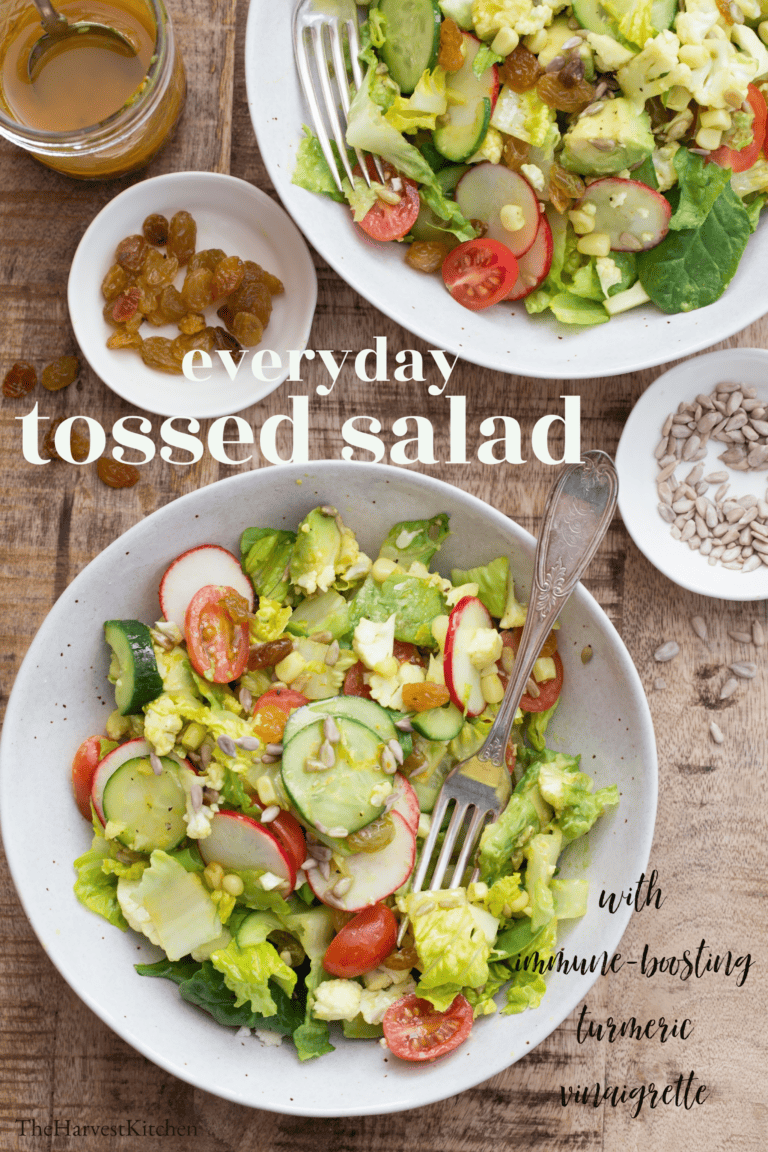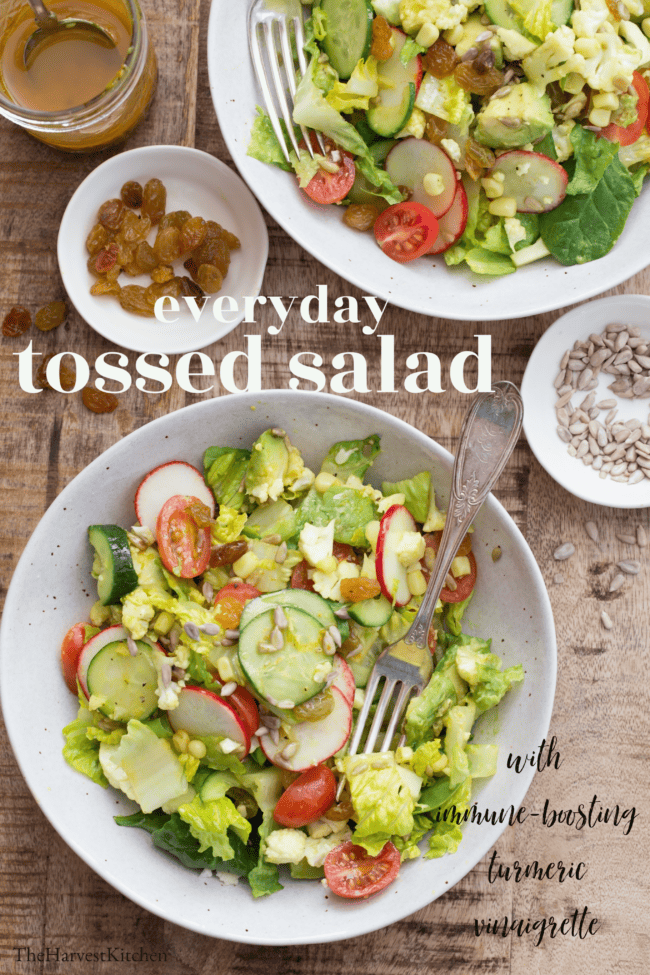 You can serve this simple fresh garden salad as a light main or as a side dish with everything from Hearty Lentil Stew to Chicken Fajita Stuffed Sweet Potatoes.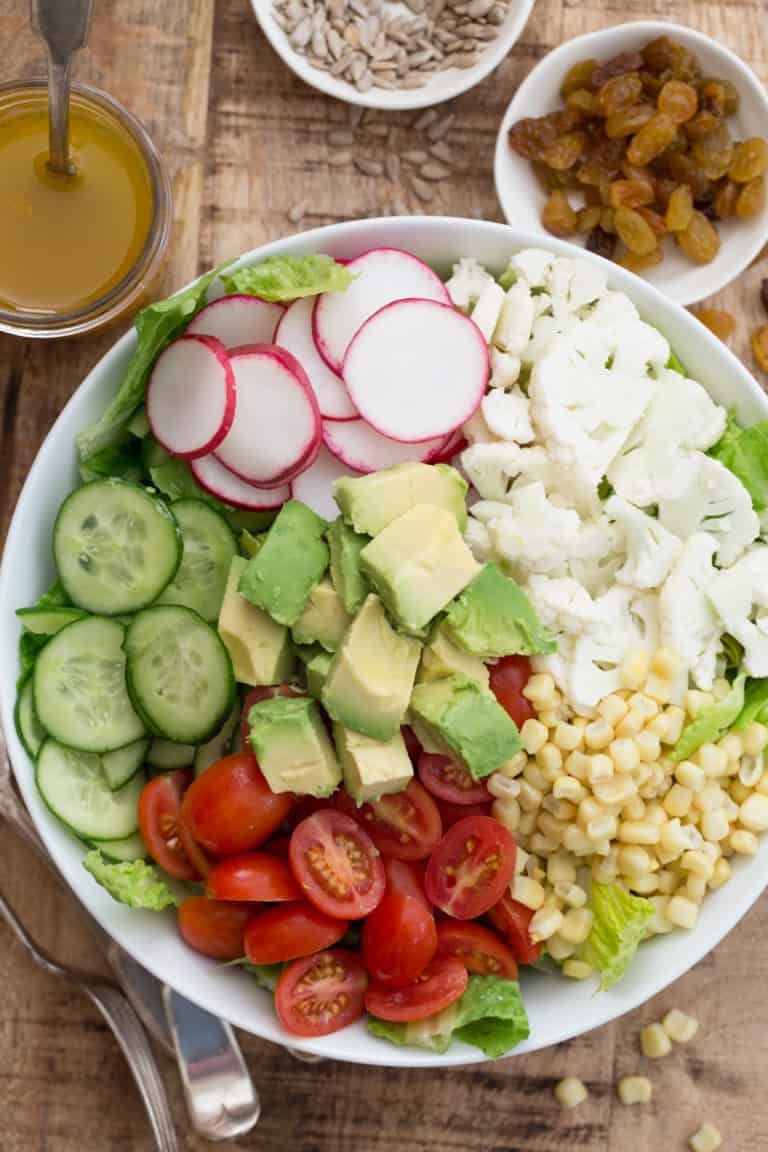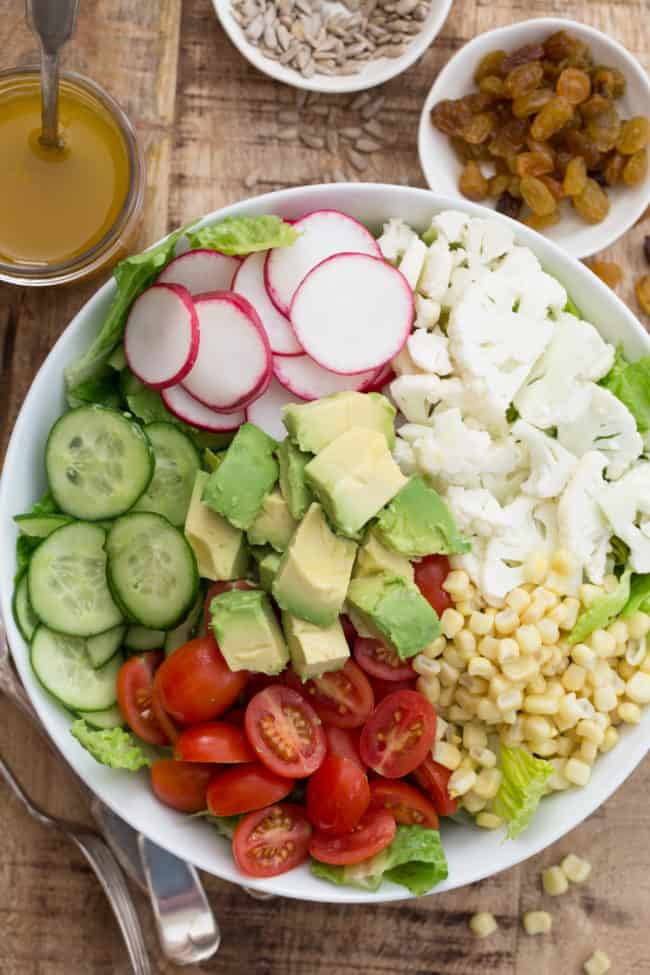 Eating a mostly raw plant-based diet rich with fruits and vegetables as part of your daily wellness program is a good way to help strengthen your immune system and improve your overall health. And if you're wondering how to start a plant based diet, eating a big beautiful salad every day is the easiest way to get started. Make yourself big bold salads that are pretty, satisfying (filling) and fun to eat. Having a variety of homemade salad dressing recipes in your arsenal helps a lot to accomplish this! A good dressing can really make a simple salad taste special.
WHAT'S IN A GARDEN SALAD
A good garden salad is a versatile and whimsical combination of your favorite garden salad ingredients (or whatever happens to be in the crisper drawer of your refrigerator). It can be filling enough to serve as a main, but it can also sub-in for a side to accompany a main dish (like pasta or grilled chicken or fish) any night of the week.
TOSSED SALAD RECIPE
The ingredients for this tossed salad recipe is my riff on a salad that I had at a restaurant last year. I loved everything about it. The cauliflower is grated or finely chopped and looks a little like feta cheese. The dressing for this salad is a new favorite. It's made with avocado oil (which is more mild in flavor than olive oil), lemon juice, turmeric, garlic, Dijon mustard and honey. I love the turmeric in this dressing for the added nutritional (antioxidant & anti-inflammatory) benefits.
Combination of Romaine lettuce and mixed greens (baby kale, spring greens arugula, spinach, etc)
White or yellow corn, fresh, grilled or frozen
Cherry tomatoes
Cucumber
Radishes
Cauliflower
Avocado
Golden raisins
Sunflower seeds
MORE ADD-IN SALAD INGREDIENTS
Again this salad is versatile, so add in any combination of garden salad ingredients you like. Here's some ideas…
Shaved purple cabbage
Grated carrot
Beets, raw or steamed (grated or chopped)
Onions (purple or green)
Mushrooms
Sliced almonds, chopped Marcona almonds, hemp seeds, pepitas, etc.
Chopped dates instead of golden raisins
Micro-greens
Berries (especially blueberries)
Croutons
Chickpeas (if you want to make a vegan meal of it)
This Healthy Citrus Vinaigrette, Cleansing Lemon Herb Vinaigrette and this Lemon Mustard Vinaigrette also make great dressings for your everyday tossed salads.
TURMERIC SALAD DRESSING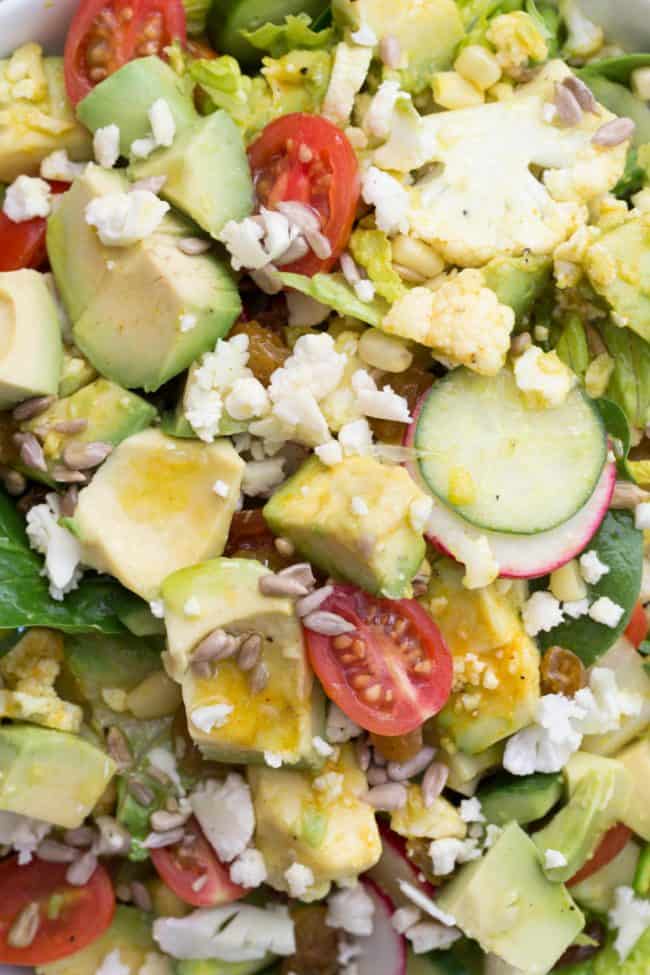 GREEN SALAD RECIPES