Everyday Tossed Salad
This post may contain affiliate links.
This Everyday Tossed Salad recipe is loaded with garden salad ingredients all tossed in a delicious immune boosting turmeric salad dressing. It makes a perfect starter salad!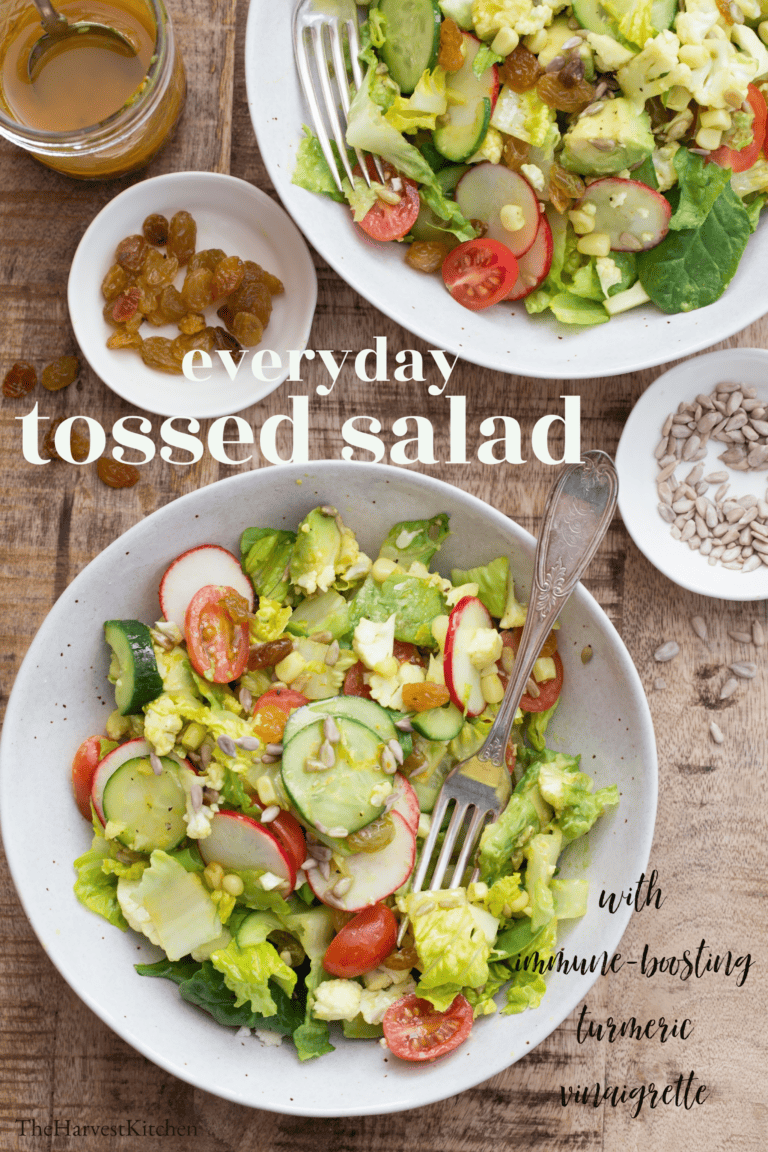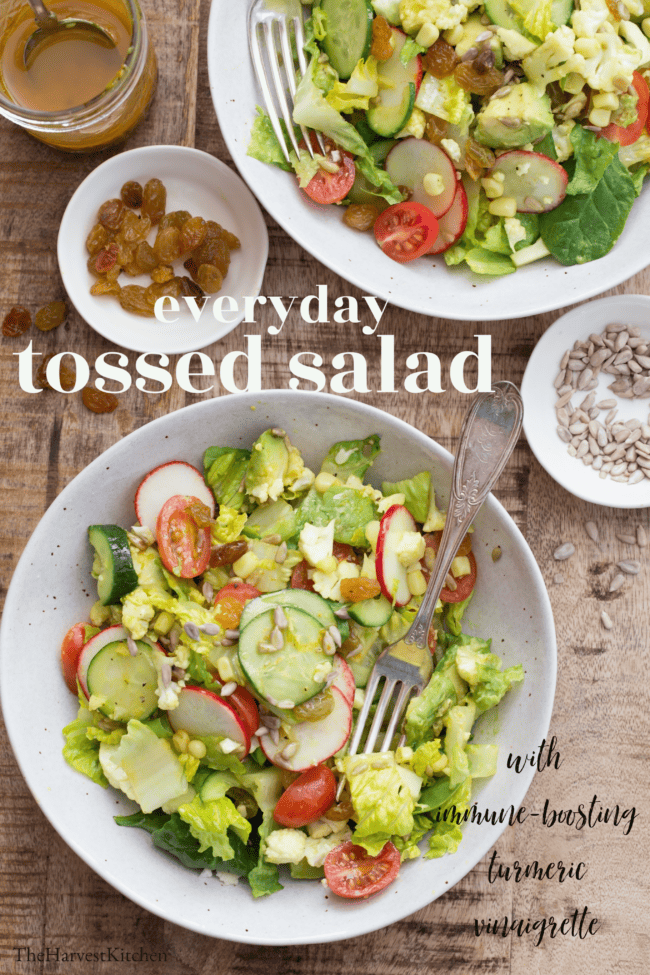 This is an easy Tossed Salad recipe to add to your daily wellness plan. It's loaded with leafy greens and crunchy vegetables that are readily available at the market, health food stores and farmers markets.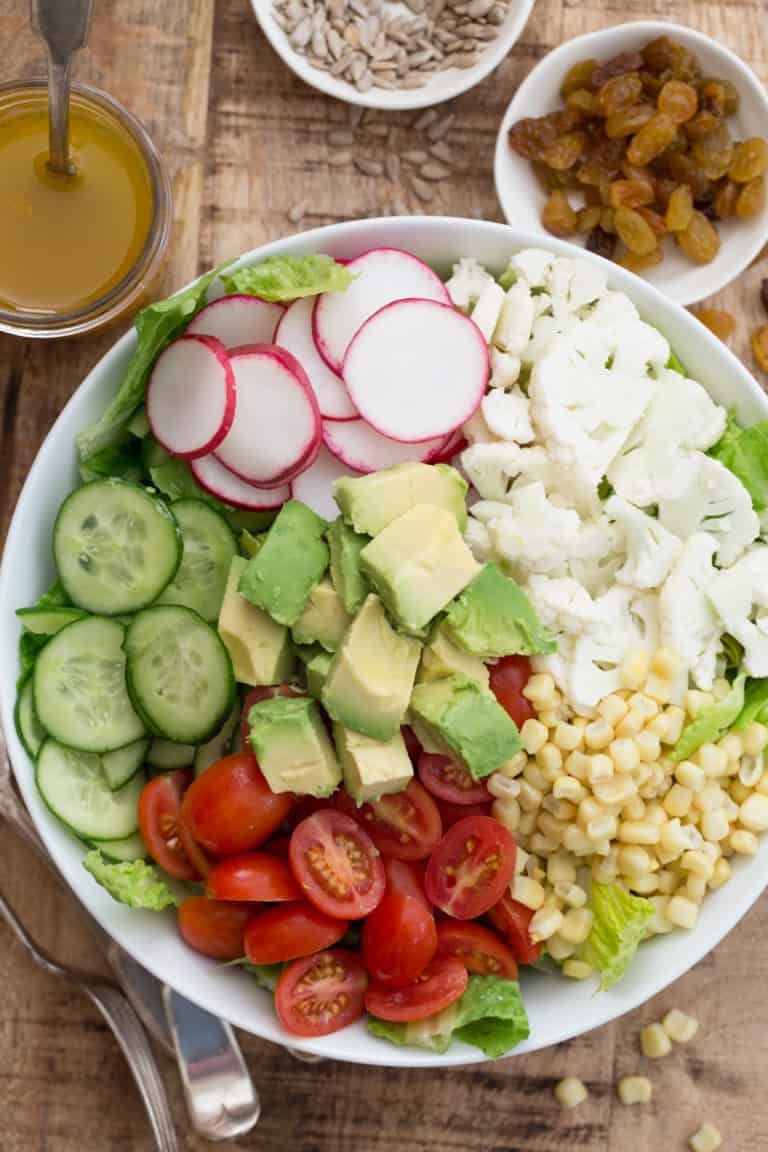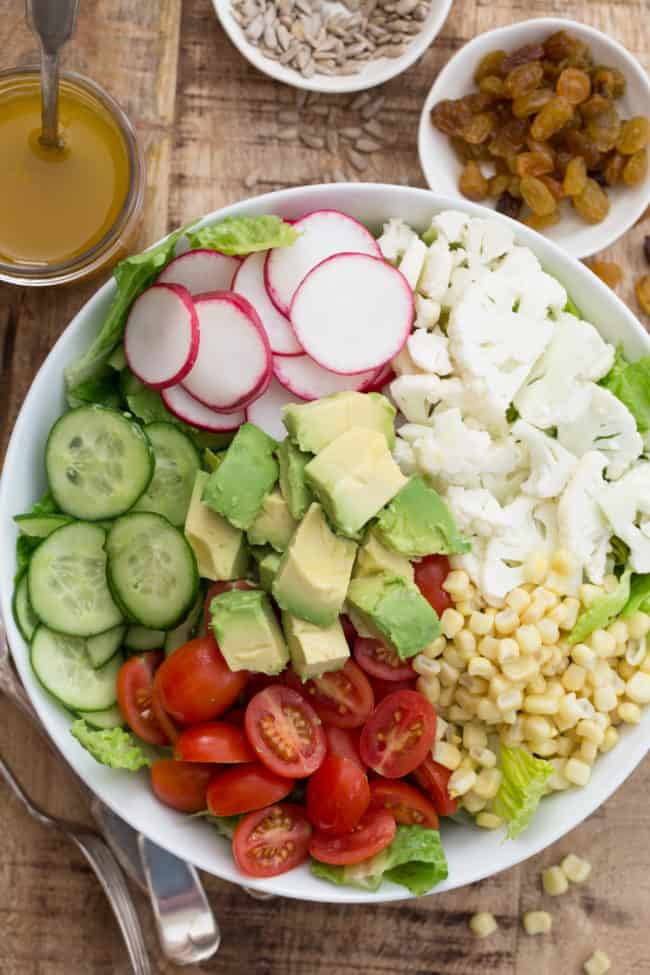 Eating a mostly raw plant-based diet rich with fruits and vegetables as part of your daily wellness program is a good way to help strengthen your immune system and improve your overall health. And if you're wondering how to start a plant based diet, eating a big beautiful salad every day is the easiest way to get started. Make yourself big bold salads that are fresh, pretty, satisfying (filling) and fun to eat. Having a variety of homemade salad dressing recipes in your arsenal helps a lot to accomplish this! A good dressing can really make a simple salad shine.
What's In A Garden Salad
A good garden salad is a versatile and whimsical combination of your favorite tossed salad ingredients (or whatever happens to be in the crisper drawer of your refrigerator). It can be filling enough to serve as a main, but it can also sub-in for a side to accompany a main dish (like pasta or grilled chicken or fish) any night of the week.
Tossed Salad Recipe
This Tossed Salad recipe is an easy one to make, and I love everything about the combination of tossed salad ingredients in this salad. The cauliflower is grated or finely chopped and looks a little like feta cheese. The turmeric dressing is made with avocado oil (which is more mild in flavor than olive oil), lemon juice, turmeric, garlic, Dijon mustard and honey.
Combination of Romaine lettuce and mixed greens (baby kale, spring greens arugula, spinach, etc)
White or yellow corn, fresh, grilled or frozen
Cherry tomatoes
Cucumber
Radishes
Cauliflower
Avocado
Golden raisins
Sunflower seeds
Variations
Again this is a versatile Tossed Salad recipe, so add in any combination of garden salad ingredients you like. Here's some ideas…
Shaved purple cabbage
Grated carrot
Beets, raw or steamed (grated or chopped)
Onions (purple or green)
Mushrooms
Sliced almonds, chopped Marcona almonds, hemp seeds, pepitas, etc.
Chopped dates instead of golden raisins
Micro-greens
Berries (especially blueberries)
Croutons
Chickpeas (if you want to make a vegan meal of it)
This Healthy Citrus Vinaigrette, Cleansing Lemon Herb Vinaigrette and this Lemon Mustard Vinaigrette also make great dressings for your everyday tossed salads.
Avocado Oil Salad Dressing
Tips for Making a Good Salad
Wash produce – always give your produce a good rinsing under cold water. A salad spinner isn't a necessity, but it's sure handy! It leaves the lettuce fresh, perky and crisp. I use mine daily!
Variety – use a variety of tossed salad ingredients to make your salad really enjoyable. Pick a good hearty lettuce to start with, then add in any combo of vegetables, fruit, nuts and protein.
Wide Mixing/Serving Bowl – you want a bowl that's relatively shallow and wide enough to give you room for tossing. You can use the same bowl to mix and serve with. A pair of nice wooden spoons or decorative serving spoons is always a nice touch and will help you to gently toss the salad without smooshing the leaves.
Dressing Salad – I always drizzle the vinaigrette around the inside of the bowl just at the top edge of the garden salad ingredients so the dressing drizzles down the inside of the bowl just under the ingredients. Then I gently toss the salad ingredients into the vinaigrette. Sometimes pouring the vinaigrette on top of the salad ingredients can really weigh down the leaves, giving you a wilted looking salad.
Seasoning – season sparingly with a healthier salt (like sea salt or Himalayan) and freshly ground black pepper. Chopped herbs like flat-leaf parsley, cilantro and basil are also nice to add to salads for both the flavor, eye appeal and nutritional benefits. If you're on a low-sodium diet, adding fresh herbs is a healthy substitute for salt.
Serving – don't dress the salad until you're ready to serve . Be sure to store the tossed salad ingredients and dressing separately in the refrigerator until you're ready to serve to prevent soggy leaves.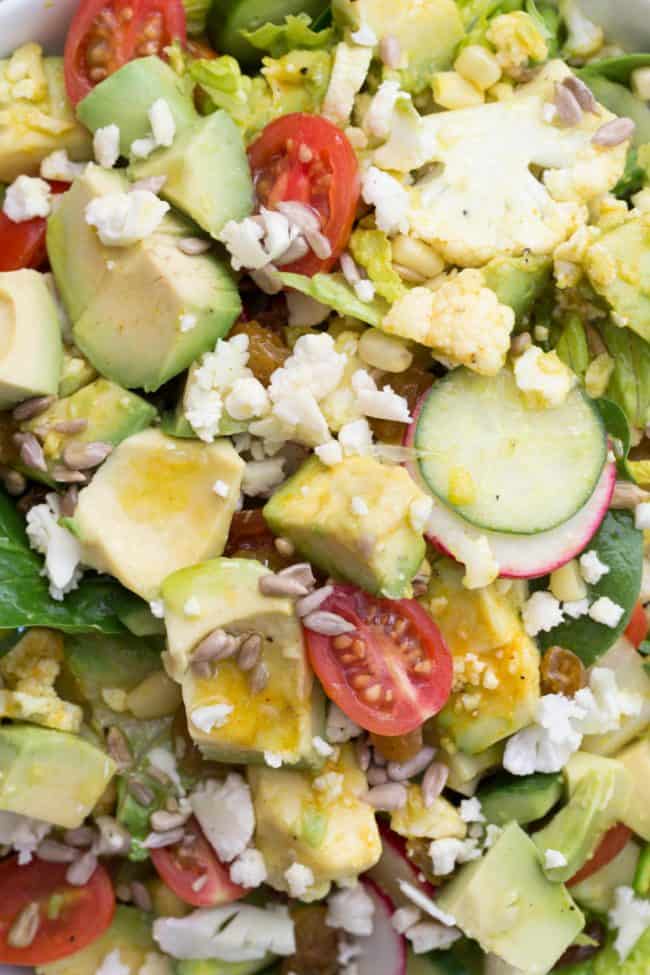 Best Salad Dressing Recipes
A good dressing can really make a salad tasty and that makes consuming vegetables much more enjoyable. You don't have to stick with the Avocado Oil Salad Dressing for this Everyday Tossed Salad, here's more of my favorite dressings for you to try out.
What to Serve with this Tossed Salad
Soups and salads go together like peas and carrots. But a good starter salad can be served with a healthy main just the same.
More Green Salad Recipes You'll Love
These are some of my favorite leafy greens salads.