Quinoa Kale Salad
This post may contain affiliate links.
This Quinoa Kale Salad recipe (aka curly kale and quinoa salad) is fresh and flavorful and can be served as a starter, but it's definitely filling enough to make a meal.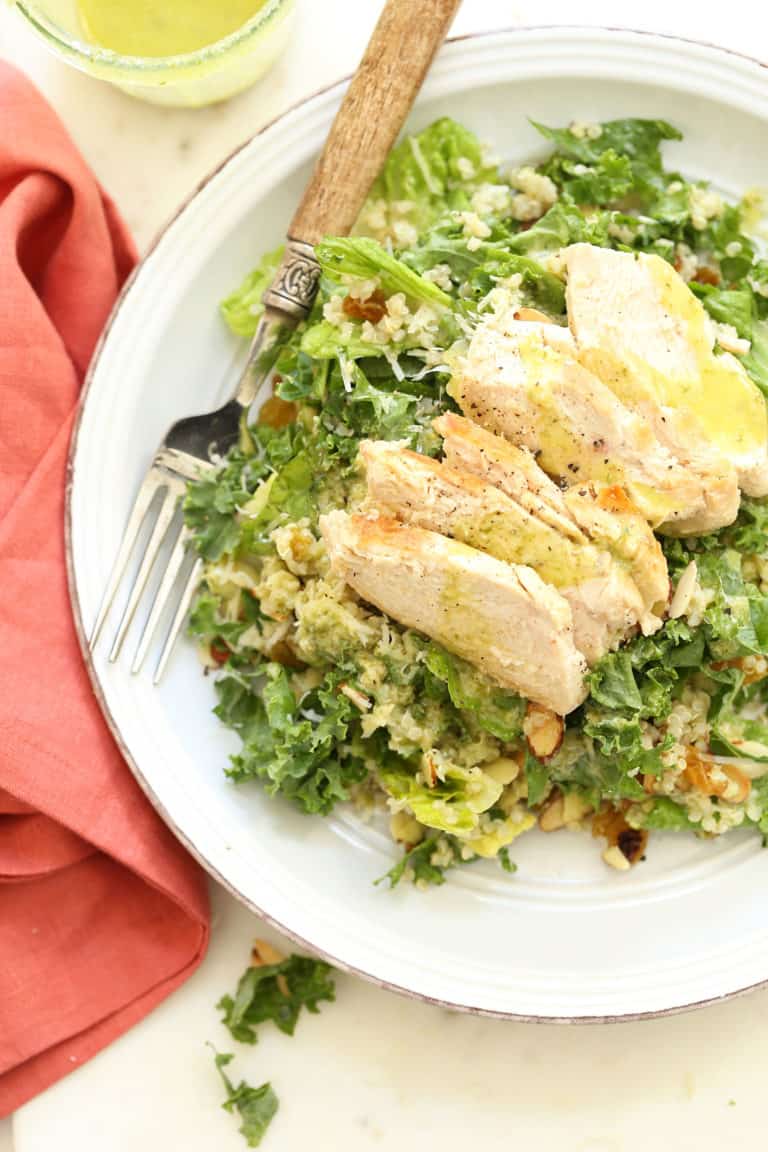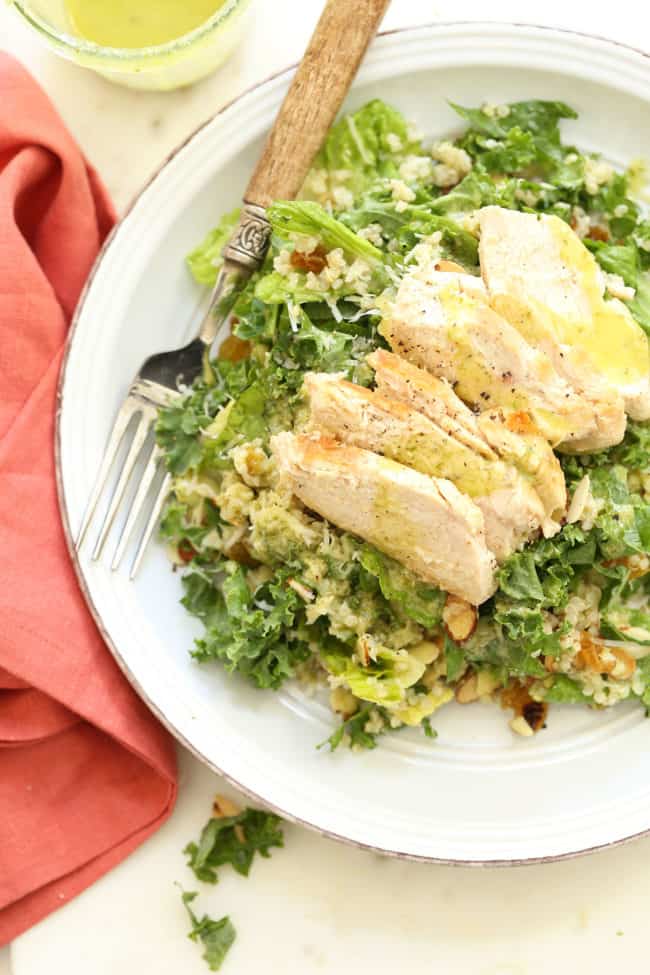 Kale salads make a great pack-for-lunch meal or a vegetarian main or side. This curly kale salad recipe comes together in a pinch and the basil vinaigrette makes it completely addictive!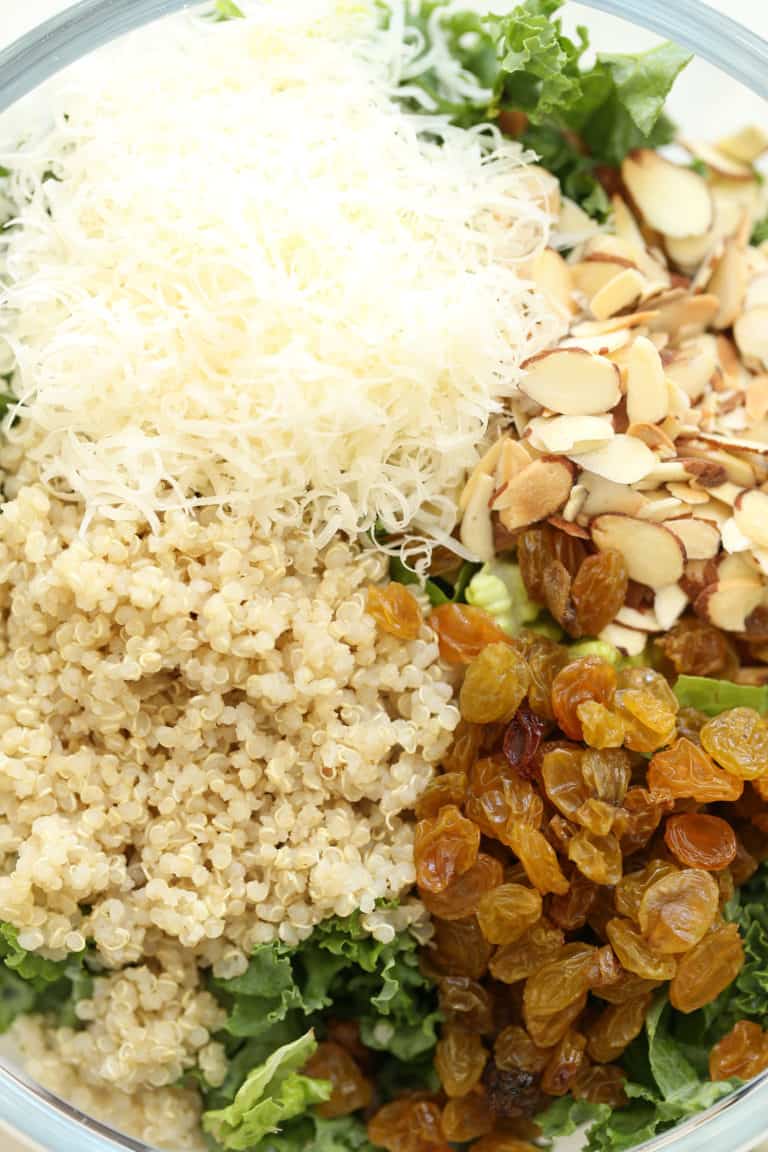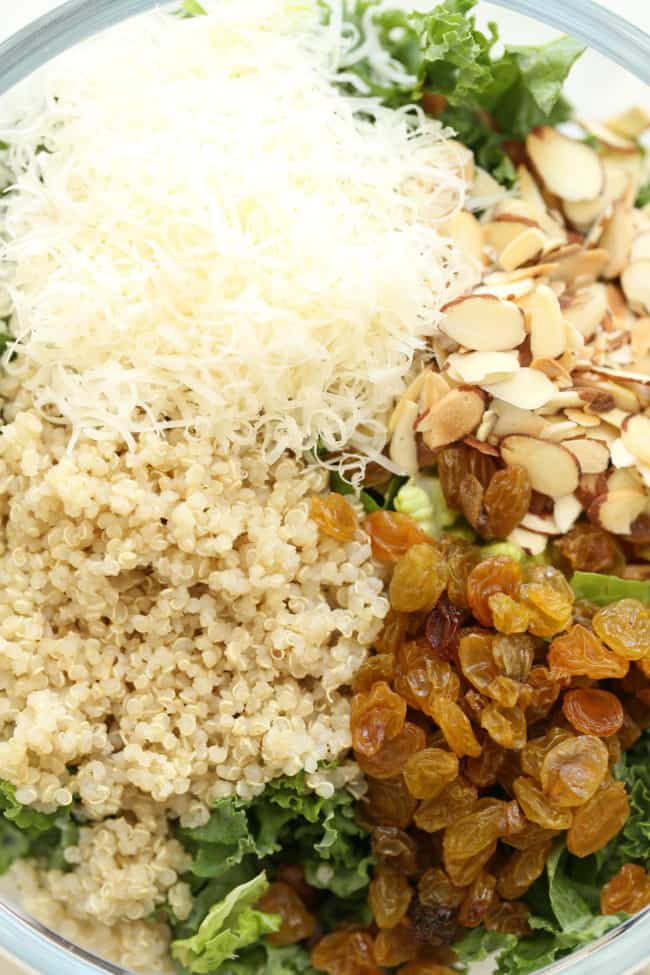 Normally I make salads that are chockfull of ingredients – everything but the kitchen sink type salads, but this one is different. This one is a simple kale salad made with the most humble of ingredients. It's flecked with sliced almonds and golden raisins, and mixed with curly kale, romaine lettuce, some quinoa and a generous portion of parmesan cheese (grated or shaved). Where it gets interesting is when these simple ingredients are dressed up in a gorgeous green basil vinaigrette. The flavor will remind you a tad of pesto. This salad is completely addictive and satisfying!!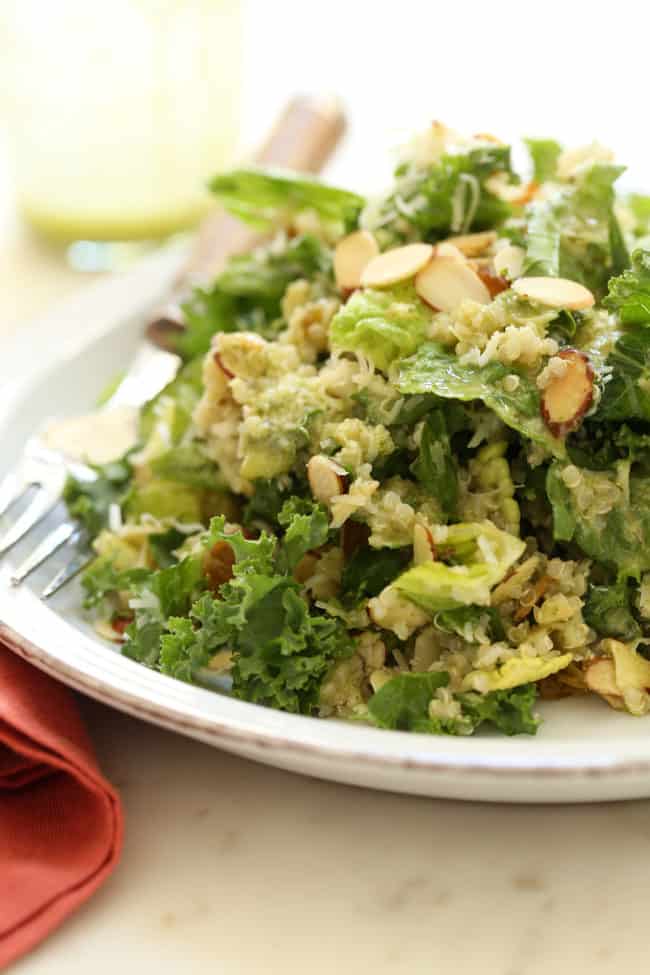 Kale Salad Recipe
Greens -We use a mix of finely chopped Romaine lettuce and curly kale for this salad. You can use all curly kale if you prefer, but I really like the mix of the two greens. It makes the kale a little easier to consume.
Quinoa – Adding quinoa to this salad adds plant protein which makes this salad much more substantial and filling.
Add-ins -Sliced almonds add a nice crunch and golden raisins add a hint of sweetness to this otherwise earthy salad. A sprinkling of Parmesan cheese adds a nice flavor (but doesn't Parmesan cheese add nice flavor to just about everything it touches!)
Basil Vinaigrette -This basil vinaigrette is one of my favorite dressings. If you like pesto like I do, this dressing is going to be a win with you! It's a delicious blend of fresh basil, garlic, Parmesan cheese, Dijon mustard, lemon juice and extra-virgin olive oil.
Find the printable recipe with measurements below.
How to Make Kale Salad
This kale salad recipe is so simple to make – you can almost commit the ingredients to memory.
Cook Quinoa. Cook the quinoa and set aside to cool.
Make Dressing. While the quinoa is cooking, add all of the ingredients for the vinaigrette to a blender and blend until smooth. Refrigerate before serving
Toss salad ingredients. Add the cooled quinoa and the rest of the salad ingredients to a large bowl and toss.
Dress salad. Drizzle the outer sides of the bowl with the vinaigrette. Don't pour the dressing right over the greens (this weighs the leaves down). Instead drizzle the outer sides of the bowl and fold the salad ingredients into the dressing.
Enjoy. Serve with extra parmesan cheese. You can also add grilled chicken or salmon to this salad to make it a meal.
Is Kale Good For You
It is! All day every day!! Kale is among the most nutrient dense foods there is
Kale is in the cruciferous family of vegetables like cabbage, broccoli, cauliflower, Brussels sprouts and collard greens
There is a variety of different types of kale like curly kale or dinosaur kale. I typically use curly for salads and dinosaur for juicing
Health Benefits of Kale
Kale is rich with Quercetin and Kaempferol, which are powerful antioxidants
It's rich with Vitamin C (also antioxidant)
Kale is high in beta-carotene (another antioxidant)
It's a great source of Vitamin K which is important for blood clotting
It contains indole-3-carbinol, which is a substance that may possibly help prevent certain types of cancer
Kale is rich with lutein and zeaxanthin which are powerful nutrients that protect eyes from cataracts and macular degeneration
It's low calorie and high water content may help with weight loss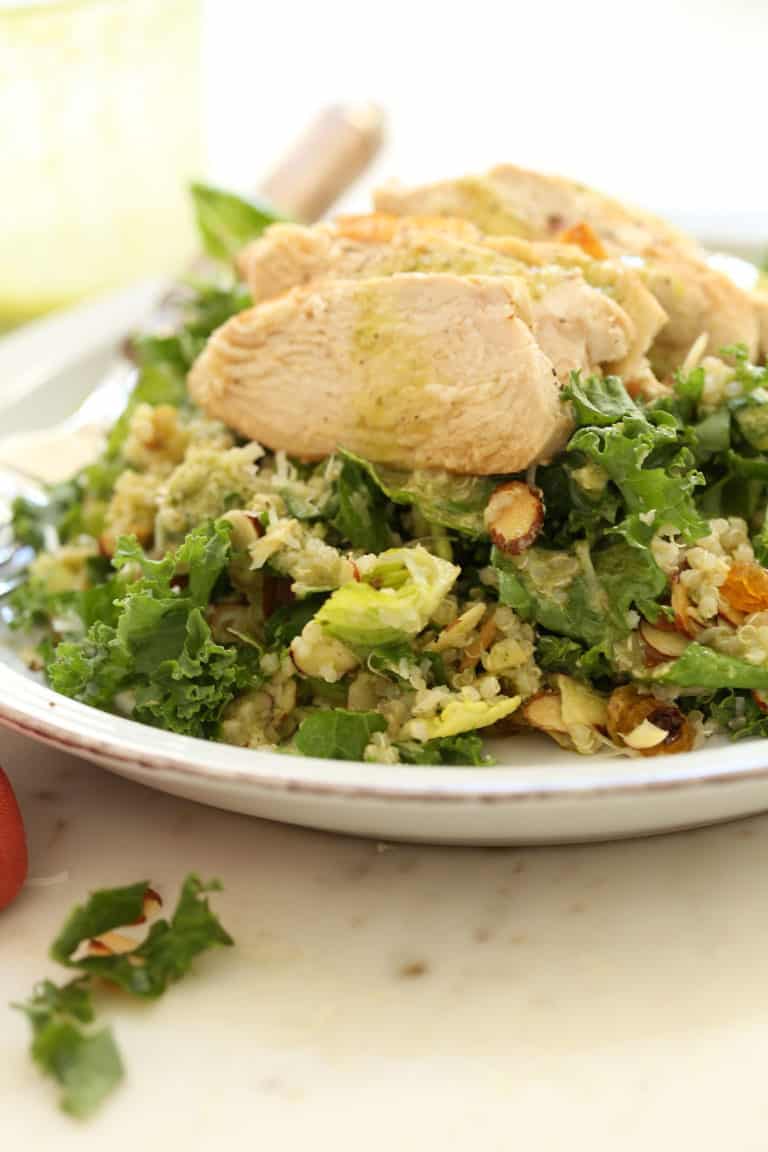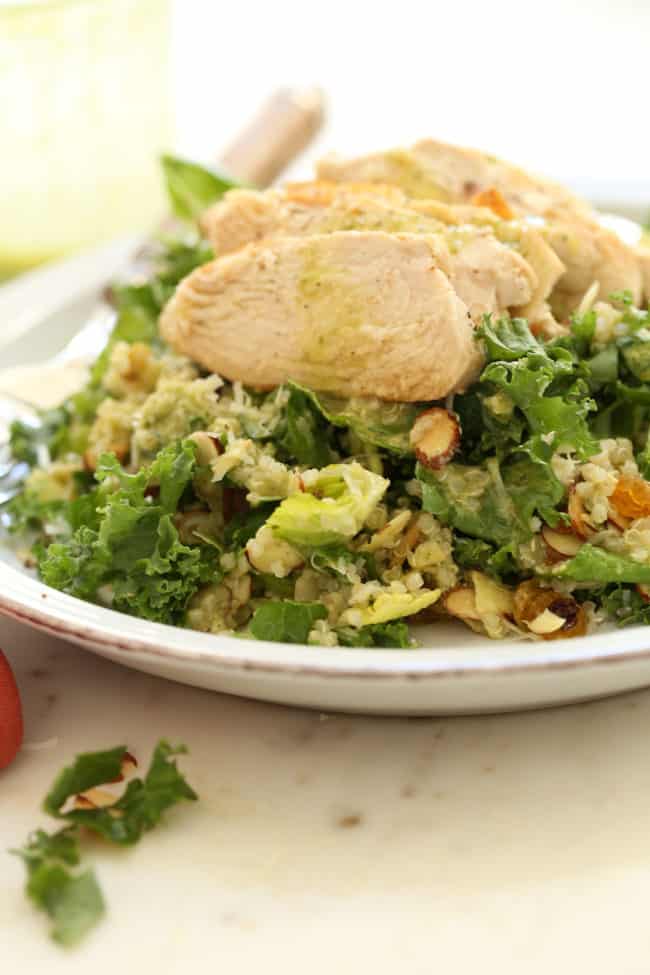 Why We Love This Salad
This kale quinoa salad has an impressive range of flavors and textures, and it sits pretty parked next to any main course you might be serving. It's also filling enough to be a meal on its own.
The Basil Vinaigrette is amazing!! If you like the taste of basil pesto – you'll love this basil vinaigrette!
They don't come any quicker or easier to make than this!
It's made with simple ingredients (nothing exotic here)!
Super nutritious!
Completely habit forming!
I make this kale quinoa salad at least once a week. It's one of my favorites both for the flavors and its simplicity. Some nights though when I'm feeling particularly hungry and want a more substantial salad – I'll toss in some chopped grilled chicken (or store bought rotisserie chicken). Grilled salmon and avocado works nicely here as well. And of course, feel free this summer to sub in your favorite fresh berries in lieu of the raisins for a bright festive seasonal salad.
Looking for more healthy salad recipes?
Want more ideas? Check out all my healthy salad recipes.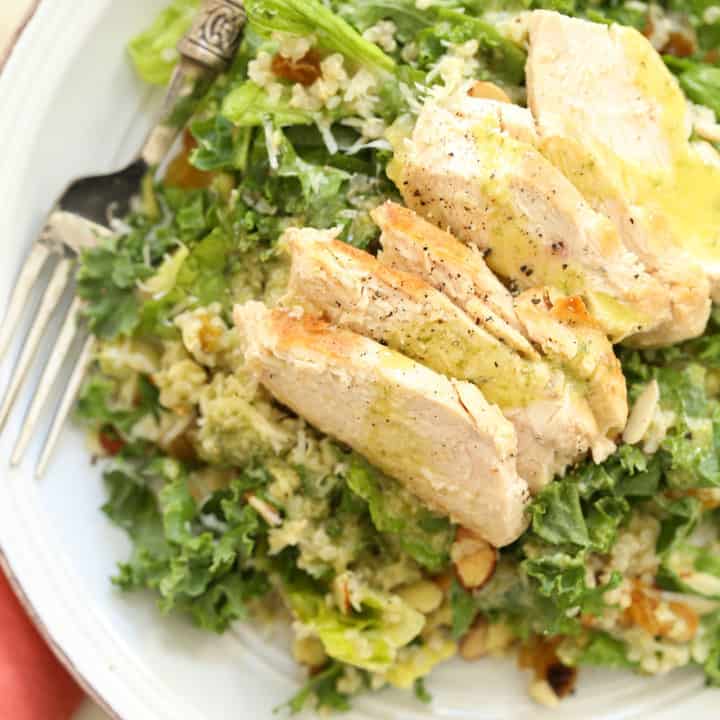 Yield: 4 servings
Quinoa Kale Salad
Additional Time
15 minutes
This Quinoa Kale Salad recipe (aka curly kale and quinoa salad) is fresh and flavorful and can be served as a starter, but it's definitely filling enough to make a meal.  
Ingredients
2 cups Romaine lettuce, finely chopped
2 cups curly kale, finely chopped (cut the leaves away from the stems and discard stems)
1 cup cooked quinoa
3/4 cup sliced roasted almonds
1/2 - 3/4 cup golden raisins
1/2 cup parmesan cheese, plus extra for serving
3 tablespoons fresh basil, sliced
1 clove garlic, minced
4 tablespoons parmesan cheese, grated
1-1/2 tablespoons Dijon mustard
4 tablespoons fresh lemon juice
1/2 cup extra virgin olive oil
salt and freshly ground black pepper to taste
Instructions
For the Salad
Cook quinoa according to package and set aside to cool.
Add all of the salad ingredients to a large bowl and toss.
Drizzle the outer sides of the bowl with the vinaigrette.
Toss the ingredients in the vinaigrette until evenly coated.
Serve with extra parmesan cheese.
For the Basil Vinaigrette
Place basil, garlic, parmesan cheese, mustard and lemon juice in a blender.
Pulse a few times, then slowly pour the olive oil in the blender.
Continue to blend until vinaigrette is smooth.
Refrigerate for 1 hour before serving
Nutrition Information:
Yield:
4
Serving Size:
1
Amount Per Serving:
Calories:

601
Total Fat:

47g
Saturated Fat:

8g
Trans Fat:

0g
Unsaturated Fat:

37g
Cholesterol:

16mg
Sodium:

755mg
Carbohydrates:

36g
Fiber:

7g
Sugar:

12g
Protein:

15g
theharvestkitchen.com attempts to provide accurate information, however, this nutritional information is provided as a courtesy and is an estimate only. The nutritional information provided comes from online sources and calculations.