Superfood Salad with Quinoa
This post may contain affiliate links.
Have I got a salad for you! This Superfood Salad recipe is my riff on a restaurant kale quinoa salad that I fell in love with! If you like big beautiful healthy salads, you going to love this one!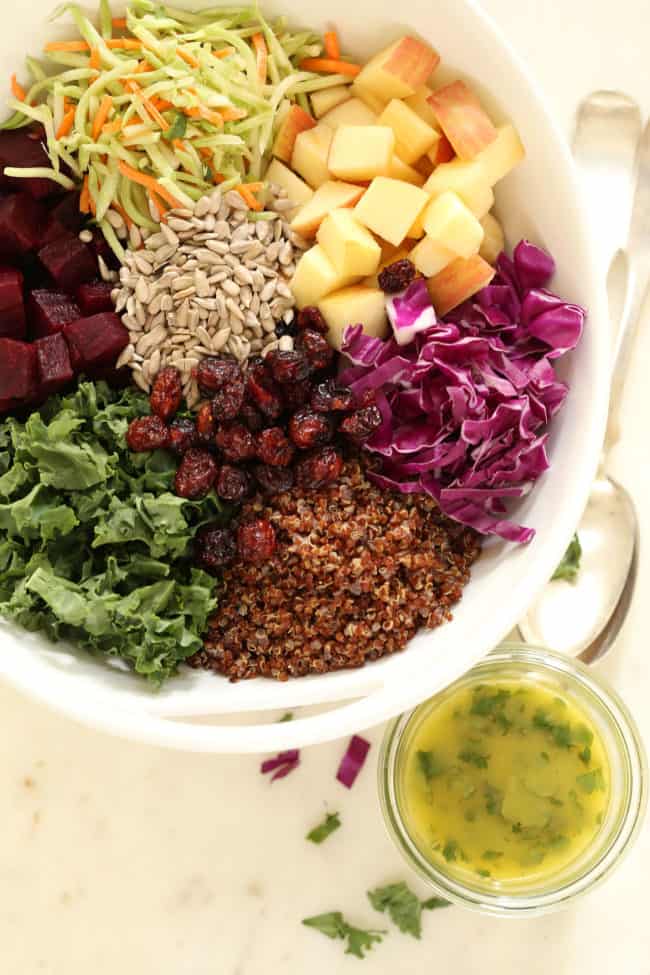 This healthy kale superfood salad is loaded with curly kale, crunchy broccoli slaw, cabbage, shaved brussels sprouts, apples and sunflower seeds, as well as protein-dense quinoa, small bites of beets and chewy dried cranberries. It's all tossed in a delicious Honey Lime Vinaigrette.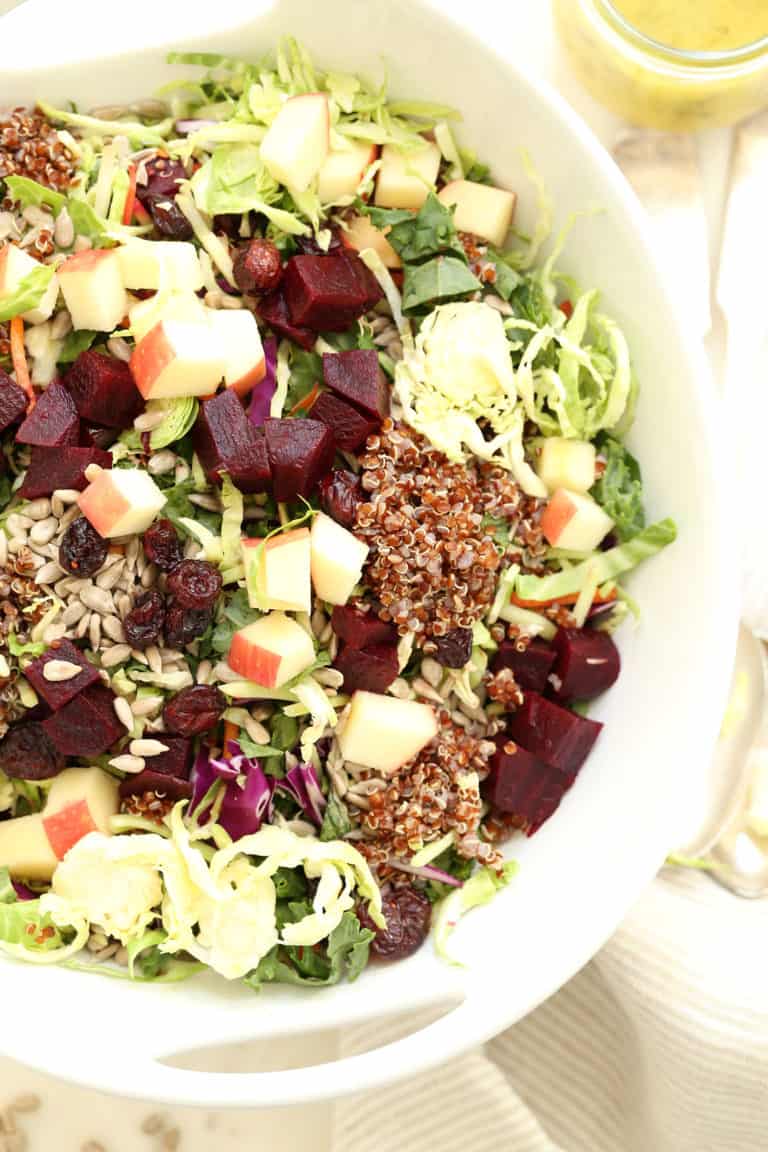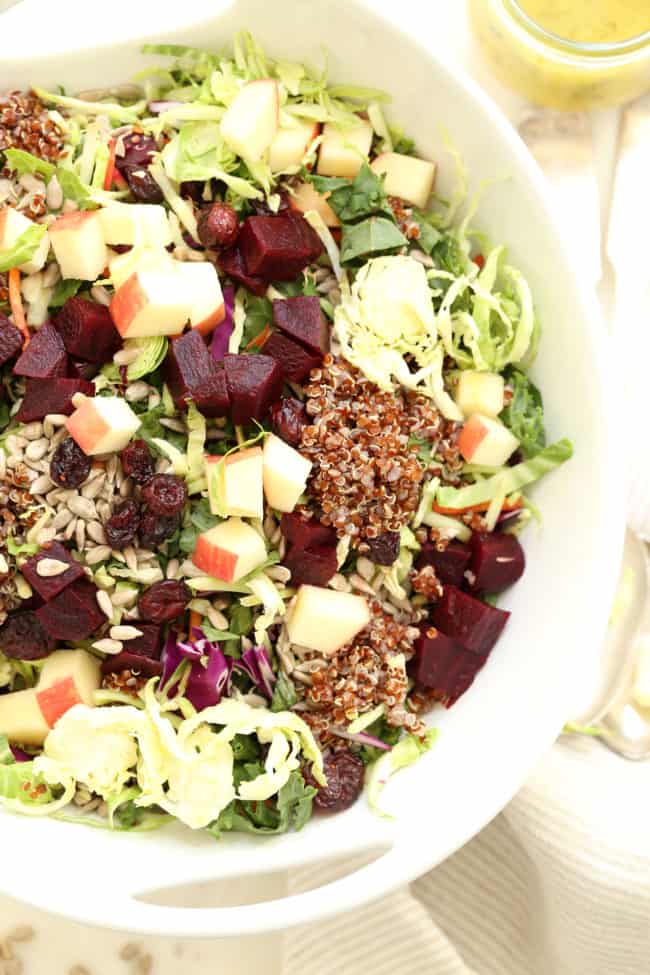 Superfood Salad Recipe
This kale superfood salad recipe has a great combination of textures and flavors that will keep even the most ardent salad critic engaged!
Kale
Cooked beets
Broccoli slaw (Trader Joes or another brand)
Purple cabbage
Brussels sprouts
Quinoa
Apple
Dried Cranberries
Sunflower seeds
How to Make a Kale Superfood Salad
Making this kale superfood salad couldn't be easier. First you'll want to cook your quinoa (according to the package instructions) and steam your beets.
Steam Beets. Peel beets and cut them into small cubes. Place in a steamer basket and steam for 10-15 minutes or until they are just fork tender.
Cook Quinoa. Add 1/2 cup dried quinoa and 1 cup water to a saucepan and stir. Bring to a boil, then reduce heat to low and simmer 15-20 minutes. Remove from heat and set aside for 20 minutes before fluffing with a fork.
Make Vinaigrette. Add ingredients to a mason jar, seal the lid and shake well. Refrigerate while preparing the salad.
Prep Vegetables. Rinse and chop kale (removing stems), chop cabbage and apples, and thinly slice brussels sprouts.
Toss Salad. Add cooled quinoa and the rest of the ingredients to a large bowl. Toss and drizzle vinaigrette over ingredients and gently toss again to evenly coat the ingredients.
Honey Lime Vinaigrette
As for the vinaigrette. It's a good one! It's simple to make and has a delicious tart and sweet combo of flavors.
Fresh lime juice
Clover honey
Cilantro
Apple cider vinegar
Dijon mustard
Fresh ginger
Extra-virgin olive oil
Salt and freshly ground black pepper to taste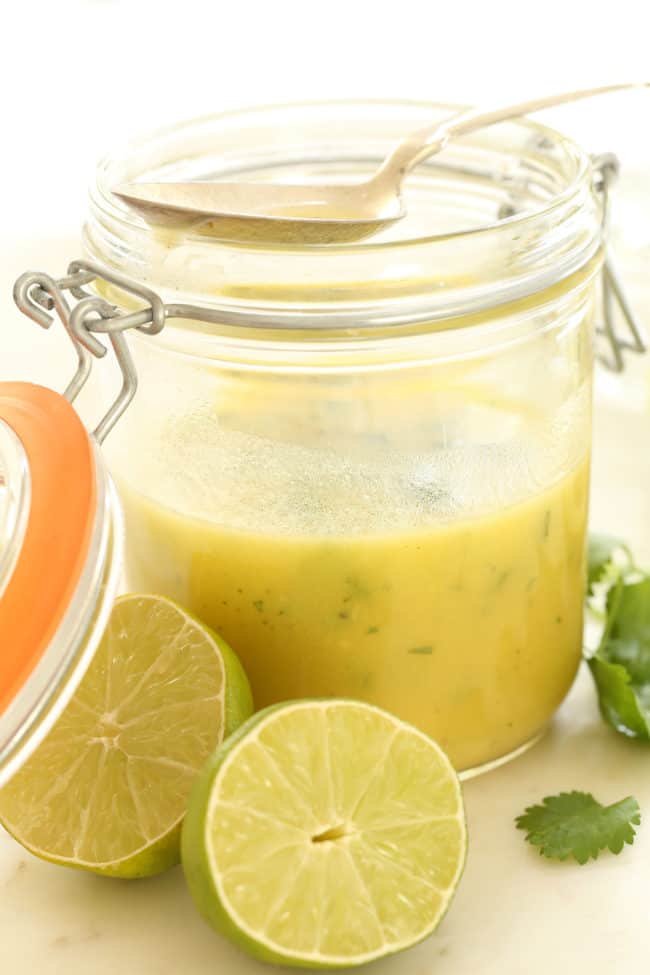 What are Superfoods
Superfoods are certain foods that offer superior nutritional benefits to other foods because they are rich sources of important vitamins, minerals, antioxidants and anti-inflammatory properties, like dark leafy greens, berries, garlic, ginger and turmeric.
Here are just some of the most nutrient-dense superfoods on the planet.
Dark leafy greens. Dark leafy greens (spinach, Swiss chard, kale), are a rich source of vitamin C, folate, zinc, iron, calcium, magnesium and fiber. Kale is a good source of vitamin C, vitamin A and vitamin K1., vitamin B6, potassium, calcium and magnesium. Just 1 cup of kale is a mere 9 calories.
Berries. Berries (blueberries, cranberries, strawberries, raspberries and blackberries) are rich with antioxidants and anti-inflammatory properties.
Garlic. Garlic is rich with antioxidants and anti-inflammatory properties.
Ginger. Ginger is rich with substances called gingerols, shoals, gingerdiones, which provide antioxidant, antibacterial and anti-inflammatory properties.
Turmeric. Turmeric is rich with antioxidants and anti-inflammatory properties.
Green Tea. Green tea is rich with powerful antioxidants and anti-inflammatory properties to strengthen your immune system and help reduce inflammation.
Beets. Beets are a rich source of dietary fiber, potassium, manganese, and folate. They're also rich in Vitamin C, zinc, copper, and iron. Beets contain polyphenols and betalains, which are natural antioxidants.
Ancient Grains. Ancient grains include a variety of wheat (spelt, Kamut, freekeh, bulgur, farro, and grains such as millet, barley, oats, teff and soghum, as well as pseudocereals (which are seeds that are consumed like grains) such as quinoa, armaranth, buckwheat and chia. Ancient grains are high in protein, fiber, omega-3 fatty acids, B vitamins and zinc.
Salmon. Salmon is rich with omega-3 fatty acids.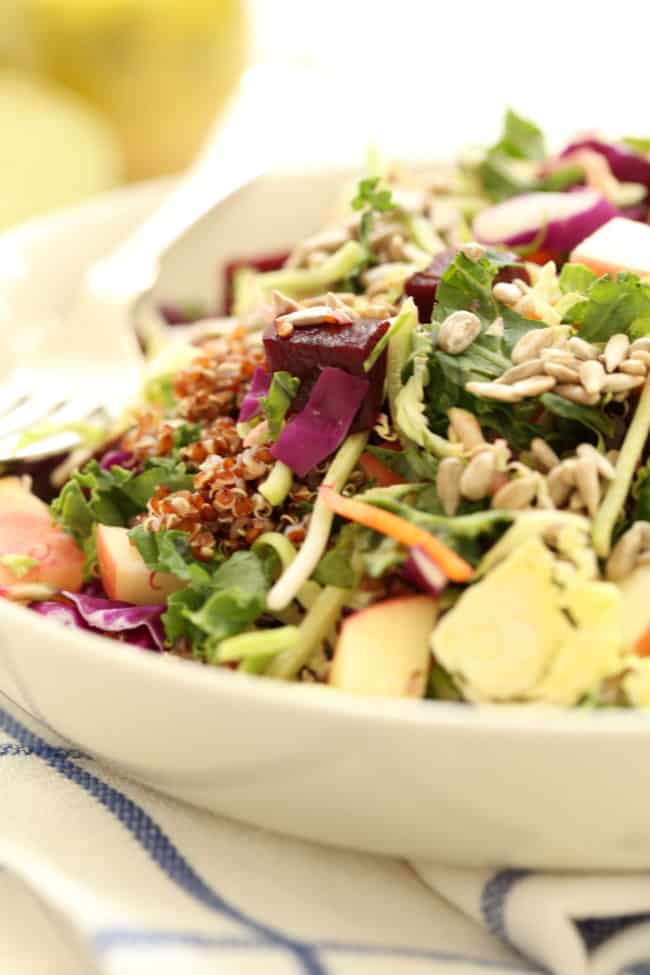 You can also serve this amazing superfood salad with salmon for added protein and healthy omegas. However, this salad is delicious without any meat added at all. It's crunchy and chewy and has a deliciously healthy combo of ingredients. But if you want something a little more substantial for dinner, then a piece of grilled salmon or chicken makes a nice add here.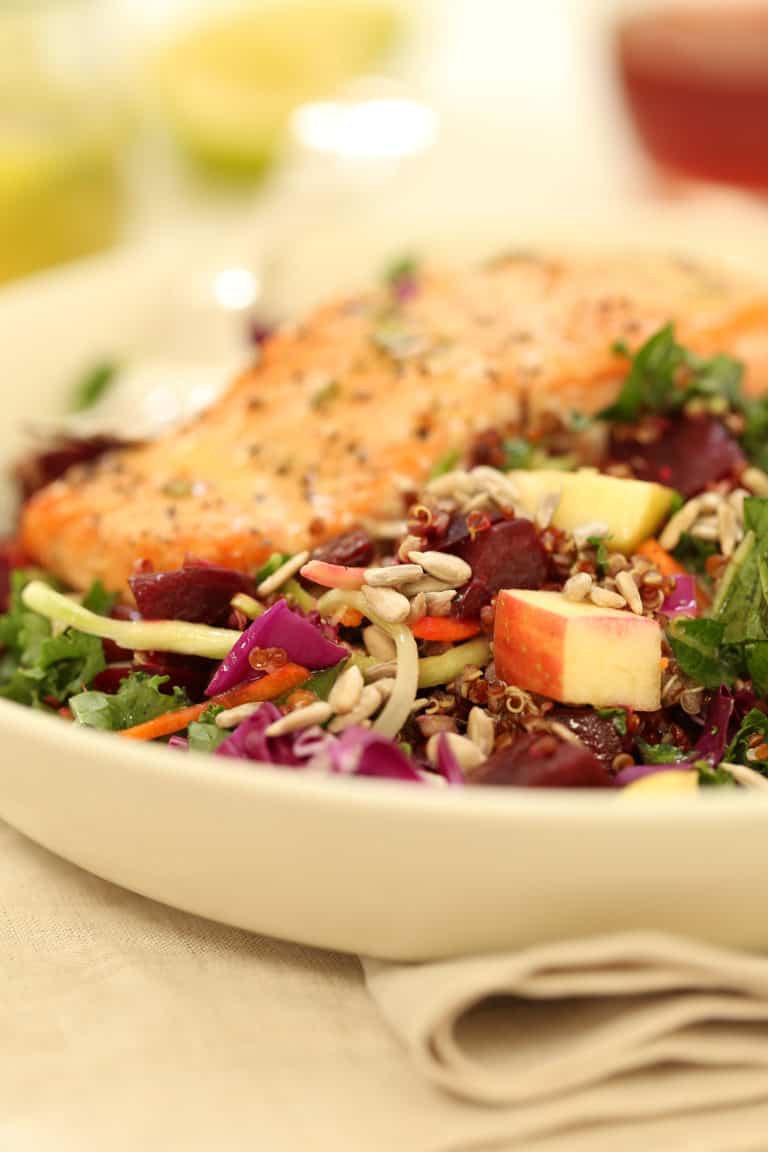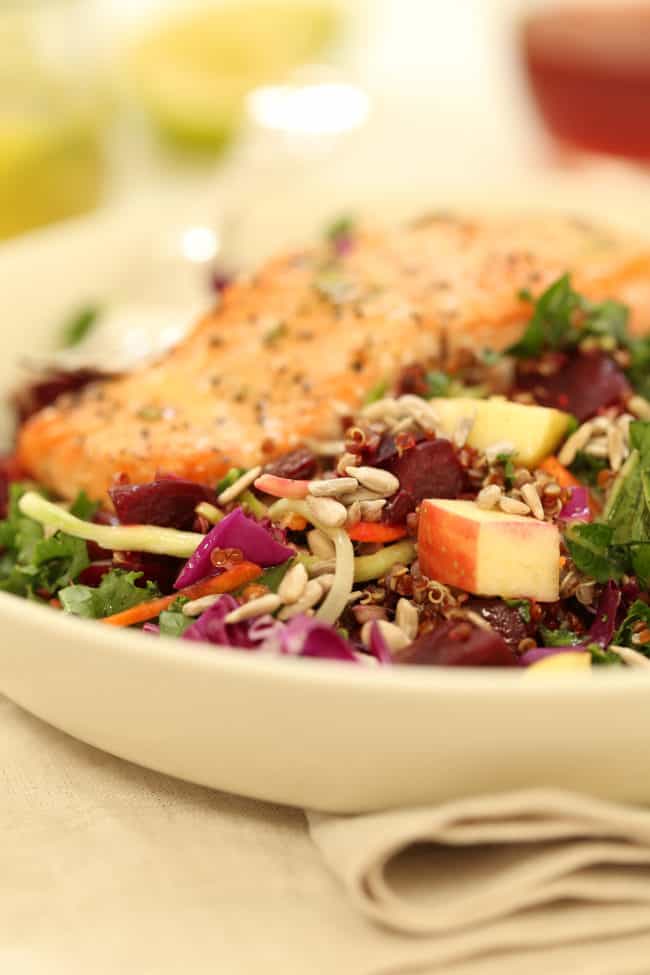 Looking for More Superfood Salads to Make?
Want more ideas? Check out all my healthy salad recipes.
Looking for More Quinoa Salad Recipes?
Still want more quinoa salad ideas? Check out all my quinoa salad recipes.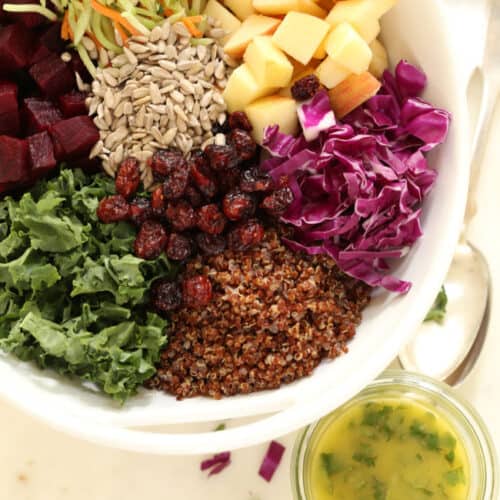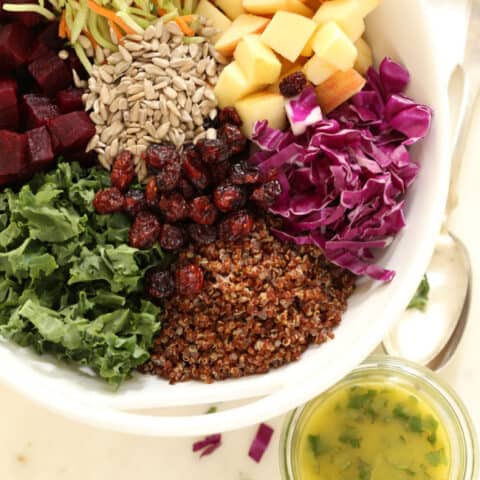 Yield: 4-6 servings
Superfood Salad
This Superfood Salad recipe has a concentrated dose of nutrients and a delicious blend of flavor and texture. Superfoods get their reputation for being rich with nutrients such as antioxidants, fiber, heart-healthy fats and/or phytonutrients, such as the case with the ingredients in this salad.
Ingredients
1 cup curly kale, stems removed and finely chopped
3/4 cup broccoli slaw (I used the organic Trader Joe's broccoli slaw)
3/4 cup purple cabbage, finely chopped
3/4 cup beets, peeled, lightly steamed and cut into small cubes
3/4 cup cooked red quinoa
3/4 cup apple, cut into small chunks (I used Honeycrisp)
2-4 brussels sprouts, finely shaved (sliced)
1/2 cup dried cranberries
1/2 cup sunflower seeds
Honey Lime Vinaigrette
1/2 cup fresh lime juice
1/4 cup clover honey (add 1 tablespoon more if still too tart)
1 tablespoon cilantro, coarsely chopped
2-1/2 teaspoons apple cider vinegar
2 teaspoons Dijon mustard
1/2 teaspoon fresh ginger, finely grated
1/2 cup extra-virgin olive oil
salt and freshly ground black pepper to taste
Instructions
For the Salad
Combine the salad ingredients in a large mixing bowl.
Toss to combine.
Drizzle the vinaigrette along the edge of the salad and fold into the ingredients to lightly coat.
Honey Lime Vinaigrette
Combine all of the ingredients in a mason jar and give it a good shake, or add all of the ingredients to a blender and blend until smooth. Store in the refrigerator.
Nutrition Information:
Yield:
6
Serving Size:
1
Amount Per Serving:
Calories:

385
Total Fat:

24g
Saturated Fat:

3g
Trans Fat:

0g
Unsaturated Fat:

20g
Cholesterol:

0mg
Sodium:

771mg
Carbohydrates:

43g
Fiber:

5g
Sugar:

30g
Protein:

5g
theharvestkitchen.com attempts to provide accurate information, however, this nutritional information is provided as a courtesy and is an estimate only. The nutritional information provided comes from online sources and calculations.