Mango Arugula Quinoa Salad
This post may contain affiliate links.
If you're looking for a light and healthy arugula salad recipe, this Mango Arugula Quinoa Salad is the thing! Peppery arugula is mixed with sweet juicy chunks of mango, red pepper and quinoa all tossed with a fresh citrus dressing.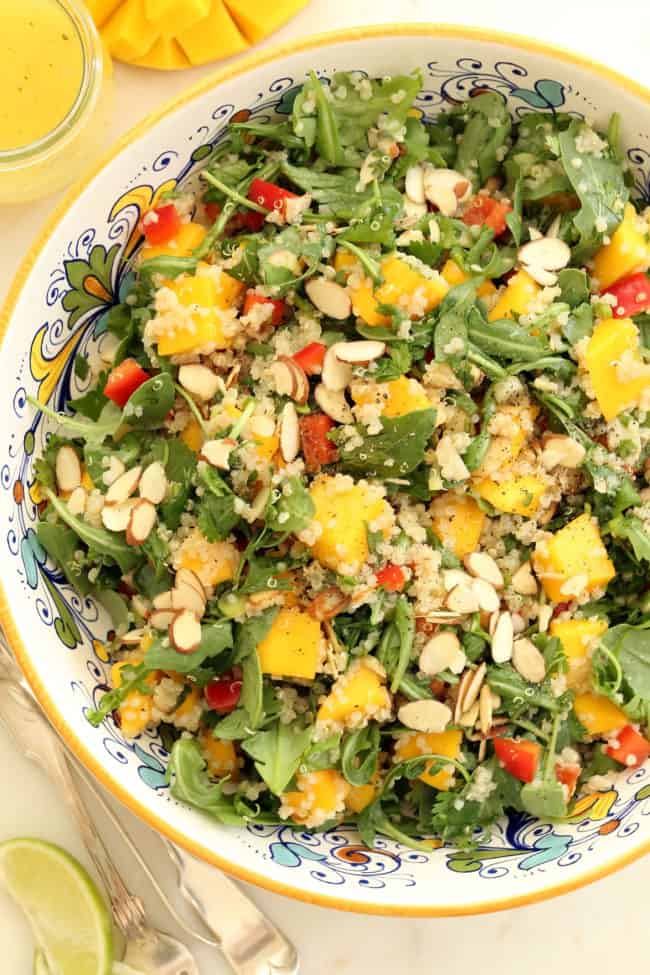 This colorful Mango Arugula Quinoa Salad is a delicious combination of sweet (mango), peppery (arugula) and earthy (quinoa), and it makes the perfect addition to any summer backyard barbecue!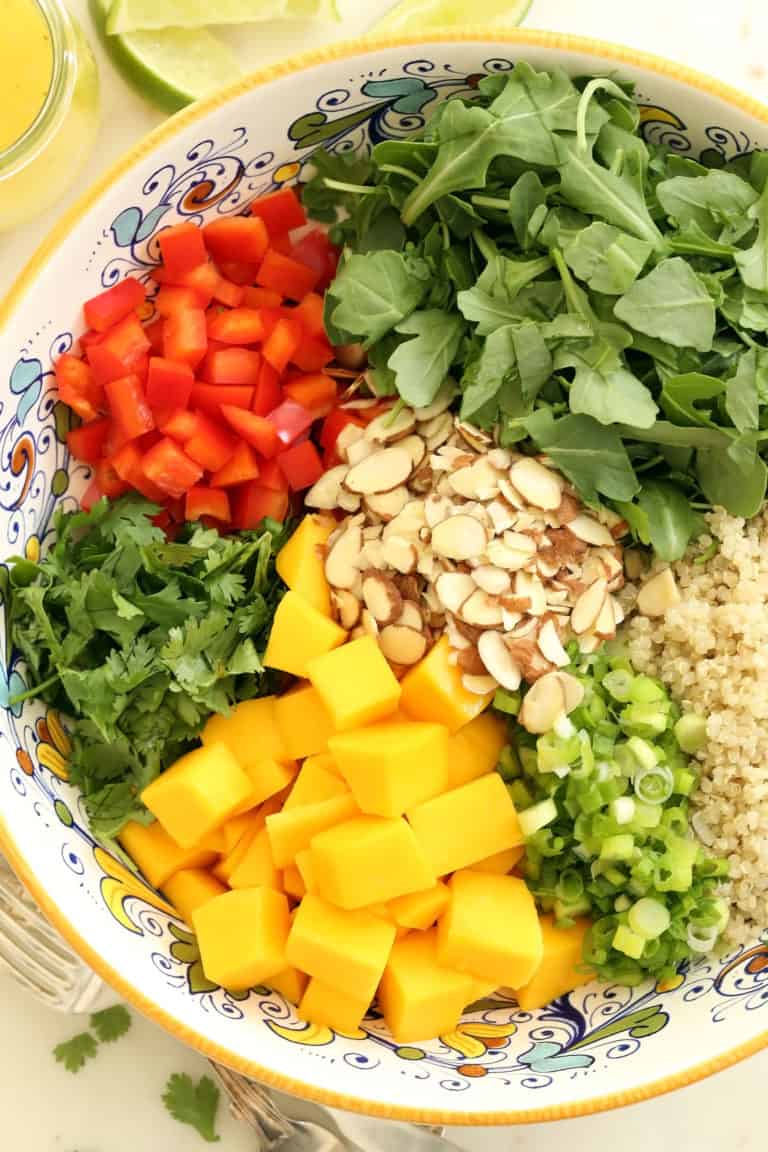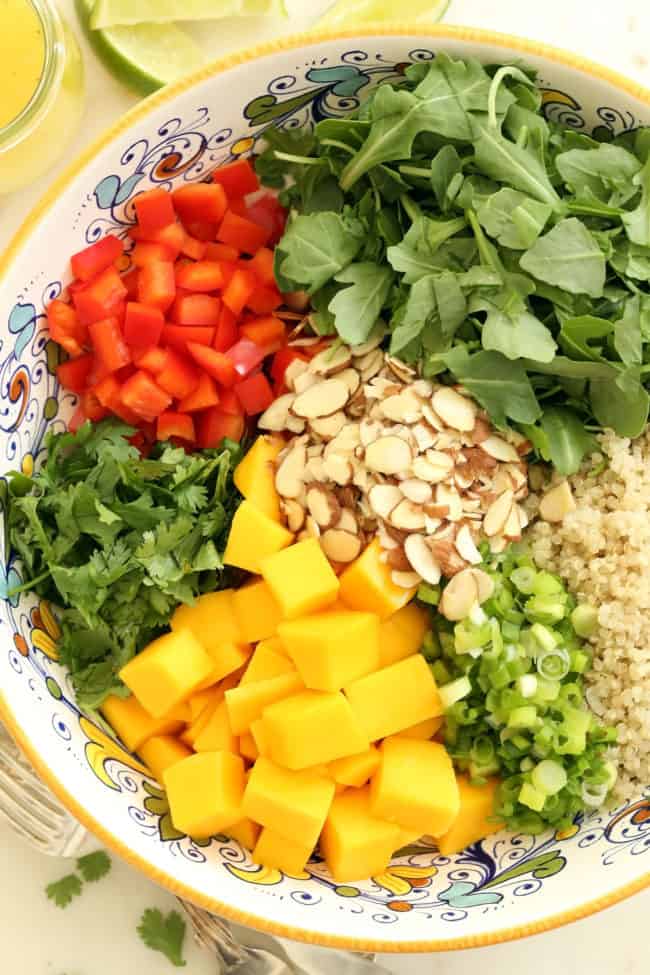 This amazing summer quinoa salad is full of fresh, organic colorful fruit and vegetables. It's great for lunch or dinner and clean up is a breeze!
Cold Quinoa Salad Recipe
Cooked quinoa
Arugula
Ripe mango (ripe juicy mangoes give this salad an incredible sweet and refreshing flavor)
Sweet red pepper
Scallions
Fresh cilantro
Sliced almonds
Dressing Recipe
This dressing is made with just 3 simple ingredients!
Fresh lime juice
Pure clover honey
Extra-virgin olive oil
How to Make Vegan Quinoa Salad
This cold quinoa salad with mango and arugula is quick and easy to make, coming together in about 20 minutes start-to-finish.
Cook quinoa: Combine the quinoa and water in a medium saucepan; bring to a boil. Reduce the heat and simmer, covered, until most of the water has been absorbed, about 12 minutes.
Make citrus dressing: Whisk together the lime juice, honey, oil, and salt in a small bowl.
Toss salad: Add the mango, red pepper, scallions, arugula, almonds and cilantro to a large bowl and gently toss with citrus dressing.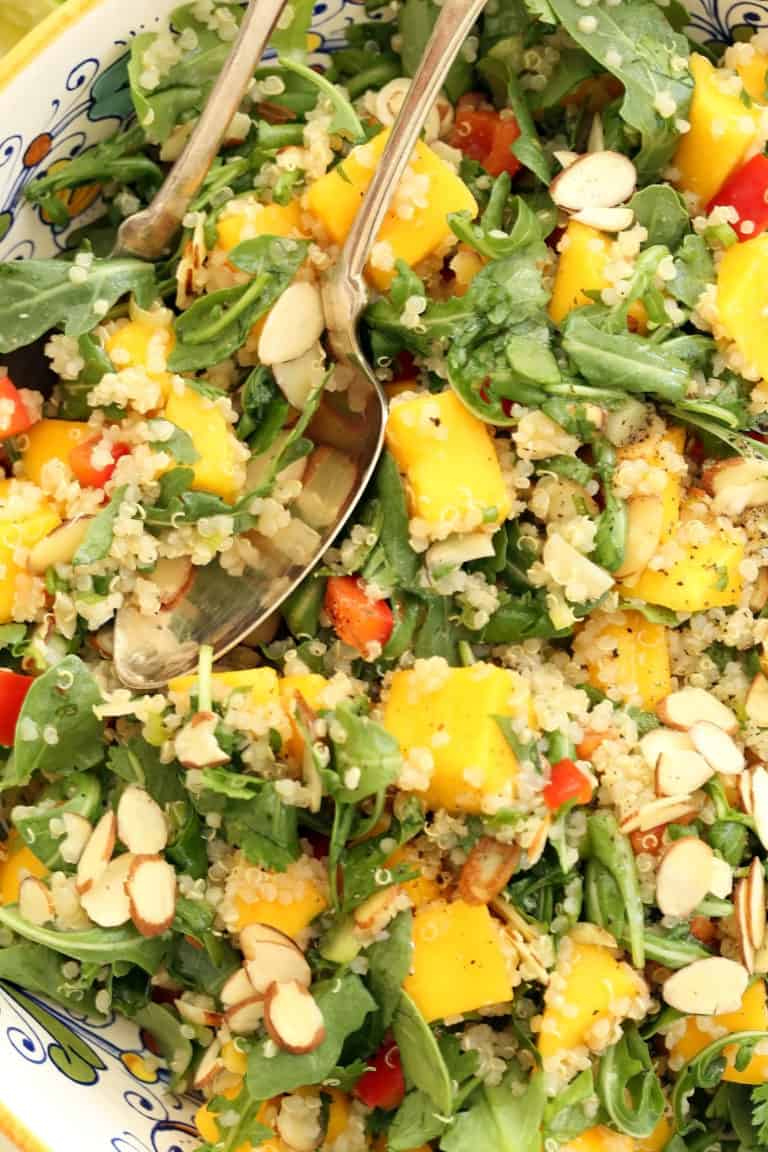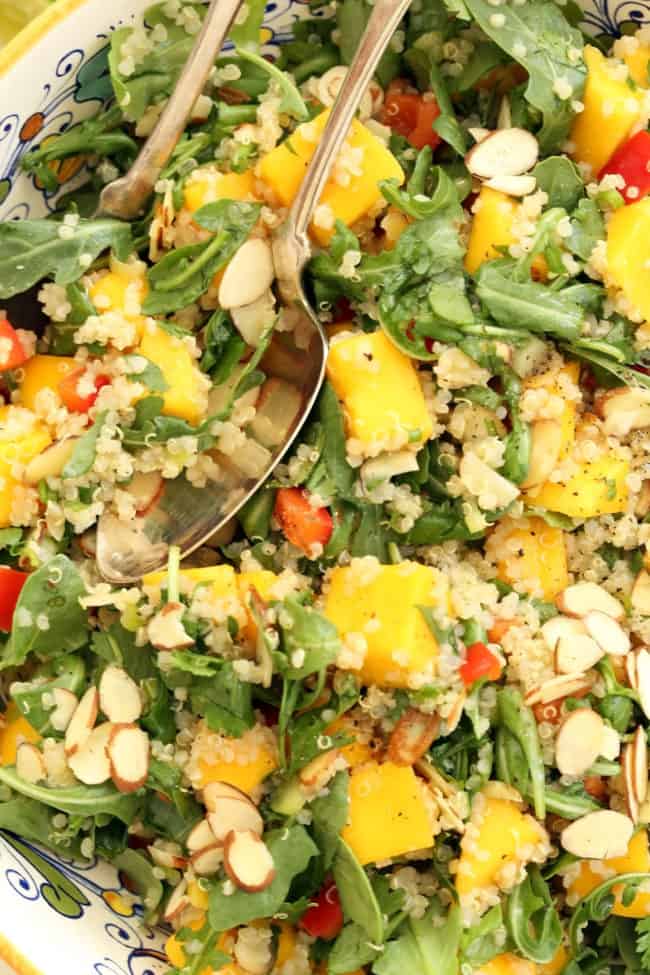 The vibrant colors going on in this vegan quinoa salad indicate that it's loaded with phytochemicals (antioxidants), vitamins and minerals. This salad features foods that boost your immune system like quinoa, which is a "complete" protein loaded with essential amino acids, mangoes which are rich with Vitamin C, Vitamin A, and Vitamin B6, and arugula is a good source of calcium, potassium, folate, Vitamin C and Vitamin K.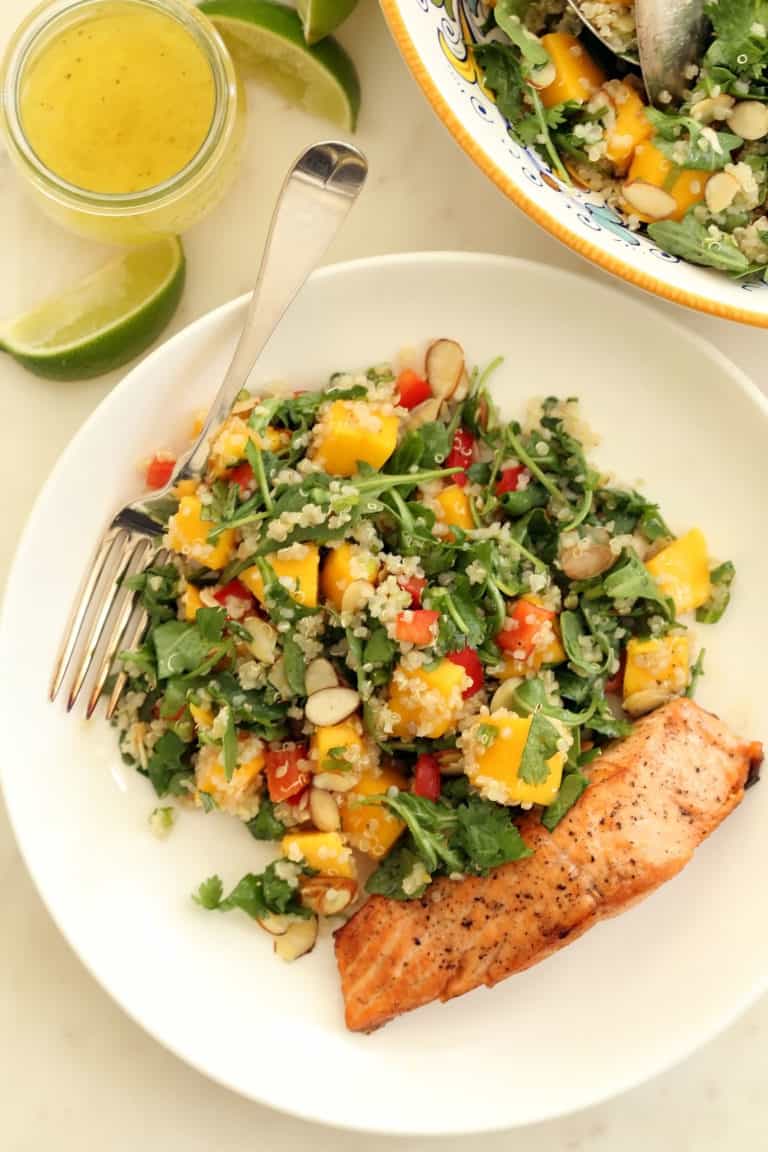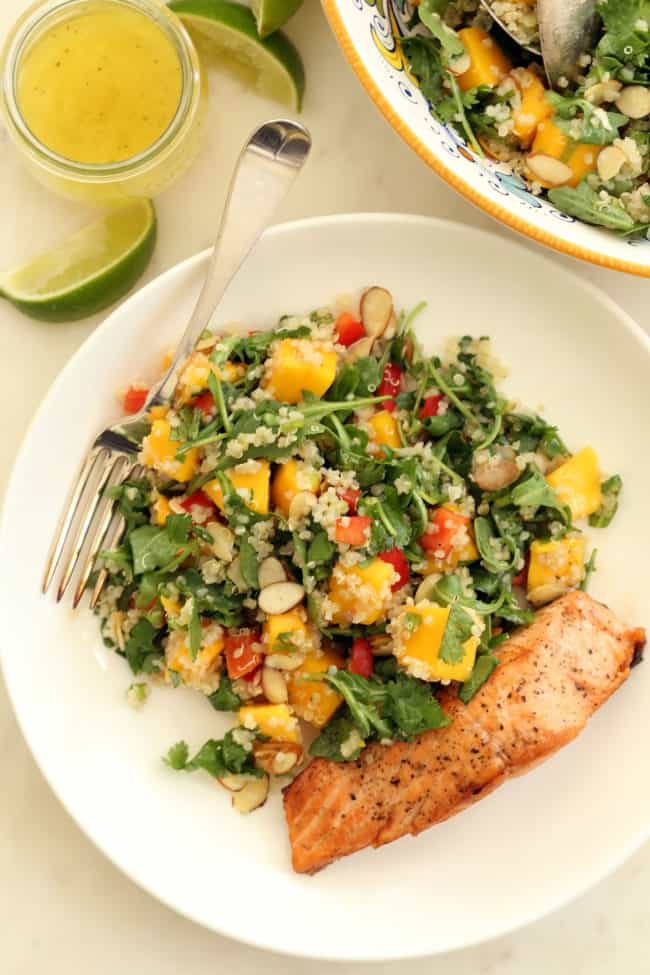 Looking for more summer salad recipes to make?
These summer salad recipes can be served as a side with grilled chicken or fish, but they're also filling enough to enjoy as a light main.
Want more ideas? Check out all my healthy salad recipes.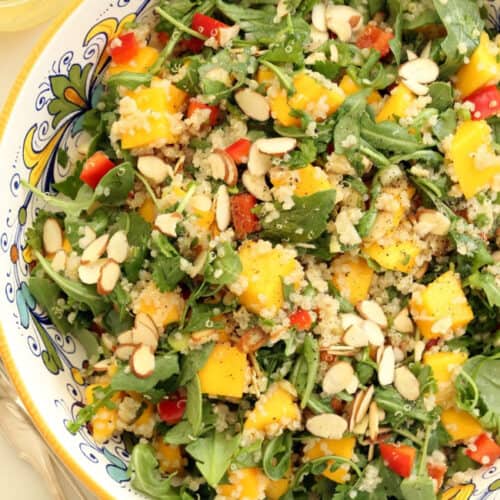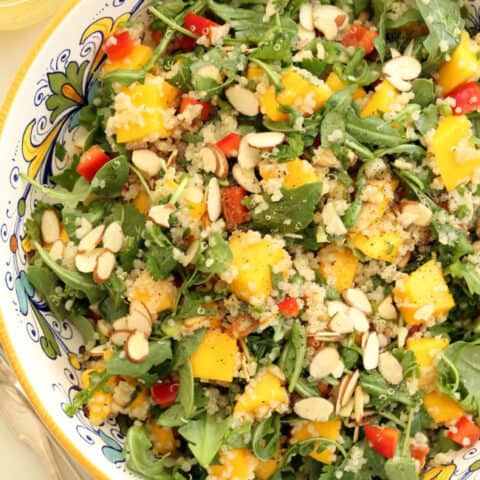 Yield: Serves 4 - 6
Mango Arugula Quinoa Salad
This Mango Arugula Quinoa Salad is a mix of quinoa, arugula and mango all tossed in a delicious citrus dressing.
Ingredients
1 cup cooked quinoa
1 large ripe mango, peeled and cut into 1/2-inch cubes
1 medium sweet red pepper, seeded and diced
4 medium scallions, chopped
3 cups arugula, coarsely chopped
1/4 cup cilantro, chopped
1/4 cup sliced almonds
Citrus Dressing
3 tablespoons pure clover honey
1/4 cup Lime juice, fresh
3 tablespoons extra-virgin olive oil
Salt and freshly ground black pepper to taste
Instructions
Whisk together the lime juice, honey, oil and salt and pepper in a small bowl
Combine quinoa and water in medium saucepan and bring to a boil.
Reduce heat and simmer covered for 12-15 minutes, just until most of the liquid has been absorbed. Remove from heat and set aside for 5-10 minutes before fluffing.
Using a fork, fluff quinoa and transfer to a large bowl
Add the mango, red pepper, scallions, and cilantro toss to coat. Gently stir in the arugula.
Pour the vinaigrette into the bowl and gently toss the ingredients so they're lightly coated.
Add the almonds to the top and serve.