Mango Arugula Quinoa Salad
There is such a great combo of flavors going on in this Mango Arugula Quinoa Salad. This salad is great on its own (Meatless Mondays), but it also compliments grilled salmon nicely.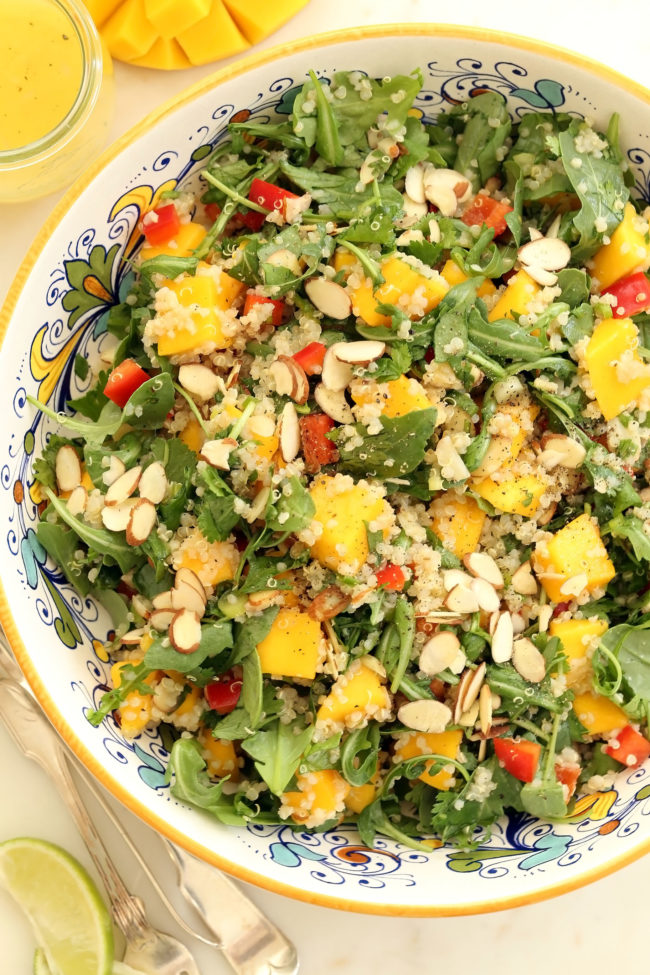 This healthy Mango Arugula Quinoa Salad is a delicious combination of sweet (mango) and peppery (arugula), and it's tossed in a delicious lime vinaigrette. Quinoa is added to provide a healthy dose of plant protein, making this salad perfect for Meatless Mondays.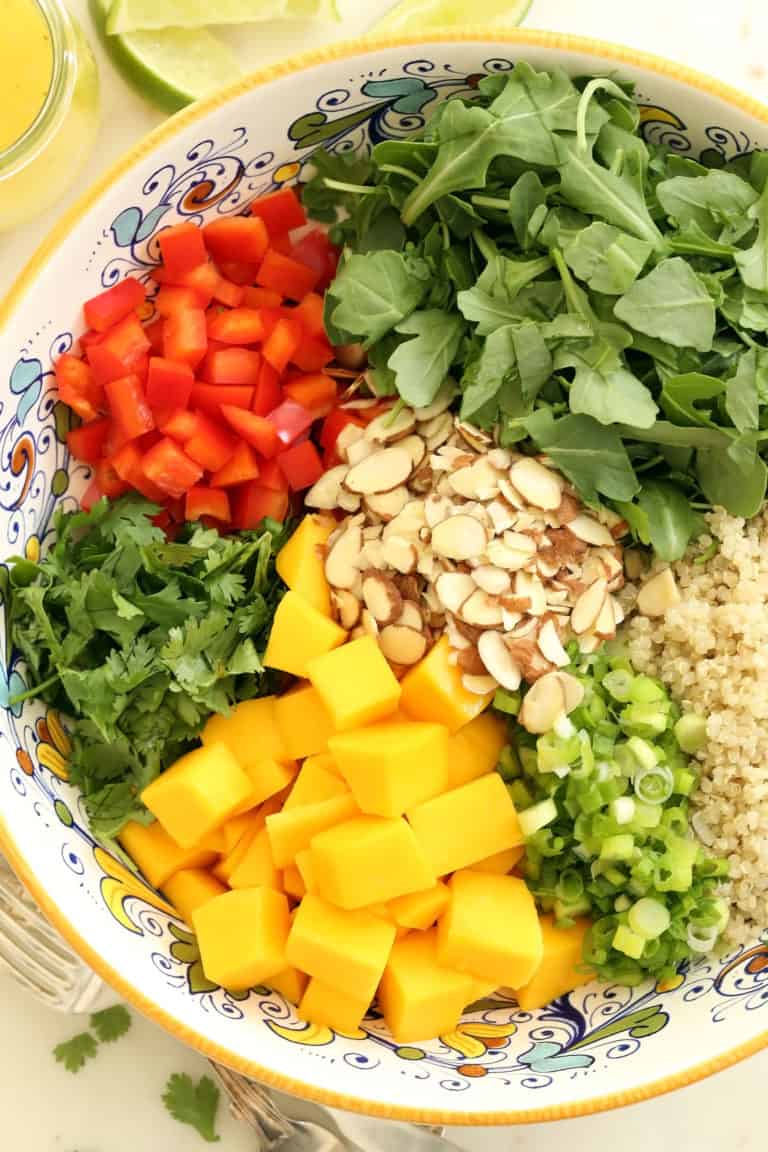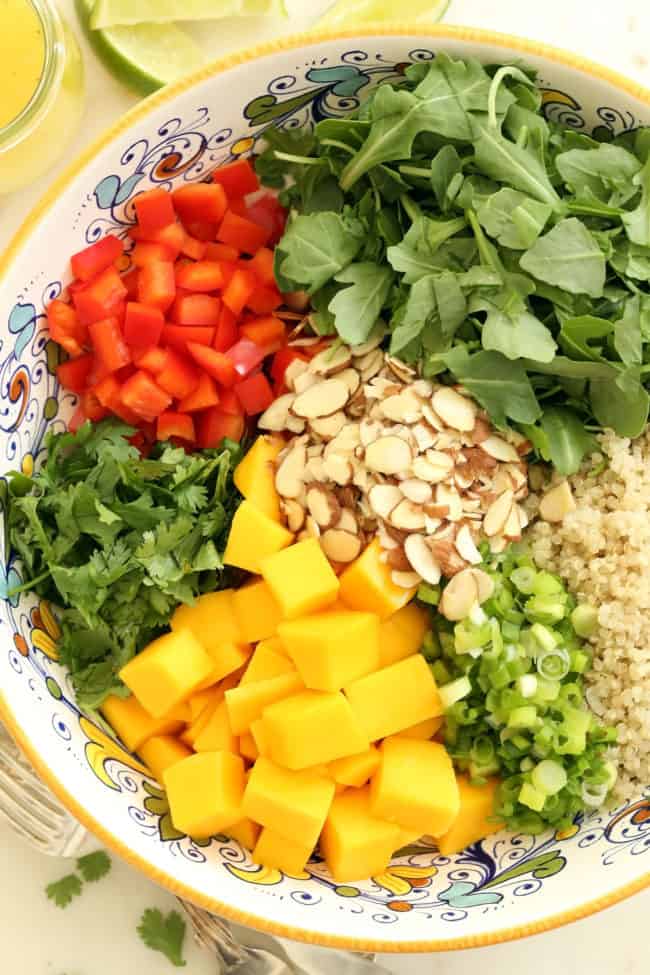 The vibrant colors going on in this salad indicate that it's loaded with phytochemicals (antioxidants), vitamins and minerals. And this salad also features quinoa, which is a "complete" protein loaded with essential amino acids. And the mangoes in this salad – well, they're loaded with antioxidant compounds. They're rich with Vitamin C, Vitamin A, and Vitamin B6. Many of these antioxidants found in mangoes may potentially help prevent cancer, lower cholesterol, improve eye health, alkalize the entire body, aid in digestion, and give a boost to the immune system.
I tend to add quinoa to a lot of my salads (you may have noticed). That's because it's a rich source of protein, iron, fiber, antioxidants and it contains a plethora of other beneficial phytonutrients. It's actually one of the most protein rich foods we can eat. And it contains all 9 essential amino acids. According to Livestrong – red quinoa has slightly less protein than the pale quinoa with 5 grams of protein per 1/4 cup compared to 7 grams of protein per 1/4 cup for the pale (or golden) quinoa.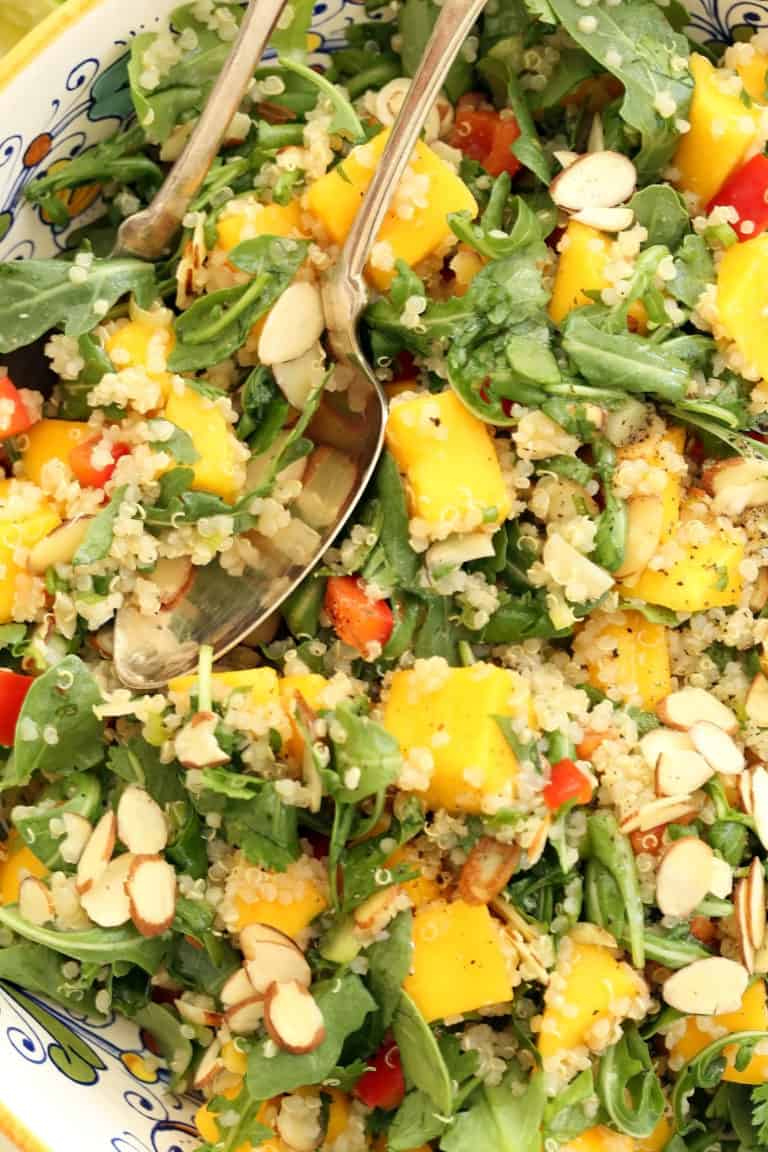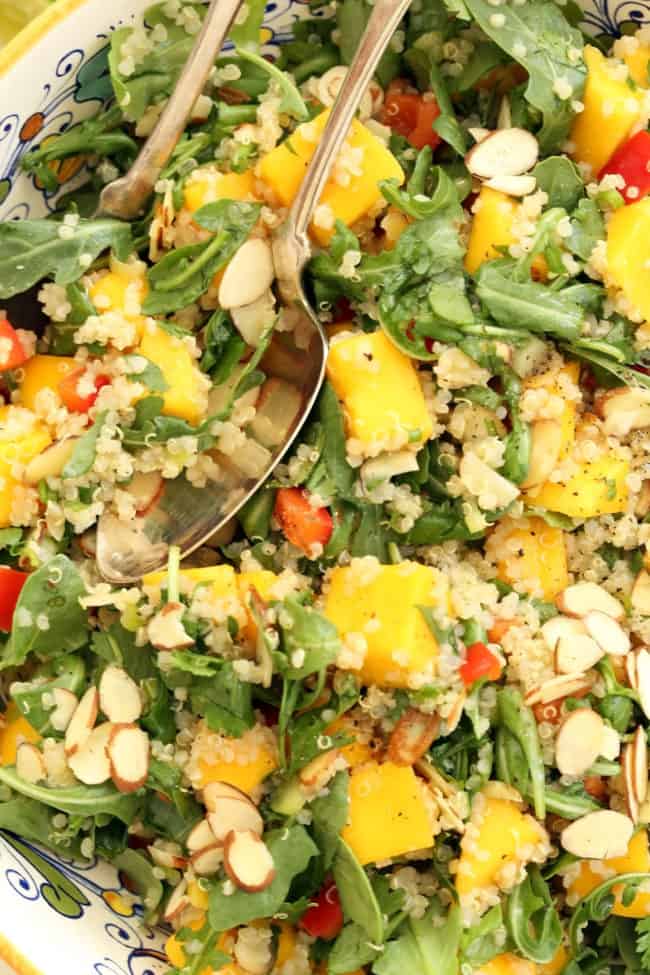 But if you're going for fiber – the red quinoa trumps the golden quinoa by providing more than double the amount of fiber per 1/4 cup with 5 grams of fiber, compared to the 2 grams of fiber that golden quinoa provides. You can read more here about the Benefits of Quinoa. So since I eat no red meat and little chicken, that's why I like to add quinoa to my salads – to get a healthy dose of plant protein.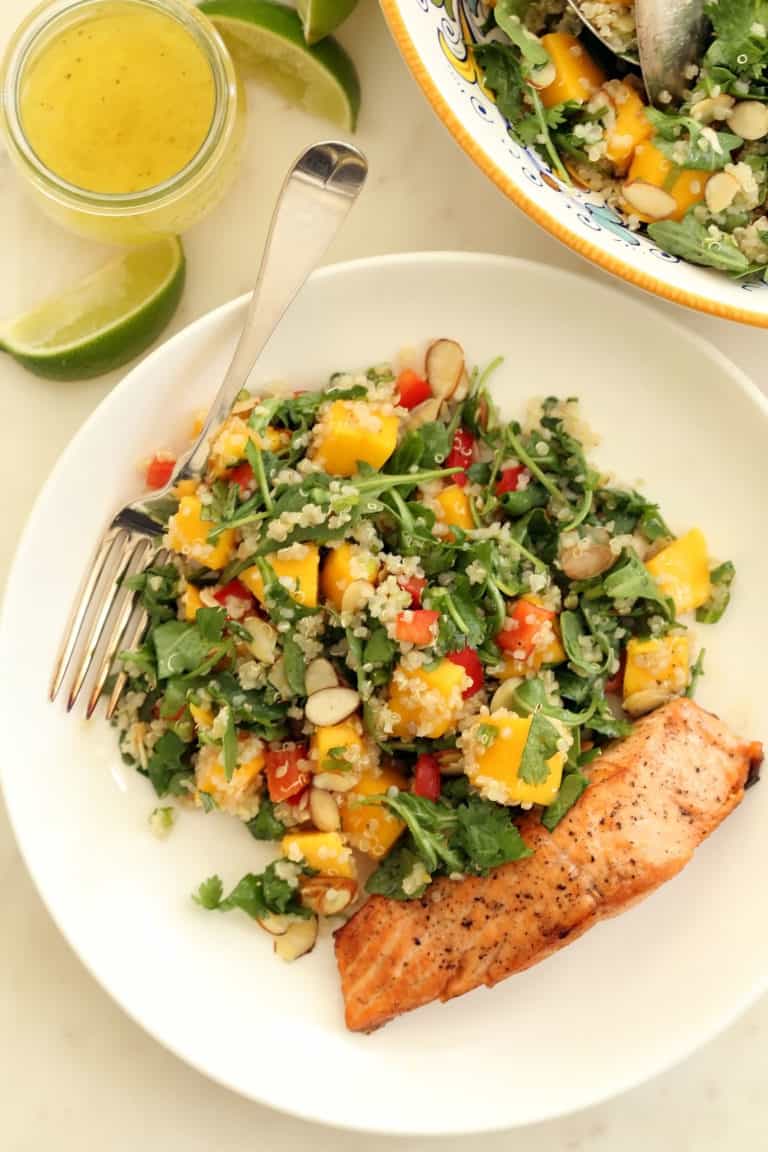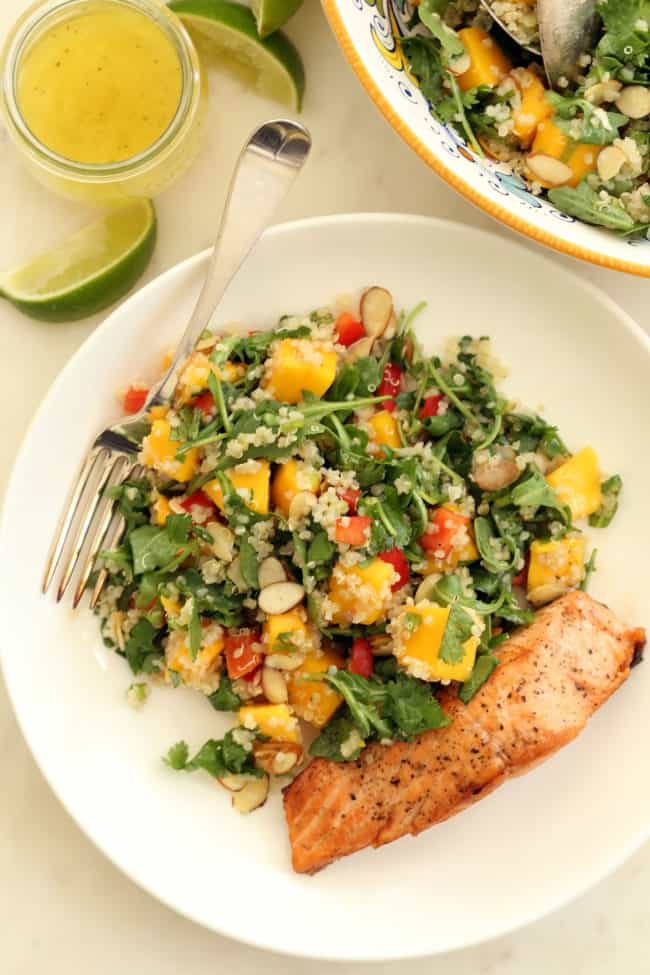 But I do love salmon, and this mango quinoa salad goes really well as a side with grilled salmon or pan-seared salmon. This healthy salad served with a nice piece of salmon would make an ideal meal for my friend, Malcolm. Though he'd probably also serve a side of grilled asparagus with it as well.
This quinoa salad recipe is quick and easy to make any night of the week. Serve it as a side dish or fill a big bowl and call it a meal.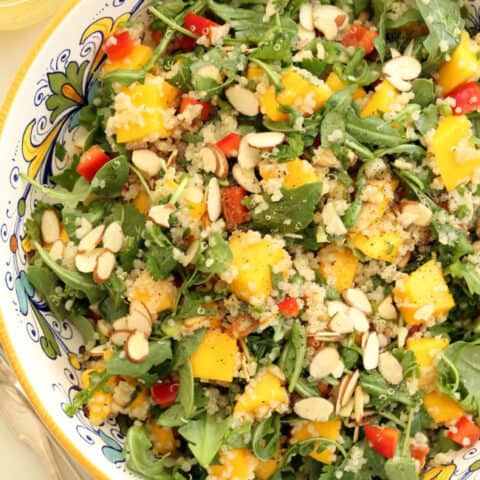 Yield: Serves 4 - 6
Mango Arugula Quinoa Salad
Ingredients
1 cup cooked quinoa
1/4 cup fresh lime juice
3 tablespoons pure clover honey
3 tablespoons extra-virgin olive oil
1 large ripe mango, peeled and cut into 1/2-inch cubes
1 medium sweet red pepper, seeded and diced
4 medium scallions, chopped
3 cup(s) arugula, coarsely chopped
1/4 cup cilantro, chopped
1/4 cup(s) sliced almonds
Instructions
Combine the quinoa and water in a medium saucepan; bring to a boil. Reduce the heat and simmer, covered, until most of the water has been absorbed, about 12 minutes.
Transfer to a large bowl and cool.
Whisk together the lime juice, honey, oil, and salt in a small bowl.
Add the mango, red pepper, scallions, and cilantro toss to coat. Gently stir in the arugula.
Pour the vinaigrette into the bowl and gently toss the ingredients so they're lightly coated.
Add the almonds to the top and serve.