Spinach Quinoa Salad
This post may contain affiliate links.
There is so much to love about this Spinach Quinoa Salad! It's a healthy mix of quinoa, baby spinach, sun-dried tomatoes and almonds all tossed in a delicious basil vinaigrette!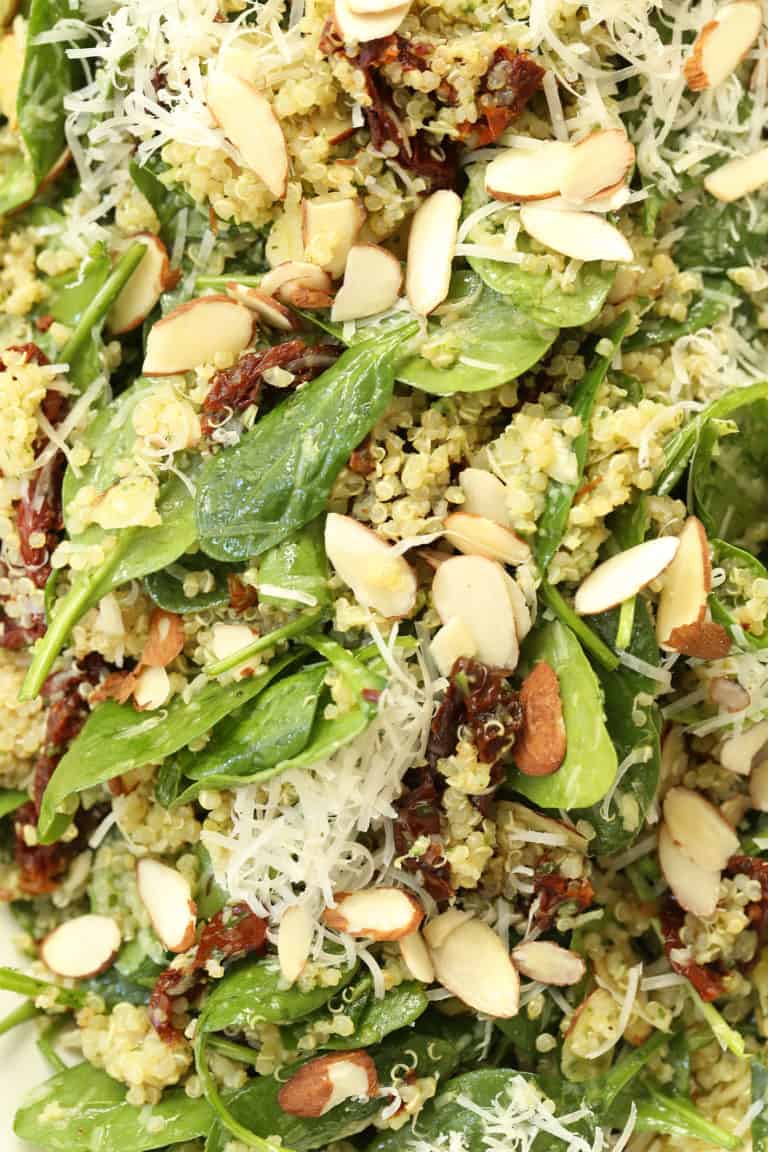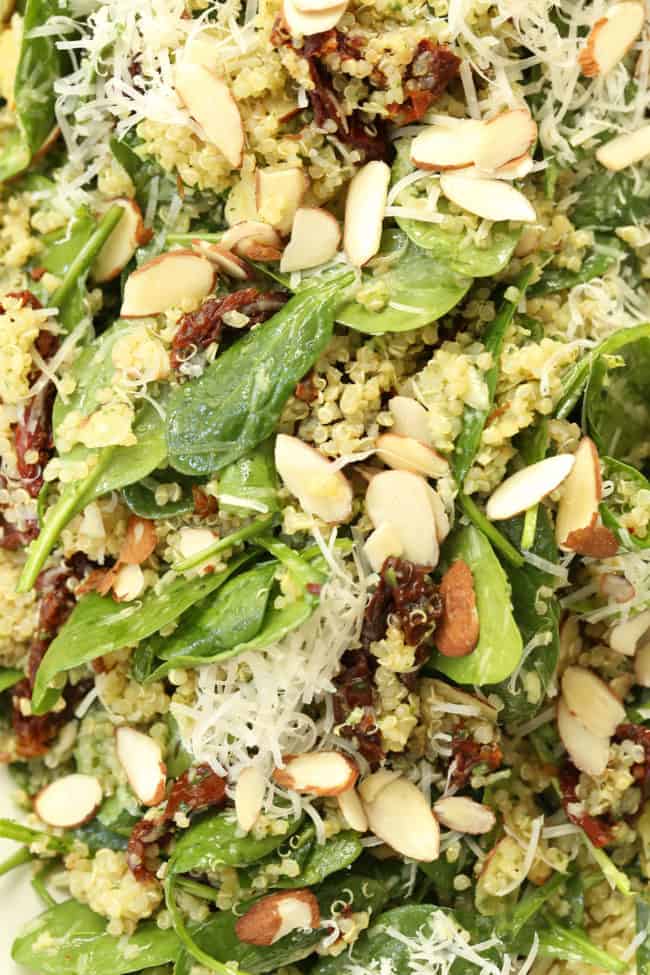 The combo of flavors in this quinoa and spinach salad is completely addicting, and it makes a perfect as a side dish or vegetarian main.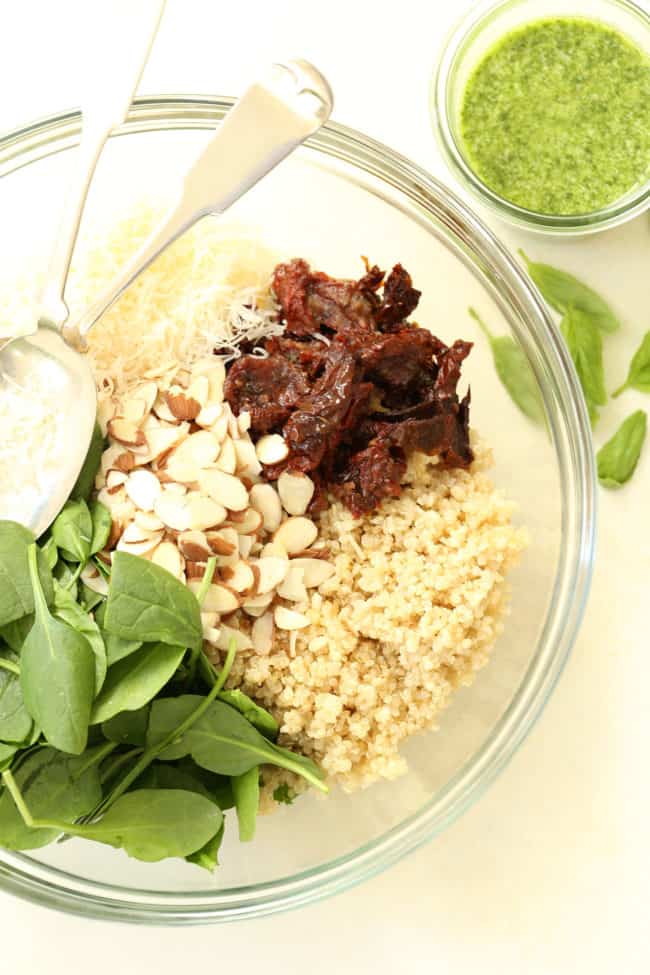 This quinoa salad is a gluten-free and protein-packed that's both filling and satisfying.
SPINACH QUINOA RECIPE
This spinach quinoa is made with just 5 simple ingredients. It's the basil vinaigrette that makes this spinach quinoa completely addictive!
Fresh baby spinach
Sun-dried tomatoes
Sliced almonds
Parmesan cheese
HOW TO MAKE QUINOA AND SPINACH
This quinoa and spinach comes together in about 30 minutes start-to-finish.
Cook quinoa.
Add cooled cooked quinoa, baby spinach, sun-dried tomatoes, and almonds to a bowl.
Gently toss ingredients with basil vinaigrette to lightly coat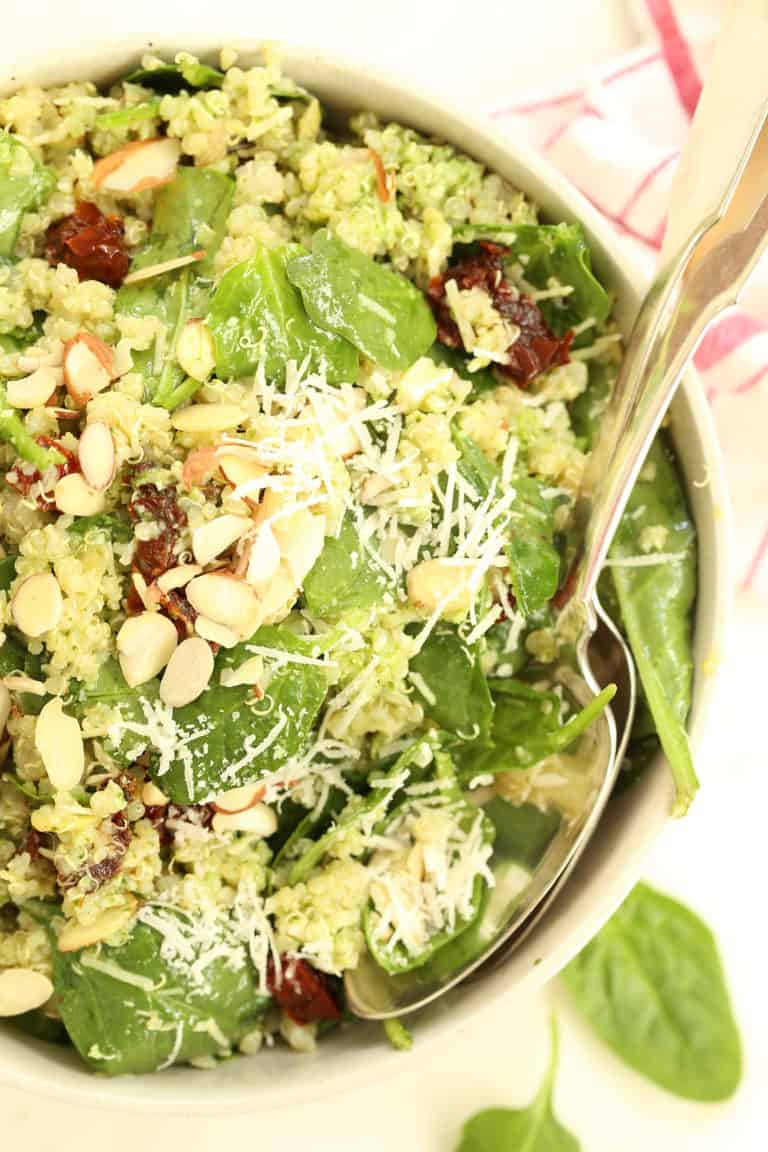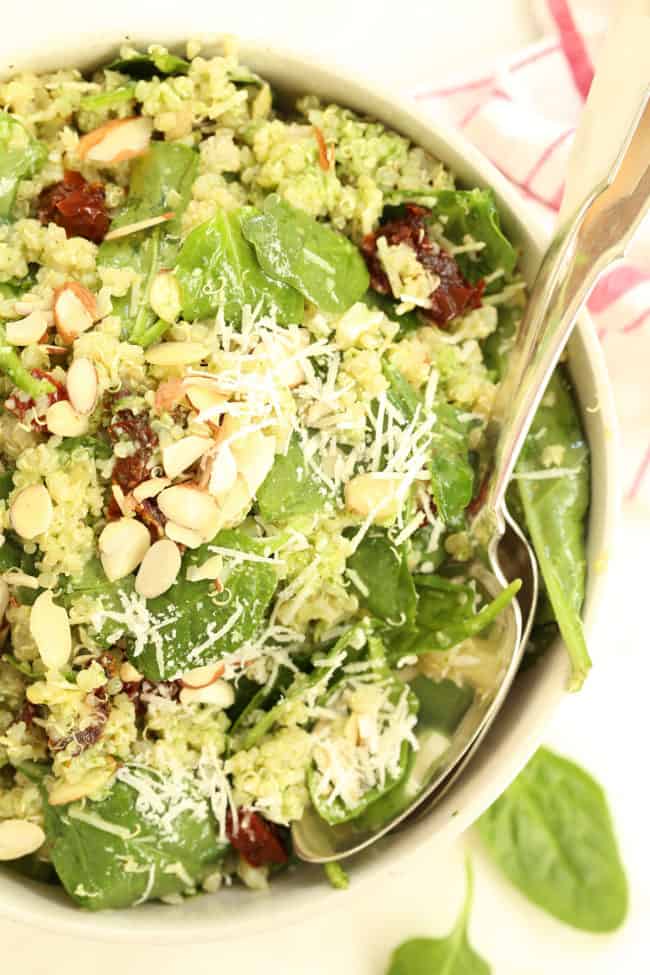 The inspiration for this easy spinach salad came from a penne dish served at Whole Foods. I'd find myself at lunchtime picking through the noodles to pluck out the spinach, tomatoes and almonds. So, here I've replaced the penne with quinoa, and I've loaded it much more generously with fresh baby spinach and delicious sun-dried tomatoes. I love the simplicity of this salad. It's one of my favorites!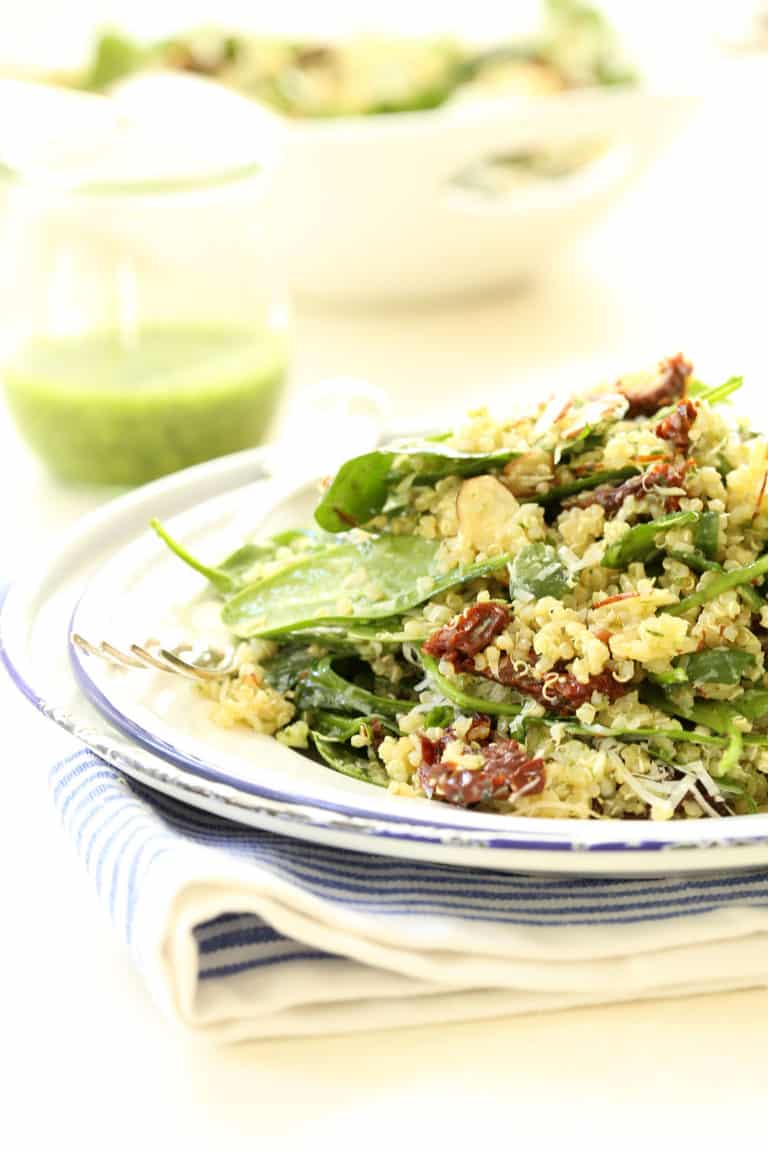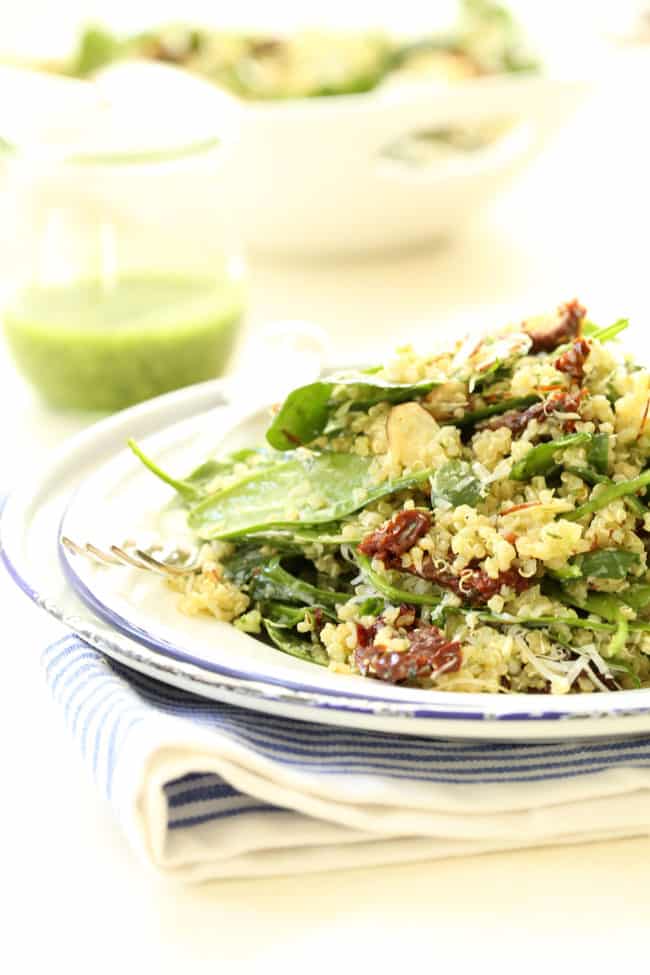 HEALTHY SPINACH RECIPES
These fresh spinach recipes are just a few of my favorite recipes that use baby spinach as a main ingredient.
Originally published 1.2017 – updated 7.2020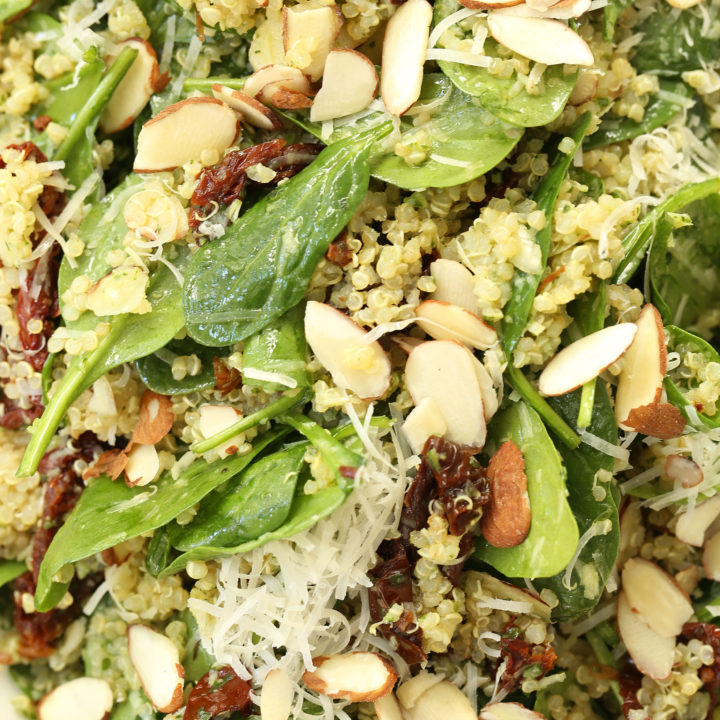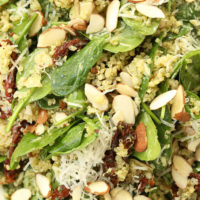 Yield: 6 servings
Spinach Quinoa Salad
This Spinach Quinoa Salad is loaded with quinoa, baby spinach, sun-dried tomatoes, sliced almonds all tossed in a light basil pesto dressing
Ingredients
1-1/2 cups cooked quinoa (1 cup dried, rinsed quinoa and 2 cups water)
2 cups raw baby spinach
1/4 cup sliced raw almonds
1/3 cup sun-dried tomatoes packed in oil (drained and chopped)
1/4 cup parmesan cheese, grated
1/3 cup basil vinaigrette (add more if you prefer)
Basil Vinaigrette
3 tablespoons fresh basil, sliced
1 clove garlic, minced
4 tablespoons parmesan cheese, grated
1-1/2 tablespoons Dijon mustard
4 tablespoons fresh lemon juice
1/2 cup extra virgin olive oil
salt and freshly ground black pepper to taste
Instructions
Heat 2 cups water in saucepan and add 1 cup dry quinoa. Place lid on pan and turn heat to low simmer. Simmer for 15-20 minutes.
Remove quinoa from heat and after liquid has all evaporated, fluff with fork.
In a large bowl add the cooled cooked quinoa, spinach, sun-dried tomatoes, and almonds.
Add the basil vinaigrette and gently toss to distribute evenly.
Garnish with more almonds and grated parmesan cheese.
For the Pesto Vinaigrette
Place basil, garlic, parmesan cheese, mustard and lemon juice in a blender.
Pulse a few times, then slowly pour the olive oil in the blender.
Continue to blend until dressing is smooth.
Best if refrigerated for 1 hour before serving