Quinoa
This post may contain affiliate links.
Here's everything you need to know about quinoa, like what is quinoa? Is quinoa gluten free? What are the quinoa health benefits? How to rinse quinoa and how to cook it, and what are the different types of quinoa you can choose from.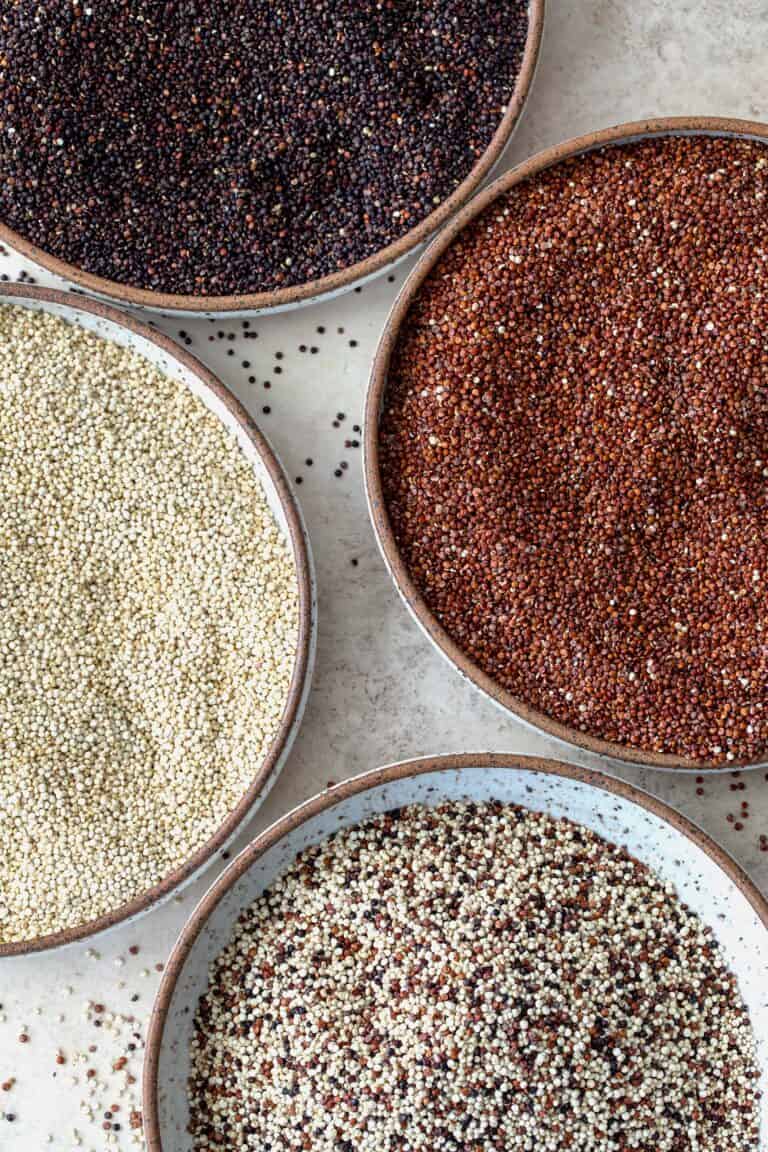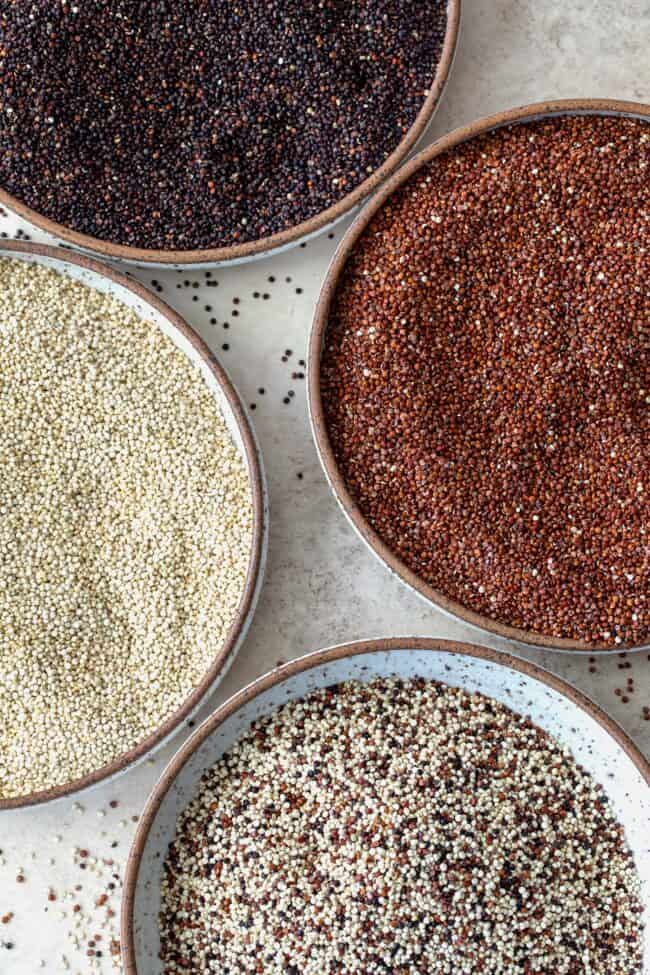 Quinoa is a super seed that's been growing in popularity for the past several years. It's gluten-free and Mediterranean diet approved and there are so many quinoa health benefits making it worthy of your attention. For instance – it's a rich source of protein, iron, fiber, antioxidants and it contains a plethora of other beneficial phytonutrients. It's actually one of the most protein rich foods we can eat.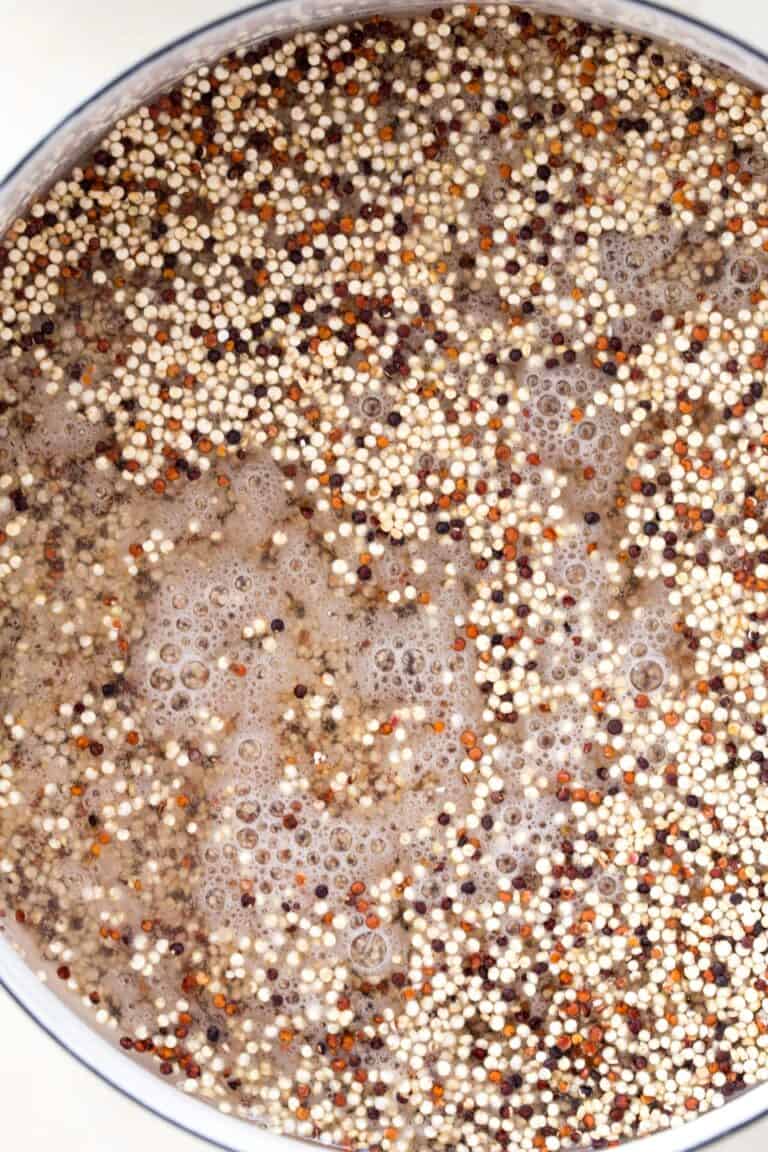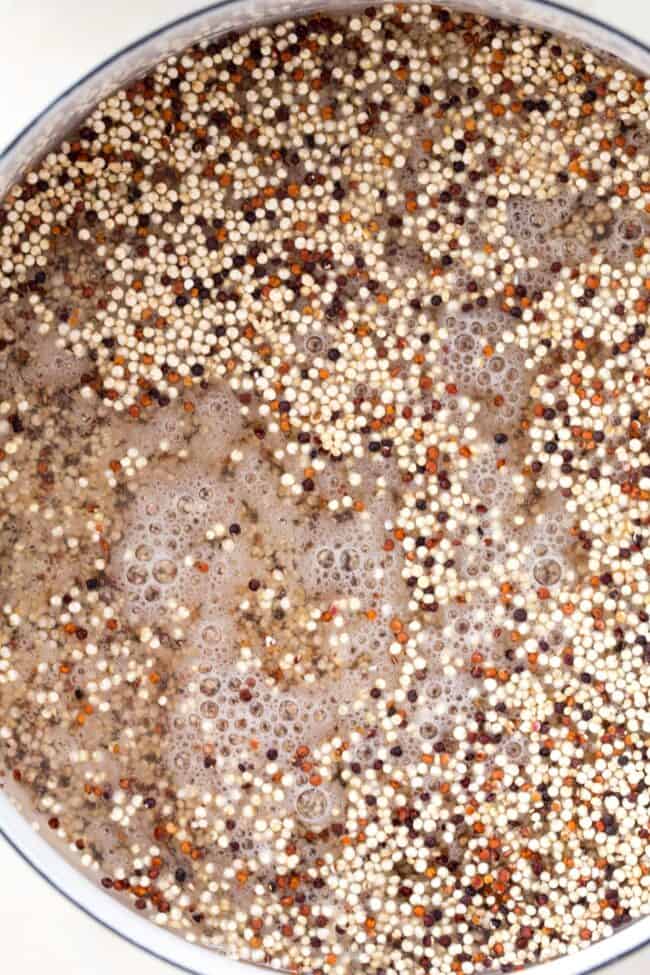 What is Quinoa
Quinoa (quinoa pronunciation – KEEN-wah) is a flowering plant related to the amaranth family. It's a gluten-free seed that's rich in plant protein and rich with all nine essential amino acids, and it's considered an "ancient grain". Ancient grains include a variety of wheat (spelt, Kamut, freekeh, bulgur, farro, and grains such as millet, barley, oats, teff and soghum, as well as pseudocereals (which are seeds that are consumed like grains) such as quinoa, armaranth, buckwheat and chia. They tend to be more nutritious and provide more vitamins, minerals and fiber than the more common grains like corn, rice and wheat. (1)
Types of Quinoa
If you're wondering is quinoa gluten free – the answer is yes, each of these varieties are all gluten free.
White – Light a fluffy and mild in flavor. This is the variety that's most commonly used to replace rice and other grains in your daily wellness plan.
Red – A little more crunchy with a nuttier flavor. This variety is good to use in nourishment bowls and tossed into salads.
Black – Similar to the red variety, so it's more crunchy with a nuttier flavor. Also good to use in nourishment bowls and to toss into salads.
Tri-Color – This is a blend of white, red and black quinoa. It also has a nuttier flavor and it's a little more crunchy because of the red and black variety.
White Quinoa vs Red Quinoa
What's the difference between white quinoa vs red quinoa nutritionally speaking? The red variety has slightly less protein than the white variety with 5 grams of protein per 1/4 cup compared to 7 grams of protein per 1/4 cup for the pale (or golden) quinoa. But red quinoa trumps the golden quinoa by providing double the amount of fiber per 1/4 cup with 5 grams of fiber, compared to the 2 grams of fiber that the golden quinoa provides.
What Does it Taste Like
It has a slightly nutty flavor and it's eaten similarly to a grain. It can be served as a healthier choice instead of rice, couscous. orzo or other grains.
Where to Buy It
You can find it at your local health food store and most grocery stores near the rice, grains and legumes.
Is Quinoa Gluten Free
Yes. This little seed is gluten-free and makes a great alternative to gluten containing grains for people who are gluten sensitivity or have celiac disease.
Quinoa Health Benefits
Yes! The quinoa health benefits are many. This super seed is extremely nutritious!
Anti-inflammatory. Rich with antioxidant and anti-inflammatory compounds, which are called flavonoids (quercetin and kaempfero).
Gluten-free. It is a seed so it's naturally gluten-free and makes a great choice for those wanting to cut-back on or eliminate gluten from their diet.
Vitamins and Minerals. It is rich with folate, magnesium, manganese and iron.
Protein. It's a complete source of protein, providing 8-9 grams of protein per cooked cup (it's one of the most protein rich foods we can eat), making it an excellent source of protein for vegetarians and vegans, weight loss diets or anyone wanting to add more plant protein to their diet. It's also a good source of complex carbohydrates, fiber, iron, manganese and magnesium (1)
Carbs. It contains about 39.4 grams of carbs per cup (cooked). Carbs make up 21% (cooked), and about 83% of these carbs are starches with the rest consisting mostly of fiber. (2)
Weight Loss. It's relatively low in calories with one cup of cooked quinoa containing only approximately 222 calories.(3) It's a smart choice to add it to your wellness and weight loss program, as it's high in protein which can increase metabolism and reduce appetite. (4) Also, being a good source of fiber, consuming it may also increase feelings of fullness, so we may eat fewer calories (5)
Does Quinoa Need to Be Rinsed
Yes! It has a natural coating that contains saponins, tannins and phytic acid which can makes it taste bitter and causes it to foam when boiling in liquid. This coating can also bind with certain nutrients like magnesium and iron which reduces their absorption in our body. Rinsing, soaking or sprouting quinoa prior to cooking will make the texture softer and it reduces the coating and makes minerals more easily to absorb. (6) There are brands that come already rinsed and it states so on the package. Keep reading to learn how to rinse quinoa.
How to Rinse Quinoa
In a nutshell, this is how to rinse quinoa.
Measure out the amount that you'll be cooking
Pour it into a fine mesh sieve or colander.
Rinse under cold water for about 30 seconds.
Drain well before cooking.
How to Cook It
Cooking quinoa is similar to cooking rice. One cup dry quinoa cooked with two cups water or broth will yield about 3 cups cooked quinoa. It takes about 15-20 minutes to cook, and it's best if you set it aside after cooking for 8-10 minutes or longer before fluffing with a fork.
Rinse. Pour quinoa in a fine mesh colander and rinse under cold running water for about 30 seconds.
Cook. Add it to saucepan and pour water or broth over it and stir.Bring the mixture to a boil, then reduce heat to low, cover with lid and simmer 15-20 minutes. Don't remove the lid while it cooks.
Remove from heat. As soon as the water is absorbed, remove from heat and set aside for 8-10 minutes or longer before fluffing with a fork.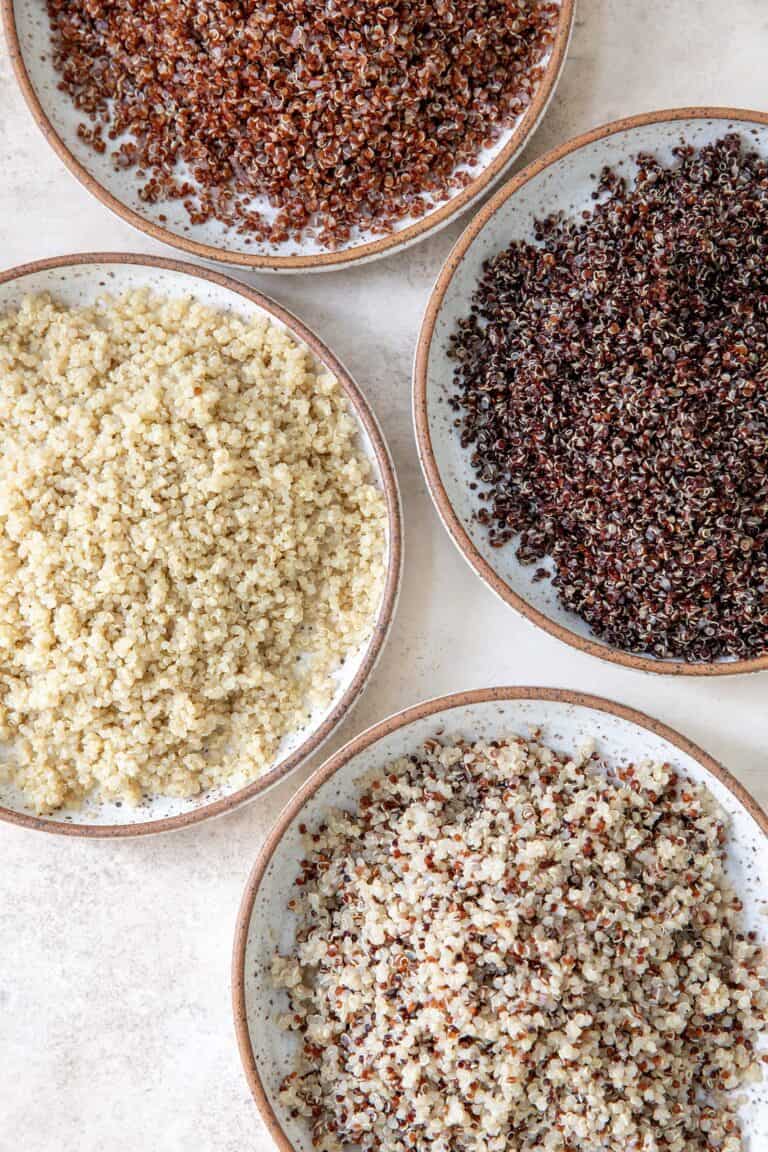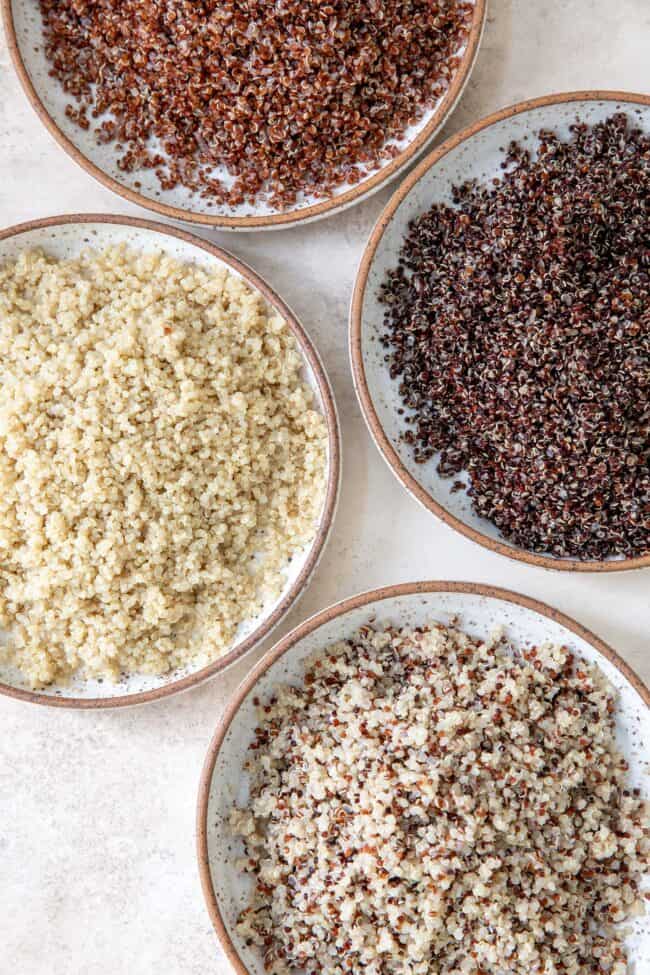 How to Add More of it to Your Diet
Because there are so many quinoa health benefits, making it worthy of your attention, here's a few ways you can incorporation more of this super seed into your daily wellness plan.
Salads. Keep a bowl or jar of cooked quinoa in your refrigerator so you can easily toss it by the spoonfuls into green salads.
Breakfast Cereal. You can cook it with oatmeal for a warm breakfast cereal.
Vegan Burgers. It's great mixed with legumes (black beans, lentils or chickpeas) to make vegan burgers.
Soups. Add it to soup instead of using rice or noodles for a more nutritious add-in.
Bowls. Use it instead of rice or other grains when building your favorite power bowls like these Chicken Taco Bowls.
Healthy Snacks and Baking. Use cooked quinoa, quinoa flakes and flour for baking and to make healthy power bites and peanut butter cups.
Looking for Quinoa Recipes to Make?
If you're looking for some new healthy recipes for inspiration, the recipes below are some of my favorites to make. Click the recipe name to take you to the full post.