Chef Salad
This post may contain affiliate links.
This Italian style Chef Salad recipe is made with classic chef salad ingredients all tossed in a delicious gorgonzola dressing.This is one of my favorite healthy salad recipes to make!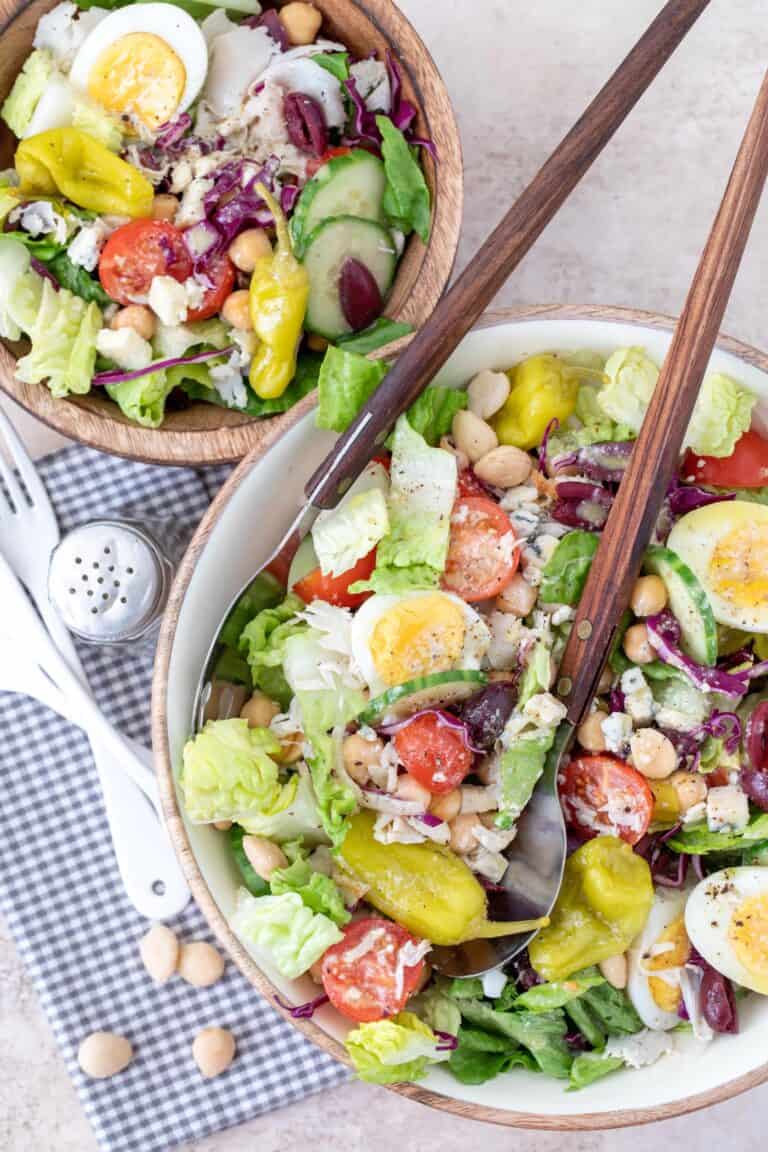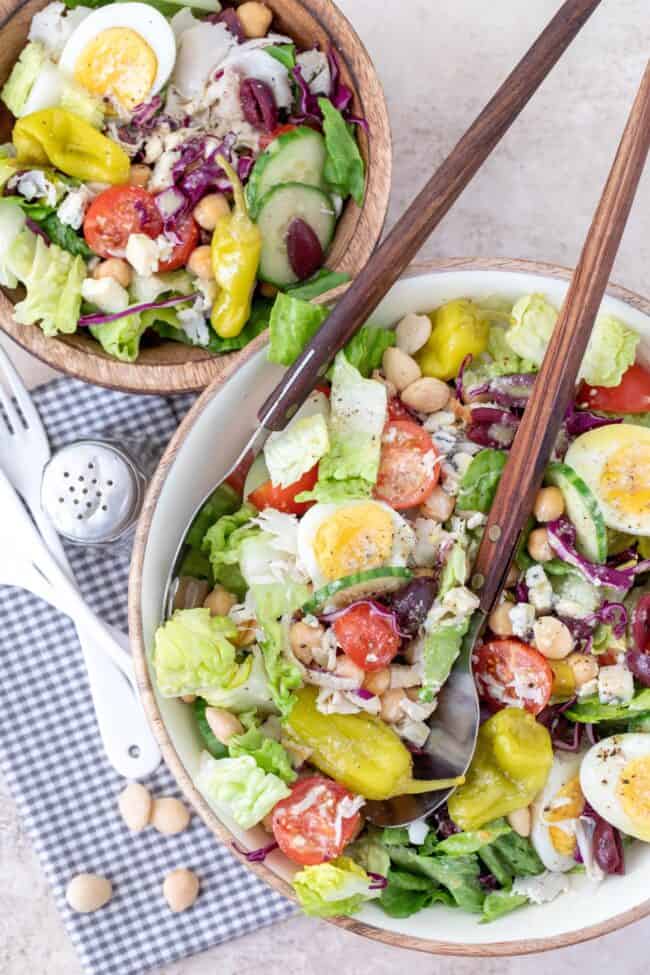 I love everything about this Chef Salad. It's made with classic chef salad ingredients tossed together with some Italian salad favorites.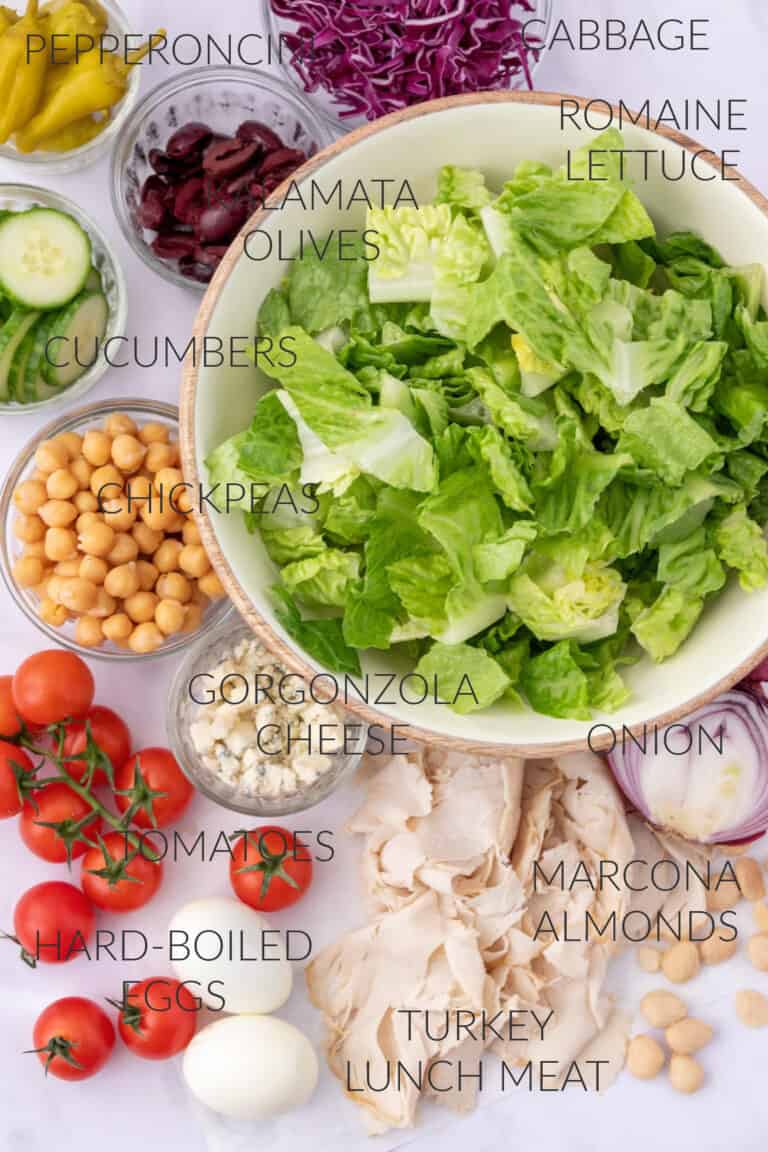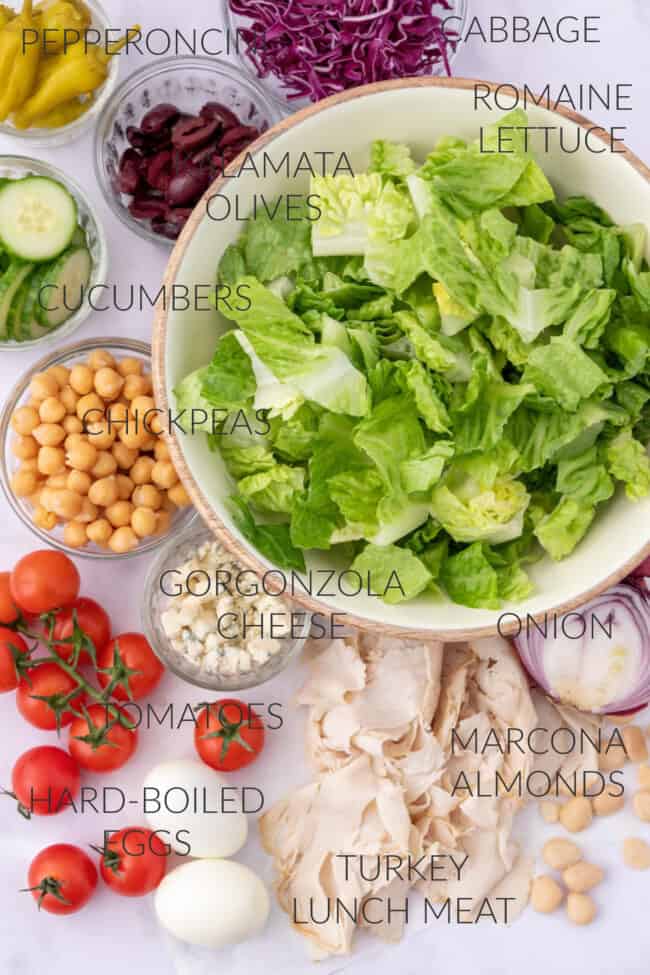 I could live on big beautiful salads like this one, made with fresh healthy ingredients and tossed in a delicious homemade dressing. This salad is filling enough to serve as a light main for lunch or dinner.
Chef Salad Recipe
Yes – there's a lot of ingredients in this salad, but hopefully many of them will be staples in your refrigerator and pantry. This is a great meal prep salad because you can store the ingredients separately in the refrigerator until you're ready to toss them together before serving. It's one of my favorite healthy salad recipes to make!
Romaine lettuce. I use Romain Lettuce for many of my salads. A lot of Chef salads are made with iceberg lettuce – but there's more nutrients in Romaine lettuce.
Turkey. I used roast turkey sliced very thin. (Purchased at the deli at my local market)
Hard-boiled eggs. I cut the eggs in half, but you can also chop them into small pieces or crumble them.
Garbanzo beans. Most chef salads add ham lunchmeat. I swap out the ham here and add canned or cooked-from-scratch garbanzo beans instead (replacing animal protein for plant protein – besides, I don't eat pork).
Cabbage. I used purple cabbage here but you could use Radicchio instead.
Sweet cherry tomatoes. I like to add either sweet cherry tomatoes or Roma tomatoes to this salad. If using cherry tomatoes, just slice them in half, and if you use Roma tomatoes regular then cut them into wedges.
Cucumber. We used English cucumber for this salad. Don't peel them – just rinse and slice.
Purple onion. I always slice my onion and then soak the slices in water before adding to salads. Soaking sliced onions in water takes the bite out of onion and mellows the flavor considerably.
Pepperoncini. Added pepperoncini adds a lot of flavor to salads.
Kalamata olives. I love adding kalamata olives to my salads. It adds nice flavor.
Marcona almonds. We add Marcona almonds to replace croutons in this salad for a little crunch.
Gorgonzola cheese. Instead of deli American, Swiss or Cheddar cheese added to classic Chef Salad, we add Gorgonola (which is an Italian cheese).
Gorgonzola dressing. This Gorgonzola dressing is super easy to make and it is light, slightly creamy and really delicious! I'm not a fan of blue cheese or blue cheese dressing – but this Gorgonzola dressing is a hit with me. The Gorgonzola cheese adds a nice mellow creaminess to the dressing.
Find the printable recipe with measurements below.
Variations
How to Make Chef Salad
This Chef Salad comes together in about 15 minutes start-to-finish. You'll need a large bowl to toss all of the Chef Salad ingredients in because this salad feeds a small crowd.
Prep salad ingredients. Wash, slice and chop ingredients.
Add ingredients to bowl. Combine the lettuce, cabbage, onions, cucumber, tomatoes, garbanzo beans, turkey, pepperoncini, kalamata olives and almonds in a large bowl.
Toss salad. Dress salad with Gorgonzola dressing and toss. Add the hard-boiled eggs and drizzle dressing over the top.
Seasoning. Season with freshly ground black pepper.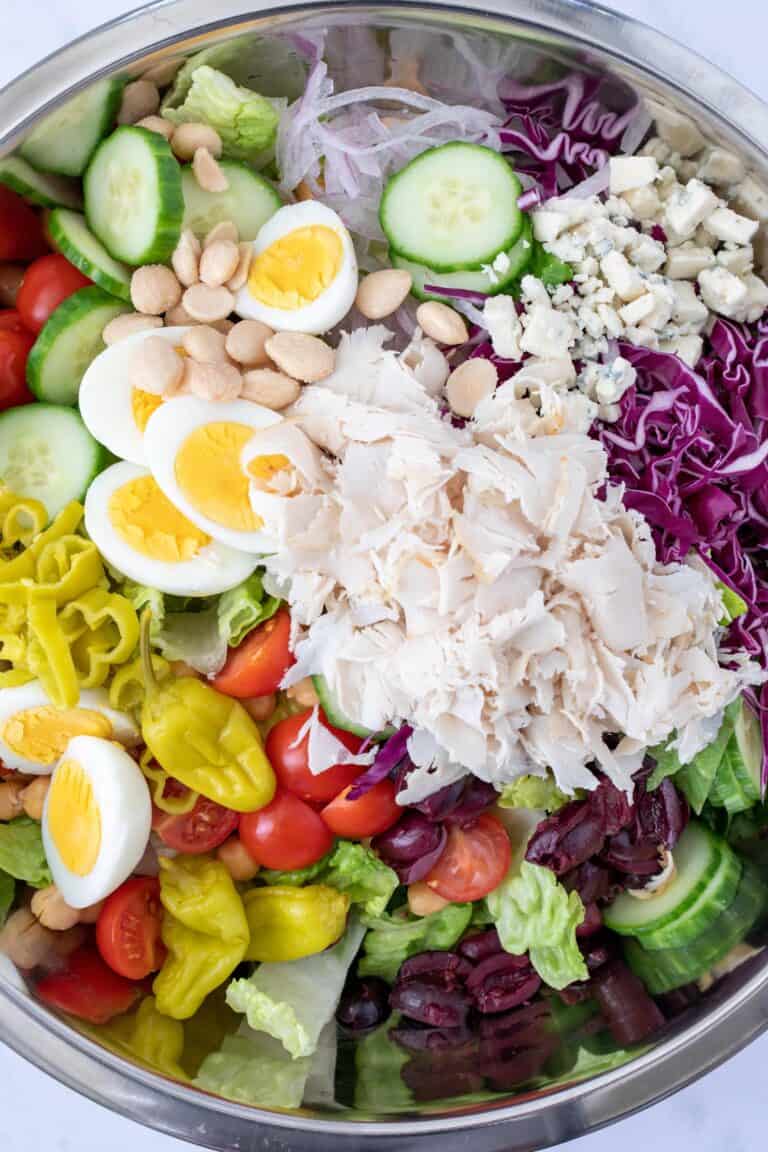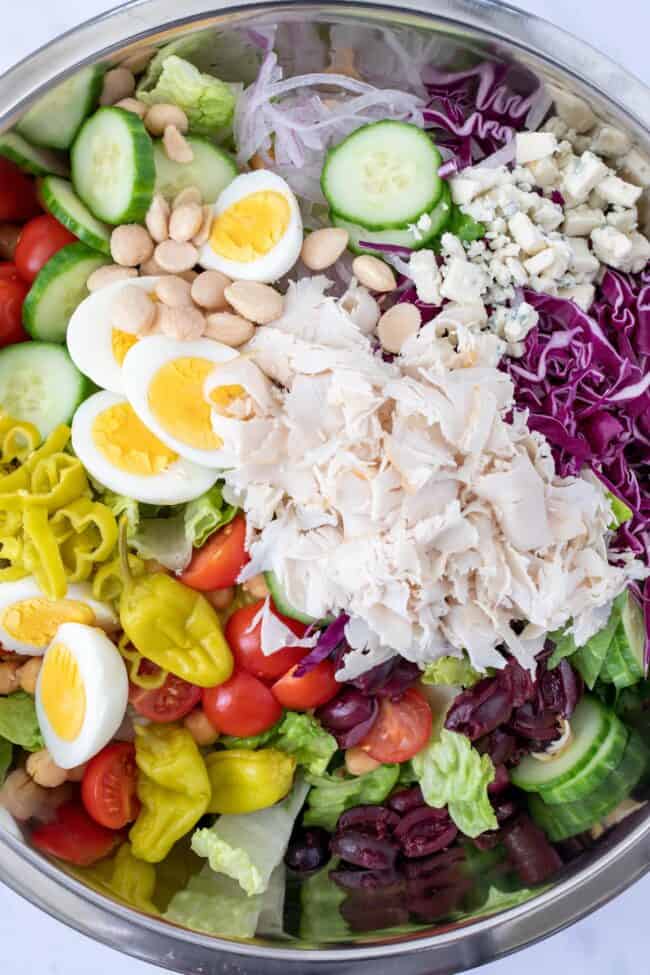 Gorgonzola Dressing
This Gorgonzola dressing is my riff on one of the dressings Flower Child serves with their salads. If you don't care for vinegar or don't have any on hand – just omit the vinegar and reduce the gorgonzola to 1/4 cup. I've made the dressing this way (without vinegar) many times and just love it! To make it, just add all of the ingredients to a blender and blend until its smooth and creamy. Refrigerate before serving. It will keep in the refrigerator for up to a week.
Extra-virgin olive oil – you could use avocado oil if you prefer
Vinegar – we use champagne vinegar, but white wine vinegar will work fine too
Lemon juice – use fresh squeezed
Cheese – we use Gorgonzola cheese which is a mild Italian blue cheese
Garlic – adds a nice pop of flavor
Season – sprinkle with salt and freshly cracked black pepper to taste
What is a Chef Salad
A Chef Salad (aka Chefs salad) is a popular American salad that's been around since the 1940s. It's made with lettuce, tomatoes, cucumbers, hard-boiled eggs, cheese and sliced deli meat and served with various dressings.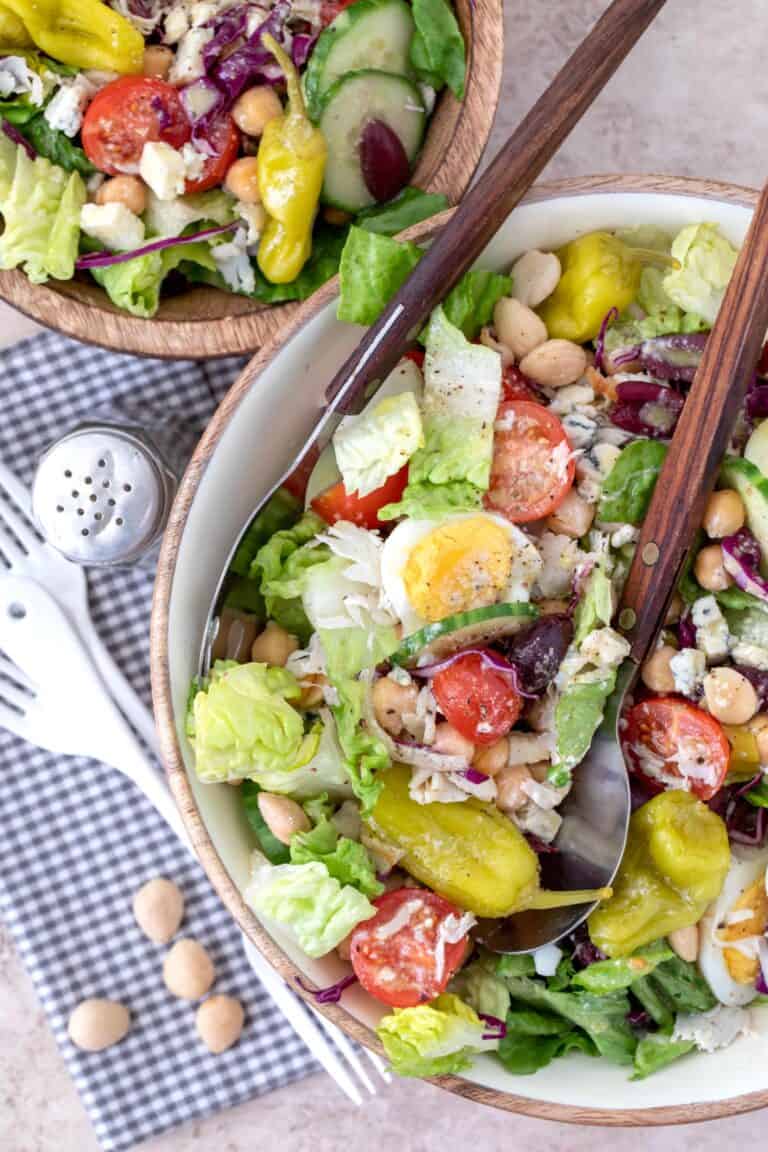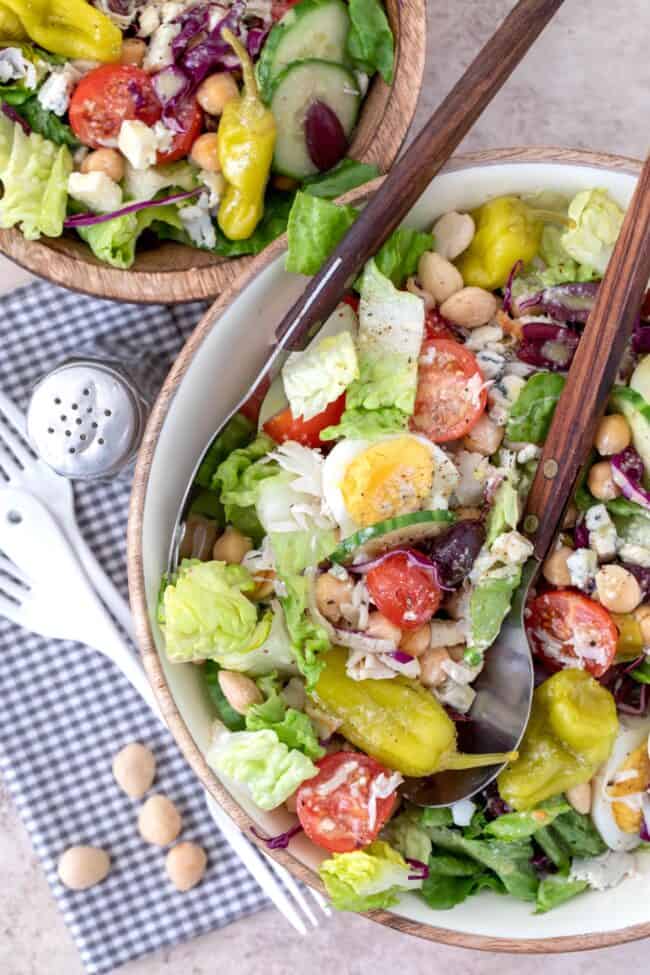 Best Salad Dressing to Serve with Chef Salad
The Gorgonzola dressing really makes this Italian Style Chef Salad special. I love everything about this combo. But, if you're not a fan of Gorgonzola cheese, then these dressings also work really well with this salad.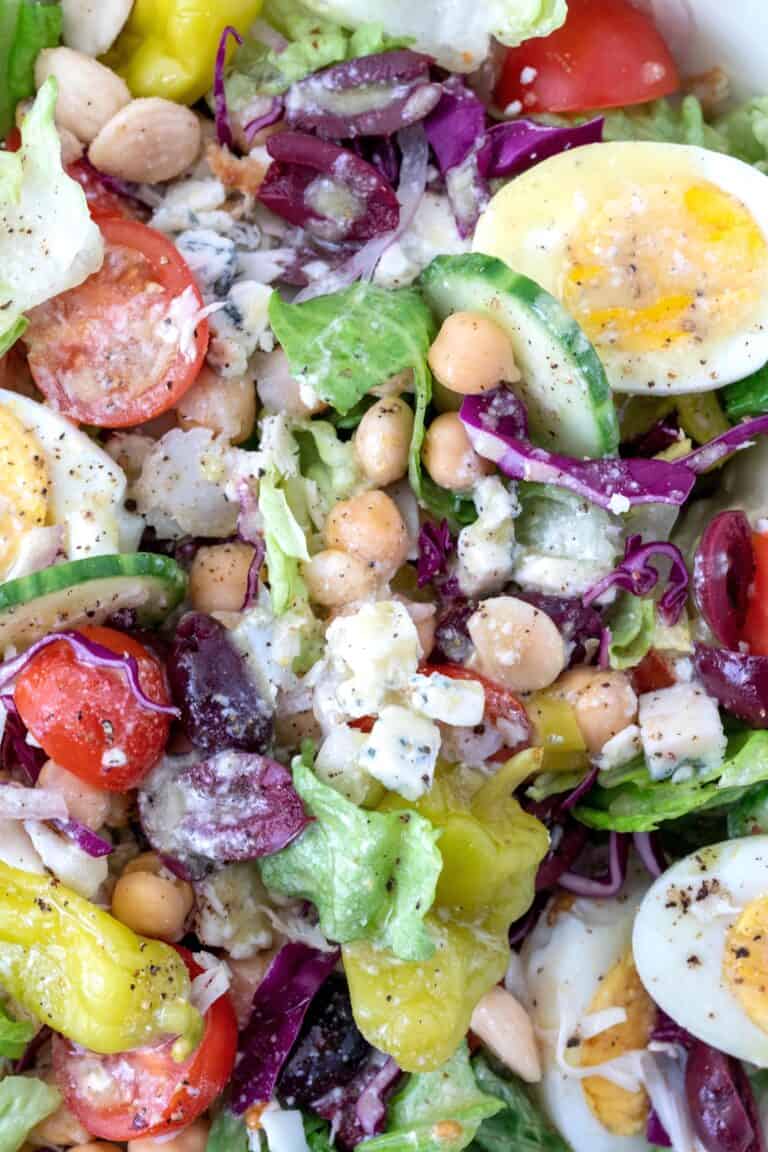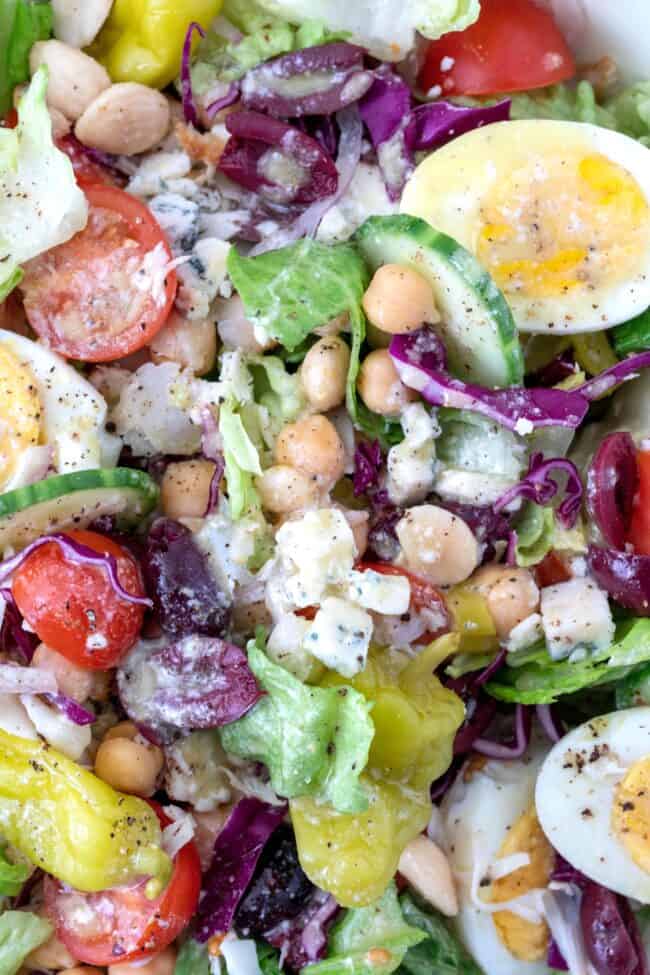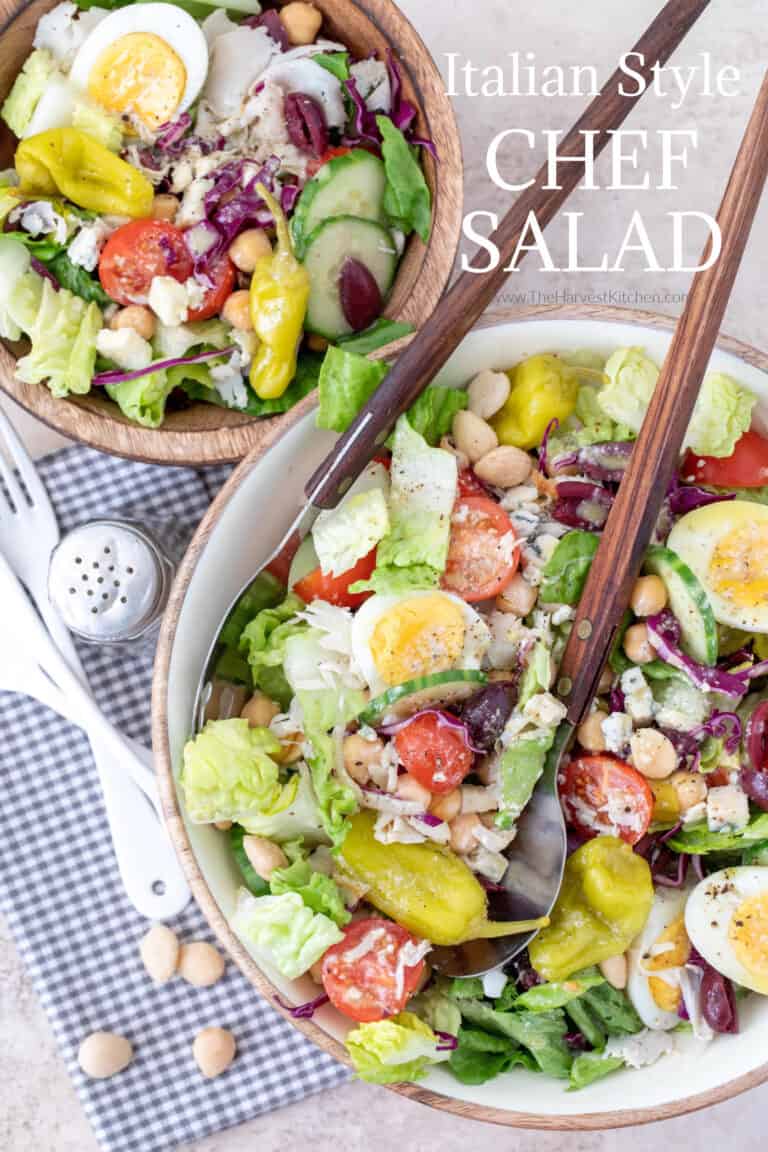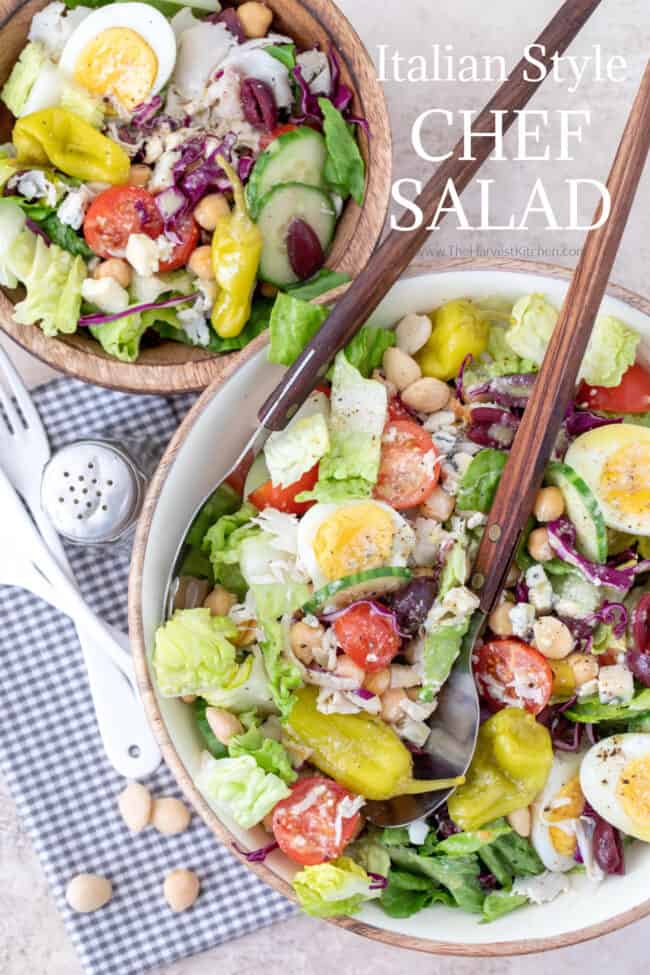 Looking for More Healthy Salad Recipes to Make?
Still want more ideas? Check out all my healthy salad recipes.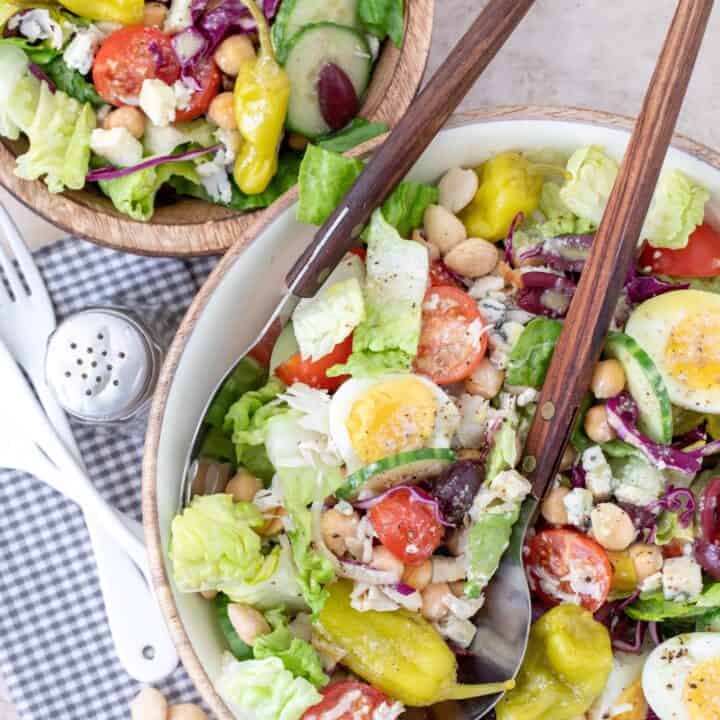 Yield: 8 servings
Chef Salad
This Italian Style Chef Salad recipe is made with many classic chef salad ingredients like lettuce, turkey lunchmeat, cheese and hard-boiled eggs, all tossed in a delicious gorgonzola dressing.This is one of my favorite healthy salad recipes to make!
Ingredients
1 large head romaine lettuce
1 cup purple cabbage, sliced thin
1/2 red onion, sliced thin
1 pint small sweet cherry tomatoes, halved through the stem ends
1/2 large hot house cucumber, rinsed and sliced thin
1 cup (1/2 pound) roast turkey sliced thin at deli then cut into strips
4 hard-boiled eggs, peeled and cut in half
1-1/2 cups canned garbanzo beans, drained and rinsed
1/3 cup Gorgonzola cheese, crumbled
5 peperoncini, stems cut off and discarded, thinly sliced
1/2 cup kalamata olives
1/3 cup Marcona almonds
1/2 cup Gorgonzola dressing (more for serving)
Gorgonzola Dressing
1/2 cup extra-virgin olive oil
1/4 cup champagne vinegar (white wine vinegar will work too)
1/4 cup lemon juice
1/2 cup crumbled Gorgonzola cheese
1 garlic clove, minced
salt and freshly ground black pepper to taste
Instructions
Slice the layers of onions lengthwise 1/16 inch thick. Place the onion slices in a small bowl of ice water and set aside.
Drain the onion and pat dry with paper towels before adding them to the salad.
Rinse, dry and chop lettuce and thinly slice purple cabbage.
In a large bowl, combine the lettuce, purple cabbage, onion, tomatoes, cucumber, turkey, garbanzo beans, cheese, pepperoncini, kalamata olives and almonds.
Toss to thoroughly combine the ingredients.
Drizzle 1/2 cup of the Gorgonzola dressing over the salad and gently toss to coat the salad with the dressing.
dd the hard-boiled eggs to the top of the salad and drizzle a little dressing over the tops.
Gorgonzola Dressing
Add the ingredients to a blender or NutriBullet and blend until smooth and creamy.
Refrigerate before serving
Store in the refrigerator and enjoy for up to one week.
Notes
Variations
Add mozzarella, provolone or parmesan instead of gorgonzola
Toss in some roasted red peppers or sun-dried tomatoes
Add artichoke hearts
Nutrition Information:
Yield:
8
Serving Size:
1
Amount Per Serving:
Calories:

419
Total Fat:

31g
Saturated Fat:

8g
Trans Fat:

0g
Unsaturated Fat:

21g
Cholesterol:

122mg
Sodium:

1164mg
Carbohydrates:

21g
Fiber:

6g
Sugar:

6g
Protein:

17g
theharvestkitchen.com attempts to provide accurate information, however, this nutritional information is provided as a courtesy and is an estimate only. The nutritional information provided comes from online sources and calculations.