Everyday Mediterranean Salad
This post may contain affiliate links.
This Everyday Mediterranean Salad recipe features tender spring mix, crunchy Persian cucumbers, Roma tomatoes, red onion, Kalamata olives and feta cheese all lightly tossed in a homemade balsamic vinaigrette. It's perfect to serve as a side with a meal or transform it into a heartier meal salad with your favorite add-ins. This Mediterranean spring mix salad is a crowd-pleaser and ready in under ten minutes!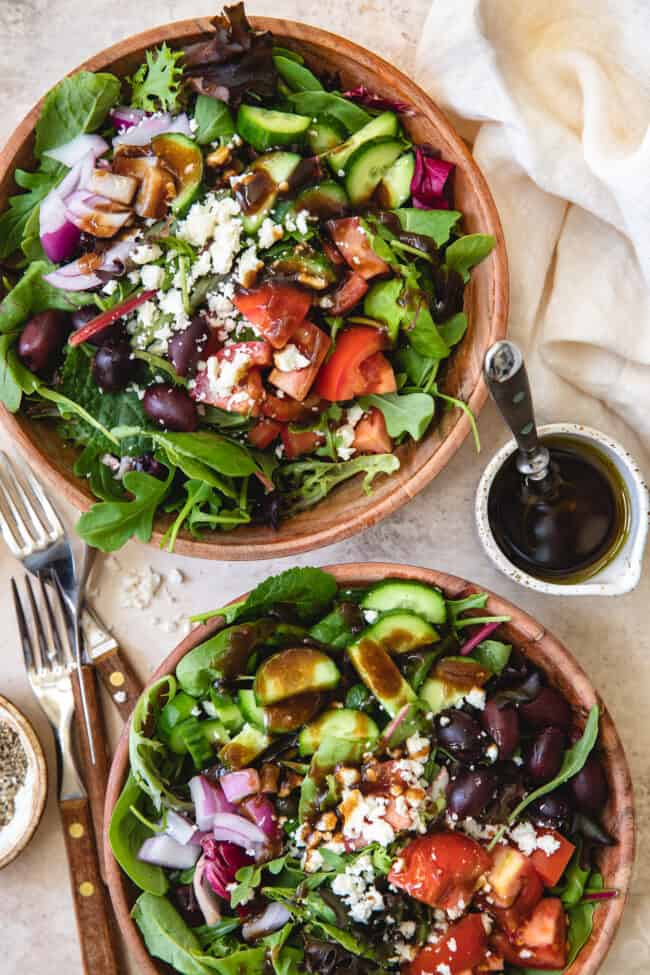 Full of crunch and flavor, this Mediterranean spring mix salad recipe is an easy one to pull together any night of the week!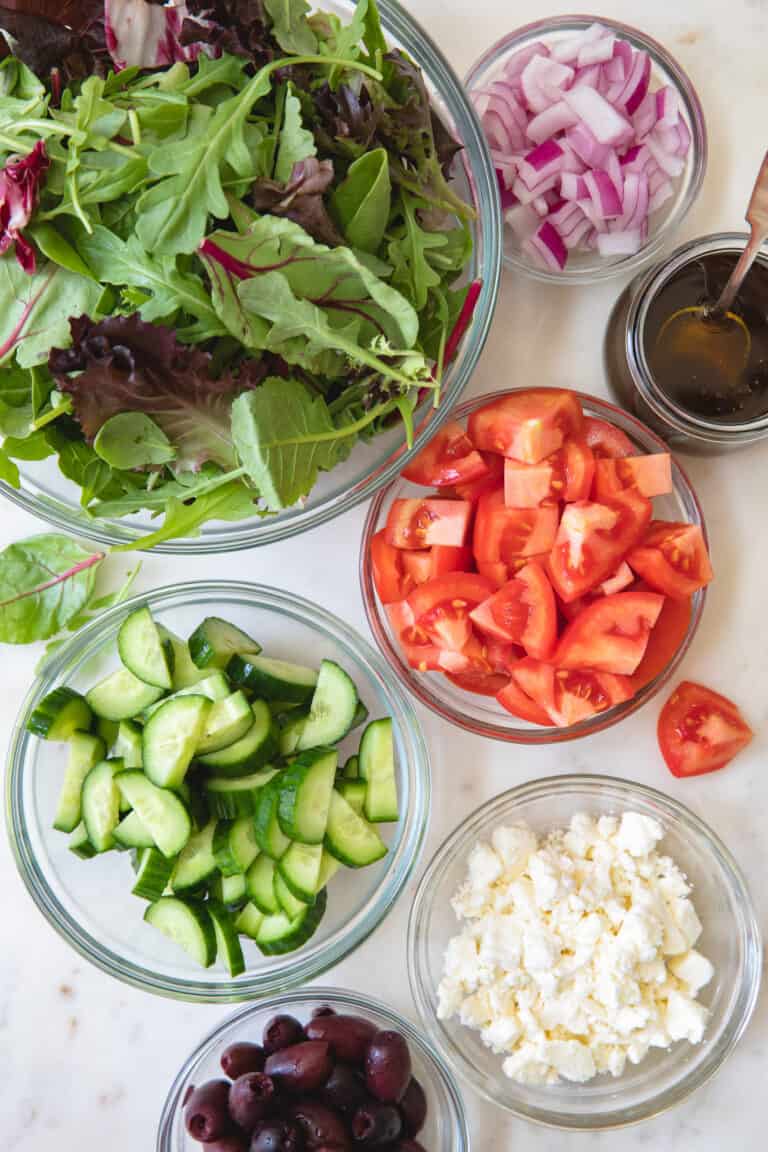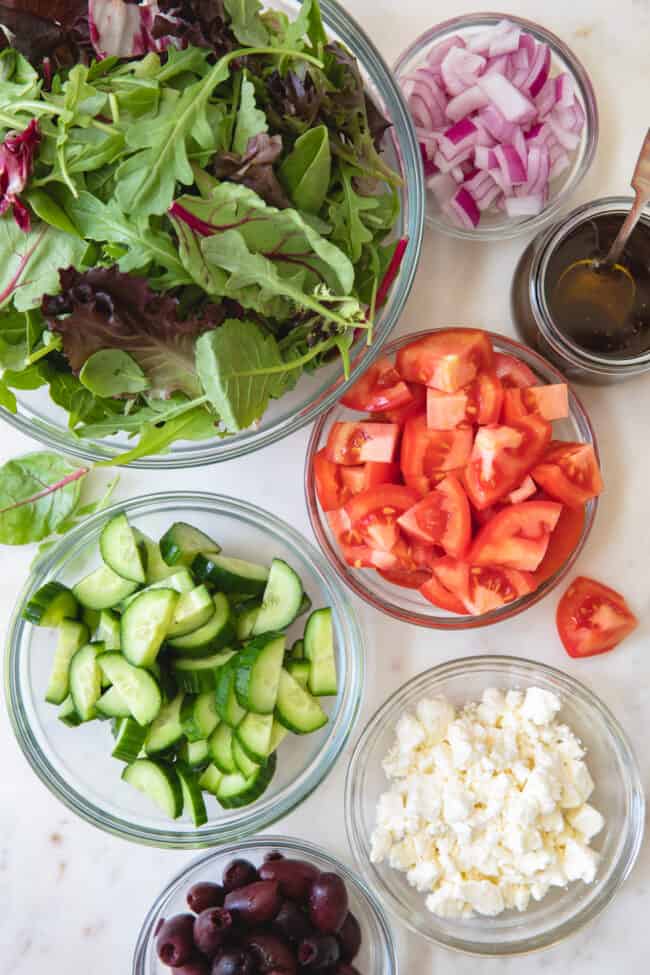 For this Mediterranean salad recipe, I like to start by whisking together the ingredients for the Balsamic vinaigrette. Then all that's left is to chop a few veggies and toss the whole thing in your favorite salad bowl and serve. You won't be spending much time in the kitchen fussing over this salad. I grew up on salads like this, and this one is a favorite of mine!
Mediterranean Salad Recipe
This Everyday Mediterranean Salad Recipe makes a great salad to serve with lunch or dinner during the week. It's an easy salad to prep ahead of time. Simply make the dressing a day or two in advance, then all you have to do is chop a few ingredients and toss everything in a bowl and serve.
Greens -I like to use spring mix for this salad, but you cut use Romaine, arugula or any lettuce you prefer. Just be sure to chop it up well.
Tomatoes – I use Roma tomatoes for this recipe, because they are meatier, have a mild flavor, less moisture and fewer seeds. But you can use garden ripe vine tomatoes or cherry tomatoes if you'd rather.
Red Onion – Peel and chop the onion into small pieces. Soaking the pieces in water for 5-10 minutes before tossing them in the salad, will mellow the flavor considerably.
Cucumber – I like to use the small Persian cucumber for this recipe, because they are crispier, have a thinner skin and fewer seeds. They add a nice crunch to this salad.
Oives – I always have kalamata olives in my pantry and use them whenever I can. They make just about every salad taste better, and this salad is no exception. Kalamata olives add a nice pop of flavor and go well with the Balsamic vinaigrette that we toss this salad with.
Cheese – A little sprinkle of Feta on this salad adds a delicious creamy flavor. You can also toss in grated parmesan if you like or omit the cheese altogether.
Vinaigrette – I love everything about the Balsamic vinaigrette that we toss this salad with! It's made with just a few simple ingredients and whisks together in a pinch.
Find printable recipe with measurements below.
Variations
Protein – You could toss in homemade chickpeas (you can also use canned chickpeas for convenience), cannellini beans, cooked chicken, salmon or canned tuna for some added protein.
Cheese – Use Parmesan cheese instead of Feta, or omit the cheese altogether if you're vegan.
Lettuce – You can also use Romaine, red or green leaf lettuce, a Tuscan blend, curly kale or even arugula for this salad.
Nuts – Add nuts like sliced or Marcona almonds, pistachios or walnuts.
Avocado – Toss in buttery avocado to this salad for some heart-healthy fat and delicious flavor.
Croutons – Simple homemade croutons like these Herbed Croutons, Parmesan Croutons and Basil Pesto Croutons make any salad extra special.
Dressing – You can also toss this salad with Greek Salad Dressing, Italian Salad Dressing, Cleansing Lemon Herb Vinaigrette and Lemon Basil Vinaigrette.
How to Make Mediterranean Salad
This Mediterranean spring mix salad comes together in about 10 minutes start-to-finish.
Make vinaigrette – Whisk the ingredients together in a small bowl.
Chop vegetables – Chop the tomatoes, onion and cucumber.
Assemble salad – Toss ingredients together in a salad bowl and drizzle with balsamic vinaigrette.
Vinaigrette Ingredients
This balsamic vinaigrette calls for 7 simple ingredients and comes together in a pinch. Balsamic vinegar is made from unfermented grape juice. It has a distinct bold flavor with a tart aftertaste. True balsamic vinegar has been aged from anywhere to months to years and the prices vary from budget friendly to a tad on the expensive side. I make my vinaigrette with aged vinegar. It's a little thicker than other balsamic vinegars.
Aged balsamic vinaigrette – if its in your budget, use a good balsamic vinaigrette for this recipe. It makes all the difference in the world.
Extra-virgin olive oil – I use extra-virgin olive oil for most of my dressings, but you could also use avocado oil.
Dijon mustard – I am partial to the flavor of Maille Dijon mustard, so I keep a couple of extra jars of it on hand to make my dressings with.
Garlic – We add only one clove garlic finely grated (or minced) to this vinaigrette. You can omit it altogether if you're not a fan of garlic.
Honey – Honey adds a little sweetness and mellows the flavor of the vinaigrette. You could swap out the honey and use pure maple syrup instead if you'd like.
Water – the key to a really good vinaigrette is to add a tablespoon of warm water to the mix. It mellows the flavor and tames the vinegar a bit.
Salt and freshly cracked black pepper – Season with sea salt and freshly cracked black pepper to your personal taste.

Tips for Making Mediterranean Salad
Store the salad and vinaigrette separately in the refrigerator until you're ready to serve. Then drizzle the vinaigrette around the outer side of the ingredients in the bowl and fold the dressing into the ingredients and toss. This is a better way to evenly distribute and to lightly coat the salad ingredients rather than weighing them down if you pour the dressing directly over the top of the ingredients.
The vinaigrette will solidify a bit in the refrigerator, so you'll want to take it out of the refrigerator to sit for 10-15 minutes to liquify before tossing with salad.
The salad keeps in the refrigerator best for up to 5 days if it has not been tossed with dressing. If you toss the salad with dressing, leftovers in the refrigerator will only be appetizing for about 1 day.
Serving Suggestions
This Simple Mediterranean Salad makes a great side salad to serve with your favorite chicken or fish meals, sandwiches or a big pot of soup. I like to serve it with this One Pan Italian Chicken, Lemon Chicken Piccata, Chicken Shawarma, Hearty Lentil Stew, Tuscan White Bean Soup and Italian Lentil Soup.

Looking for More Mediterranean Salad Recipes to Make?
Still want more ideas? Check out all my healthy salad recipes.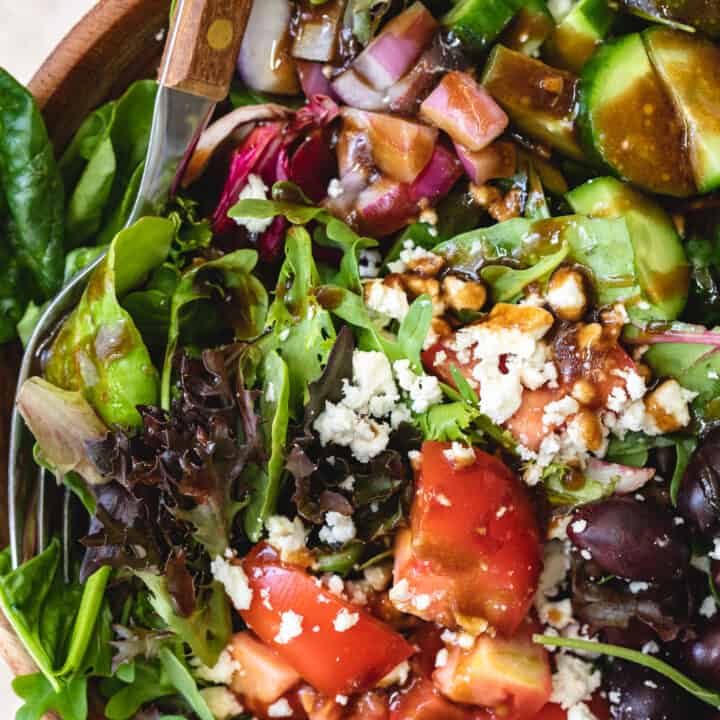 Yield: 6 Servings
Simple Mediterranean Salad
This Simple Mediterranean Salad recipe is a quick and easy salad to pull together. It's made with spring mix, tomatoes, cucumber, red onion, kalamata olives and feta cheese all drizzled with an amazing balsamic vinaigrette. Enjoy it on its own with warm crusty bread (especially for dipping in the balsamic vinaigrette) or serve it as a side salad with a meal.
Ingredients
6 cups spring mix lettuce, Tuscan lettuce blend or 1 head Romaine lettuce
2 large Roma tomatoes, cut into 8 pieces
2 small Persian cucumbers, sliced
1/4 small purple onion, cut in quarters and sliced (soak in water for 5-10 minutes)
1/2 cup Kalamata olives
1/2 cup Feta cheese
1/2 cup Balsamic vinaigrette
Balsamic Vinaigrette
1/4 cup Balsamic vinegar
1-1/2 tablespoon honey
2 teaspoons Dijon mustard
1 clove garlic, peeled and grated or finely minced
1 tablespoon warm or room temperature water
3/4 cup extra-virgin olive oil
Sea salt and freshly cracked black pepper to taste
Instructions
Add lettuce to a large bowl. Toss in the sliced cucumber, tomato, onion, kalamata olives and feta cheese.
Drizzle the Balsamic vinaigrette along the outer top portion of the ingredients in the bowl and gently fold the ingredients into the dressing.
Season with salt and freshly cracked black pepper to taste.
Balsamic Vinaigrette
Using a wire whisk or fork, whisk together the balsamic vinegar, honey, Dijon mustard, water and garlic in a bowl until the ingredients are fully combined.
Slowly pour in the olive oil while whisking and continue to whisk until fully emulsified.
Pour into a mason jar, seal the lid tightly and store in the refrigerator.
Shake well before serving.
Nutrition Information:
Yield:
6
Serving Size:
1
Amount Per Serving:
Calories:

418
Total Fat:

37g
Saturated Fat:

7g
Trans Fat:

0g
Unsaturated Fat:

29g
Cholesterol:

11mg
Sodium:

550mg
Carbohydrates:

20g
Fiber:

4g
Sugar:

13g
Protein:

5g
theharvestkitchen.com attempts to provide accurate information, however, this nutritional information is provided as a courtesy and is an estimate only. The nutritional information provided comes from online sources and calculations.