Italian Lentil Soup
This post may contain affiliate links.
Rich and hearty Italian Lentil Soup recipe is quick and easy to make any night of the week! This vegetarian lentil soup recipe is made with green lentils, onion, celery, carrots, red potatoes and classic Italian seasoning. It's the best lentil soup recipe that your whole family will love!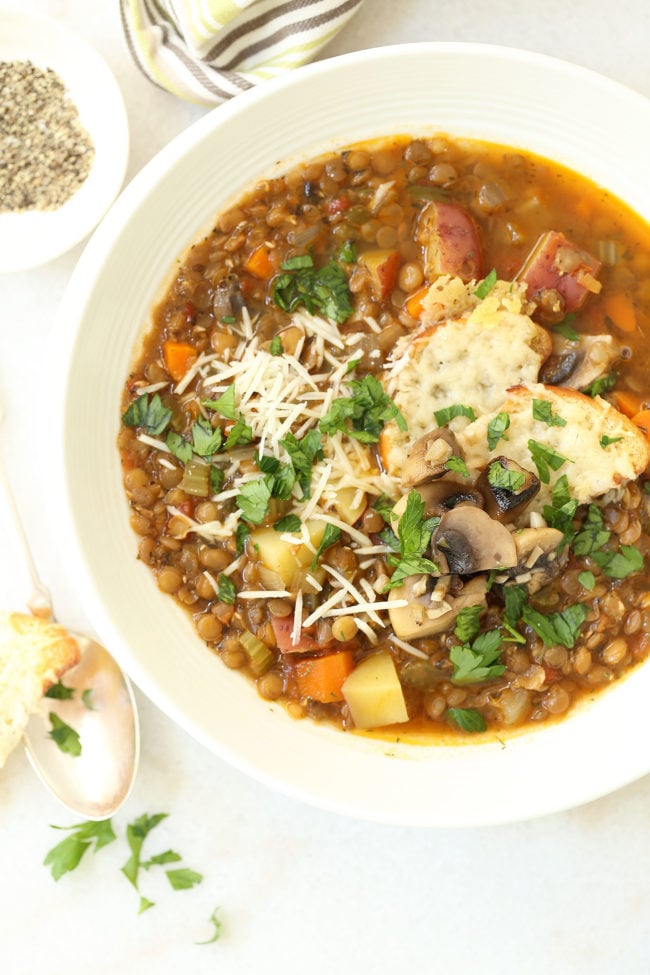 This healthy lentil soup is hands-down the best lentil soup that I've ever had. The simplicity of this lentil soup requires no garnish, but I personally love to garnish it with croutes, fresh parsley, sautéed mushrooms and a sprinkling of freshly grated Parmesan cheese.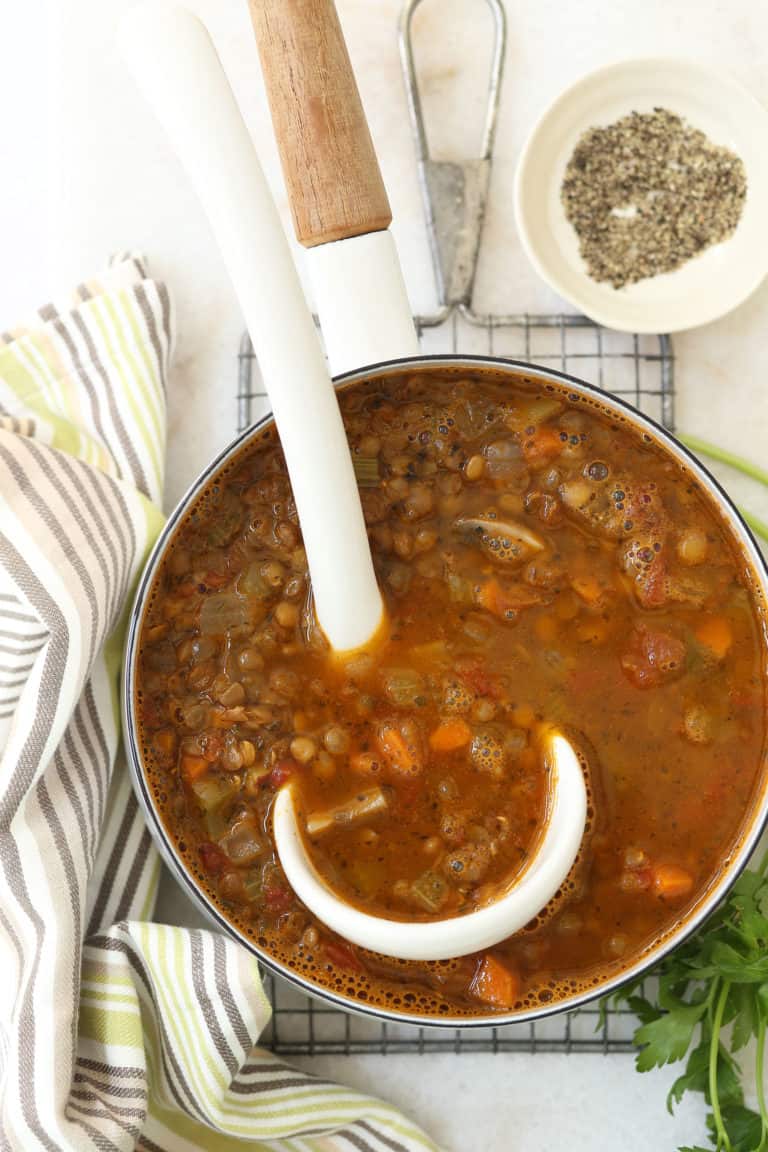 There's a little Italian restaurant called Garduno's in Costa Mesa that my family has gone to for years. They make the best lentil soup I've ever had at a restaurant. This Italian Lentil Soup recipe is my riff on their lentil soup. They add mushrooms to their soup, but I prefer to sauté them and add them on top as a garnish with homemade cheese croutés. My family loves this healthy lentil soup, and I make it often. This is an easy Italian lentil soup recipe that's quick and inexpensive to make. And I love to make it because I typically have all of the ingredients on hand, so I can make it on a whim.
Best Lentil Soup Recipe
This vegetarian lentil soup recipe uses dried lentils, fresh organic produce and classic Italian seasoning.
Broth (chicken or vegetable)
Canned crushed tomatoes
Green lentils or brown lentils
Extra-virgin olive oil
Onion
Celery
Carrots
Red potatoes
Garlic
Seasoning
Parmesan cheese
How to Make Lentil Soup
This vegetarian lentil soup recipe comes together in about 45 minutes.
Saute vegetables. Sauté the onions, celery, carrots and garlic.
Wine. Pour in wine (optional)
Add broth and lentils. Add broth, water, tomatoes, potatoes and lentils.
Season. Add in dried basil, oregano and dill.
Parmesan cheese. Add a 1-inch piece of Parmesan cheese. The cheese melts while the soup simmers, giving the soup an even richer flavor.
Simmer. Cover the pot and simmer for approximately 40 minutes or until the lentils are tender.
Enjoy. Ladle this vegetarian lentil soup into bowls and garnish with sauteed mushrooms, cheese toasties, warm crusty bread, a drizzle of olive oil, chopped parsley, basil pesto, Parmesan cheese, etc.
Healthy Soup Recipes
More Lentil Recipes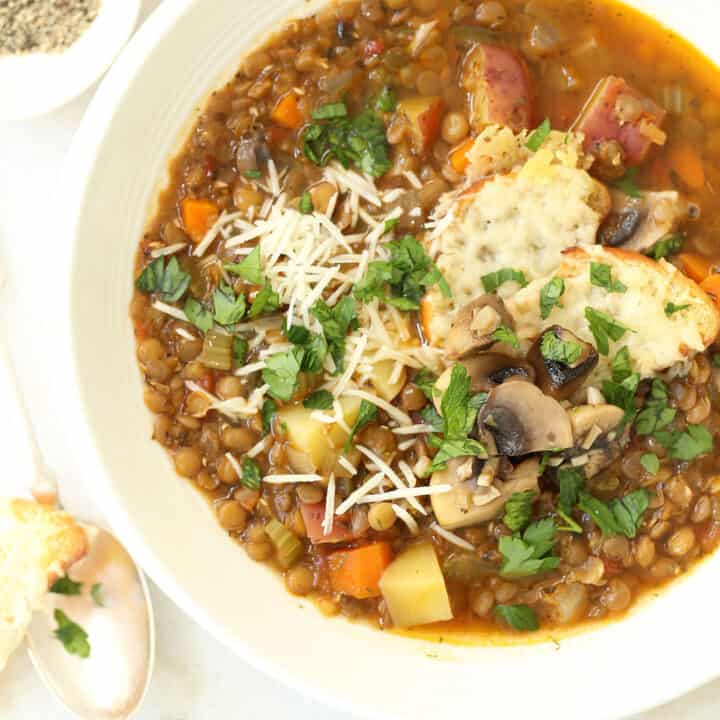 Yield: 4 - 6 servings
Italian Lentil Soup
The recipe for this rich and hearty Italian Lentil Soup requires very little time, start to finish, and it takes advantage of lentils luscious state of tenderness. This is a humble soup made with the most humble of ingredients.
Ingredients
6 cups chicken broth
1-1/2 cups water
1/2 cup white wine or sherry
1 cup crushed tomatoes (canned)
1 cup dried green or brown lentils (rinsed and stones and debris discarded)
4 tablespoons extra-virgin olive oil
1 large yellow onion,  chopped
3 large stalks celery, chopped
2 large carrots, chopped
2-3 small red potatoes, cut into small chunks
2-3 cloves garlic, finely minced
2 tablespoons fresh parsley, coarsely chopped
1 tablespoon dried basil
1 teaspoon dried oregano
1 teaspoon dried dill
1/2 teaspoon freshly ground black pepper
sea salt to taste
Instructions
Heat oil in a large pot. Add the onions, celery and carrots and sauté for approximately 7 minutes until tender and the onions are golden in color.
Add the garlic and sauté for another minute.
Add the wine and let simmer for just a minute.
Add the chicken broth, water, and tomatoes, potatoes and lentils.
Add the parsley, basil, oregano, dill, and freshly ground black pepper.
Cover the pot and simmer for approximately 40 minutes or until the lentils are tender.
Ladle the soup into bowls and garnish with cheese croutés and sautéed mushrooms.
An extra drizzle of olive oil is nice to add as well.
Nutrition Information:
Yield:
6
Serving Size:
1
Amount Per Serving:
Calories:

249
Total Fat:

10g
Saturated Fat:

1g
Trans Fat:

0g
Unsaturated Fat:

8g
Cholesterol:

5mg
Sodium:

1168mg
Carbohydrates:

30g
Fiber:

6g
Sugar:

7g
Protein:

8g
theharvestkitchen.com attempts to provide accurate information, however, this nutritional information is provided as a courtesy and is an estimate only. The nutritional information provided comes from online sources and calculations.