Vegetable Soup
This Immune Boosting Vegetable Soup is loaded with cruciferous vegetables that are gently simmered in a light and lemony broth.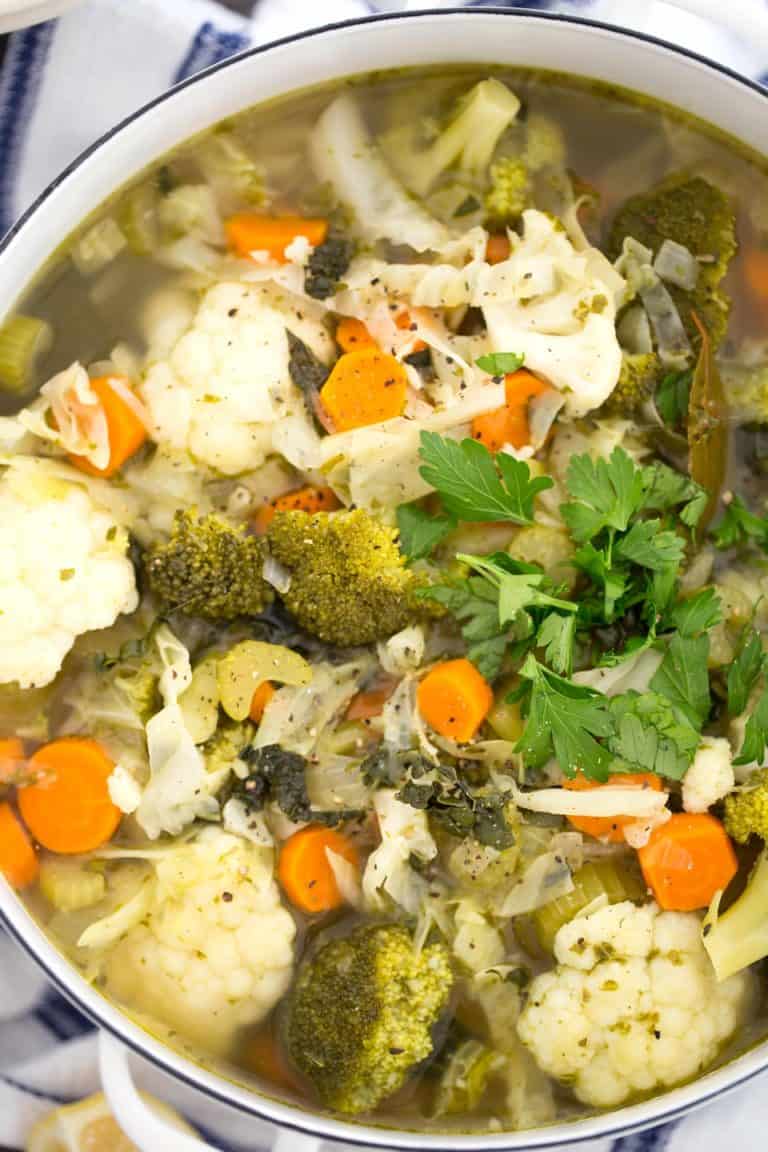 This homemade Vegetable Soup is loaded with chunky pieces of vegetables all gently simmered in a light and lemony broth.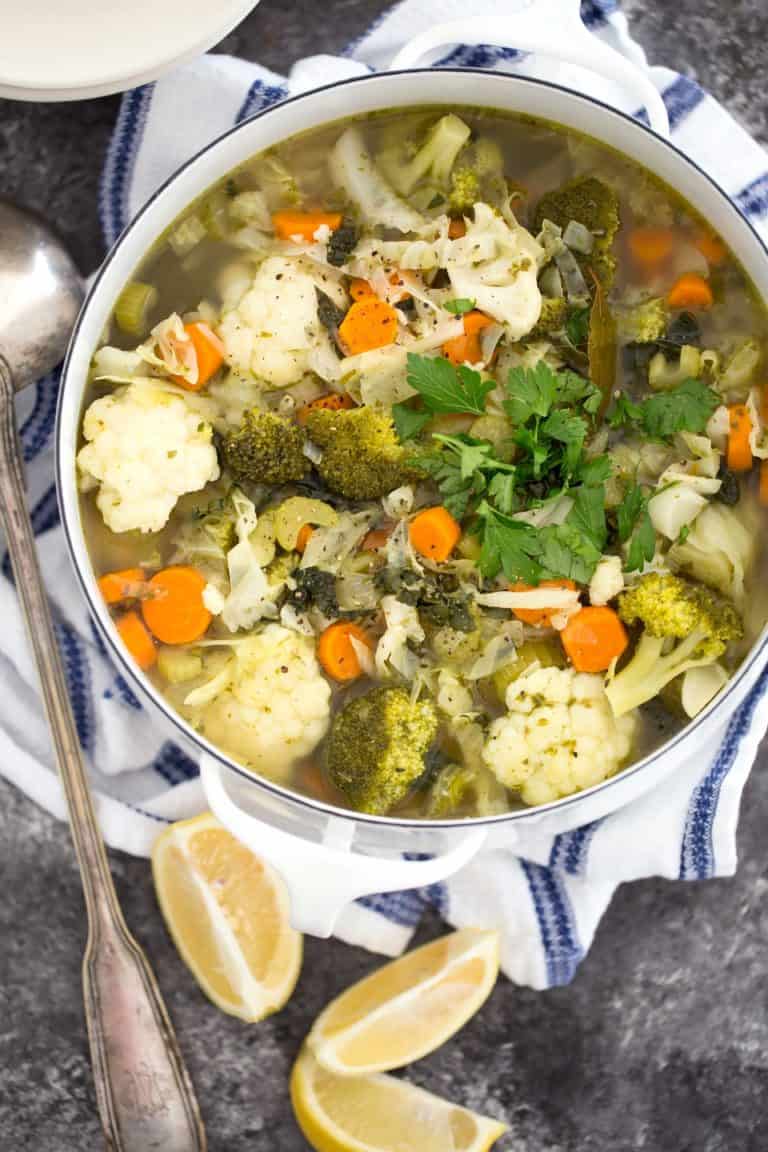 One of my favorite things to make is soup. And this vegan vegetable soup recipe has become one of my favorites to make. I'll typically have all of the ingredients on hand. I like to keep this immune boosting vegetable soup on the chunky side so I feel like I'm eating something substantial and filling. More of a meal rather than a soup. But if you prefer, feel free to chop things up a bit smaller for a less chunky soup. You could also puree this soup to sip on when you're feeling run down or under the weather. I like to serve this immune boosting soup with vegan pesto and wedges of lemons for the extra immune boosting and detoxifying benefits.
VEGETABLE SOUP RECIPE
Broccoli
Cauliflower
Green Cabbage
Dinosaur Kale (Baby kale works well too)
Onion
Celery
Carrot
Garlic
Fresh Parsley
Fresh Basil
Olive Oil
Lemon
Low-Sodium Vegetable Broth
VARIATIONS
Add green beans, peas, corn kernels
Sprinkle in a teaspoon of turmeric
Spice things up by adding dried Italian seasoning or Herbs de Provence
Add cannellini beans
Simmer soup with a 1-inch piece of parmesan cheese
Add homemade bouillon (recipe link below)
HOW TO MAKE VEGETABLE SOUP
Chop your ingredients
Cook the onion, celery, carrot and garlic
Add broccoli, cauliflower, green cabbage, kale and broth
Cook for 15-20 minutes on low heat with
Make vegan pesto by adding fresh parsley, basil, lemon zest, lemon juice, olive oil to blender
Add 4-5 heaping tablespoons of vegan pesto to soup
Season with sea salt and freshly ground black pepper
Serve with remaining vegan pesto and lemon wedges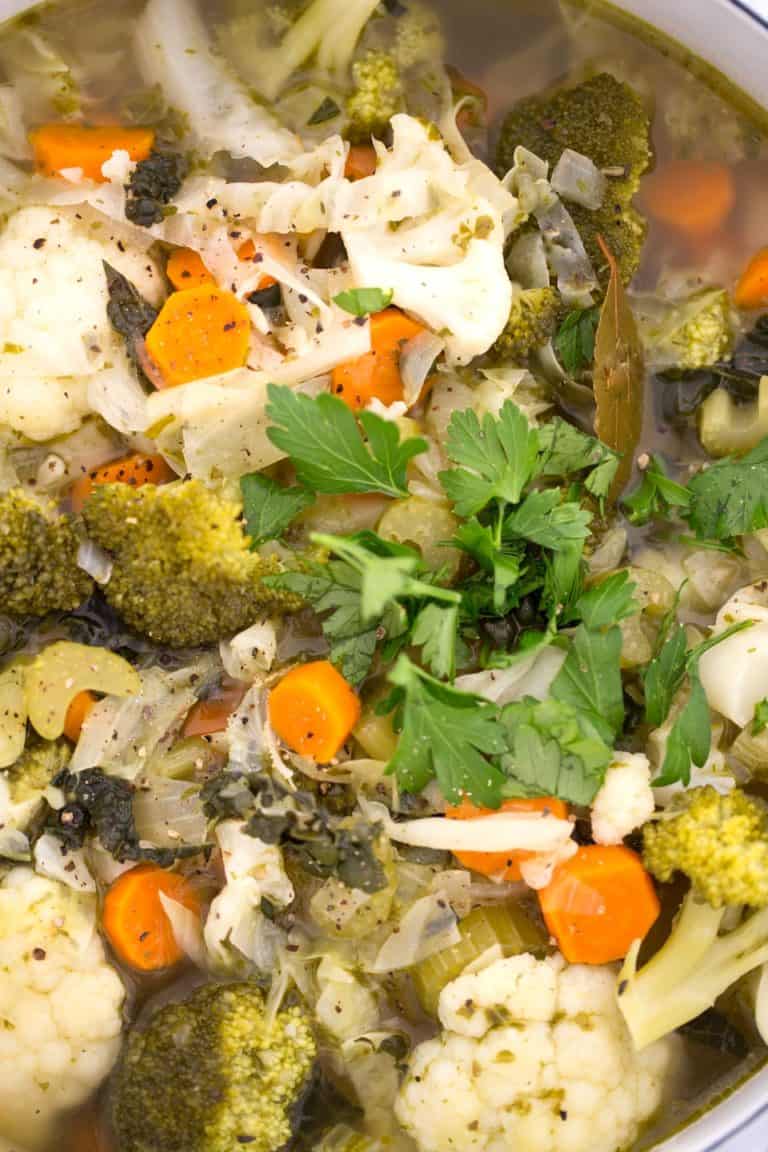 WHAT ARE CRUCIFEROUS VEGETABLES?
Cruciferous vegetables are part of the mustard family and they provide potent nutritional benefits that are far superior to the standard garden variety vegetable. Cruciferous vegetables are high in fiber and tend to be filling, which makes this a perfect Healthy Vegetable Soup Recipe for Weight Loss.
Cruciferous Vegetables:
Arugula
Bok Choy
Broccoli
Brussels Sprouts
Cabbage
Cauliflower
Collard Greens
Horseradish
Kale
Kohlrabi
Maca
Mizuna
Mustard Greens Watercress
Mizuna
Mustard Greens
Radish
Rutabaga
Turnip
Watercress
HEALTH BENEFITS OF CRUCIFEROUS VEGETABLES
Provides Cancer-Fighting Benefits
Promotes Cardiovascular Health
May lower LDL cholesterol levels (the bad kind)
Helps to Reduce Inflammation
May Balance Hormone Levels
Treats H. pylori infection, a bacteria that can lead to stomach ulcers
Promotes Weight Loss
Improves Blood Sugar Levels
HEALTHY SOUP RECIPES
Yield: 6 servings
Vegetable Soup
Additional Time
30 minutes
Ready for some serious vegetable love?  This healthy soup is loaded with chunky pieces of vegetables all gently simmered in a light and lemony broth.  
Ingredients
1 small yellow onion, chopped
1 cup carrots, chopped
2 cups celery stalks, chopped
2 cloves garlic minced
3 cups broccoli florets
2 cups cauliflower
1 cup dinosaur kale, chopped (stem removed and discarded)
1 cup green cabbage, chopped
2 bay leaves
6 cups vegetable broth
1 cup basil leaves
1 cup parsley leaves
2 cloves garlic, minced
zest of 1 lemon
juice of 1 lemon
For the Vegan Pesto
1 bunch basil leaves
1 fistful parsley leaves
3 cloves garlic
zest of 1/4 lemon (about 1 teaspoon)
juice of 1 lemon
2/3 cup extra-virgin olive oil
sea salt and freshly ground black pepper to taste
1/4 cup walnuts, chopped (optional)
Instructions
Heat olive oil in a large Dutch oven or pot over medium-low heat.

Add the onion, celery and carrot and saute for 3-4 minutes.

Add garlic and cook another 1-2 minutes.

Add broccoli, cauliflower and bay leaves.

Cook another 1-2 minutes.

Pour in broth over vegetables. Bring to a boil then reduce heat to a low simmer.

Place lid on Dutch oven or pot.

Cook for 12-15 minutes

Add 4-5 heaping tablespoons Vegan Pesto and the cabbage and kale to the soup

Simmer another 5 minutes

Ladle into soup bowls and serve with extra Vegan Pesto and lemon wedges

For the Vegan Pesto

Place all of the ingredients except the olive oil in a blender or food processor

Blend to chop the ingredients up

Slowly add the olive oil and blend until well blended

Add more olive oil or lemon juice as needed

Season to taste with salt and freshly ground black pepper
Leave a Comment