Lentil Bolognese Sauce
This post may contain affiliate links.
You will not miss the beef in this richly flavored, stick-to-your-ribs, vegetarian, Lentil Bolognese Sauce.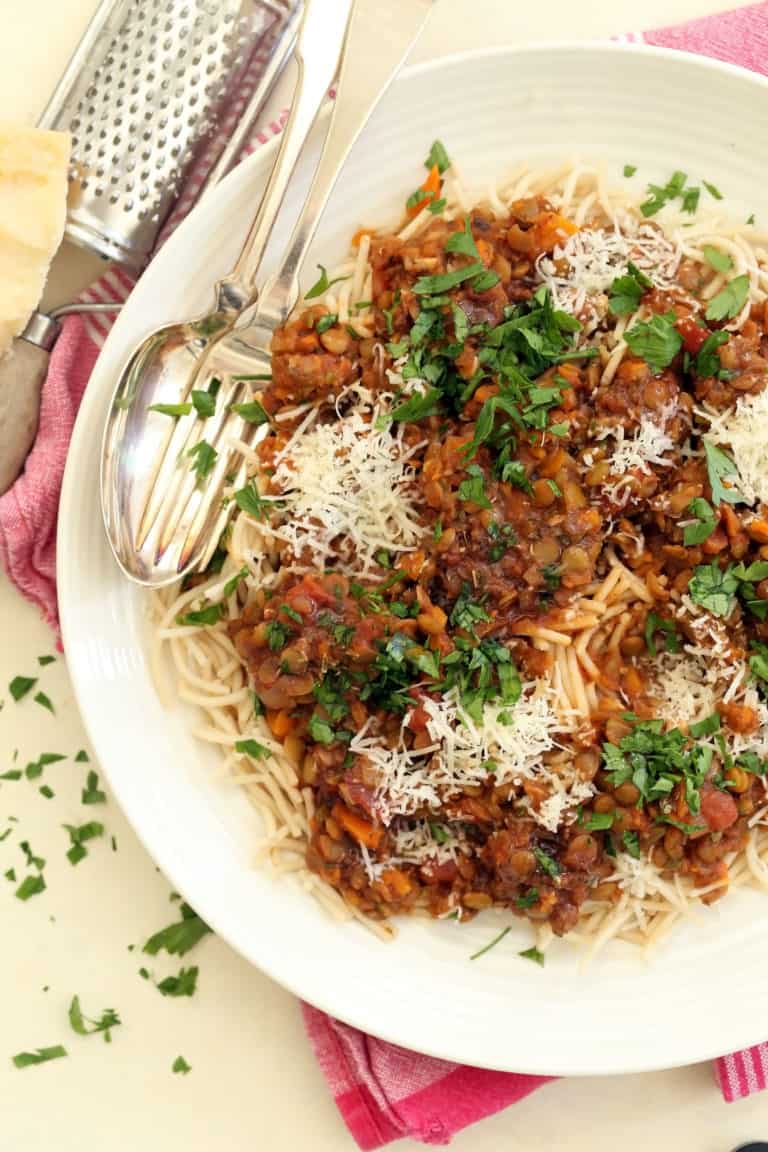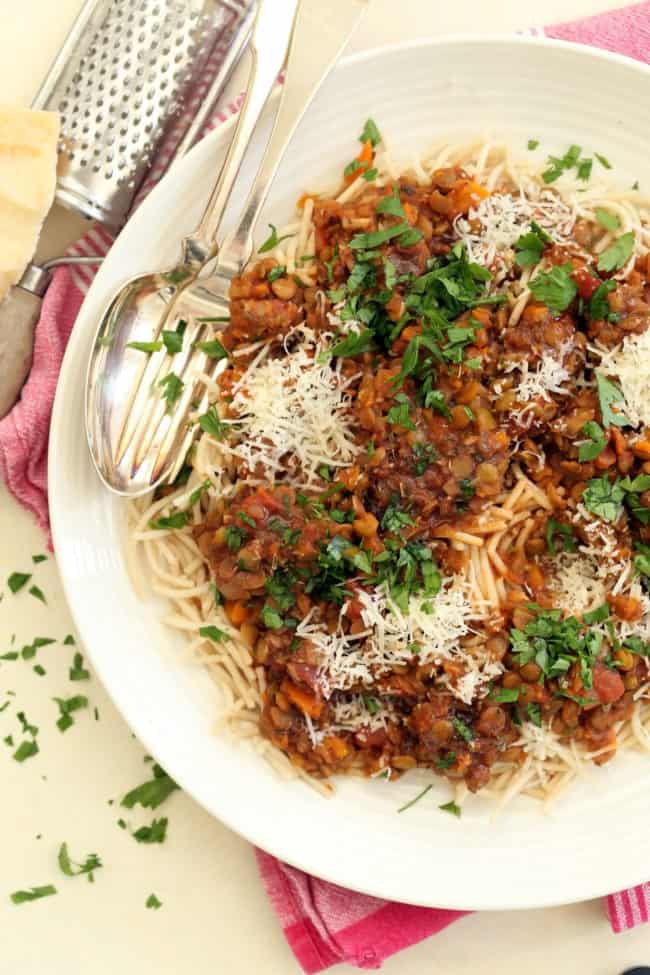 This Lentil Bolognese Sauce is easy to make and has a really fabulous flavor. It's a perfect meatless meal to make any night of the week.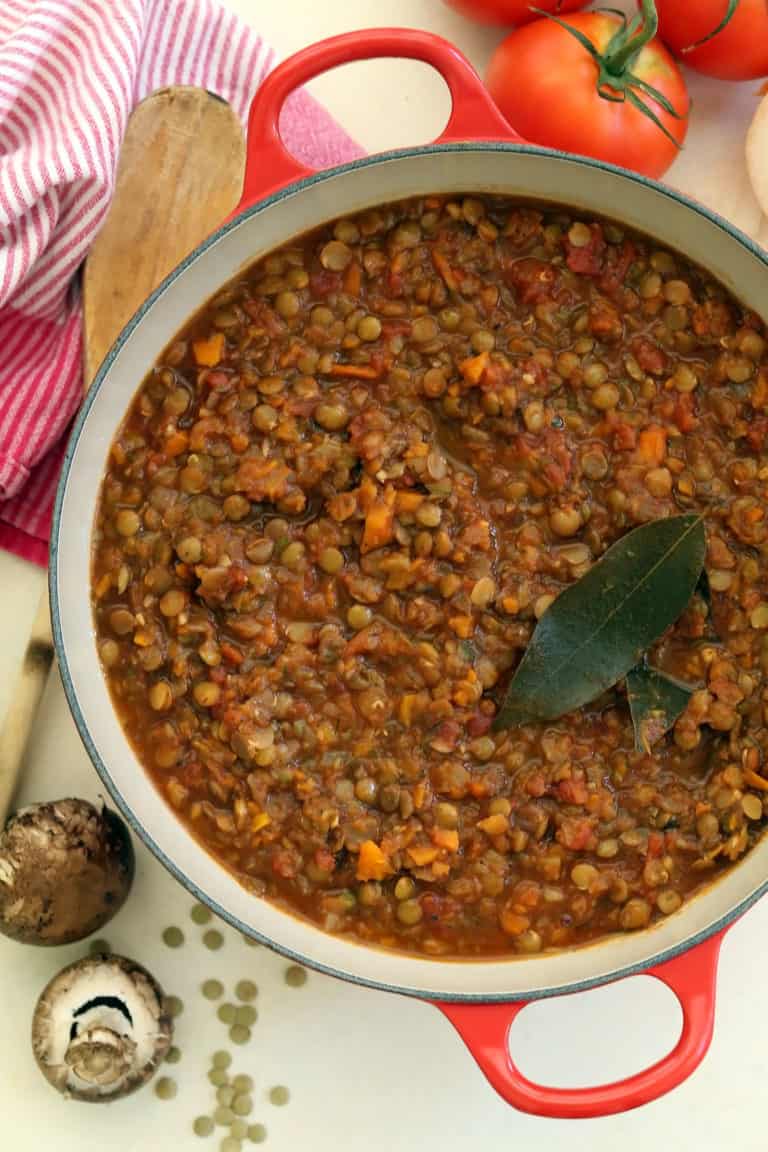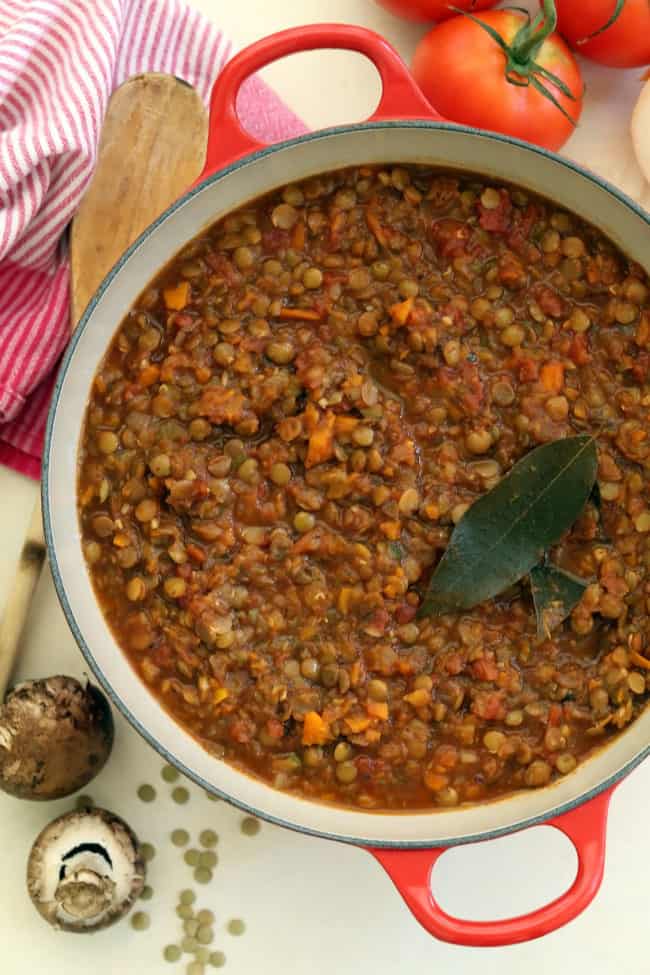 This rich lentil sauce is made basically like a traditional beef bolognese sauce, but we're using lentils in lieu of the meat. Vegetable broth (or chicken broth) is added to the sauce to cook the lentils until they're tender. I've used French green lentils here – they tend to hold their shape a little better than brown or orange lentils. But, brown or orange lentils will cook a little quicker (becoming tender quicker), so you'll want to only add about half the broth that's called for in this recipe because this sauce will cook in a shorter period of time. Sometimes I'll add mushrooms and zucchini to this lentil sauce for added flavor, and to really make the meal more substantial.
Serve this vegetarian bolognese sauce over spaghetti, layer it into a lasagna, or serve it with any other kind of pasta. Then garnish generously with parmesan cheese and chopped basil or flat leaf parsley.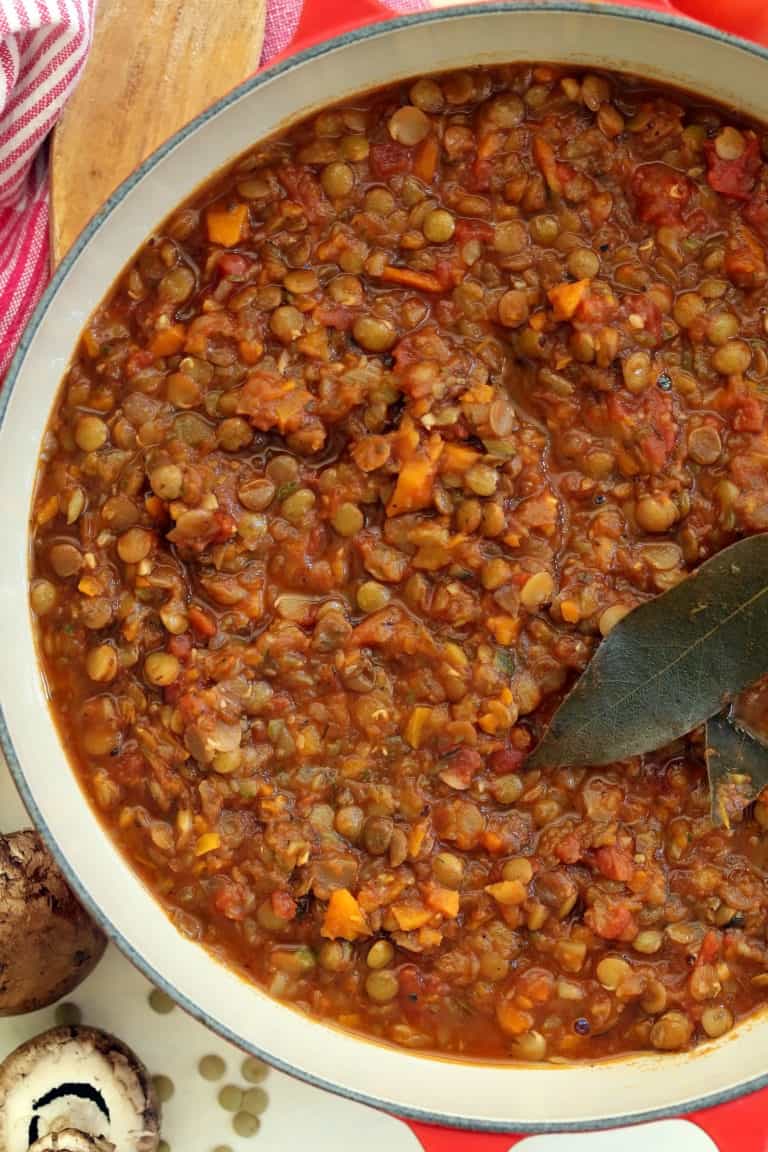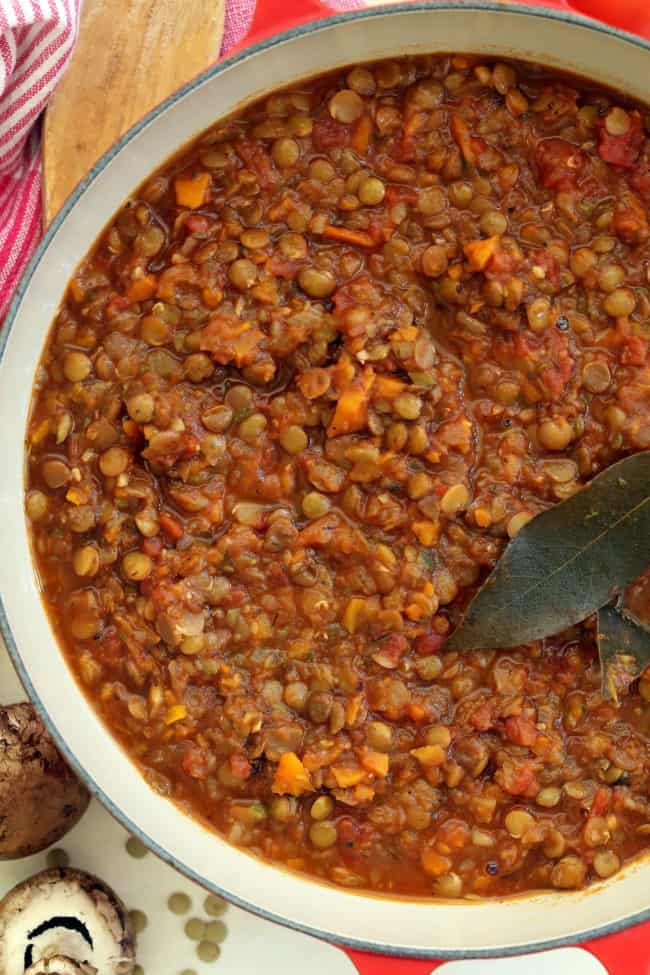 Lentils are considered one of the best sources of plant-based, high-protein foods there is. They provide about 18 grams of protein per one cup serving.
Lentils are a nutritional powerhouse and they make a good choice of protein for vegetarians or folks who are trying to cut back on their meat consumption. Besides being a good source of protein, lentils are also rich in iron and B vitamins. They're also a good source of fiber, providing about 16 grams of fiber per each cup serving.
This easy Lentil Bolognese Sauce recipe is a deliciously satisfying combination of pasta and lentils. It can easily become your go-to vegetarian pasta dish.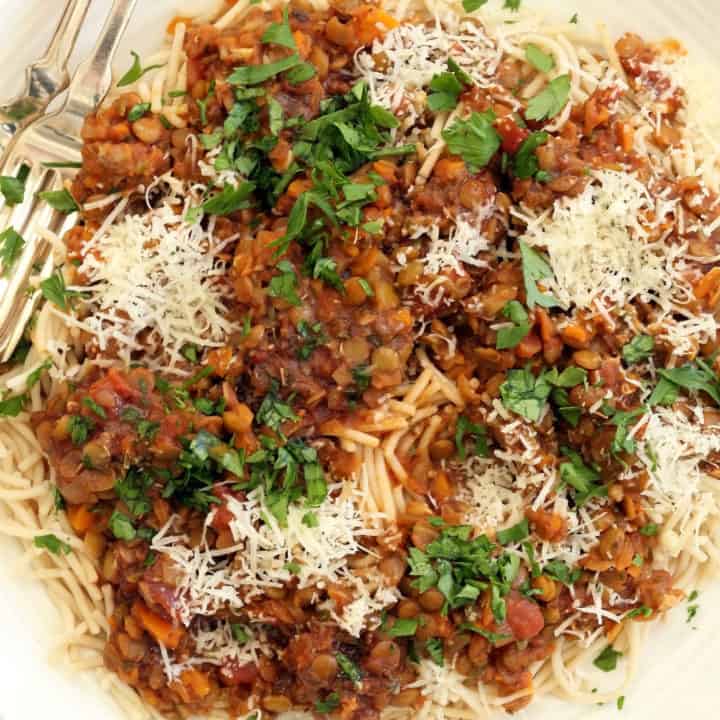 Yield: 6 - 8 servings
Lentil Bolognese Sauce
You will not miss the beef in this richly flavored, stick-to-your-ribs, vegetarian, Lentil Bolognese Sauce.
Ingredients
1 brown onion, peeled, 
coarsely chopped
1 large carrot, peeled
1 celery stick, coarsely chopped
2 garlic cloves, halved
2-1/2 tablespoons extra virgin olive oil
2 dried bay leaves
1 tablespoon dried oregano
1/2 teaspoon dried thyme
1/2 teaspoon dried dill
1 cup French green lentils
1 (28-ounce) can crushed tomatoes, preferably San Marzano
3 cups vegetable broth (or you can use chicken broth if you prefer)
1/2 cup red wine
1 package dry noodles of your choice (I used quinoa-flax noodles)
Serve with grated parmesan cheese and chopped parsley or chopped basil
Instructions
Process onion, carrot, celery and garlic in a food processor until finely chopped/minced.
Heat the olive oil in a Dutch oven or saucepan over medium heat.
Add onion mixture, bay leaves, oregano, thyme and dill.
Cook, stirring, for 6 minutes or until soft. Transfer to a bowl.
Add lentils, tomatoes and stock to the onion mixture.
Bring to a simmer and pour in 1/4 cup of the red wine.
Reduce heat to low. Cook, covered, stirring occasionally, for 45 minutes or until lentils are tender.
About 5 minutes before the sauce is done, stir in the rest of the wine.
While the lentils are cooking, cook pasta in a large pot of boiling salted water until al dente. Drain.
Top spaghetti with bolognaise and generously garnish with parmesan cheese and chopped basil or parsley.