Cleansing Lemon Herb Vinaigrette
This post may contain affiliate links.
This Cleansing Lemon Herb Vinaigrette is a healthy homemade salad dressing made with fist-fulls of fresh parsley and cilantro, some fresh-squeezed lemon juice, garlic, a wee bit of honey and Dijon mustard and olive oil.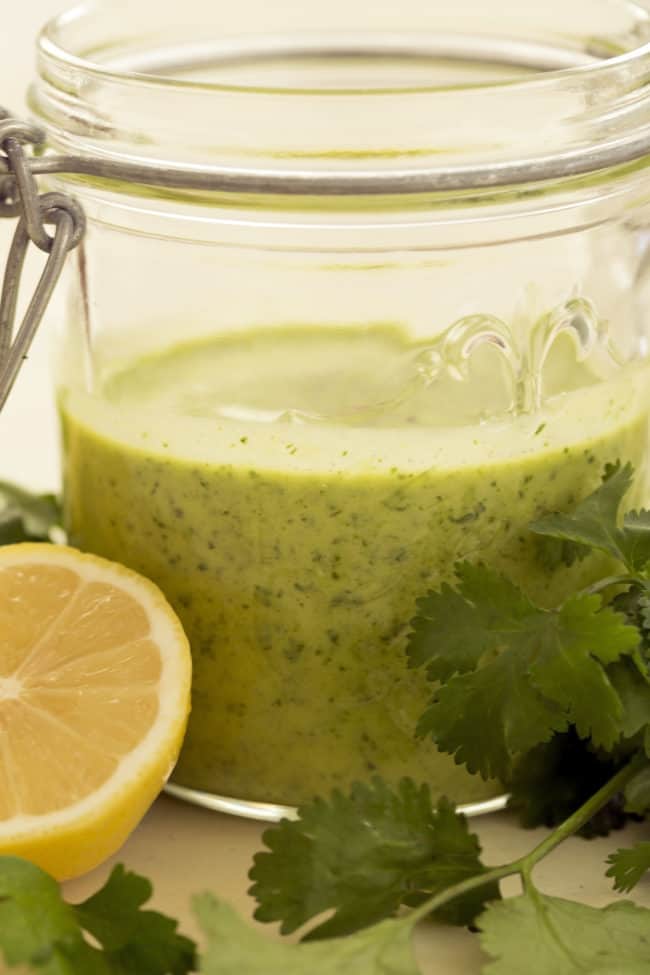 This lemon vinaigrette recipe is brimming with good-for-you ingredients! It's light and delicious and flecked with bits of parsley and cilantro. This is a healthy salad dressing recipe to pull together in a pinch.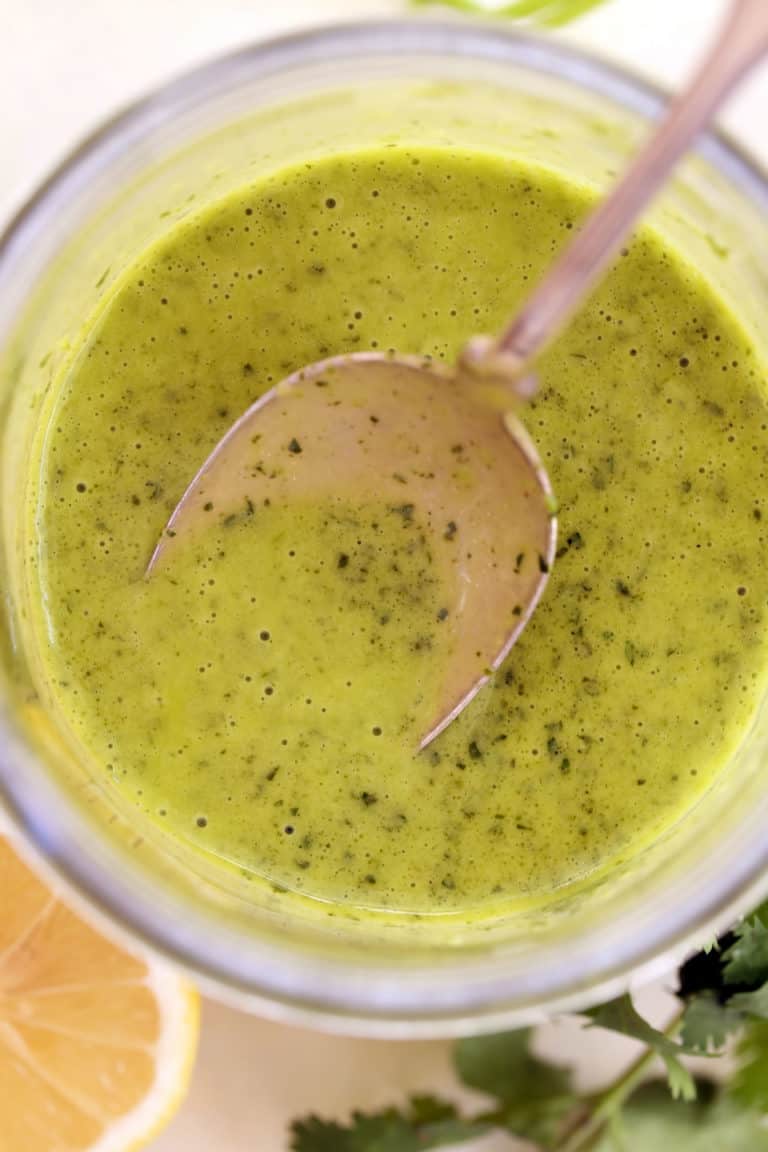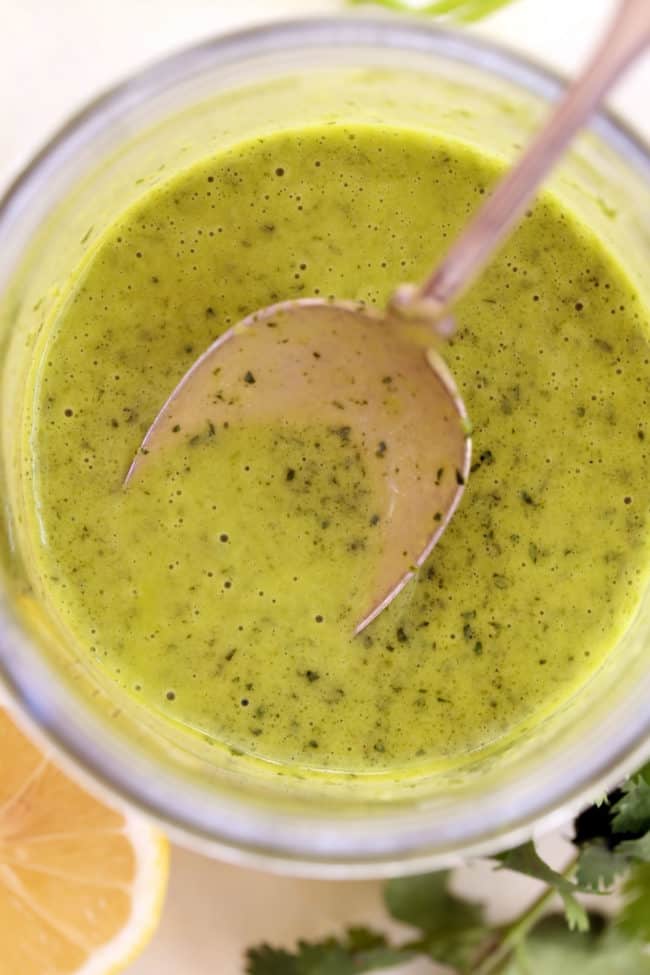 LEMON VINAIGRETTE RECIPE
The healthy homemade salad dressing is one you'll want to make. It adds both flavor and a host of nutritional benefits to any bowl of greens you toss it with.
Organic lemons
Fresh organic flat leaf parsley
Fresh organic cilantro
Garlic clove
Honey
Dijon mustard
Good extra-virgin olive oil
HOW TO MAKE LEMON VINAIGRETTE
This lemon vinaigrette is all about the fresh herbs and the nutritional benefits they provide!
If you don't have a blender (or NutriBullet) or if you want to dirty one up, then chop the parsley and cilantro (coarsely or fine – doesn't matter), and whisk everything in a bowl.
Or you can add everything to a mason jar, seal the lid, and shake some sense into it. Either way, this makes a delicious lemon vinaigrette that you're sure to love!
BENEFITS OF PARSLEY
Parsley with its rugged sturdy leaves is packed with antioxidants, Vitamin K, C and A, and other nutritional benefits, making it somewhat of a superfood. It's a rich source of chlorophyll, which has been shown to detoxify, purify and rejuvenate your body. Parsley has been used as a natural detox remedy, diuretic, antiseptic and anti-inflammatory agent for centuries. Parsley is also a rich source of lutein and zeaxanthin (potent antioxidants) which helps support good eye health. You can read more here about the Benefits of Parsley.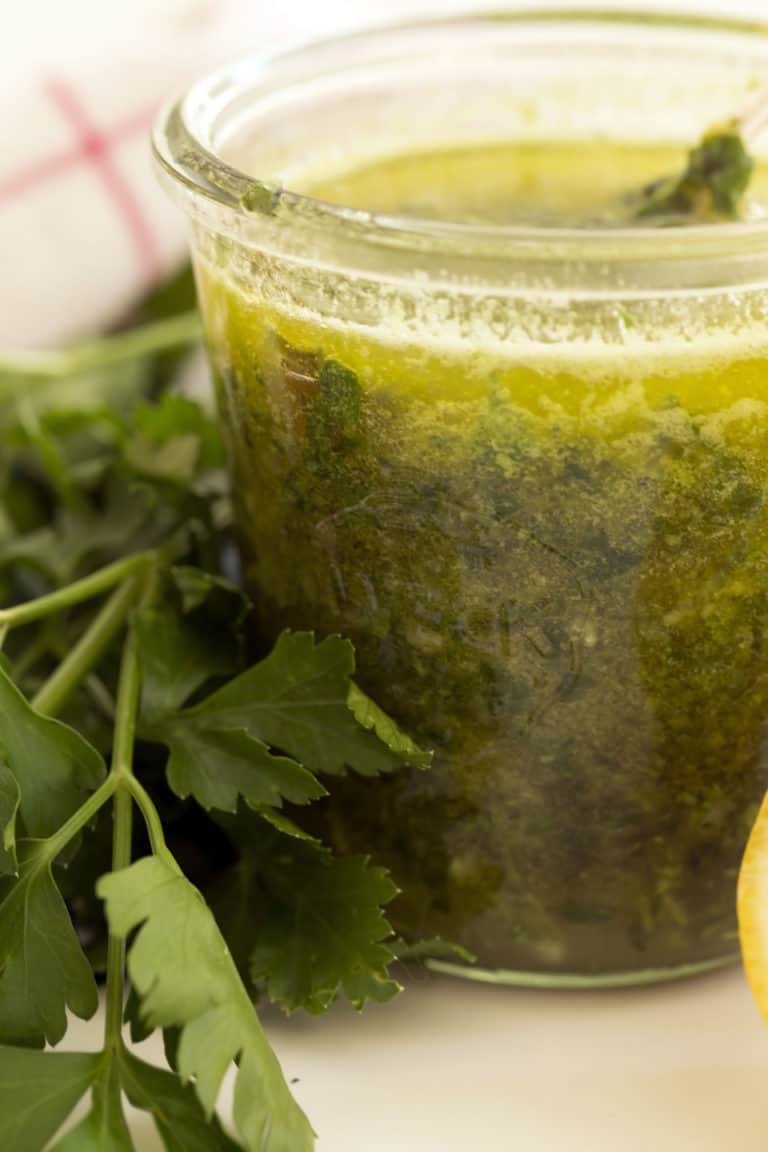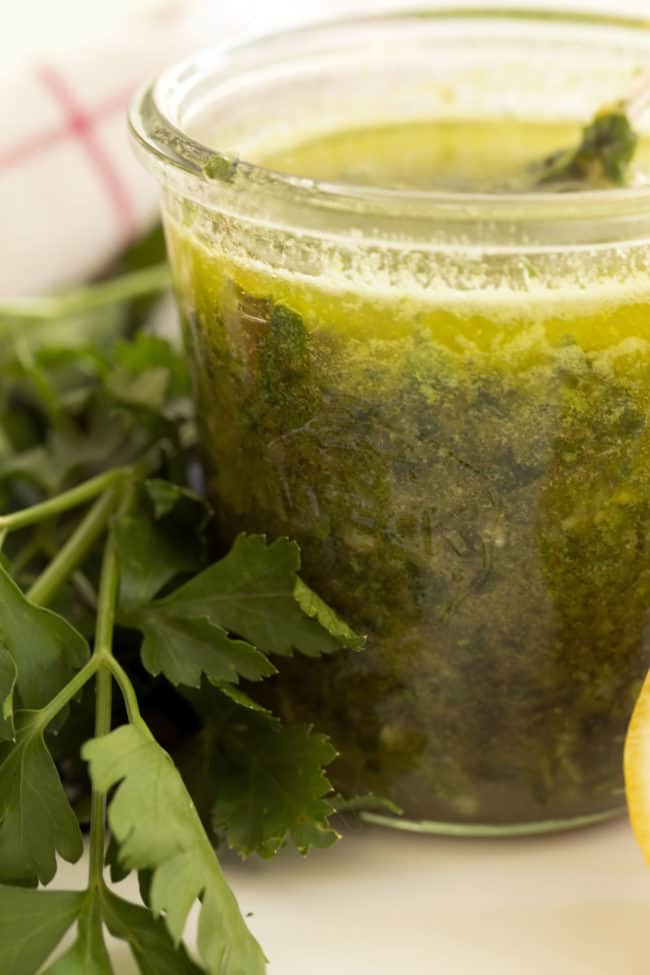 BENEFITS OF CILANTRO
Cilantro with its delicate wispy aromatic leaves, is packed with antioxidant polyphenolic flavonoids such as quercetin and kaempferol. Quercetin is a powerful flavonoid with antioxidant, anti-inflammatory and natural antihistamine properties. Cilantro is also a rich source of Vitamins A, C, K and B, as well as potassium, calcium, iron and magnesium. The nutrients found in cilantro helps to regulate blood sugar levels, reduce LDL (bad) cholesterol levels, stimulate digestion, and helps to keep bones strong.
VINAIGRETTE RECIPES
If you like this lemon vinaigrette recipe, you'll love these other vinaigrette recipes!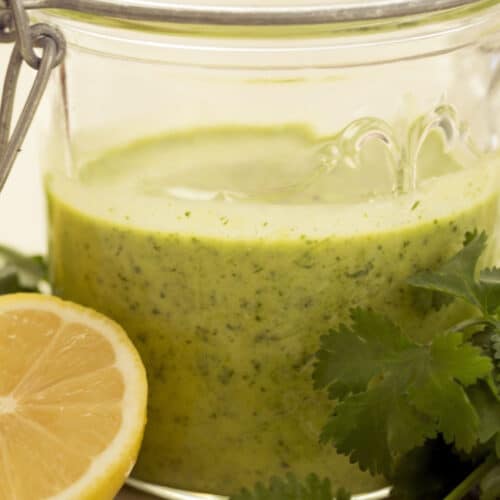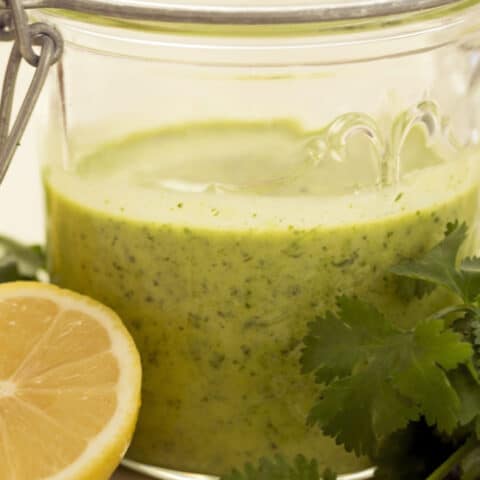 Yield: 4-6 servings
Cleansing Lemon-Herb Vinaigrette
This Cleansing Lemon Herb Vinaigrette is made with fresh parsley and cilantro, lemon juice, garlic, honey, Dijon mustard and olive oil
Ingredients
3/4 cup extra-virgin olive oil
juice of 2 lemons
1 heaping teaspoon lemon zest
Fistful fresh cilantro
Fistful fresh parsley
1 garlic clove, peeled and minced
2 teaspoons pure clover honey
1-1/2 teaspoons Dijon mustard
freshly ground black pepper and salt to taste
Instructions
Blend all ingredients in a blender.
Refrigerate before serving
Note: If you don't have a blender, then chop the herbs and add the ingredients to a mason jar and seal the lid. Shake well. Refrigerate before serving.