Avocado Salad Dressing
This post may contain affiliate links.
This Creamy Avocado Salad Dressing (also called Avocado Cilantro Dressing) is a vegan avocado dressing recipe made with avocado, cilantro, orange juice, olive oil and a little jalapeno. It's light and creamy and everything a good healthy salad dressing should be!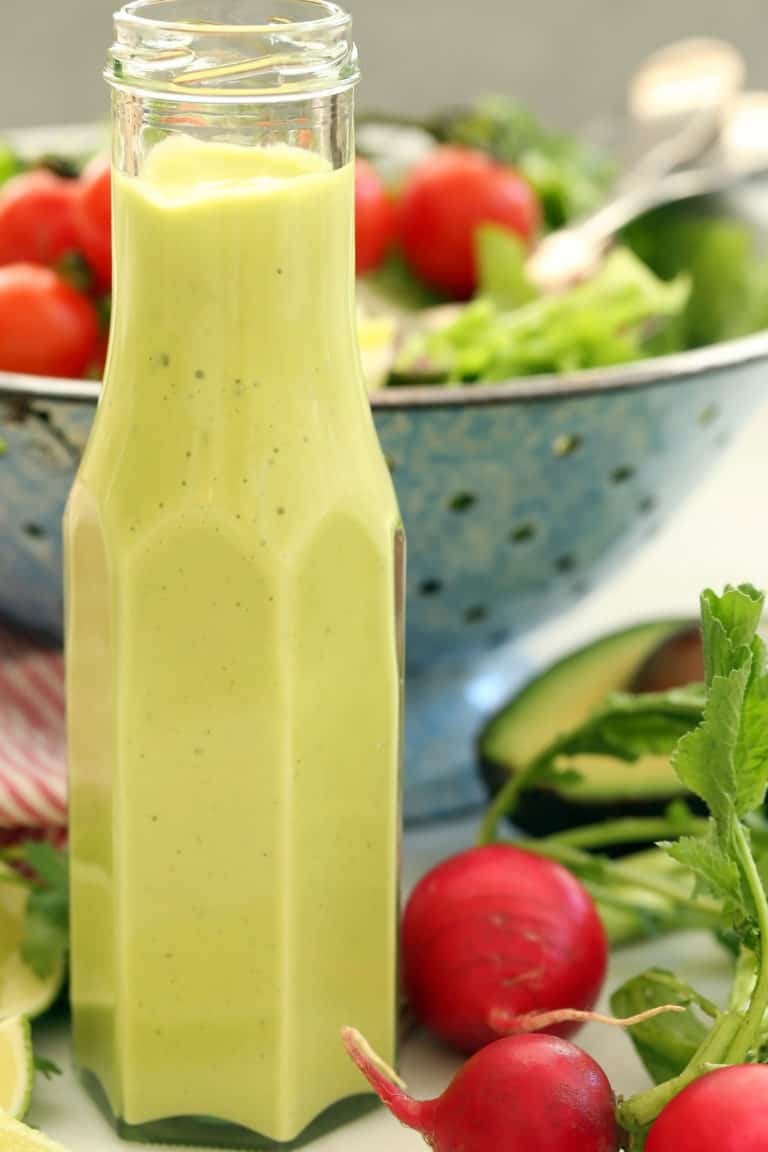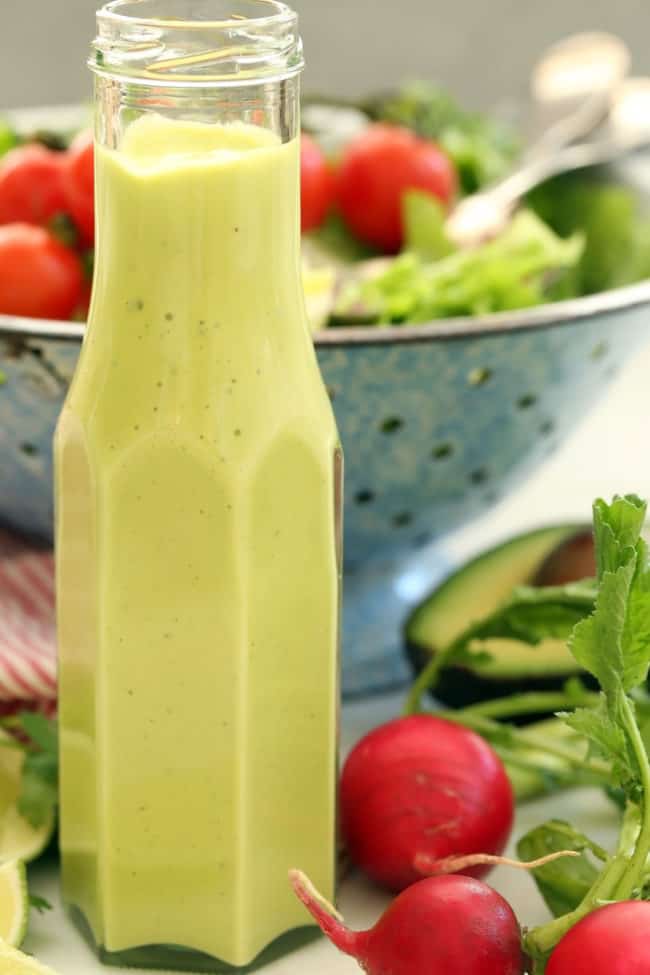 You're likely to find that this Avocado Dressing is luscious and light and so completely addicting you'll want to drink it.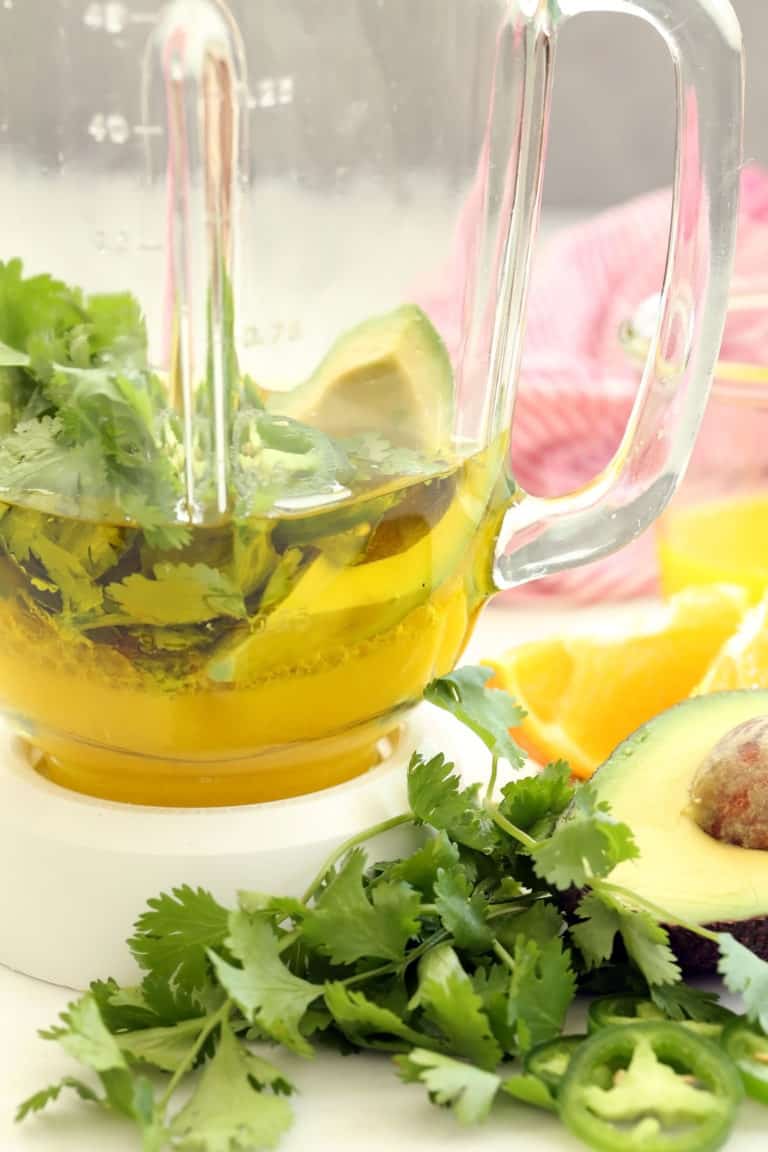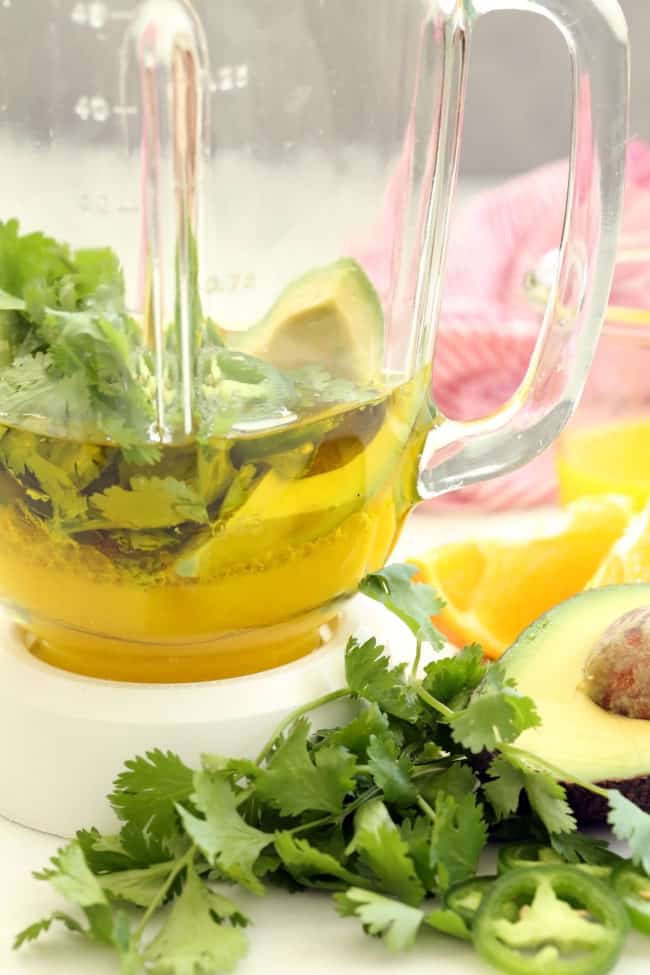 Sometimes I think the easiest way to dress a salad is with a little olive oil and freshly squeezed lemon juice. Often times I'll just drizzle and squeeze right over the leafy greens. But other times, I'll make this avocado cilantro dressing which is a family favorite.
Avocado Dressing Recipe
This vegan avocado dressing calls for just a few simple ingredients.
Avocado
Fresh squeezed orange juice
Lime
Pure maple syrup
Fresh cilantro
Jalapeño, minced
Olive oiL
How to Make Avocado Dressing
This Avocado Salad Dressing is super easy to make, and if you're like me, you're going to make it a lot!
Toss all of the ingredients in your blender and blend until creamy.
Add a few drops of water or more orange juice to achieve desired consistency.
Be sure to chill it in the refrigerate for a good 20-30 minutes before using.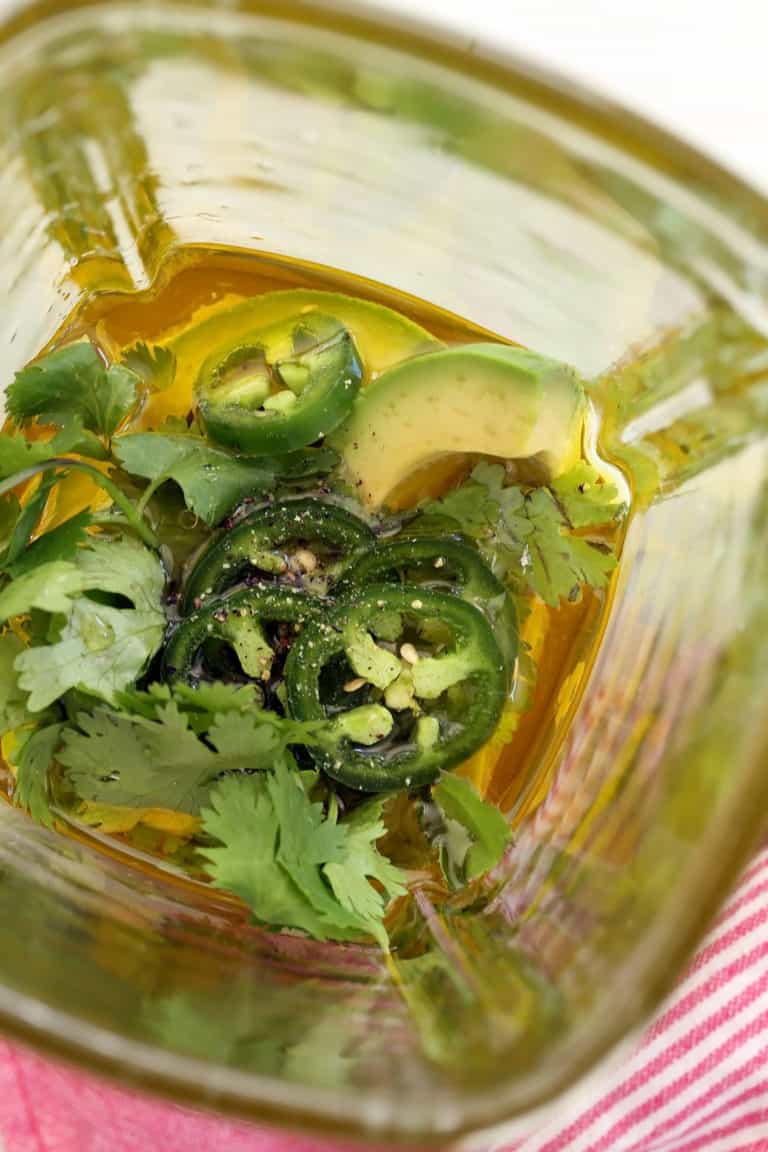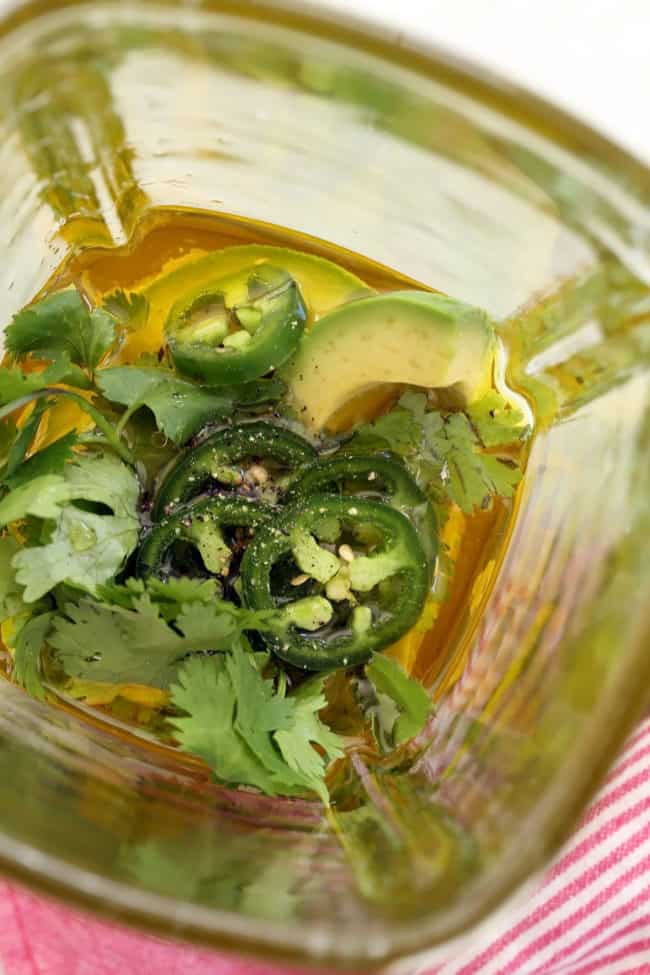 Benefits of Eating Avocado
Creamy avocados are a rich source of antioxidants, vitamins C, E, K, B6, riboflavin, folate, magnesium and potassium. They're also rich with lutein, beta-carotene and omega-3 fatty acids. Avocados are a good source of healthy fats that are beneficial for every cell in our body. Tossing your salads with this Avocado Salad Dressing is a great way to incorporate more avocado into your diet.
Eating Salad Everyday
Having a green salad everyday is a simple way to improve your health. Every type of fruit and vegetable contains different compounds to help your body fight disease. Adding more salad to your daily wellness plan is a great weight loss strategy too. Vegetables are a great source of fiber, antioxidants, phytochemicals, vitamins and minerals. Salads fill you up with healthy fiber leaving you feeling fuller while eating fewer calories. So when you're at the market, reach for a variety of fruits and vegetables, and not just the usual suspects that you typically put in your cart.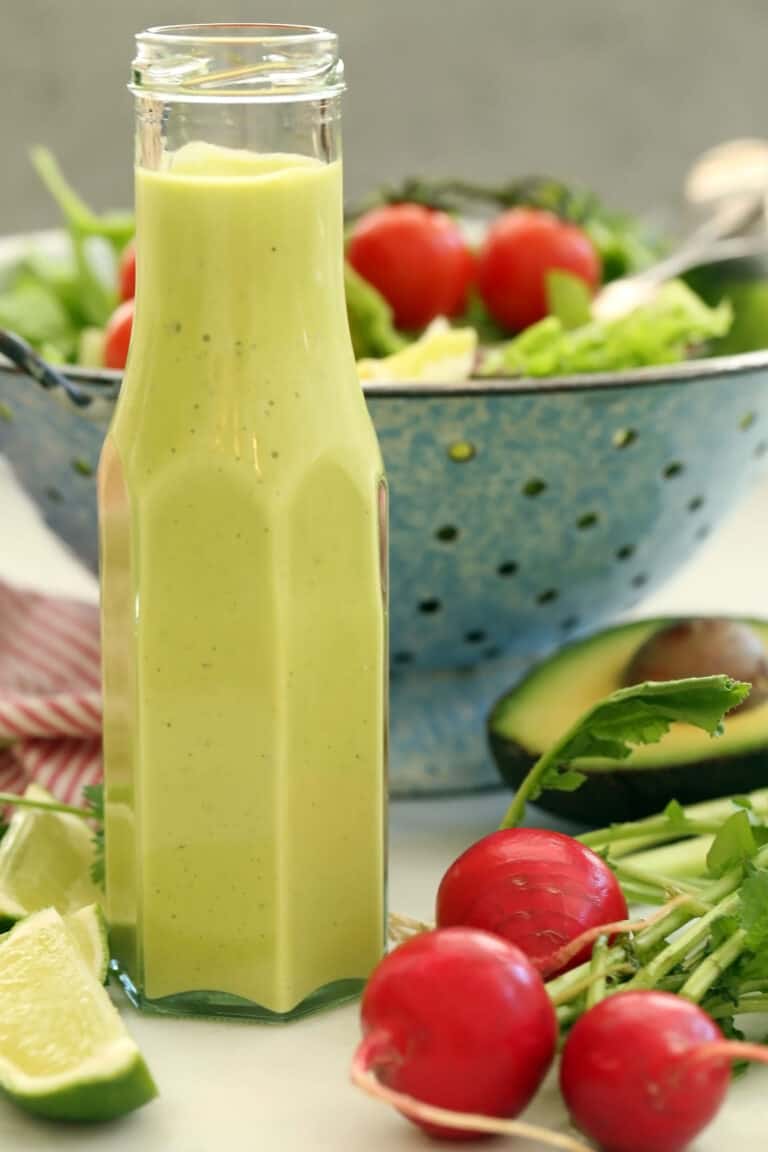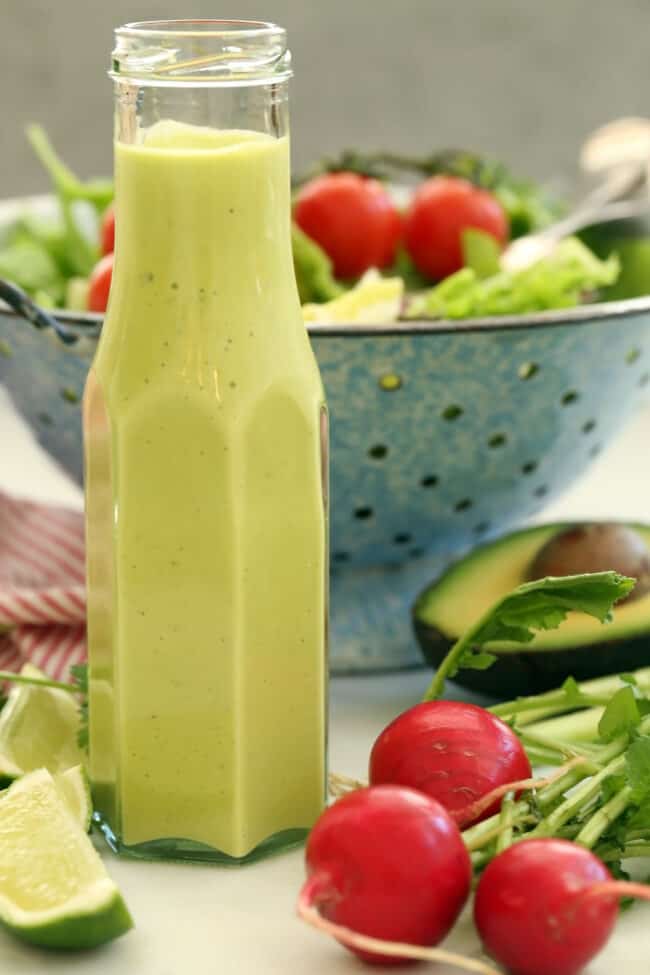 Heart Healthy Salad Dressing Recipes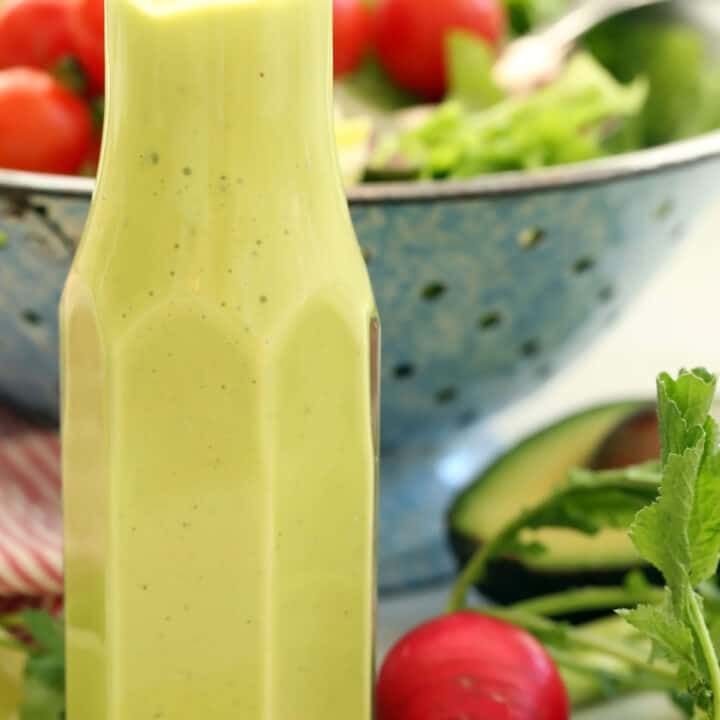 Yield: 4 servings
Avocado Citrus Vinaigrette
Additional Time
20 minutes
This creamy Avocado Citrus Vinaigrette is made with avocado, cilantro, orange juice, olive oil and a little jalapeno.  It's light and creamy and everything a good salad dressing should be!  
Ingredients
1/2 avocado, peeled and seeded
1/2  cup fresh squeezed orange juice
Juice of 1 lime
1-1/2 tablespoon pure maple syrup
1/4 cup fresh cilantro
1/2 small jalapeño, minced
2/3 cup olive oil
Freshly ground black pepper
Salt to taste
Instructions
Place all of the ingredients in a food processor or blender and process until smooth.
Chill for 20 minutes before serving.