How to Make Croutons
This post may contain affiliate links.
Learn How to Make Croutons so they turn out perfectly crispy and crunchy every time. This homemade croutons recipe is made with with a baguette (or loaf of French bread), some melted butter and seasonings and they're completely addictive!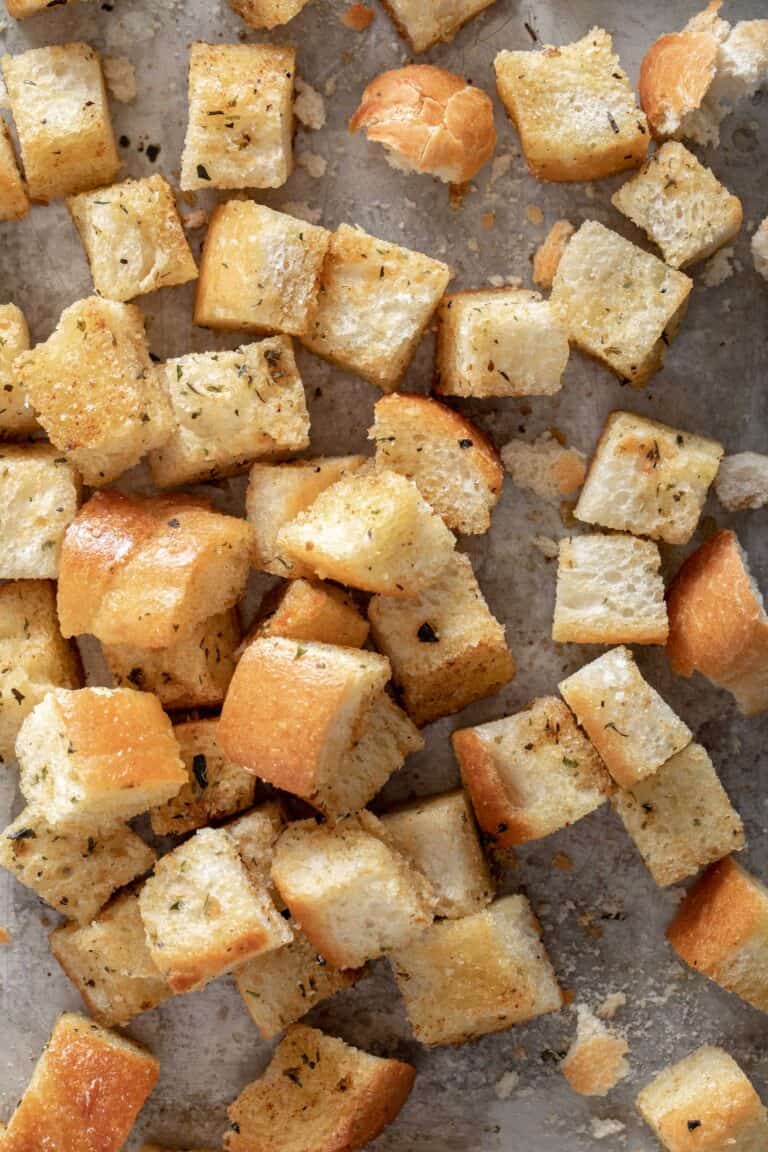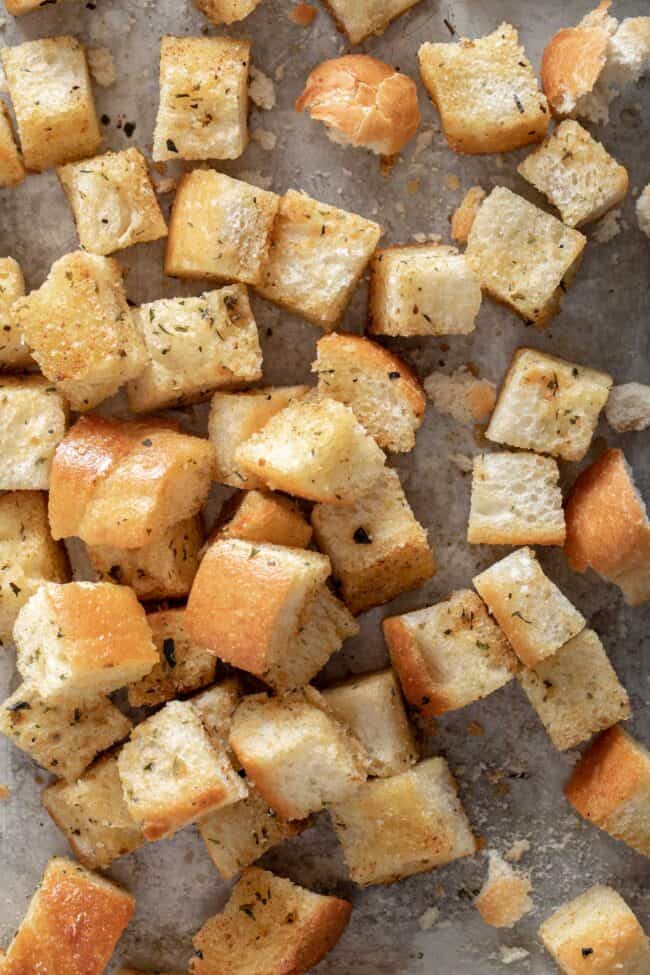 Once you learn How to Make Croutons, you'll never turn to store-bought croutons ever again! This truly is a hands-free recipe. It takes only minutes to cut a loaf of bread into cubes and then the rest of the work is done by the oven; pop your bread cubes in, set your timer, and go do something else while you wait!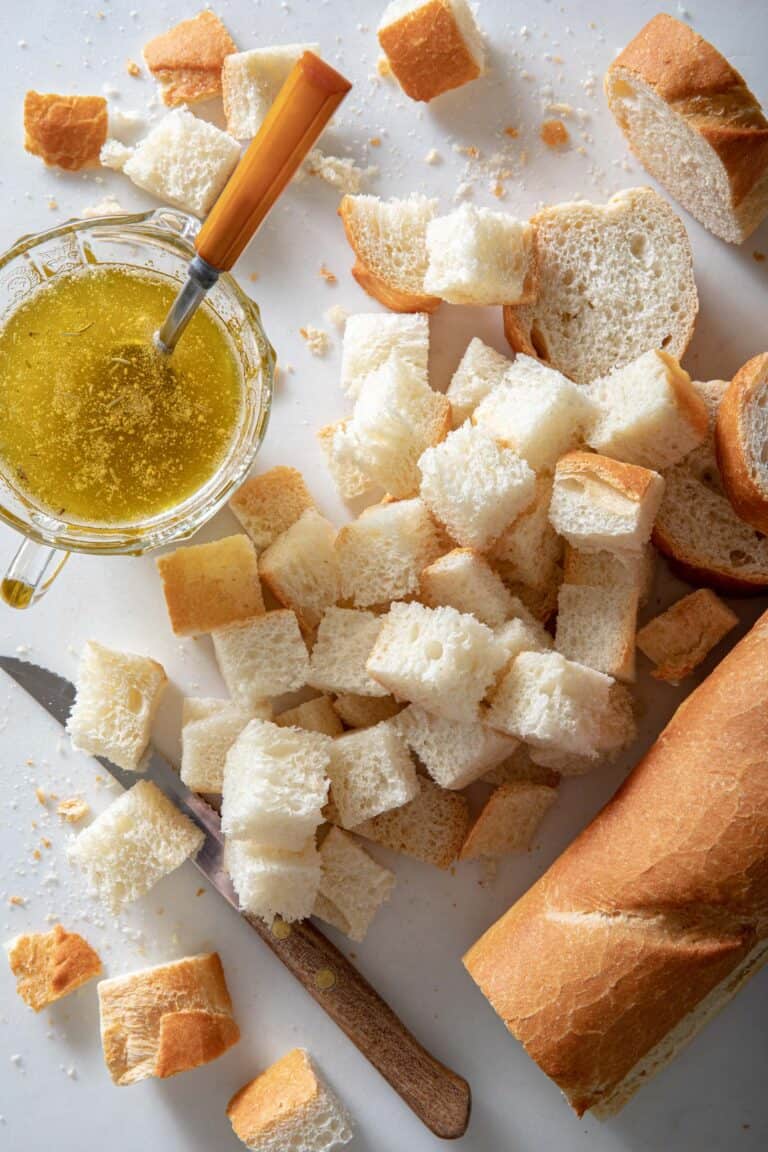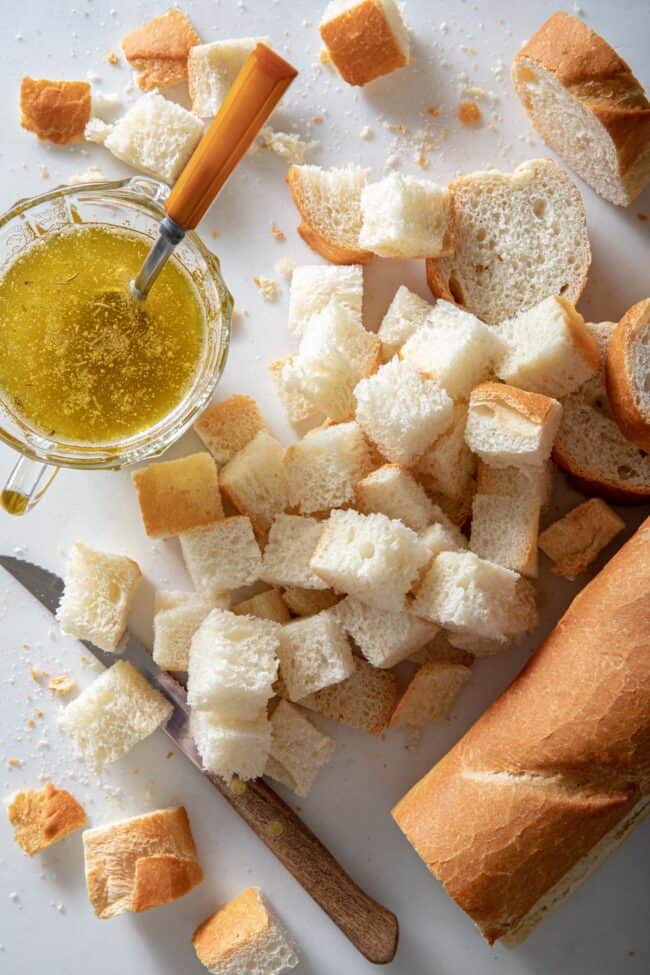 Try to imagine a salad without croutons, you just can't do it! However, not all croutons are equally wonderful. Frankly, store-bought croutons (and even some served at restaurants) aren't that great; they have a tendency to be too dry, flavorless and hard on the teeth when you bite into them. This Homemade Croutons recipe makes flavorful, crunchy, croutons every time.
Recipe for Homemade Croutons
You'll only need a few ingredients to make the lightest, crispiest and most delicious croutons to add to your favorite salads.
For full recipe instructions, please see the recipe card below.
Variations
This Recipe For Homemade Croutons is easily customizable. Here's a few suggestions.
How to Make Homemade Croutons
This Crouton Recipe is an easy one to pull together! You simply cut or tear some day-old bread into 1-inch cubes, toss them in a mixture of melted butter and seasonings, bake them, and you're all set!
Cut or tear bread– Cut or tear the day-old baguette into 1-inch pieces.
Make butter seasoning mixture– Use a small saucepan to melt butter over medium-low heat. Stir in garlic powder and Italian seasoning.
Toss bread cubes in butter mixture– Add the bread cubes to a mixing bowl. Using a silicon spatula, gently toss the cubes in the butter mixture to coat evenly. Spread on a baking sheet in a single layer.
Bake– Bake at 225 F. for about 1 hour or until the croutons are golden brown and crispy.
Tips
Cut each cube of bread into roughly the same sized pieces to ensure that all croutons cook evenly.
Toss bread cubes well so melted butter and seasonings is evenly distributed so each crouton will be flavorful.
What is the Best Bread to Make Croutons With
While you can use almost any type of bread for this Crouton Recipe, it's best to use a French baguette or boule. Using a baguette or boule is ideal because you can easily cut the pieces into 1-inch cubes; nothing worse than small croutons!
Additionally, bread that is a day or two old is best; that's because it's easier to cut and it doesn't become overly soggy when tossed in melted butter (or olive oil).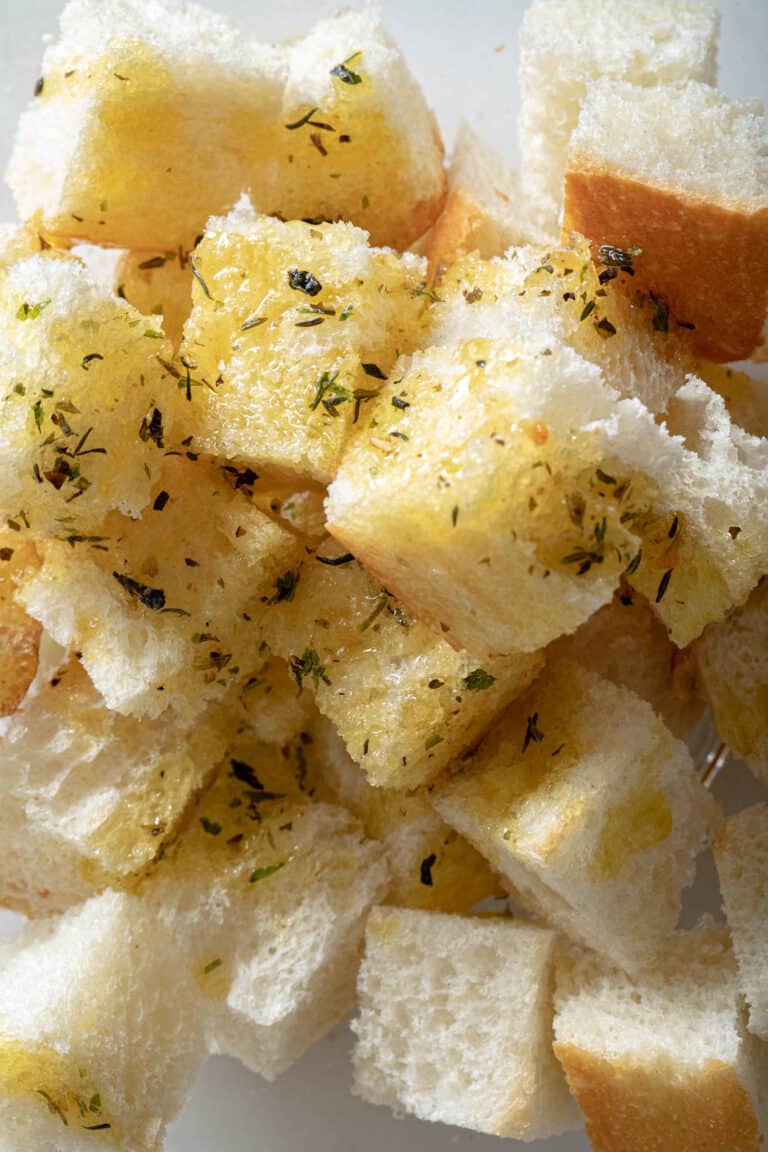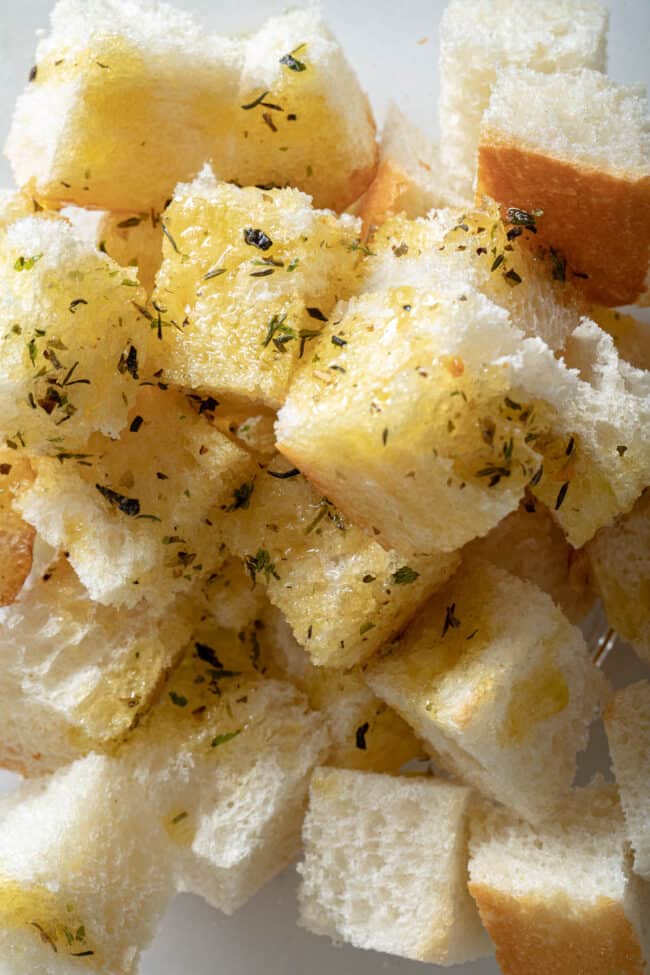 How To Store Croutons
Homemade Croutons, like any bread or cracker product, must be sealed in an airtight plastic bag, container or even a mason jar, where they'll keep for up to a week. Just make sure you let them cool before storing them.
Can Croutons Be Frozen
Yes, croutons can be kept in the freezer. Simply place them onto a baking sheet and slide them into the freezer; once they're frozen you can then remove them from the baking sheet and place them in an air-tight freezer bag for up to a month.
Why Are My Croutons Soggy
Croutons will lose their crispiness when they're exposed to humidity, air, or moisture. This can happen when croutons are left unsealed or if they've been thawed after freezing.
How To Keep Homemade Croutons Crunchy
You can keep your croutons nice and crunchy by heating them up in a pan over medium-low heat; this will remove any moisture from the croutons. Additionally, you can put them back in the oven and bake them for about 5-10 minutes at 300 degrees.
Do Croutons Harden When Cooled?
Yes, croutons do become more hardened once they're removed from the oven and begin to cool. If you like a crunchier crouton, letting them cool is ideal. However, if you enjoy a chewier crouton then serve them fresh out of the oven.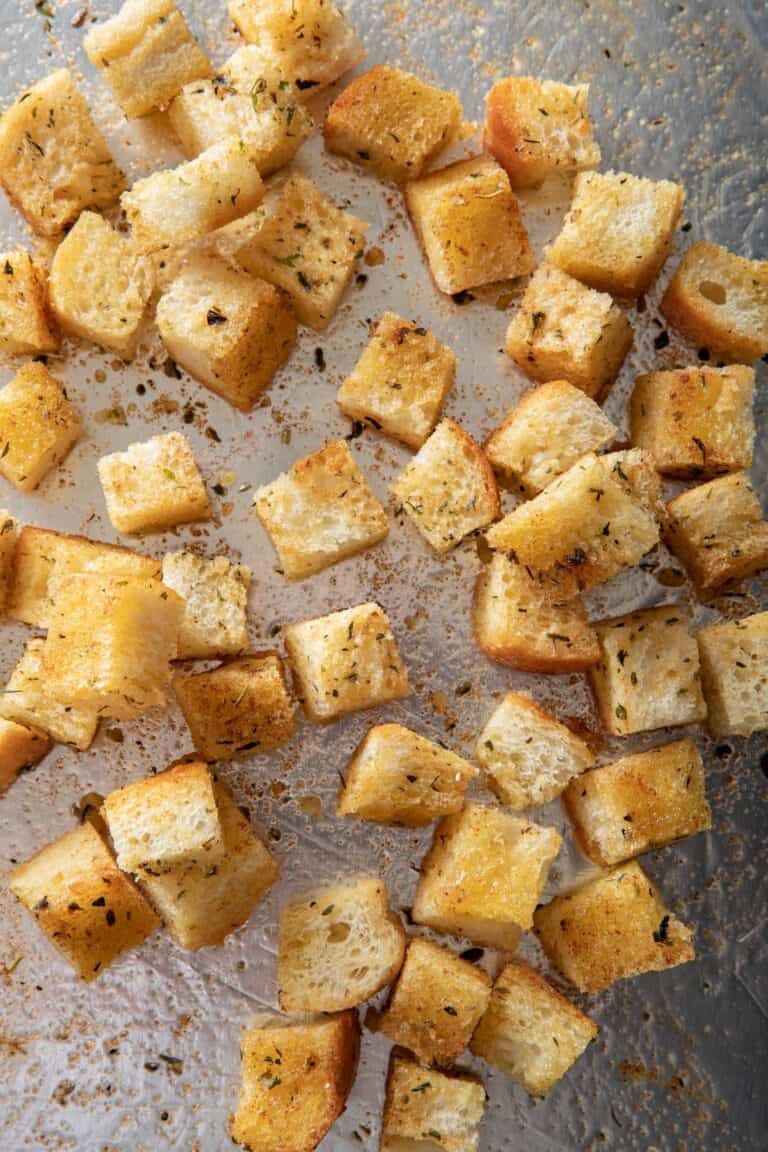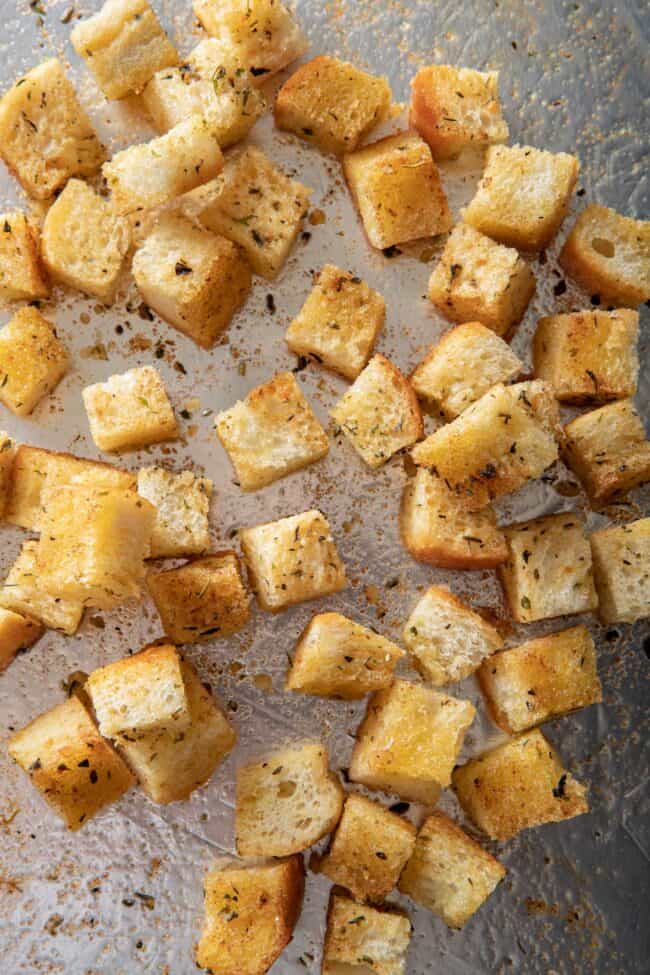 How to Make Stovetop Croutons
You can also make homemade croutons on the stovetop by tossing the bread cubes in the melted butter and seasoning mixture and then heating them over medium-high heat for about 10 minutes, flipping them occasionally.
How to Make Breadcrumbs Out of Croutons
You can easily turn leftover croutons into breadcrumbs by simply tossing them into a food processor; pulse them until you reach your desired texture. Or you can also place them in a Ziplock back and crush them with a rolling pin.

Serving Suggestions
These crispy Homemade Croutons are completely addictive on their own, but they're really best tossed in salads or used as a garnish for soups.
More Cooking Resources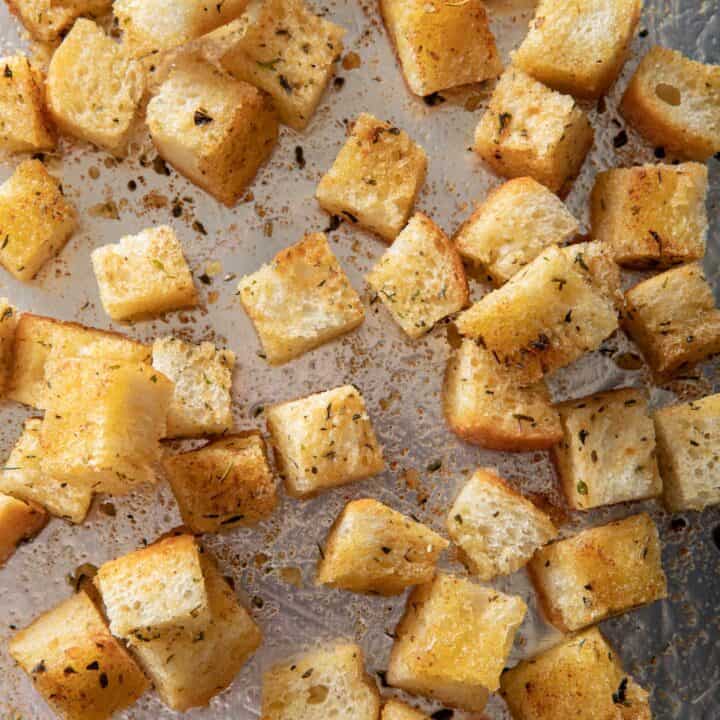 Yield: 4 Servings
How to Make Croutons
Total Time
1 hour
5 minutes
Learn How to Make Croutons so they turn out perfectly crispy and crunchy every time. This homemade croutons recipe is made with with a baguette (or loaf of French bread), some melted butter and seasonings and they're completely addictive!
Ingredients
1 Loaf of French bread, cut into 1-inch cubes
1 cup unsalted butter, melted
1 tablespoon garlic powder
2 teaspoons Italian seasoning
Instructions
Preheat oven to 225 degrees
Cut loaf of French bread into 1-inch cubes.
Melt butter in a saucepan over medium-low heat.
Remove butter from heat and stir in garlic powder and Italian seasoning.
Place bread cubes into a large mixing bowl, pour the butter over the bread cubes and toss to fully coat each bread cube.
Place buttered bread cubes in a single layer on a baking sheet and bake until for 1-hour or until they are light golden and crispy.

Nutrition Information:
Yield:
4
Serving Size:
1
Amount Per Serving:
Calories:

736
Total Fat:

49g
Saturated Fat:

29g
Trans Fat:

0g
Unsaturated Fat:

16g
Cholesterol:

122mg
Sodium:

715mg
Carbohydrates:

63g
Fiber:

3g
Sugar:

6g
Protein:

14g
theharvestkitchen.com attempts to provide accurate information, however, this nutritional information is provided as a courtesy and is an estimate only. The nutritional information provided comes from online sources and calculations. See full disclaimer on About page.