French Potage
This post may contain affiliate links.
This French Potage is a blended vegetable soup that's rich and savory and completely satisfying.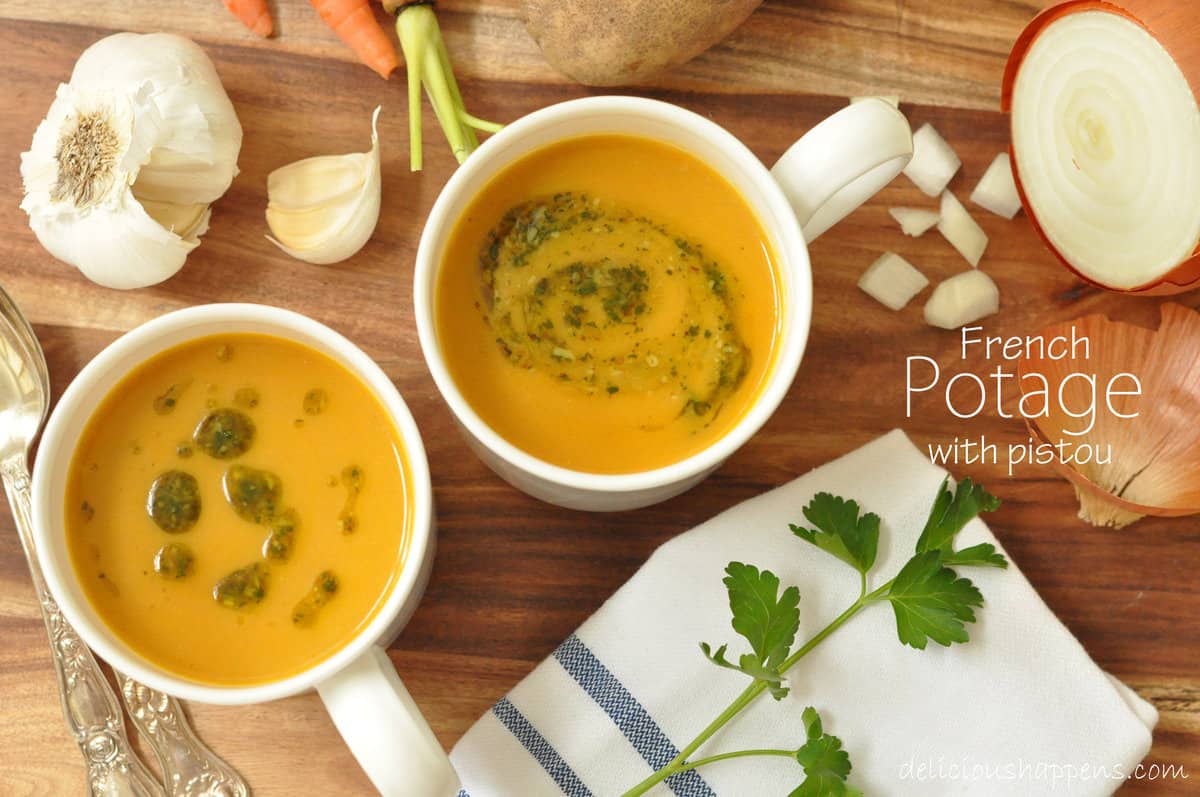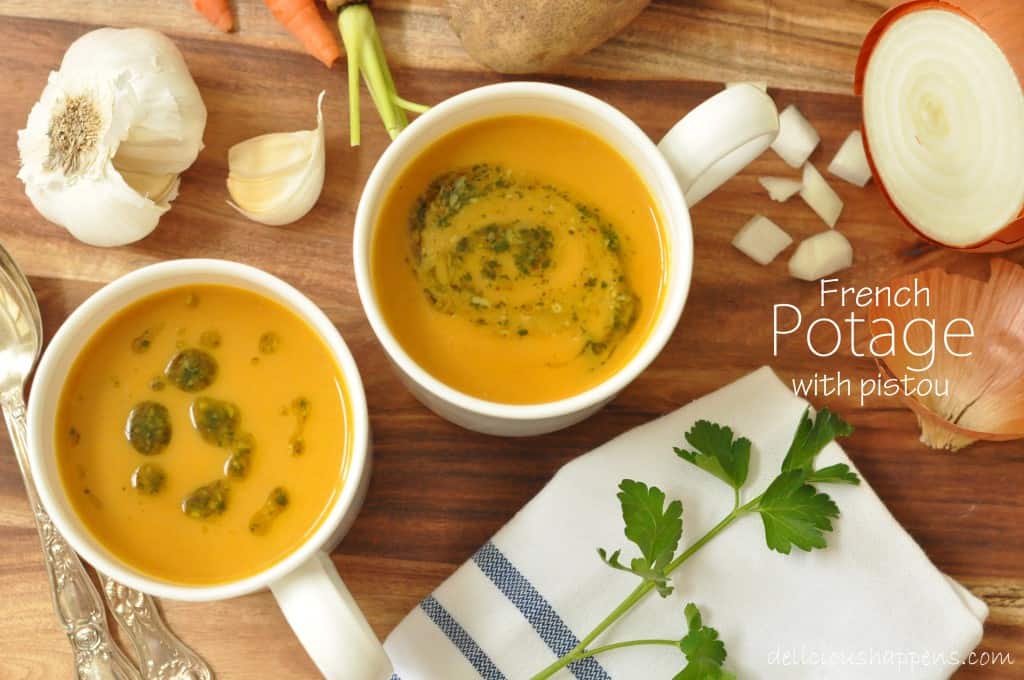 This easy vegetable soup is made with the most humble of ingredients yet has the most incredible depth of flavor, and it comes together in just about 30 minutes.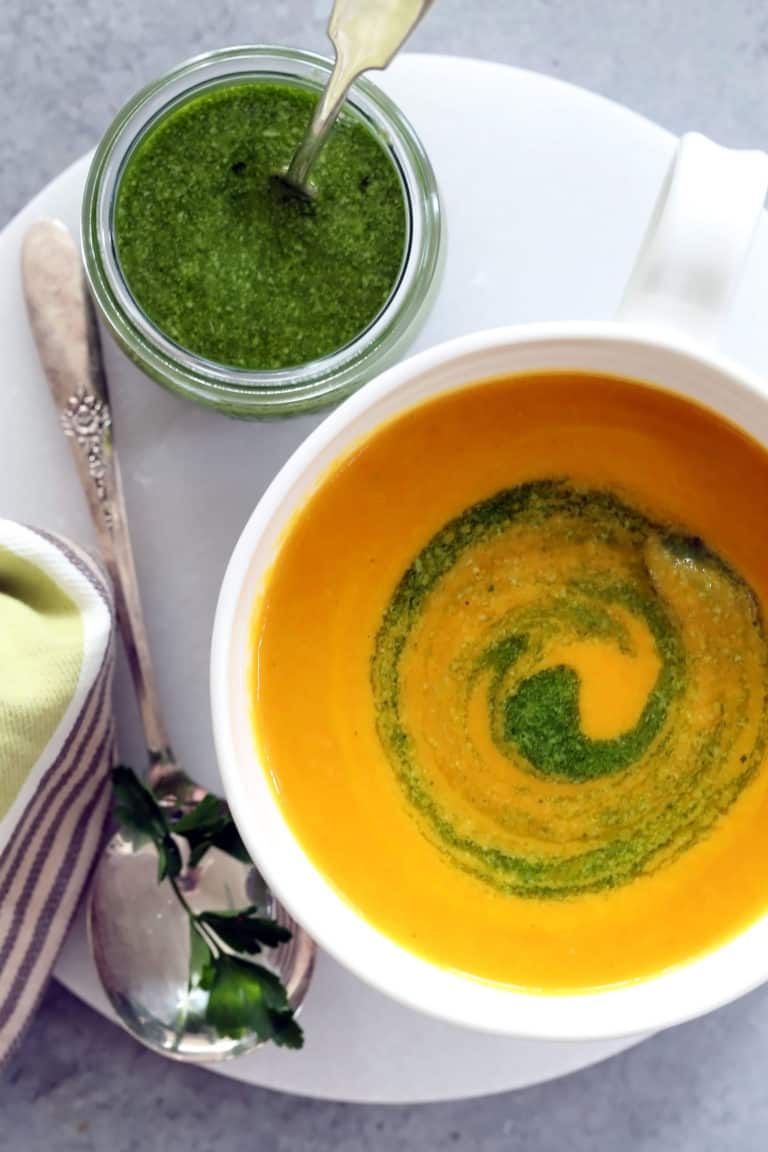 For this vegetable soup recipe we're using sweet potatoes for the added nutritional benefits. But if you're not a fan of sweet potatoes, then by all means use russets, reds or white potatoes instead. The vegetables for this easy vegetable soup are slowly simmered in chicken broth (or use vegetable broth instead) with a few sprigs of fresh parsley and thyme.
What is Potage
Cottage gardens in France contain a variety of crops that are grown together, which are called potage gardens. The harvest from these potage gardens are used to make this easy vegetable soup.
Vegetable Soup Ingredients
Extra virgin olive oil
Leeks
Onion
Garlic, minced
Carrots
Celery
Sweet potato
Fresh thyme
Fresh flat-leaf parsley
Broth (vegetable or chicken)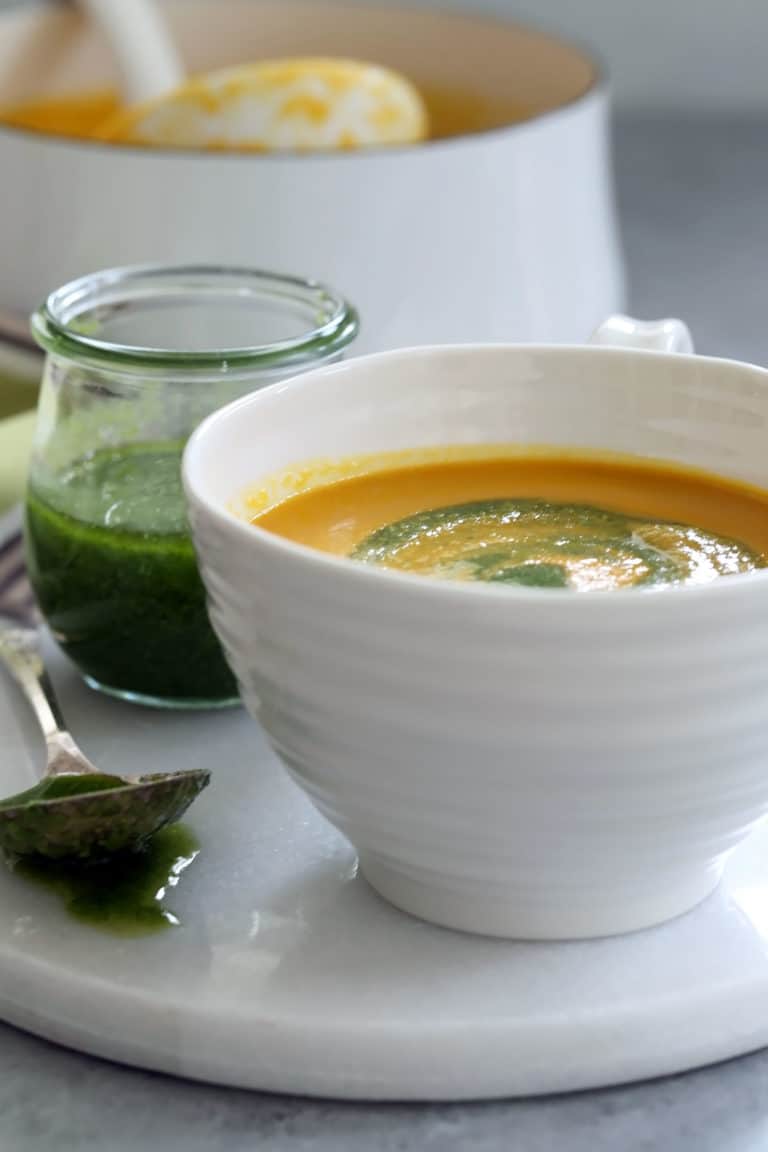 How to Make Potage
Saute leeks, onion and garlic
Add the potatoes, carrots, celery, broth and herbs
Simmer until veggies are soft
Remove the thyme and parsley sprigs
Puree the soup in a blender or with an immersion (stick) blender
Season to taste
Serve with pistou (pesto)
This French vegetable soup is a delicious blended vegetable soup to sip on to give your immune system a good boost during cold and flu season. Apparently the French serve this vegetable soup in their hospitals to nourish patients back to health.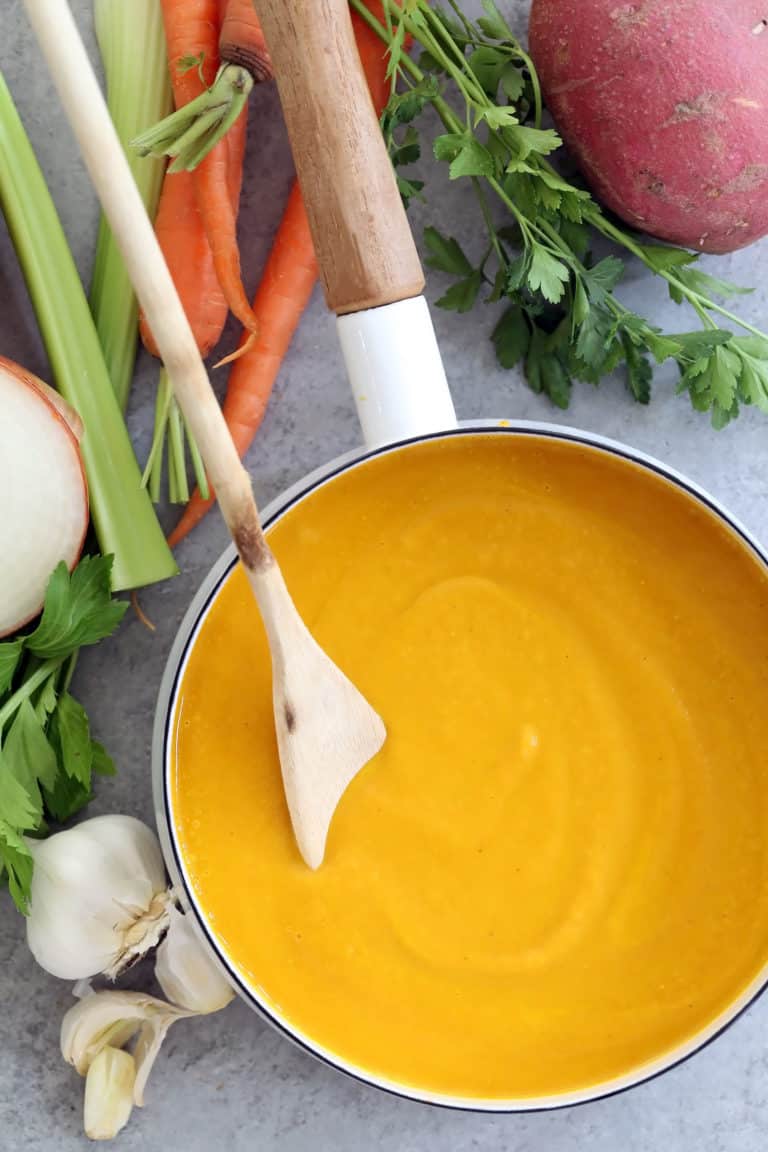 This blended vegetable soup also makes a great starter soup to serve before dinner. And it's a cozy soup to make when it's freezing cold outside and you want something warm, creamy and comforting. Be sure to serve this pureed vegetable soup with plenty of pistou (pesto) and maybe a slice of warm crusty bread for dunking (in the soup) and dipping (in the pesto).
Homemade Soup Recipes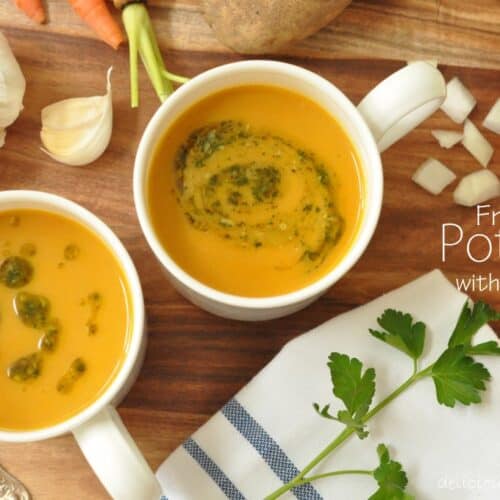 Yield: 6 servings
French Potage
This French Potage is a blended vegetable soup that's rich and savory and completely satisfying.
Ingredients
2 tablespoons extra virgin olive oil
4 cups leeks, chopped (white and pale green parts only) - you'll need about 2-3 large leeks
1/2 cup brown onion, chopped
2 cloves garlic, minced
1/4 cup white wine (optional)
2 cups sweet potato, peeled and diced
3 cups carrots, chopped
1 cup celery, chopped
3 sprigs fresh thyme
2 sprigs fresh parsley
4 cups low-sodium chicken broth
1 cup water (add more if the soup is a little too thick)
1 cup loosely packed fresh basil leaves
2 cloves garlic
1/4 cup grated Parmesan cheese
1/4 cup toasted walnuts
3/4 cup extra virgin olive oil
Instructions
For the French Potage
Heat the olive oil in a large saucepan over medium high heat.
Add the leeks, onion and a pinch of salt. Cover. Reduce heat to low and cook for about 5 to 7 minutes or until the leeks are soft.
Stir often to prevent the leeks from burning.
Add the garlic and white wine (if you're adding the white wine) and cook for another 2 minutes.
Add the potatoes, carrots, thyme, chicken broth and water.
Bring to a boil. Reduce heat to medium-low and simmer for about 30 minutes or until the potato and carrots are soft.
Remove the thyme and parsley sprigs then puree the soup in a blender or with an immersion (stick) blender.
Add salt and freshly ground black pepper to taste.
Serve with pistou.
For the Pistou
Combine the basil, garlic, cheese and walnuts in a food processor or blender and process. While the motor is running, and the olive oil in a slow, thin stream. Continue to process until you reach your desired consistency. Add a little more olive oil if needed. To keep the pistou from turning brown on top…place a tablespoon of olive oil on the top of the pistou then seal tightly.