Grilled Salmon Salad with Lemon Caper Vinaigrette
This post may contain affiliate links.
This Grilled Salmon Salad with lemon caper vinaigrette is a perfect summer salad – loaded with tomatoes, cucumber, avocado, Kalamata olives – and of course tender fillets of grilled salmon. It's all tossed with a delicious Lemon Caper Vinaigrette.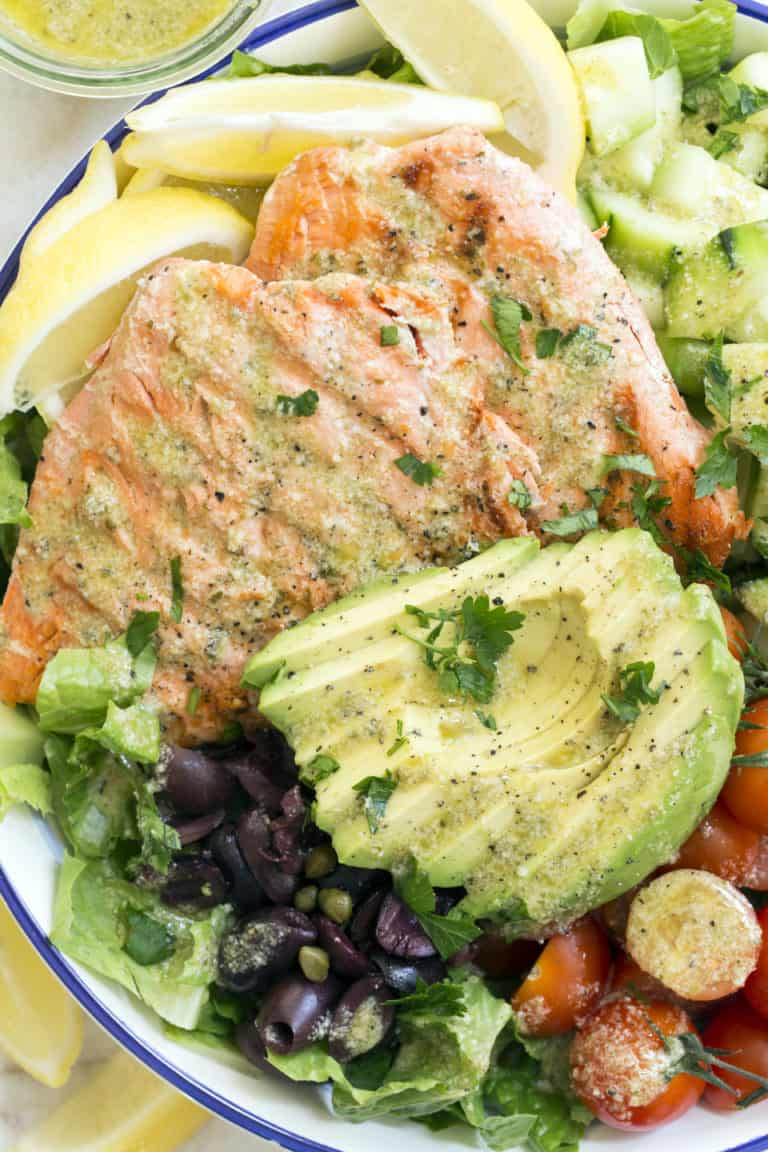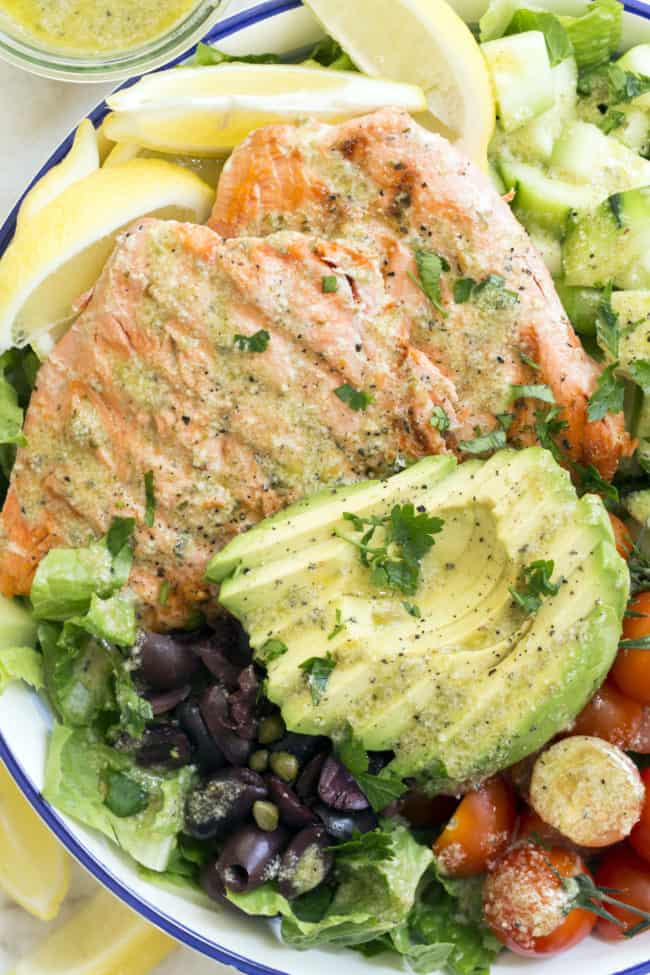 This Grilled Salmon Salad recipe is fresh, healthy and so delicious. It makes an easy meal- in-a-bowl recipe that comes together in a pinch. The lemon vinaigrette recipe doubles as a marinade.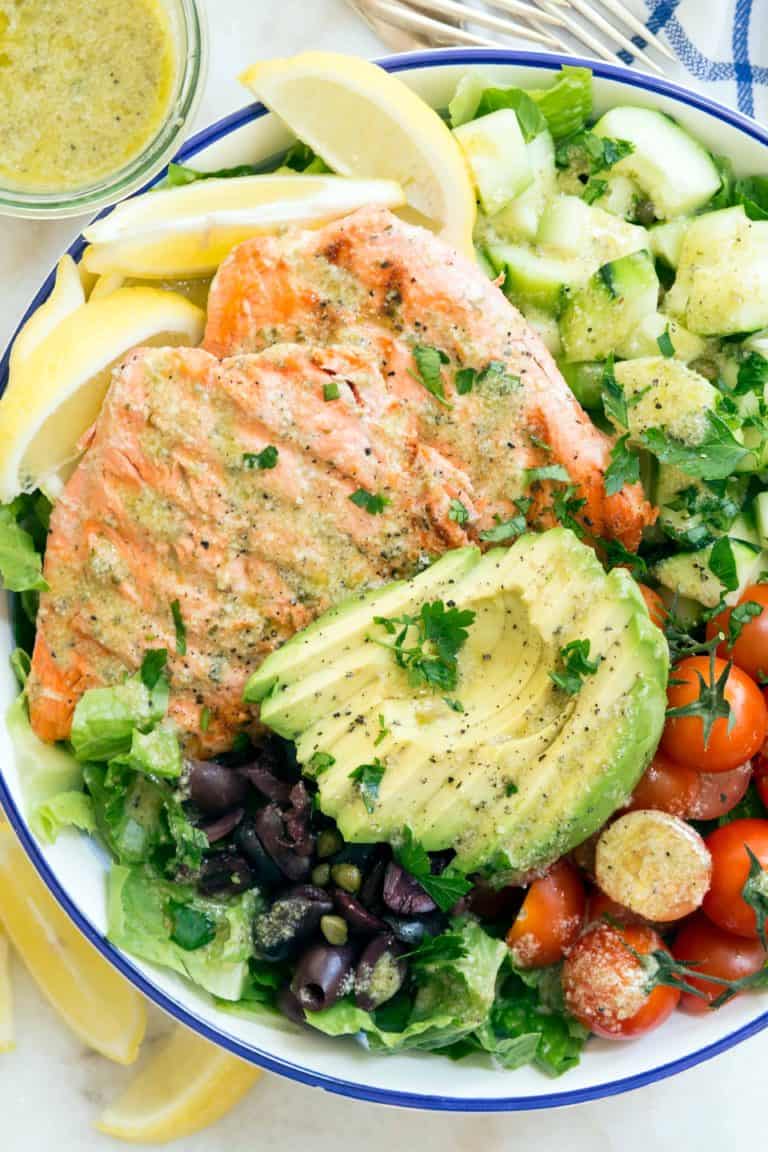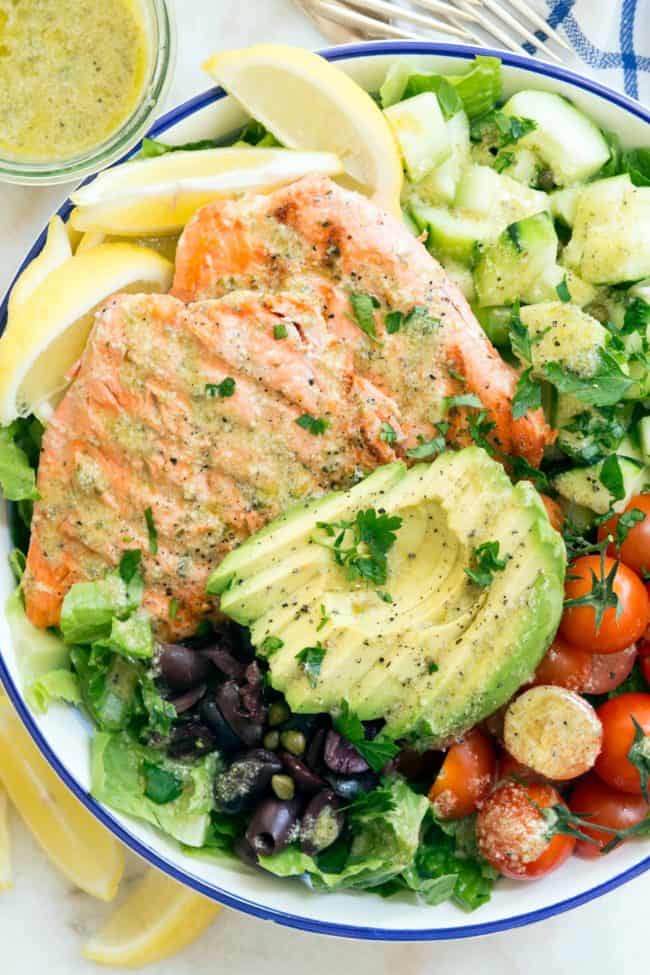 HOW TO MAKE SALMON SALAD
Make the marinade (1/2 will be used as a marinade and the other 1/2 will be used as a salad dressing)
Marinade the salmon fillets
Grill (or sear) the salmon
Toss the salad ingredients together
Top the salad with salmon (whole, sliced or cut into pieces)
Drizzle the salmon with extra dressing
Variations
Use chicken instead of salmon
Add chickpeas
Add red onion
Add pepperoncini
Add feta instead of extra parmesan cheese
Add artichoke hearts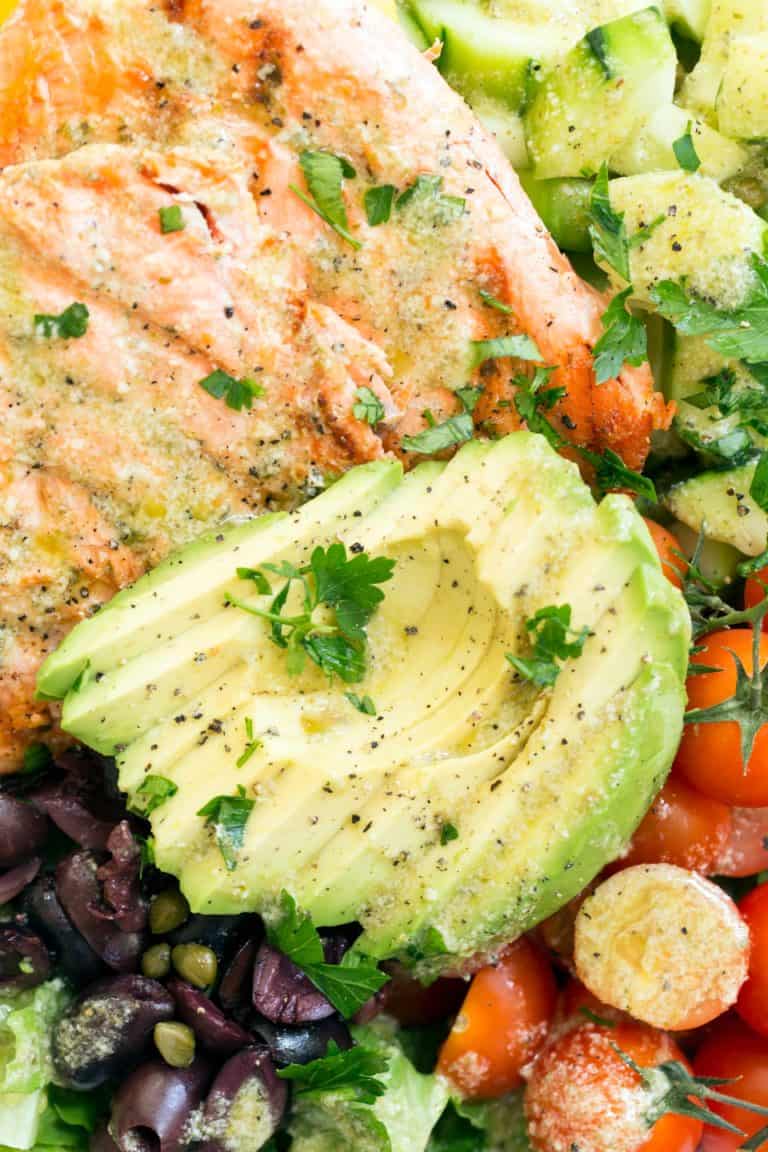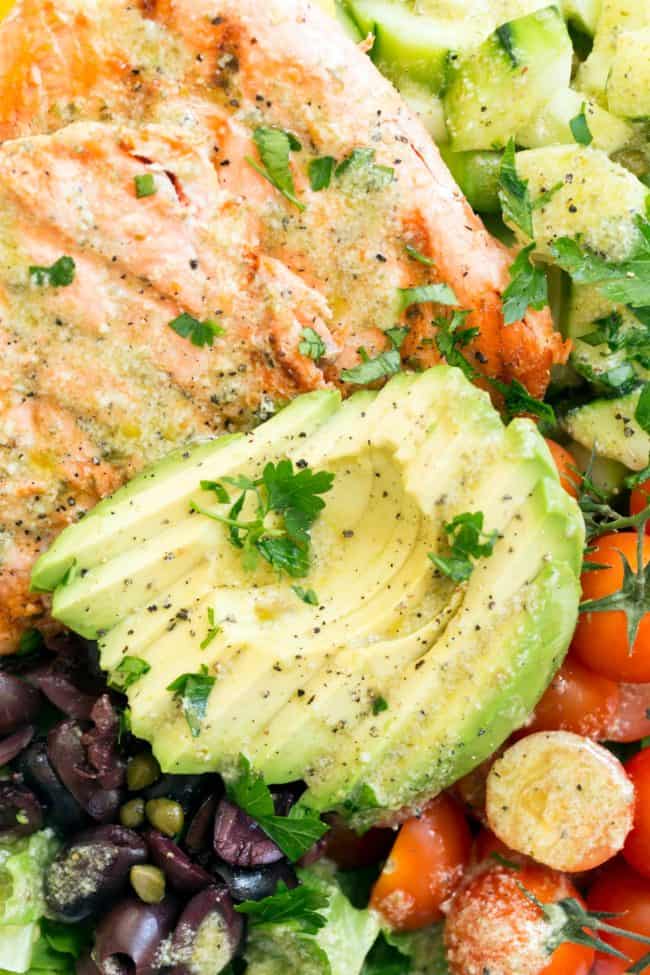 BENEFITS OF SALMON
Salmon is rich with heart-healthy Omega-3 fat (which is associated with a decreased risk of cardiovascular problems, such as heart attacks, strokes, heart arrhythmias, high blood pressure, and high triglycerides circulating in the blood.
These benefits are best obtained when omega 3 rich fish is consumed 2 – 3 times a week.
Omega 3s are also know to improve cognitive function, improve mood, offer joint protection, promote eye health, and a decreased risk in certain types of cancer.
HEALTHY SALAD RECIPES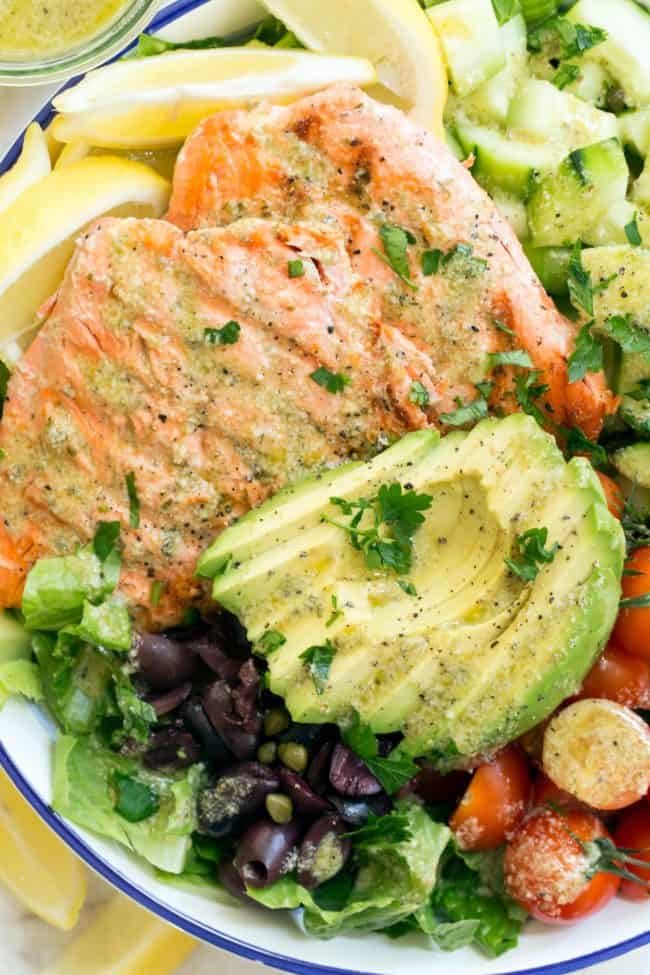 Yield: 2 Servings
Grilled Salmon Salad
This Grilled Salmon Salad is fresh, healthy, delicious and it comes together in a pinch.
Ingredients
For the Marinade/Dressing
2 large garlic cloves, smashed and minced
2 teaspoons capers, drained and rinsed
2-3 tablespoons fresh flat-leaf parsley, chopped
1/4 cup plus 2 tablespoons freshly squeezed lemon juice
1/2 cup extra-virgin olive oil
1/4 cup grated Parmesan cheese, divided
-
For the Salad
1 large head (about 4 cups) Romaine lettuce leaves, rinsed, dried and chopped or torn
1 large cucumber, peeled and chopped
1 cup cherry tomatoes, cut in half
1 avocado sliced
1/3 cup pitted Kalamata olives, sliced
1 pound skinless salmon fillets
Serve with lemon wedges
Instructions
For the Marinade/Dressing
Add all of the ingredients except the parmesan cheese to a blender and blend well.
Pour out half of the marinade into a large, shallow dish or a large ziplock plastic bag.
Add the parmesan cheese and continue to blend the remaining dressing until well blended.
Pour the unused dressing into a mason jar and refrigerate before using.
Coat the salmon with the marinade and marinade for 15-30 minutes.
Discard marinade after use.
For the Salad
Heat 2 tablespoon of oil in a skillet or grill pan over medium-high heat.
Sear salmon on both sides until cooked to your liking.
While salmon is cooking, prepare all of the salad ingredients and mix in a large serving bowl.
Slice salmon and arrange over salad.
Drizzle with the dressing.
Sprinkle with extra grated parmesan cheese
Add freshly ground black pepper
Serve with lemon wedges.