Cucumber Juice
This post may contain affiliate links.
This Cucumber Juice recipe is refreshing, hydrating and super easy to make! It can be made using a blender or a juicer and this juiced cucumber comes together in about 5 minutes. We will also touch on the many cucumber juice benefits in this post, and how to add more cucumbers into your diet.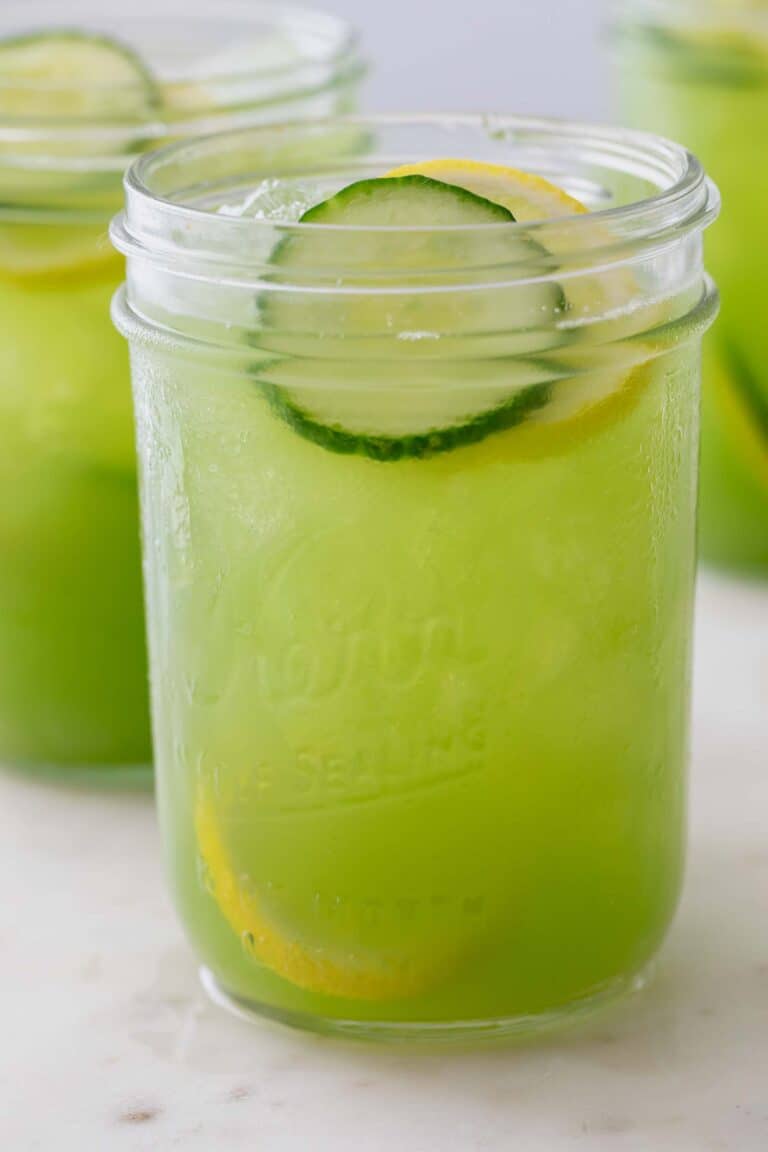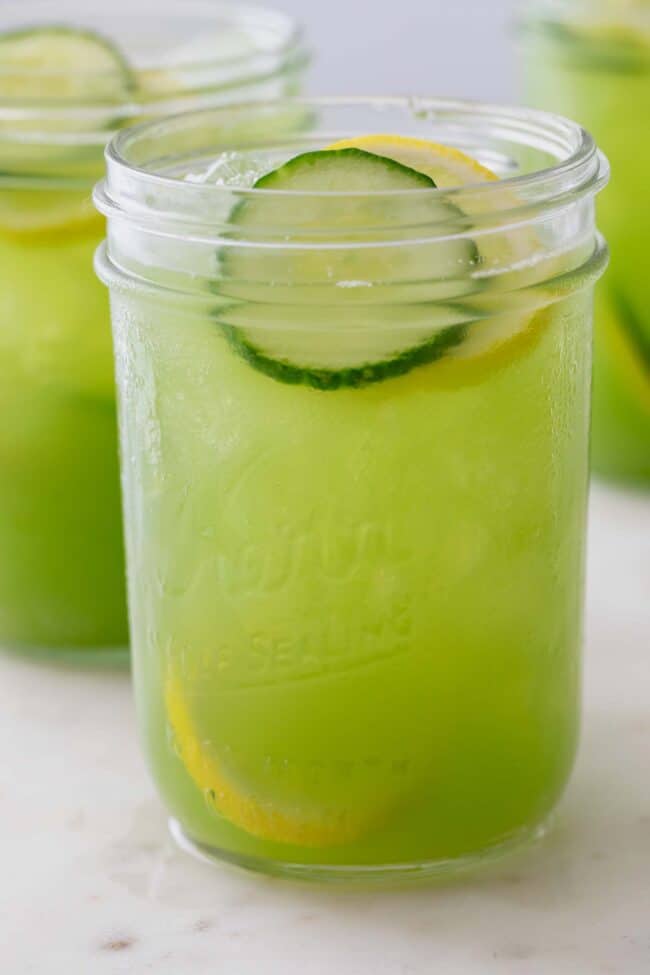 Besides being low in calories and naturally hydrating, cucumber juice is also rich with vitamins and minerals that are essential for your body to function optimally. It's a quick and easy way to boost your nutrient intake. There's nothing wrong with adding more fruits and veggies to your diet!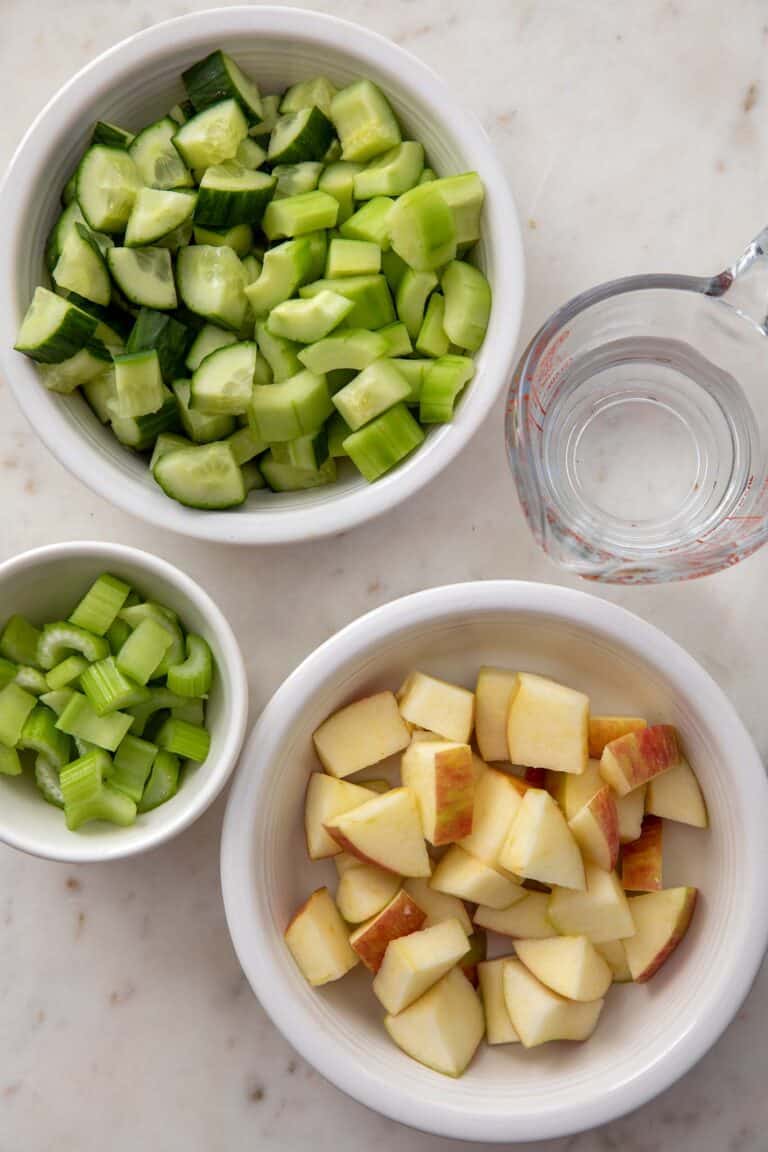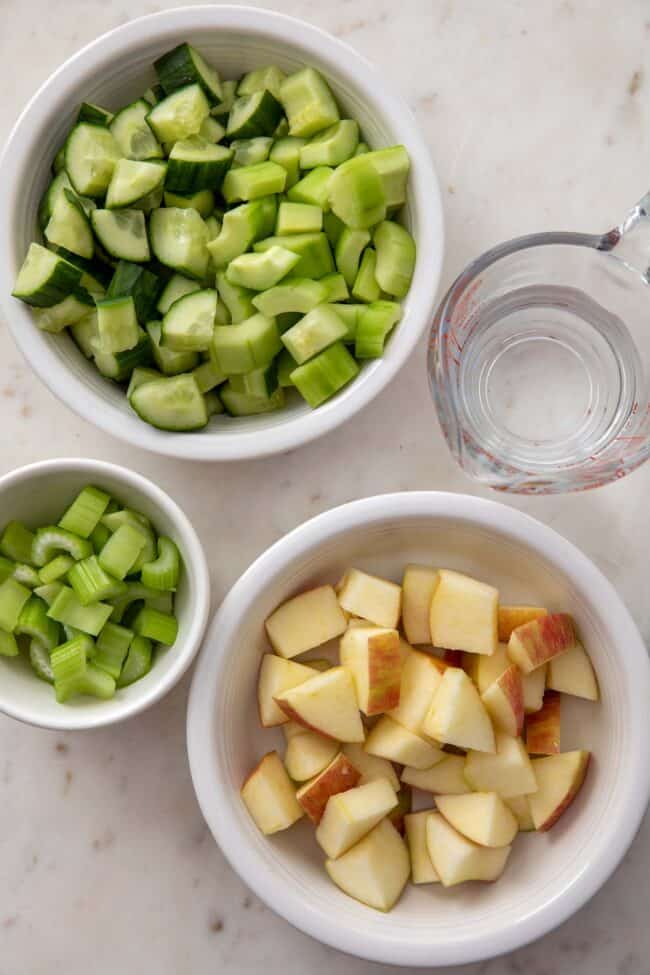 All you'll need to make this cucumber juice recipe is a blender. You can strain the juice through a fine mesh for a more liquified drink, but if a little texture doesn't bother you, then don't strain it at all. We add apples to the mix for a little sweetness and celery for added nutritional benefits.
Cucumber Juice Recipe
I have added apples and celery to this cucumber juice recipe, but you could just blend cucumbers alone if you prefer a pure cucumber juice.
Cucumber – Using English cucumber is preferred. If you use America, slicing, garden cucumbers, then be sure to remove the peel and the seeds before blending.
Apples – These add a little sweetness to the mix plus some added nutritional perks.
Celery – This provides added flavor plus nutritional and cleansing benefits.
Water – Just a little water helps to blend the ingredients a little easier.
Find printable recipe with measurements below.
Variations
I also like to blend cucumbers with watermelon (these two ingredients work so well together) or pineapple and ginger, depending on what I have on hand.
Blend cucumber with watermelon and water
Blend cucumber with pineapple, fresh ginger and water
How to Make Cucumber Juice
We simply toss everything in a high-powered blender and blend until it all liquifies. Alternatively, you can also simply put the chopped ingredients through the chute of a juicer to make juiced cucumber, just omit the water since it won't be needed.
This juiced cucumber will last in the refrigerator up to 5 days.
Blend – Add chopped cucumber, apple, celery and water in a blender. Place lid on blender and blend until the everything liquifies.
Strain – Pour the mixture through a fine mesh strainer to remove any pieces of fiber from the ingredients.
Enjoy – Add ice to glasses and pour Cucumber Juice over the ice and enjoy!

Types of Cucumbers
There are many varieties of cucumbers. Cucumbers that you eat fresh are typically classified as slicing cucumbers and other cucumbers with their thick and bumpy skins are most often used for pickling. English cucumbers are usually a little more expensive than garden cucumbers, but with English cucumbers you can consume the peel and tiny seeds and enjoy all the fiber and nutrients they provide.
American – The typical cucumbers found in the grocery stores are American cucumbers (also called slicing cucumber and garden cucumber). They have a thicker and darker green skin which is bitter tasting. They have a softer texture flesh with many large seeds that can give the flesh a slightly bitter taste. It's best to peel them and scrape away the seeds before consuming.
English – English cucumbers are also called hothouse, greenhouse, seedless, burpless and European cucumbers. They are long with dark green skins that have distinct ridges running lengthwise. They have tiny seeds so the flesh (and skin) don't taste bitter like the garden cucumber does. Cucumbers are a member of the cucurbitaceae family (gourd family), which includes zucchini, squash, melons and pumpkins. Botanically speaking, cucurbits are actually a type of fruit. Most cucurbits are herbaceous tendril-bearing vines that are commonly grown in warmer climates.
Persian – Persian cucumbers are similar to English hothouse cucumbers in taste and texture, but they're about half the size. Both of them are crunchy, have thin skins, few seeds and they are mild tasting. Neither of them need to be peeled before consuming.
Choosing the Best Cucumbers
When you're choosing the best cucumbers to buy, always look for firm cucumbers that are free of soft spots, cracks or withered and shriveled ends. The skin should be a rich green rather than a pale green.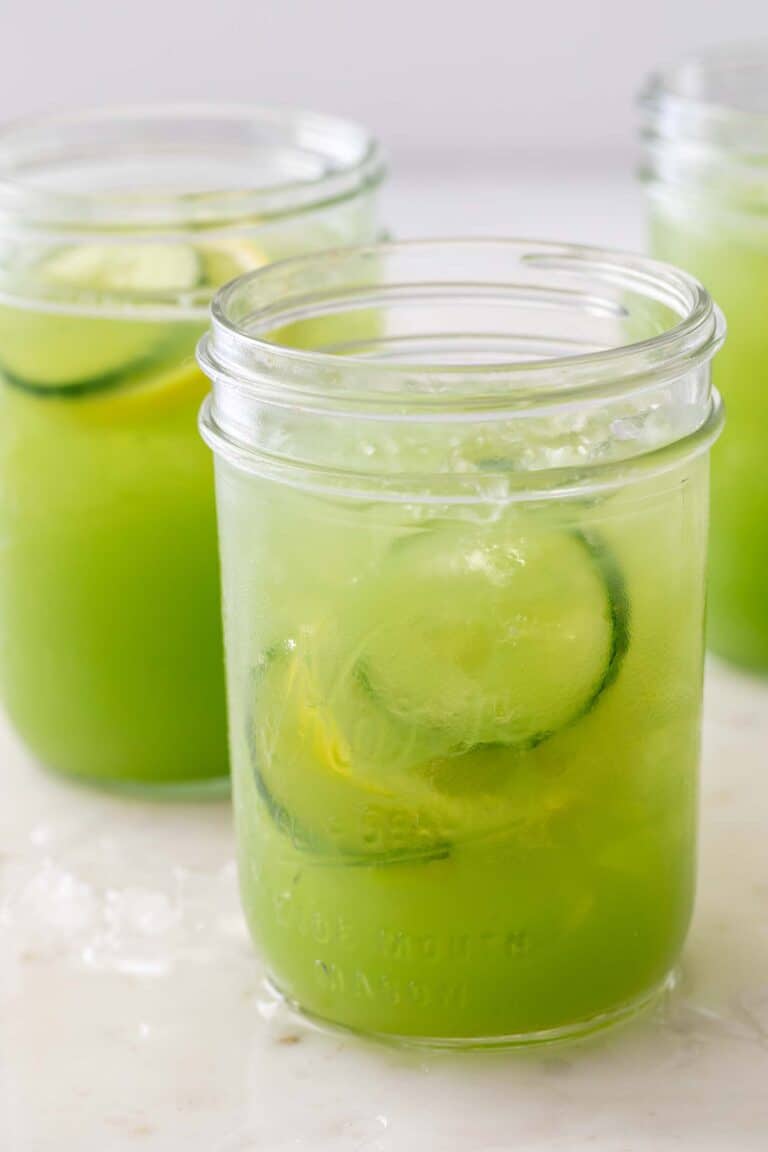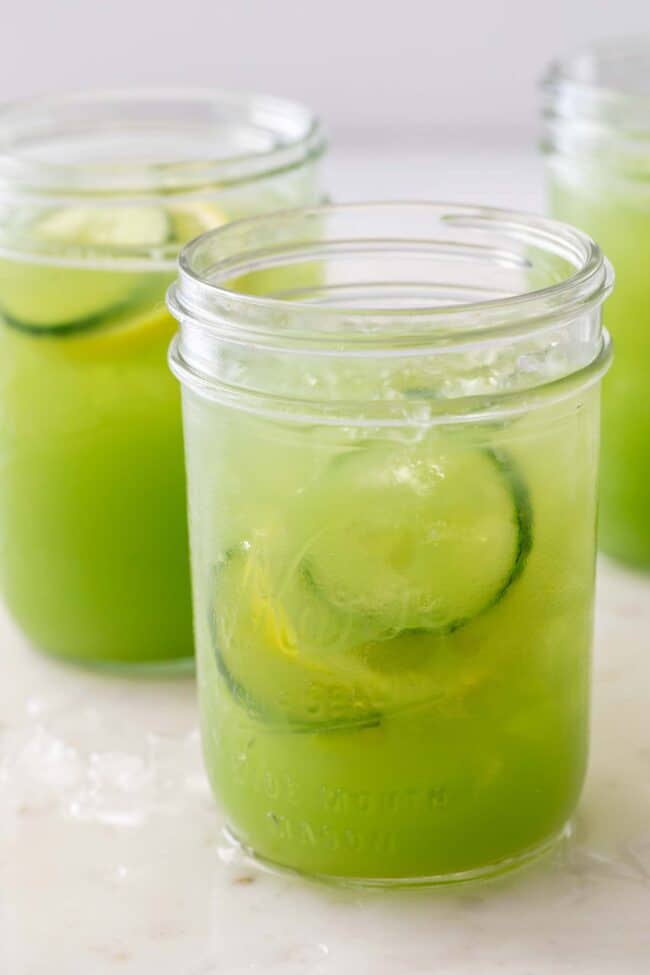 Cucumber Juice Benefits
There's a lot of cucumber juice benefits worthy of our attention. They're low in calories and high in fiber. They are made up of about 95% water. Some studies suggest that an increase in water consumption may help with weight loss due to the breakdown of body fat and the feeling of satiation so we will be likely to consume less food. It's best to consume the cucumber skin which is rich with fiber and vitamin K.
So let's unpack all the nutritional cucumber juice benefits that these humble cukes provide.
Promotes Hydration. Cucumber is made up of about 95% water, which helps keep the body hydrated. (1) (2)
Weight Management. Since cucumbers are low in calories, carbs, and fat and high in fiber, they make a smart addition to any weight loss plan. (3)
Digestion. Cucumber is rich with fiber which helps to promote a clean gut, a healthy digestive system and possible weight loss. (4)
Detoxification. Cucumber seeds act as natural diuretic that help to pass urine and flush out excess waste and toxins. Drinking cucumber detox water is an easy way to take advantage of cucumber's detoxification benefits.
Antioxidants. Good source of antioxidants, including flavonoids and tannins which help block harmful free radicals which in turn may help reduce risk of chronic disease. (5)
Blood Sugar. Consumption of cucumbers may help regulate blood sugar levels. (6)
Blood Pressure. Excess sodium in the body may raise blood pressure. Cucumber is a good source of potassium which is an electrolyte that helps regulate the amount of sodium retained by your kidneys. Drinking cucumber juice helps you get more potassium in your body, which may help to lower blood pressure levels.
Cucumber and Healthy Skin
Cucumber provides vitamin K and vitamin B5 which is important for skin and bone health. It also provides anti-inflammatory properties which can help soothe the skin and give it a healthy rejuvenated glow. It's an excellent source of silica, and silica is a key ingredient in collagen creation, which promotes healthy skin, hair and nails. Silica is a trace mineral essential to our bones strength and density.
Cucumber Recipes
Now that we know about some of the health benefits of cucumbers, here are some recipes to give you inspiration for adding more cucumber into your daily wellness plan.
Blend cucumbers and cucumber together and freeze in ice cube trays to make Hydrating Cucumber Ice Cubes. These ice cubes add a refreshing pop of flavor and nutrients to a glass of water or tea.
Add cucumber slices to water to make refreshing Cucumber Water.
Toss cucumbers in salads like this Mediterranean Chickpea Cucumber Salad, Grilled Chicken Salad, Chef Salad, Everyday Tossed Salad, Best Quinoa Salad, Romaine Salad, Italian Chopped Salad, Mediterranean Quinoa Salad, Crunchy Quinoa Tabbouleh Salad, Mexican Gazpacho Fruit Salad, Loaded Low-Fat Egg Salad and Grilled Salmon Salad.
Add thin slices of cucumbers to sandwiches, wraps and bowls.
Add them to smoothies and juice blends like this Immune Boosting Carrot Juice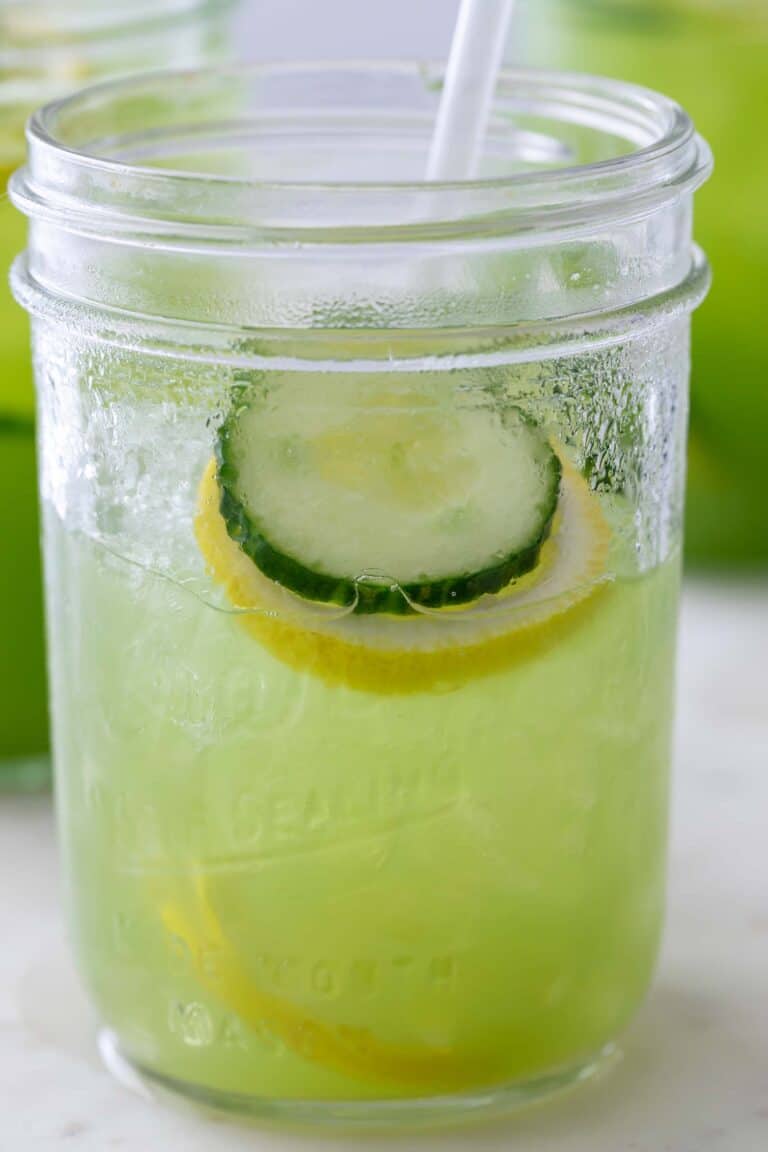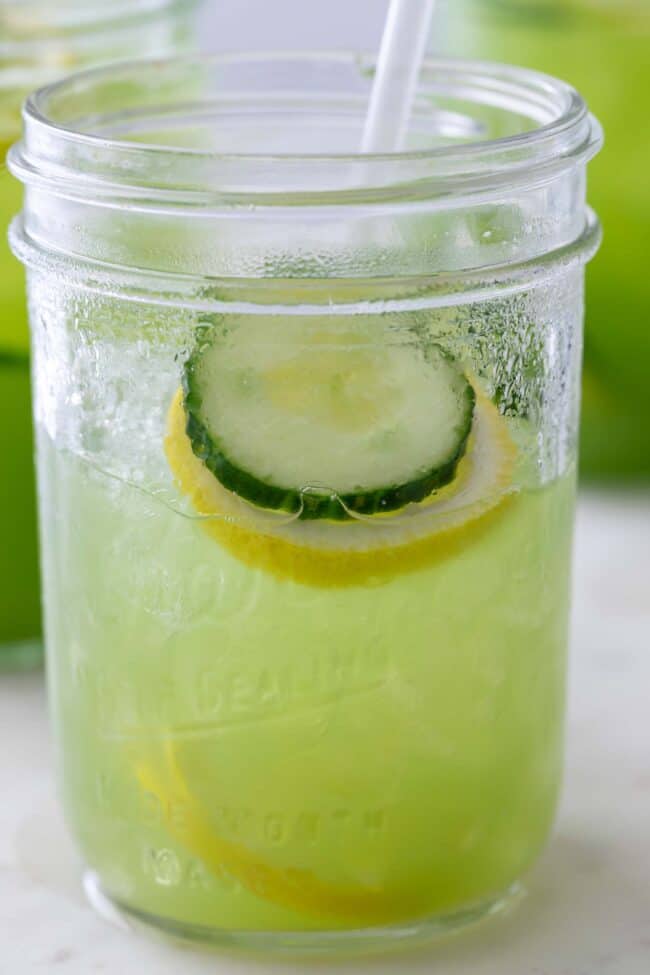 Looking for More Juice Recipes to Make?
Still want more ideas? Check out all my healthy drink recipes.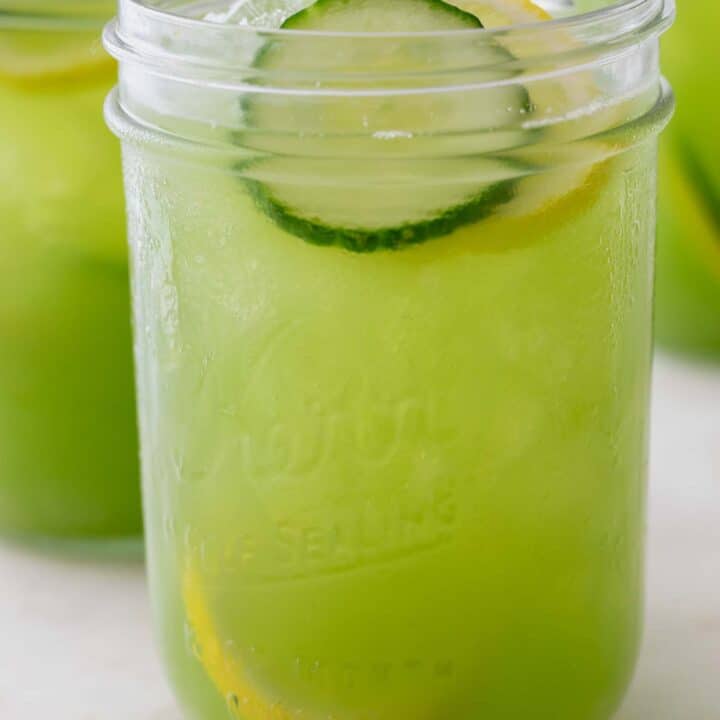 Yield: 2 Servings
Hydrating Cucumber Juice
This Cucumber Juice recipe is delicious, refreshing, hydrating and super easy to make! You can make it either in a blender or a juicer, but either way, this juiced cucumber comes together in about 5 minutes.  In this post we'll also touch on the many cucumber juice benefits and how to incorporate more cucumber into your diet.
Ingredients
6 Large celery stalks, rinsed and chopped (including the leaves is fine)
1-1/2 large English cucumbers, unpeeled and chopped
1 large Gala or Honeycrisp apple, cored and chopped
1/4 cup water
Ice for serving
Slices of lemon and cucumber for serving
Instructions
Place chopped ingredients in a high-powered blender
Using a fine mesh colander, strain the cucumber juice, discarding the pulp.
Serve in glasses filled with ice. Garnish with slices of cucumber, lemon and mint.
Nutrition Information:
Yield:
2
Serving Size:
1
Amount Per Serving:
Calories:

193
Total Fat:

1g
Saturated Fat:

0g
Trans Fat:

0g
Unsaturated Fat:

0g
Cholesterol:

0mg
Sodium:

165mg
Carbohydrates:

46g
Fiber:

10g
Sugar:

29g
Protein:

4g
theharvestkitchen.com attempts to provide accurate information, however, this nutritional information is provided as a courtesy and is an estimate only. The nutritional information provided comes from online sources and calculations. See full disclaimer on About page.