Mediterranean Chickpea and Cucumber Salad
This post may contain affiliate links.
This Mediterranean Chickpea and Cucumber Salad is a fresh summery salad that's chock-full of cucumbers, ripe juicy tomatoes, chickpeas, purple onion and fresh mint leaves.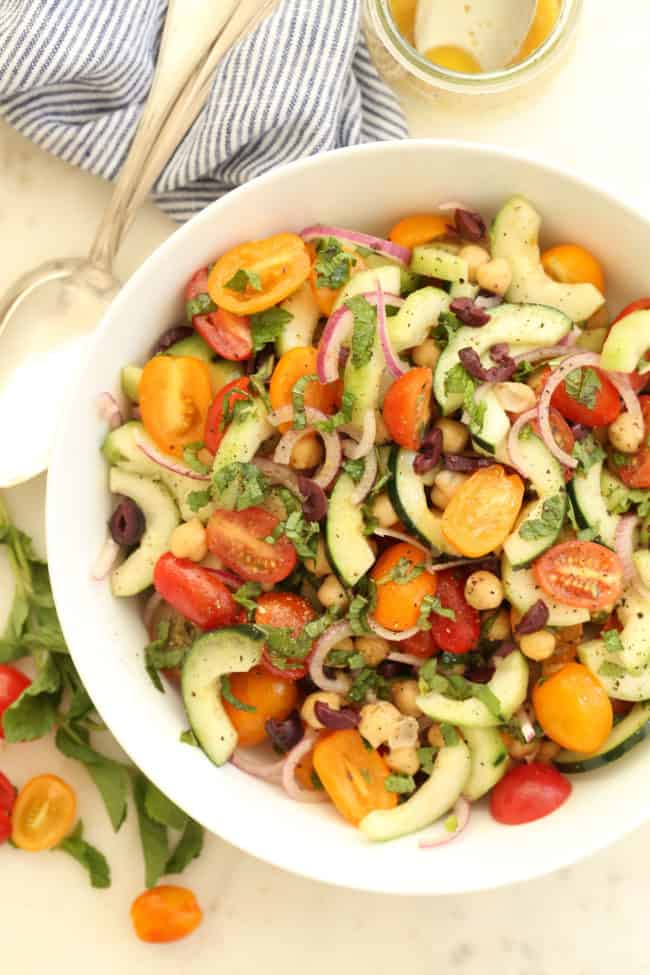 This Mediterranean Chickpea and Cucumber Salad is fresh and healthy and so easy to make! Serve it at your next backyard barbecue or potluck and watch it disappear!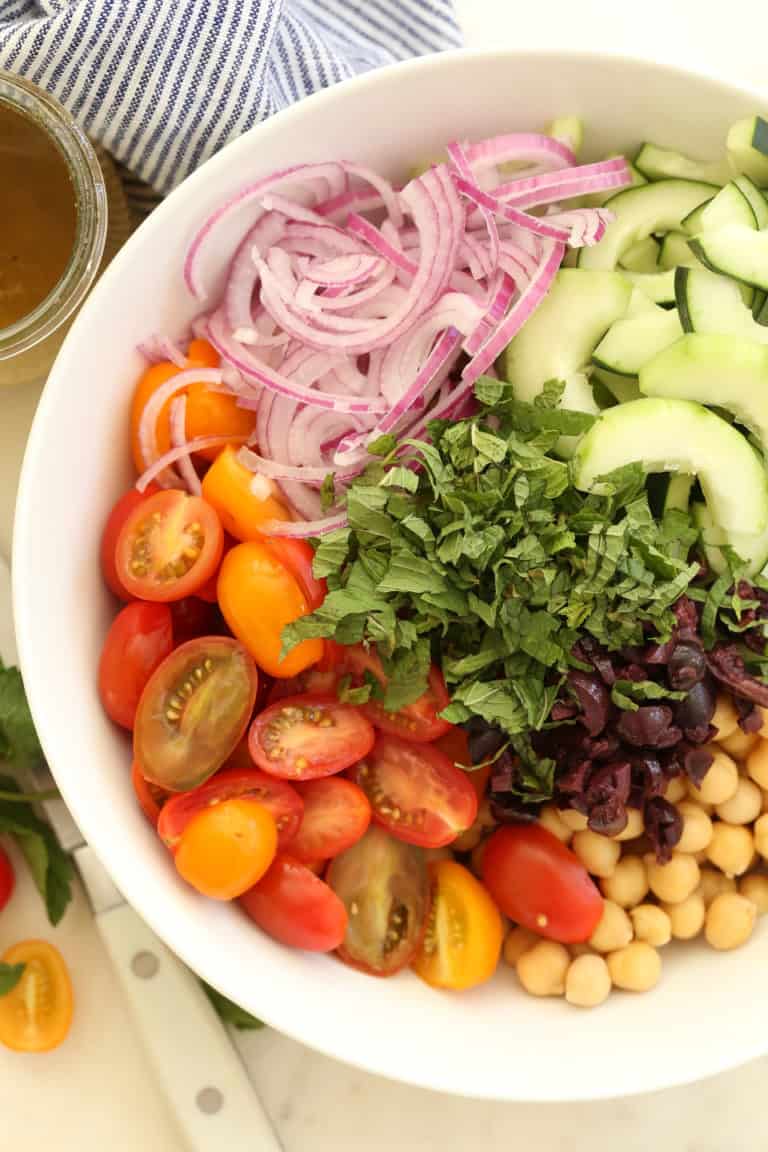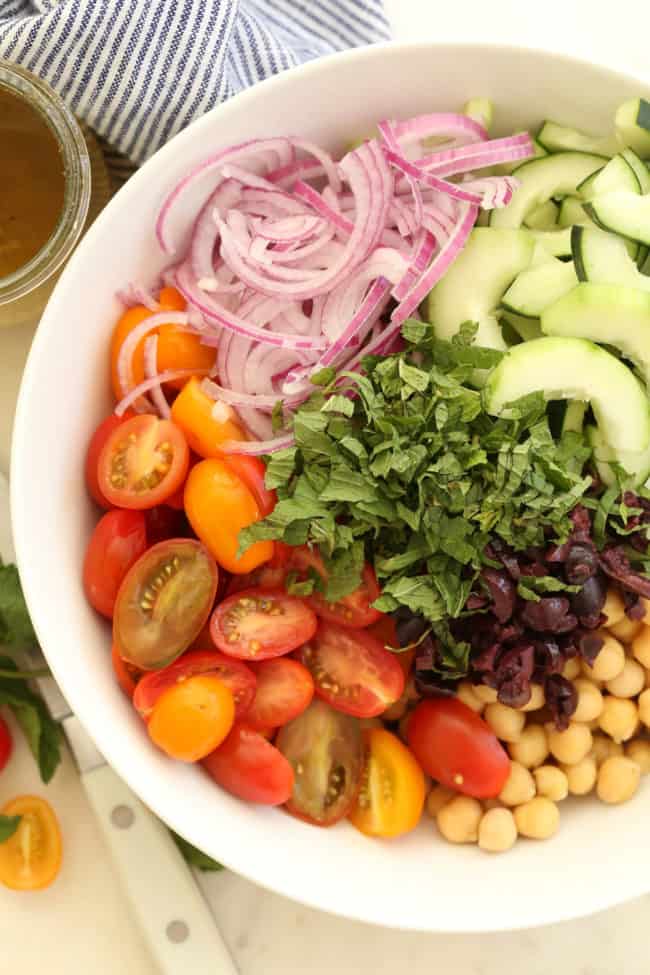 You guys are going to love all of the fresh and healthy flavors in this delicious Mediterranean Chickpea Salad! I have already made it several times this summer! It comes together so quickly and effortlessly. This healthy chickpea salad is best if it sits in the fridge for 30 minutes before serving, so the ingredients can absorb the flavors of simple vinaigrette.
MEDITERRANEAN CHICKPEA SALAD
Canned chickpeas (aka garbanzo beans)
Red onion
Cucumber
Kalamata olives
Cherry tomatoes
Fresh mint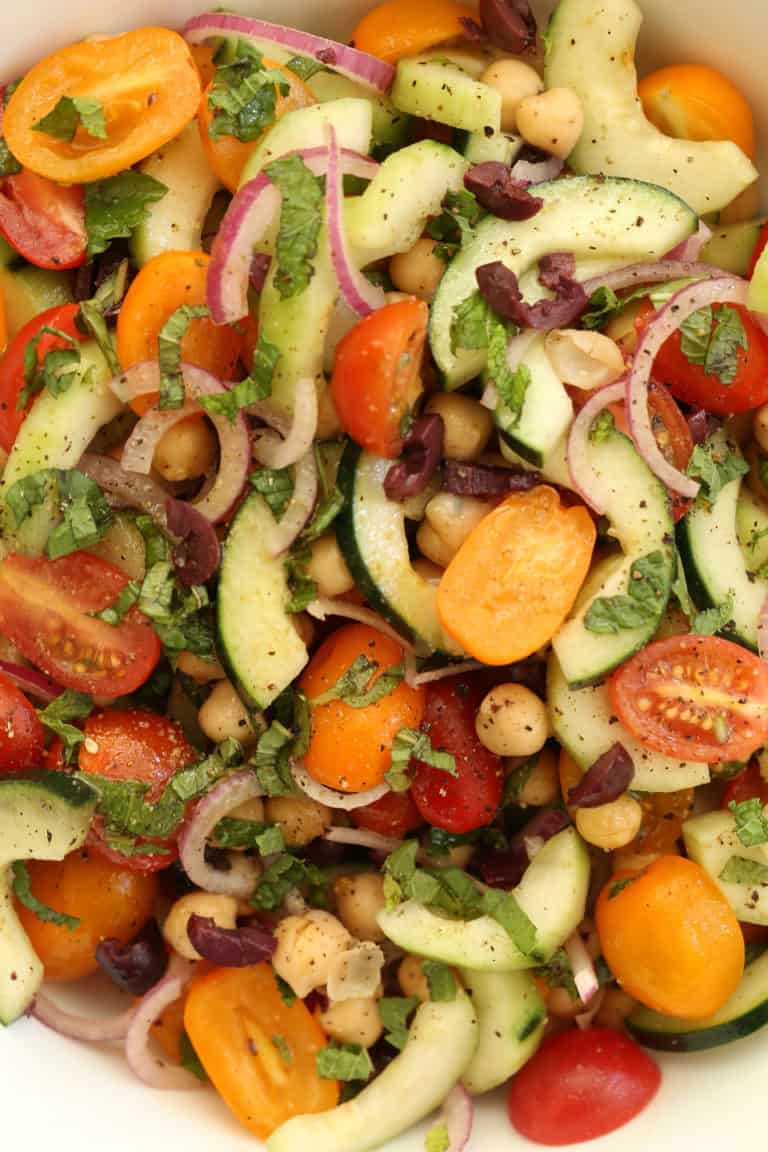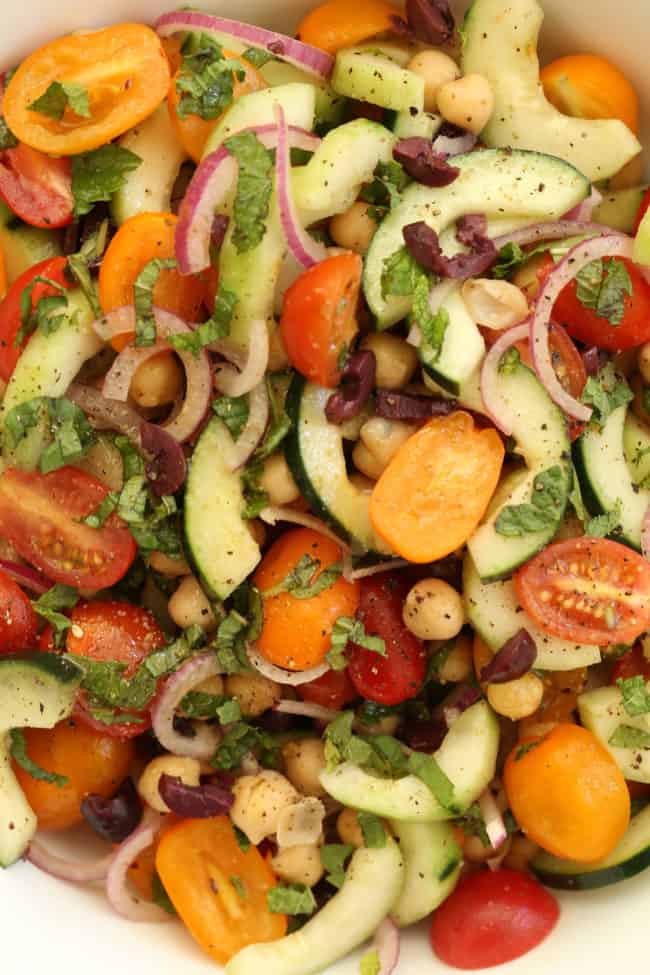 MEDITERRANEAN CHICKPEA SALAD
Add feta cheese
Add parmesan cheese instead of feta
Add parsley instead of mint
Add avocado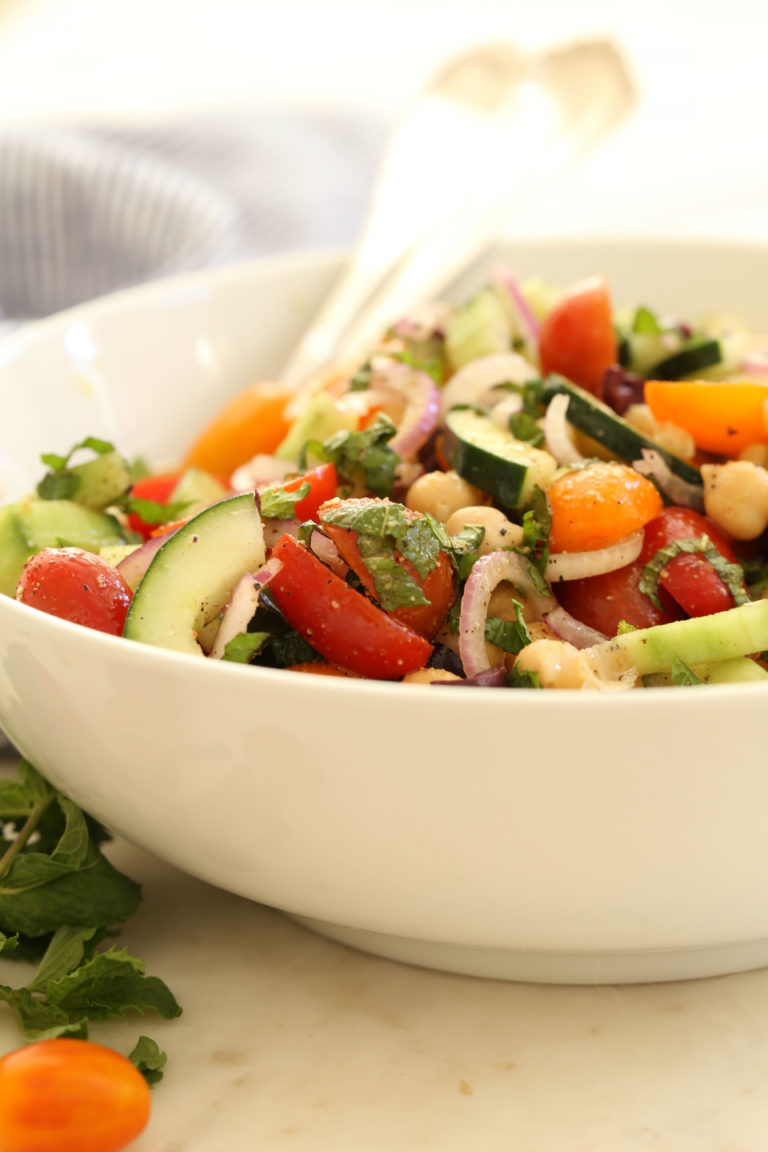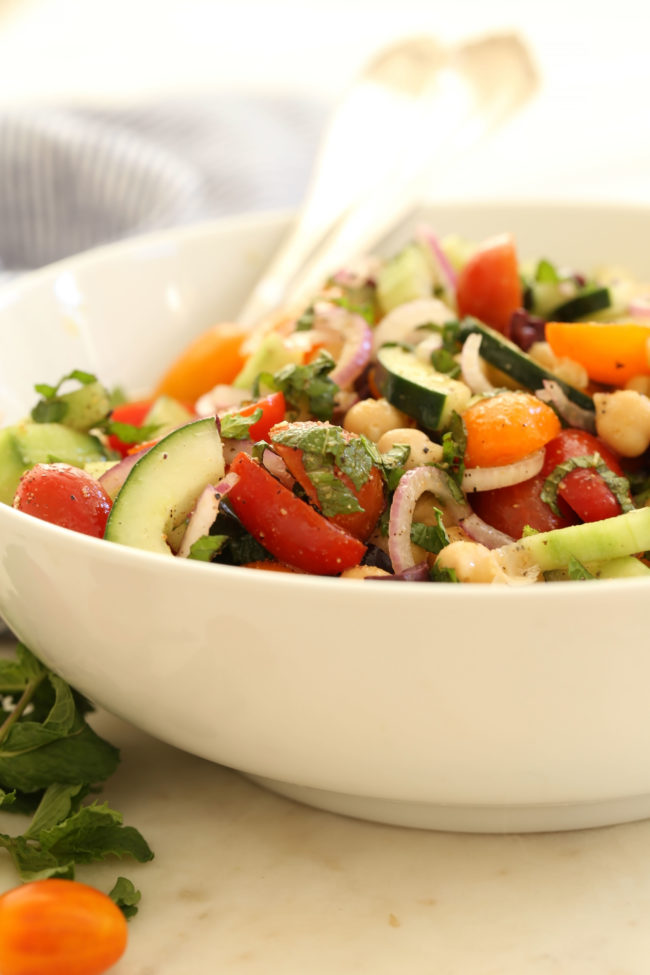 This Mediterranean chickpea salad is delicious, filling and inexpensive to make. You can serve it with mixed greens or arugula, as a side dish to grilled chicken or salmon, or stuff it inside a pita.
BENEFITS OF CHICKPEAS
Chickpeas are rich in fiber which in turn may help to regulate blood sugar levels, lower LDL-cholesterol (bad cholesterol) and lower triglycerides.
They're also a good source of potassium and protein. Each cup of chickpeas provides approximately 12 grams of protein. Protein is important for building muscles, repairing body tissues and supporting our immune system.
Chickpeas are a great vegetarian alternative to consuming meats. You can simply toss them in green salads and soups for extra nutritional benefits!
MORE HEALTHY SALAD RECIPES YOU'LL LOVE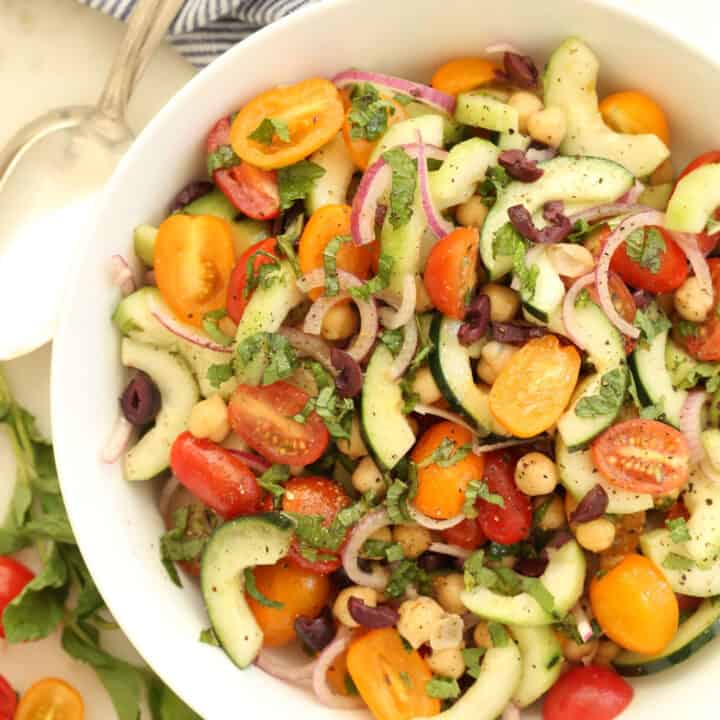 Yield: 4 servings
Mediterranean Chickpea and Tomato Salad
Ingredients
1/4 cup extra-virgin olive oil
1/4 cup fresh lemon juice
2 teaspoons ground cumin
sea salt and freshly ground black pepper to taste
1 15-ounce can chickpeas (garbanzo) drained and rinsed
1-1/2 cups cucumber, partially peeled, seeded and sliced
1-1/2 cups heirloom cherry tomatoes (or regular cherry tomatoes), sliced in half
3/4 cup red onion, sliced thin (soaked in a small bowl of water for 5 minutes before adding to salad)
1/2 cup fresh mint leaves, chopped
1/2 cup kalamata olives, sliced in half
Instructions
For the Dressing
Whisk the ingredients together in a small bowl and set aside.
For the Salad
Soak the sliced onions in a small bowl of water for 5 minutes before adding to the salad
Toss the chickpeas, cucumber, tomatoes, red onion, mint leaves and kalamata olives in a medium size bowl.
Drizzle the dressing over the ingredients and gently toss.
Salt and freshly ground black pepper to taste.