Blueberries
This post may contain affiliate links.
Here's everything you need to know about blueberries. Like, what are they? When is blueberry season? What are the health benefits of blueberries? How to choose them, how to store blueberries, plus 20 blueberry recipes to help you add more of them to your diet.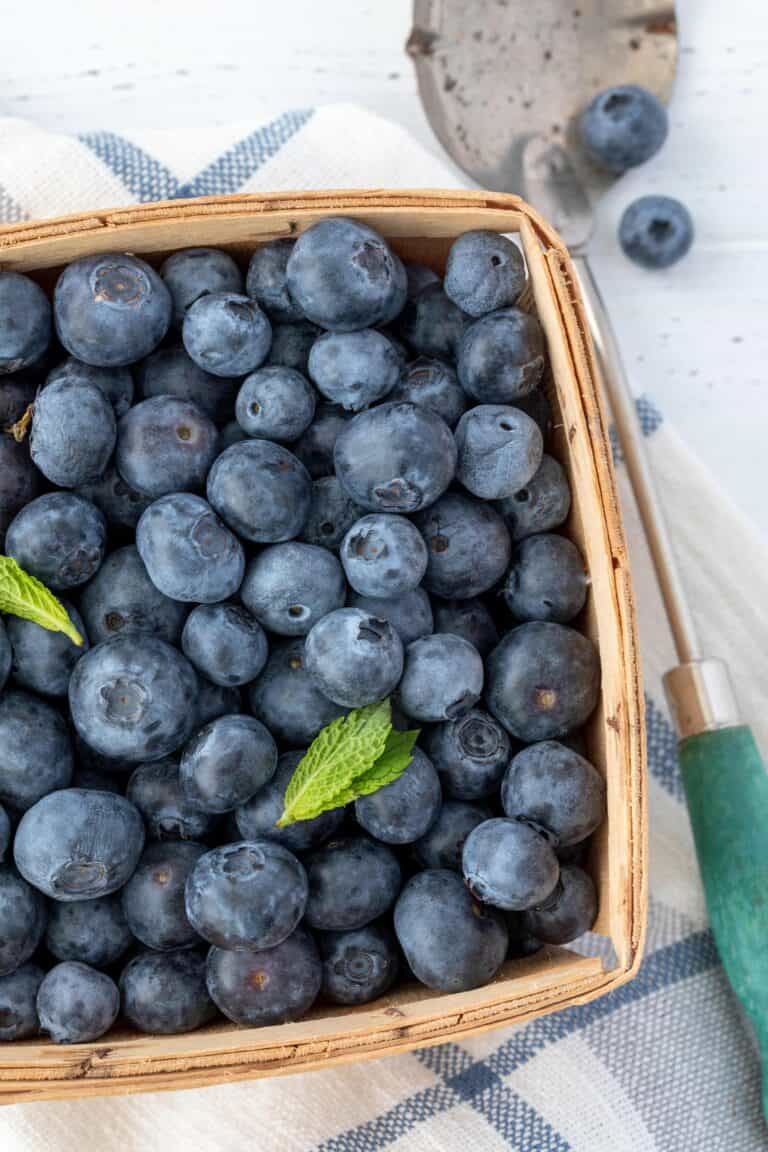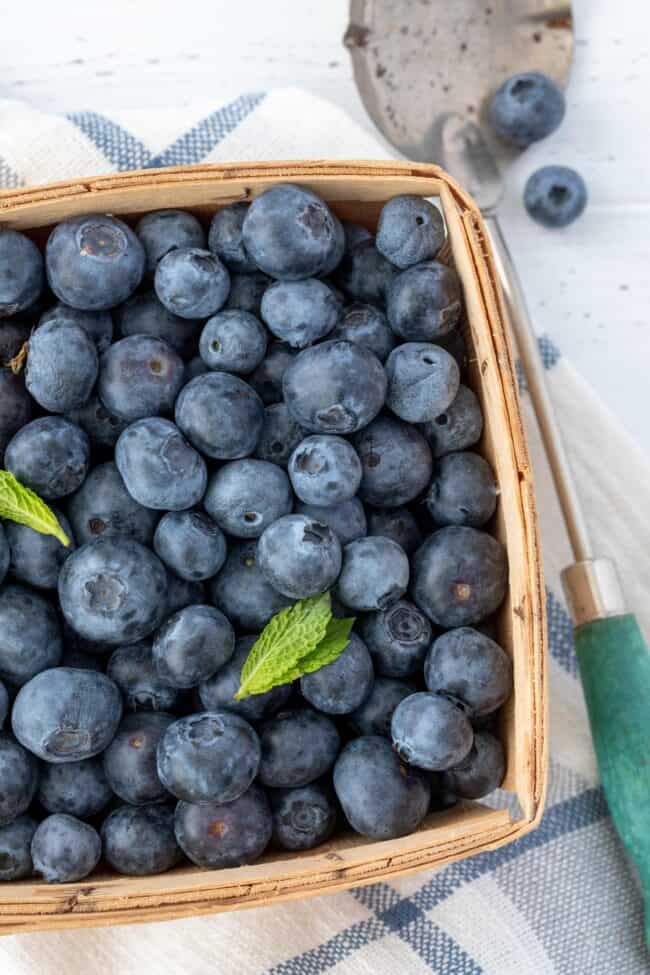 Often labeled a superfood, there are many health benefits of blueberries. They're one of the best sources of antioxidants and they provide a rich source of anti-inflammatory compounds that help to prevent disease.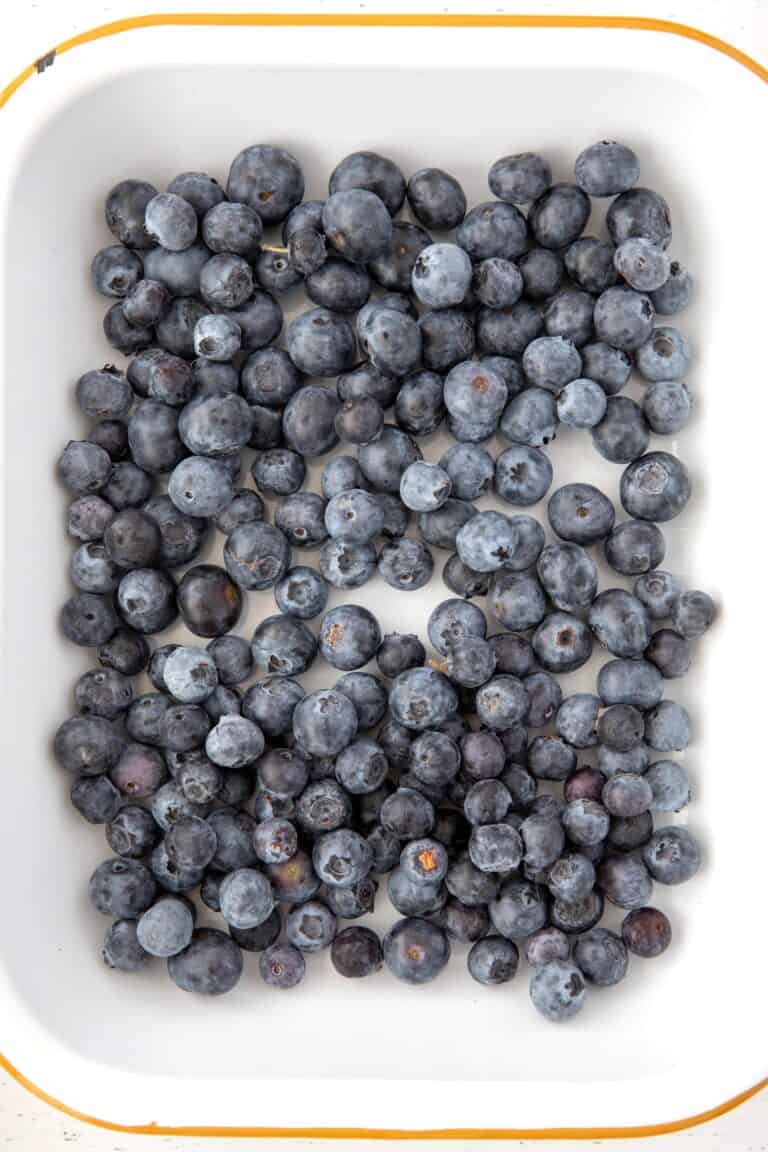 What Are Blueberries
Blueberries are a small blue or purple fruit that grow on bushes. Not only are they delicious, but they contain more antioxidants that other antioxidant-rich foods like kale, broccoli and oranges. They're low in calories and high in fiber, so they make a perfect healthy snack.
Types of Blueberries
There are 5 main types of blueberry bushes that grow in the United States – northern highbush, southern highbush, lowbush, half-high and rabbithigh. The two most common types of blueberries are highbush blueberries (the most common type in the United States) and lowbush blueberries (also called wild blueberries) which are typically smaller in size and provide more antioxidants.
Blueberry Season
For cultivated blueberries, the season runs most of the year – including imported berries. Cultivated are the most common type that you find at the market.
Wild blueberries are a little harder to come by. They're grown in cooler climates like Maine and eastern Canada, and they are much smaller in size compared to the cultivated variety. The wild blueberry season is a short one, and they're most often sold locally near their harvested area. You can however purchase them frozen if fresh aren't available.
Choosing the Best
Now that you know when blueberry season is, when you're at the market be sure to look for fruit that is dry, firm and have a deep blue color with a chalky white surface (called "bloom") when purchasing them. The bloom is a sign of freshness. They should move freely in the box when you give them a light shake, otherwise they may be soggy or have mold and are stuck together.
Before refrigerating when you get them home, remove them from the container to better inspect them, removing any that are soggy or have mold, then return them to the container or an air-tight container. This will help to prevent other berries from getting mold on them.
It's always a good idea to buy organic, eat them raw and eat them as often as you can (1/2 cup daily) so you can to reap the many nutritional benefits they have to offer.
How to Store Blueberries
If you've ever wondered how to store blueberries so they last longer, the easy answer is to keep them in the refrigerator in the container they came in or an air-tight container. They should last in the refrigerator for up to 2 weeks. If you've found you've purchased more blueberries than you can use, just freeze them. Spread the unwashed fruit on a cookie sheet and pop in the freezer for about 1 hour, then transfer the frozen blueberries to a plastic freezer bag. This is a great way to store blueberries so you always have a stash on hand.
Before consuming them, rinse and pat them dry. Discard and small stems and leaves. If you have frozen your berries, then remove them from the freezer and let them thaw for a few minutes before adding them to your dish.
Benefits of Blueberries
There's a number of benefits of blueberries worthy of our attention. Just one cup of blueberries contains about 81 calories, 4 grams of fiber, 1 gram of protein and 21 grams of carbohydrates.
Antioxidant Rich – This powerhouse superfood is rich with antioxidants and anti-inflammatory compounds that help to ward off major disease like Alzheimer's, diabetes and heart disease. The US Department of Agriculture determined that blueberries scored highest overall in total antioxidant capacity per serving after testing 24 varieties of fresh fruit, 23 vegetables, 16 herbs and spices, and a variety of 10 different nuts. Antioxidants are important because they ward off free radicals which can contribute to a number of diseases. (1)
Promotes a Healthy Brain – The compounds found in blueberries also help keep our memories sharp. Dr. James Joseph was the lead scientist in the Laboratory of Neuroscience at the USDA Human Nutrition Research Center on Aging at Tufts University. His research focused on what foods we should eat to keep our minds sharp and functioning as we grow older. "Old neurons are kind of like old married couples", Dr. Joseph said. "They don't talk to each other so much anymore". This is called "signaling". There are certain compounds in blueberries (polyphenols) that can turn the signal on so our neurons communicate more effectively with one another so our minds stay sharp and functioning at its best as we get older. (2)
Promotes a Healthy Heart – They are a good source of soluble fiber pectin that helps to lower cholesterol levels. In a 2005 issue of the Journal of Agriculture and Food Chemistry, it was reported that blueberries also contain a compound called pterostilbene. Pterostilbene is beneficial in lowering lipids (harmful fats and triglycerides) that circulate in our bloodstream. Pterostilbene is also beneficial for preventing plaque deposits in our arteries which causes narrowing and blockage of the arteries. (3)
Urinary Tract – Like cranberries, they help prevent bacteria from growing in the urinary tract, which may help prevent a urinary tract infection.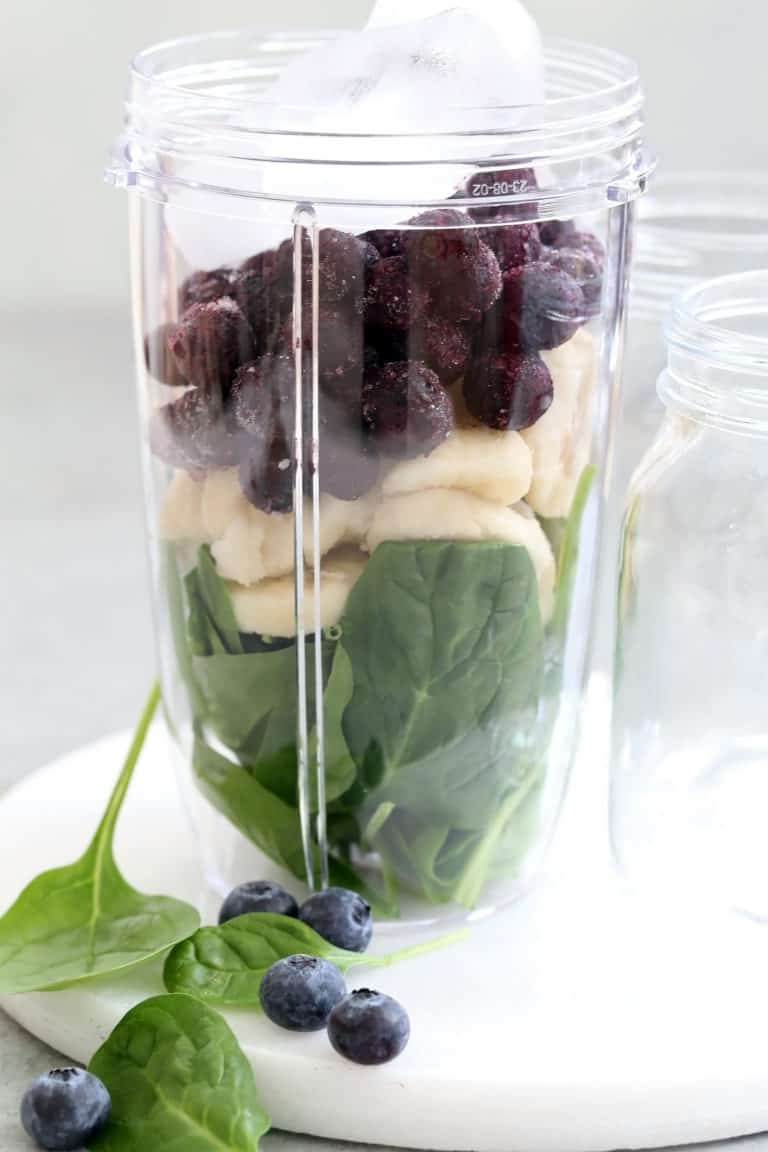 Blueberry Recipes
Now that we know some of the benefits of blueberries there are, here's 20 blueberry recipes to help you add more of this amazing antioxidant-rich superfood to your diet.
Add them to smoothies like this Blueberry Spinach Smoothie, Blueberry Pineapple Smoothie and this Acai Smoothie Bowl
Toss them in hot oatmeal cereal, Berry Banana Baked Oatmeal, or cooked quinoa for breakfast
Add to baked recipes (like Blueberry Muffins, cakes and cookies and these Berry Oatmeal Crumb Bars)
Use them to make homemade blueberry syrup
Toss them in plain Greek yogurt with a little honey
Blend to make blueberry juice for this Antioxidant Rich Blueberry Green Tea (this is so refreshing – it's one of my favorite blueberry recipes)
Add them to batter to make these Blueberry Banana Buckwheat Pancakes
Toss in salads like this Beet Kale Quinoa Salad, Broccoli Detox Salad, House Salad, Blueberry Chicken Salad, Spinach Berry Antioxidant Salad, Summer Berry Salad and Arugula Berry Salad
Eat them by the handful as a healthy snack
Blend them to make these Blueberry Ice Cubes (great added to iced tea, lemonade, and a glass of water)
Make a warm cozy Summer Blueberry Crisp
Use them to make jams and jellies, like this Mixed Berry Chia Seed Jam
Blend them with watermelon, raspberries and basil to make a Basil Berry Granita
More Resources