Antioxidant Rich Blueberry Green Tea
This post may contain affiliate links.
This iced Antioxidant Rich Blueberry Green Tea is light and refreshing and rich with antioxidants that'll give your immune system a nice boost.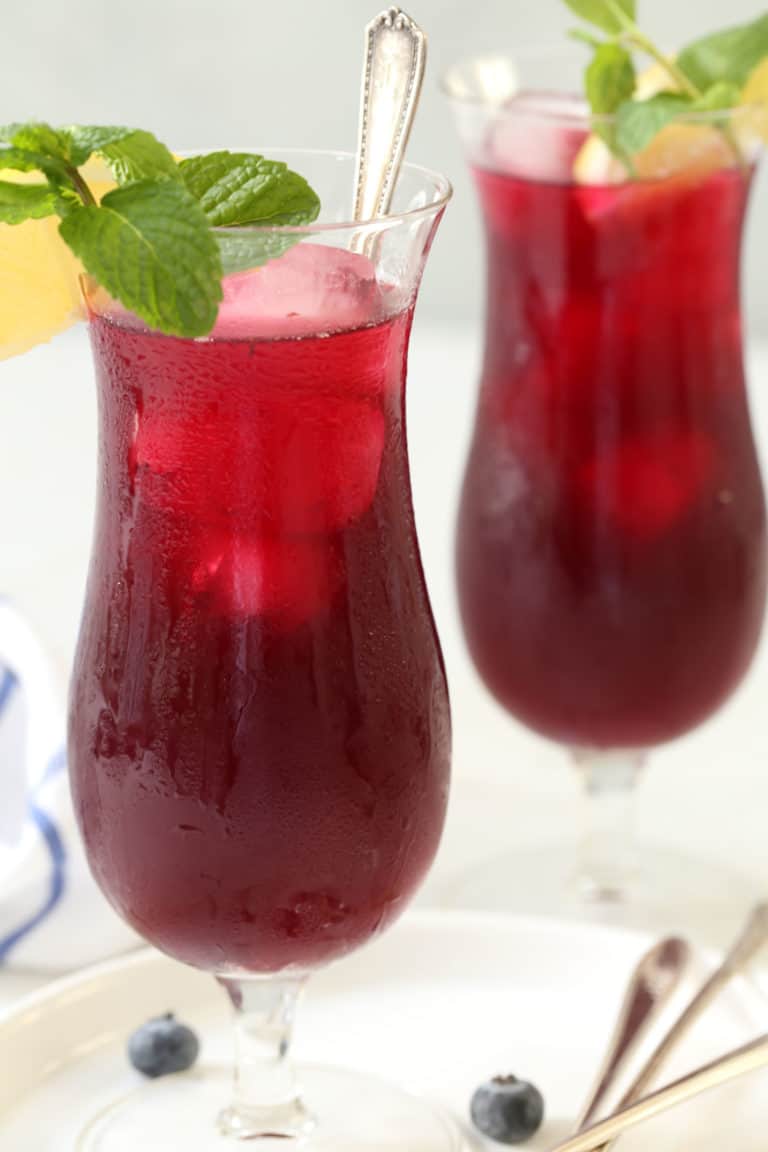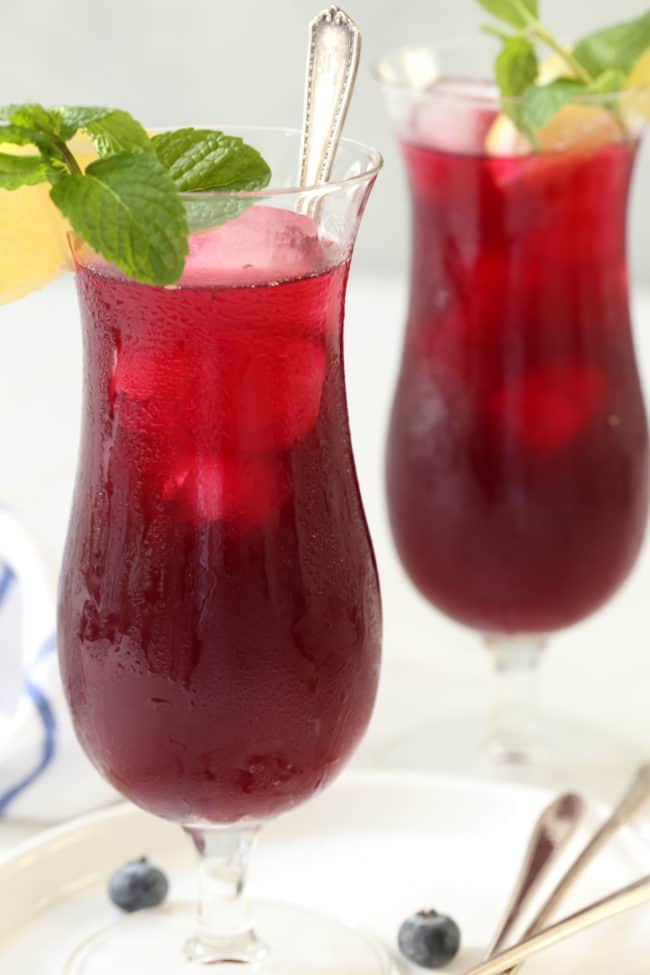 If you love blueberries, you're going to love this blueberry iced green tea! This green tea is blended with blueberries, sweetened with a wee bit of honey and it has a deliciously light taste that kind of screams of summer!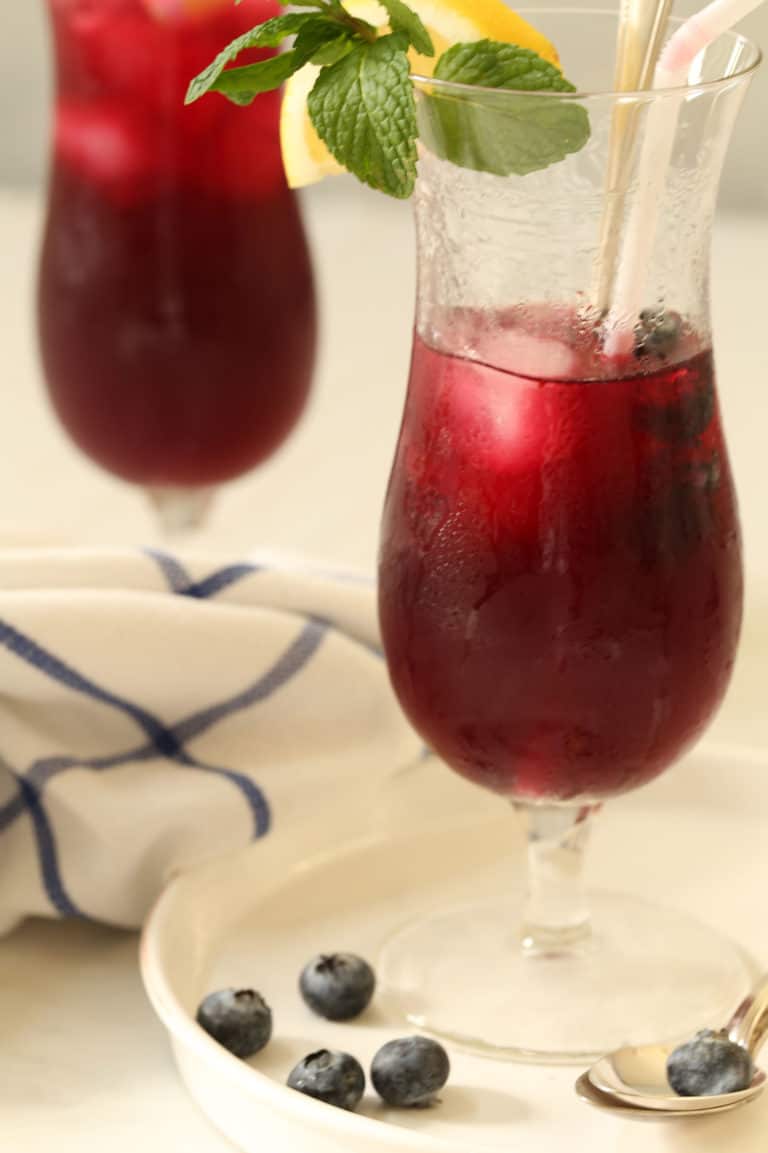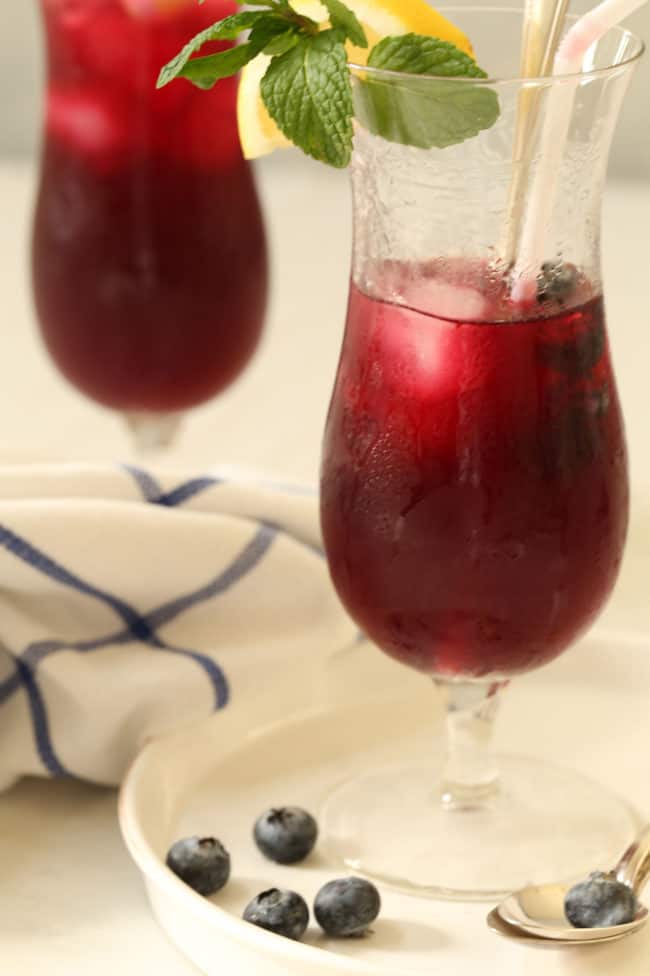 ICED GREEN TEA RECIPE
You'll just need 5 simple ingredients to make this iced green tea.
Water
Green tea bags
Fresh or frozen blueberries
Honey
Lemon juice
HOW TO MAKE ICED BLUEBERRY GREEN TEA
This blueberry iced green tea is super easy to make. The freshly steeped green tea is blended with blueberries and honey, then strained through a fine mesh (removing the blueberry skins).
Steep tea: Steep green tea using either loose leaves or tea bags.
Add tea, blueberries and honey to blender: Blend the blueberries, steeped tea and honey in a blender.
Strain: Strain the blueberry green tea through a sieve into a pitcher discarding whats left of the blueberry skins.
Serve: Serve blueberry tea over ice and garnish with mint leaves.
HOW TO STEEP TEA
You'll use about 1 teaspoon loose tea leaves per 1 cup water or 1 tea bag per 1 cup water.
Fill tea kettle or pot with cold water and heat to a simmer just before boiling then remove from heat.
Pour hot water over tea leaves (rather than adding tea leaves to a cup with hot water) and steep.
If using an infuser, be sure the tea infuser is fully submerged beneath water while steeping.
Remove tea bag or infuser and enjoy tea.
You can either
Put loose tea leaves right in the cup or tea pot; or
Add the tea leaves to a ball style infuser to dunk in your cup or pot; or
Place your tea leaves in a metal strainer and rest it on the lip of your tea cup while pouring the hot water over the tea leaves; or
Add tea bag to tea cup and pour hot water over tea bag and steep (don't squeeze tea bag while steeping because it will cause a bitter taste).
HOW LONG TO STEEP GREEN TEA
How long to steep green tea depends really on how strong you like your green tea.
Loose leaf tea: steep for 2 – 4 minutes
Tea bag: steep for 1 – 3 minutes
Don't steep for too long or the tea can become bitter.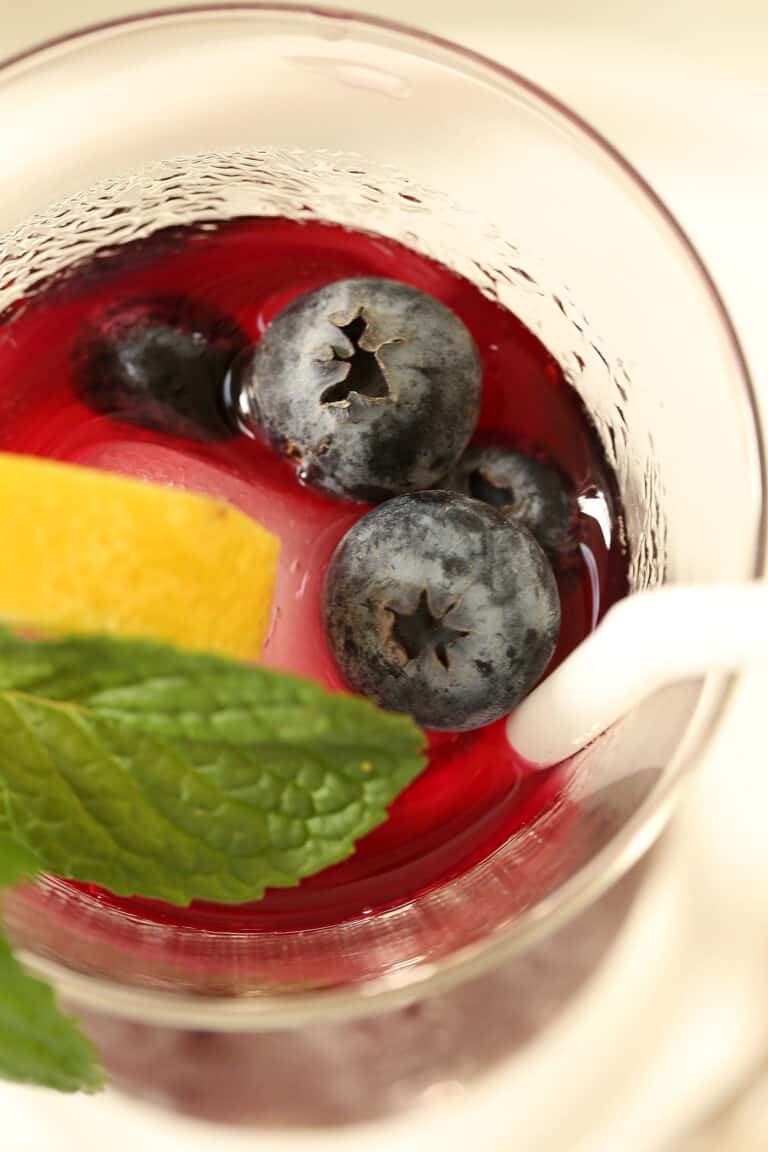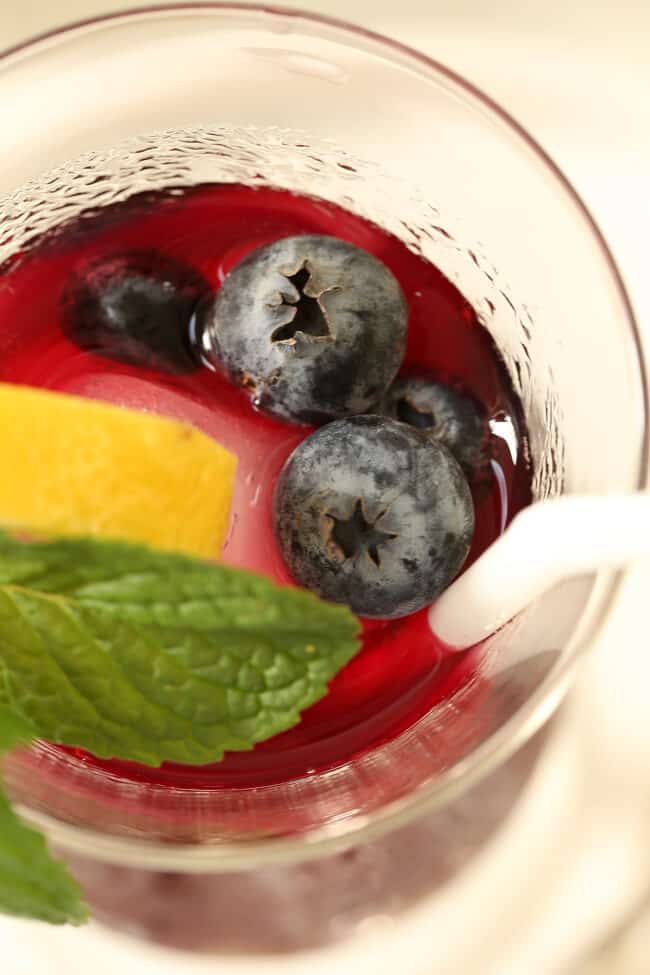 IS GREEN TEA HEALTHY
Yes. Green tea is one of the most popular beverages in the world and it provides many health benefits. Research has shown that the main component of green tea that is associated with health benefits are the catechins. Catechins are phytochemical compounds found in high concentration in plant based foods.
GREEN TEA BENEFITS
The benefits of green tea comes from its catechins. Catechins are powerful antioxidants that fight off cell damage. Green tea provides anti-carcinogenic, anti-inflammatory, antimicrobial, and antioxidant properties. Green tea is touted for improving blood flow and lower cholesterol levels, and may (according to some studies) help prevent a range of heart-related issues, from high blood pressure to congestive heart failure. (1)
When making a cup of green tea, it's best to just heat the water (not boil it) because the heat from steeping the tea in boiling water can destroy the benefits of catechins.
BLUEBERRY BENEFITS
Blueberries are a powerhouse superfood containing antioxidant and anti-inflammatory compounds that help to ward off major disease like Alzheimer's, diabetes, heart disease, and some types of cancer.
HEALTHY DRINK RECIPES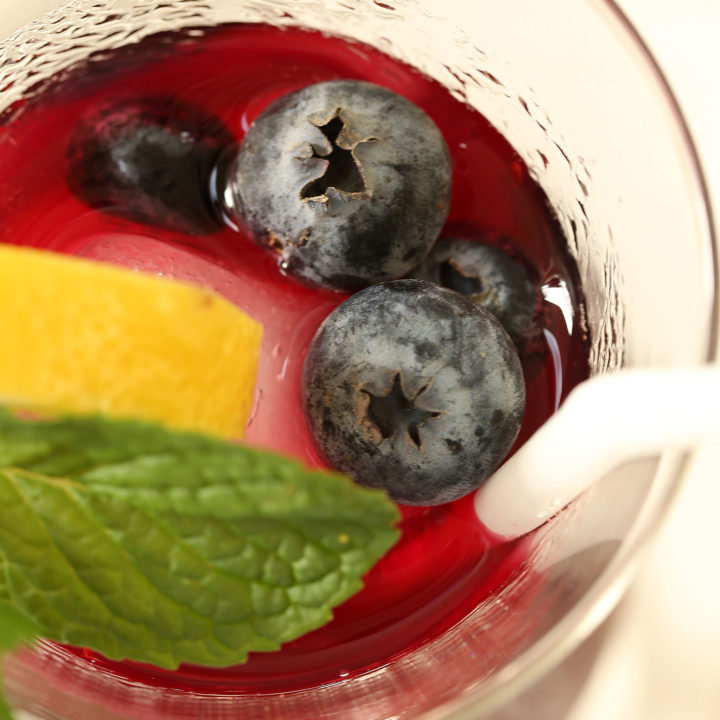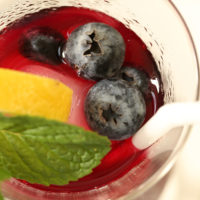 Yield: 6 cups
Antioxidant Rich Blueberry Green Tea
This iced Antioxidant Rich Blueberry Green Tea is light and refreshing and loaded with antioxidants that'll give your immune system a nice boost.
Ingredients
6 cups water
4 green tea bags (I use Stash brand)
1  cup fresh or  frozen blueberries
1/4 to 1/3 cup clover honey (depending on how sweet you like your tea)
3 tablespoons fresh lemon juice
ice cubes, lemon slices, and fresh mint leaves for garnish
Instructions
Bring the water almost to a boil in a large pot, then turn off heat.
Add the green tea bags to pot and cover with lid. Let tea bags steep for 3 minutes.
Remove tea bags.
Pour the tea into a blender. Add the blueberries and blend for a few seconds.
Pour the tea through a strainer into a large pitcher. Use a silicone spatula to push the mashed berries against the strainer to get all of the juice.
Stir in the honey until dissolved.
Stir in the lemon juice.
Chill in the refrigerator before serving.
Serve in tall glass over ice.
Garnish with lemon slices and mint leaves.