Fruit Infused Water
This post may contain affiliate links.
Learn how to make Fruit Infused Water with this simple recipe. Fruit Infused Water (also called fruit water) is refreshing and delicious and provides a host of nutritional benefits (antioxidants, vitamins & minerals) while helping you stay hydrated. There are a lot of Fruit infused water benefits, making it worth your attention. It naturally boosts metabolism, aids with digestion and stimulates the detoxifying process.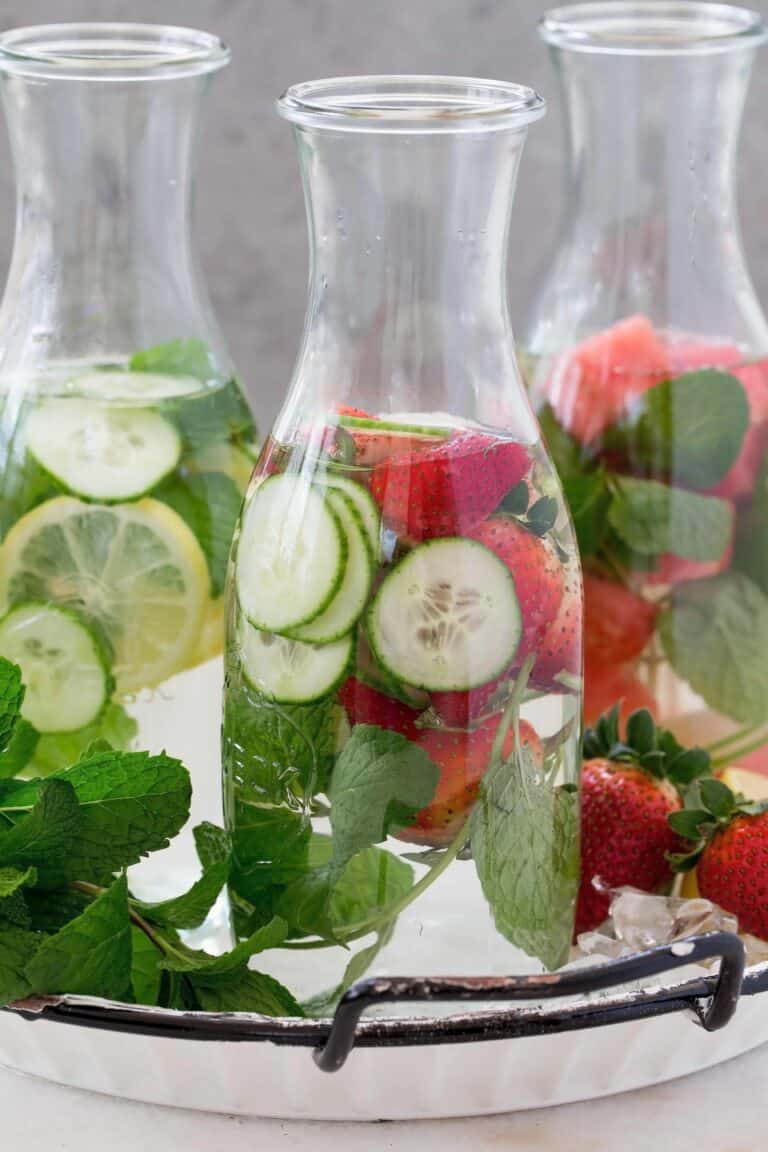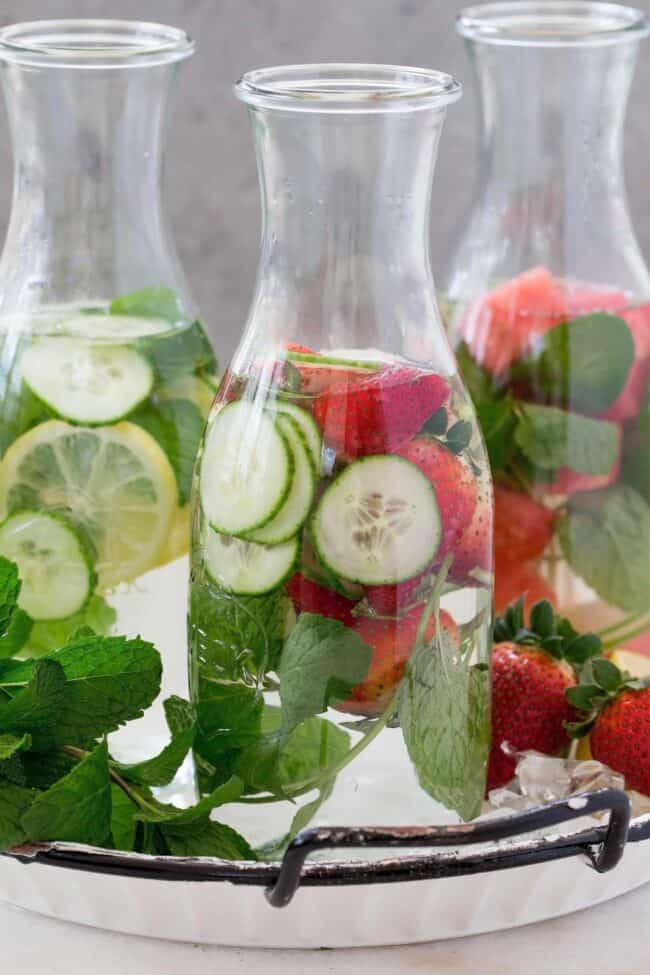 Drinking plenty of water is good for every cell in our body. Adding fruit infused water made with fresh fruits, vegetables and herbs to your daily wellness plan can help boost your immune system, increases energy, aid with digestion, promote weight loss and more.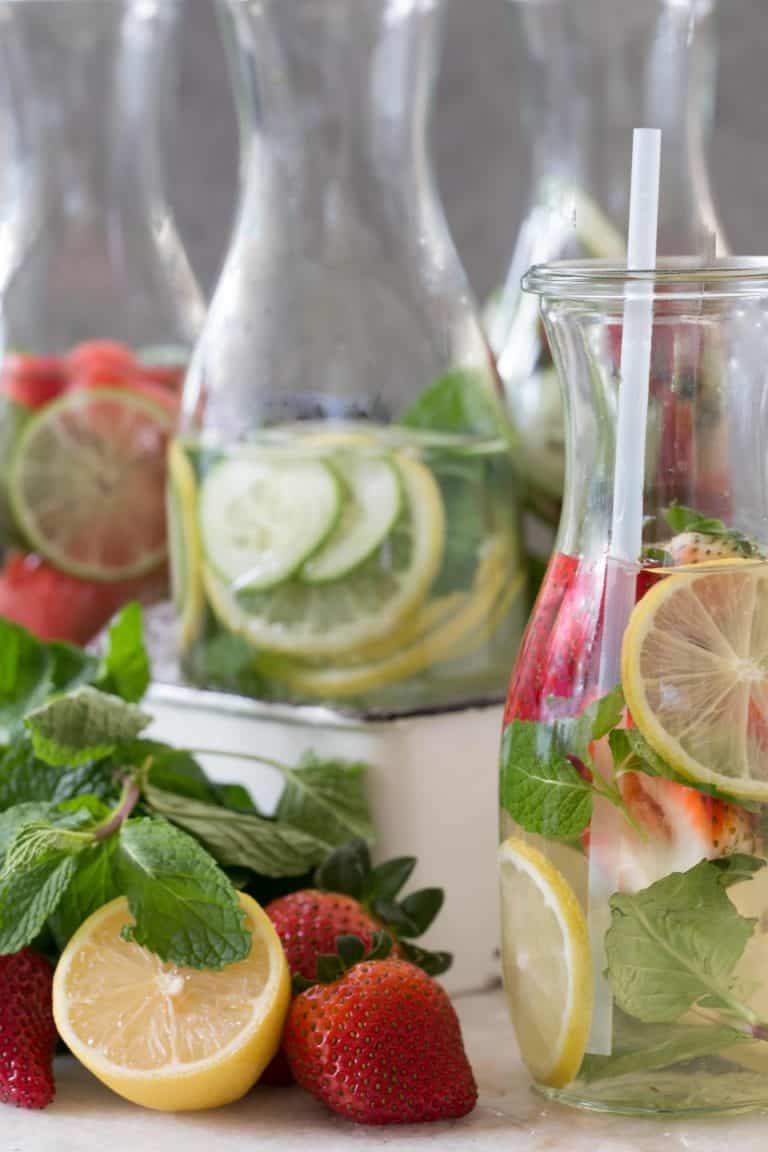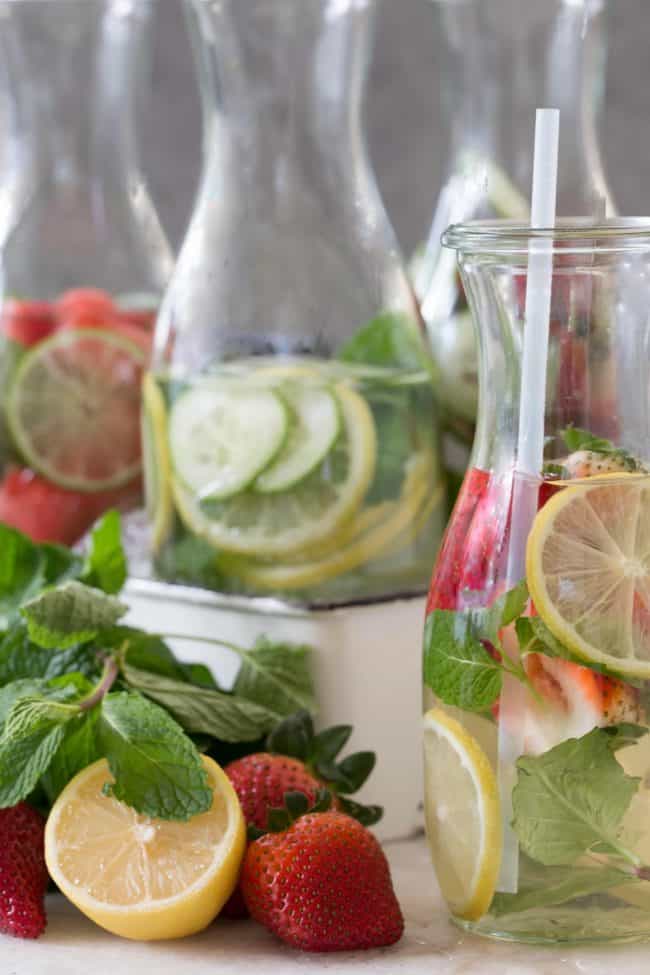 What is Infused Water
Homemade fruit flavored water is easy to make, contains no artificial sweeteners or flavoring, and it makes the best natural water flavoring and best healthy water flavoring you can drink. Any combination of fruits, vegetables and herbs immersed in water is what makes infused water. Infused water is also referred to as fruit water, fruit flavored water and detox water.
Infused Water Benefits
With infused water – vitamins and minerals are pulled from the fruits, vegetables and herbs into the water, so you're benefitting both in flavor and nutrition. Infused water has no calories but it's rich with vitamins and minerals making it a perfect addition to your daily wellness program and weight loss goals.
How to Make Fruit Infused Water
Learn how to infuse water with fruit with these easy steps:
Rinse and cut fruit
Add the fruit to a large pitcher or glass carafe (for best results slightly smash blueberries before inserting them into your pitcher or carafe)
Pour water over the fruit
Steep for 2-3 hours (overnight is best and more flavorful)
Pour into individual glasses (add ice cubes if you like)
Discover the healthy benefits of Fruit Infused Water and enjoy these 25 infused water recipes perfect for sipping on all day long!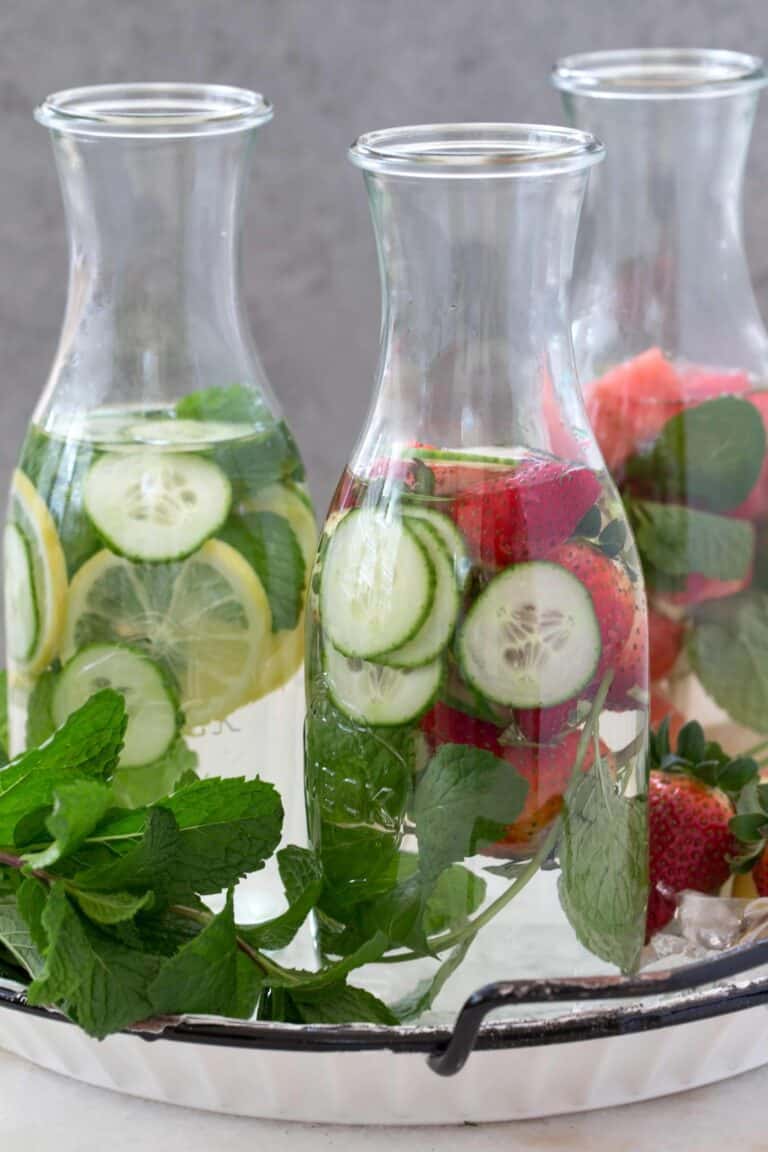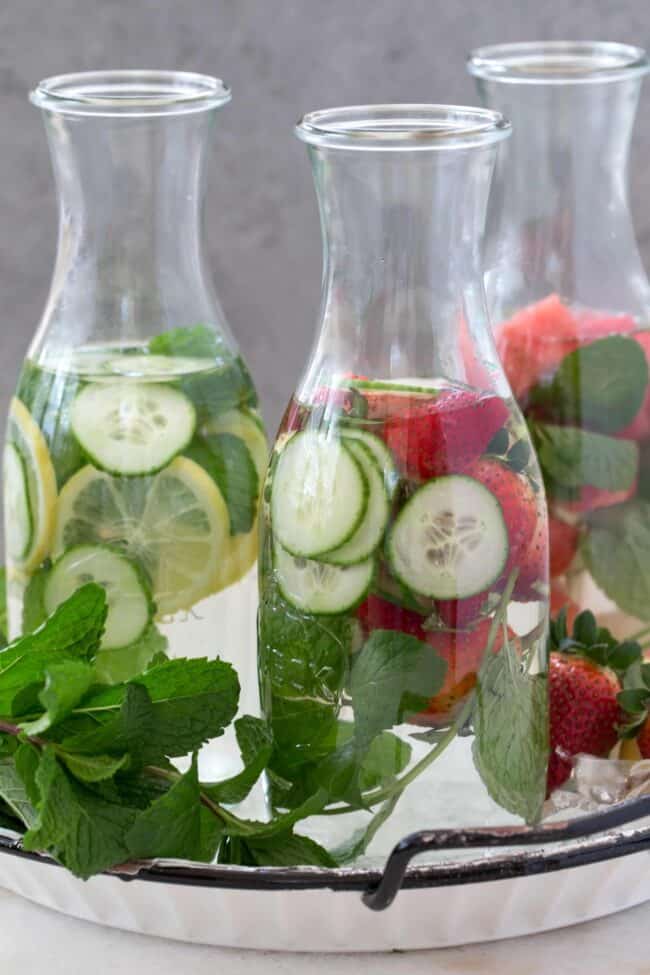 Benefits of Drinking Water for Weight Loss
Drinking water to lose weight and improve overall health is a good habit to form, especially when there are so many infused water choices that make consuming water more entertaining. Adding detox water for weight loss to your daily routine will help suppress appetite, remove waste from the body and help burn fat.
Water is a natural appetite suppressant: When the stomach senses that it is full, it sends signals to the brain to stop eating. Water also takes up prime real estate in the stomach, giving the feeling of fullness and thus reducing the feeling of hunger. Often times when we feel hungry, we're really just thirsty. Dinking a glass of water before reaching for something to snack on can help reduce food intake.
Water Helps Remove Waste from the Body: Water stimulates the kidneys to filter waste and toxins from our bodies. When we get dehydrated, our kidneys retain fluid. the body is dehydrated, the kidneys retain fluid. When waste and toxins build up in our system, we may feel tire and bloated, which may add a few inches to our waist.
Water Burns Fat: Water is essential for the body to properly metabolize stored fat. The process of metabolizing fat is called lipolysis. Lipolysis is the body's natural process of metabolizing fat by breaking down fatty acids quicker and uses them for energy. (1)
Drinking Water Replaces High Calorie Liquid Intake: Drinking soda, sports drinks, alcoholic beverages, juices and sweetened coffee and tea can quickly add calories to your daily calorie intake.
Stay Hydrated
Hydration is vital to overall health, yet drinking 8 glasses of water daily can be a challenge for some. Adding a little flavor and a little pop of color by drinking fruit infused water will help you get those daily 6-8 glasses of water consumed more easily to help you stay hydrated.
Being dehydrated can have an adverse effect on your mental, physical and emotional health. Water is important for keeping our body functioning properly, and staying hydrated is one of the best ways to flush out toxins and detoxify the body. (2)
Water helps to
carry nutrients and oxygen to our cells
aid with digestion
regulate blood pressure
support and cushion joints
How to Drink More Water
There's something about a tall glass of chilled fruit infused water that can really quench your thirst. Drinking flavorless water can seem like a chore at times. Here are a few tips to help you drink more water so you stay hydrated.
Keep a pitcher of pretty infused water in the refrigerator so you reach for it instead of a soda or sweet sports drink
Carry a water bottle with you wherever you go
Treat yourself to a new pretty water bottle or an infused water bottle
Add slices of fruit, berries and herbs to infuse and flavor the water
Make pretty fruit flavored ice cubes to add to your water
Choose sparkling mineral water over carbonated sodas
Every time you finish drinking a glass of water, fill the glass back up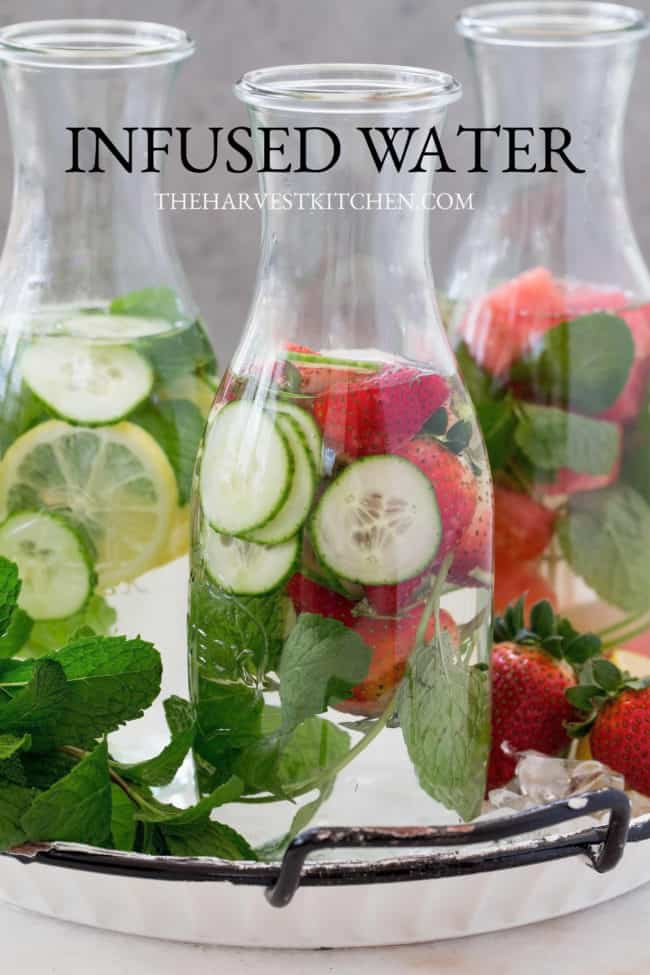 More Infused Water Recipes
These are some of my favorite infused water recipes!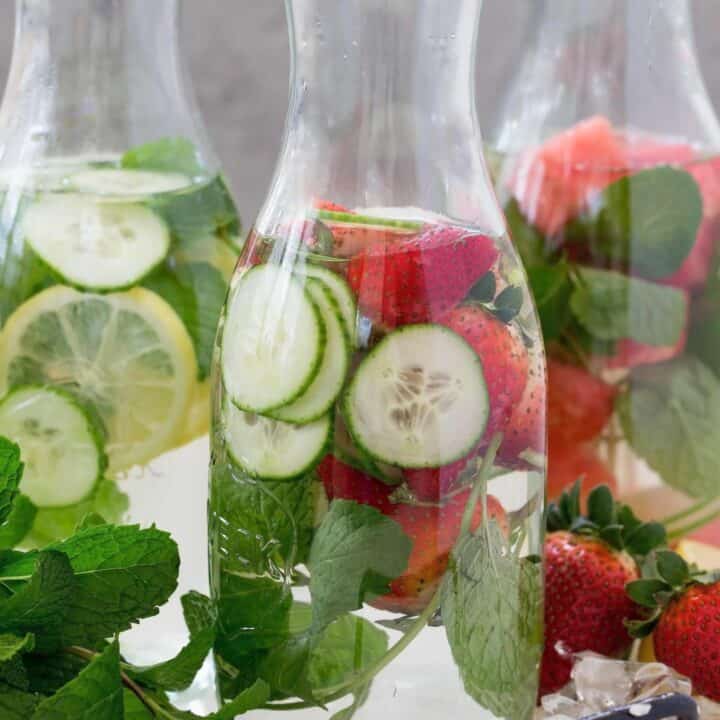 Yield: 6 Servings
Fruit Infused Water
Total Time
1 hour
5 minutes
This refreshing combination of cucumber, lime, strawberries and mint leaves in this Detox Infused Water creates a host of  nutritional benefits (antioxidants, vitamins & minerals) while helping you stay hydrated.
Ingredients
1-2 cups ice
1/2 cup strawberries, rinsed and sliced
1 small cucumber, washed and sliced
2 large limes, washed and sliced
8 mint leaves
8 Cups filtered water
Instructions
Rinse and cut fruit
Add the fruit and mint to a large pitcher or glass carafe (for best results slightly smash blueberries before inserting them into your pitcher or carafe). Alternate arranging a layer of fruit and herbs then a layer of ice
Pour water over the fruit
Steep for 1-3 hours (overnight for more flavorful)
Pour into individual glasses (add ice cubes if you like)
Nutrition Information:
Yield:
6
Serving Size:
1
Amount Per Serving:
Calories:

22
Total Fat:

0g
Saturated Fat:

0g
Trans Fat:

0g
Unsaturated Fat:

0g
Cholesterol:

0mg
Sodium:

21mg
Carbohydrates:

6g
Fiber:

2g
Sugar:

2g
Protein:

1g
theharvestkitchen.com attempts to provide accurate information, however, this nutritional information is provided as a courtesy and is an estimate only. The nutritional information provided comes from online sources and calculations.