Fruit Infused Turmeric Tea
This Fruit Infused Turmeric Tea is loaded with anti-inflammatory and antioxidant properties that helps to reduce inflammation, aid digestion, promotes healing and gives your immune system a good boost.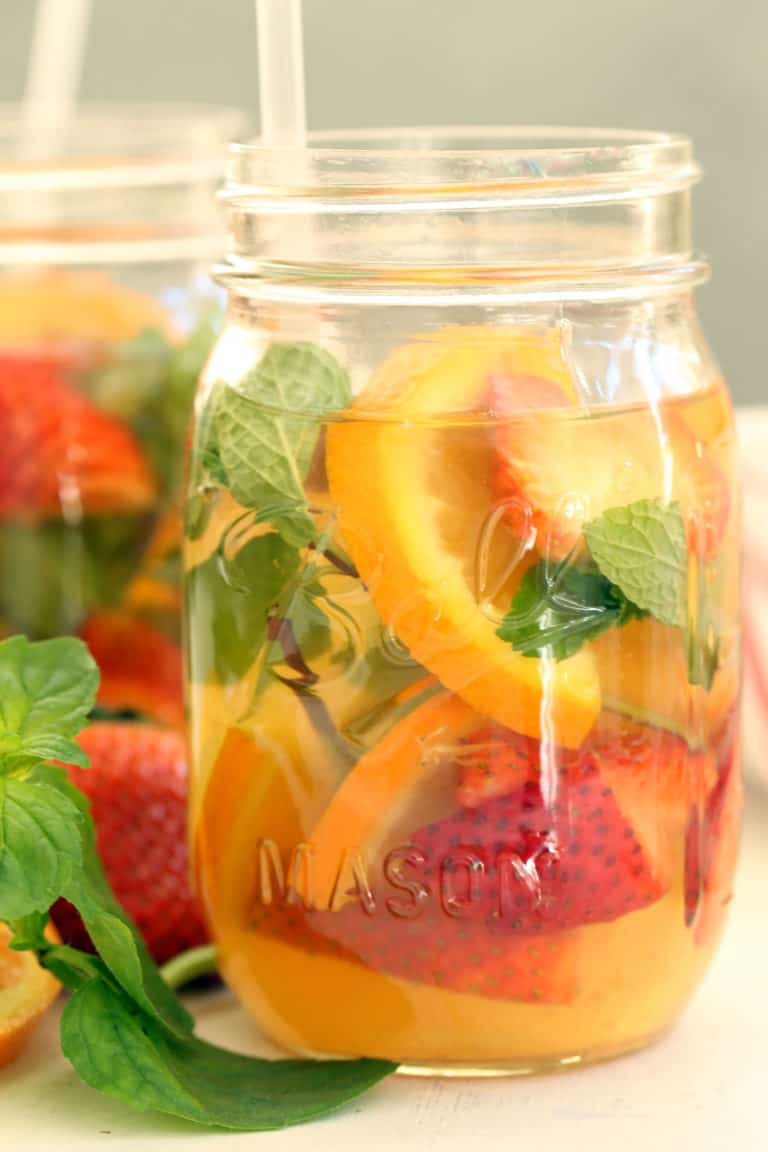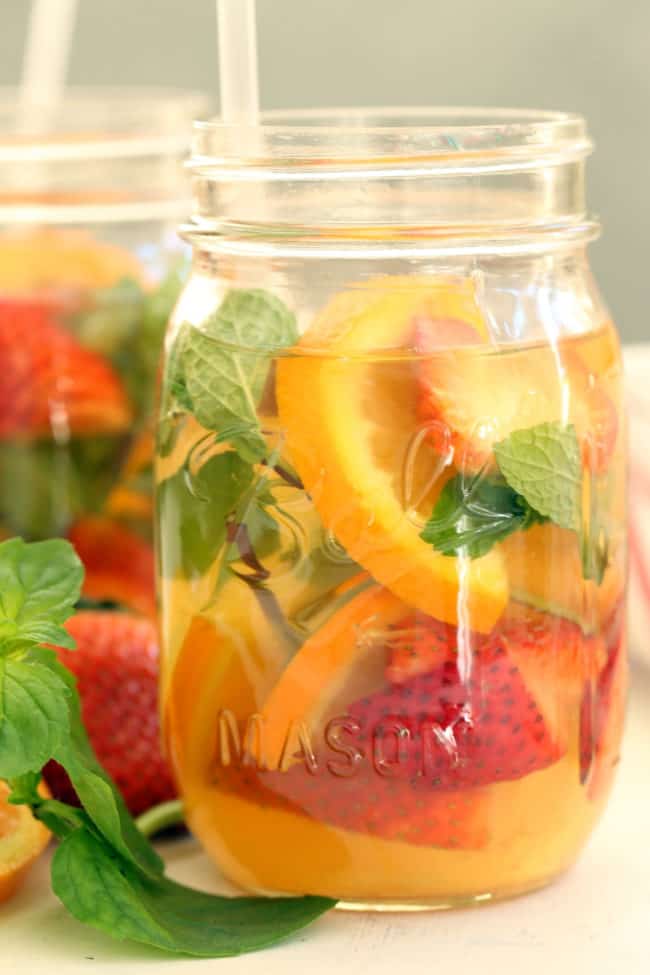 TURMERIC POWDER TEA
This healing Fruit Infused Turmeric Tea recipe is a great little habit to add to your daily routine for promoting overall good health and wellness. Drinking this turmeric powder tea is a great way to add healing herbs and spices into your wellness routine.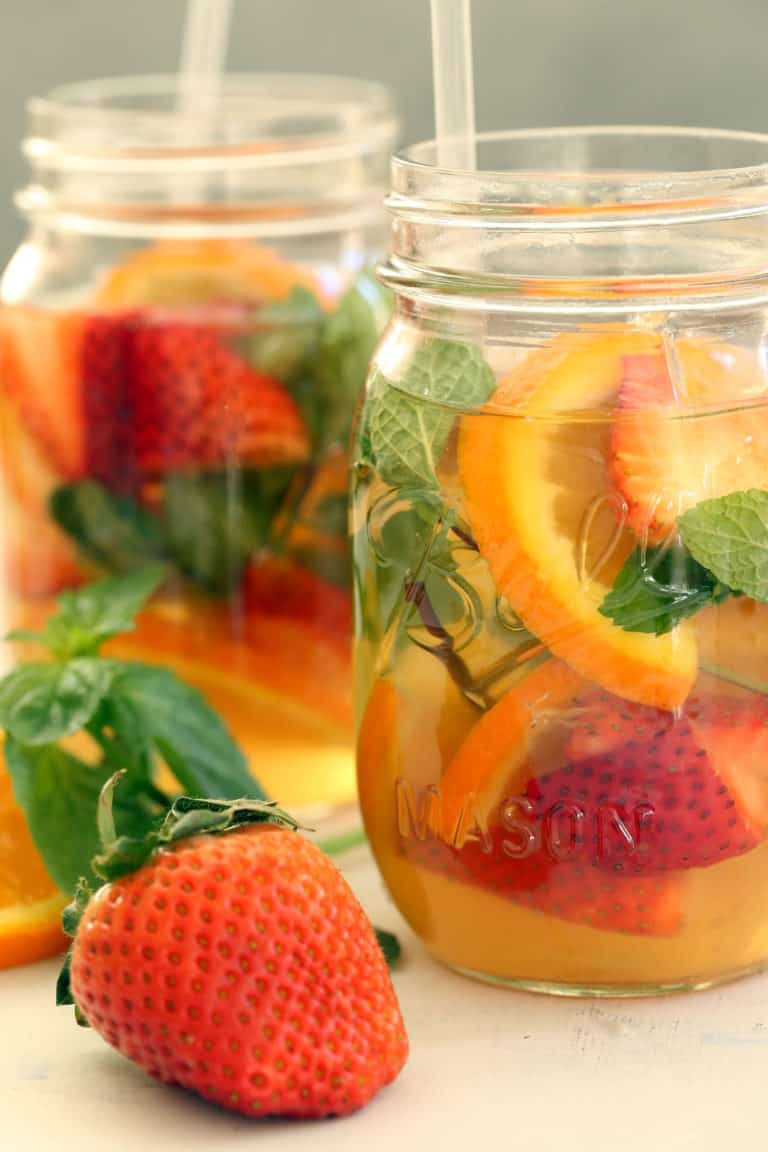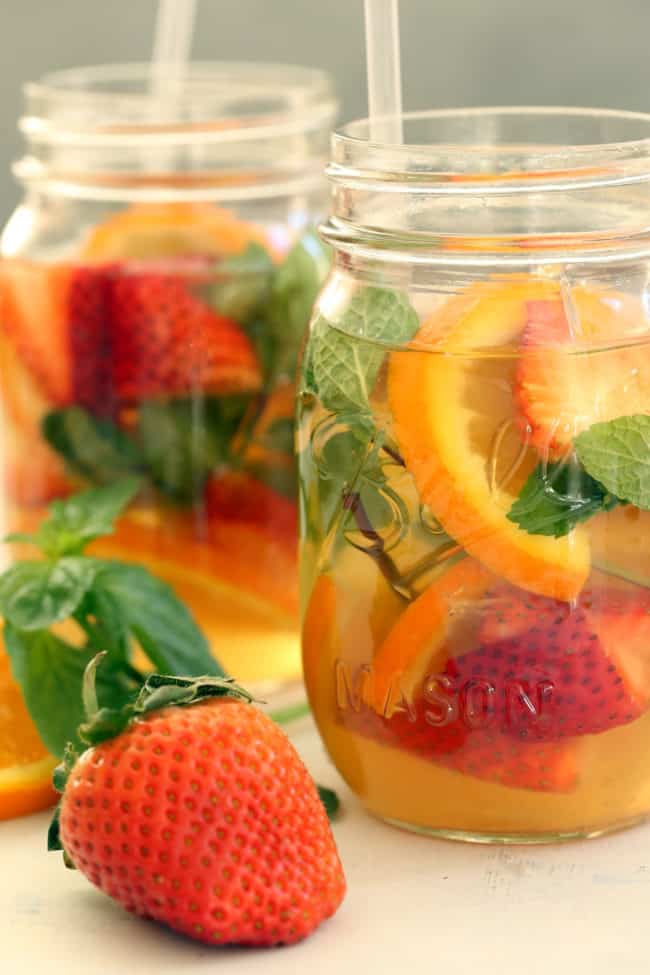 WHAT IS TURMERIC
Turmeric is a spice that is related to the ginger family
It's grown in India and parts of Asia and Central America
The active ingredient in turmeric is curcumin.
Curcumin gives turmeric its characteristic yellow color.
Curcumin is proven to have anti-inflammatory and immune-boosting properties.
WHAT IS TURMERIC USED FOR?
Turmeric has been used for its medicinal, antioxidant, and anti-inflammatory properties for thousands of years to treat a number of ailments. Curcumin is the active compound found in turmeric. It's known for its disease-fighting potential and other health benefits. These compounds found in turmeric may help to lower bad cholesterol and help to block the formation of the beta-amyloid substance that's responsible for the plaques that slowly obstruct cerebral function found in Alzheimer's disease. It also may also help to prevent the progression of multiple sclerosis.
TURMERIC TEA BENEFITS
These are just a few benefits of drinking turmeric tea:
Reduces pain and inflammation
Helps to ease arthritis symptoms
Protects the heart from free-radical
May help lower cholesterol
Immune system support
Antioxidant and anti-inflammatory properties
Helps to manage diabetes
Drinking teas made with healing herbs and spices is a great way to enhance your health and wellness routine. Adding just a pinch of black pepper to this turmeric tea helps to enhance the absorption of turmeric's benefits and adding fruit provides extra vitamin c which is a natural immune booster. You can also add ginger to your tea (making a turmeric ginger tea), which also offers powerful anti-inflammatory benefits. Turmeric tea is a great tea to drink during cold and flu season to give your immune system a good boost. It's also great remedy for athletes due to its anti-inflammatory and healing properties which may help to ease their strains and injuries related to their particular sport. This is one of my favorite detox drinks to sip on!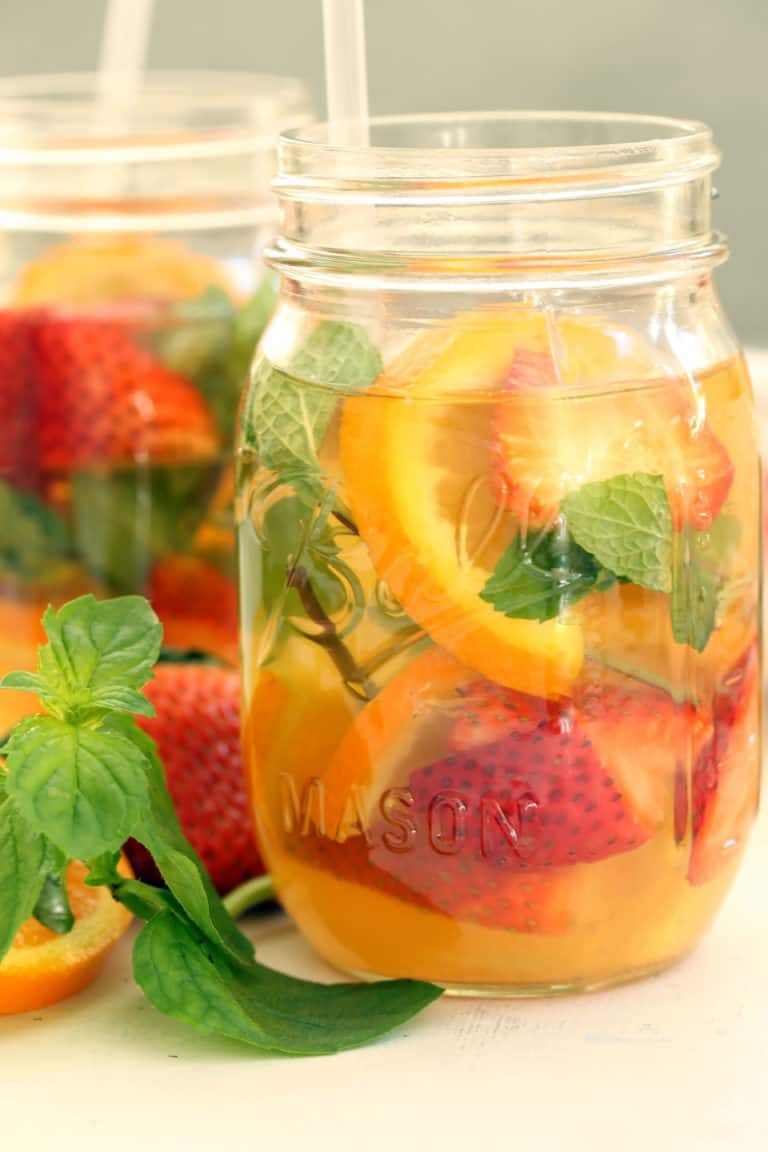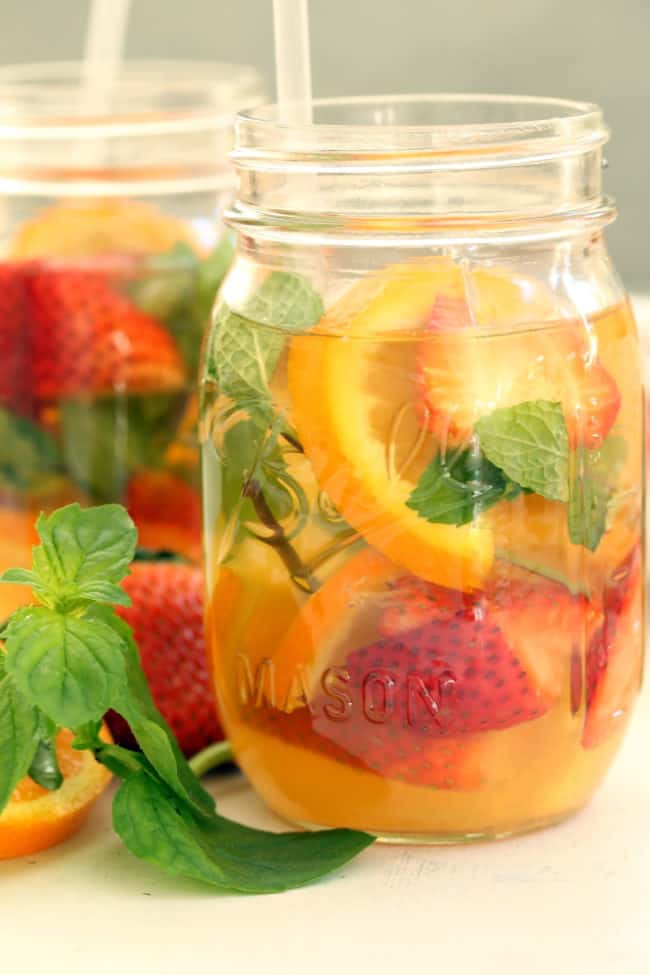 TURMERIC TEA RECIPE
Powdered Turmeric
Purified Water
Black Pepper
Honey
Fresh Organic Fruit
HOW TO MAKE TURMERIC TEA
Bring four cups of water to a boil in a small saucepan.

Add 1-2 teaspoons of ground turmeric and reduce to a simmer for 5 minutes.

Strain the tea through a fine sieve into a cup

Cool to room temperature and stir in honey and a pinch of black pepper

Pour into mason jars

Add sliced strawberries and orange and sprigs of fresh mint

Seal lid on mason jars

Refrigerate for 1-2 hours or overnight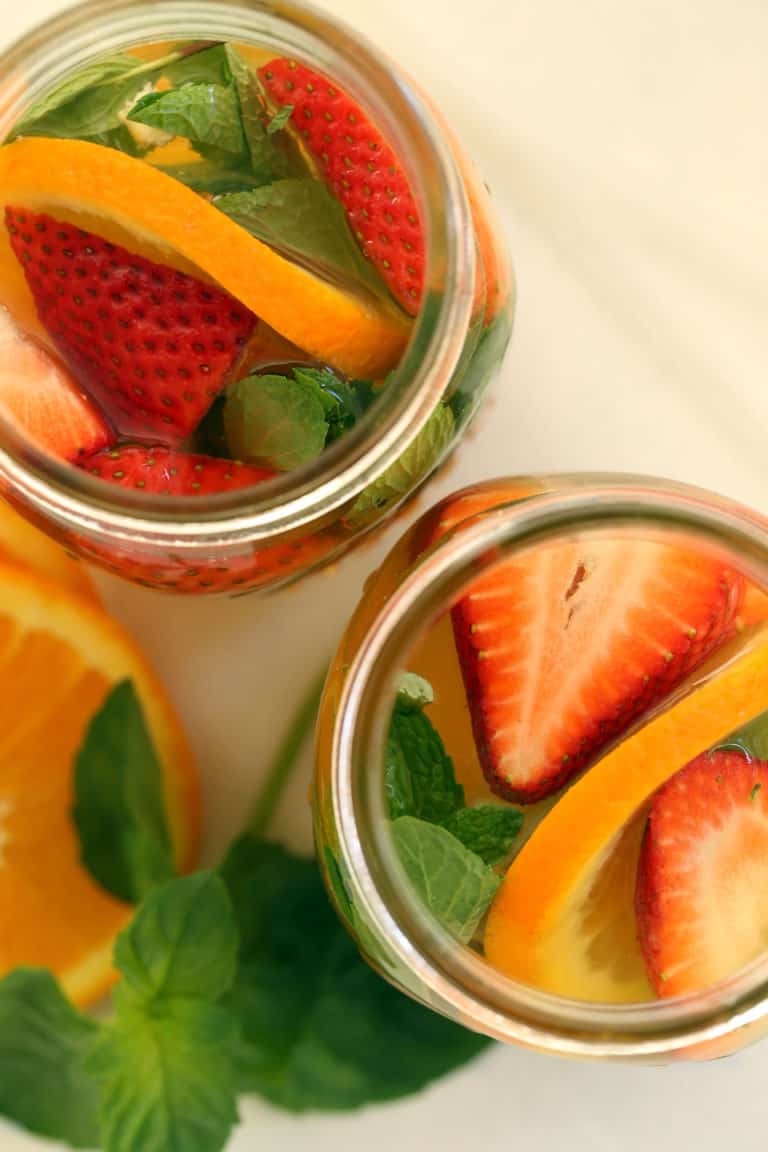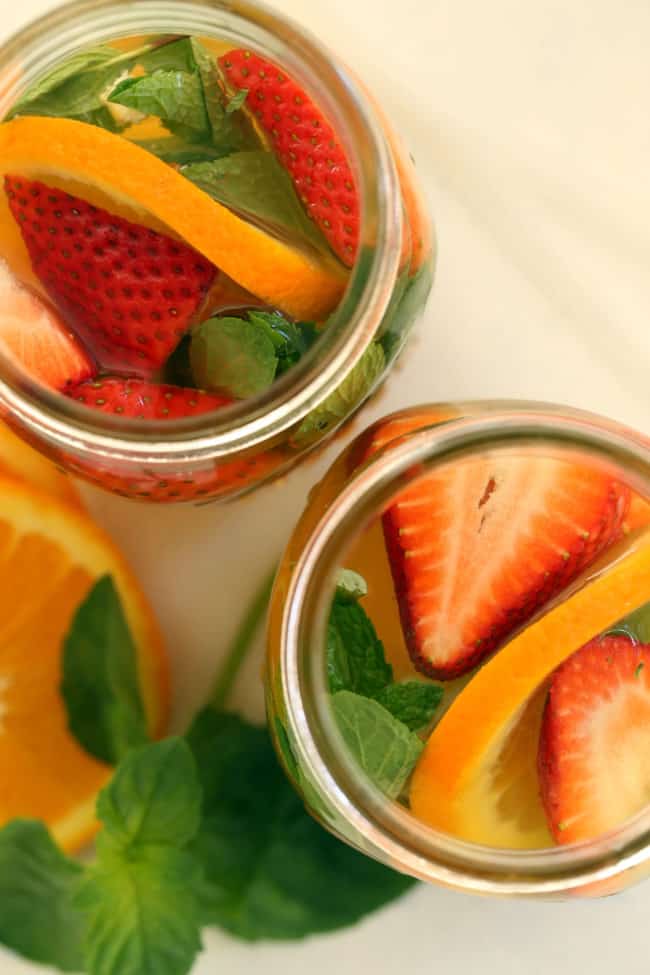 This turmeric tea recipe is a versatile one. Feel free to switch things up however you like. You can drink this turmeric tea hot or cold with or without the added fruit. But the fruit does add a refreshing taste and the added vitamin c (antioxidant) benefits especially when the tea is nice and chilled during the warm summer months. You can also add ginger to the mix to make turmeric ginger tea.
HEALTHY DRINK RECIPES
Follow

THE HARVEST KITCHEN

on Pinterest for more great recipes!
Yield: 2 Servings
Fruit Infused Turmeric Tea
Total Time
1 hour
20 minutes
Ingredients
4 cups water
1-2 teaspoons ground turmeric
2 teaspoons honey
pinch of black pepper
4 large strawberries
1 small orange
4 sprigs fresh mint
Instructions
Bring four cups of water to a boil in a small saucepan.
Add 1-2 teaspoons of ground turmeric and reduce to a simmer for 5 minutes.
Strain the tea through a fine sieve into a cup
Cool to room temperature and stir in honey and a pinch of black pepper
Pour into mason jars
Add sliced strawberries and orange and sprigs of fresh mint
Seal lid on mason jars
Refrigerate for 1-2 hours or overnight
Leave a Comment