Sparkling Blackberry Mint Spritzer
This post may contain affiliate links.
Sparkling Blackberry Mint Spritzer (blackberry sparkling water) is a refreshing bubbly (non-alcoholic) summer drink. This blackberry infused water is made with fresh organic blackberries, mint, lemon, lime, honey and sparkling water.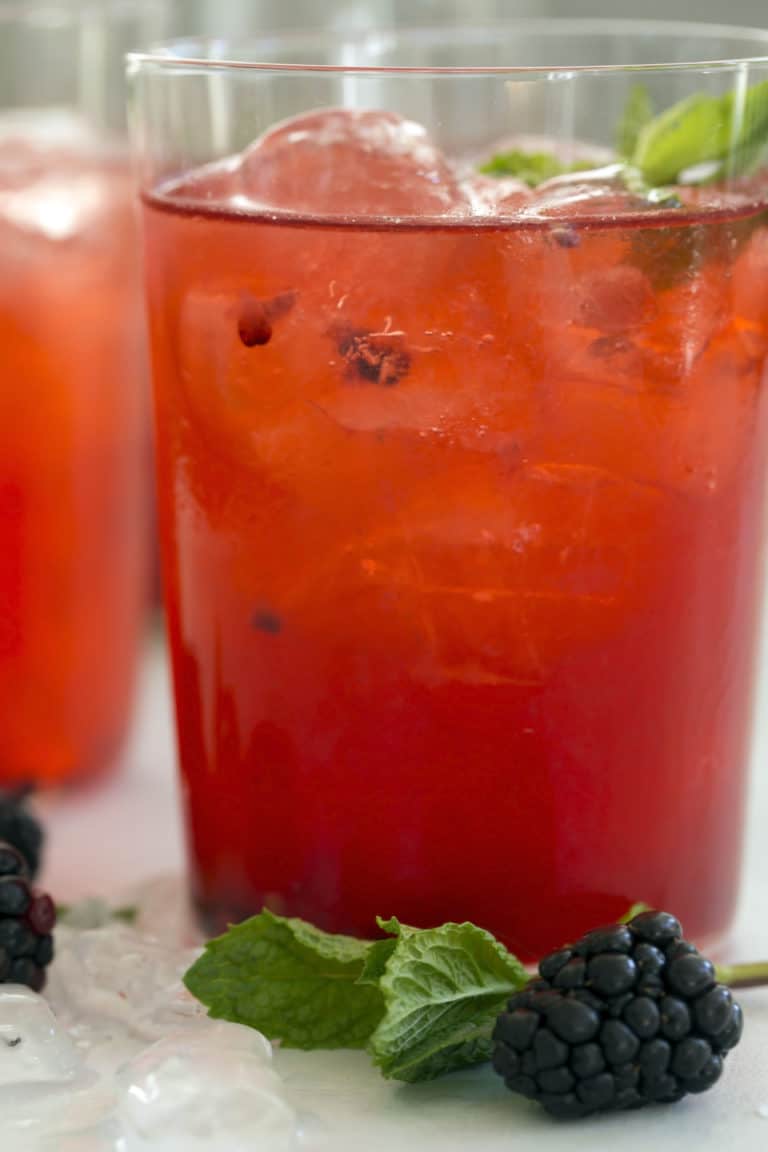 Is there anything more refreshing than a tall glass of sparkling water with fruit during warm summer months? This blackberry sparkling water is healthy, refreshing and makes a fun summer drink.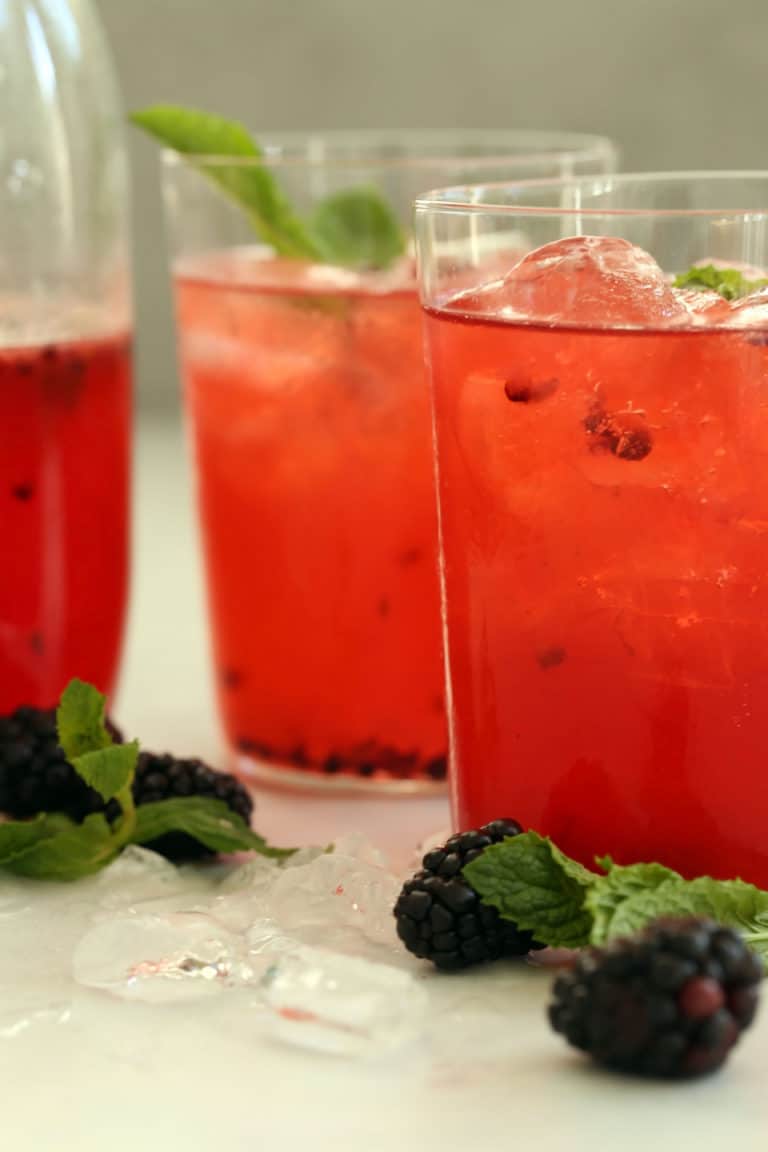 When the weather turns warm, I love to make refreshing and healthy drinks at home. Rather than drinking plain ol water all the time (though I do love my Smartwater), I like to have a little variety to help me stay hydrated. It's easy enough to add healthy drinks to your daily routing for promoting good health and wellness.
Blackberry Infused Water
This blackberry sparkling water is a super easy non-alcoholic spritzer to make that your whole family will love.
3/4 cup fresh mint leaves
3-4 tablespoons honey (add more for desired sweetness)
1-1/2 cups fresh blackberries (or frozen blackberries are fine)
2 tablespoons fresh lemon juice
2 tablespoons fresh lime juice
4 cups sparkling water (I use San Pellegrino Mineral Water)
How to Make Blackberry Infused Water
This blackberry flavored water comes together in about 5 minutes start-to-finish.
Combine the mint, honey and blackberries in a large glass pitcher.
Using a muddler or a wooden spoon, mash the berries until they're broken apart.
Add the lemon and lime juices.
Add ice cubes and sparkling water
Variations
Use raspberries or blueberries instead of blackberries
Use coconut water instead of sparkling water
Use fresh squeezed lemonade instead of sparkling water (for a blackberry lemonade)
Use basil instead of mint
Add more honey if you like it a little sweeter, or no honey at all.

Is Sparkling Water Good For You
You may be wondering – is sparkling water good for you? Natural sparkling water is a healthy thirst-quenching choice to reach for. (1) (2) Sparkling mineral water (like my favorite – San Pellegrino Sparkling Water) typically comes from natural springs which is bottled at the source. Not all mineral water is carbonated, but the sparkling kind of mineral water gets its bubbles from naturally occurring gases.
Is Sparkling Water Hydrating
You may wonder, does sparkling water hydrate you like regular water. The answer to that is – yes. Sparkling water hydrates just as well as still water, and it's a much healthier choice to reach for rather than a carbonated soda.
Looking for More Fruit Infused Water Recipes to Make?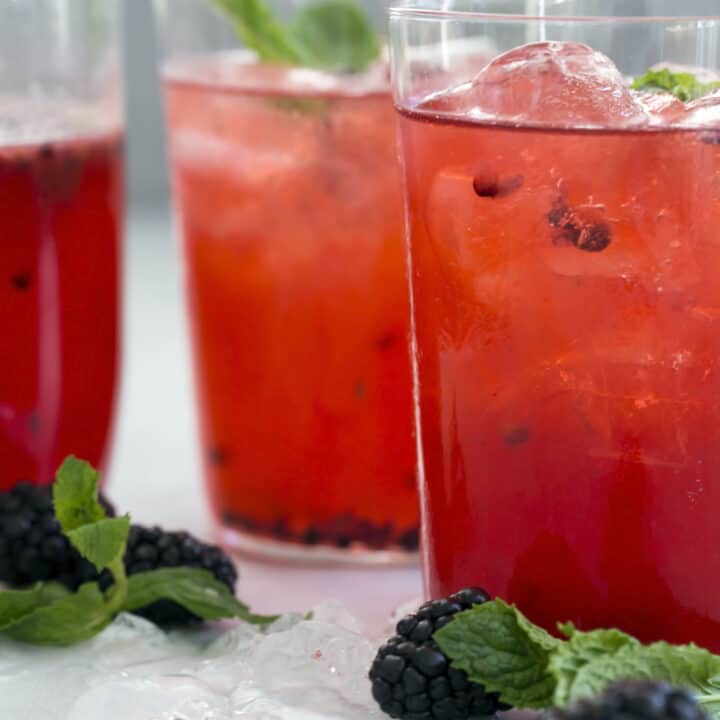 Yield: 4 Servings
Sparkling Blackberry Mint Spritzer
This Sparkling Blackberry Mint Spritzer is healthy, refreshing and makes a perfect summer drink.  You'll love how quick and easy it is to make.
Ingredients
3/4 cup fresh mint leaves
3-4 tablespoons honey (add more for desired sweetness)
1-1/2 cups fresh organic blackberries
2 tablespoons fresh lemon juice
2 tablespoons fresh lime juice
4 cups sparkling water (I use Pellegrino)
Instructions
Combine the mint, honey and blackberries in a large glass pitcher.
Using a muddler or a wooden spoon, mash the berries until they're broken apart.
Add the lemon and lime juices.
Add ice cubes and sparkling water
Serve with extra mint and lemon or lime wedges