Basil Berry Granita
This post may contain affiliate links.
This refreshing Basil Berry Granita (granita is also known as Italian ice) is made with watermelon, mixed berries, fresh basil leaves, and a hint of honey. This icy Italian dessert is also rich with immune-boosting antioxidants and anti-inflammatory properties.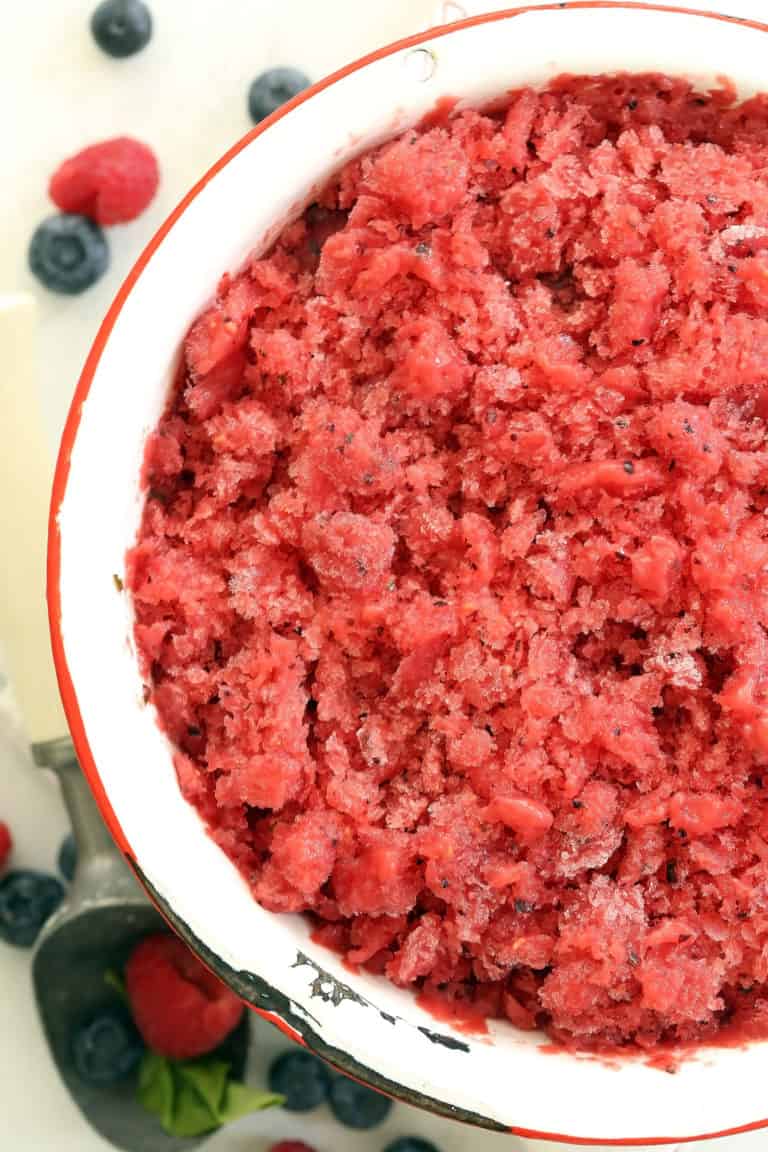 This homemade Italian ice is a bright, simple and healthful dessert that's rich with immune-boosting antioxidants.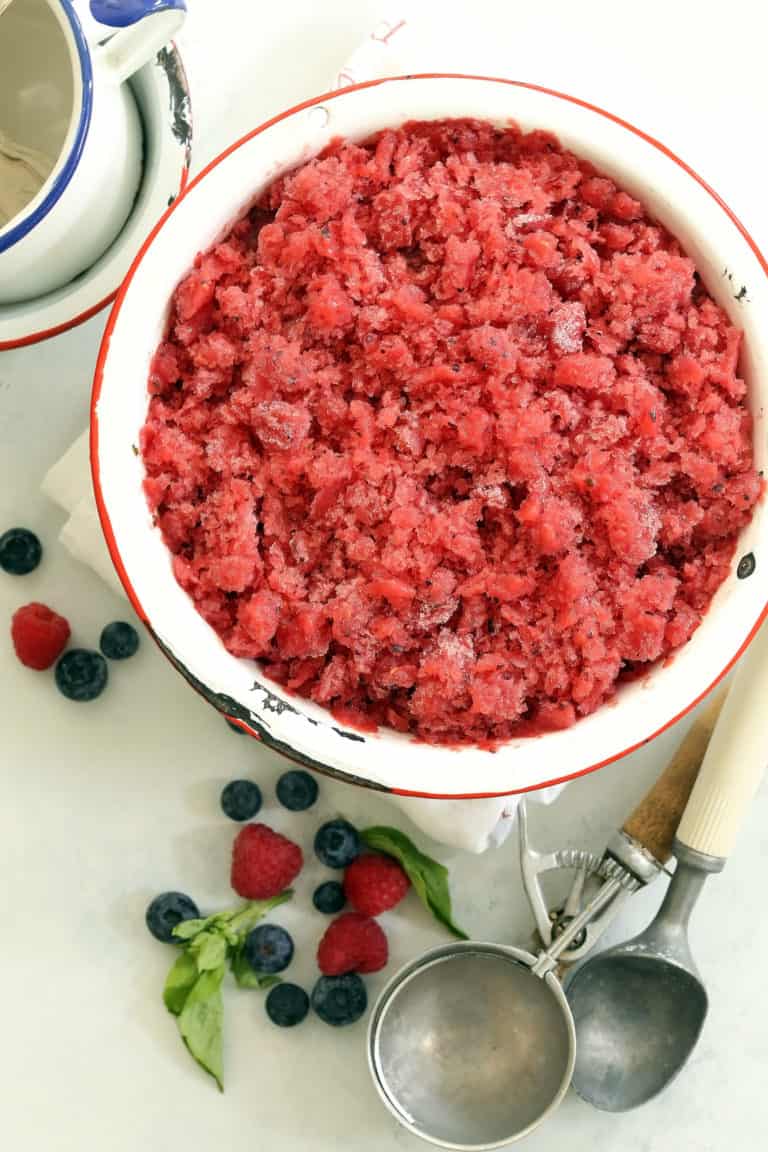 What is Italian Ice?
Italian ice is frozen dessert typically made with fruit puree, juices or concentrate. All you do is purée the ingredients in a blender until smooth. You might be tempted to put a straw in it and drink it down, but instead pour it into a 9x9x2″ or some other freezer friendly container, then pop in the freezer and freeze the mixture for 1 hour. Then using a fork – poke, mash and rake the ice as it freezes.
Is Italian Ice Vegan?
Yes. Italian ice is made with fruits, water and often times sugar. There's no dairy or eggs added to Italian ice.
Italian Ice Recipe
For this recipe the Italian ice ingredients is a combination of watermelon, mixed berries and fresh basil leaves. If you don't have any fresh basil on hand, this recipe is still delicious without it.
2 cups ripe seedless watermelon, cut into cubes
2-1/2 – 3 cups mixed berries (fresh or frozen – blueberries, raspberries, strawberries)
1 cup water
2 tablespoons pure clover honey
1 tablespoon fresh basil leaves, cut into ribbons (optional)
2 tablespoons fresh lemon juice
How To Make Italian Ice
Making homemade granita is a fun, healthy and inexpensive frozen treat to make for your family during long hot summer months.
Place watermelon and berries in a blender and blend well.
Add the water, honey, basil leaves and lemon juice and blend for another 30 seconds or until smooth. There will be flecks of blueberry skin.
Pour the mixture into a square or rectangle baking pan.
Place in the freezer uncovered for about 1-1/2 hours or until almost solid.
Remove from freezer and break the granita up using a fork.
Return to freezer and freeze for an hour longer. Then remove from freezer and using a fork, scrape the granita to break up some more
Italian Ice Flavors
Italian ice is a whimsical, flavorful and refreshingly light frozen dessert that can be made with just about any fruit or any combination of fruits you choose. Besides this Basil Berry Granita, these are some of my favorite fruits to make Italian ices with.
Watermelon
Cantaloupe
Honeydew
Mango
Peach
Lemon
Orange
Berries (strawberry, blueberry, raspberry, blackberry)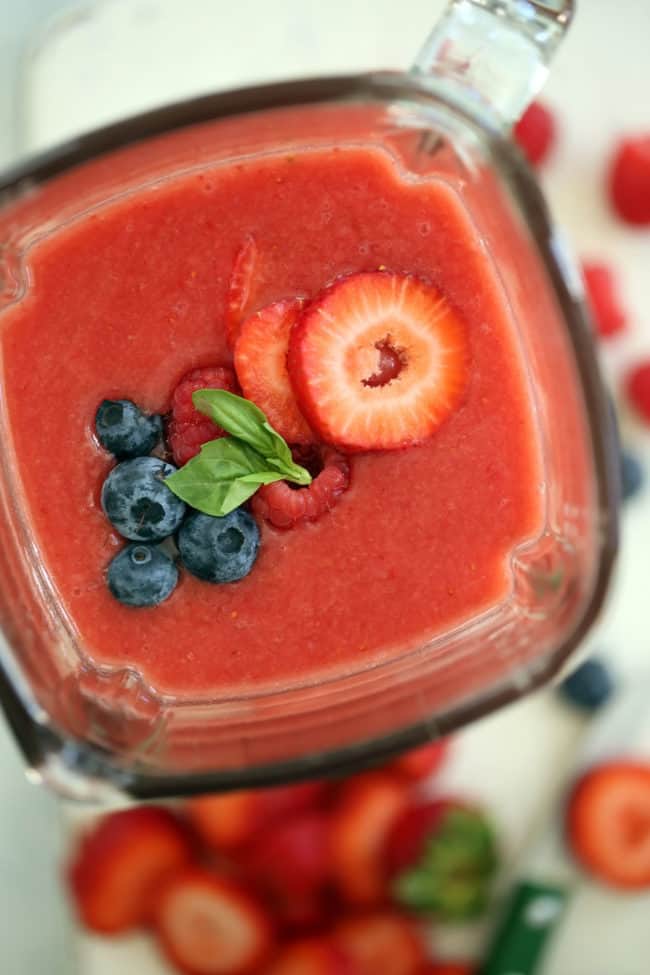 Italian Ice vs Sorbet
What's the difference between sorbet and Italian ice? Well not much of a difference really between the two besides texture. Italian ice is more grainy with ice flakes (similar to a snow cone), while sorbet tends to be a little smoother in texture and scooped like ice cream.
More Frozen Dessert Recipes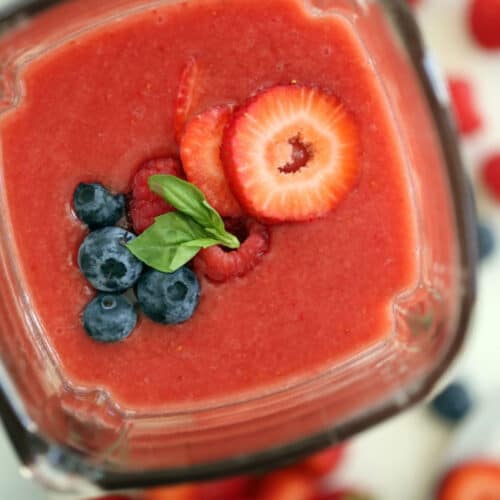 Yield: 6-8 Servings
Basil Berry Granita
Additional Time
1 hour
30 minutes
Total Time
1 hour
40 minutes
This Basil Berry Granita is cross between a slushy and sorbet.. It's made with watermelon, mixed berries, fresh basil leaves, and a hint of honey. It's loaded with immune-boosting antioxidants, making it a great healthy snack to enjoy.
Ingredients
2 cups ripe seedless watermelon, cut into cubes
2-1/2 - 3 cups mixed berries (fresh or frozen - blueberries, raspberries, strawberries)
1 cup water, either plain or coconut water
2 tablespoons pure clover honey
1 tablespoon fresh basil leaves, cut into ribbons
2 tablespoons fresh lemon juice
Instructions
Place watermelon and berries in a blender and blend well.
Add the water, honey, basil leaves and lemon juice and blend for another 30 seconds or until smooth. There will be flecks of blueberry skin.
Pour the mixture into a square or rectangle baking pan.
Place in the freezer uncovered for about 1-1/2 hours or until almost solid.
Remove from freezer and break the granita up using a fork.
Return to freezer and freeze for an hour longer. Then remove from freezer and using a fork, scrape the granita to break up some more