Mixed Berry Chia Seed Jam
This post may contain affiliate links.
This Mixed Berry Chia Seed Jam is sweetened with honey and thickened with chia seeds. It's delicious slathered on toast, between sliced bread for a PB&J sandwich, and I also love to swirl it in my hot oatmeal in the morning instead of honey.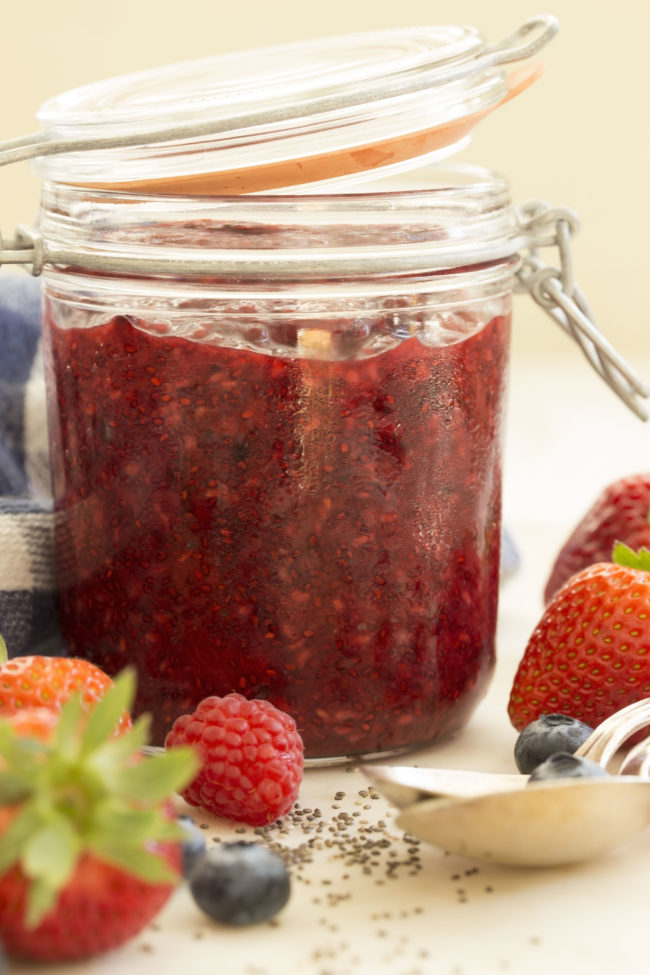 I love to make homemade jam using juicy ripe berries. Adding a little honey for sweetness and chia seeds for thickness, this chia seed jam is delicious, nutritious and comes together in just 20 minutes.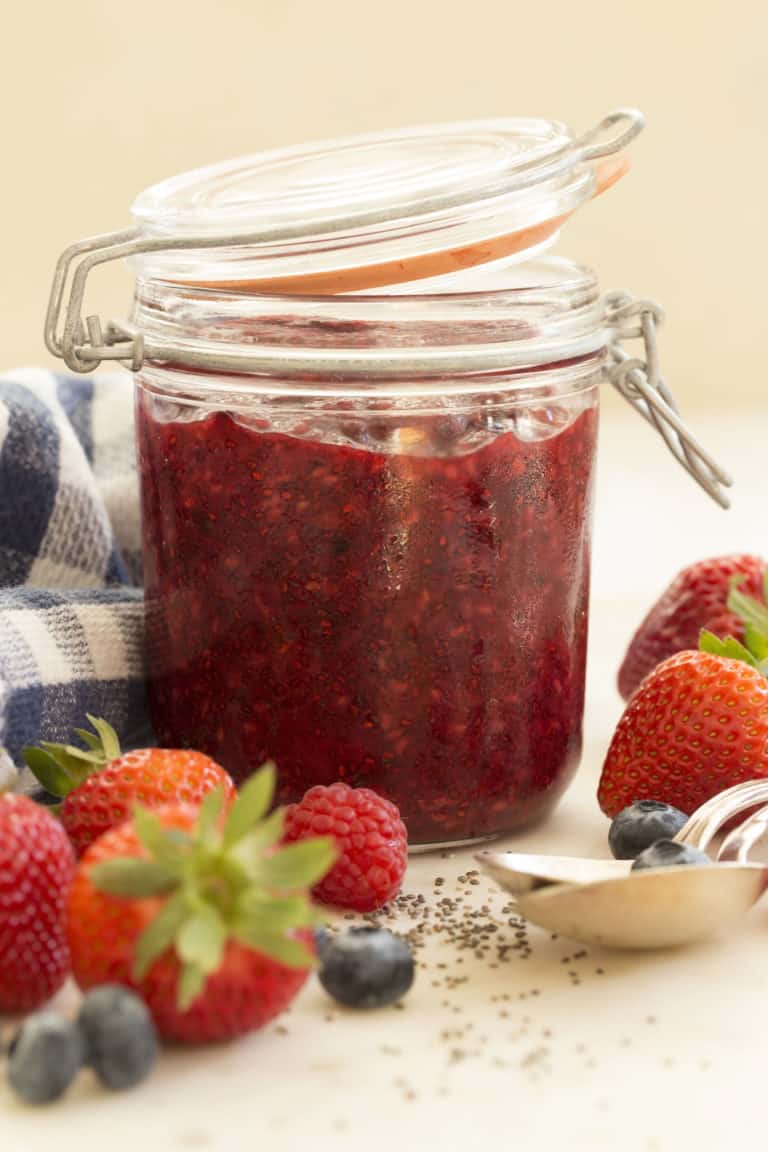 Traditional homemade jam is often sweetened with sugar and thickened with pectin, but for this jam recipe we use honey as a sweetener (you can also use pure maple syrup) and chia seeds for thickening instead of pectin. Jams that are made without pectin are a little thinner than traditional jams. Even though the texture might not be spot-on, it's close enough and the flavor makes up for any texture disappointments you might have.
CHIA SEED JAM RECIPE
Fresh strawberries, raspberries and blueberries
Honey
Chia seeds
HOW TO MAKE JAM
This easy jam recipe comes together in about 20 minutes start-to-finish. It's so easy to make that it's likely to become one of your favorite jam recipes!
Simmer half of the berries in a large saucepan with honey.
Lightly smash the mixture.
Add the remaining berries and chia seeds and simmer until jam thickens.
After jam cools, transfer to a mason jar and refrigerate.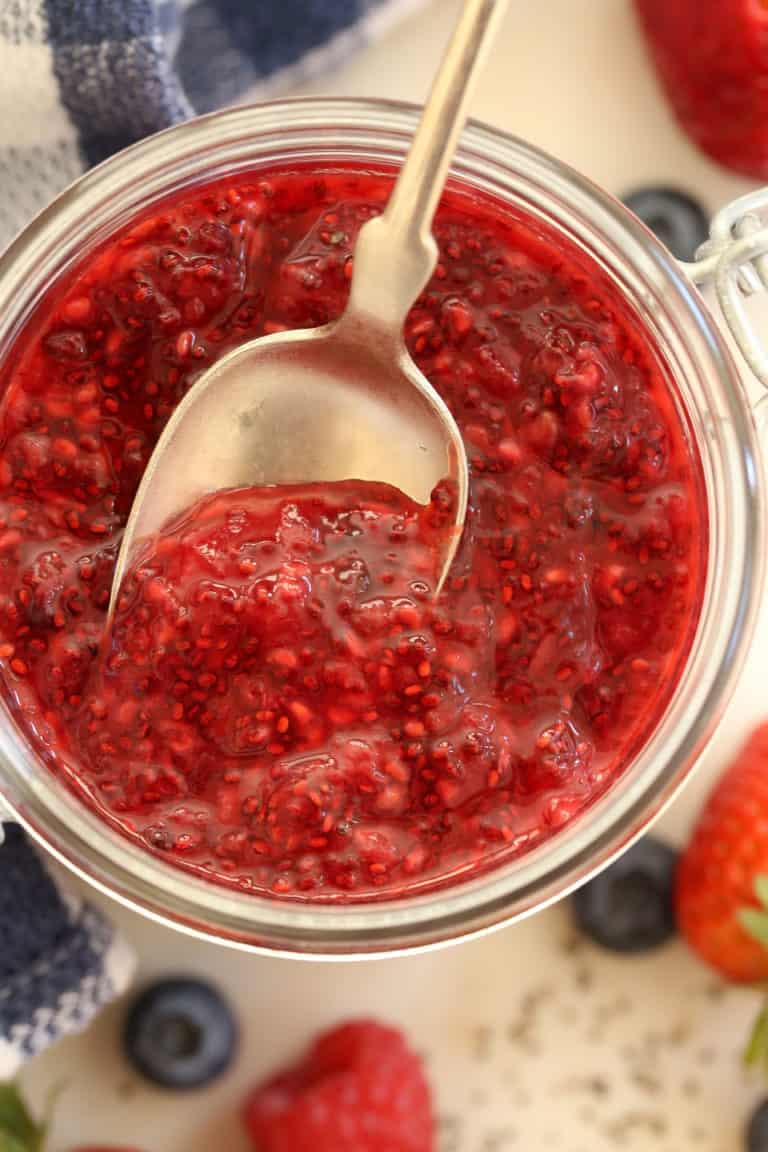 WHAT ARE CHIA SEEDS
Chia seeds are a member of the mint family and they're eaten like whole grains, but they're actually a carbohydrate-rich seed of a non-grass plant.
BENEFITS OF CHIA SEEDS
Are chia seeds good for you?
Yes! Chia seeds are a nutritional powerhouse! They're a rich source of…
Antioxidants
Minerals (Calcium, potassium, magnesium and manganese)
Omega 3 (they are one of the richest plant source of omega-3 fatty acids)
Vitamins A, B, D and E
Protein (they are a complete protein, containing all 9 essential amino acids, making them a good protein source for vegans and vegetarians)
Fiber
These nutrients help to…
Aid digestion
Boost immune system
Stabilize blood sugar levels
Possibly lose weight
CHIA SEEDS WEIGHT LOSS
Chia seeds are a rich source of fiber, and fiber absorbs water in the stomach which helps to curb appetite. The protein found in chia seeds also helps to curb appetite by making us feel full longer. Two tablespoons of chia seeds contain about 140 calories, 4 grams of protein and 10 grams of fiber. High fiber diets have been linked to weight loss.
CHIA SEEDS IN WATER
Chia seeds absorb up to 10 times their weight in liquid. You can make a chia seed gelatin by mixing 1/4 cup chia seeds in 1 cup water that can be added to smoothies, yogurt and oatmeal, etc. for a thicker consistency and for the added nutritional benefits. You can also make a chia seed "egg" substitute by blending 1 tablespoon ground chia seeds with 3 tablespoons water to replace 1 egg for baking.
HOW TO EAT CHIA SEEDS
If you've ever wondered how to use chia seeds, here are a few ideas to help you incorporate more chia seeds into your diet.
Sprinkle them over your yogurt
Stir them into oatmeal
Add them to smoothies
Use chia to make an egg substitute when recipes call for eggs
Add to water and juices to make chia seed drinks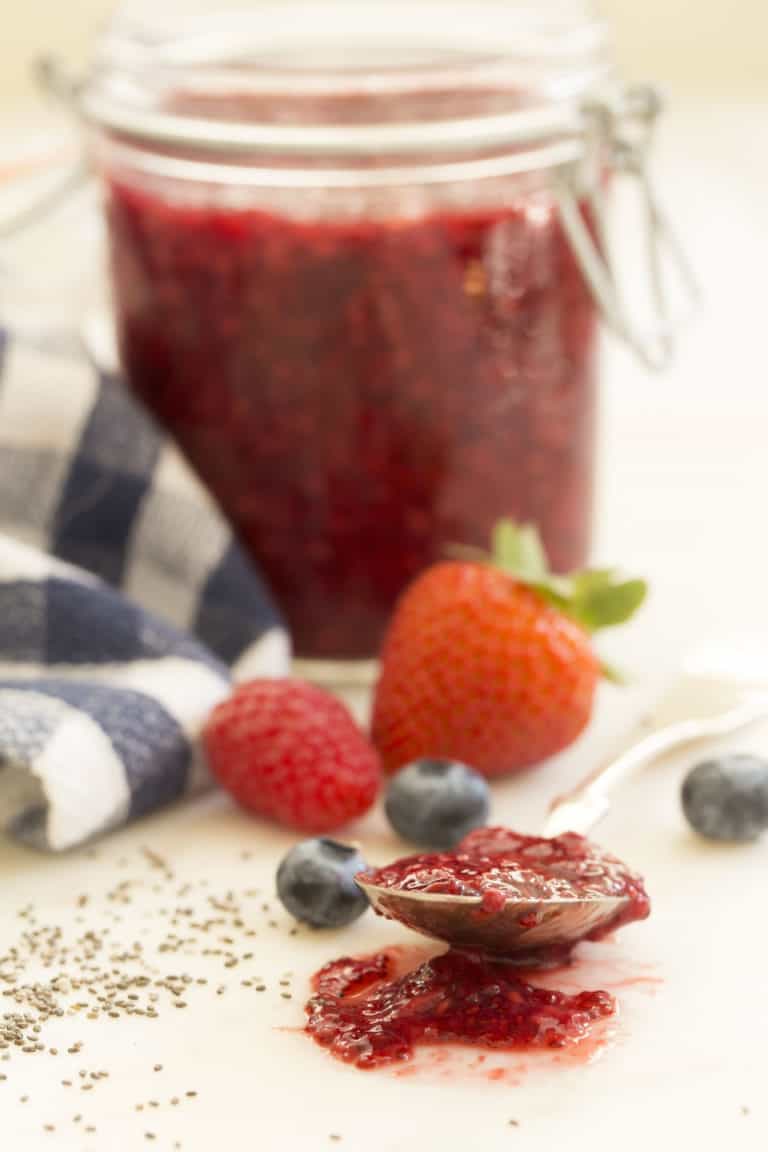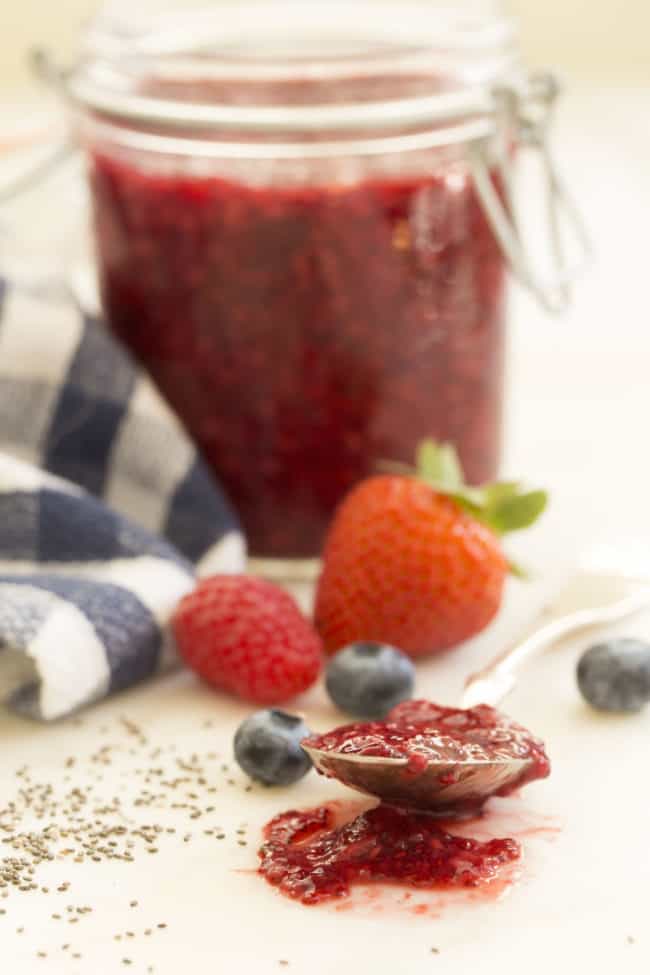 CHIA SEED RECIPES
Originally published 1.2019 – updated 7-2020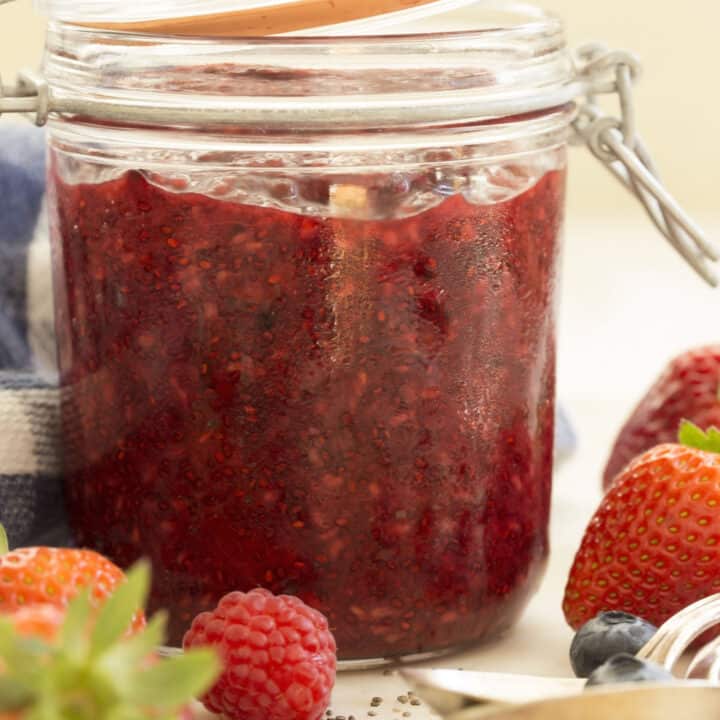 Yield: 4 servings
Mixed Berry Chia Seed Jam
This delicious Mixed Berry Chia Seed Jam is sweetened with honey and thickened with chia seeds, and it comes together in about 20 minutes
Ingredients
2 cups fresh strawberries, stems removed and sliced
2 cups fresh blueberries
2 cups fresh raspberries
1/2 cup clover honey (or pure maple syrup)
1/3 cup chia seeds
Instructions
Combine half of the berries in a large saucepan over medium low heat.
Add the honey and bring to a boil. Stirring frequently.
Reduce heat and simmer uncovered for 5 minutes.
Using the back of a spoon or a fork, lightly smash the mixture.
Add the remaining berries and chia seeds.
Bring to a boil then reduce heat to low, and simmer uncovered for about 10 minutes or until the jam has thickened.
Remove from heat.
Add the jam to a mason jar and refrigerate.