Hearty Lentil Stew
Yum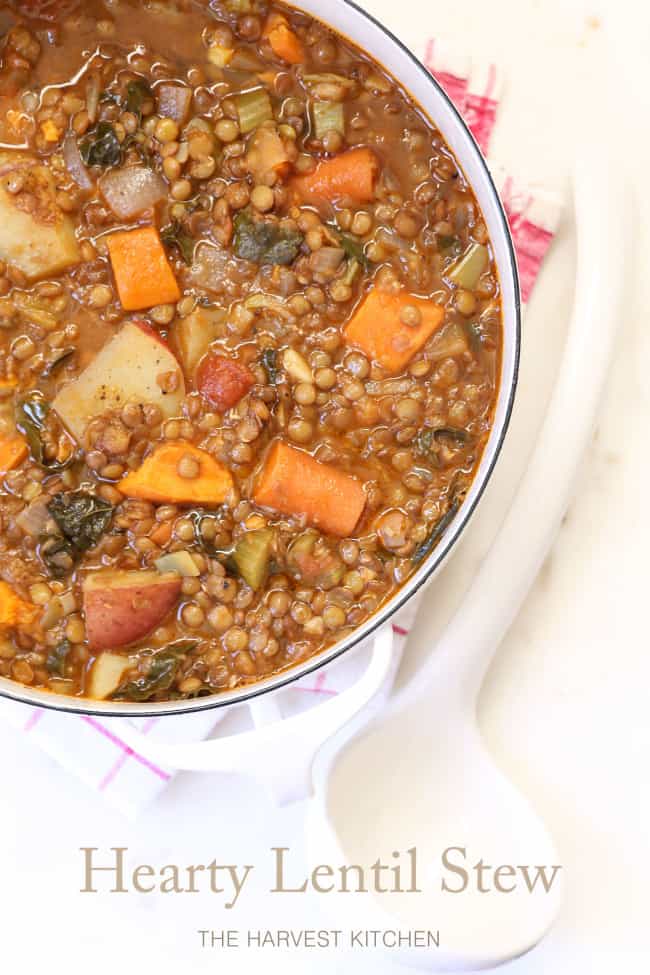 This Hearty Lentil Stew is a really great quick and easy, nutritious  and delicious meatless dish to pull together.  I serve it over quinoa, but you can serve it with rice if you prefer.  And I garnish this hot mess with caramelized onions, which honestly – I could eat a bowl of them by themselves.   And …this dish is cooked just long enough for the lentils and vegetables to turn tender.   The seasonings here are simple – a little cumin and a barely noticeable hint of cinnamon, which makes this dish both warm and earthy.  .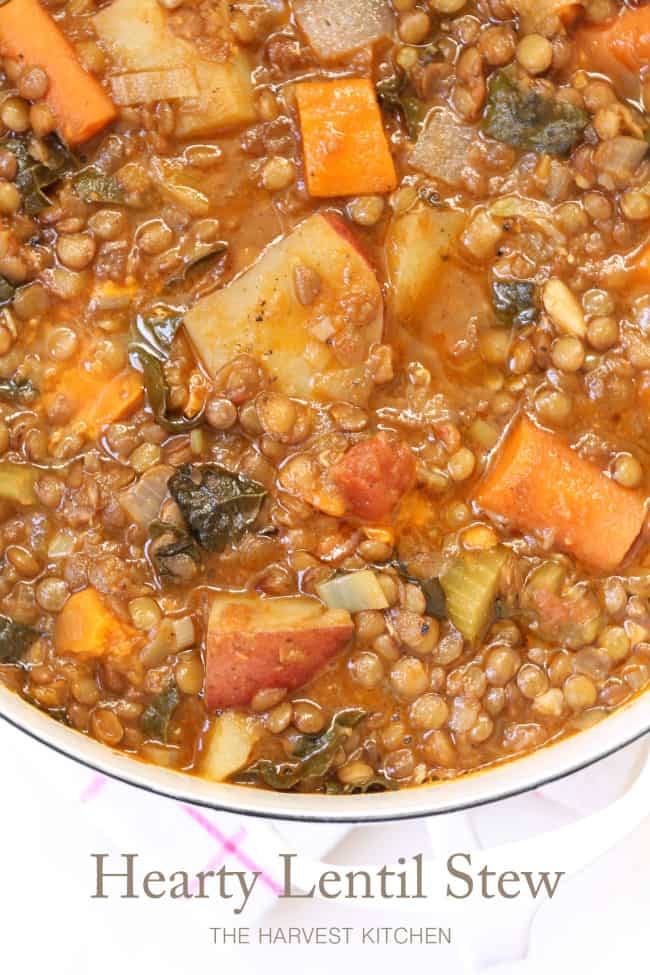 When the weather turns cold – I think soups and stews…..  warm cozy comfort foods that are generally low-maintenance.  This stew is one of my favorites (I make it often)!  And if you're like me, you'll likely have all of these humble ingredients on hand. They're staples in my house – so this dish can be whipped up on a whim for dinner.
I made this pot of lentil stew up one night after I had finished with my Christmas shopping.  Yay….I'm done with all of my Christmas shopping except for 2 gift cards!!  My house is decorated (I'll share a few photos later), and the presents are all hiding in my guest room.  All that is left is the wrapping, which I'll do this weekend.
As for making the caramelized onions for this stew…I sauté 2 onions sliced thin in about 3-4 tablespoons of olive oil (I may add a tablespoon or two of butter), and just a wee pinch of salt.  Saute the onions for about 20 minutes (while the stew is simmering) or until the onions turn a warm golden caramel color.  They're really amazing with this stew, and worth the extra effort!!
~ Deb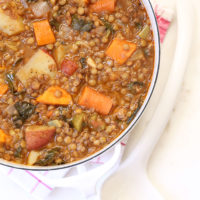 Hearty Lentil Stew
Yield: 6 - 8 servings
Total Time: 45 minutes
Ingredients:
4 tablespoons extra virgin olive oil
1 large onion, chopped
1 celery stalk, chopped
2 leeks, white and tender green parts, chopped
4 cloves garlic, minced
2 cups brown lentils
2 cups kale, chopped
1 large sweet potato, peeled and cut into large pieces
2 red potatoes, cut into large pieces
2 large carrots, peeled and cut into large pieces
1 15-ounce can chopped tomatoes
4 cups low-sodium vegetable broth
2 cups water
1 teaspoon cumin
1 teaspoon onion power
1/8 teaspoon cinnamon
salt and freshly ground black pepper to taste
Directions:
Heat the oil in a large pot or Dutch oven over medium heat.
Add the onions, celery, and leeks and cook for about 4 to 5 minutes.
Add the garlic and for another minute or two.
Add the remaining ingredients
Bring to a boil, then cover, and let simmer on medium-low heat for about 30 minutes or until lentils are tender.
3 Responses to "Hearty Lentil Stew"
Leave a Comment