Spinach and Chickpeas
This Spinach and Chickpeas recipe is quick and easy to make using only canned chickpeas, tomatoes, spinach, onion and garlic. I like to garnish it with basil, tomatoes and parmesan cheese.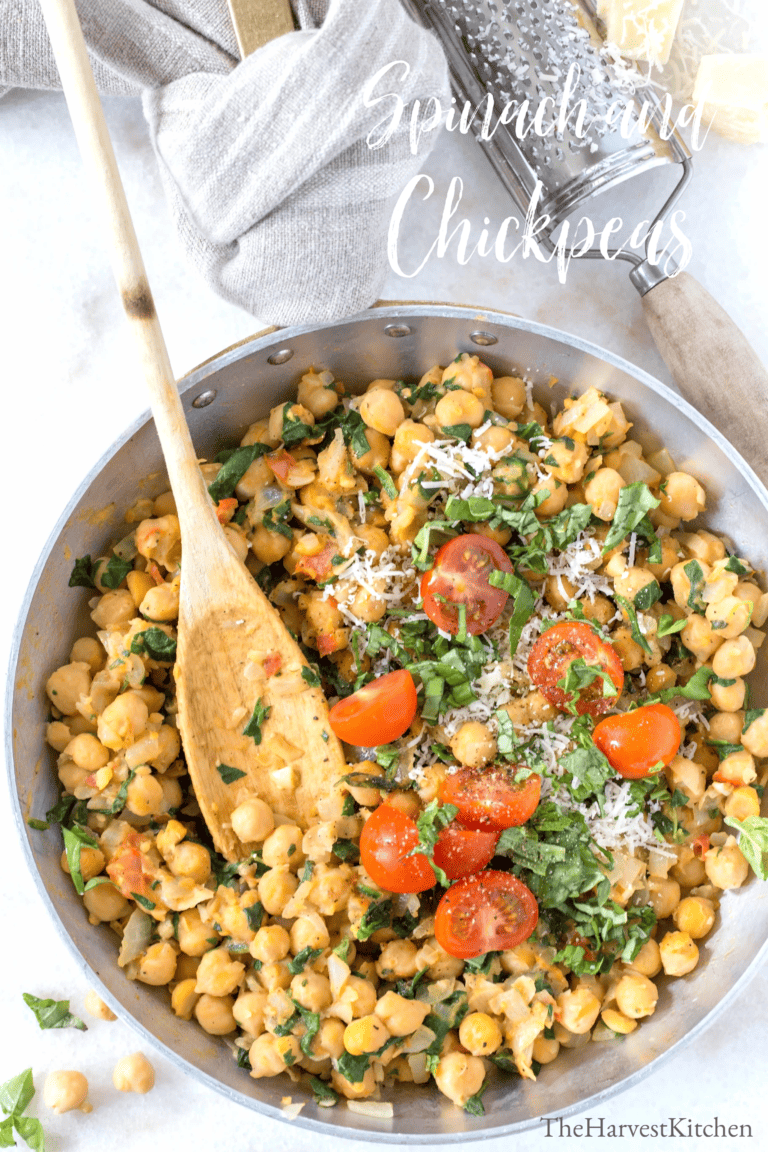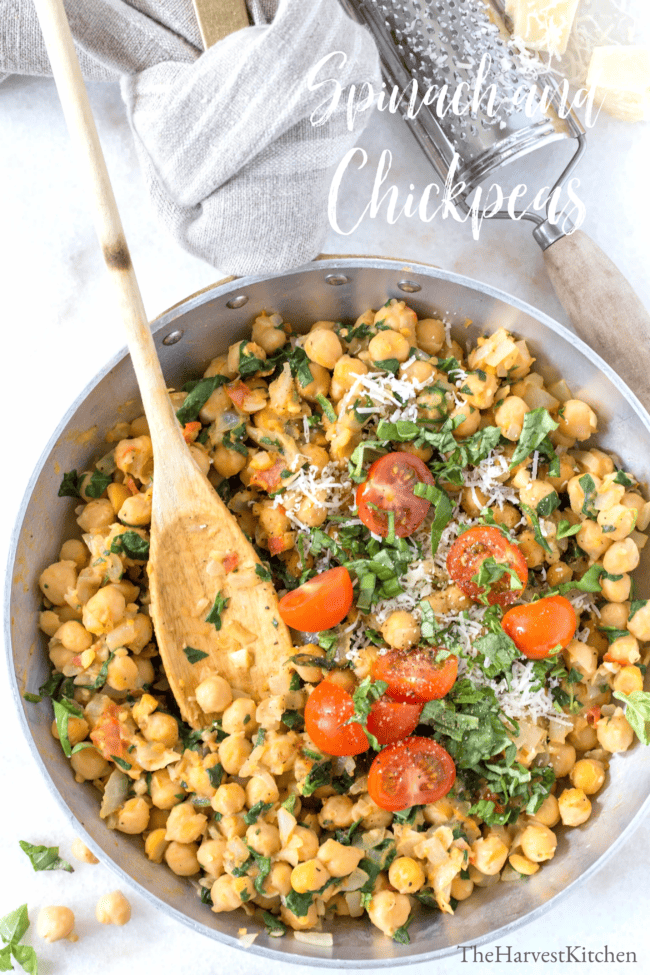 Spinach and Chickpeas is one of those healthy vegan meals that's quick and easy to make any night of the week.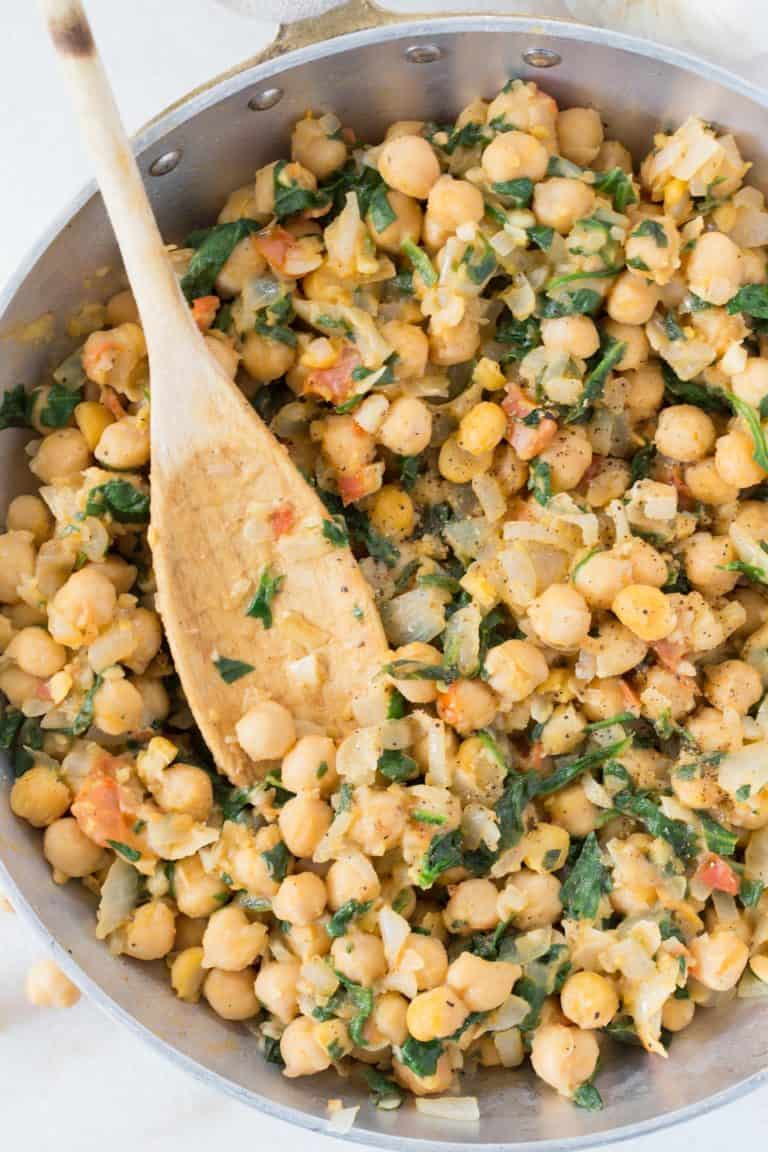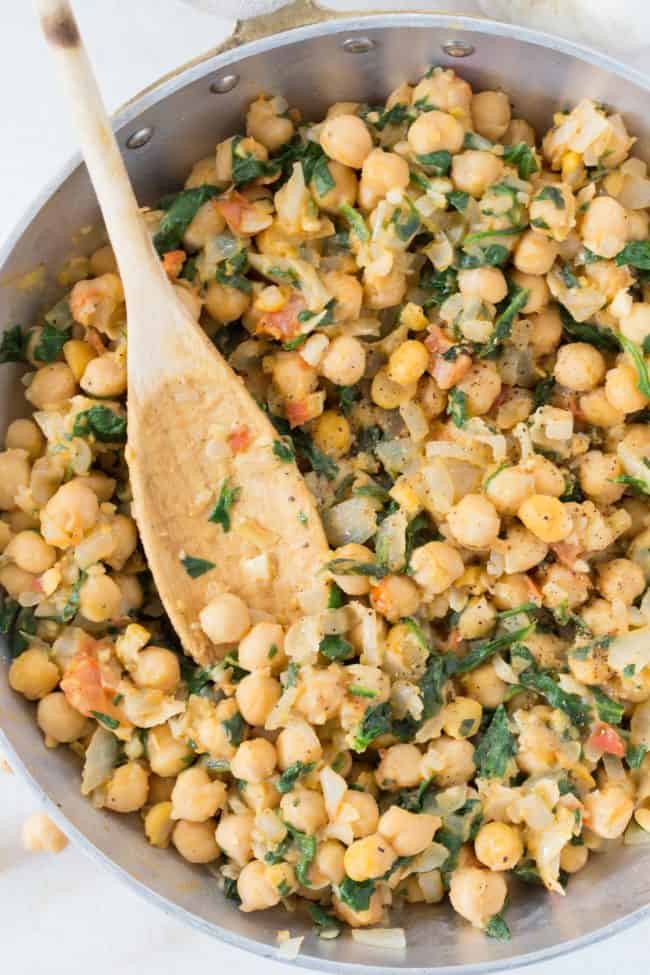 SPINACH AND CHICKPEAS RECIPE
This is one of those easy vegan chickpea recipes that uses humble ingredients.
Extra-virgin olive oil
Fresh ripe tomatoes
White onion, diced
Garlic
Canned chickpeas
Chopped baby spinach
Seasoning (just salt and freshly ground black pepper)
Fresh basil
Cherry tomatoes
Parmesan cheese (optional)
VARIATIONS
Squeeze lemon juice over the mix just before serving
Sprinkle in a little Italian season while it cooks (1-2 teaspoons)
Toss in a tablespoon or two of chopped kalamata olives
HOW TO MAKE SPINACH AND CHICKPEAS
This vegan meal comes together in about 25 minutes start-to-finish.
Sauté onion, garlic and tomatoes: Heat oil in pan and saute onion, garlic and tomatoes
Garbanzo beans: Stir in garbanzo beans
Baby spinach: Fold in baby spinach.
Broth: Add 3-4 tablespoons water or broth if mixture isn't moist enough.
Garnish: Garnish with basil ribbons, pan-roasted cherry tomatoes and parmesan cheese.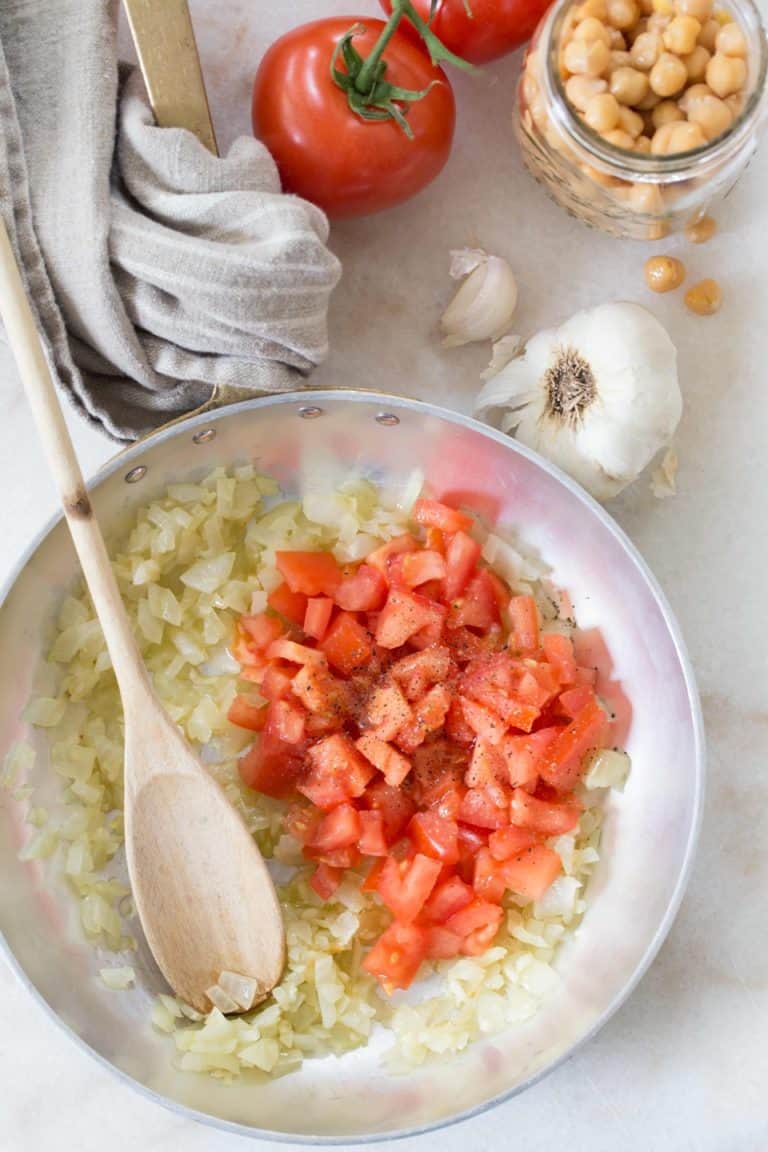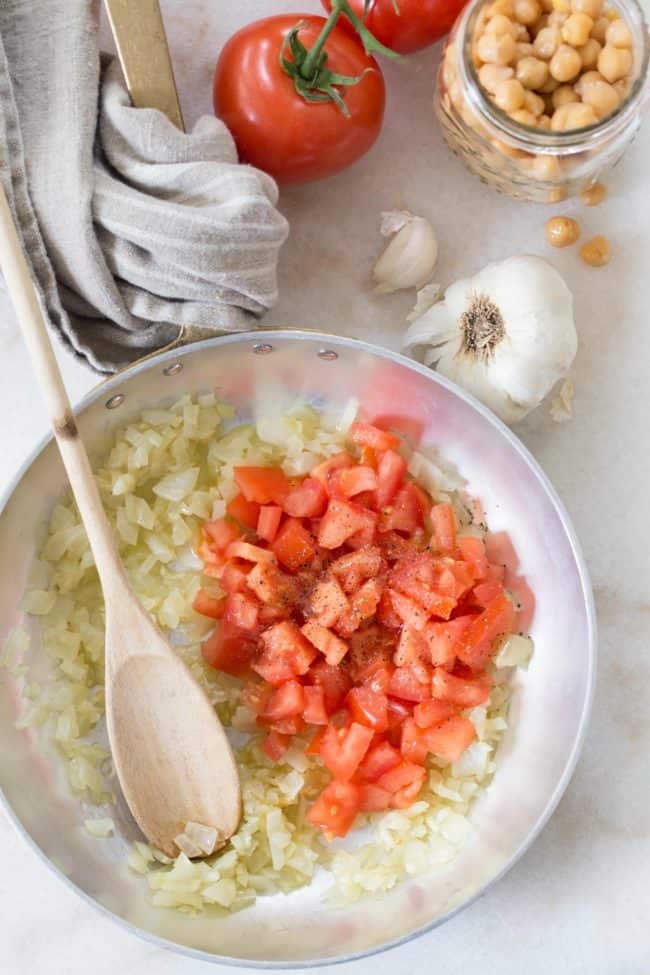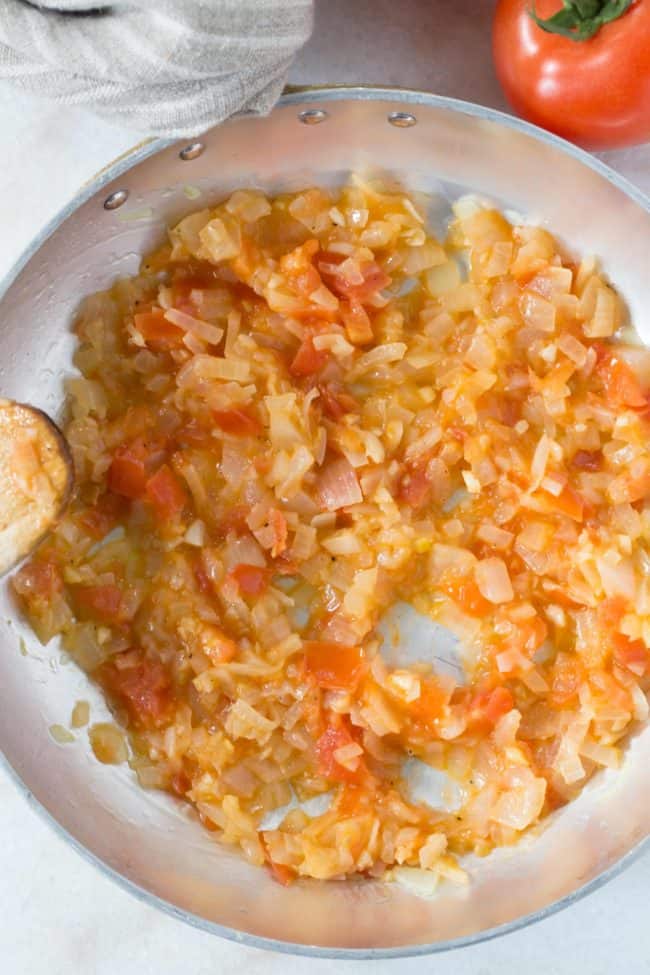 Because fresh spinach goes bad so quickly, I freeze a lot of it so I can have it on hand to make easy vegan meals like this one.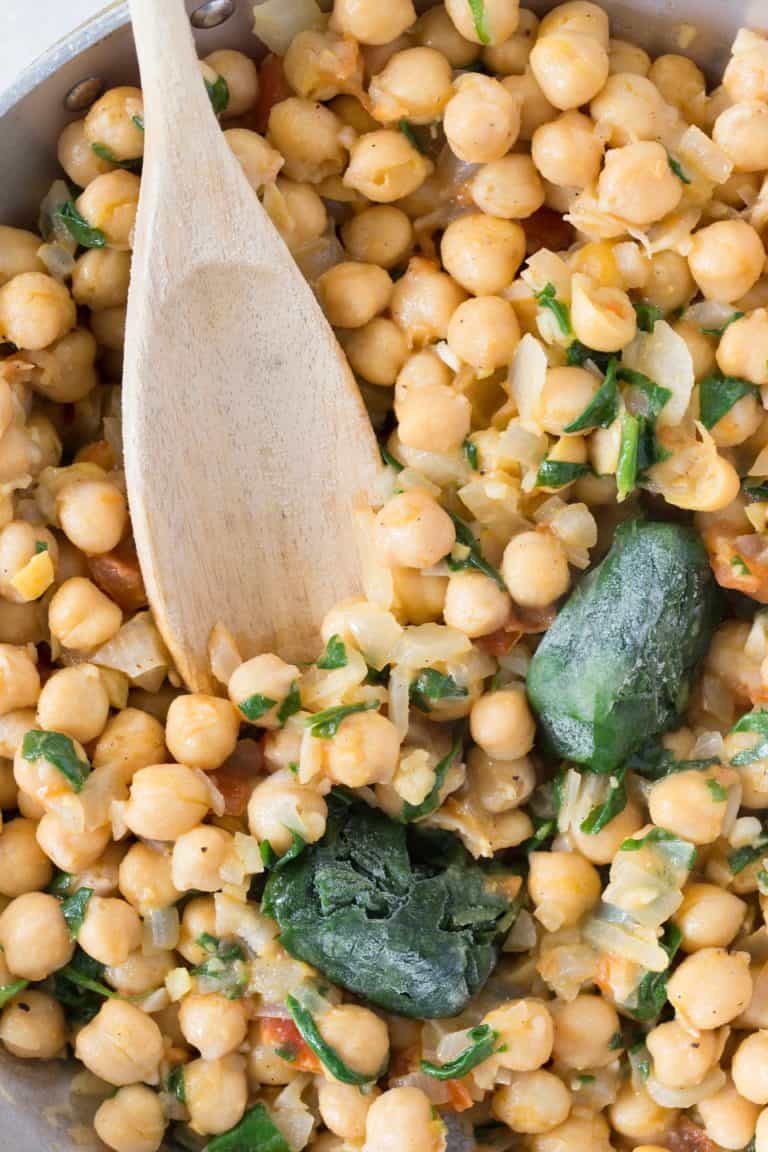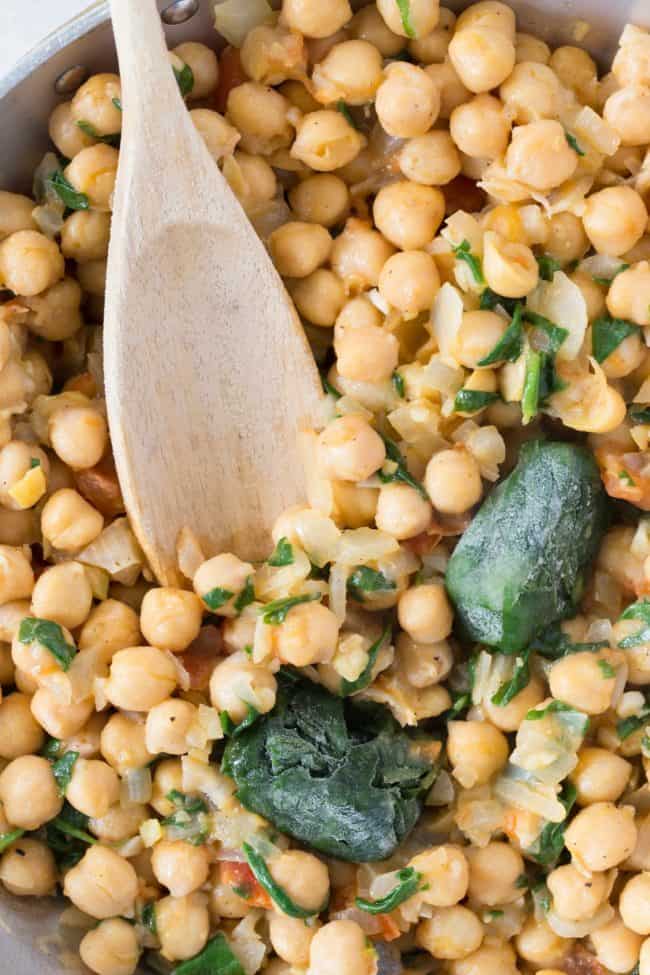 Here's my link on How to Freeze Spinach to add to soups, stews and smoothies. It's super easy to do and having frozen spinach cubes stashed in the freezer to add to recipes makes life a little easier. And I like to give the spinach a quick chopping before I freeze it so it's easier to eat after its cooked.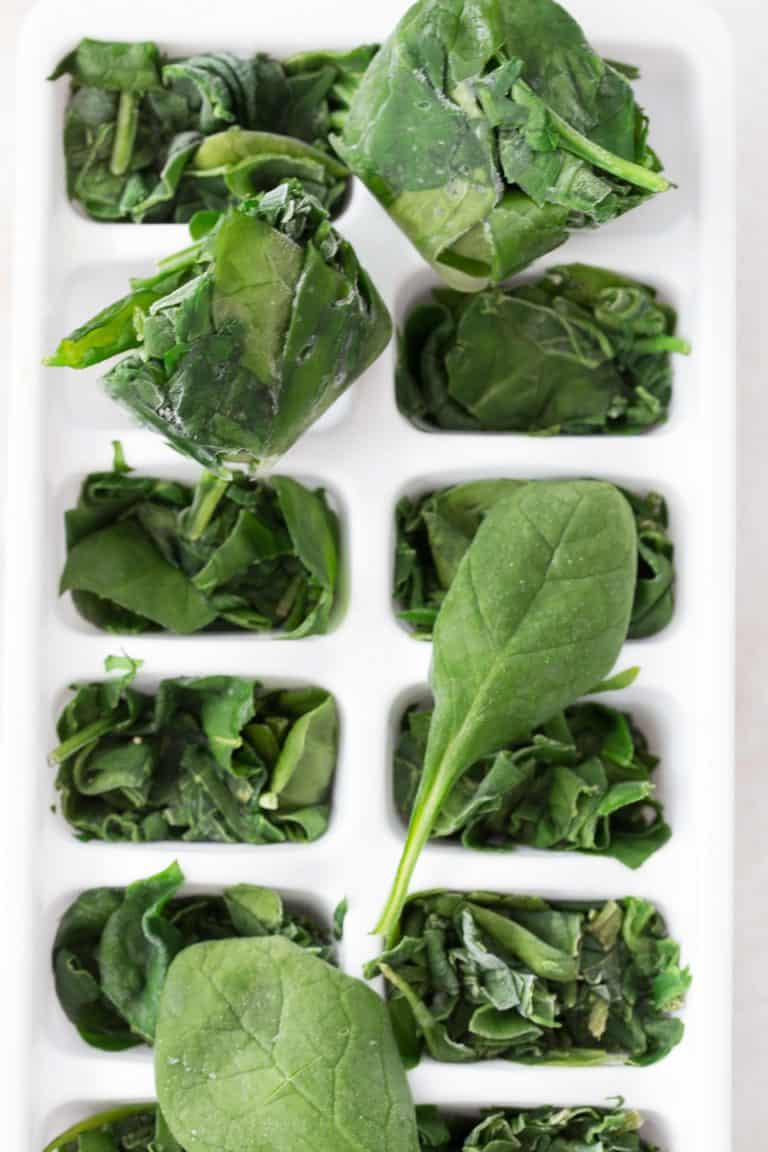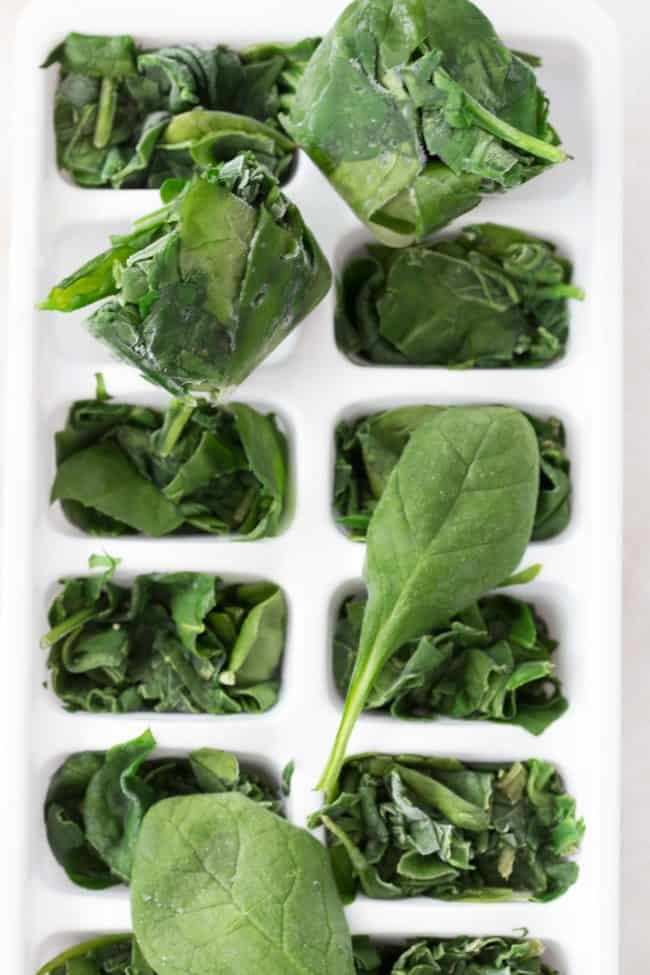 HEALTH BENEFITS OF SPINACH
Anti-inflammatory (has more than a dozen different flavonoid compounds)
Rich with vitamin C
Good source of vitamin E, vitamin A (in the form of carotenoids)
Good source of manganese, zinc, selenium and vitamin K.
HEALTH BENEFITS OF CHICKPEAS
Rich with vitamins and minerals
Excellent source of plant protein, so they're a good alternative for vegetarians and vegans alike
Contains all but one of the essential amino acids (methionine)
Heart healthy (due to the magnesium and potassium properties found in chickpeas) (1)
May help prevent high blood pressure and reduce triglycerides and LDL cholesterol levels (the bad kind) (2) (3)
Good source of soluble fiber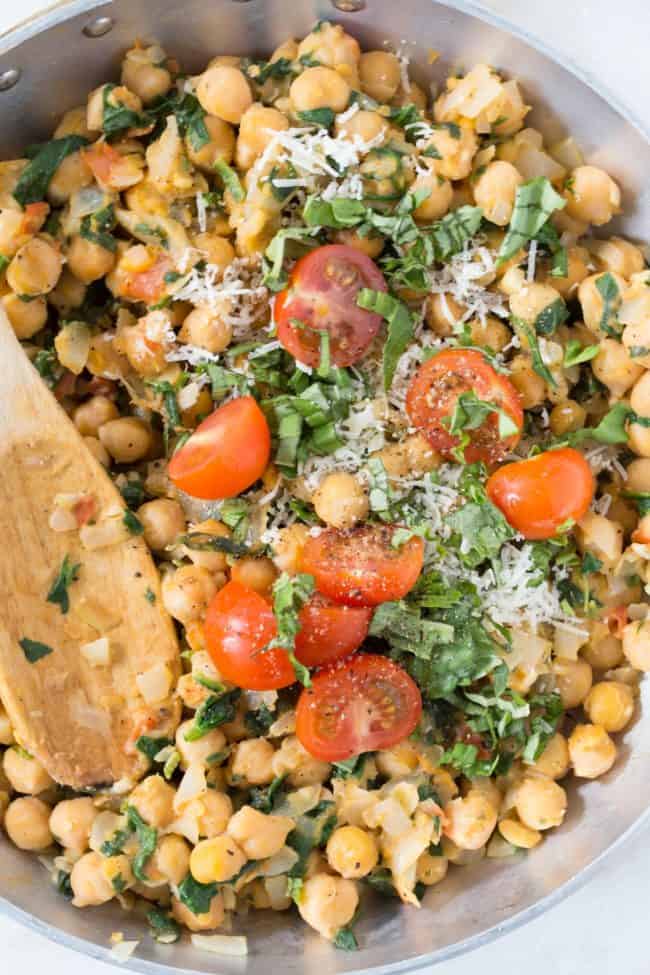 Follow

THE HARVEST KITCHEN

on Pinterest for more great recipes!
Yield: 2-4 servings
Spinach and Chickpeas
Ingredients
ngredients:
2/3 cup tomatoes, diced
1/2 large white onion, diced
3 cups of canned low sodium garbanzo beans, drained and rinsed
1 1/2 tablespoons olive oil
16 ounces baby spinach, washed
2 teaspoons chopped garlic
Instructions
Heat olive oil in pan.
Add onion and sauté for 2-3 minutes
Stir in garlic and saute another minute
Pour in tomatoes and cook a minute
Add garbanzo beans and cook for 10 minutes and 3-4 tablespoons water or vegetable broth
Fold in baby spinach and taste to adjust for seasoning.