Easy Chickpea Patties
These Easy Chickpea Patties are slightly crispy on the outside and tender and moist and flavorful on the inside. Serve them with plain Greek yogurt or a tzatziki sauce.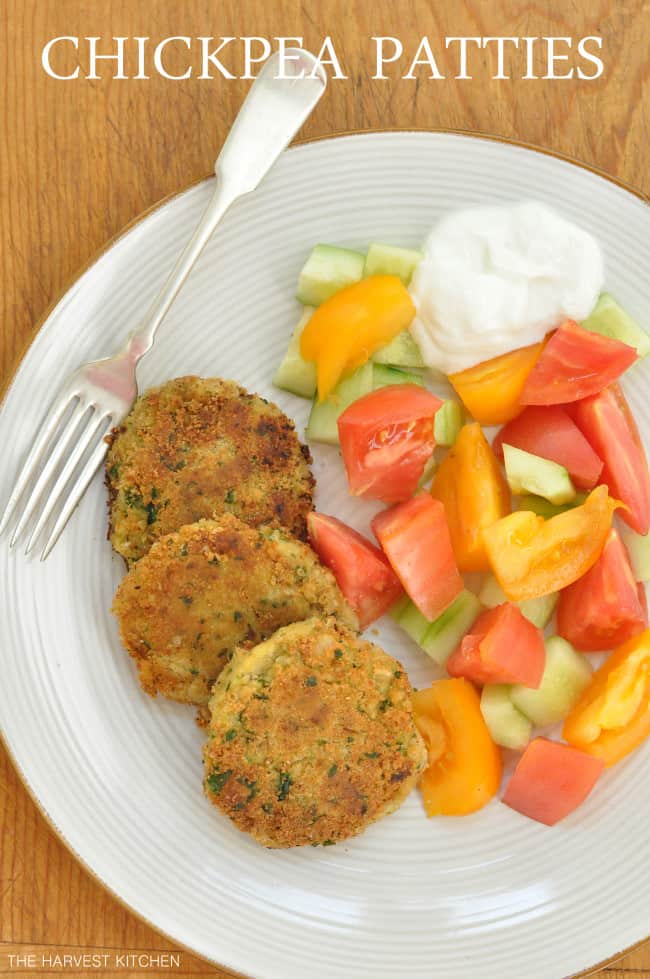 These Easy Chickpea Patties are more commonly known as Falafel, and they're often times served inside pita bread. But… since I'm staying clear of breads, I enjoy these chickpea patties with some heirloom tomatoes and a side of plain yogurt or tzatziki sauce.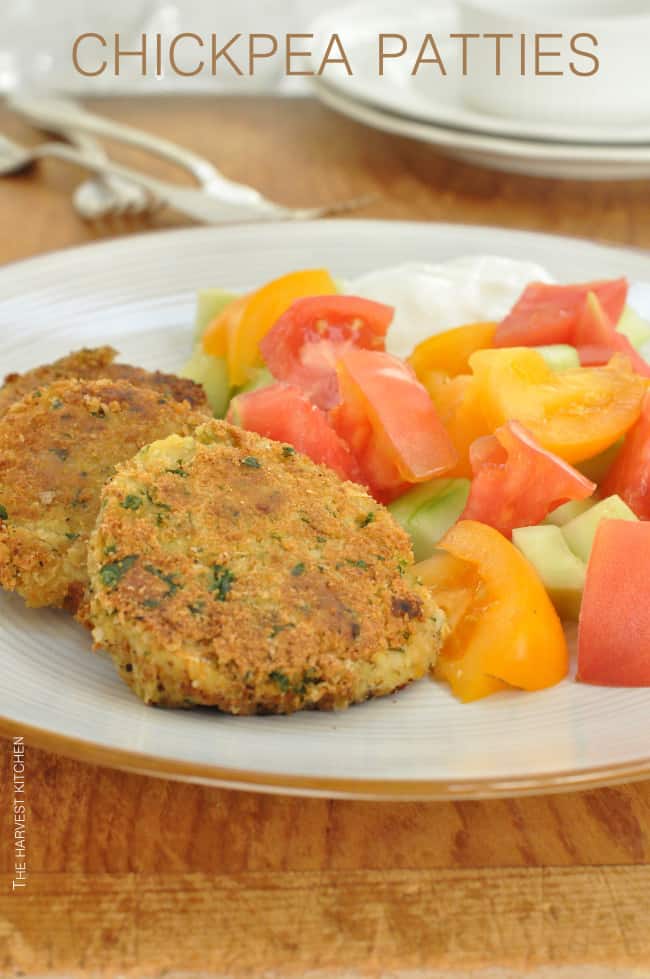 These Easy Chickpea Patties are slightly crispy on the outside and tender, moist and flavorful on the inside. If you make these patties on the small side – they make for a tasty appetizer to serve when you're having guests over for a glass of wine or a beer. You can make the mixture up, shape them into rounds, then freeze them for up to 2 months. That way you'll have them on hand when you need to whip up an appetizer for guests at the last minute.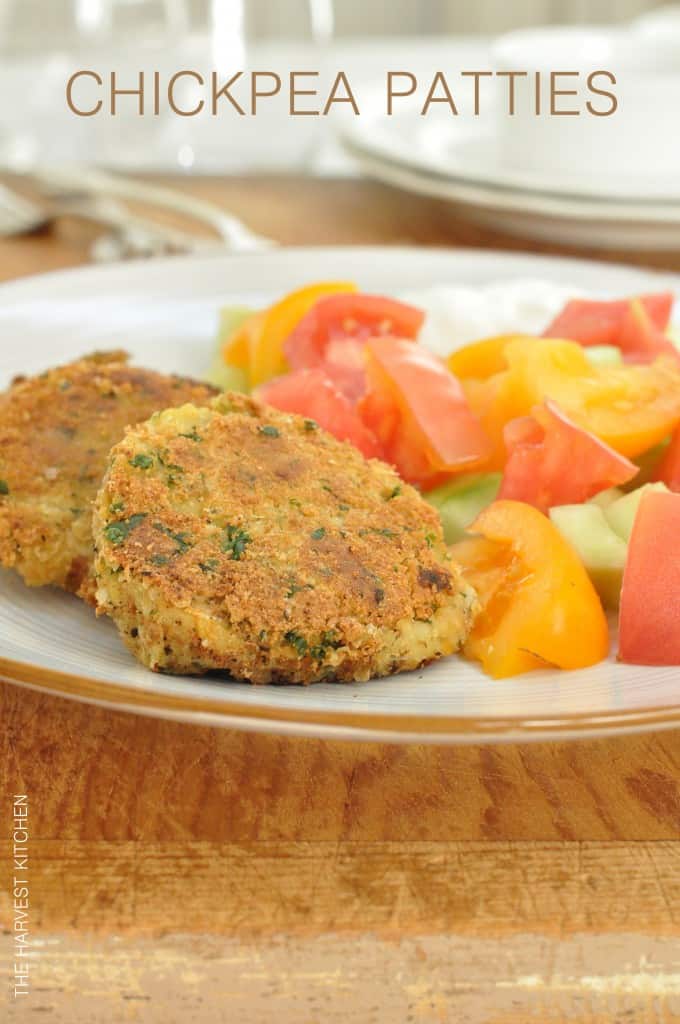 I use much…much less oil than other recipes call for to fry these patties. My days of deep-frying are pretty much over, so these patties are lightly fried in little oil to keep them on the light and healthy side.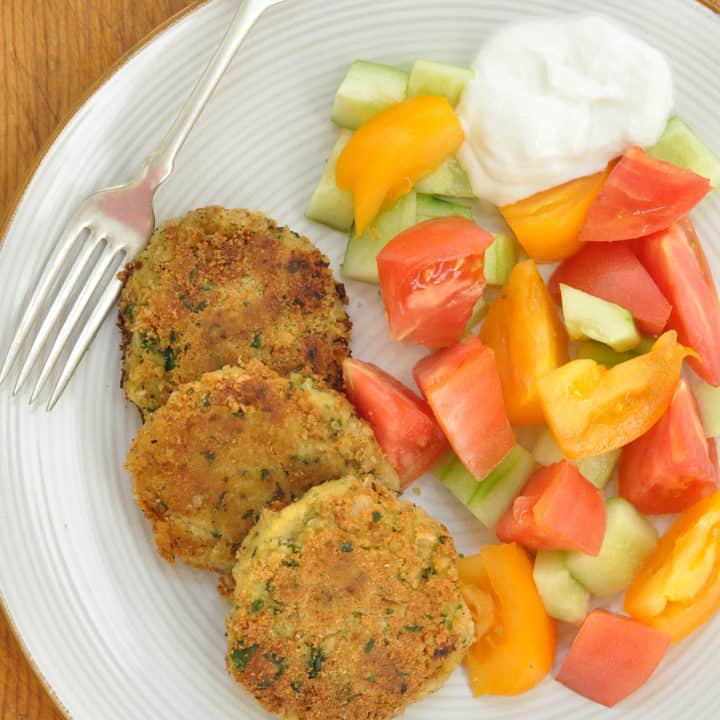 Yield: 8 - 12 servings
Chickpea Patties
Total Time
1 hour
10 minutes
Ingredients
1 15-ounce can chickpeas(or 1-3/4 cups cooked dried chickpeas), rinsed and drained
1/2 large onion chopped
2 garlic cloves, minced
1 inch piece of ginger, finely chopped
1/2 cup fresh cilantro, chopped
1/2 cup fresh flat-leaf parsley, chopped
1 teaspoon ground cumin
1/2 teaspoon coriander
1 teaspoon onion powder
1/2 teaspoon garlic powder
1 teaspoon sea salt
1/4 teaspoon baking soda
1/2 cup extra-virgin olive oil (for frying)
Instructions
Pulse the garbanzo beans in a food processor until they are chopped and resemble sand. Don't process into paste.
Transfer the ground beans to a bowl.
Combine the onion, ginger, garlic, cilantro and parsley in the food processor and pulse until finely ground. Do not puree.
Add a cople of tablespoons of water if needed to scrape down the sides.
Transfer the mixture to the bowl with the ground garbanzo beans.
Add the coriander, cumin, salt and pepper.
Refrigerate for an hour or more.
Scoop rounded tablespoons full of the mixture and shape into discs.
Heat a few tablespoons of oil in a large skillet over medium heat.
Place the patties into the pan and fry for 2 to 3 minutes on each side until lightly golden and crispy. Repeat with the oil and the remaining mixture.
Serve falafel with tomatoes and garlic sauce.