Easy Coconut Curry Vegetables and Beans
This post may contain affiliate links.
Easy Coconut Curry Vegetables and Beans is a delicious mix of vegetables simmered in a silky coconut curry sauce. Great served as a side dish with rice or quinoa and grilled chicken or you can serve it as a vegan main.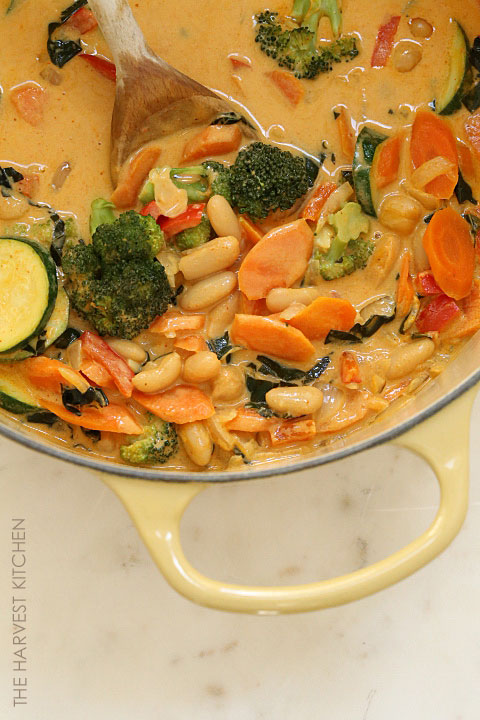 This vegetable stew recipe is a richly flavored mix of vegetables and soft buttery cannellini beans simmered in a simple curry sauce.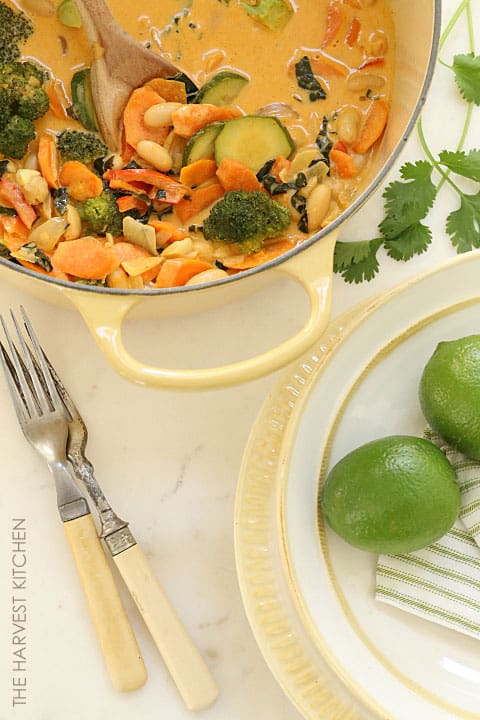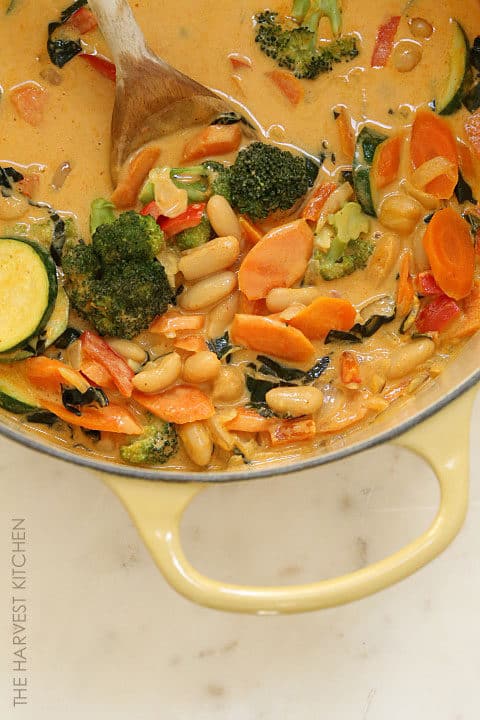 Yield: 4 servings
Coconut Curry Veggies and Beans
Ingredients
3 tablespoons coconut oil
1/2 onion, diced
2 teaspoons garlic, minced
1 teaspoon fresh ginger, peeled and minced
1 cup broccoli florettes
1 cup lacinato kale, thinly sliced
1 large carrot, peeled and thinly sliced
½ red pepper, thinly sliced
2 14-ounce cans coconut milk
3 tablespoons red curry paste
2 teaspoons curry powder
juice of 1 lime
1 zucchini, thinly sliced
1 15-ounce can cannellini beans
1/4 cup raw almonds
4 tablespoons hemp seeds
fresh cilantro sprigs for garnish
Instructions
Heat the oil in a large skillet or Dutch oven.
Add the onions, broccoli, kale, carrots, red peppers and sauté over medium-high heat 5-6 minutes until veggies are tender.
Add garlic and cook another minute or so until garlic is fragrant.
Add coconut milk, red curry paste, lime juice, curry powder and beans.
Add the beans and continue to cook for another 3 to 5 minutes, or until the beans are heated through.
Serve warm over rice or quinoa and top with almonds, hemp seeds and cilantro.