Immune Boosting Flavored Ice Cubes
Yum
Transform plain water into a delicious glass of refreshing flavored water with these Immune Boosting Flavored Ice Cubes.  You'll be happily sipping water all day long!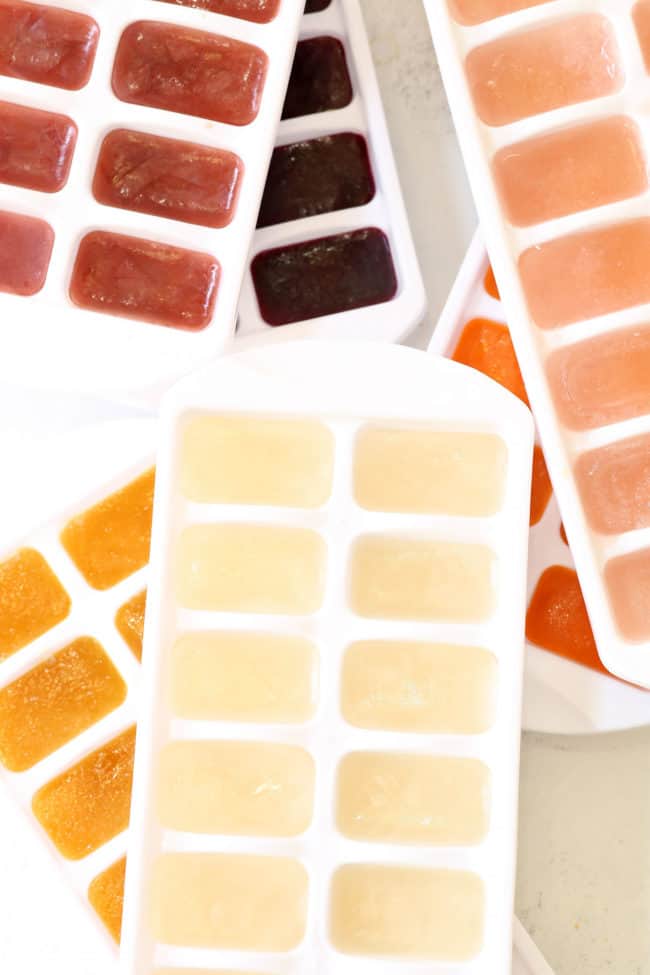 Flavor your water and boost your immune system with these Immune Boosting Flavored Ice Cubes. These fruit juice ice cubes are made with unsweetened bottled juice, freshly squeezed fruit and vegetable juices,  which adds vitamins, minerals, antioxidants and anti-inflammatory goodness to your plain water.  It's so refreshing, it will quickly become your new favorite drink.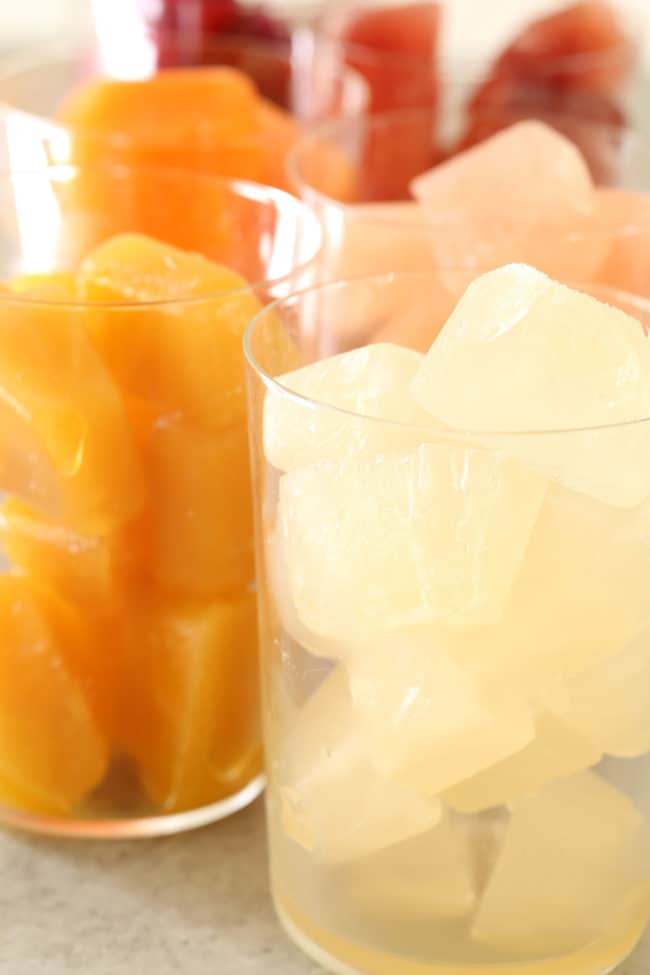 Hydration is vital to overall health, yet drinking 8 glasses of water daily can be a stretch for some. Adding a little flavor and a pop of color to your water with these flavored ice cubes will help you stay hydrated during the day.  If I have a little added flavor to my water …and a straw…I can happily down my daily intake of water.  If you're not a big water drinker, try adding a few juice ice cubes to your water, and soon it will become habit forming to you.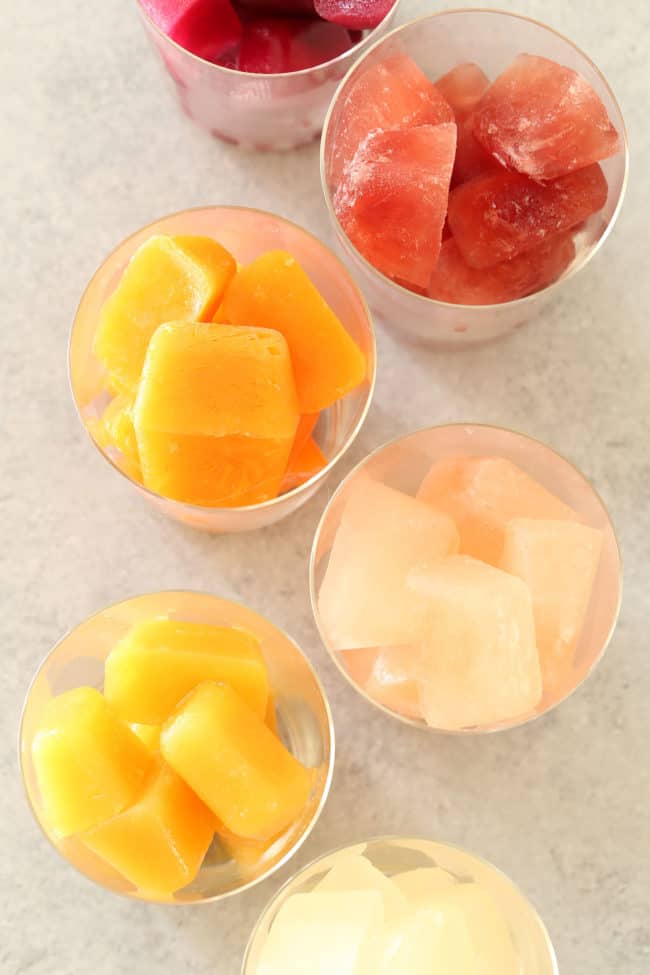 A few benefits of drinking plenty of water during the day is it helps to provide more energy.  It transports vital nutrients and oxygen to every cell in our body.   And it helps to rid our bodies of toxins (detox process).  It also makes your complexion plump and glowing!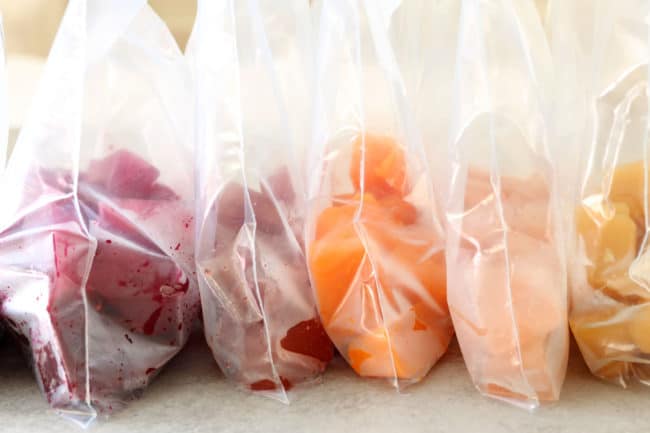 If you are dehydrated, some of the biggest side effects can be headaches, lack of energy,  a weakened immune system (frequent colds and slow wound healing), foggy thinking. Dehydration can happen to anyone, but some people are at a greater risk, such as athletes who are in training and perform endurance events.  People with chronic illnesses. Infants, children and older folks. Dehydration in the elderly is quite common.  If you have a senior loved-one who has a tendency of getting dehydrated, you might find this article of interest.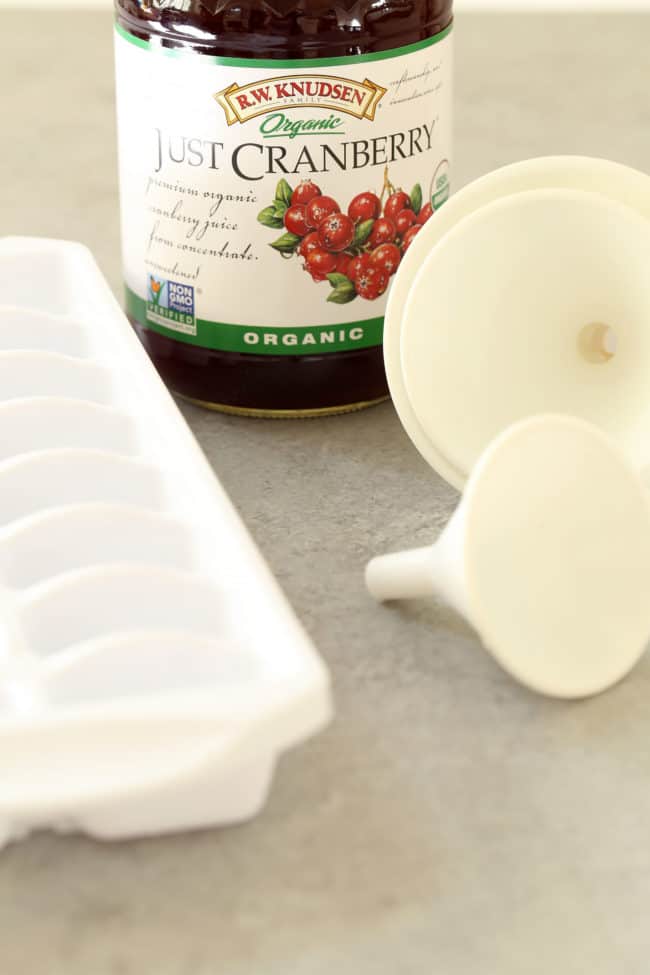 I have several ice cube trays (that I purchased at Target) that I fill by pouring my favorite juices through this funnel (also purchased at Target).  I use the funnel because of less spillage and less mess.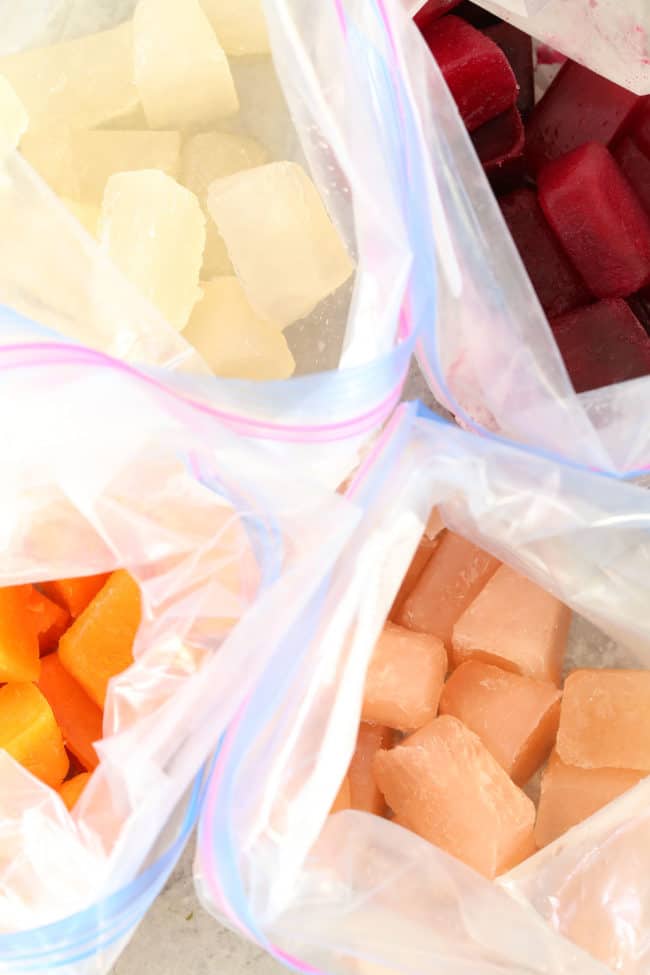 After the cubes are frozen – I store them in freezer bags in the freezer.  It's nice to keep an assortment of flavors in the freezer to switch things up.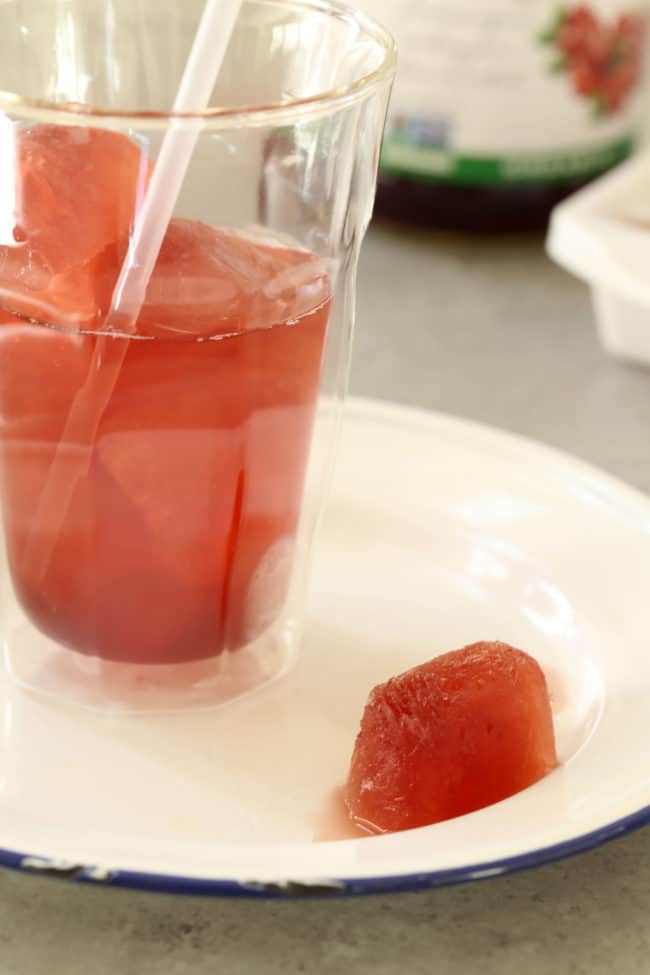 Pop a few in a tall glass of water and enjoy!
You can make your flavored ice cubes with cranberry juice (my personal favorite), pineapple juice (second favorite), orange-carrot juice, healthy lemonade, pink lemonade, grape juice, and my favorite beet, apple, ginger and parsley juice blend.  Sometimes when I buy myself a juice blend at my favorite health food store, I'll buy an extra to freeze into ice cubes.  I also love to make green tea ice cubes!  Have fun creating your own personal favorite healthy cubes to add to your water.
Besides transforming water into something delicious, try adding a few of these juice cubes in a blender and make crushed ice for a frozen snack for your kiddos.  They'll love it during the summer months!!  I did when I was a kid!!
~ Deb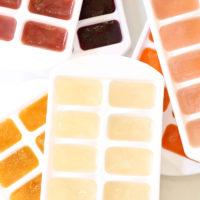 Immune Boosting Flavored Ice Cubes
Total Time: 3-4 hours freezing time
Ingredients:
Unsweetened bottle juices and freshly juiced fruits and vegetables.
Unsweetened green tea or sweetened with honey.
Directions:
Pour your favorite juices into ice cube trays.
Freeze for 3-4 hours or overnight until frozen.
Remove the ice cubes from the ice cube trays and add to freezer bags.
Store in the freezer.
Leave a Comment