Best Flavored Water
This post may contain affiliate links.
The Best Flavored Water to drink is made with all natural ingredients. Up your water-drinking game by adding fruits and herbs to your water, which is the best healthy water flavoring (natural water flavoring), you can make.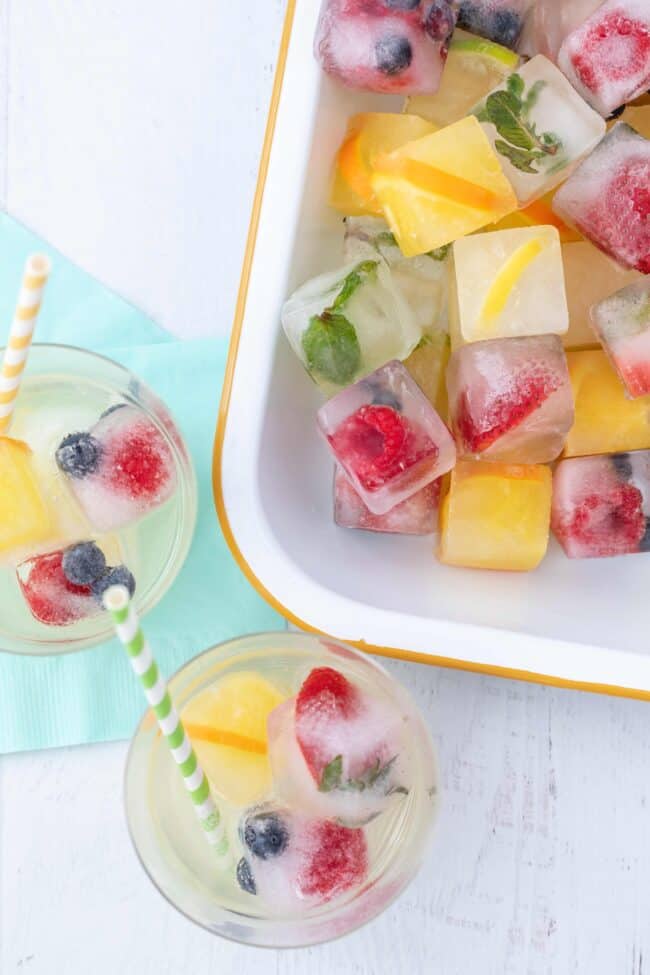 Homemade fruit flavored water is easy to make, contains no artificial sweeteners or flavoring, and it makes the best natural water flavoring and best healthy water flavoring you can drink.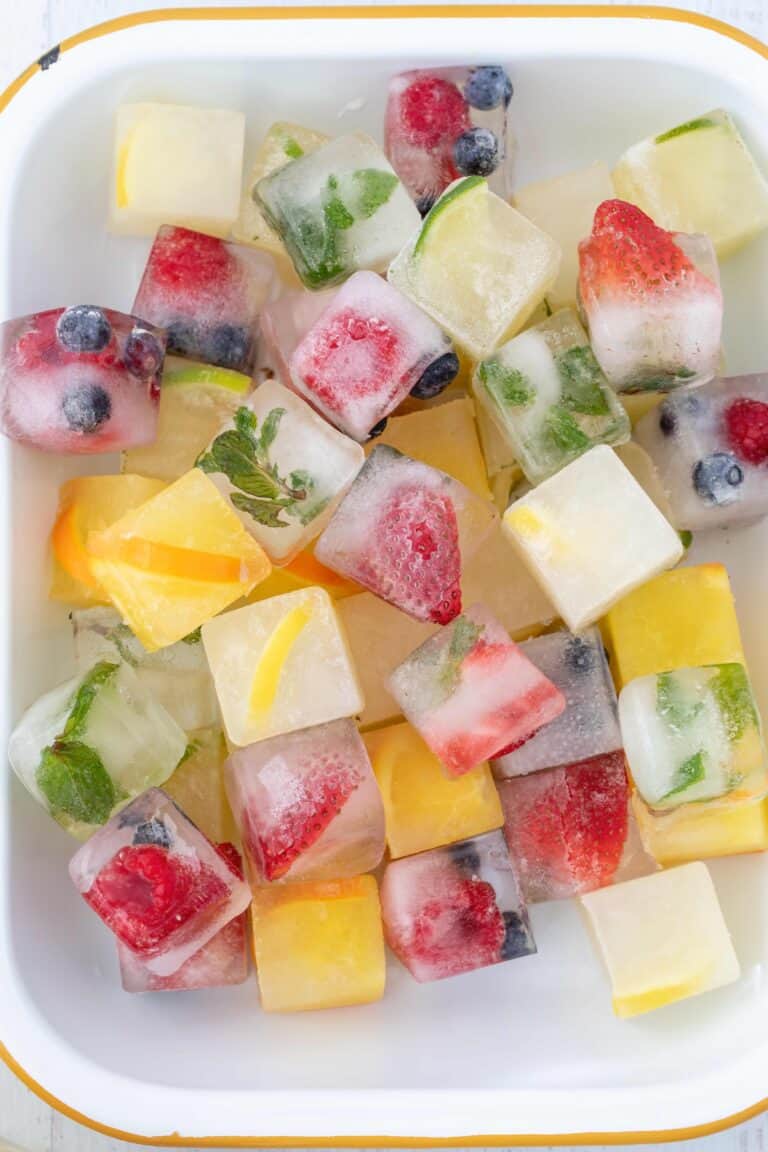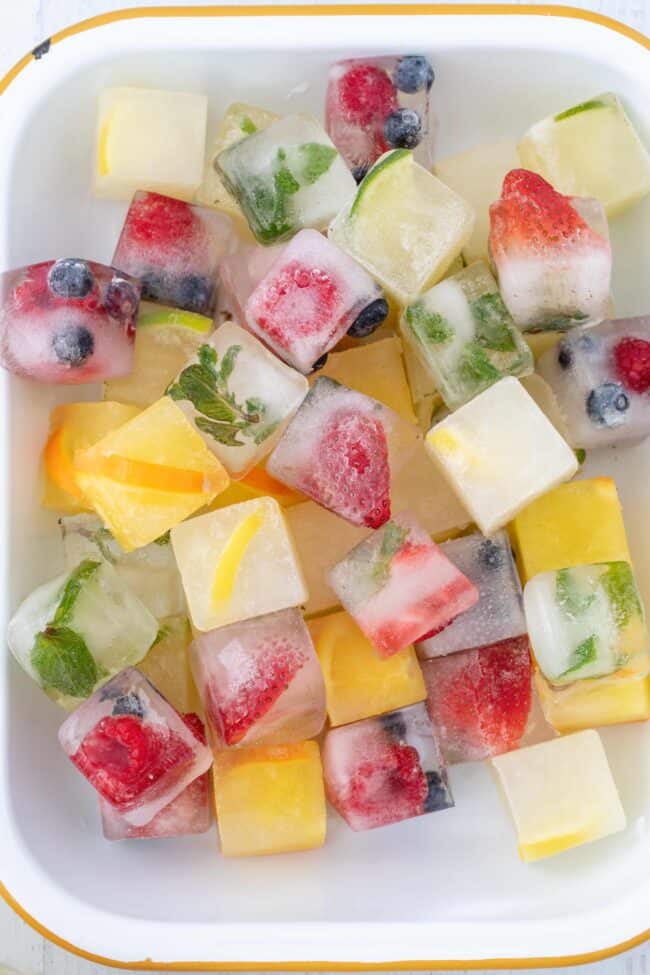 Benefits of Drinking Water
Drinking water is important to keep each system in our body functioning properly. Staying hydrated helps to carry nutrients and oxygen to our cells, promotes digestion, normalizes blood pressure, stabilizes the heartbeat, helps balance electrolytes, strengthens immune system, cushions joints and protects organs and tissues, stimulates metabolism and aids weight loss. (1)
Dehydration
Some people are at a greater risk for dehydration, such as athletes who are in training and perform endurance events, people with chronic illnesses, infants, children and seniors. Dehydration in the elderly is quite common. Adding flavor ice to a glass of water may make water more appealing for them to drink. Here are some of the more common symptoms of dehydration"
Headaches
Lack of energy
Feeling tired
Foggy thinking
Weakened immune system (frequent colds and slow would healing)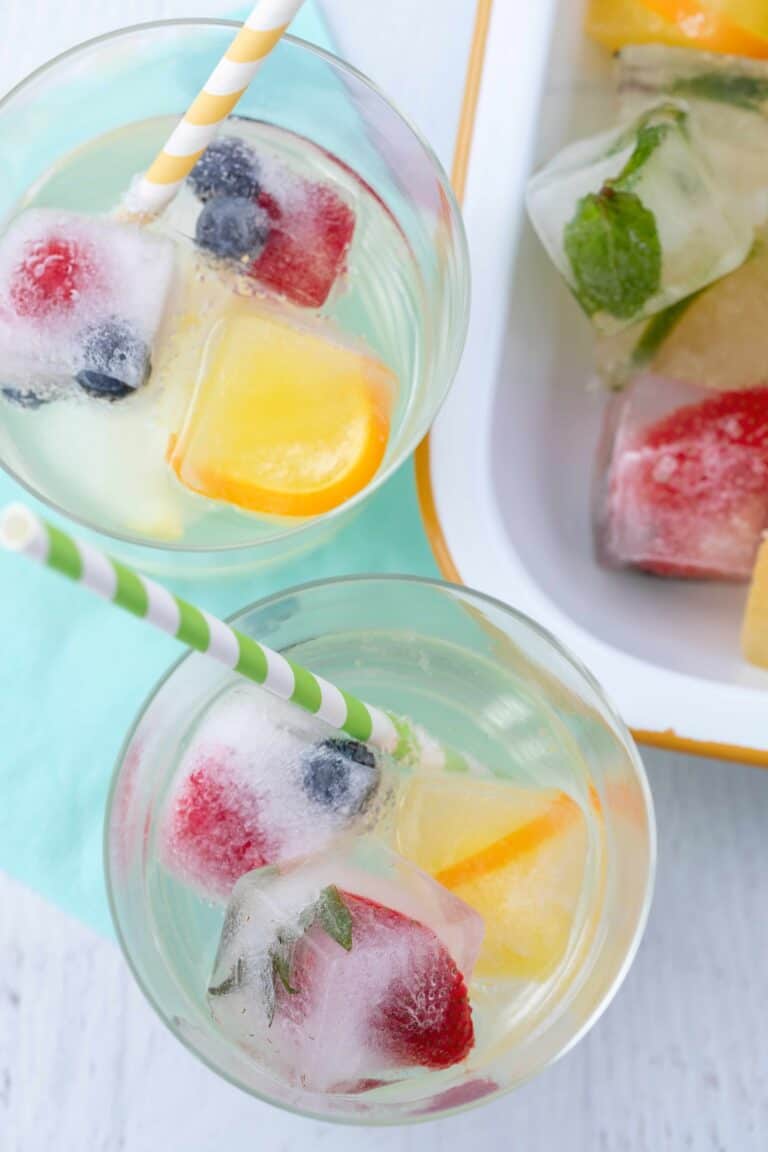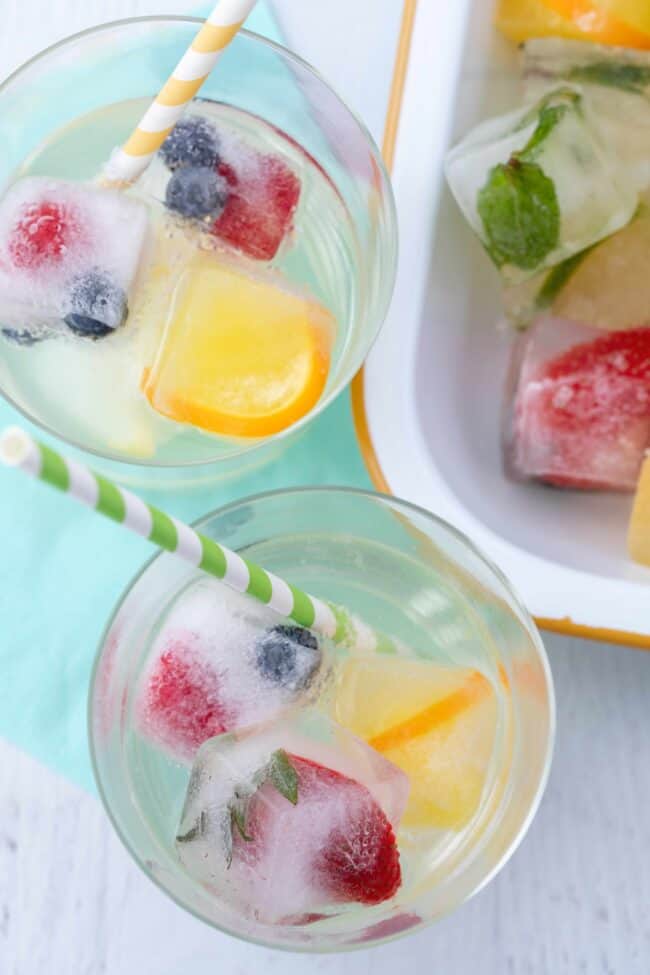 Tips To Help You Stay Hydrated
We all know that staying properly hydrated is essential for optimal health, but sometimes drinking plain water, with its lack of flavor, can get a little boring. That's why making healthy water flavoring by adding a splash fruit juice, or slices of lemon, lime and orange, or fruit ice cubes to your water glass adds just that bit of flavor making it a lot easier for us to drink up.
Keep a pitcher of pretty detox water with fresh fruit and herbs in the fridge so you're likely to reach for it instead of a soda or sports drink
Take a bottle of water with you wherever you go
Add fresh fruit, berries and herbs to your water bottle or glass of water
Drink infused water out of pretty wine glasses
Keep a variety of fruit flavored ice cubes in freezer bags in your freezer so you can conveniently add them to your water
Whenever you finish drinking a bottle of water (or glass of water) reach for another one to drink
Drink water instead of drinking sugary and high calorie sodas, sports drinks and sweetened coffee
Fruit Infused Water
Adding fruit infused water made with fresh fruits, vegetables and herbs to your daily wellness plan can help boost your immune system, increase energy, aid with digestion, promote weight loss and more. Fruit infused water is simply water infused with fruits (like lemons, cucumber, watermelon, pineapple, apple, blueberries, and raspberries) and fresh herbs (like mint, basil, rosemary, parsley and cilantro). Here's how to make it:
Rinse and cut fruit
Add the fruit to a large pitcher or glass carafe (for best results slightly smash blueberries before inserting them into your pitcher or carafe)
Pour water over the fruit
Steep for 2-3 hours (overnight is best and more flavorful)
Pour into individual glasses (add ice cubes if you like)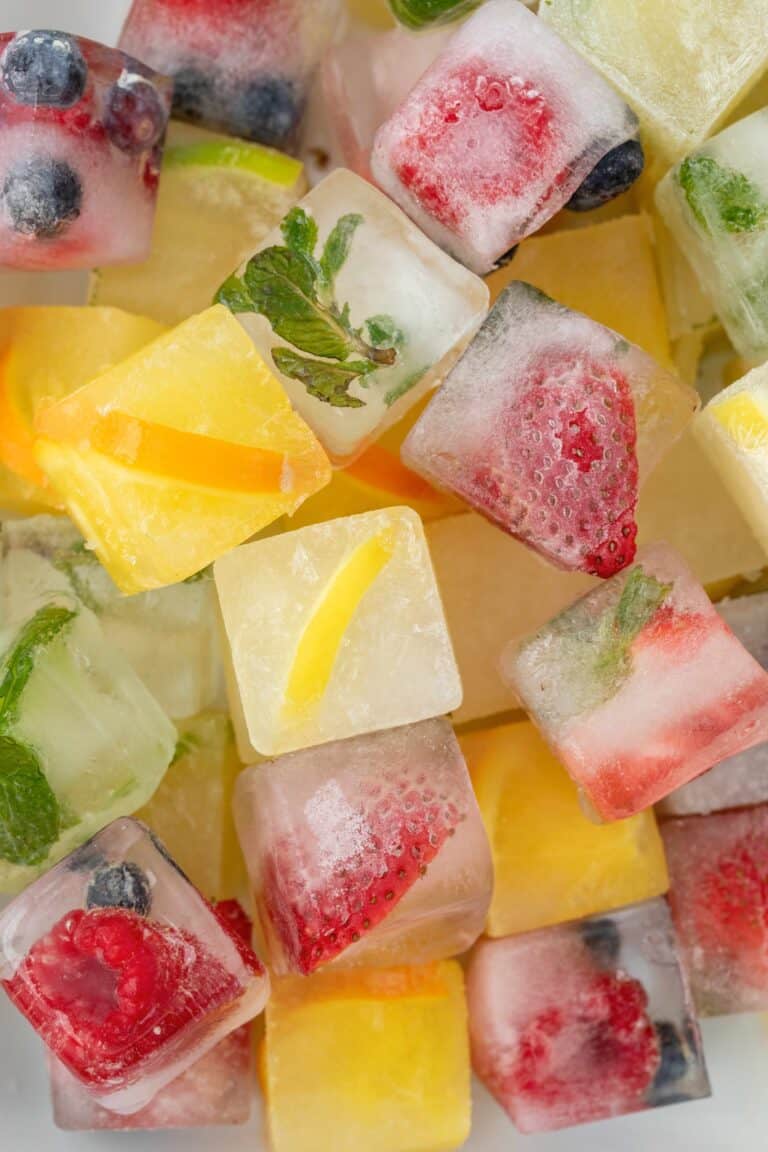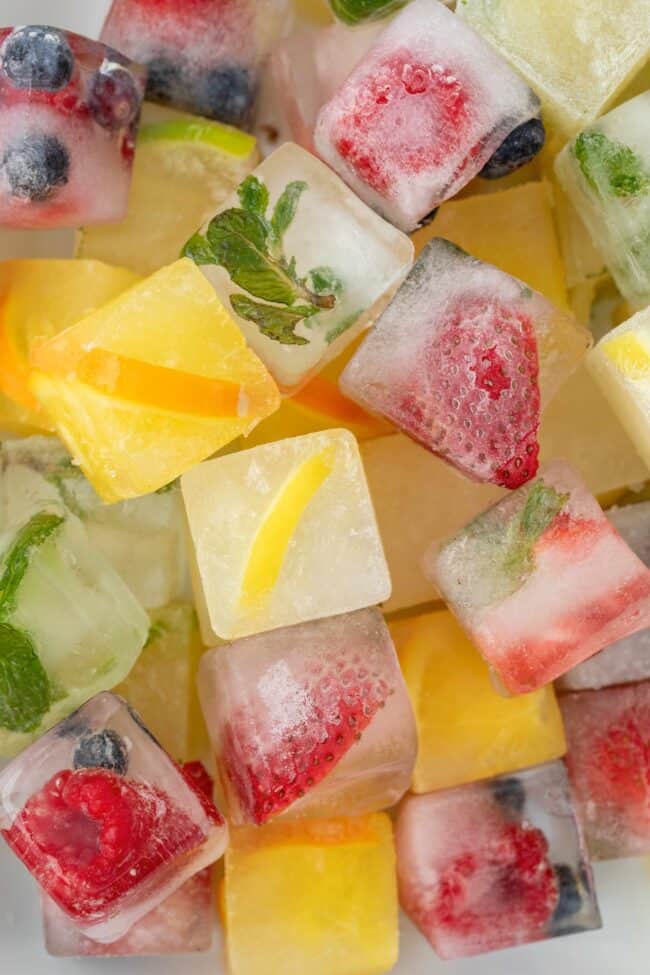 How to Make Flavored Water
Adding fresh fruit, unsweetened fruit juices and herbs to water make the best natural water flavoring (and the best healthy water flavoring) you can use. You don't need to buy the expensive flavored water brands at the store (many of which contain sugar, sweeteners and artificial flavoring), just make your own healthy water flavoring at home!
Fruit Infused Water: We're all familiar with adding lemon to water to make lemon water (many restaurants serve it as soon as you sit down), but there's so many other fruits you can use to make infused water (natural water flavoring) with. Here's a link to 25 Detox Water Recipes for you with ideas for making fruit infused water.
Flavored Ice Cubes: When making flavored ice cubes, use fresh fruits and fresh squeezed fruit juice. Add 2-3 fruit flavored ice cubes to a tall glass of water. As the ice cubes slowly melt, they'll add a refreshing natural water flavoring to your chilled water (along with a little vitamin and antioxidant boost). I've added links below for you with 10 of my favorite flavored water ice cube recipes.
Fruit Juice: Merely adding a splash of fruit juice or your favorite green drink to water makes a healthy water flavoring. Fill a glass or a water bottle with 1/4 cup of fruit juice, add 2-3 ice cubes, then fill the rest with water.
Tips for Making Flavored Water
If possible, choose fresh organic fruit and herbs and spring or purified water, or you can choose carbonated water to make flavored sparkling water.
Use fresh squeezed or fresh pressed juices from organic fruits and vegetables, or use unsweetened bottled fruit juices.
Exact measurements aren't necessary.
Make only a pitcher at a time (8 cups to last a day) because the fruit tends to get swollen and soggy.
When necessary, peel ingredients like melon, mango and ginger before chopping and slicing.
The next time you buy your favorite juice blend at the health food store, buy a second one to make ice cubes with.
Is Drinking Flavored Water the Same as Drinking Water
Yes it is if you make healthy water flavoring with fresh or frozen fruit, fruit juices and fresh herbs. Flavored Water made with these natural ingredients hydrates you just the same as plain water.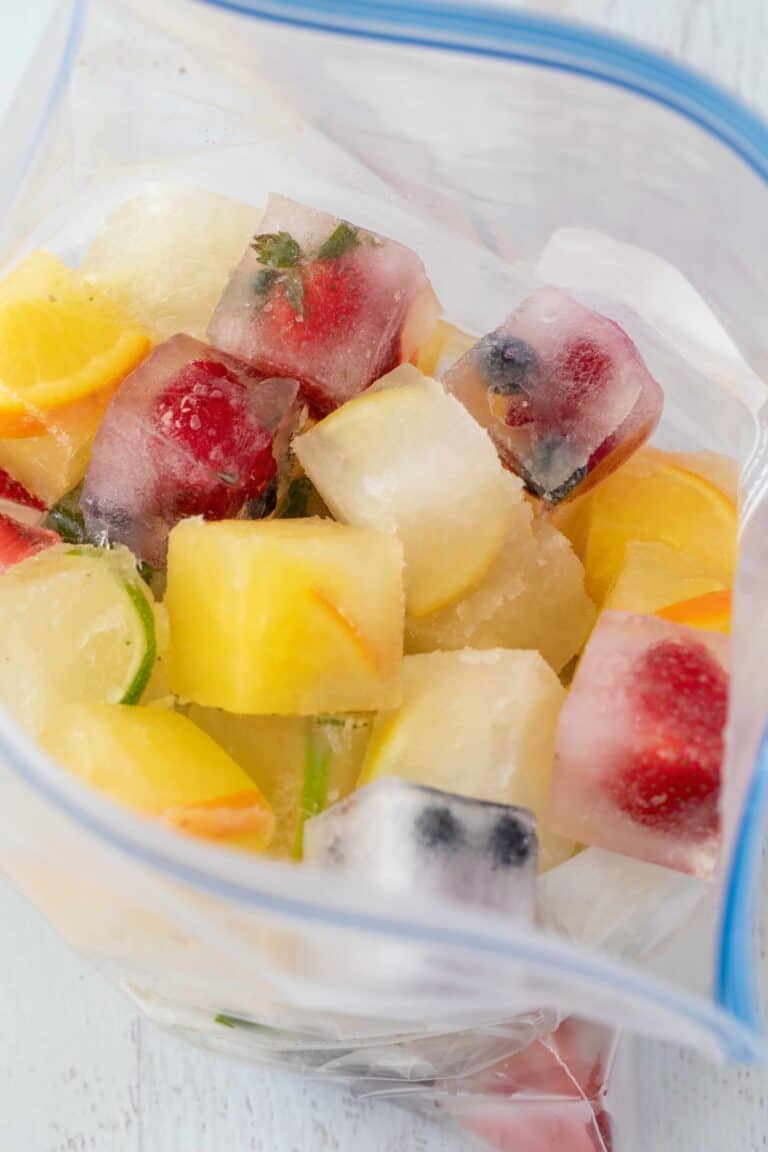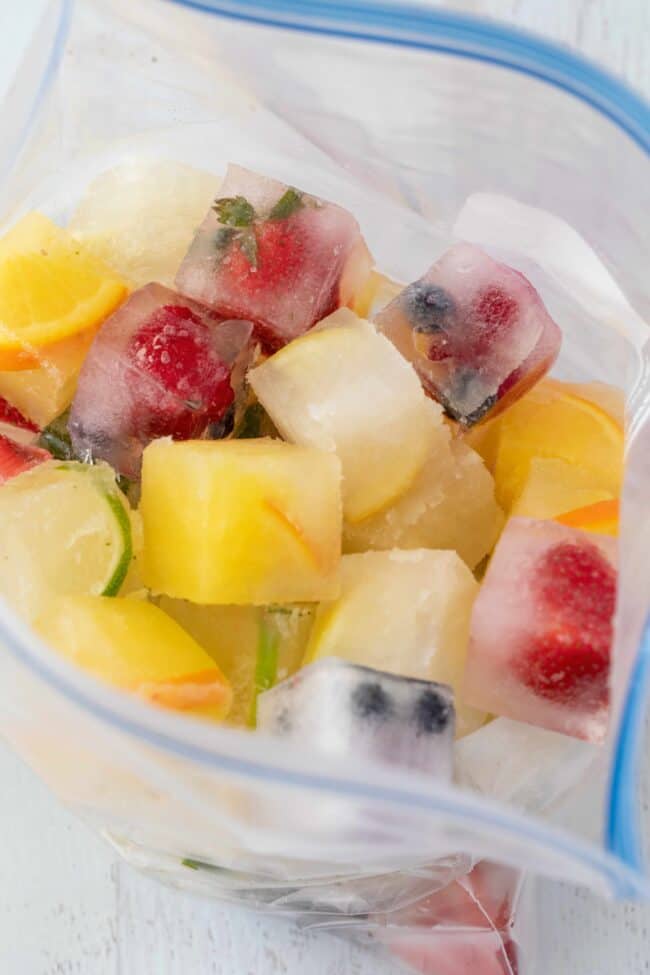 10 Flavored Ice Cubes Recipes
I like to keep freezer bags filled with flavored ice cubes stashed in my freezer for adding to water to help me stay hydrated during the day. These fruit flavored ice cubes add extra nutrients and a refreshing pop of flavor to each glass of water you drink. Besides being pretty, adding fruit ice cubes to your water is a great way to pamper yourself while providing your body with the hydration it needs for optimal health.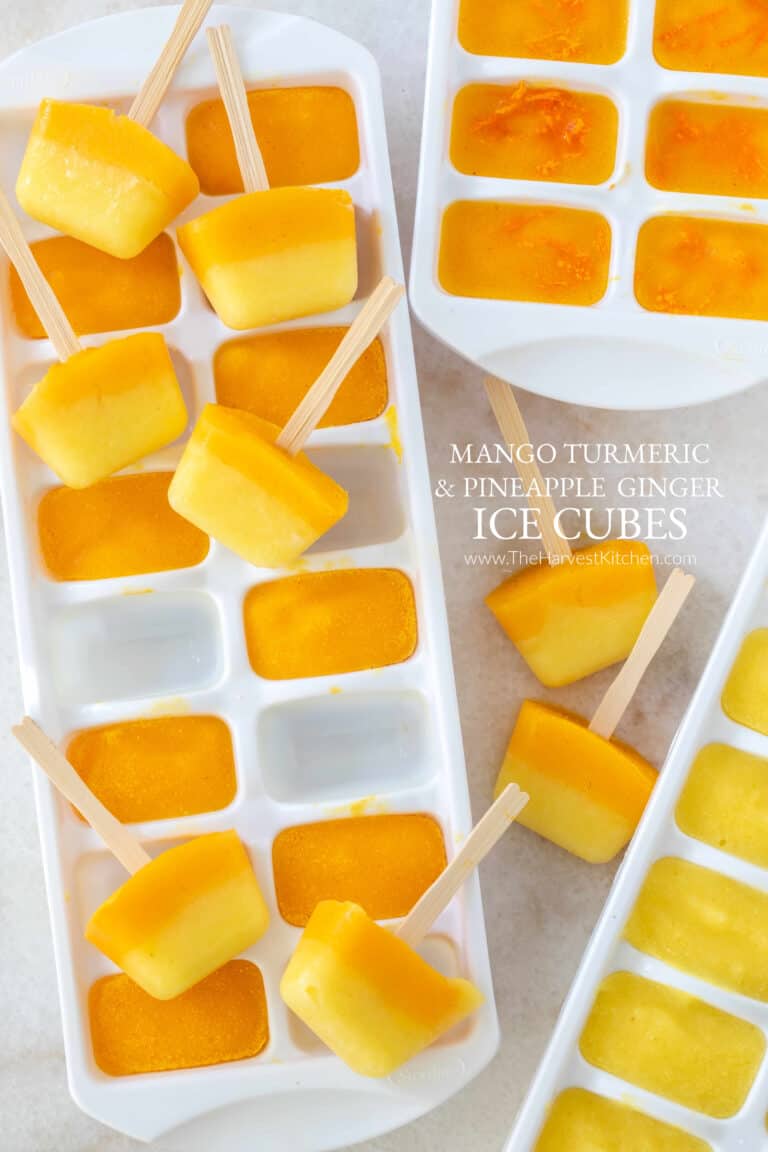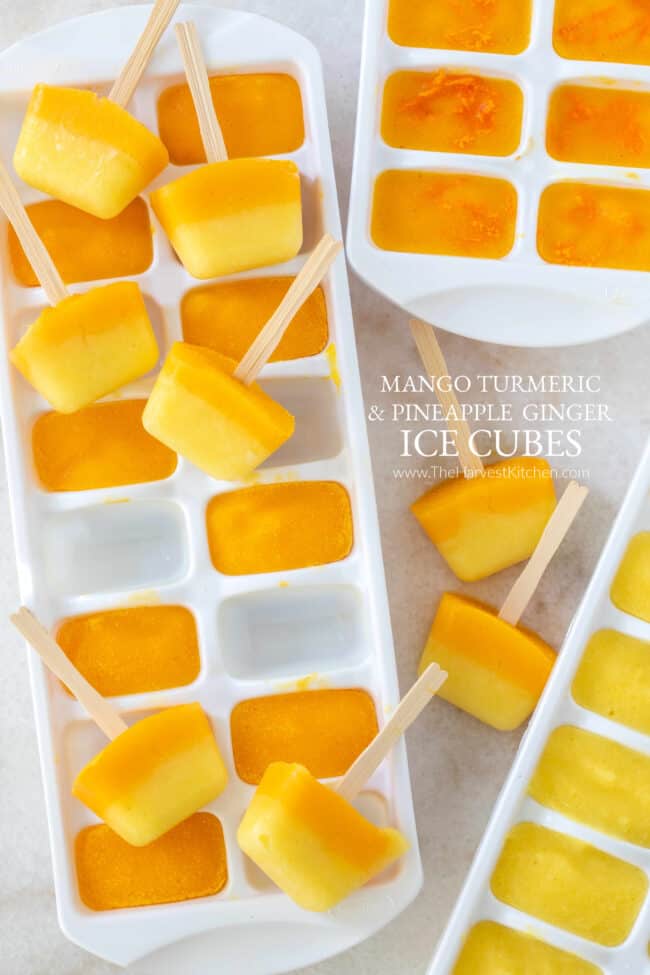 Made with pineapple, ginger, mango, turmeric and black pepper. Add them to water, tea, fruit smoothies, or poke a stick in them and have them as a snack. They're so good!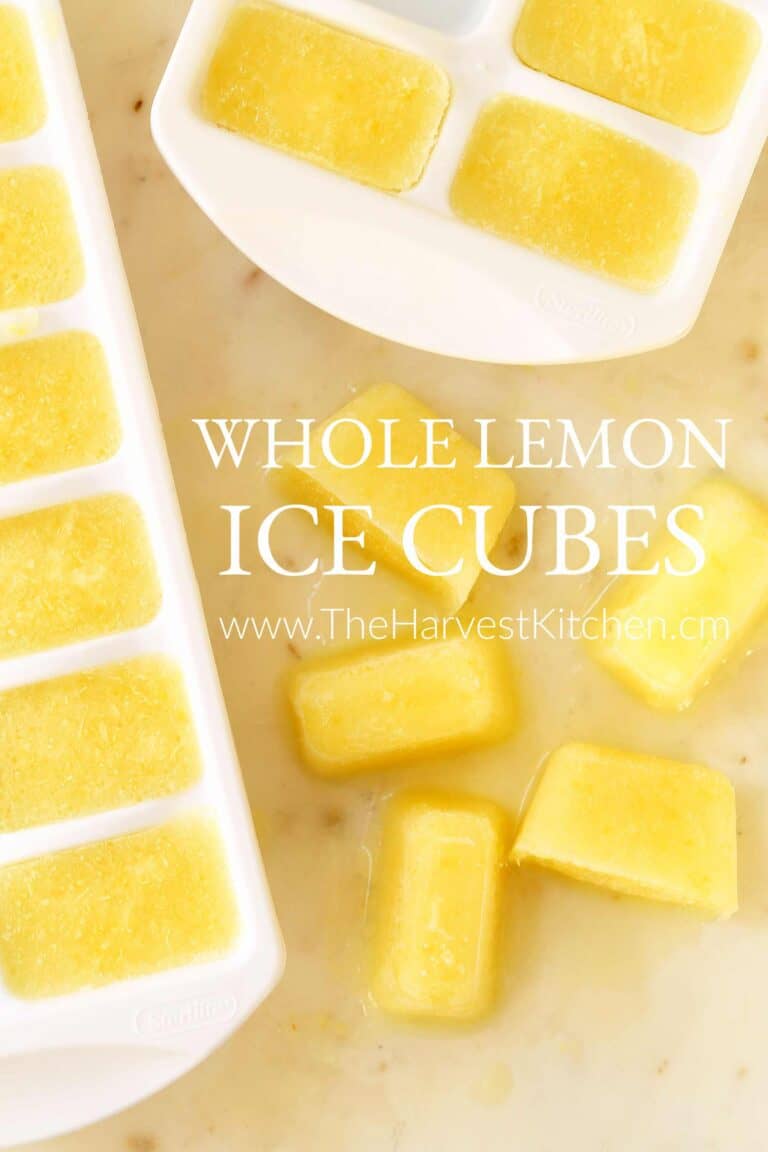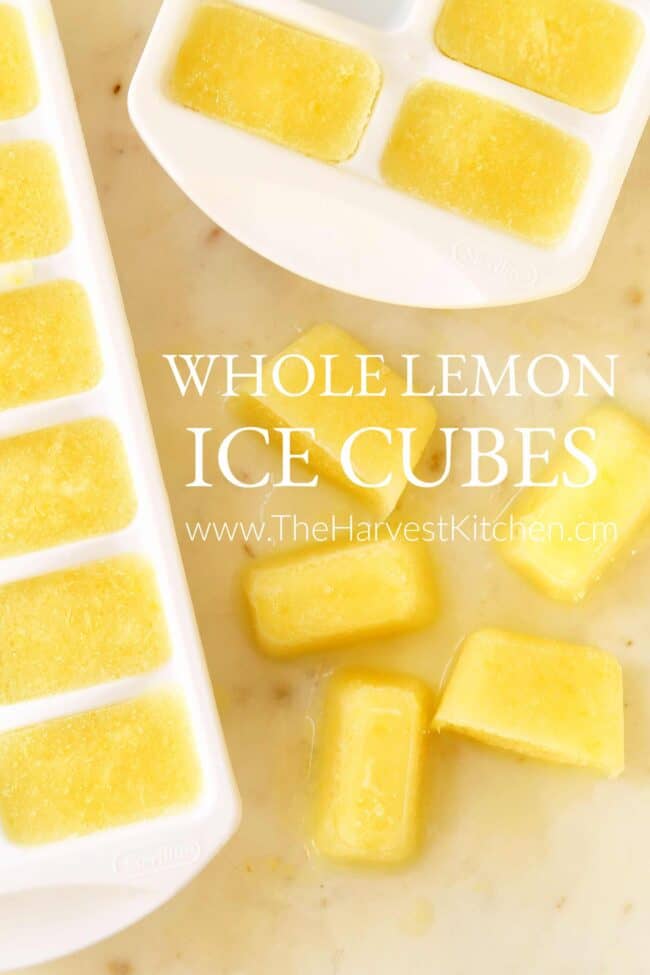 Immune Boosting Whole Lemon Ice Cubes
Made with the whole lemon (peel and all) and a little water. They're rich with vitamins, minerals, detoxifying, anti-inflammatory and immune boosting benefits. Add them to water (hot or cold).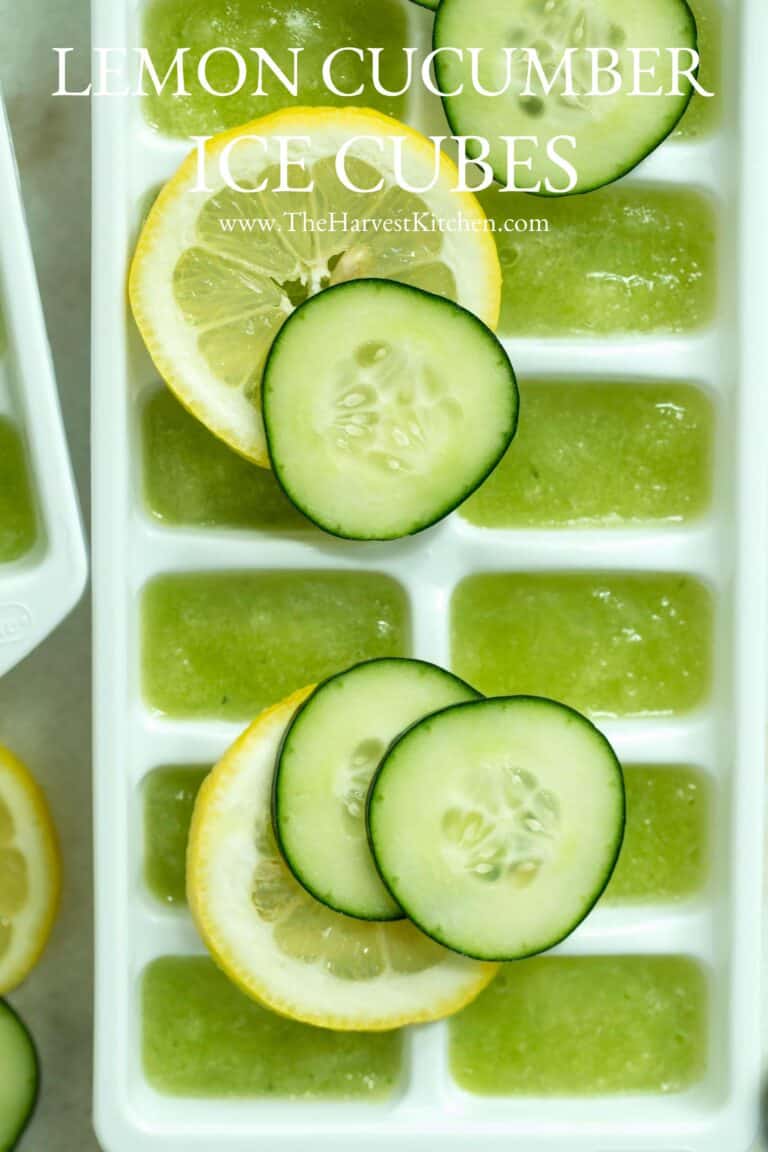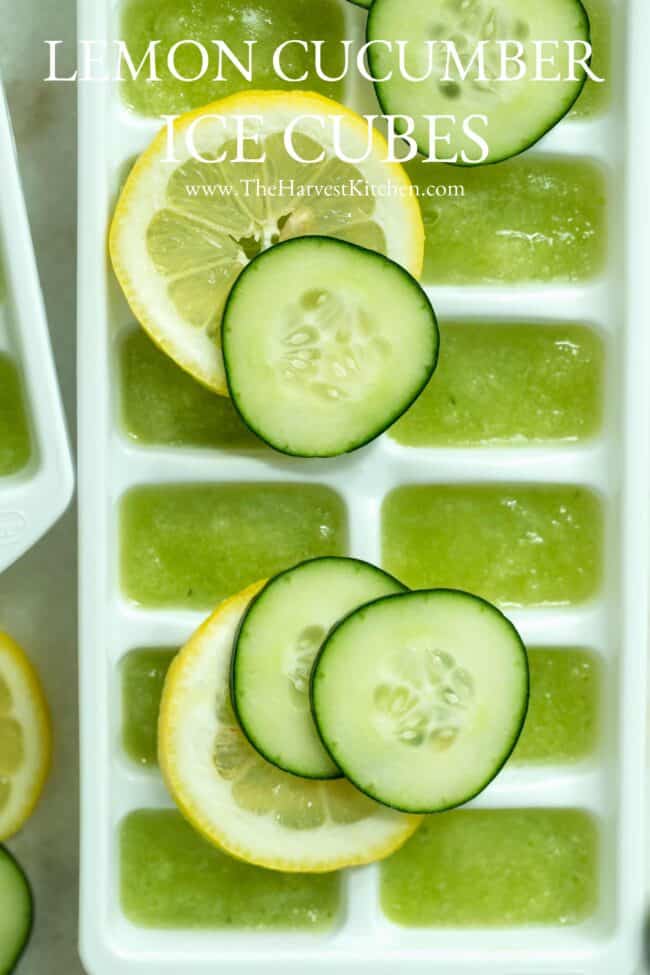 Hydrating Lemon Cucumber Ice Cubes
Made with peeled cucumbers and lemons. Add them to a glass of water to create spa-like cucumber lemon water.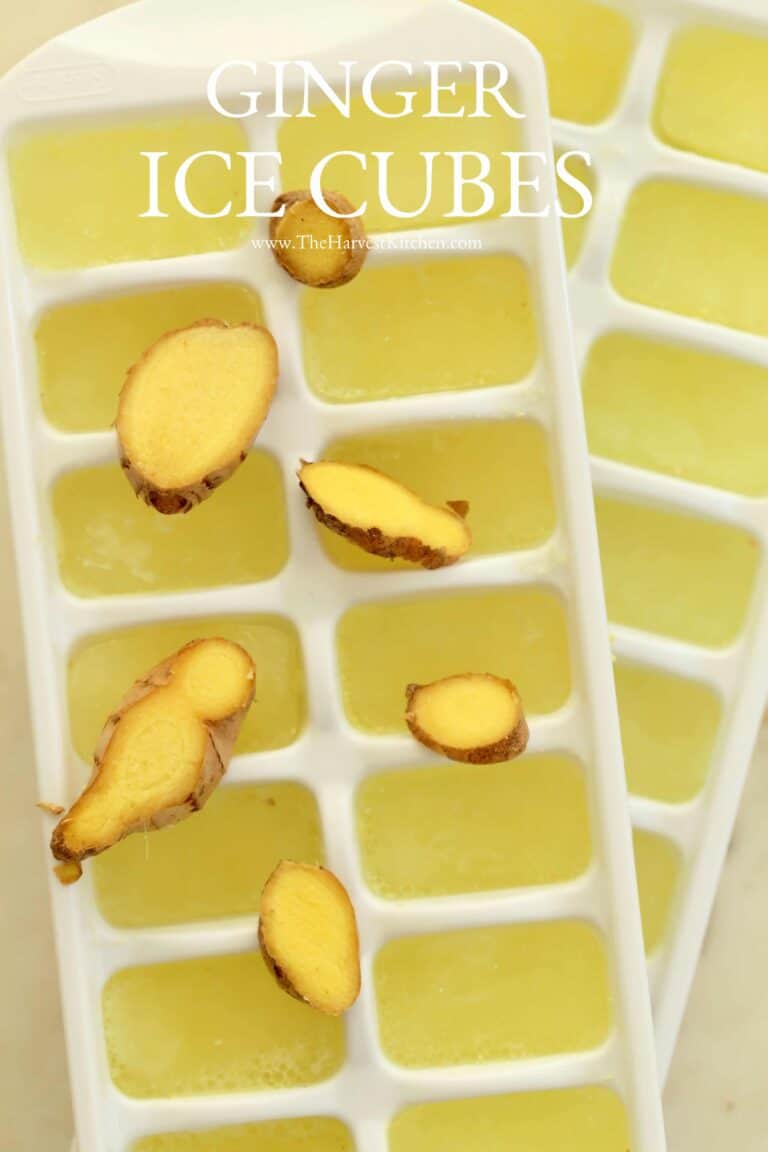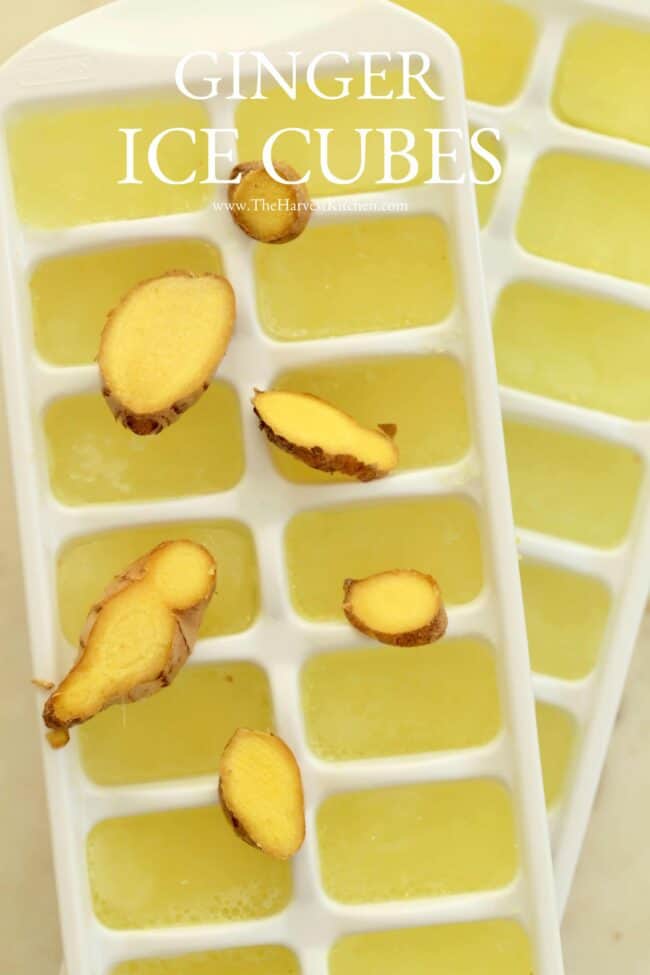 Anti Inflammatory Ginger Ice Cubes
Made with fresh peeled ginger root and water. They're great to a tall glass of water or a cup of hot water to make a quick ginger tea. You can also toss these ice cubes in homemade soups, stews and smoothies for added ginger flavor and benefits.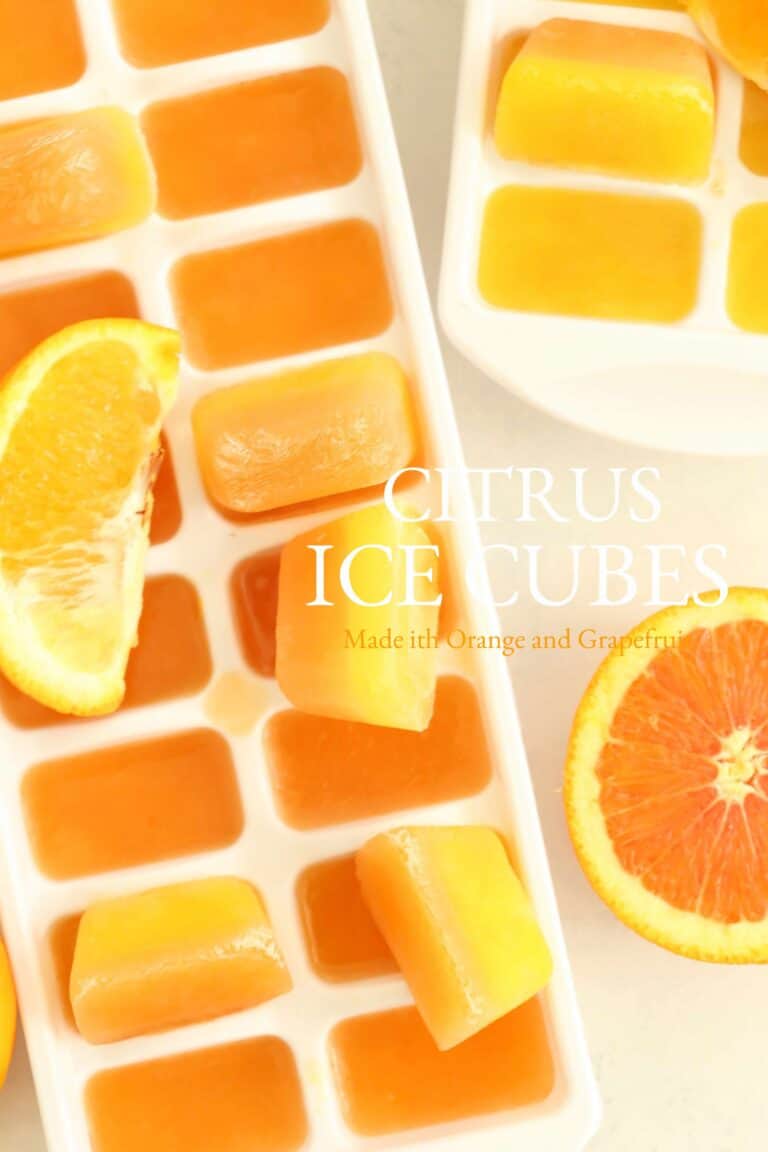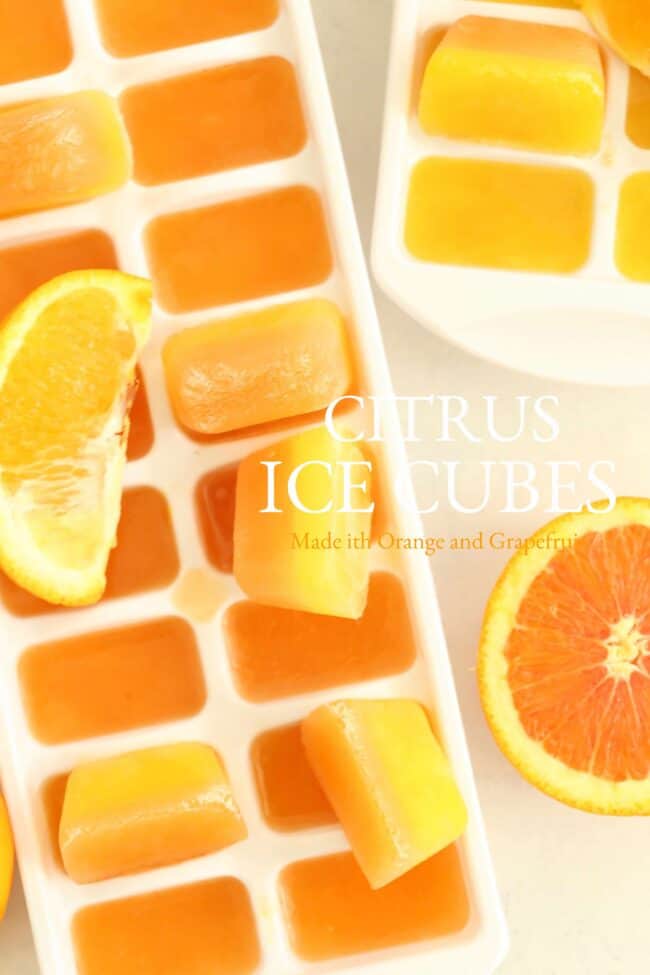 Cold Fighting Citrus Ice Cubes
Made with fresh orange juice and grapefruit juice. They're a great way to get extra Vitamin C during cold and flu season. Just add them to water (hot or cold).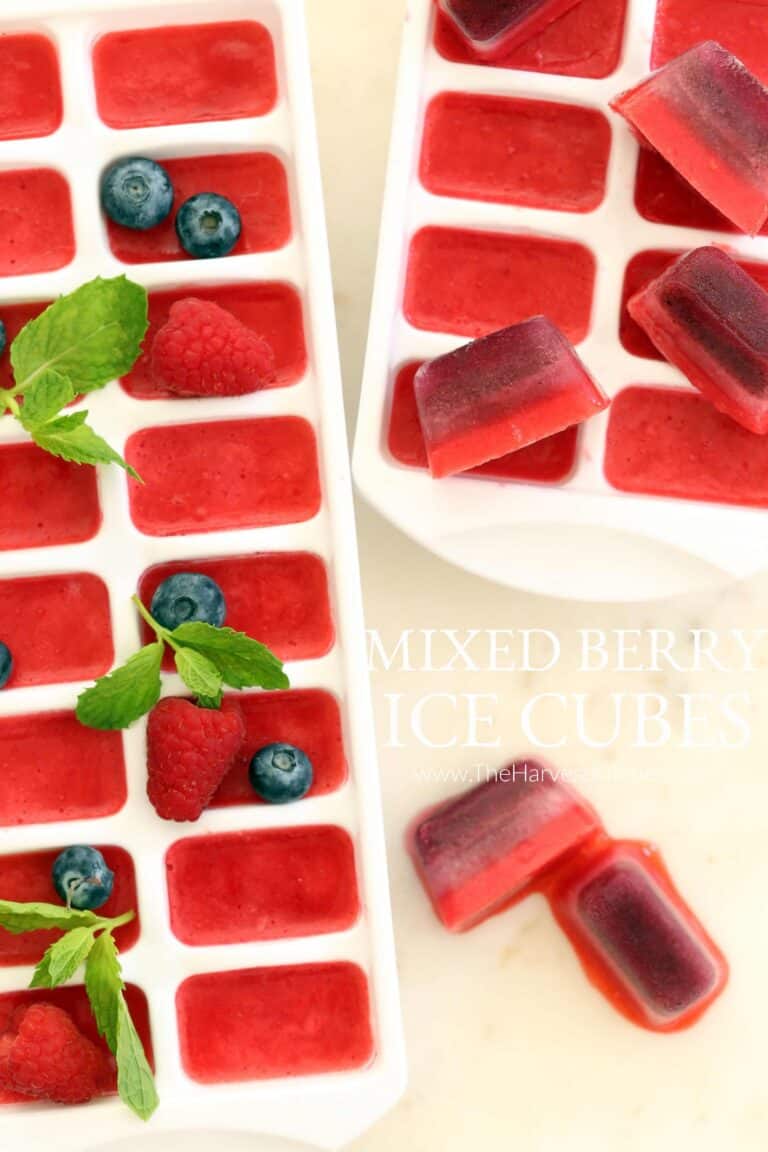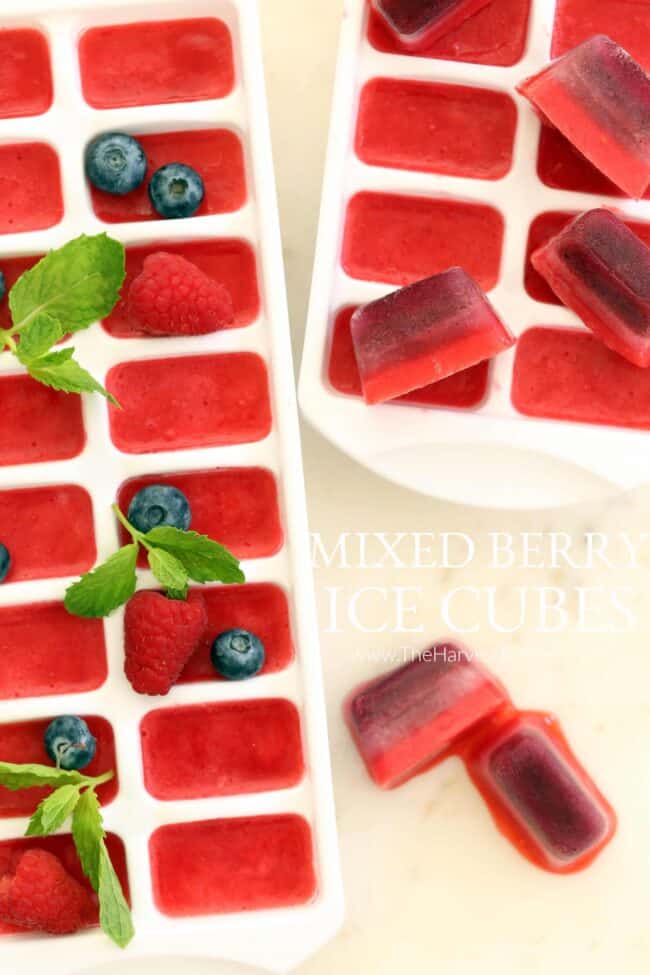 Made with blueberries and raspberries (fresh or frozen). I love adding them to water and they're also great to add to morning smoothies.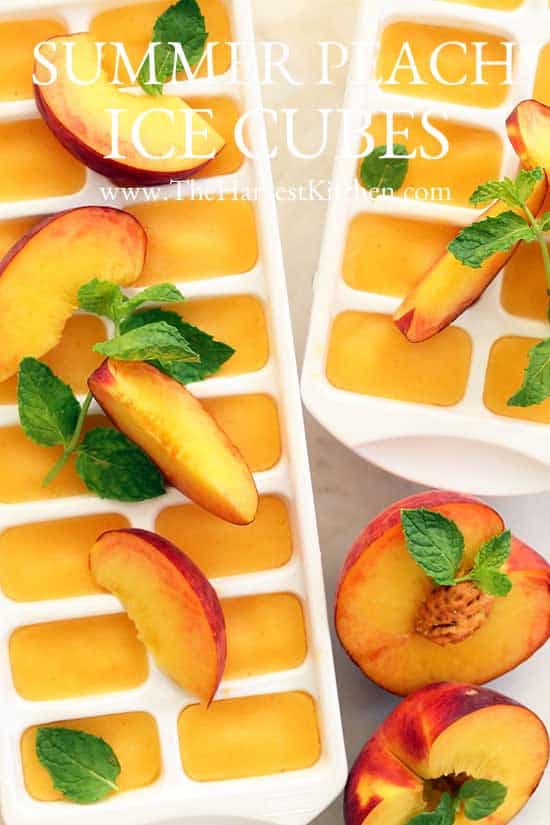 Made with peaches (fresh or frozen), lemon juice and honey. Add the cubes to water (plain or sparkling) or your favorite tea to make peach sweetened tea.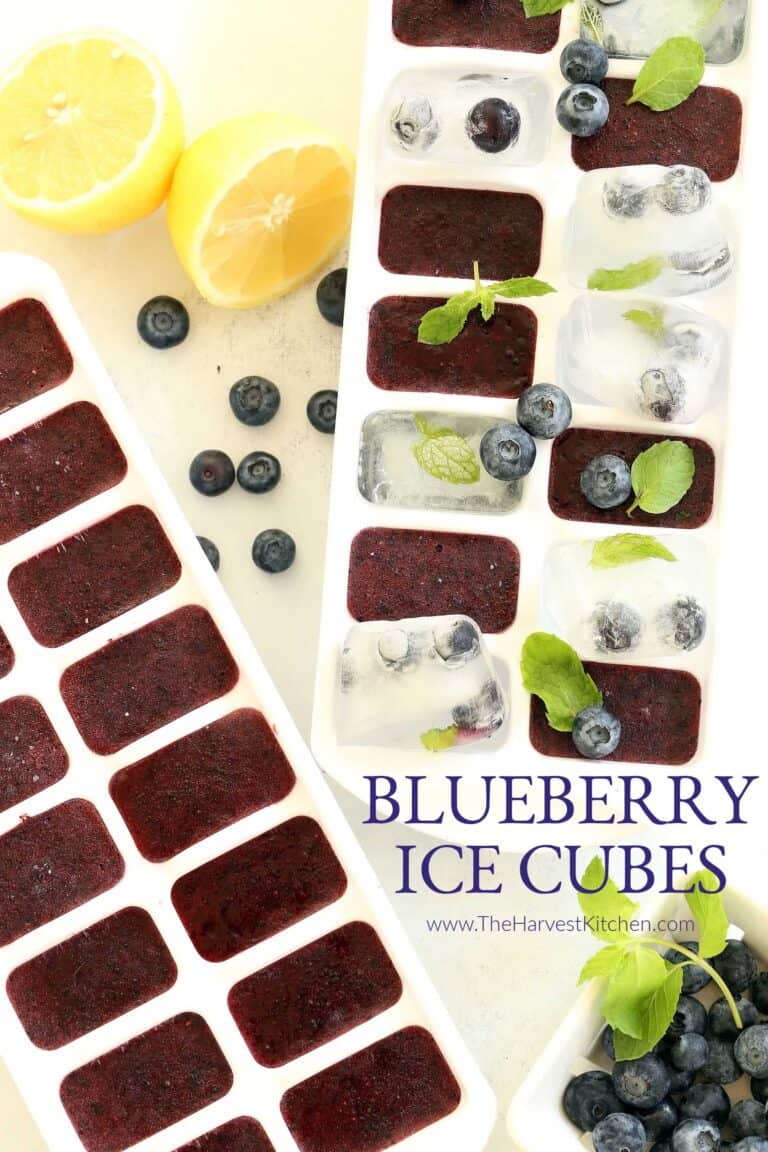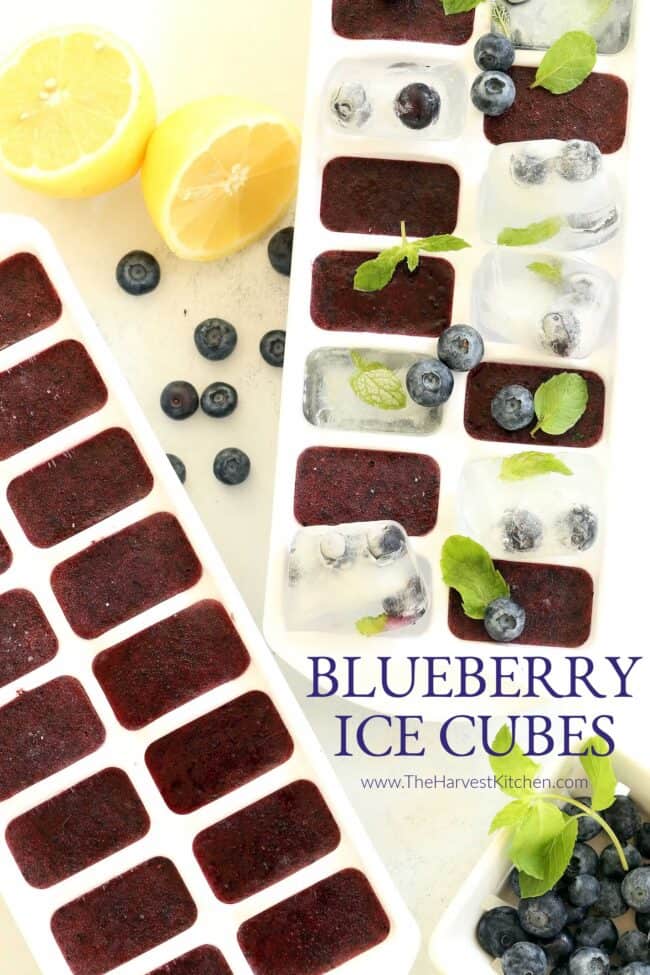 Antioxidant Rich Blueberry Ice Cubes
Made with blueberries (fresh or frozen), lemon juice and honey. They're great to add to water (hot or cold), tea, and a tall glass of lemonade to make blueberry lemonade.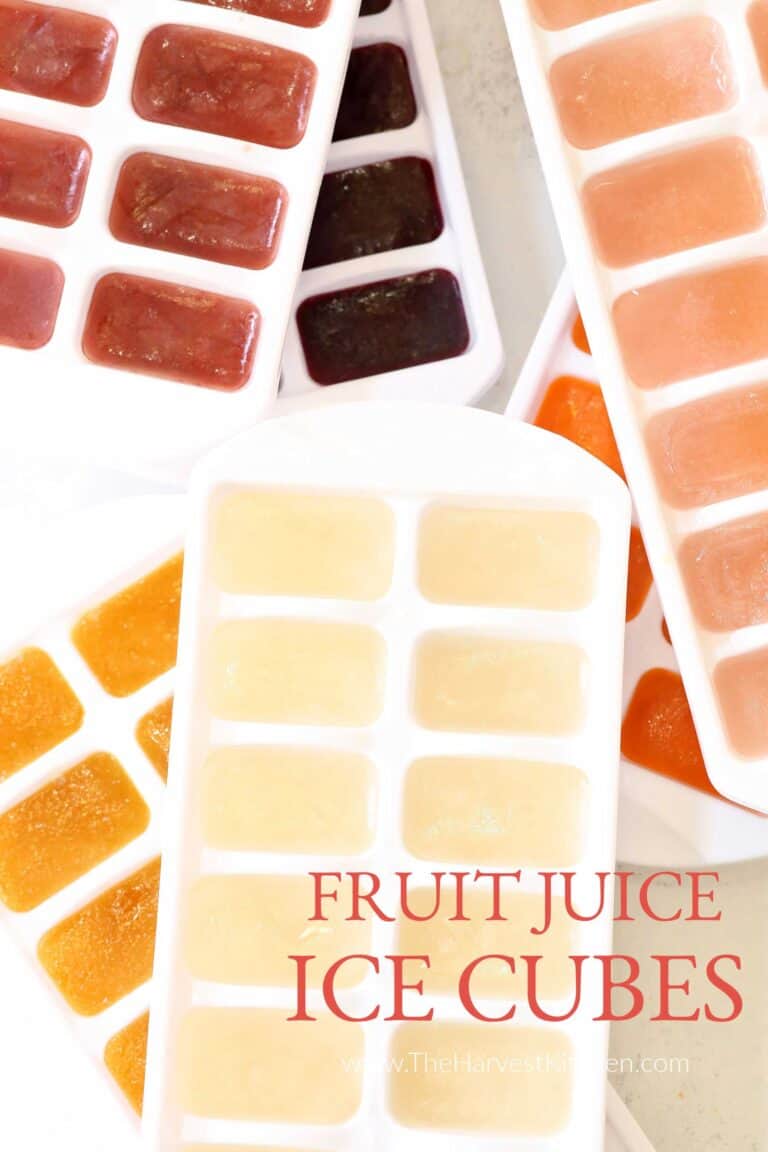 Made with fresh pressed juice or unsweetened bottle juice. They're super convenient to make – just pour the juice in the ice cube trays then freeze them.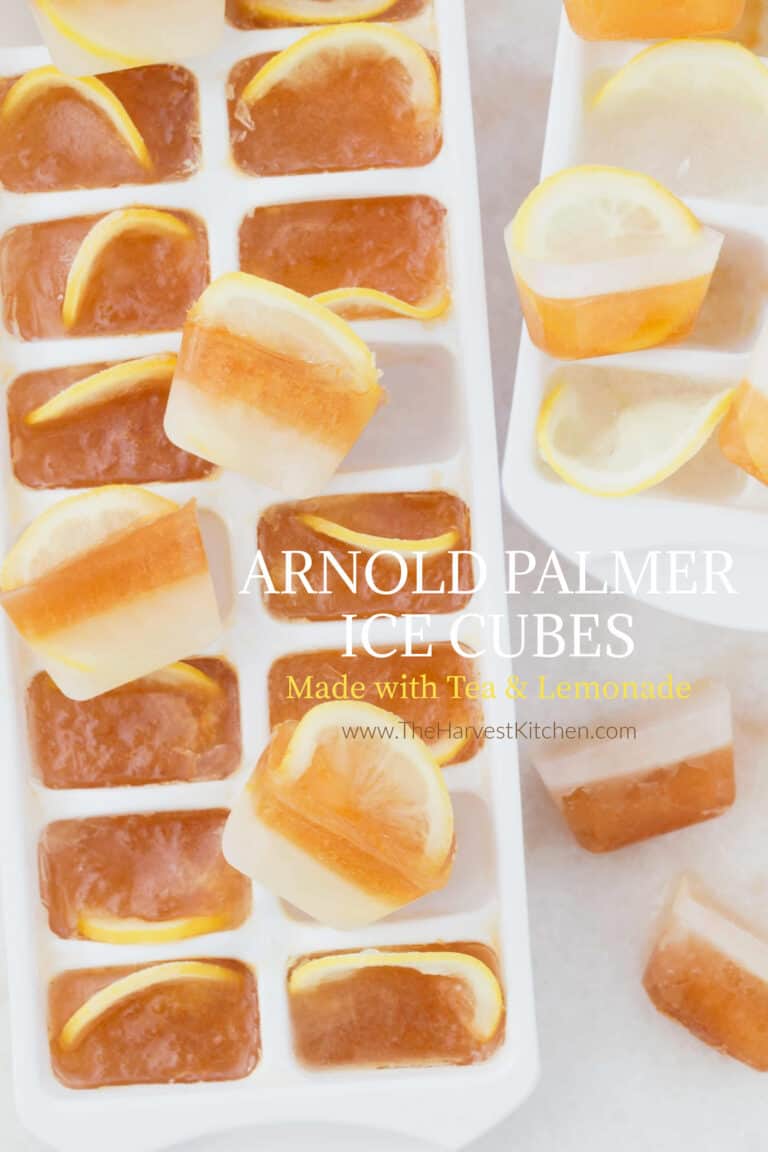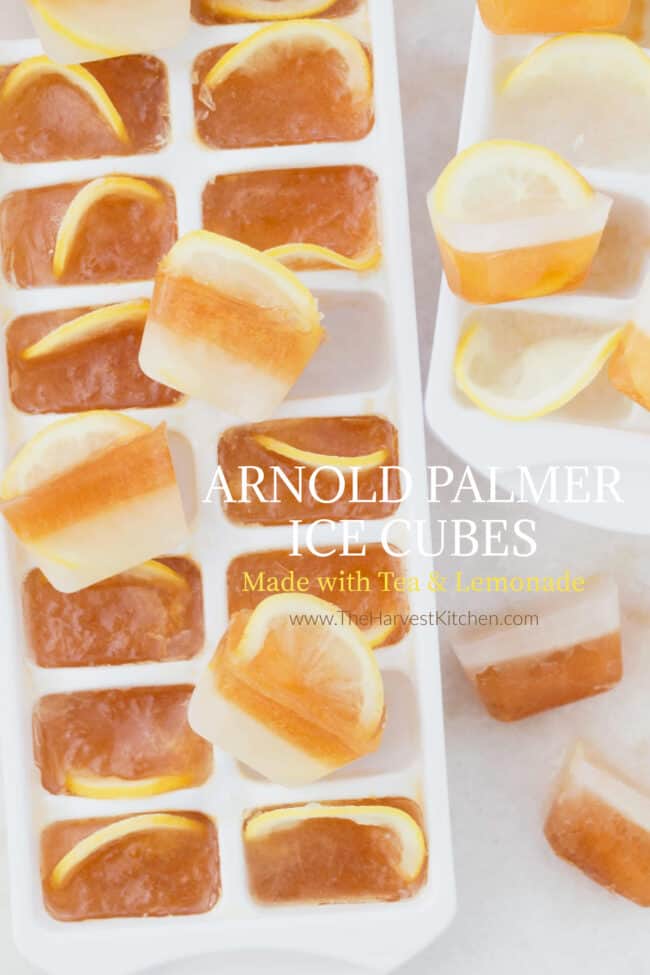 Made with tea (use black or green) and lemonade. I love the flavor they add to plain water, and they're also great to add to a glass of iced tea or lemonade (especially during the summer months).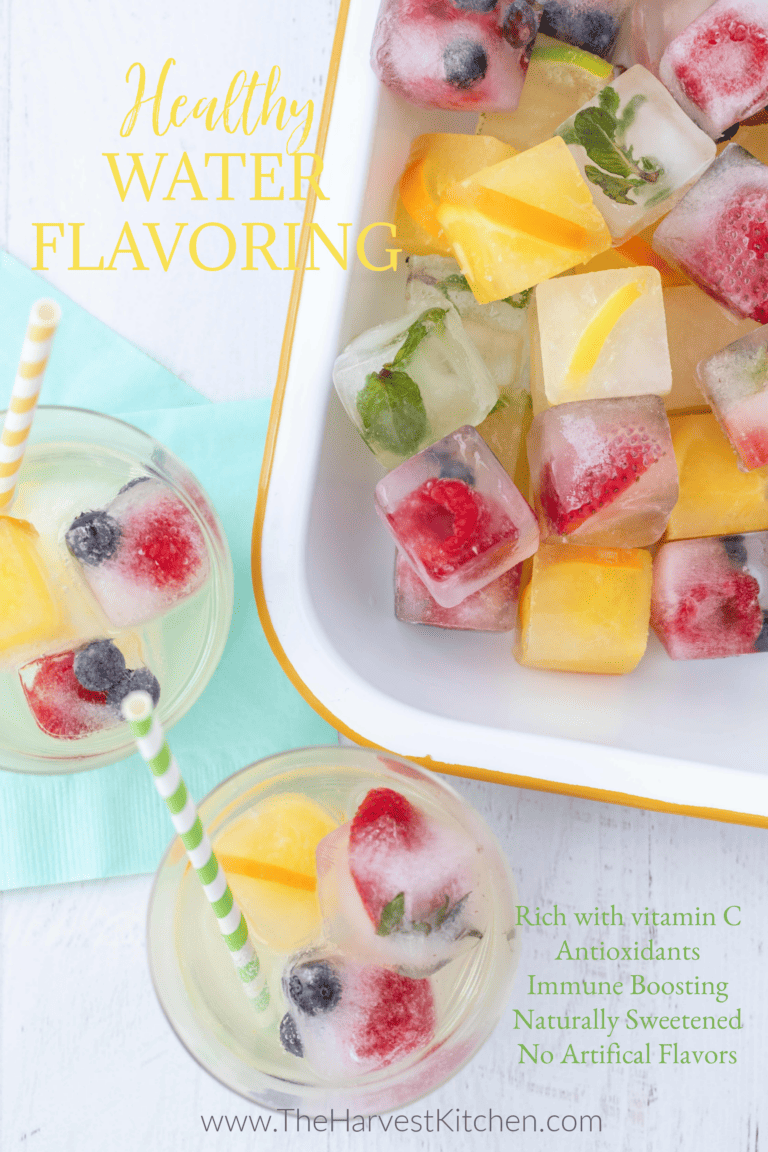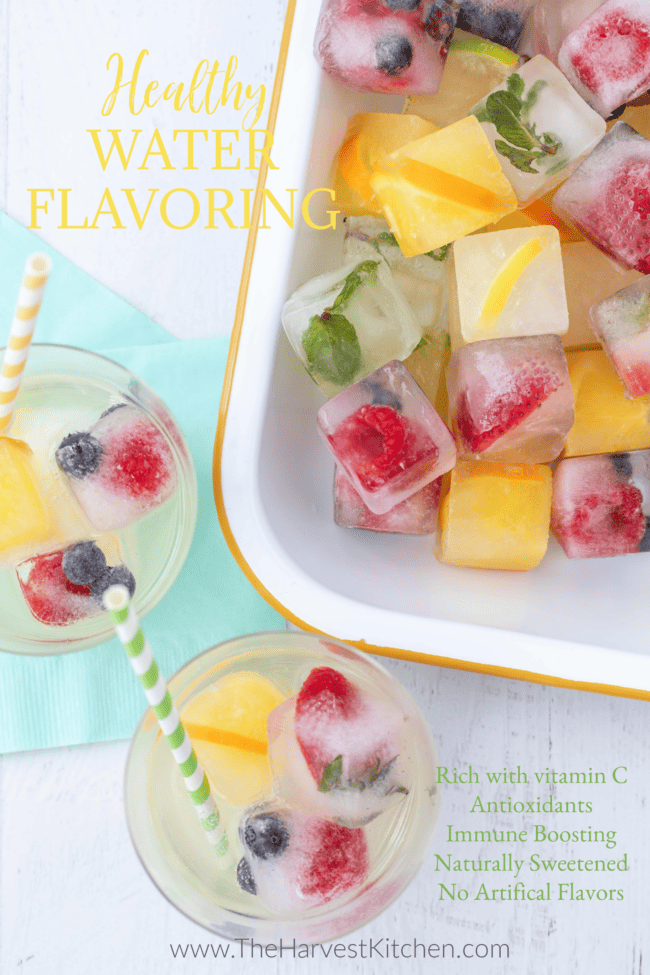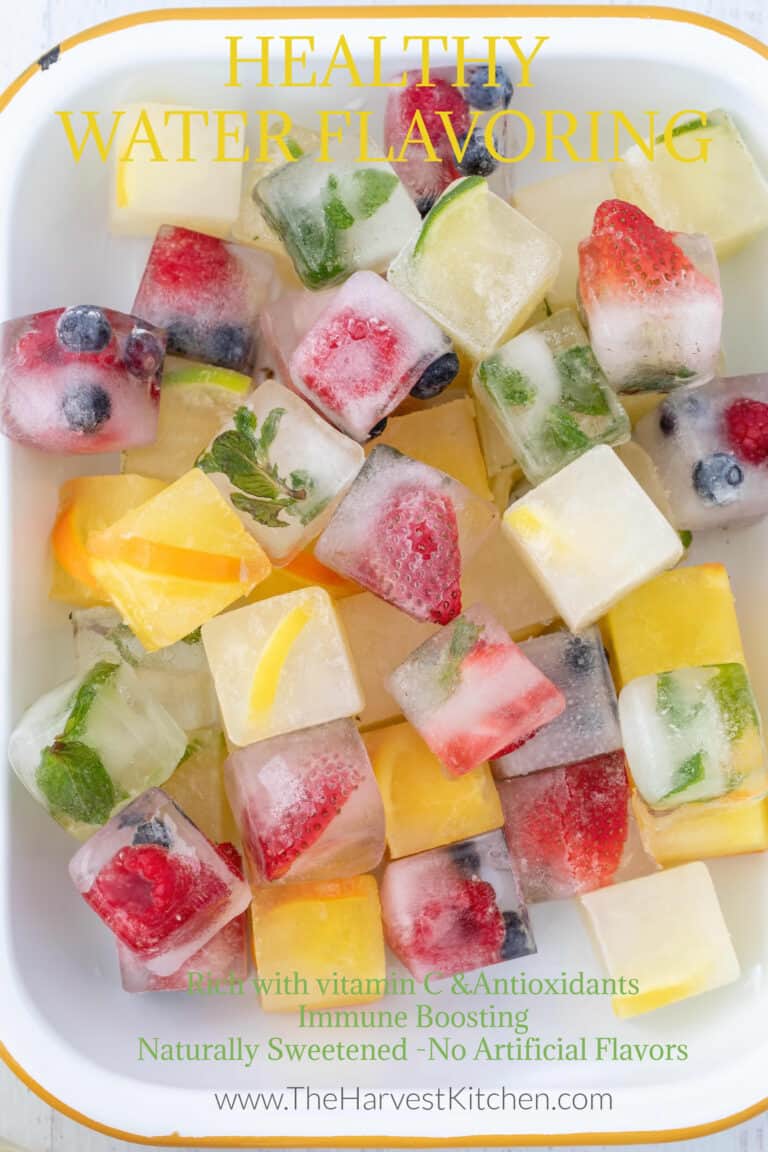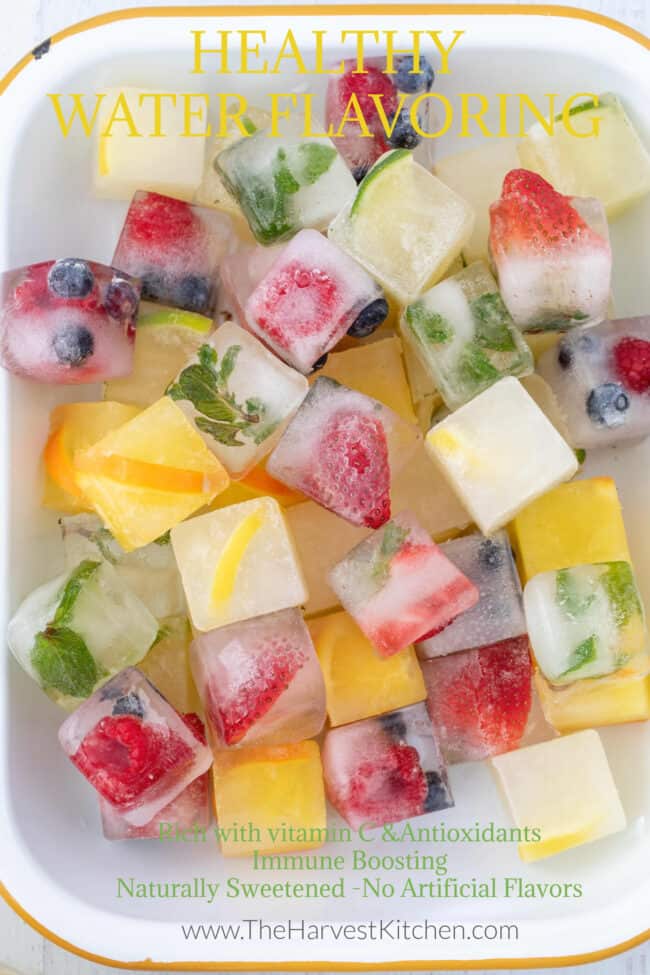 More Flavored Water Recipes
These are the ice cube trays I use and this is also the brand of water bottle I use to take with me wherever I go. It has a wide mouth so you can easily add flavored ice cubes to it.