Detox Honey Lemon Ginger Slices
This post may contain affiliate links.
Stay hydrated and keep your immune system strong with these Detox Honey Lemon Ginger Slices. Keep a jar with slices of lemon and ginger marinated in honey stashed in your fridge to conveniently add to warm water for detoxifying and immune boosting benefits.
Having a jar of sliced ginger and lemon marinating in honey to add to water makes it easy to enjoy detox water throughout the day. Adding lemon ginger water to your daily wellness plan will help alkalize and cleanse your body, give a boost to your immune system and help you lose weight. Drinking warm ginger lemon water is also a soothing drink to sip on when you're feeling under the weather during cold and flu season.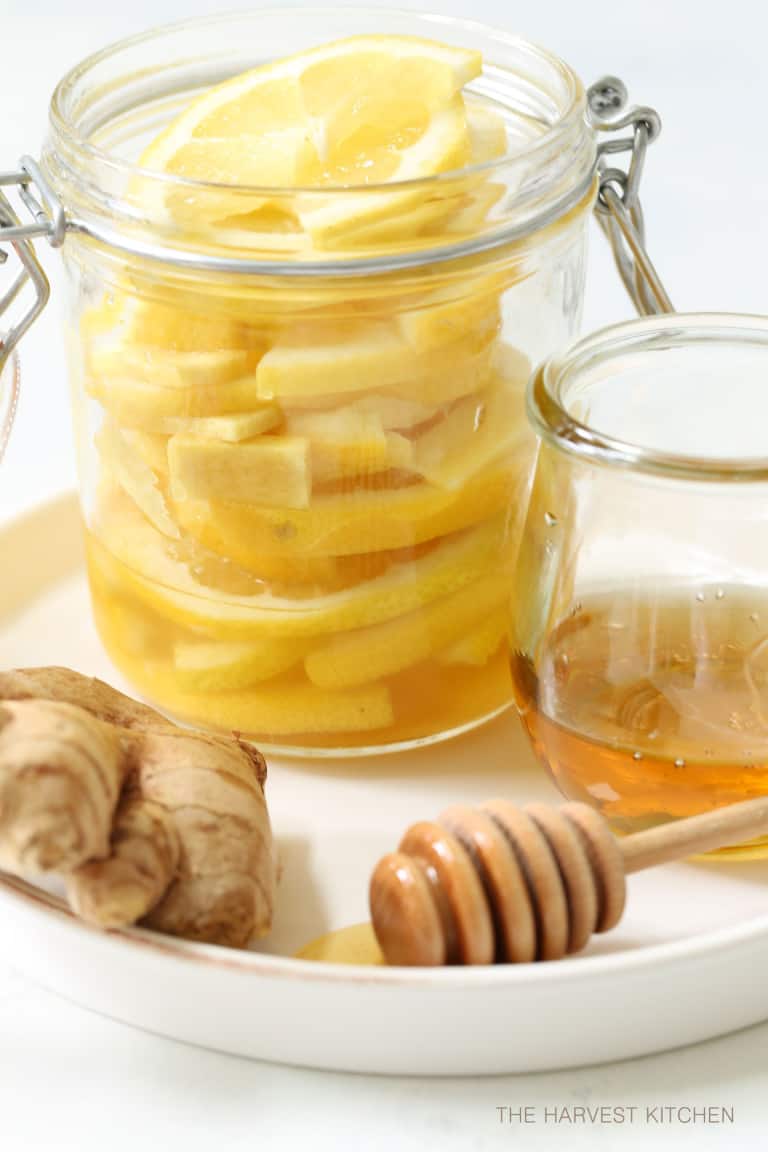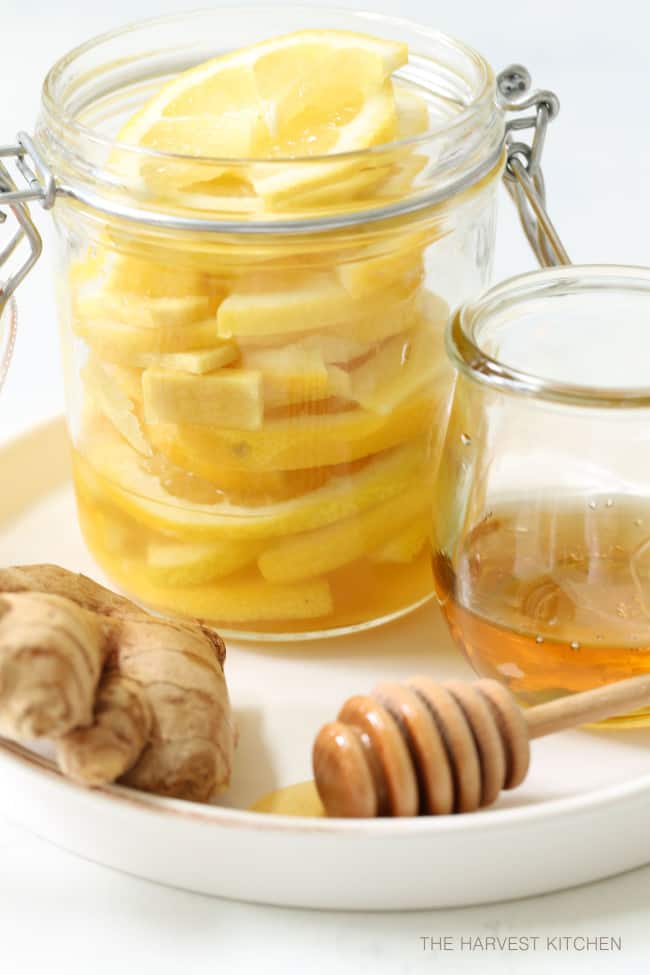 Lemon and Honey Water
Lemon and honey water acts as a natural detox drink helping to remove toxins from the body. It's also rich with Vitamin C which will help boost the immune system. Drink it in warm water on an empty stomach for best results.
Ginger Lemon and Honey
2-1/2 large fresh lemons (organic)
1 inch fresh ginger root
1/2 cup honey
Directions
Peel ginger and cut into slices.
Rinse lemons under water then cut into slices.
Layer the lemon slices, ginger slices and raw honey in a mason jar.
Squeeze the juice of 1/2 lemon over the lemons for extra lemony tasting syrup.
Refrigerate to let the lemon slices marinate for at least an hour.
Add slices of lemon and ginger and 1-2 heaping teaspoons of lemon honey marinade to a glass of warm water or tea.
Stir and enjoy.
Will keep in refrigerator for up to a week.
Benefits of Drinking Water
Our bodies are about 60 percent water, and to maintain optimal health, energy levels and mental clarity, it's important to keep water consumption flowing. Drinking plenty of fluids (at least 8 glasses a day) is essential for good health. Here are ten good reasons why your body needs those 8 glasses daily.
Water increases the efficiency of the immune system – helping to fight infection and ward off disease.
Water helps reduce fatigue – it's a main source of energy.
Water helps to detoxify by clearing waste from certain parts of the body and transports it to the liver and kidneys for disposal.
Water helps reduce the risk of heart attacks and strokes.
Water optimizes kidney and liver function.
Water dilutes blood and prevents it from clotting during circulation (Blood is normally about 94% water when the body is fully hydrated. Red blood cells are actually "water bags" that contain colored hemoglobin).
Water is needed for manufacturing neurotransmitters, including serotonin.
Water is essential for the body's cooling system (sweat).
Water hydrates skin to combat premature aging.
Drinking plenty of water is key to losing weight
Health Benefits of Lemon Juice
Excellent source of Vitamin C
Rich with flavonoid compounds that have immune-boosting, antioxidant and anti-cancer properties
Compounds found in lemons act as a blood purifier and improves the body's ability to rid itself of toxins
Alkalizing properties
Health Benefits of Fresh Ginger Root
Anti-inflammatory and antibacterial properties
Rich with antioxidants
Stimulates natural detox process
Improves blood circulation
Aids with digestion
May help relieve nasal congestion
Health Benefits of Honey
Rich source of flavonoids and polyphenols (which act as antioxidants) (1)
Protective effects for the treatment for some diseases (respiratory, gastrointestinal, cardiovascular, and nervous systems) (2)
Homemade Detox Water
Looking for refreshing home detox water recipes to help you stay hydrated?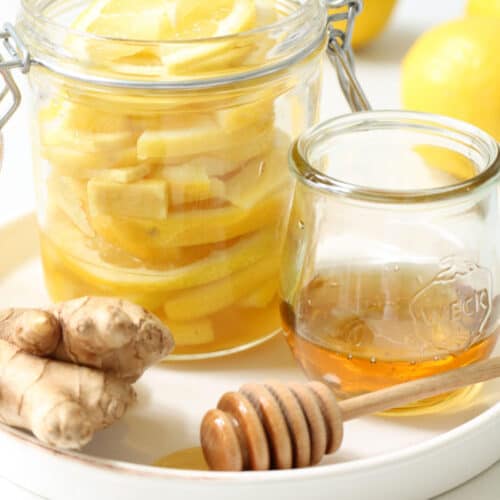 Yield: 8 servings
Detox Honey Lemon Ginger Slices
Total Time
1 hour
10 minutes
Keep a jar of these Detox Honey Lemon Ginger Slices in your fridge to conveniently add to warm water for detoxifying and immune boosting benefits.
Ingredients
2-1/2 large organic lemons, sliced thin
1/2 cup honey
1 inch fresh ginger, peeled and sliced
Instructions
Peel ginger using a knife or the side of a spoon. Cut peeled ginger into slices.
Rinse the lemons in hot water.
Cut Lemon in half and then into slices.
Layer the lemon slices, ginger slices and raw honey in a mason jar. Continue to layer until all of the ingredients are used.
Squeeze the juice of 1/2 lemon over the lemons for extra lemony tasting syrup.
Refrigerate to let the lemon slices marinate for at least an hour. The ginger and the lemon will fuse its flavors together in the honey, giving you a delicious immune boosting lemon ginger honey syrup.
Use 1-2 heaping teaspoons to a glass of cold water or to a cup of hot water. Stir and enjoy.
Stays good stored in the refrigerator for up to a week.
Keep refrigerated,