Chickpeas vs Garbanzo Beans
This post may contain affiliate links.
Here's everything you need to know about Chickpeas. What are chickpeas? What's the difference between Chickpeas vs Garbanzo Beans? Are chickpeas gluten-free? Are they healthy? How to cook them, plus 21 garbanzo bean recipes.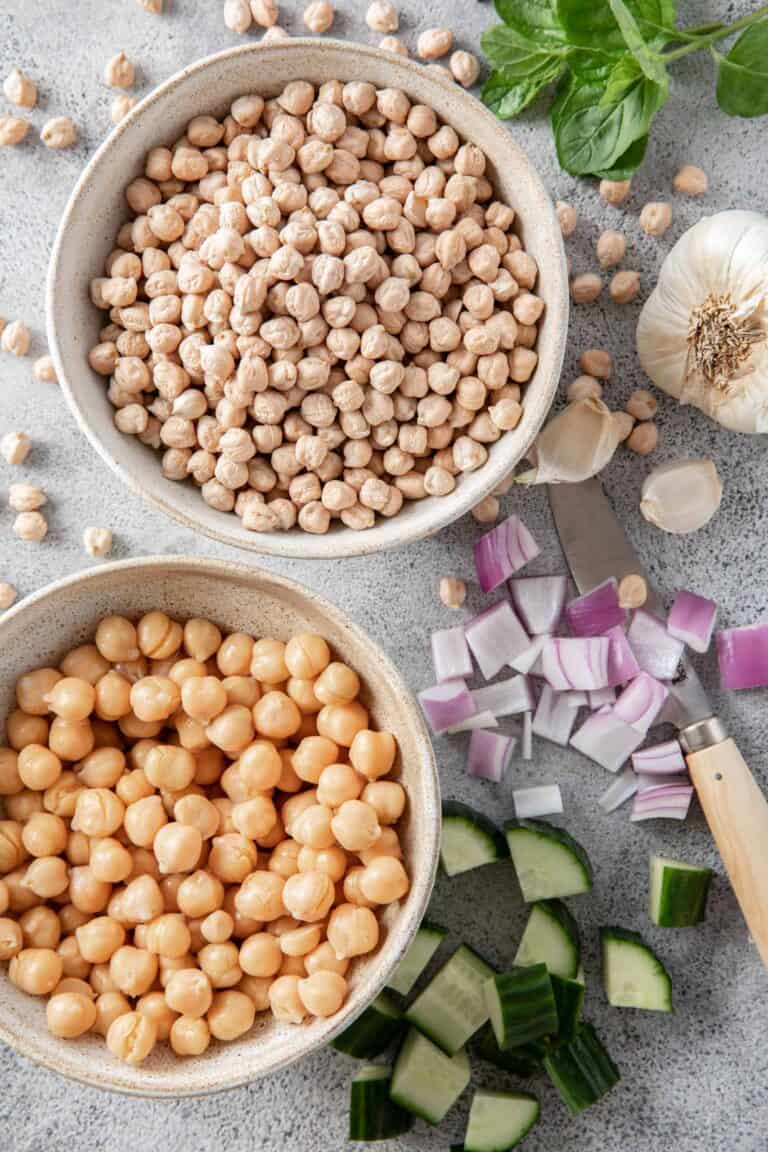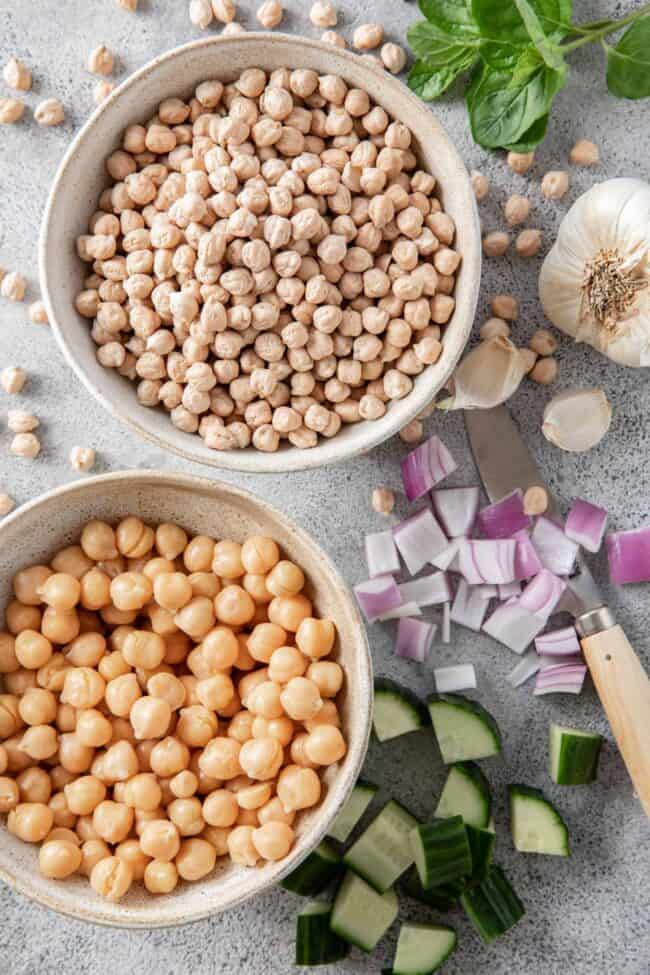 Chickpeas have a delicious nutty and buttery flavor and creamy texture that can be added to so many recipes.Toss them in salads, skillets, soups, and stews.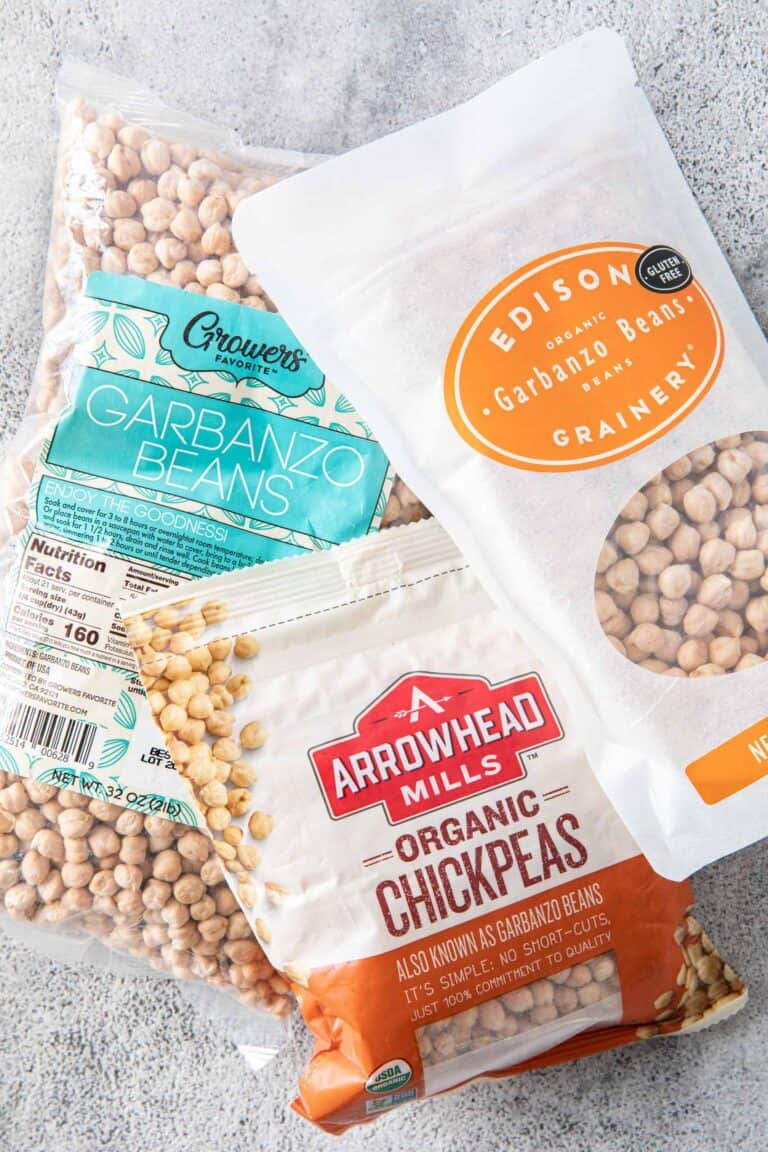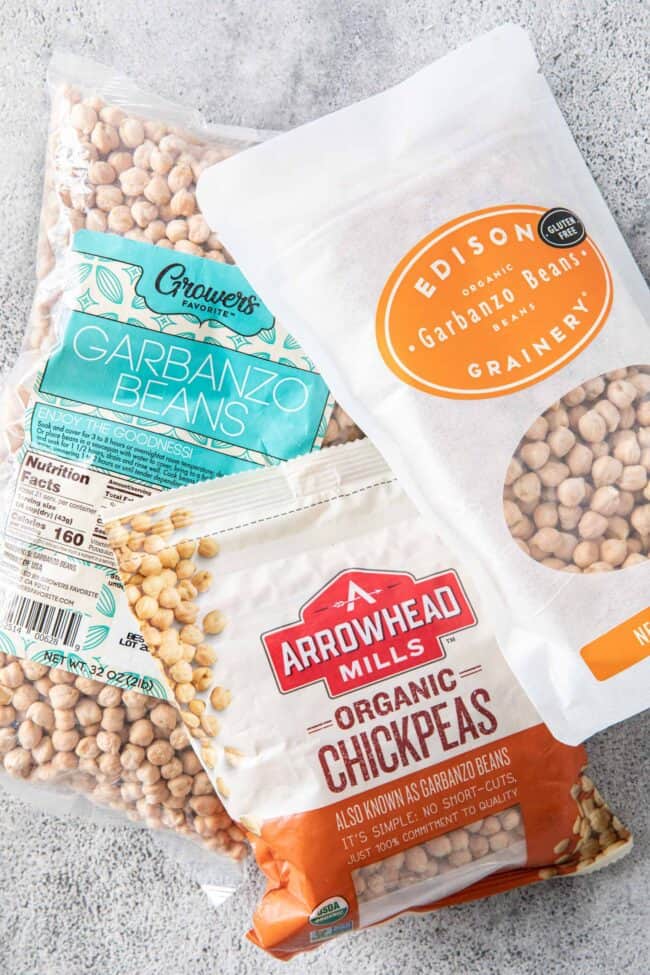 What Are Chickpeas?
Chickpeas are pale, round, cream colored legumes and are frequently used in the Mediterranean, Indian, Middle Eastern, American and Latin American cuisine. In Latin America chickpeas are called "garbanzo" and in Italy they're called "ceci". The name chickpea comes from the Latin word "Cicer" which refers to the plant family of legumes called Fabaceae. It's thought that chickpeas originated in the Near East and were cultivated as far back as 7000 B.C.
Are Chickpeas and Garbanzo Beans the Same Thing?
Garbanzo Beans and Chickpeas are the same exact thing that is called by two different names "chickpeas" (Latin word) and "garbanzo" beans (Spanish word). There is no difference whatsoever between garbanzo beans and chickpeas.
Types of Chickpeas
There are two main varieties of chickpeas – "Kabuli" and "Desi". Small Desi chickpeas are yellow on the inside and Kabuli are larger and cream colored with a thin skin. Kabuli chickpeas are the most common type found in American grocery stores. In grocery stores, they are both referred to as chickpeas and garbanzo beans.
Chana dal – These are small split chickpeas that look like yellow split peas. They have nutty sweet flavor.
Chickpea shoots – These are feather-like shoots from the chickpea plant. They can be hard to find (maybe at farmers' markets) and great added to salads.
Green chickpeas – These are young gender fresh chickpeas with a sweet taste.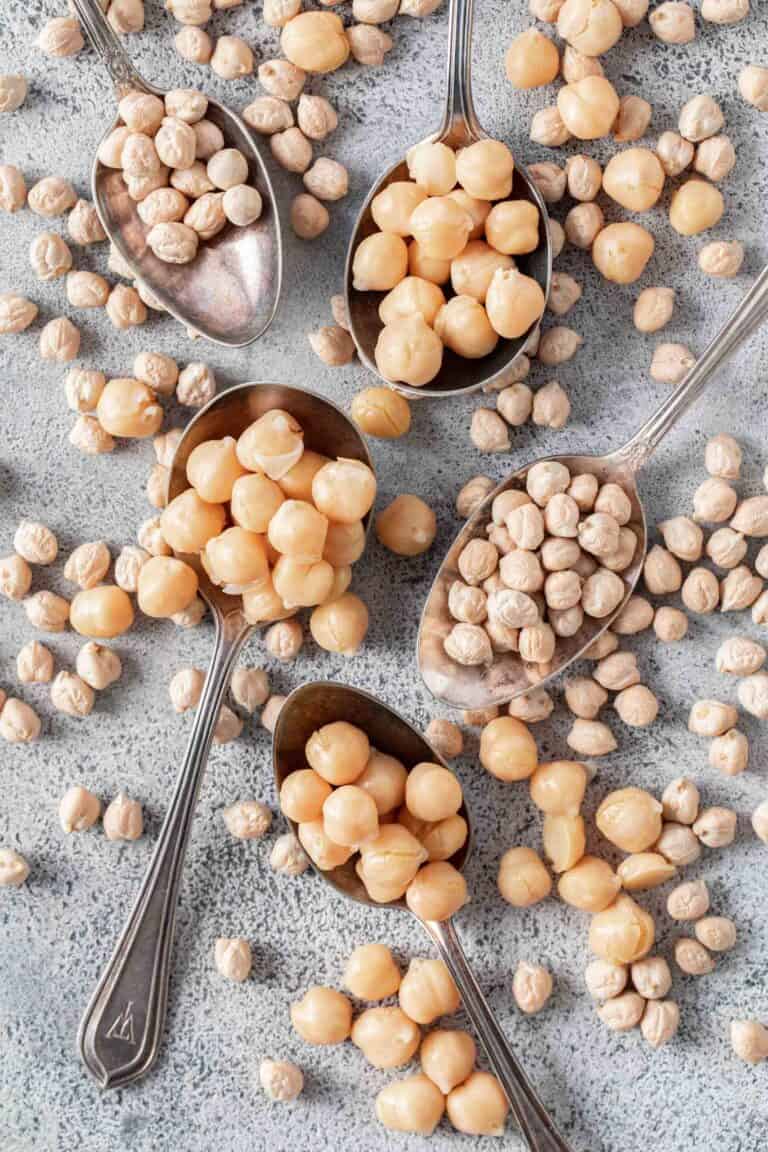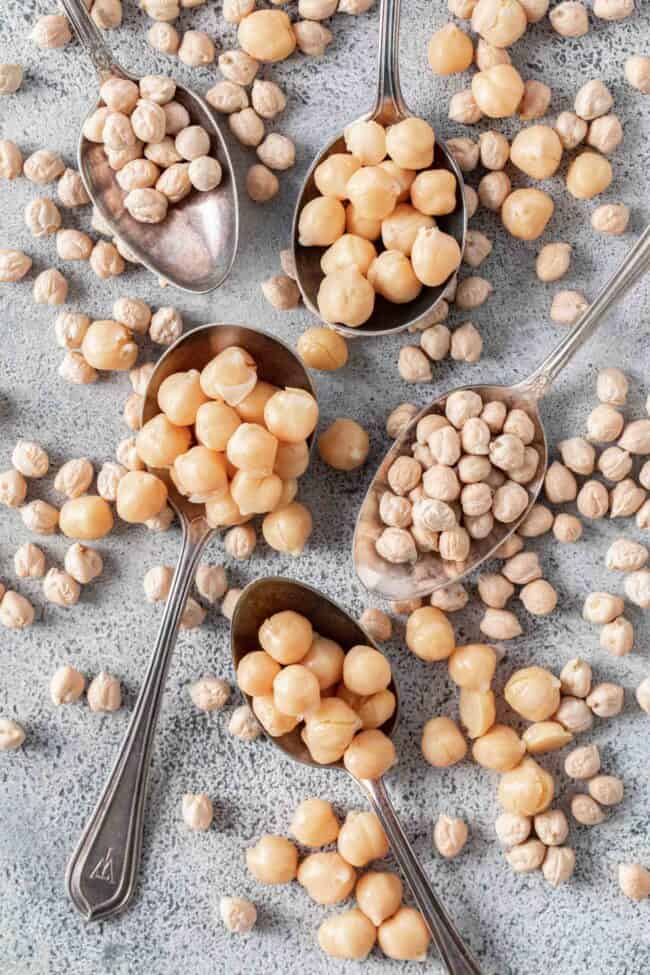 Are Chickpeas Gluten Free?
Chickpeas are naturally gluten free. Just make sure to check the ingredient labels when purchasing chickpea products at grocery stores (such as hummus) to make sure they don't contain other ingredients which may contain gluten.
Chickpea Nutrition
Just 1/2 cup of cooked chickpeas provides:
Calories – 135
Protein (g) – 7
Carbohydrate (g) – 23
Dietary fiber (g) – 6.2
Total fat (g) – 2.1
Saturated fat (g) – 0.2
Monounsaturated fat (g) – 0.5
Polyunsaturated fat (g) – 1.0
Cholesterol (mg) – 0
Potassium (mg) – 239
Sodium (mg) – 6
Folate – 141 mcg (35% RDA)
Iron – 2.4 mg (30% RDA)
Zinc – 1.3 mg (11%)
Chickpea Benefits
Chickpeas have a creamy texture, delicate nutty flavor and they're very nutritious. They're a good source of vitamins, minerals, protein and fiber, and they may promote a number of health benefits, such as improved digestion, weight management, cardiovascular health, and reducing the risk of a number of diseases. Here's just a few good reasons to add more garbanzo beans to your diet:
Rich with vitamins and minerals
Excellent source of plant protein, so they're a good alternative for vegetarians and vegans alike
Contains all but one of the essential amino acids (methionine)
Heart healthy (due to the magnesium and potassium properties found in chickpeas) (1)
May help prevent high blood pressure and reduce triglycerides and LDL cholesterol levels (the bad kind) (2) (3)
Good source of soluble fiber and insoluble fiber, which contribute to feeling full, which is helpful for weight management.
They're digested slowly, which promotes a gradual release of blood glucose which may help with control of diabetes.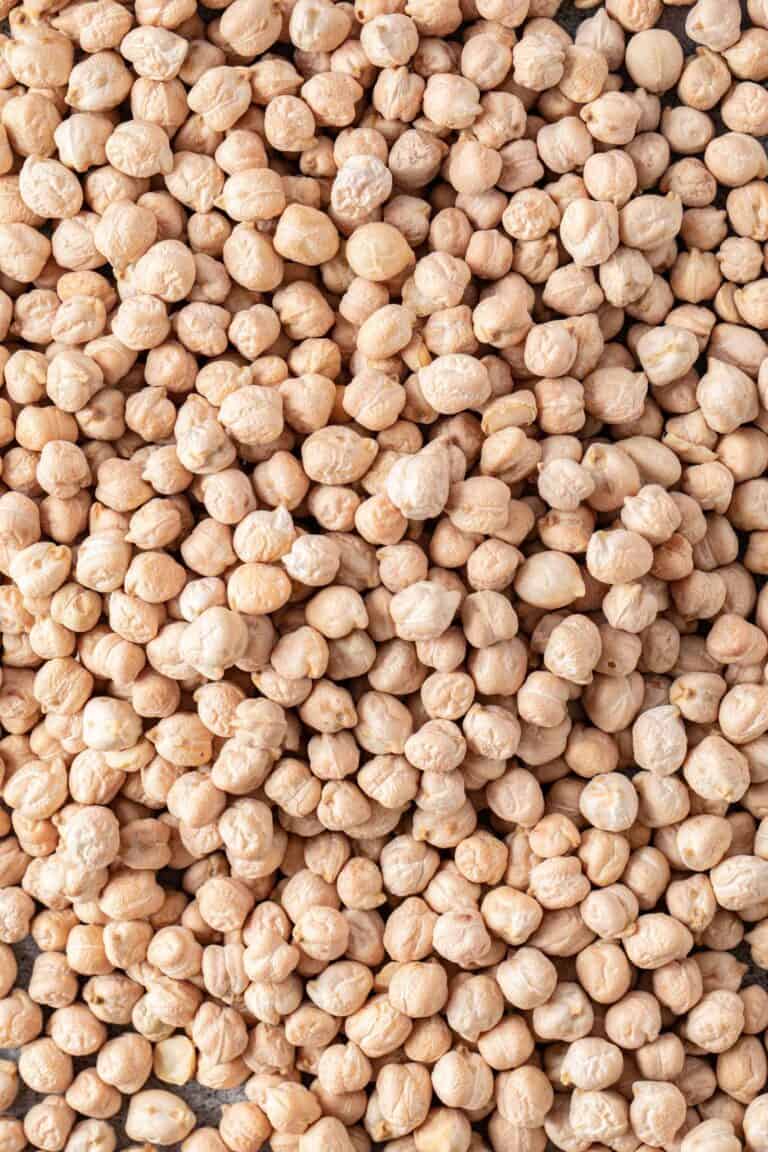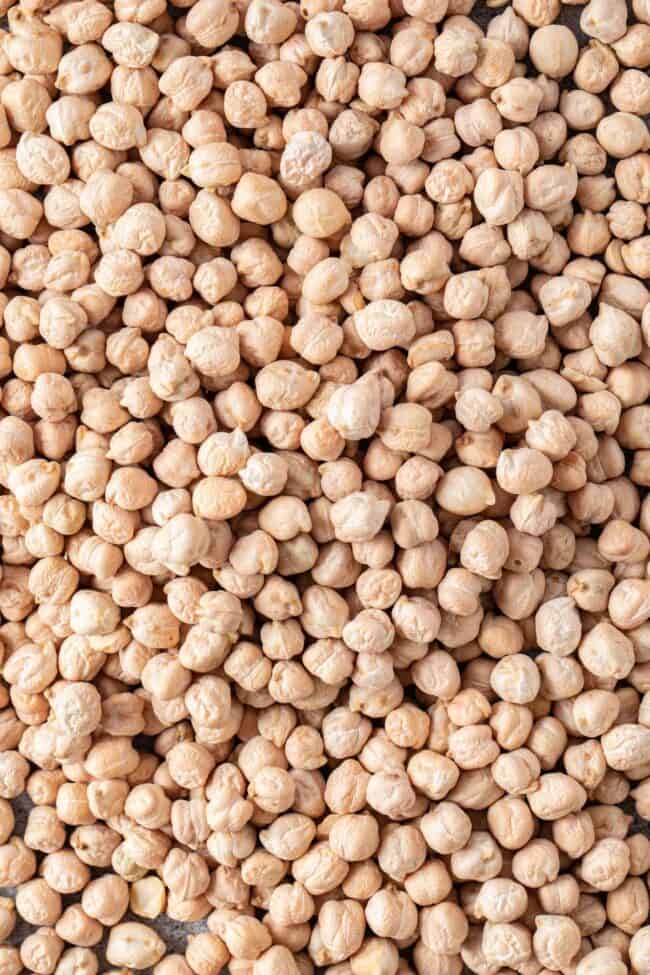 Cooking Chickpeas from Scratch
Opening a can of chickpeas is convenient, but homemade tastes superior. We use this recipe to Cook Chickpeas from Scratch
Chickpeas have a delicious nutty and buttery flavor and creamy texture that can be added to so many recipes. Make a batch and store them in mason jars in your fridge so you can easily toss them into salads or stir them in soups, stews and skillets.
To cook them from scratch soak whole chickpeas overnight before cooking. Or use the quick soak method by placing them in a saucepan filled with enough water to cover them by 2 inches. Boil them for 2 minutes then remove from heat and cover. Let them rest in the water for an hour, then drain them and cover with fresh water before cooking. Split chickpeas (like chana dal) don't need to be pre-soaked before cooking.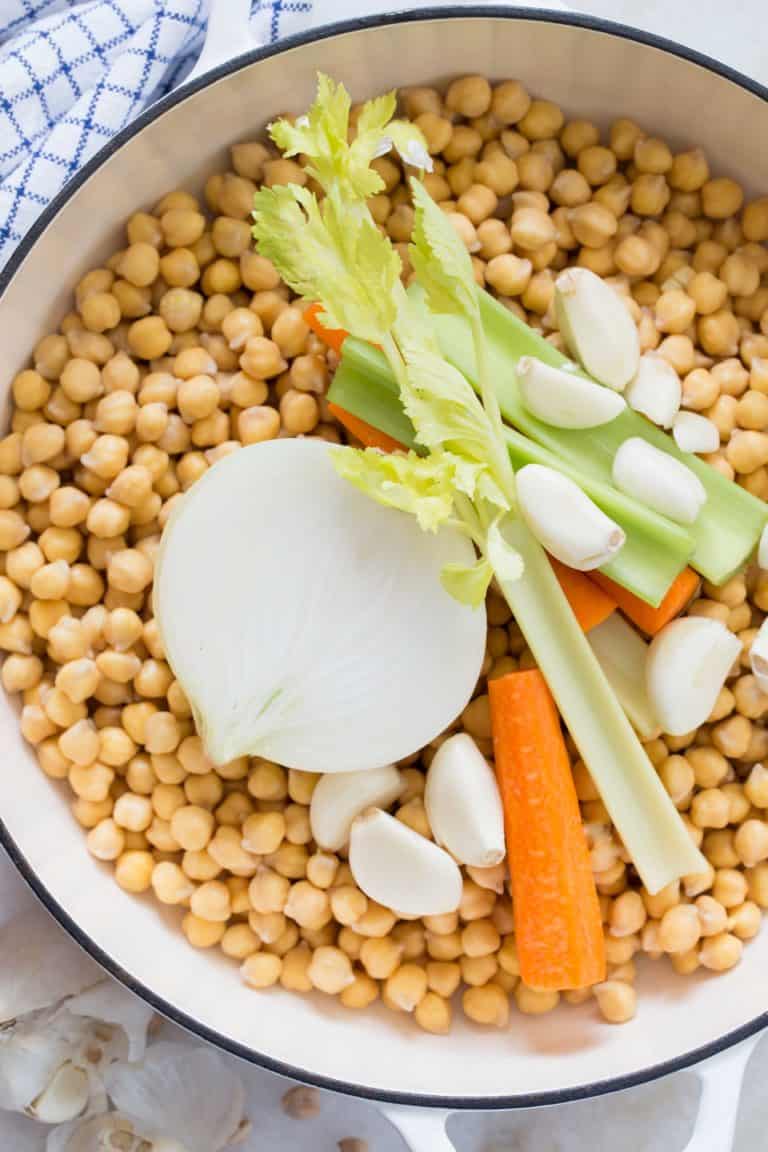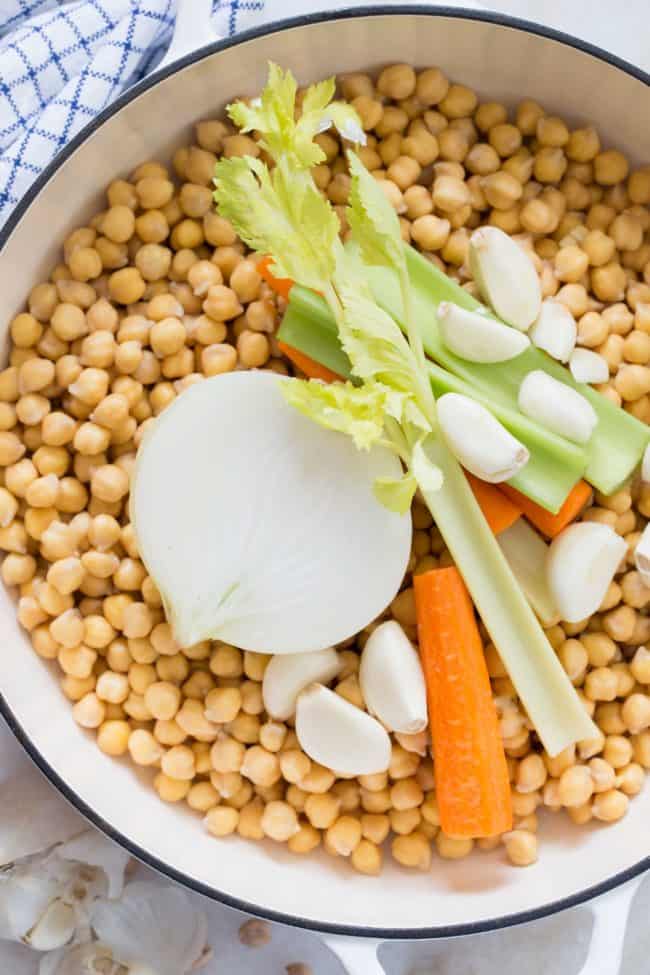 Are Canned Chickpeas Cooked?
Yes, canned chickpeas have already been cooked. All you need to do is open the can, rinse them under cold water, drain and pat dry. Remove any loose outer skins that you can then toss them in soups, stews, skillets and salads.
Recipes with Garbanzo Beans
If you're wondering how to use chickpeas, the possibilities are endless really. Whether the chickpeas have been cooked from scratch or come from a can, they're great to add to so many recipes.
Sprinkle them in salads: Italian Chopped Salad, Mediterranean Bean Salad, Mediterranean Quinoa Salad, House Salad, Mediterranean Cucumber Chickpea Salad
Stir them into soups: Vegan Mulligatawny, Coconut Curry Chickpea Soup, Minestrone Soup and Chickpea Noodle Soup
Roast and season them for a healthy snack
Stuff celery stalks with pureed chickpeas seasoned with lemon juice, salt and pepper.
Use them to make these delicious Chickpea Patties
Blend them to make hummus: Jalapeno Hummus and this Spinach Hummus
Serve them warm with cooking broth, then a drizzle of olive oil, some freshly chopped tomatoes, basil ribbons and parmesan cheese.
Add them to skillet recipes like this Vegan Breakfast Skillet, Spinach and Chickpeas and this Chicken Chermoula
Add them to egg salads, tuna salads and chicken salads like this Chickpea Tuna Salad, Chickpea Egg Salad, and this Curried Chickpea Salad
Add them to stews like this Easy Chickpea Stew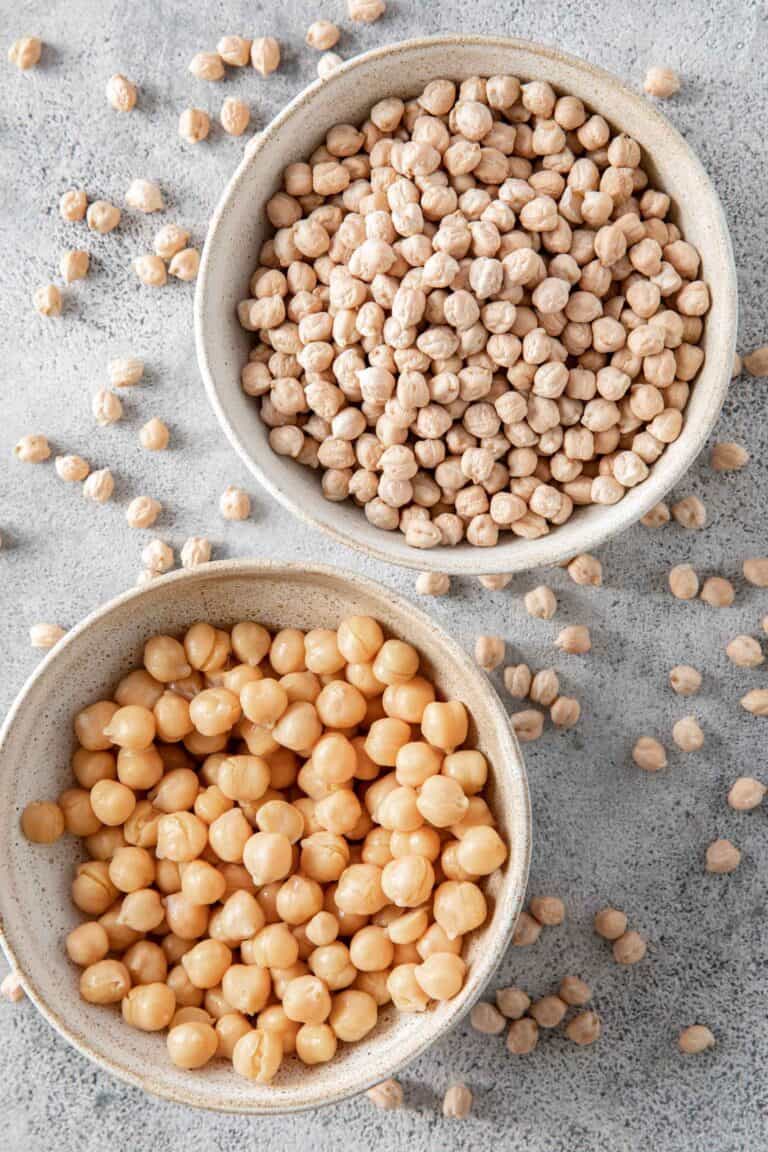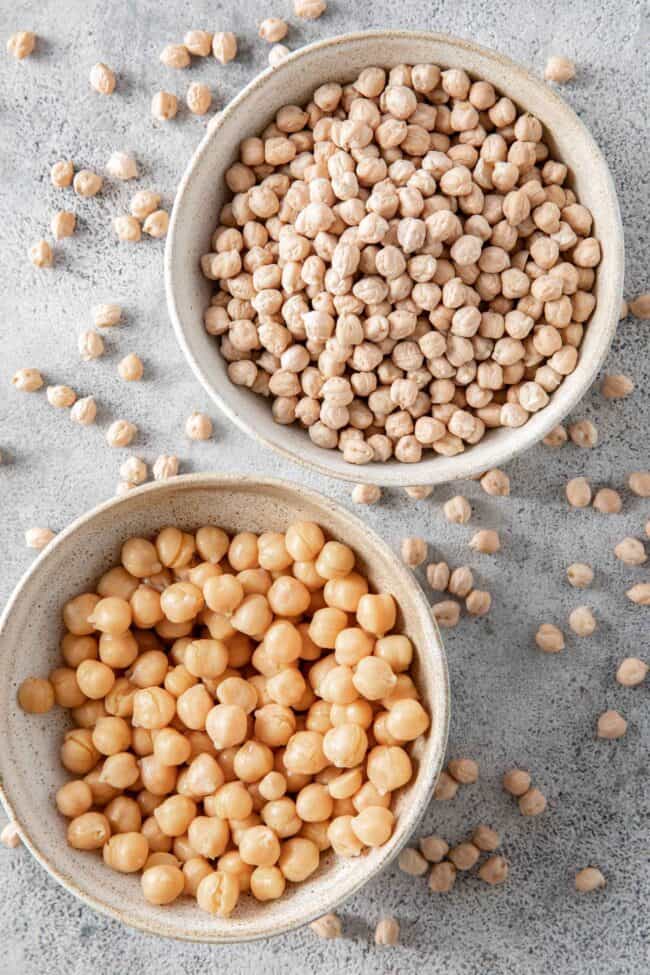 Conclusion
Garbanzo beans vs chickpeas
Chickpeas and garbanzo beans are the same exact same legume. They are just called by two different names – "chickpeas" (Latin word) and "garbanzo" beans (Spanish word).
Are chickpeas gluten-free
Yes – chickpeas are gluten free.
Are chickpeas healthy
Chickpeas are a good source of vitamins, minerals, protein and fiber, and they may promote a number of health benefits, and if consumed regularly they may help reduce the risk of a number of diseases.
More Resources