Easy Chickpea Egg Salad
This post may contain affiliate links.
This Easy Egg Salad is your egg salad with relish recipe mixed with smashed chickpeas for a "meatier", more filling and nutrient dense sandwich.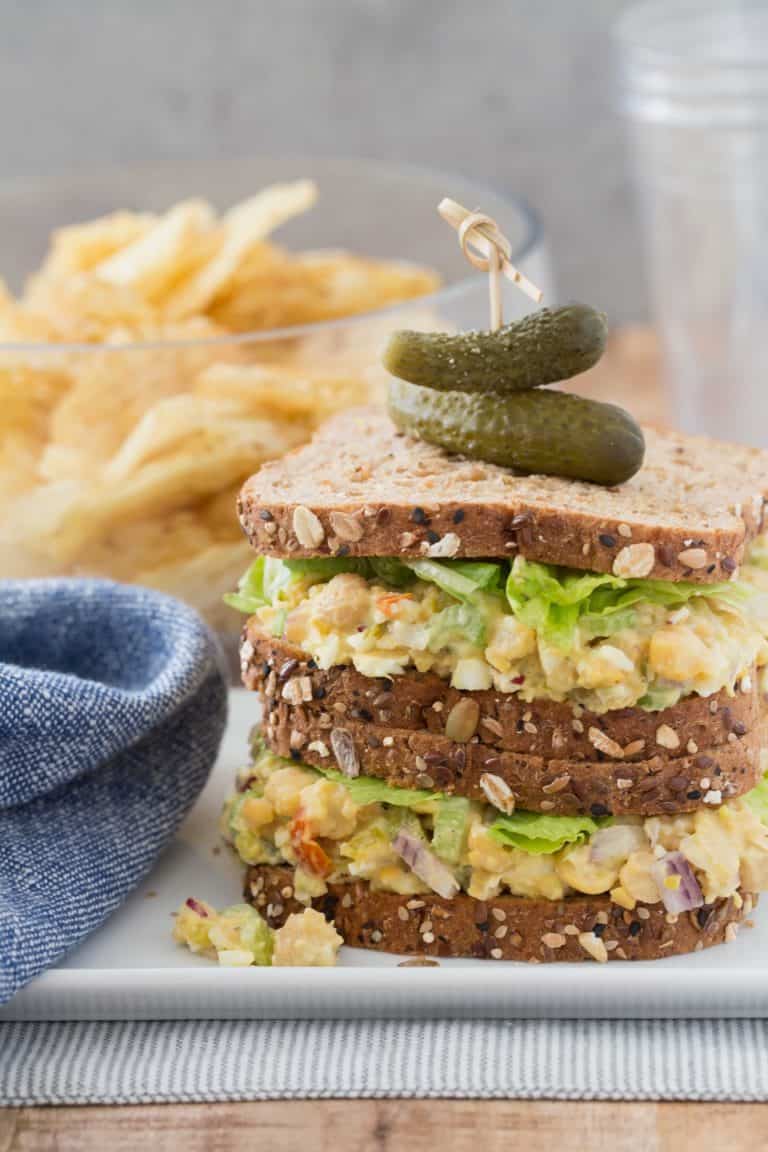 Chickpea egg salad is a great make-ahead recipe to serve on toast for breakfast or as a sandwich or wrap for lunch. It's also delicious served on lettuce or tomato slices, or simply enjoy it by the spoonfuls.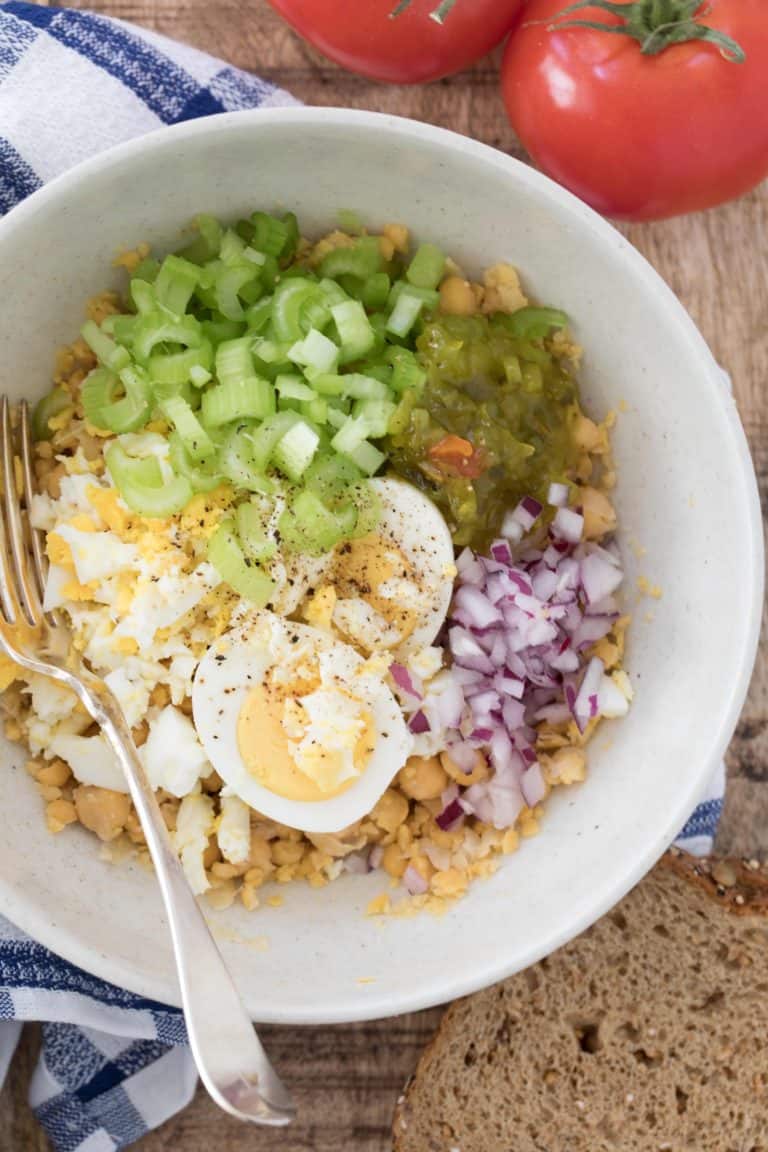 By adding chickpeas instead of more eggs for this recipe, we're cutting down on cholesterol and replacing it with heart-healthy fiber and plant protein while still maintaining the comforting flavor of a classic egg salad.
Egg Salad Ingredients
This is a basic egg salad recipe with some protein and fiber rich chickpeas thrown in for good measure. If you want to make this a vegan egg salad, then just omit the hardboiled eggs and use vegan mayo. You'll also want to cut back slightly on the amount of mayo and relish you use.
Chickpeas (1 can)
Hardboiled eggs
Celery, chopped
Sweet pickle relish
Purple onion
Mayonnaise
How to Make Egg Salad Sandwich
Making egg salad takes about 15 minutes start-to-finish.
Boil Eggs – hard boil your eggs, then peel and chop the hardboiled eggs (I smash them using a fork).
Smash Chickpeas – drain and rinse chickpeas, then using a fork, smash 1/2 the chickpeas discarding as many skins/peels as you can.
Combine ingredients – in a bowl, combine the chickpeas, hardboiled eggs, celery, sweet pickle relish, onion and mayonnaise.
Enjoy – stuff the egg salad between two slices of bread or toast for a sandwich, or scoop the egg salad on lettuce leaves or tomato slices.
Variations
Add Dijon mustard
Using a fork blend the smashed egg yolks with the mayonnaise and 1/2 a teaspoon of yellow mustard
Use green onion instead of purple
Add fresh or dried dill
Use all egg whites and omit the yolks
Add chopped dill pickles instead of sweet pickle relish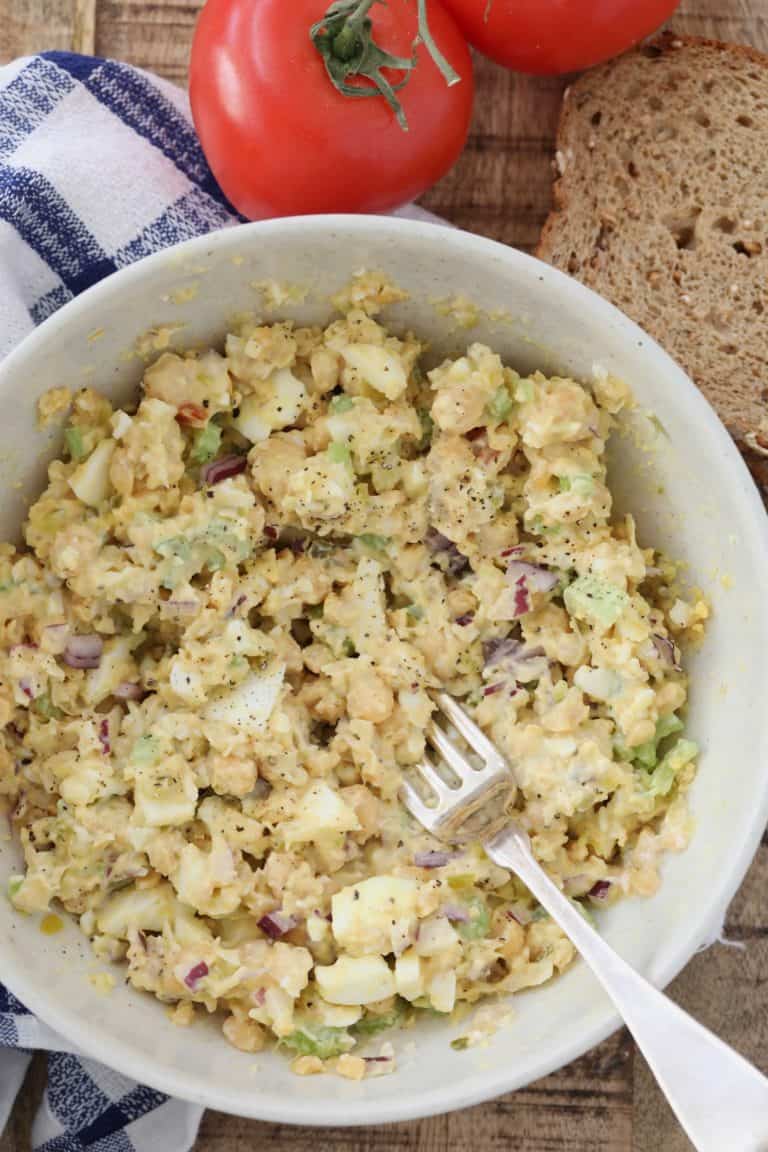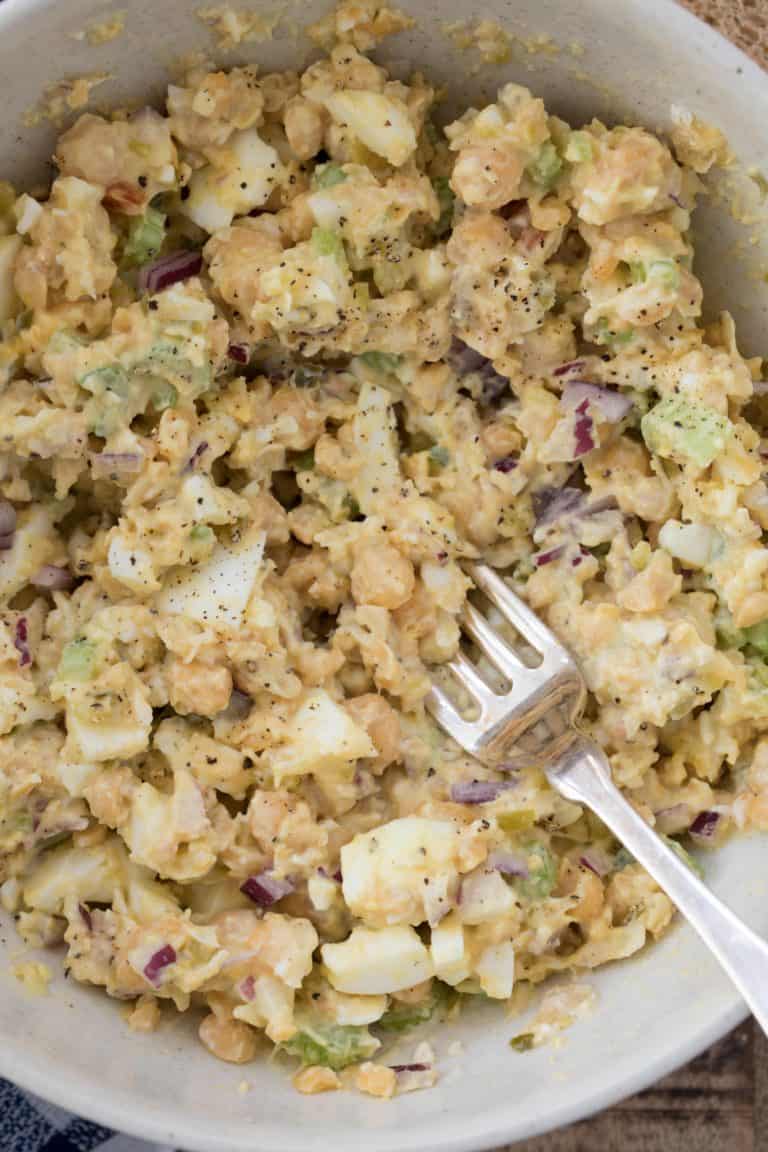 So as you can see, we use just a handful of ingredients for a quick and easy recipe that's both nourishing and filling. It's also inexpensive to make so it's perfect if you need to feed a small crowd. And it's an easy salad to make for sandwiches to pack for a school lunch or a day at the beach.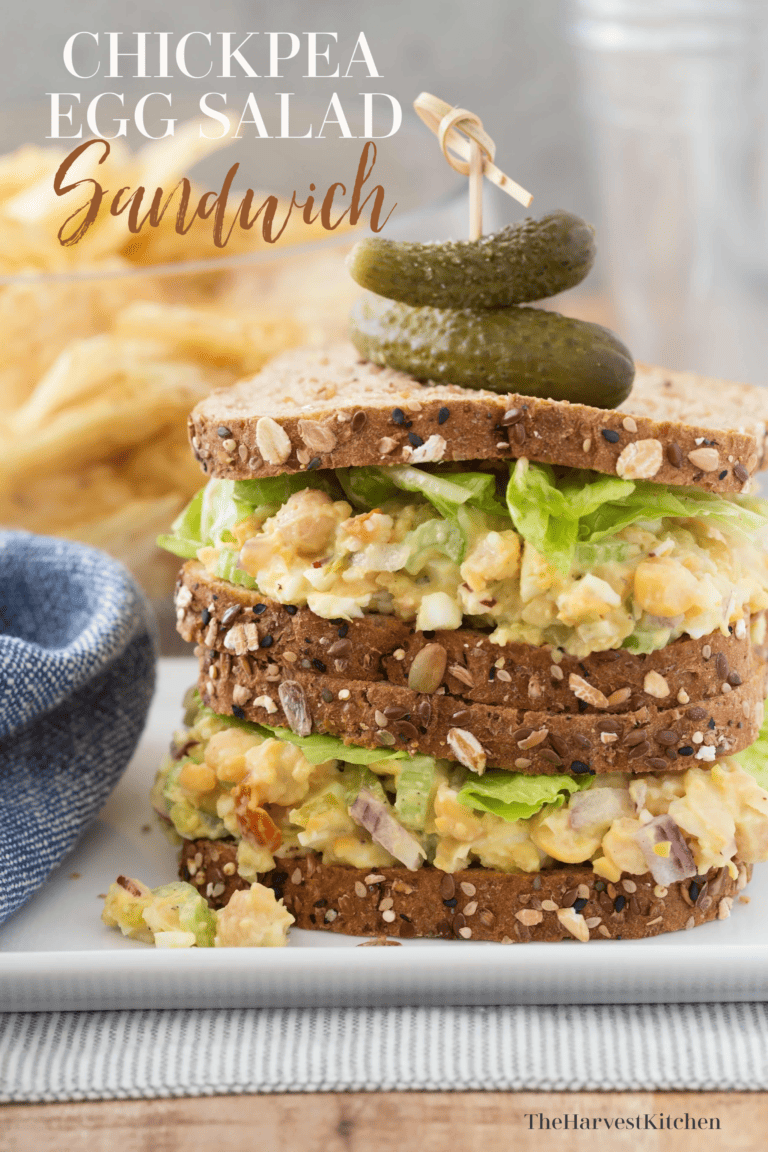 Looking for More Easy Sandwich Recipes to Make?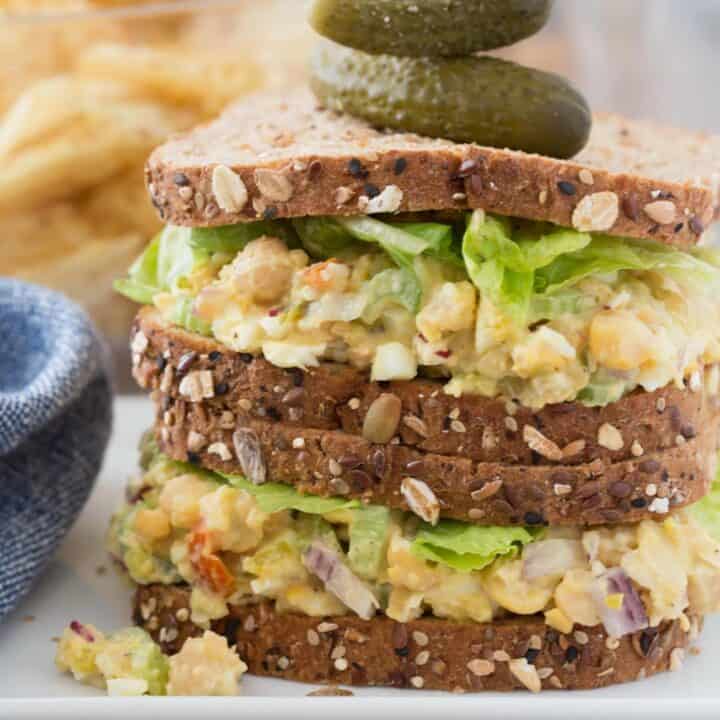 Yield: 4 servings
Easy Egg Salad
This Easy Egg Salad with chickpeas is a great make-ahead recipe to serve on toast for breakfast or as a sandwich or wrap for lunch.
Ingredients
1 15-ounce can low-sodium chickpeas (garbanzo beans), drained rinsed and smashed with a fork
2 hardboiled eggs, chopped or smashed with a fork
1/2 cup celery, chopped
3 tablespoons purple onion, finely chopped
2-3 tablespoons sweet pickle relish
1/3 cup mayonnaise
salt and freshly ground black pepper to taste
Instructions
Combine the chickpeas, hardboiled eggs, celery, sweet pickle relish, onion and mayonnaise in a bowl.
Season with salt and freshly ground black pepper to taste
Serve on bread or toast, in a wrap or on lettuce leaves or tomato slices