Avocado Citrus Vinaigrette
This creamy salad dressing is made with avocado, cilantro, orange juice, olive oil and a little jalapeno. It's light and creamy and everything a good healthy salad dressing should be!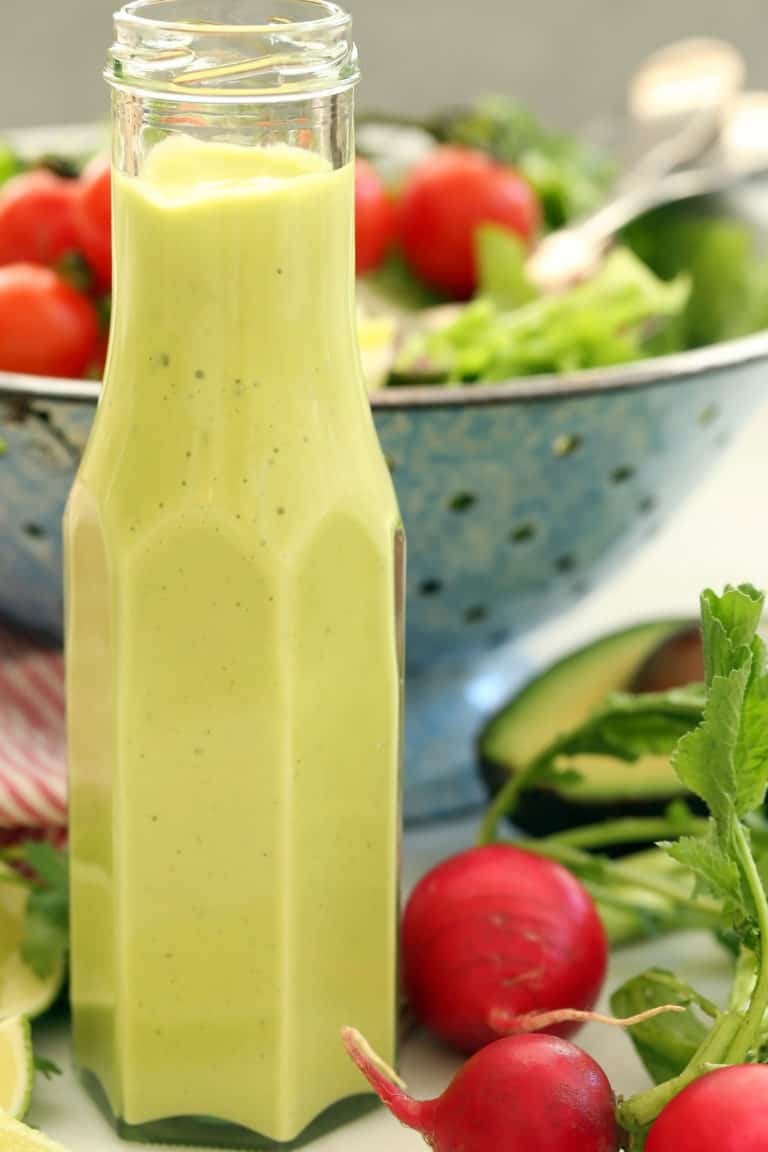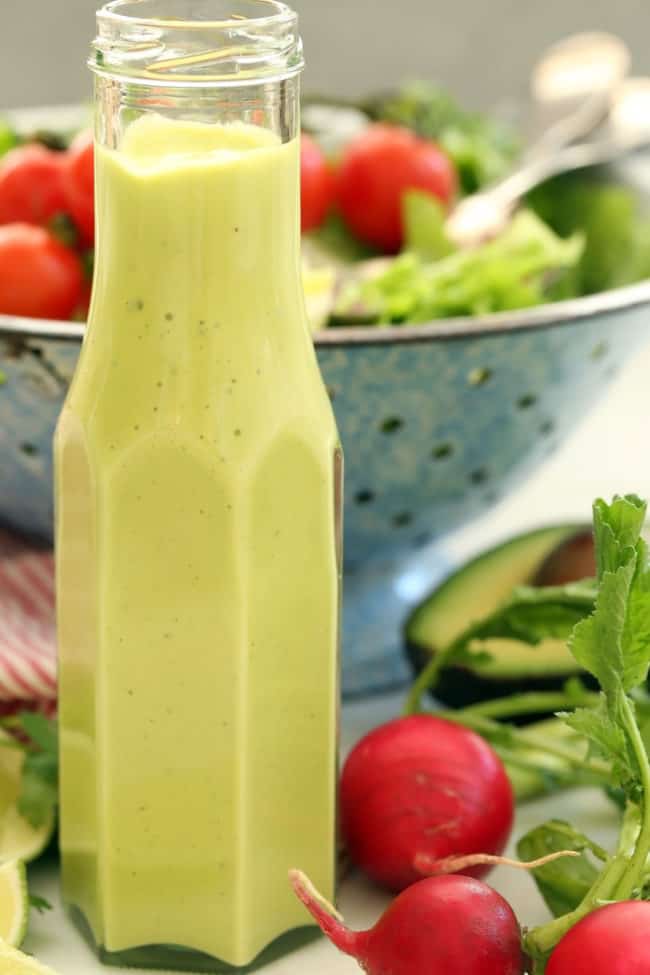 You're likely to find that this vegan avocado dressing is luscious and light and so completely addicting you'll want to drink it.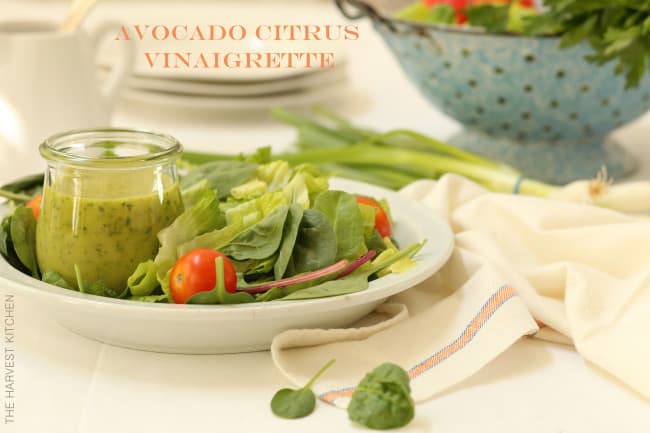 Sometimes I think the easiest way to dress a salad is with a little olive oil and freshly squeezed lemon juice. Often times I'll just drizzle and squeeze right over the leafy greens. But other times, I'll make up a delicious healthy salad dressing like this one! I almost never add salt to my dressings when I'm making them just for me. I try to stay away from salt because it can raise blood pressure, cause fluid retention, and it's just not good for our brains.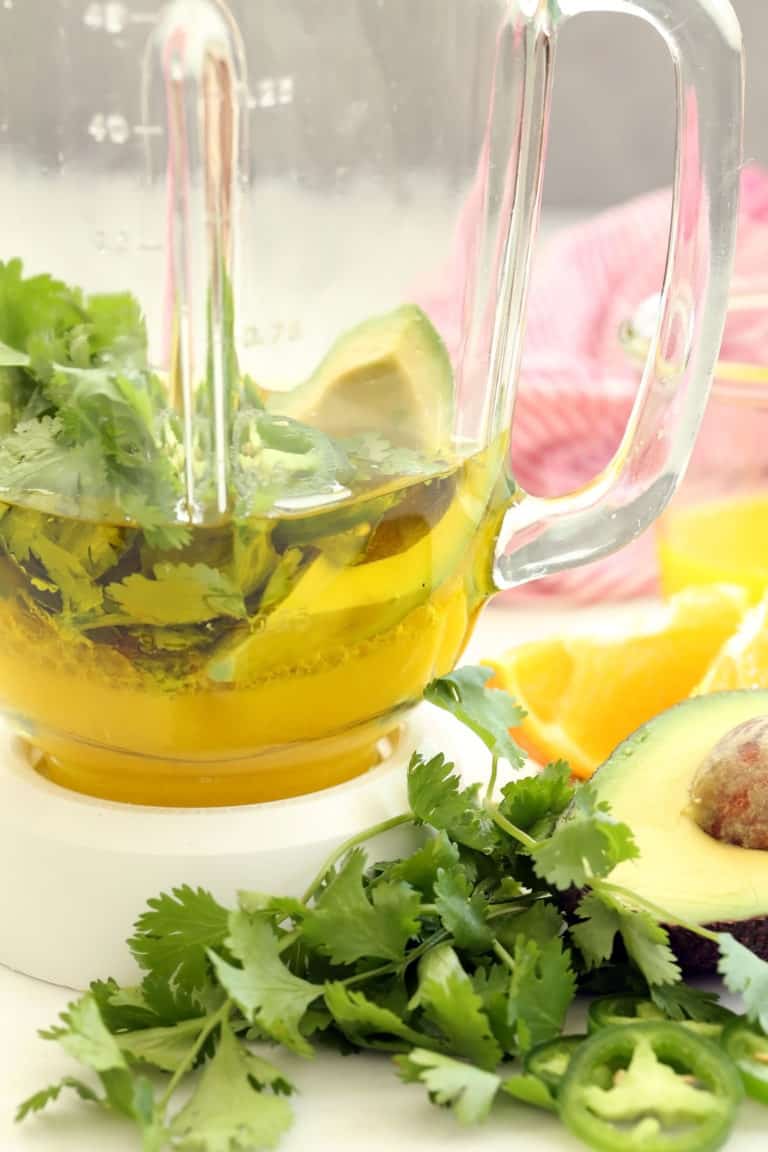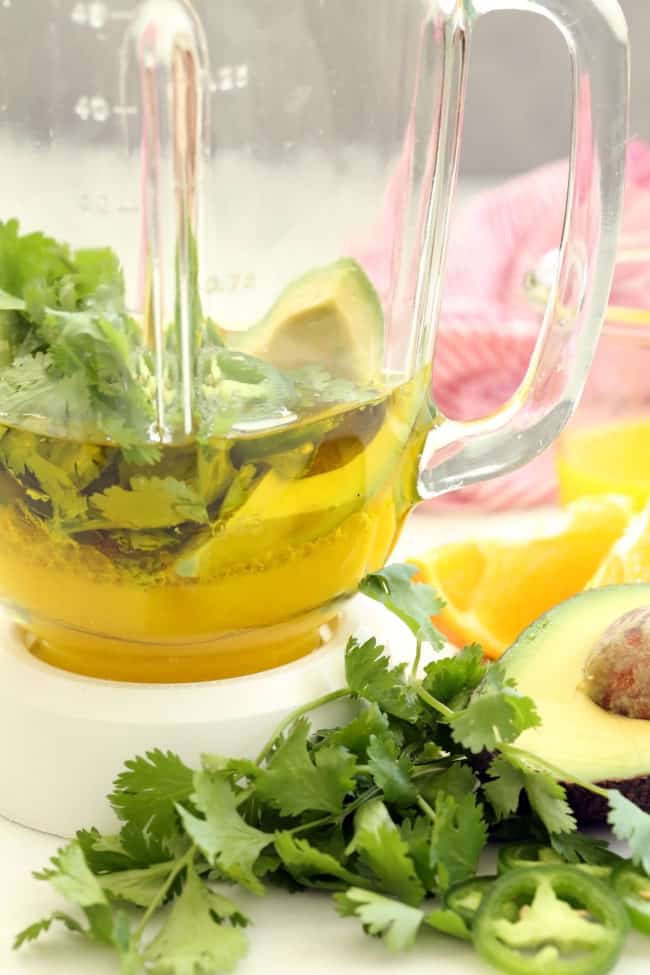 AVOCADO SALAD DRESSING RECIPE
This vegan avocado dressing calls for just a few simple ingredients.
Avocado
Fresh squeezed orange juice
Juice of 1 lime
Pure maple syrup
Fresh cilantro
Jalapeño, minced
Olive oiL
HOW TO MAKE AVOCADO SALAD DRESSING
This citrus vinaigrette with avocado is super easy to make, and if you're like me, you'll likely make it often!
Toss all of the ingredients in your blender and blend until creamy.
Add a few drops of water or more orange juice to achieve desired consistency.
Be sure to chill it in the refrigerate for a good 20-30 minutes before using.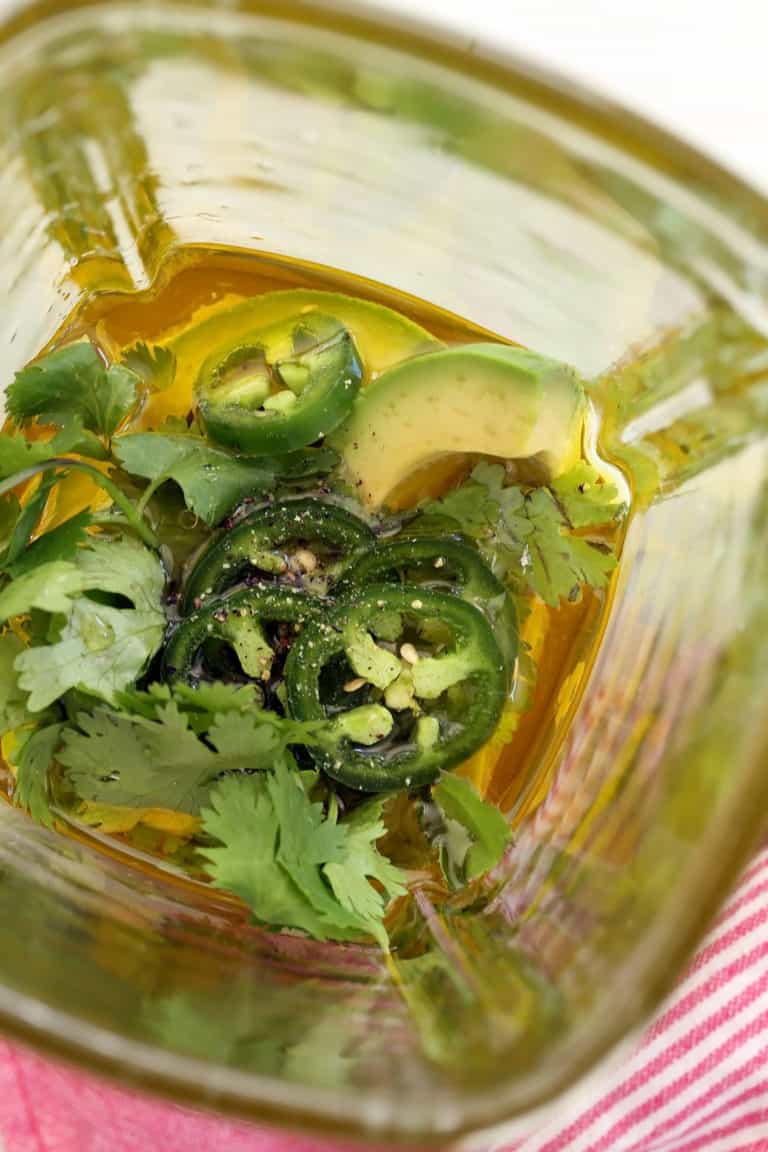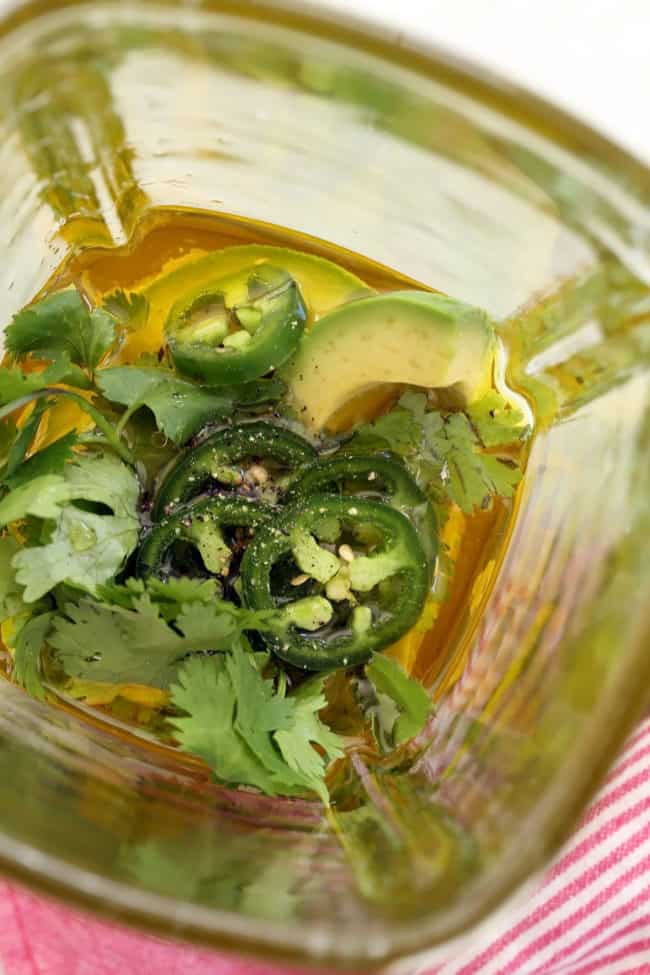 This avocado salad dressing is silky smooth and has a bright fresh citrusy taste with a bit of heat from jalapeño. I try to eat a large salad at least once a day. Some days I'll do better than others and have a salad for both lunch and dinner. This habit came from my childhood. My mom served salads and vegetables at every lunch and dinner. When I make my green salads – I go for generous portions of greens with a variety vegetables. I always try to incorporate at least 3 brightly colored vegetables into my salads. The brighter and more colorful the salad, the better! The most colorful vegetables often offer the greatest cardio protection. And I will usually toss in a handful of nuts and seeds for good measure. I also love to toss in fresh sprigs of herbs, such as flat-leaf parsley.
Having a green salad everyday is a simple way to improve your health. Every type of fruit and vegetable contains different compounds to help your body fight disease. Vegetables are a great source of fiber, antioxidants, phytochemicals, vitamins and minerals. So when you're at the market, reach for a variety of fruits and vegetables, and not just the usual suspects that you typically put in your cart.
HEART HEALTHY SALAD DRESSING RECIPES
Originally published on 9.2015 – updated 11.2019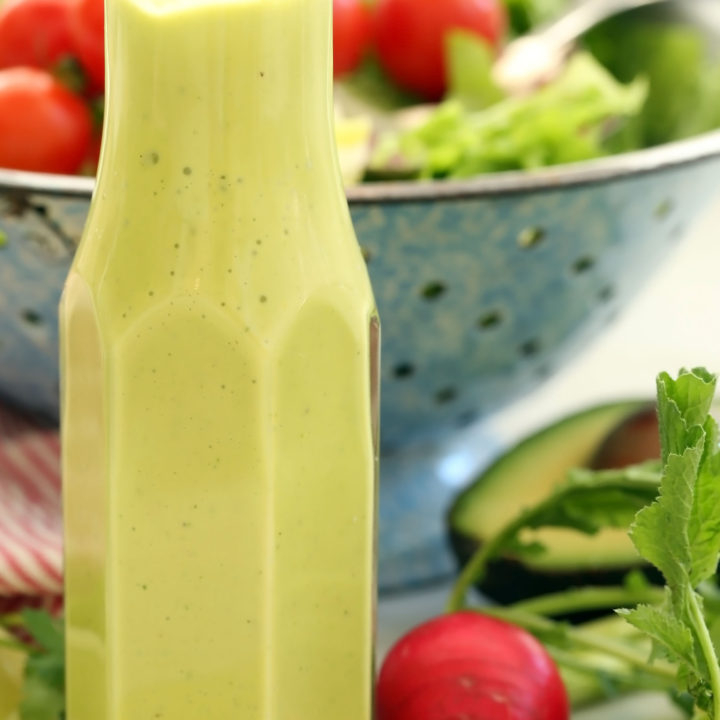 Yield: 4 servings
Avocado Citrus Vinaigrette
Additional Time
20 minutes
This creamy Avocado Citrus Vinaigrette is made with avocado, cilantro, orange juice, olive oil and a little jalapeno.  It's light and creamy and everything a good salad dressing should be!  
Ingredients
1/2 avocado, peeled and seeded
1/2  cup fresh squeezed orange juice
Juice of 1 lime
1-1/2 tablespoon pure maple syrup
1/4 cup fresh cilantro
1/2 small jalapeño, minced
2/3 cup olive oil
Freshly ground black pepper
Salt to taste
Instructions
Place all of the ingredients in a food processor or blender and process until smooth.
Chill for 20 minutes before serving.
Leave a Comment