Basil Pesto Broccoli
This post may contain affiliate links.
Broccoli is one of the most nutrient-dense foods on the planet which is why it's called a "superfood". It's loaded with fiber, antioxidants and anti-inflammatory properties. This Basil Pesto Broccoli is a quick, easy and delicious way to incorporate more of this green giant into your life!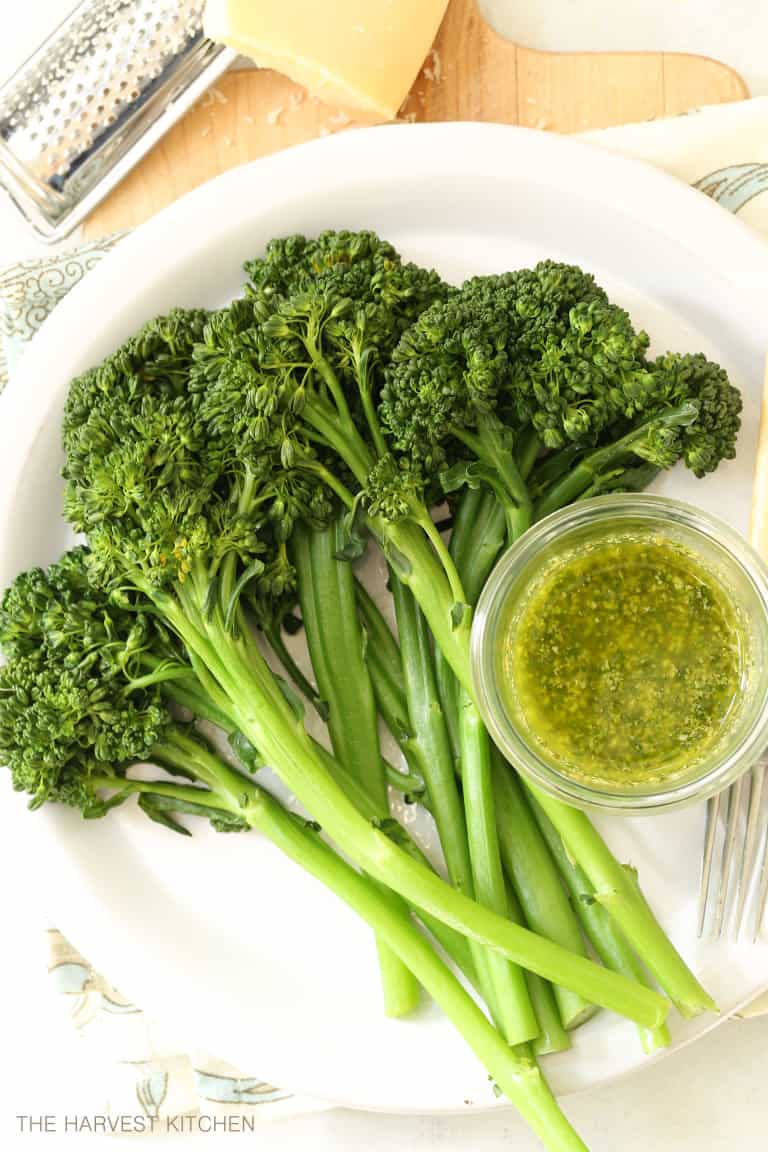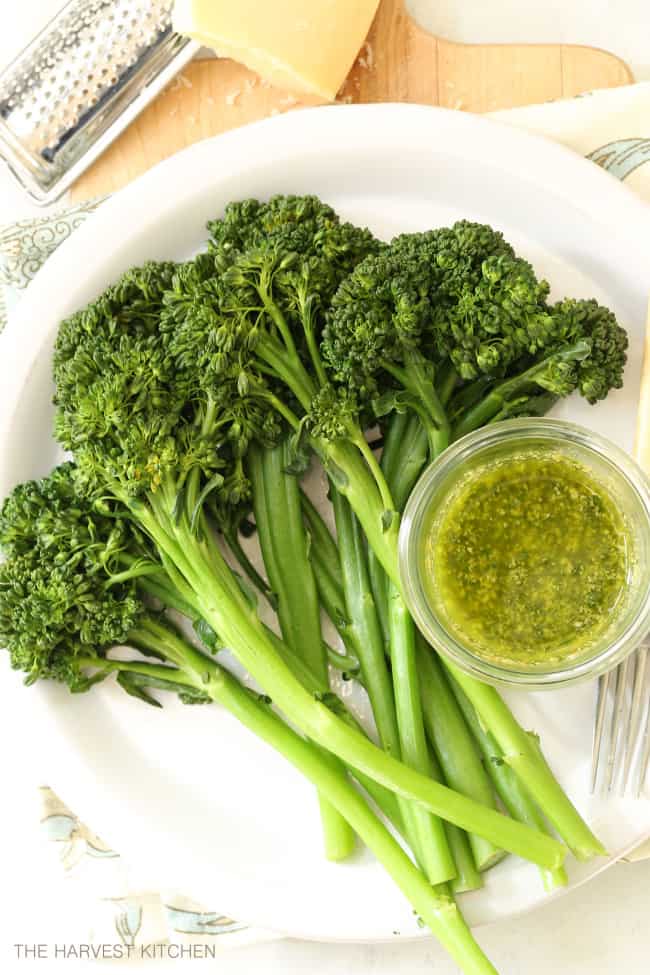 Steamed broccoli with pesto is a great side dish you can that can be quickly thrown together any night of the week. The broccoli is lightly steamed (keeping the nutrients intact) then tossed in a delicious homemade basil pesto.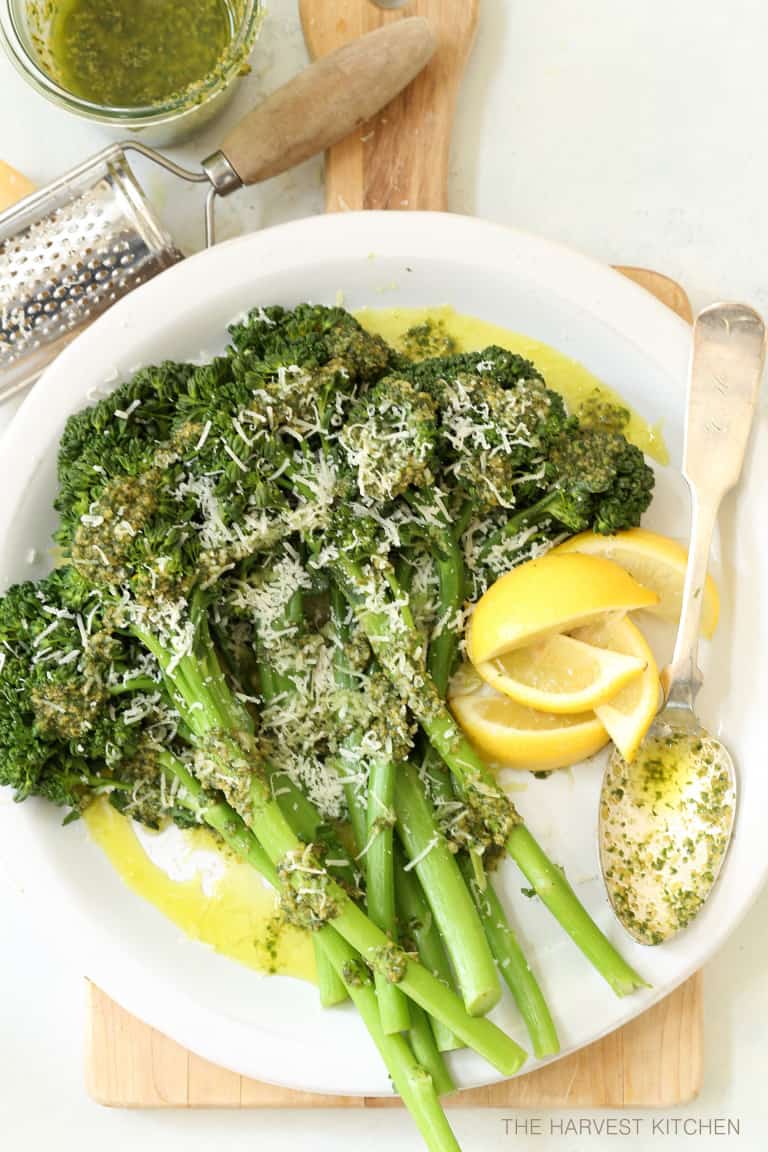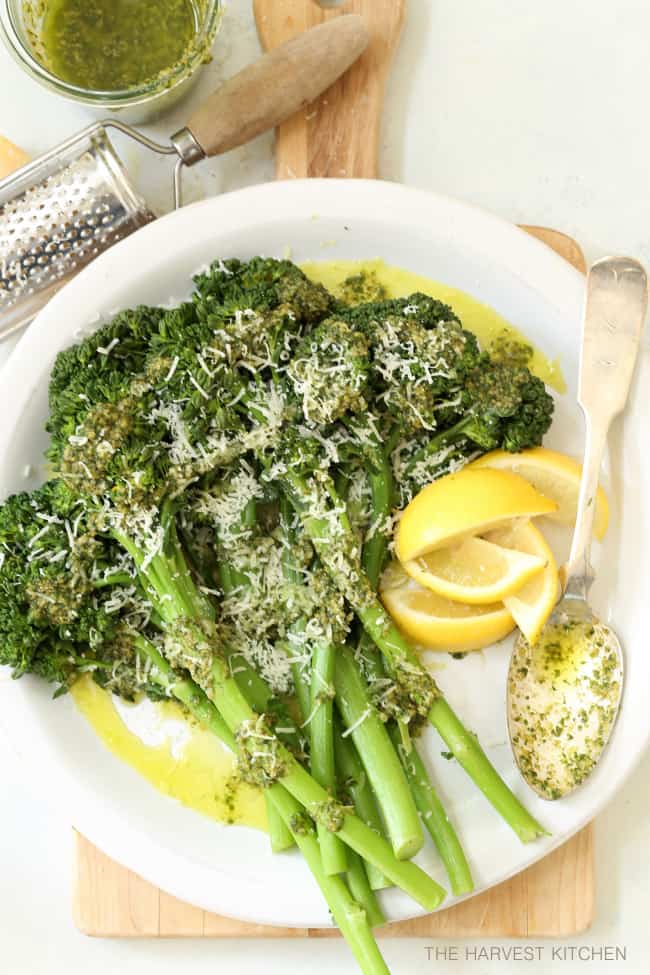 This Basil Pesto Broccoli is one of my favorite vegetable dish recipes on this site! Go easy on the steaming, you don't want your beautiful broccoli to turn to mush. Lightly steamed just so the broccoli is barely fork tender is what we're going for here. We want the broccoli to maintain its flavor and structural integrity. This is a great side dish to serve with grilled chicken or fish, or eat it as a main for a vegetarian dish with a side of quinoa!
STEAMED BROCCOLI RECIPE
This steamed broccoli recipe calls for few ingredients. Just fresh broccoli, homemade pesto, lemons and extra parmesan cheese.
Broccoli
Homemade pesto
Extra parmesan cheese
HOW TO STEAM BROCCOLI
This steamed broccoli is super easy to make and comes together in about 15 minutes.
Make pesto: Blend basil, parmesan cheese, garlic, pine nuts and olive oil in a food processor.
Boil Water: Bring a pot of water to a boil. Insert a steamer inside the pot.
Rinse and trim broccoli: Trim away tough portions of the stem and rinse broccoli under water.
Steam broccoli: Put the broccoli in the steamer inside the pot.
Toss broccoli: Transfer steamed broccoli to a bowl and toss with homemade pesto.
Serve: Arrange the broccoli on a platter and dust with grated parmesan. Serve with lemon wedges.
HOW LONG DO YOU STEAM BROCCOLI
Steam broccoli for about 3-5 minutes or until the stalk and floret is just barely fork tender.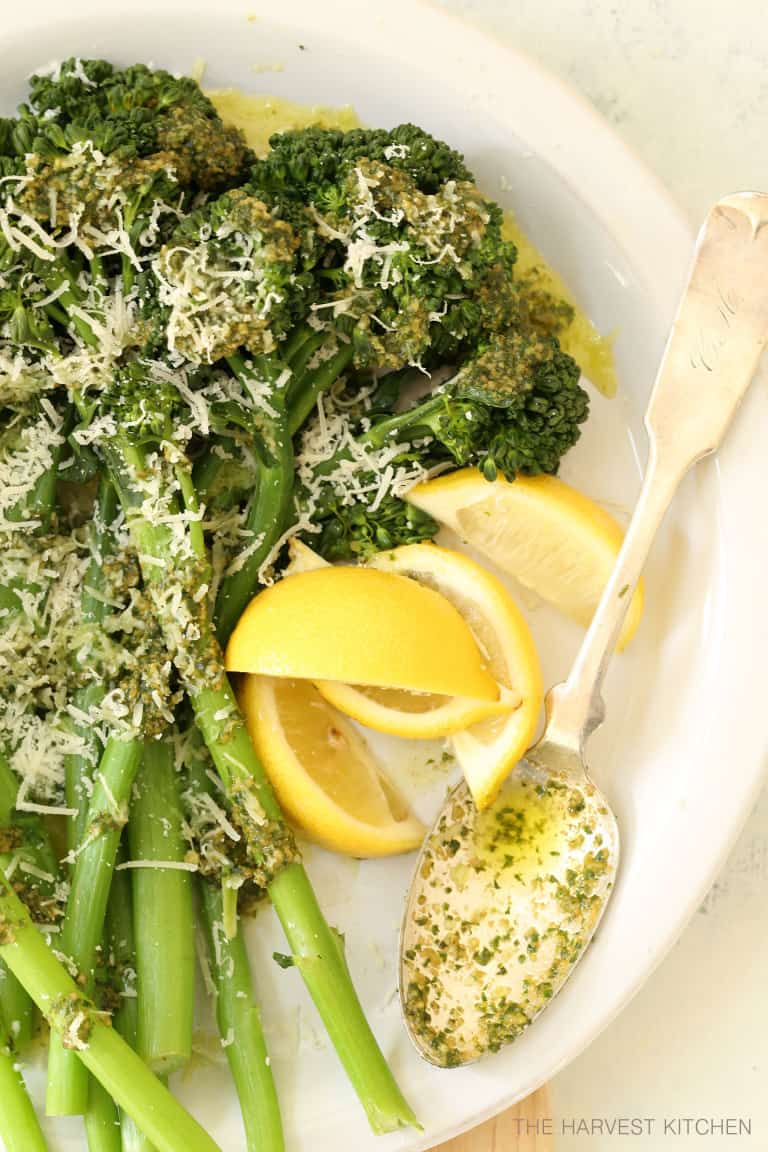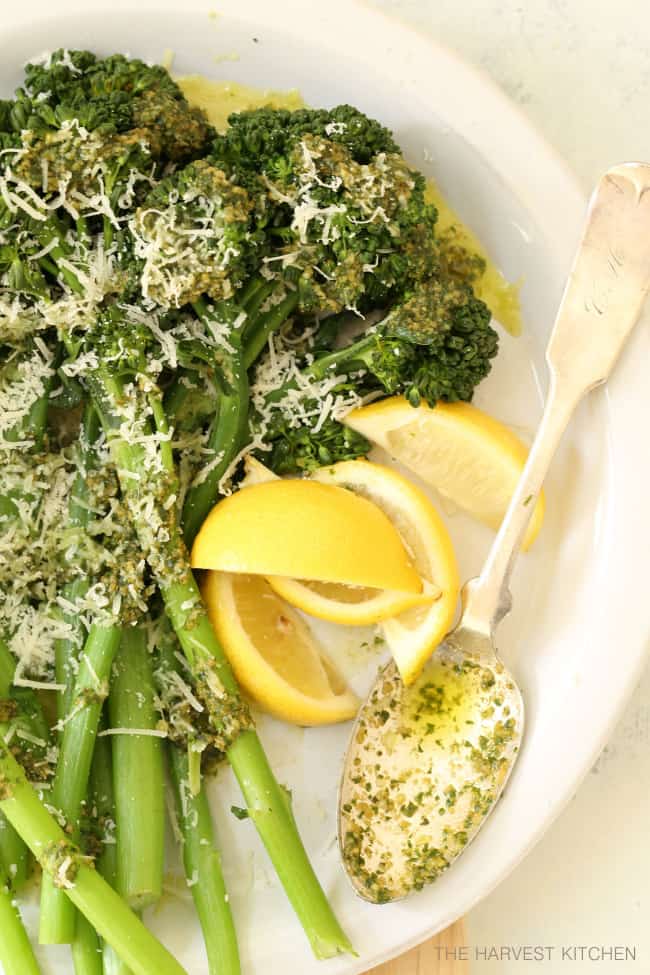 BASIL PESTO RECIPE
The pesto makes this broccoli completely addictive, and you don't even have to love broccoli (like I do) to be swooned by this dish. Truth-be-told, I can easily consume the entire platter of this Basil Pesto Broccoli by myself…in one sitting.
Fresh basil
Garlic
Parmesan cheese
Pine nuts
Olive oil
Cracked pepper
HOW TO MAKE BASIL PESTO
Toast Nuts – If you're adding pine nuts, or another nut – heat a frying pan over medium low heat, and toast the nuts until lightly golden shaking the pan frequently to prevent burning.
Mince Garlic – peel and mince 2 cloves garlic.
Grate Cheese – Finely grate the parmesan cheese.
Prep Basil – Remove and discard the thick ends of the basil stems.
Process: Process the basil, parmesan cheese, garlic, nuts, garlic and olive oil in a food processor.
HEALTH BENEFITS OF BROCCOLI
There are many Benefits of Broccoli. Broccoli is considered a "superfood" because it has potent anti-inflammatory and antioxidant benefits, it helps to lowers the incidence of cataracts, it supports cardiovascular health, and it contains nutrients that offer detox-support.
BROCCOLI RECIPES
MORE HEALTHY SIDE DISH RECIPES
Originally published 6.2016 – updated 5.2020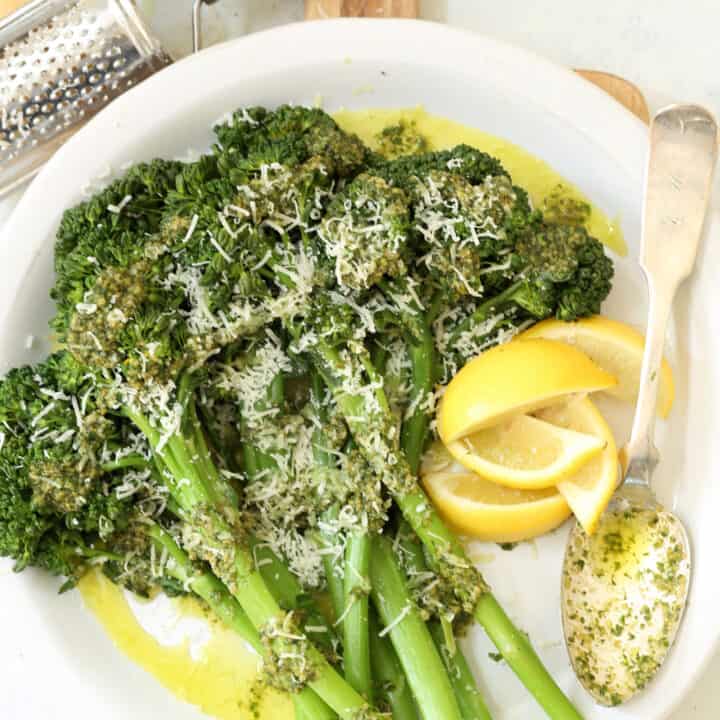 Yield: 4 servings
Basil Pesto Broccoli
This Basil Pesto Broccoli is healthy and delicious and makes a great side dish that can be thrown together quickly any night of the week.
Ingredients
2 pounds broccoli or broccolini, ends trimmed
3/4 cup homemade pesto
For the Homemade Pesto
3 tablespoons olive oil
Kosher salt and freshly cracked black pepper
Grated parmesan or  pecorino for garnish
2 cups packed fresh basil leaves
1/4 cup freshly grated Parmesan cheese
3 tablespoons toasted pine nuts (chopped walnuts work also)
3 garlic cloves
1/2 cup extra-virgin olive oil
Instructions
Bring 1 to 1-1/2 cups water to a boil in a medium saucepan.
Place your steamer in the pan.
Place the broccoli on the steamer.
Cover the lid tightly.
Let the broccoli steam for 2-5 minutes, or until fork tender and bright green.
Remove from heat and drain in a colander.
In a small bowl, combine pesto with olive oil.
Place the broccoli in a large mixing bowl.
Drizzle the pesto over the broccoli and gently toss.
Arrange the broccoli on a platter and dust with grated parmesan or percorino cheese.
For the Pesto
Combine the basil leaves, Parmesan cheese, nuts, and garlic in a food processor fitted with the metal blade and pulse until the leaves are minced finely.
Add the olive oil and pulse to blend, stopping to scrape down the sides of the bowl.
Transfer the pesto to an airtight container and cover with a thin layer of olive oil to keep it from browning.