Mediterranean Chicken with Garlic Tomato Sauce
This post may contain affiliate links.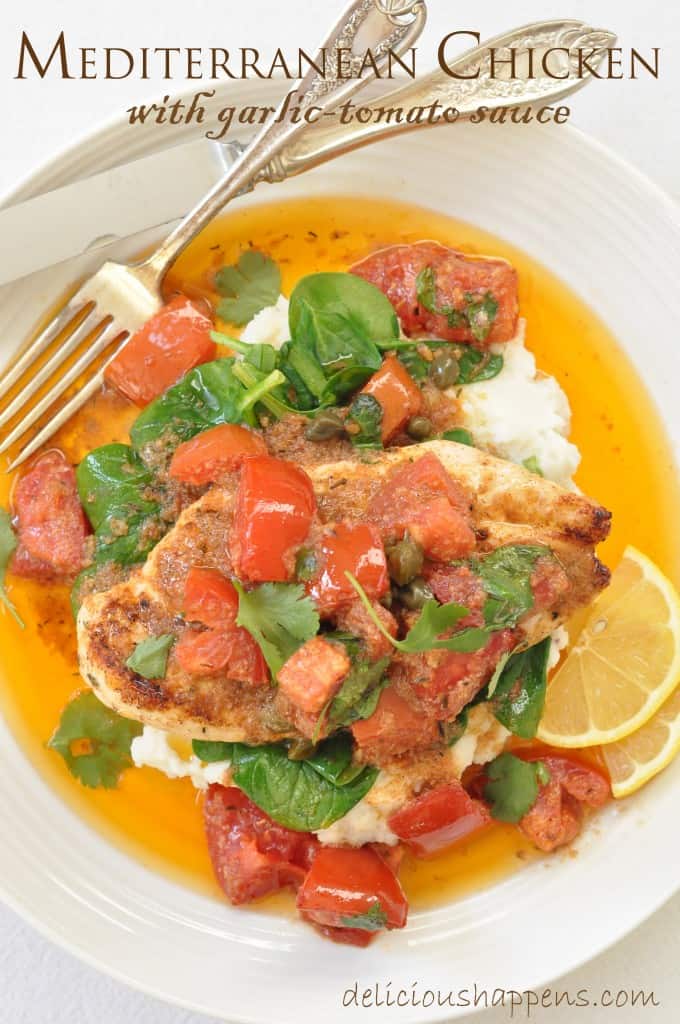 This is my riff on the Wood Fired Chicken at Pita Jungle. I fell in love with it the very first time we met…
which was at lunch one day…
and I was so infatuated with it that I went back that night to have it for dinner too.
The layers of flavors are incredible!! Seriously!! And I've come pretty darn close to nailing the flavors on the head with this Mediterranean Chicken with Garlic Tomato Sauce.
A couple of weeks ago…I had lunch there again with my friend, Cathe. She ordered the Wood Fired Chicken….it was a first for her. And she's been infatuated with it ever since. I know Cathe, and if she didn't have her twin girls (Cate and Emma) to get home to, I'm pretty sure she would have gone back that night to have it again for dinner.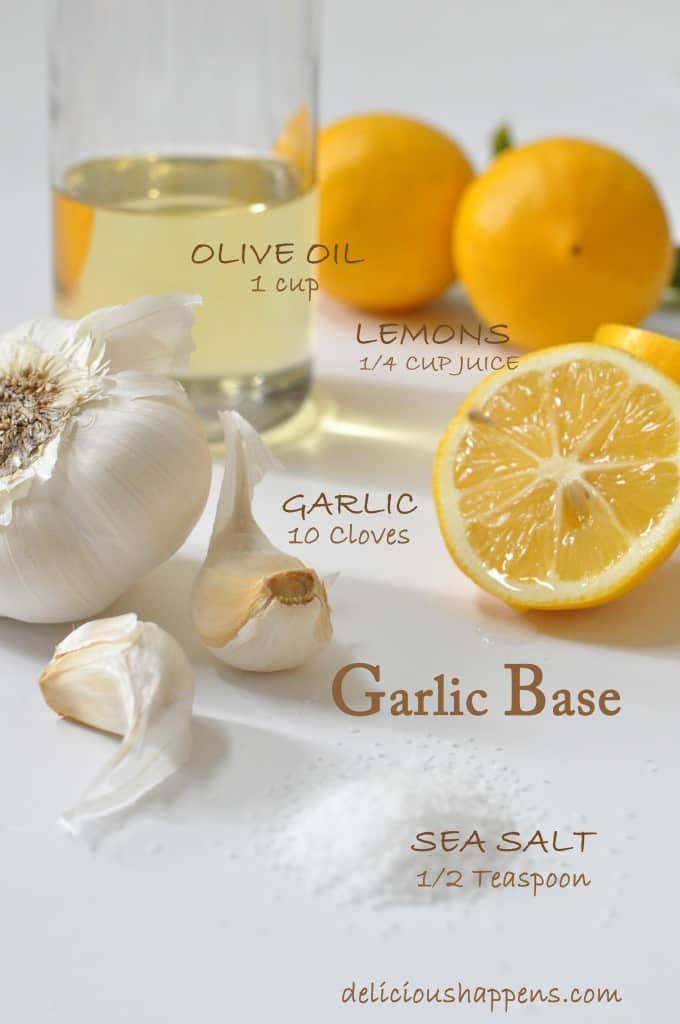 It all begins with a simple garlic base of olive oil, lemon and garlic…
I can think of so many ways to put this garlic base to good use!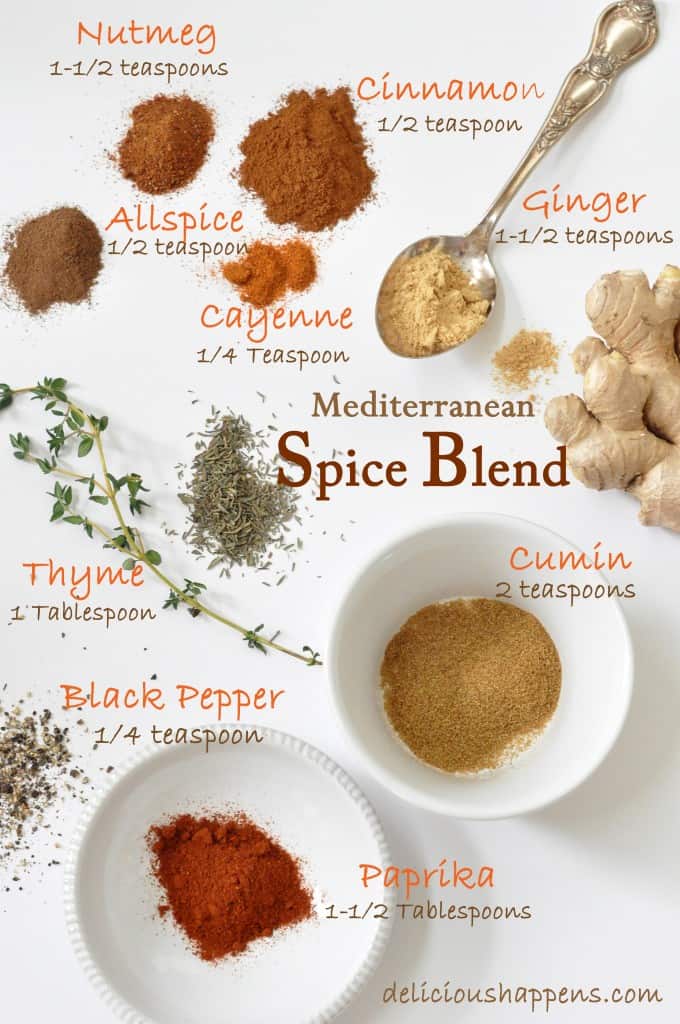 And then this spice blend is what really makes this dish exceptional. Roma tomatoes are quickly cooked in a pan with the Garlic Base and a pinch of the Mediterranean Spice Blend….then a few capers and sprigs of cilantro are tossed in for good measure giving you a tomato sauce with a combo of flavors that is…
in a word…
Heaven!
If you're a vegan…just pour the Garlic Tomato Sauce over noodles or quinoa.
This is a really quick pan sauce that is made up in small portions…. so you won't be fussing in the kitchen long. After you make up the Garlic Base and Mediterranean Spice Blend the rest is a piece of cake.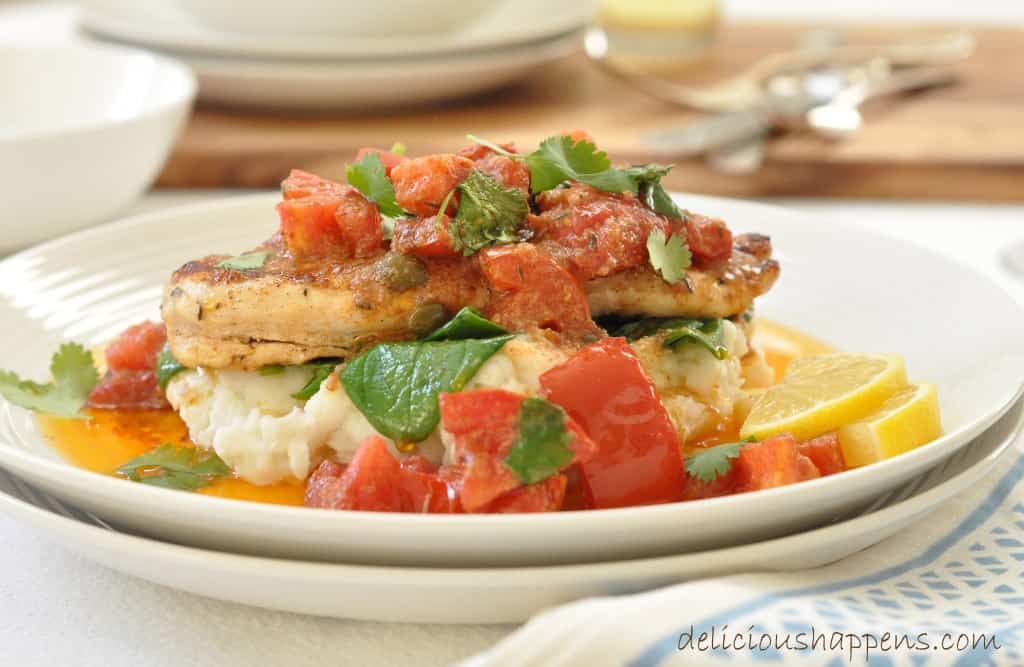 Serve the whole gorgeous mess on a bed of wilted spinach and mashed potatoes.
I reeeealy hope you love this Mediterranean Chicken with Garlic Tomato Sauce as much as I do!!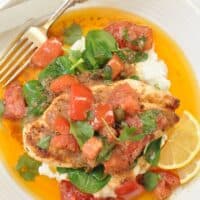 Yield: 2 servings
Mediterranean Chicken with Garlic Tomato Sauce
Ingredients
2 boneless chicken breasts, flattened thin
1/2 cup Garlic Base, plus 4 tablespoons to marinate the chicken in
2 Roma tomatoes, cut into large pieces (make sure they're firm - over ripe get too soft)
1 teaspoon Mediterranean Spice Blend
Salt and Freshly ground black pepper to taste
2 tablespoons fresh cilantro, chopped
1 teaspoon capers
1 cup olive oil (use light not extra-virgin)
1/4 cup lemon juice, freshly squeezed
10 cloves garlic, smashed with the back of a knife
1/4 teaspoon sea salt
1-1/2 tablespoons ground paprika
1 tablespoon dried thyme
2 teaspoons ground cumin
1-1/2 teaspoons ground ginger
1-1/2 teaspoons ground nutmeg
1/2 teaspoon allspice
1/4 teaspoon ground cinnamon
1/4 teaspoon cayenne pepper
1/4 teaspoon freshly ground black pepper
Instructions
For the Mediterranean Chicken
Marinate the chicken breasts in 4 tablespoons of the Garlic Base for 1 hour.
Grill the chicken until no longer pink inside 4-5 minutes on each side (I used my Le Creuset grille)
While your chicken is cooking
In a large saucepan heat the Garlic Base over medium high heat.
Add the Mediterranean Spice Blend and swirl the pan.
Add the tomatoes and quickly cook until the tomatoes begin to soften. Stir so the tomatoes are evenly cooked.
Add the capers. Remove from heat.
Immediately spoon the Garlic Tomato Sauce over the chicken breasts and divide the tomatoes evenly over each breast. Garnish with cilantro.
Serve on a bed of wilted spinach and mashed red potatoes. Here's my recipe for MASHED POTATOES - omit the garlic and parmesan.
For the Garlic Base
Mix all of the ingredients in a blender until creamy in texture and the garlic is minced into fine pieces.
For the Mediterranean Spice Blend
Add all of the ingredients to a jar and seal the lid tightly. Shake to blend.