Enchilada Style Baked Chicken
This post may contain affiliate links.
This crowd-pleasing Enchilada Style Baked Chicken is loaded with black beans, corn, tomatoes and a delicious enchilada sauce. It's an easy Mexican chicken bake to make any night of the week.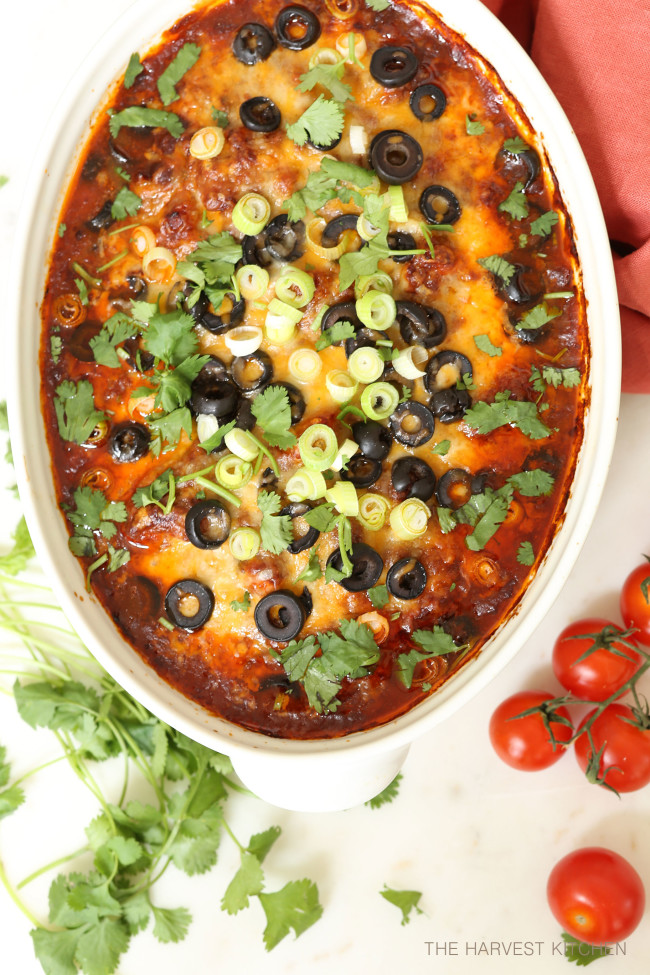 This Enchilada Style Baked Chicken is your basic enchilada chicken casserole just without the tortillas. It has all of the flavor and comfort of a enchilada chicken casserole with less carbs, less calories and without the gluten.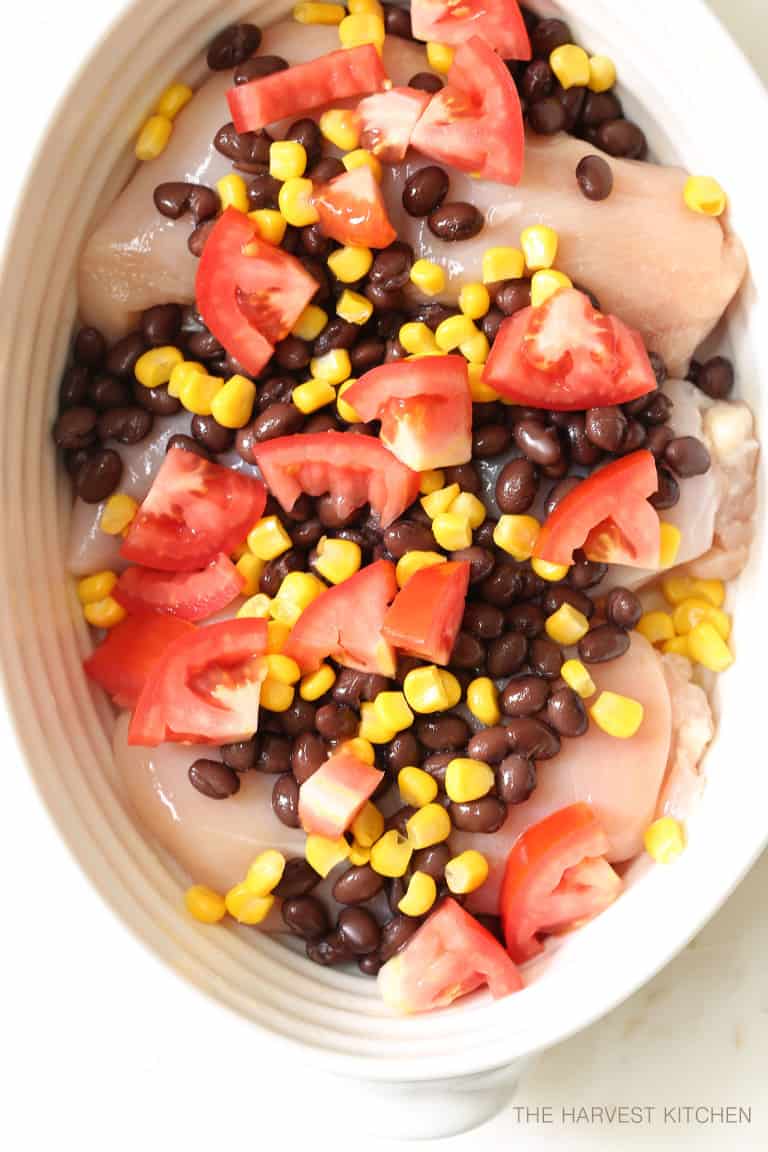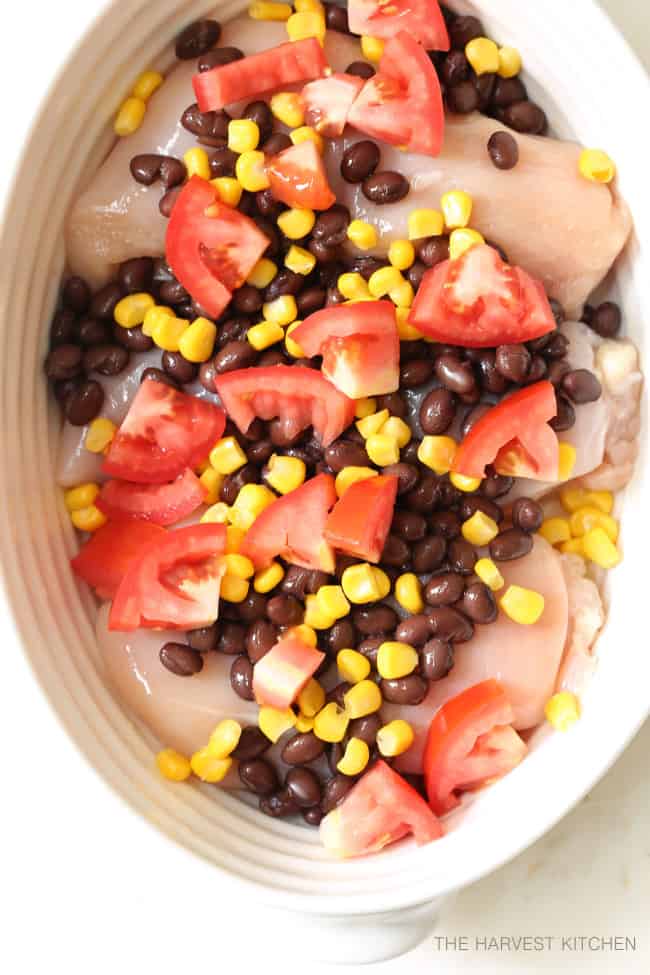 ENCHILADA CHICKEN CASSEROLE RECIPE
This Mexican chicken breast recipe calls for just 9 ingredients.
Chicken breasts
Black Beans
Corn
Tomatoes
Enchilada Sauce
Cheese
Cilantro
Green Onion
Black Olives
VARIATIONS
This chicken enchilada bake recipe can be tweaked any number of ways to your liking:
Use pinto beans or refried beans instead of black beans
Add grilled sliced onions and green and red peppers for a fajita flavored casserole
Add green chilies
Add zucchini instead of corn
Use ground chicken or turkey instead of chicken breasts
Chop the chicken instead of baking the breasts whole
Garnish with purple onions instead of green
Garnish with chopped avocado
HOW TO MAKE CHICKEN CASSEROLE RECIPE
This enchilada casserole recipe is an easy one to make! Prep time is about 5 minutes
Add ingredients to a baking dish big enough to hold 4 chicken breasts
Pour enchilada sauce over the ingredients
Layer the top with cheese
Bake for about 45 to 50 minutes
Garnish with cilantro, green onion and black olives
When this enchilada chicken casserole comes out of the oven you'll have a wonderful healthy meal that has all of the flavors of chicken enchiladas, complete with tender juicy chicken, black beans, corn, tomatoes and melted cheese. The only thing missing here are the tortillas. Yay! Less carbs! Less calories! Less hassle!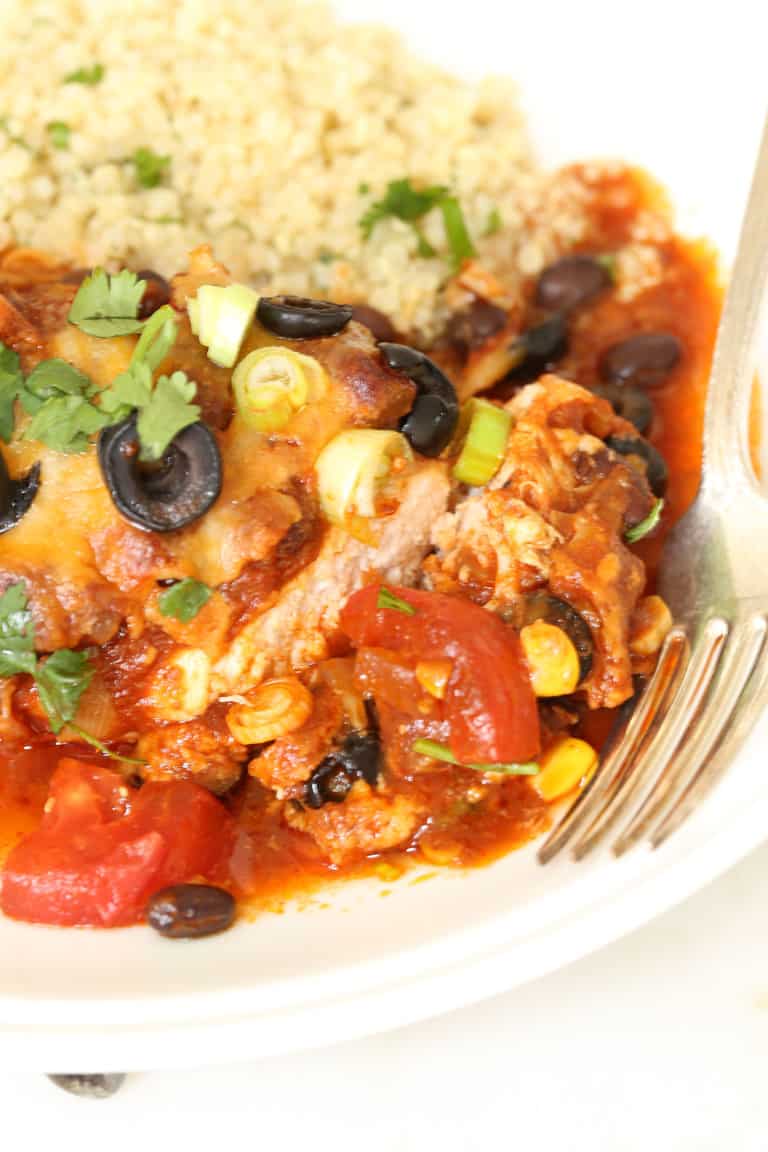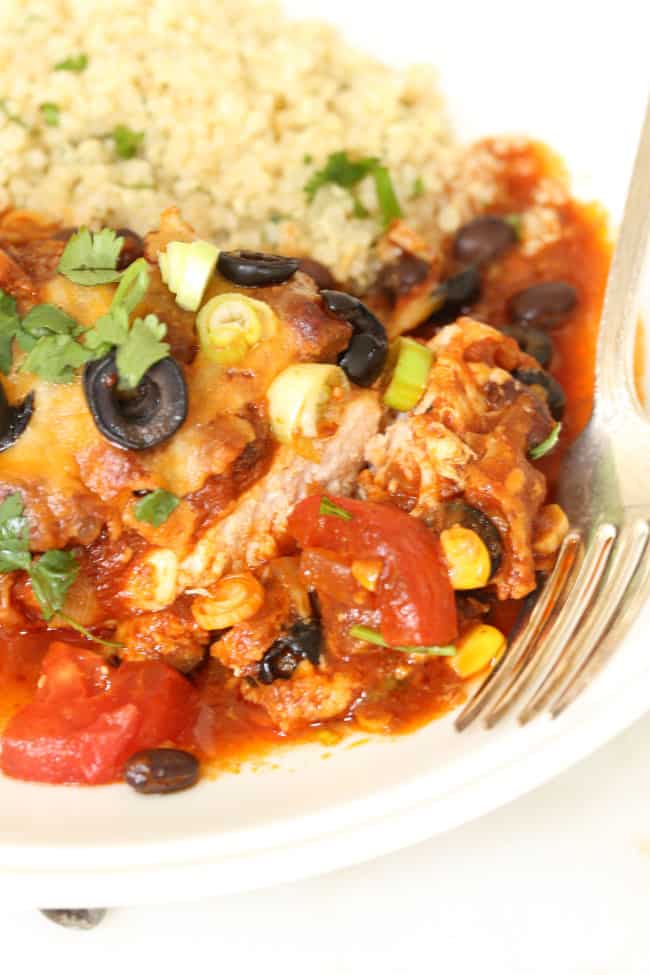 I serve this chicken enchilada bake with either Spanish Rice, Spanish Quinoa or cilantro lime quinoa, and a very big green salad.
MORE EASY CHICKEN DINNER RECIPES YOU'LL LOVE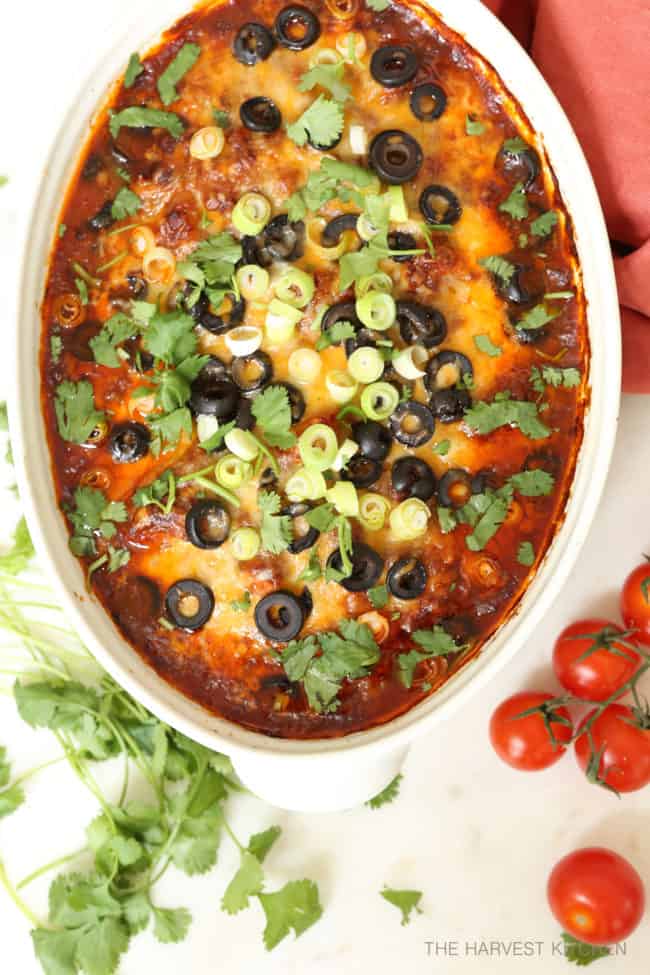 Yield: 4 servings
Enchilada Style Baked Chicken
This crowd-pleasing Enchilada Style Baked Chicken is loaded with black beans, corn, tomatoes and a delicious enchilada sauce.   It's an easy baked  chicken recipe to make any night of the week.
Ingredients
4 Free-range skinless, boneless chicken breasts
1-1/4 cup fresh or frozen corn kernels
1 15-ounce can black beans, drained and rinsed
2 Roma tomatoes, chopped
1-1/2 cups enchilada sauce
1 cup shredded Jack and cheddar cheese blend (Mexican style cheese blend), shredded
Garnish with green onions, black olives and chopped cilantro
For Homemade Enchilada Sauce
2 tablespoons olive oil
1 cup chopped yellow onion
3 cloves garlic, minced
1 teaspoon  jalapeno pepper, seeded and minced (optional)
3 Tablespoons chili powder
2 teaspoons ground cumin
1/2 teaspoon ground oregano
1 15-oz can tomato sauce
1 cup chicken broth
Instructions
Place the chicken in a medium sized baking dish
Sprinkle the corn, black beans and tomatoes evenly over the chicken
Pour the enchilada sauce evenly over the top
Bake uncovered on the middle rack at 350 degrees for 30 minutes.
Sprinkle the cheese over the top of the chicken.
Return to the oven and continue to bake for another 10 - 15 minutes or until chicken is no longer pink inside
Garnish with green onions and chopped cilantro
Serve with rice or quinoa
For the Homemade Enchilada Sauce
Heat the olive oil in a medium skillet.
Over medium high heat cook the onion, jalapeno and garlic for about 8 to 10 minutes or until soft and cooked evenly.
Stir in the chili powder, cumin, and oregano.
Add the tomato sauce and chicken broth.
Blend well and bring the sauce to a simmer. Lower the heat and cook for about 5 to 7 minutes or until the sauce has slightly thickened.