Superfood Salad
Yum
This Superfood Salad has a concentrated dose of nutrients and a delicious blend of flavor and texture.  Superfoods get their reputation for being rich with nutrients such as antioxidants, fiber, heart-healthy fats and/or phytonutrients, such as the case with the ingredients in this salad.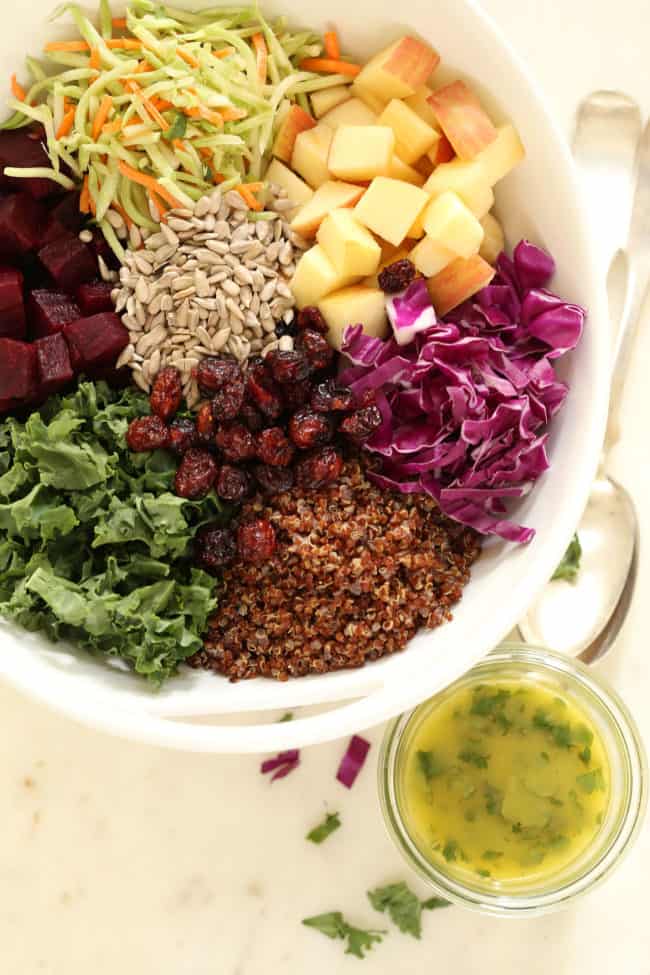 This Superfood Salad is loaded with curly kale, crunchy broccoli slaw, cabbage, shaved brussel sprouts, apples and sunflower seeds, as well as protein-dense quinoa, small bites of beets and chewy dried cranberries. It's all tossed in a delicious Honey Lime Vinaigrette.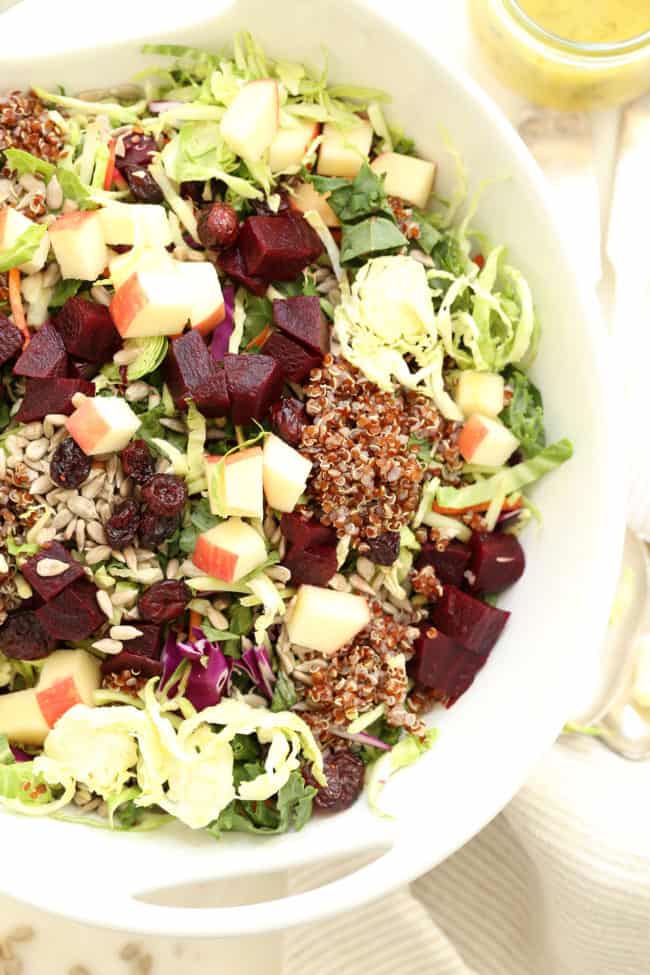 A few evenings ago, Malcolm and I had dinner at a popular restaurant down in Dana Point,.  We had the superfood salad with chicken (and a glass or two of wine).  As Malcolm took his first bite of the salad, he gave me a sideways glance and said "this is a good salad, Deb".  Dining with Malcolm is always fun since he loves good healthy food.  And he was right, it was a good salad, and I've been craving it ever since.  So, this Superfood Salad is my riff on things.  This salad is a versatile one.  You could easily swap out the dried cranberries and go with fresh blueberries instead.   I just couldn't find any organic blueberries in the stores or I would have swapped them out.  And you could go with walnuts or almonds in lieu of, or in addition to the sunflower seeds.  There was crumbled goat cheese in the salad that Malcolm and I had.  But to be honest….not a big fan here, so I kept the goat cheese out.  And yes, in case you were wondering, I forgot to add the shaved brussel sprouts to the first two photos.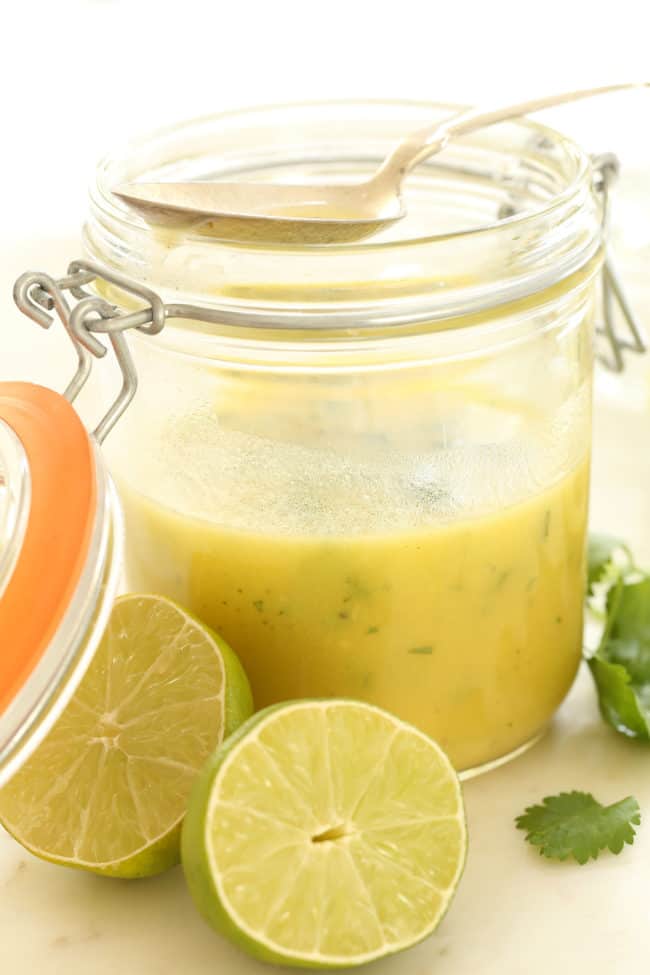 As for the vinaigrette.  It's a good one!  The Honey Lime Vinaigrette for this salad is slightly adapted from the recipe I found in my Tommy Bahama's cookbook.  It's simple to make and has a delicious tart and sweet combo of flavors.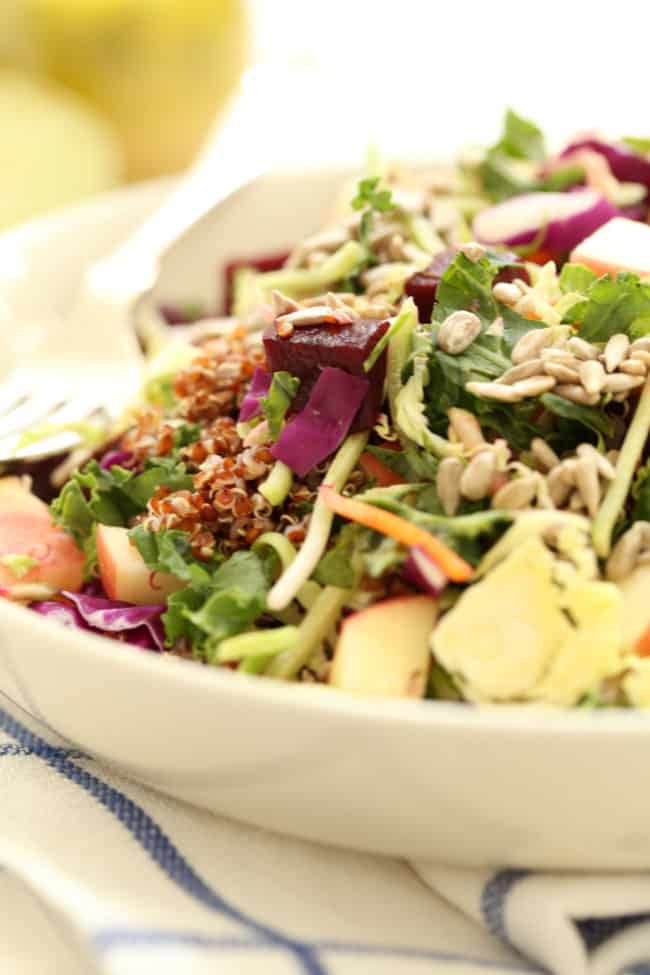 Also, Malcolm would have preferred that our salad came with salmon rather than chicken, so I've added salmon here instead.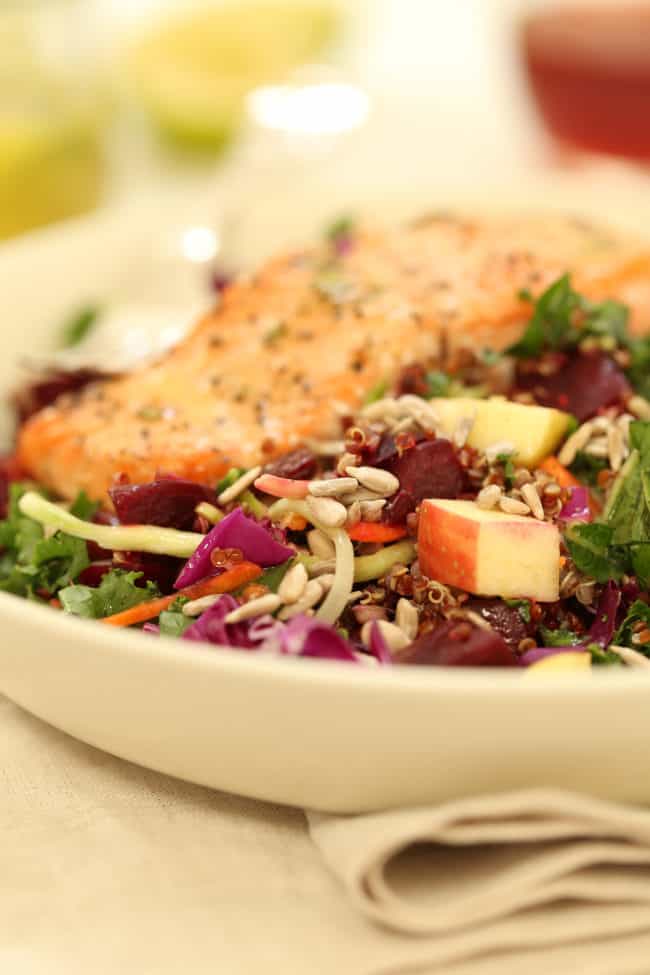 This salad is delicious  without any meat added at all.  It's crunchy and chewy and has a deliciously healthy combo of ingredients.  But if you want something a little more substantial for dinner, then a piece of grilled salmon or chicken makes a nice add here.
~ Deb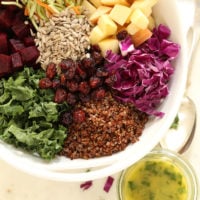 Superfood Salad
Yield: 4-6 servings
Total Time: 20 minutes
Ingredients:
For the Salad
1 cup curly kale, stems removed and finely chopped
3/4 cup broccoli slaw (I used the organic Trader Joe's broccoli slaw)
3/4 cup purple cabbage, finely chopped
3/4 cup beets, peeled, lightly steamed and cut into small cubes
3/4 cup cooked red quinoa
3/4 cup apple, cut into small chunks (I used Honeycrisp)
3/4 cup brussel sprouts, finely sliced
1/2 cup dried cranberries
1/2 cup sunflower seeds
Honey Lime Vinaigrette
1/2 cup fresh lime juice
5 tablespoons clover honey
1 tablespoon cilantro, coarsely chopped
2-1/2 teaspoons apple cider vinegar
2 teaspoons Dijon mustard
1/2 teaspoon fresh ginger, finely grated
1/2 cup extra-virgin olive oil
salt and freshly ground black pepper to taste
Directions:
For the Salad
Combine the salad ingredients in a large mixing bowl.
Toss to combine.
Drizzle the vinaigrette along the edge of the salad and fold into the ingredients to lightly coat.
Honey Lime Vinaigrette
Combine all of the ingredients in a mason jar and give it a good shake, or add all of the ingredients to a blender and blend until smooth.  Store in the refrigerator.
2 Responses to "Superfood Salad"
Leave a Comment