Kale Salad with Basil Vinaigrette
Yum
This Kale Salad with Basil Vinaigrette is my "house" salad.  It's fresh and flavorful and can be served as a starter, but it's substantial and filling enough to make a meal.  Add grilled chicken or salmon for added protein.  This salad is loaded with curly kale, Romaine lettuce, quinoa, Parmesan cheese, toasted almonds, golden raisins, and tossed in a bright vinaigrette for loads of flavor and texture.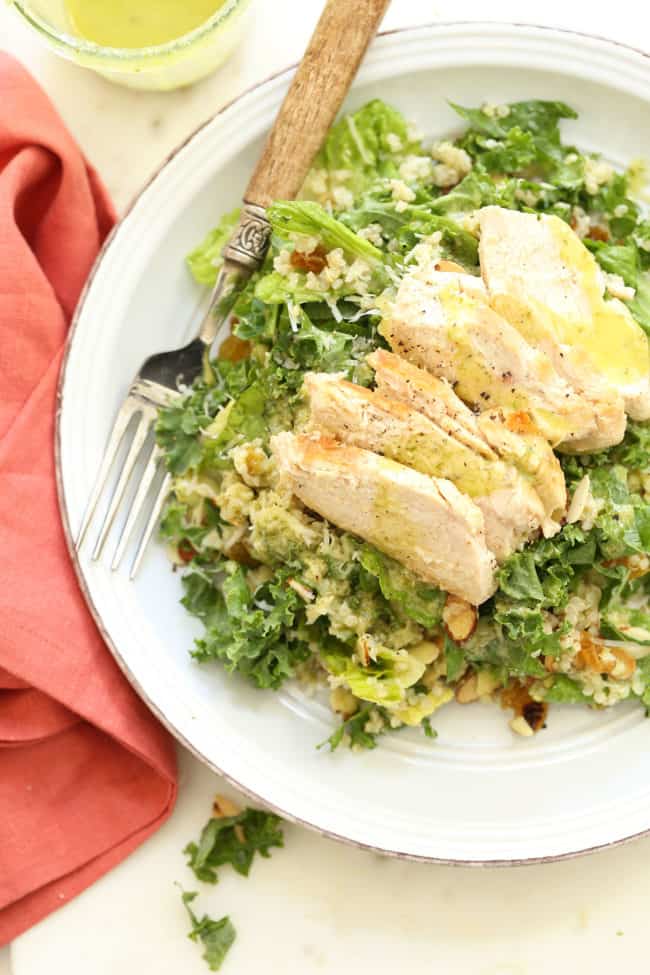 Posting this Kale Salad with Basil Vinaigrette was  an afterthought really.  I was making this salad for lunch and thought ehhh I should grab my camera.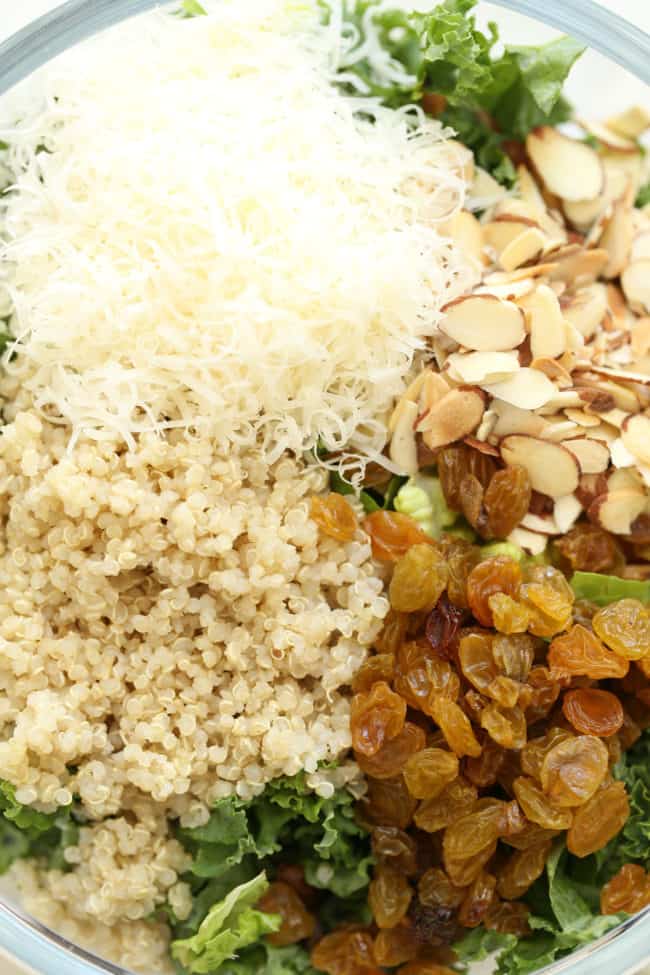 Normally I make salads that are chockfull of ingredients – everything but the kitchen sink salads (that's what my mom loves about my salads), but this one is different.  This one is a simple salad made with the most humble of ingredients.  It's flecked with sliced almonds and golden raisins, and mixed with curly kale, romaine lettuce,  some quinoa and a generous portion of parmesan cheese (grated or shaved).  Where it gets interesting is when these simple ingredients are dressed up in a gorgeous green light basil vinaigrette.  The flavor will remind you a tad of pesto.  And in my family – we love our pesto!!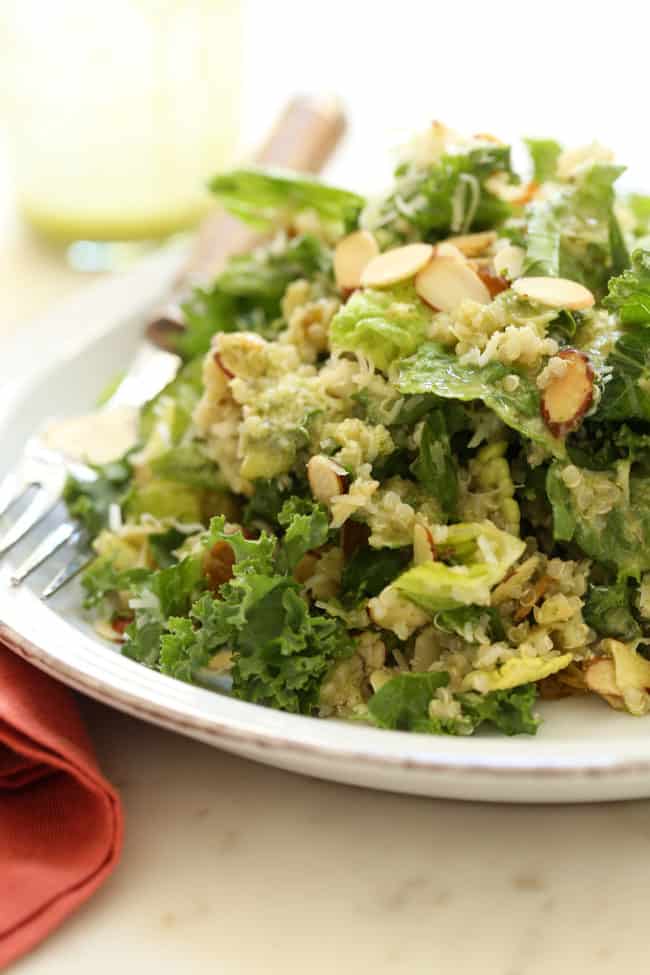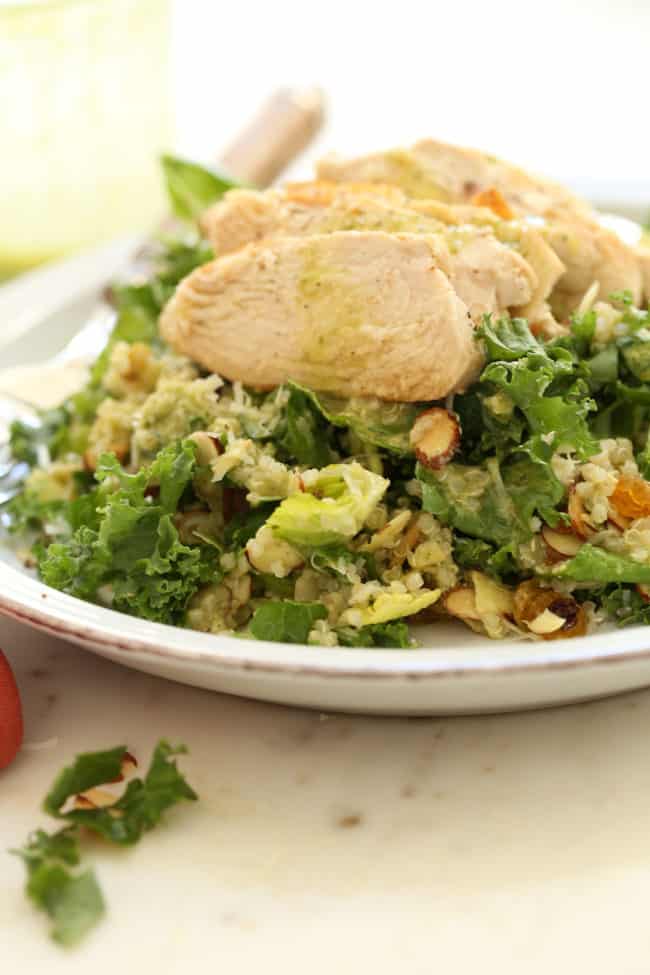 This salad has an impressive range of flavors and textures, and it sits pretty parked next to any main course you might be serving.  It's also filling enough to be a meal on its own.
I make this salad at least once a week.  It's one of my favorites both for the flavors and its simplicity.  Some nights though when I'm feeling particularly hungry and want a more substantial salad – I'll toss in some chopped grilled chicken (or store bought rotisserie chicken).  Grilled salmon works nicely here as well.  And of course, feel free this summer to sub in your favorite fresh berries in lieu of the raisins for a bright festive seasonal salad.
I hope you enjoy this simple Kale Salad with Basil Vinaigrette as much as I do!!
~ Deb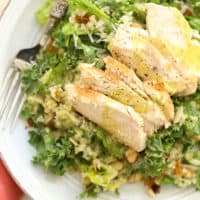 Kale and Quinoa Salad with Basil Parmesan Vinaigrette
Yield: 4 servings
Total Time: 15 minutes
Ingredients:
For the Salad
2 cups Romaine lettuce, finely chopped
2 cups curly kale, finely chopped (cut the leaves away from the stems and discard stems)
1 cup cooked quinoa
3/4 cup sliced roasted almonds
1/2 - 3/4 cup golden raisins
1/2 cup parmesan cheese, plus extra for serving
For the Basil Vinaigrette
3 tablespoons fresh basil, sliced
1 clove garlic, minced
4 tablespoons parmesan cheese, grated
1-1/2 tablespoons Dijon mustard
4 tablespoons fresh lemon juice
1/2 cup extra virgin olive oil
salt and freshly ground black pepper to taste
Directions:
For the Salad
Add all of the salad ingredients to a large bowl and toss.
Drizzle the outer sides of the bowl with the vinaigrette.
Toss the ingredients in the vinaigrette until evenly coated.
Serve with extra parmesan cheese.
For the Basil Vinaigrette
Place basil, garlic, parmesan cheese, mustard and lemon juice in a blender.
Pulse a few times, then slowly pour the olive oil in the blender.
Continue to blend until vinaigrette is smooth.
Refrigerate for 1 hour before serving
Leave a Comment