Immune Boosting Carrot Ginger Juice
Yum
This Immune Boosting Carrot Ginger Juice is one of my favorite juice blends.  It was my dad who years ago introduced my family to juicing, back in the Jack LaLanne days, really before juicing became quite as popular as it is today.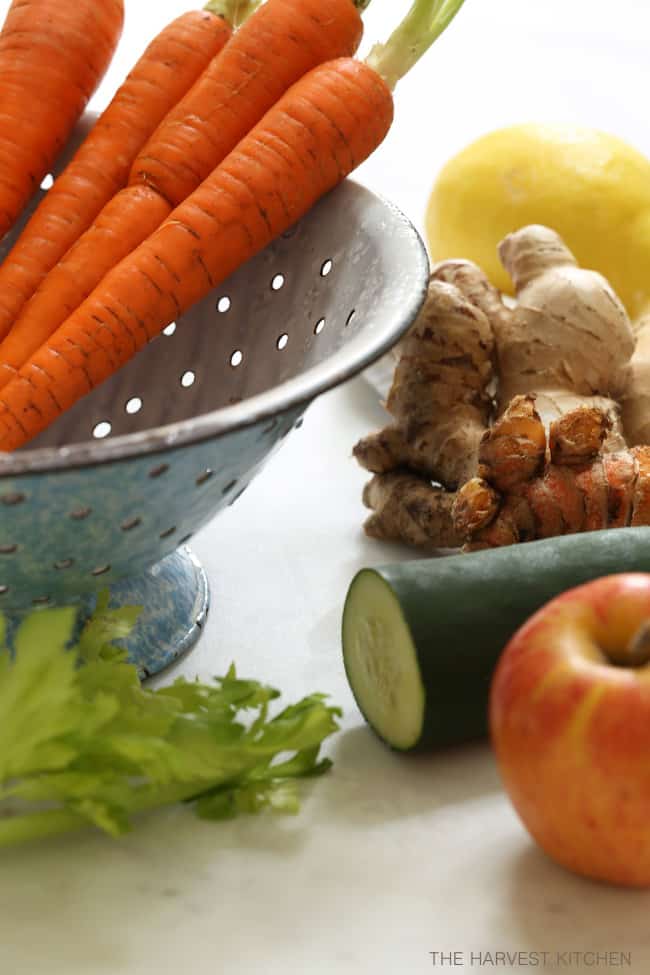 My dad juiced a lot of carrot juice in his day, and whenever I make this Immune Boosting Carrot Ginger Juice, I think of my dad.  This juice has a blend of carrot, celery, cucumber, lemon, apple, ginger and turmeric.  The little bit of sweetness from the apple makes it a really tasty and refreshing drink!
Carrots are loaded with three crucial nutrients –   beta carotene, lutein and zeaxanthin — which provide a considerably boost to eye health.  The nutrients in carrots protect more than our vision though, they're also important for decreased risk of heart disease and stroke.  They also help keep our immune system strong to ward of cancer.  They protect brain health and cognitive functioning.
You can read more here about the Health Benefits of Eating Carrots.
As for turmeric, it has become quite a buzz word in the world of nutrition.   It's mostly consumed through Indian and middle-eastern dishes, but I'll add either fresh or dried to my soups, juices and smoothies for the added nutritional boost.  It also comes in capsule form for those who would rather pass on adding it to their foods.   Turmeric helps to boost our immune system, it has cancer fighting properties, anti-inflammatory properties, it's a liver detoxifier, it has the ability to help lower cholesterol levels, and it aids in the prevention of Alzheimer's disease (a completely devastating disease).  As for ginger, it also gives a boost to our immune system, it has anti-inflammatory properties, it protects against colorectal cancer, it improves brain function and may also protect against Alzheimer's disease.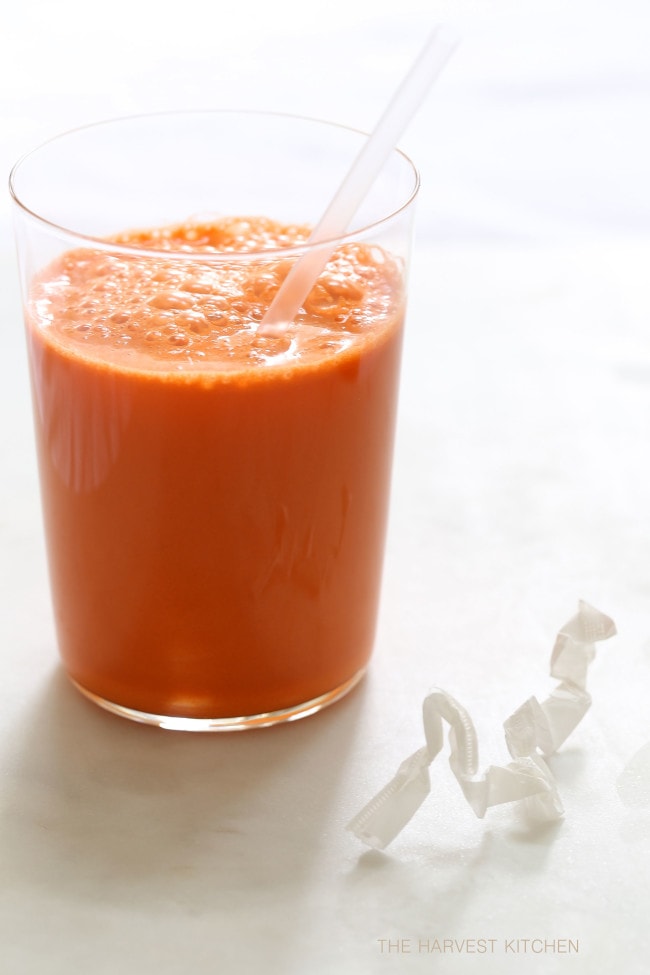 There's so many reasons to dust off your juicer and whip up a batch of this tasty Immune Boosting Carrot Ginger Juice!  It's a tasty detox drink recipe you can enjoy daily!
~ Deb
Immune Boosting Carrot Ginger Turmeric Juice
Yield: 2 servings
Total Time: 10 minutes
Ingredients:
6 large organic carrots
1 large Gala apple, cored and cut into wedges
1/2 large organic cucumber, peeled and seeds scooped out
1/2 large organic lemon, peeled
1 stalk organic celery
2-inch piece of organic ginger, peeled
2-inch piece of organic turmeric, peeled
Directions:
Place all of the ingredients one at a time in the juicer.
After you've juiced all of the ingredients, stir the mixture and serve over ice.
Leave a Comment