Coconut Curry Broccoli Soup
Yum
This Coconut Curry Broccoli Soup is an easy dairy-free broccoli soup recipe.  It's rich and flavorful and loaded with nutritional perks!
This Coconut Curry Broccoli Soup has an incredible combo of exotic flavors going for it.  It's a rich and hearty broccoli soup with coconut milk recipe is really more like a chowder, as it's chockfull of broccoli. Leaves, stalk and all! The combo of flavors here is really amazing!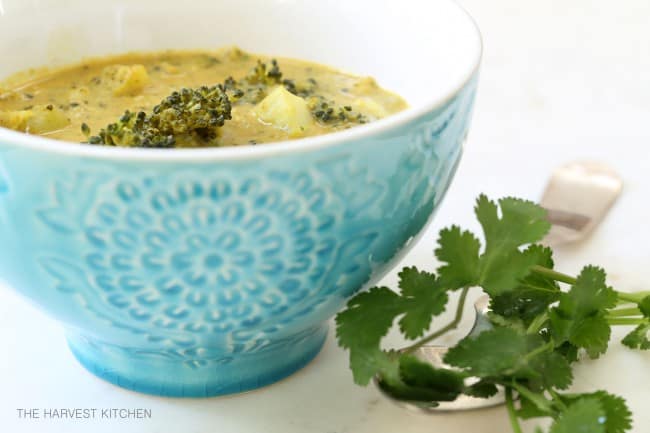 I'm back after a brief break from here. The last 2 weeks have been extremely difficult for my family due to health issues for two family members. Lots of sleepless nights and tear-stained pillows. And…lots of praying! There's been a hospital stay and a cancer recurrence that have all of us reeling. So…to sort of ease back into things… I thought I'd share this Coconut Curry Broccoli Soup which is rich in antioxidants and provides cancer-fighting properties.
This rustic broccoli soup recipe is really more like a chowder, as it's chockfull of broccoli.  Leaves, stalk and all!   The combo of flavors here is really amazing!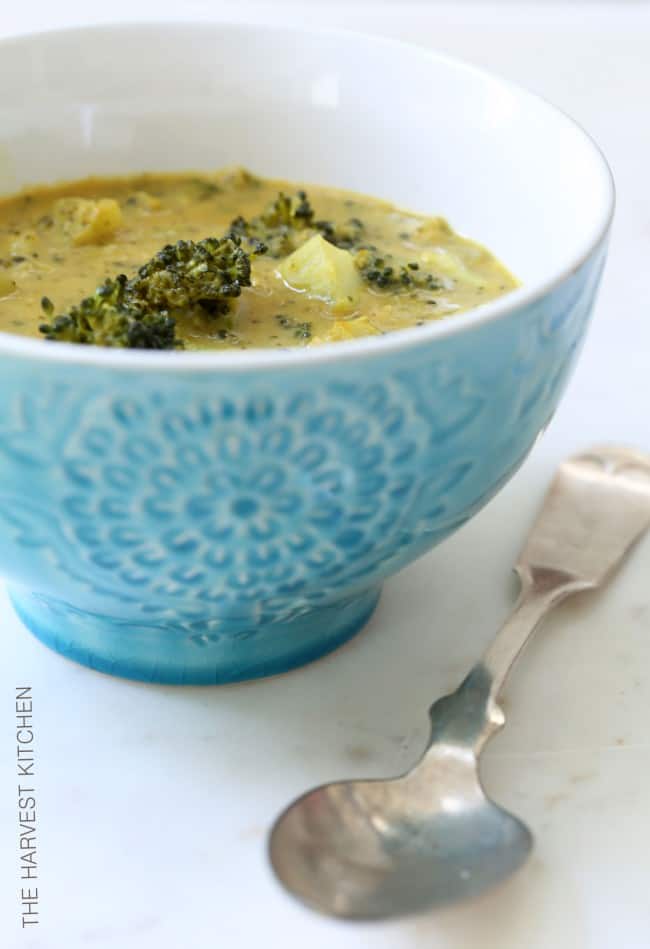 Studies have shown that broccoli is capable of preventing a number of health issues, such as hypertension, allergies, diabetes, osteoarthritis and cancer.  Sulforaphane (a sulphur compound) is a key compound in broccoli which has the ability to kill cancer stem cells, which slows tumor growth.  Apparently  broccoli contains potent nutrients which have the ability to switch "on" genes that prevent cancer development, and switch "off"other ones that help it spread.  Apparently cancer stem cells are the reason cancer often recurs even after chemotherapy and remission. When a tumor is treated with chemo, the tumor may disappear but some cancer stem cells have the ability to survive, and they have the potential to regenerate the original tumor and spread the cancer elsewhere. According to Stanford Medicine Ludwig Center, "cancer stem cells are similar to weeds in a garden — if their roots aren't taken out, the weeds are able to grow back".  Studies have shown that these cancer-fighting compounds and enzymes found in broccoli and other cruciferous vegetables may actually prevent the relapse of certain cancers by killing cancer stem cells.  In 2010, researchers from the University of Michigan Comprehensive Cancer Center published a study in the journal Clinical Cancer Research showing that sulforaphane had the ability to kill breast cancer stem cells in mice and in lab cultures, and it also prevented the growth of new tumor cells.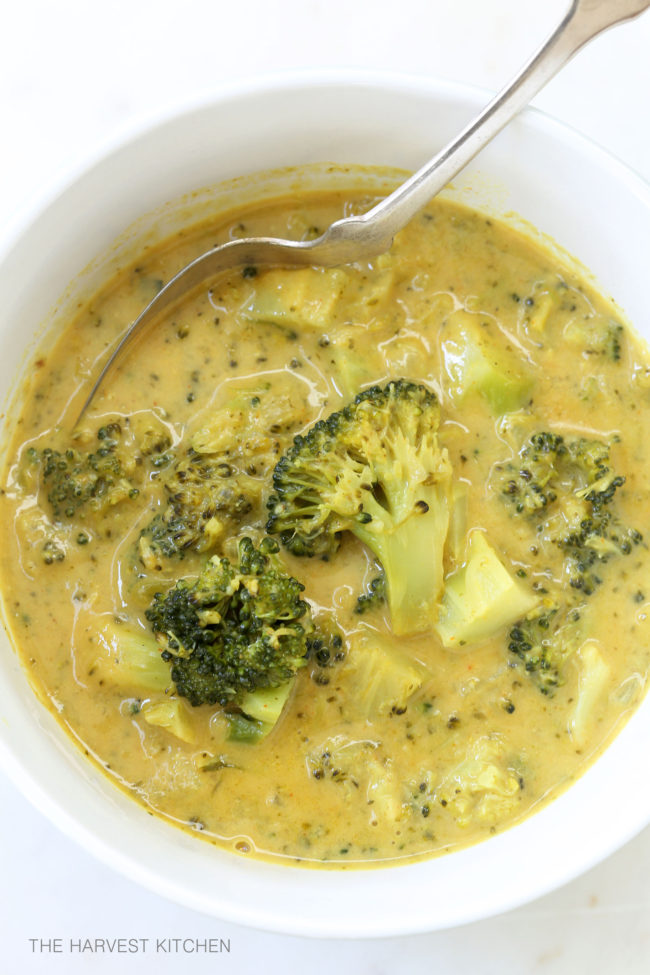 Broccoli sprouts (which are usually sold next to alfalfa sprouts at your local market) are more than 50 times more packed with sulforaphane than mature/grown broccoli.
So, mom was right….eat your broccoli!!!  And those sprouts!!
If you like this Coconut Curry Broccoli Soup recipe, you might be interested in this Immune Boosting Broccoli Soup.
And if you're interested – you can read more here about the other amazing benefits of consuming broccoli.
~ Deb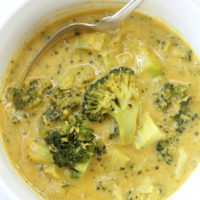 Coconut Curry Broccoli Soup
Yield: 6 servings
Total Time: 30 minutes
Ingredients:
2 large bunches of broccoli, peel stems and chop all
3 tablespoons coconut oil (extra-virgin olive oil works as well)
1 large onion, chopped
1 Jalapeño pepper, seeded and minced
4 cloves garlic, smashed and minced
2 heaping tablespoons fresh ginger, peeled and minced
4 cups vegetable stock
1 tablespoon curry powder
1 tablespoon red curry paste
1 teaspoon coriander powder
1 teaspoon turmeric powder
1/2 teaspoon cumin
1 15-ounce can coconut milk (full fat)
Directions:
Heat the oil in your soup pot.  Add the onions and jalapeño.  Sauté  until the onions are golden.
Add the garlic and ginger and sauté for another minute or two.
Add the broccoli and heat through.
Add the vegetable broth and bring to a boil, then lower heat to a simmer.
Stir in the curry powder, curry paste, coriander, turmeric and cumin.
Place lid on the soup and let simmer for about 20 minutes.
Remove from heat.
Using a stick blender, blend half of the broccoli mixture (leaving nice chunks of broccoli).
Pour in the coconut milk and reheat soup.
Garnish with cilantro
Source of information from Huffington Post and Mercola.
8 Responses to "Coconut Curry Broccoli Soup"
Leave a Comment