Breakfast Sweet Potatoes
Yum
These vitamin-rich Breakfast Sweet Potatoes are studded with red bell pepper, garlic and onions.  They make a deliciously nutritious side dish for weekend breakfasts and special occasion brunches.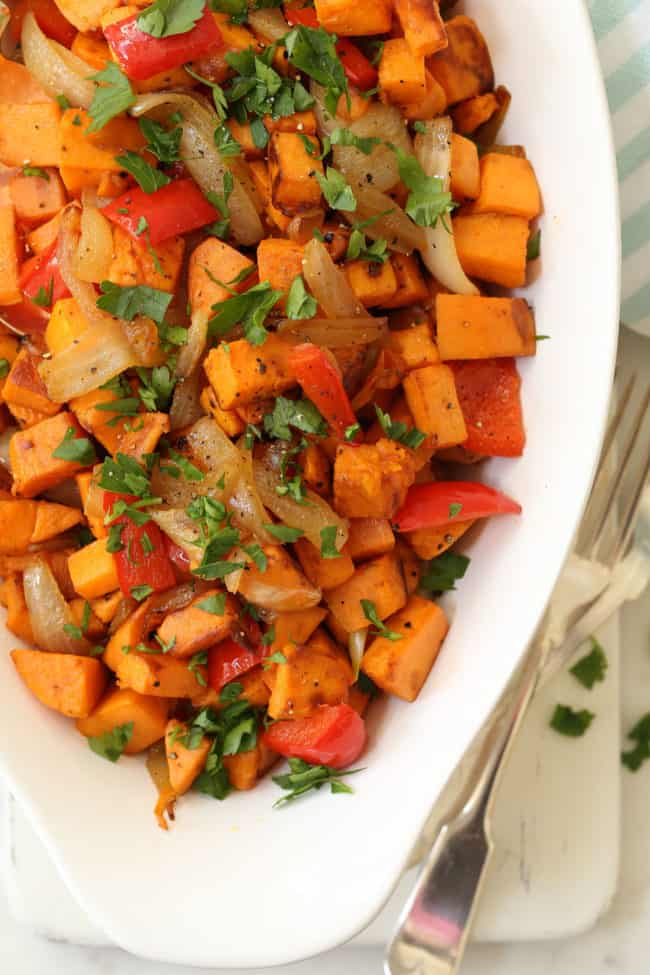 These Breakfast Sweet Potatoes are quickly browned in a skillet so they're a tad soft on the inside with a with a delicious crispy edge.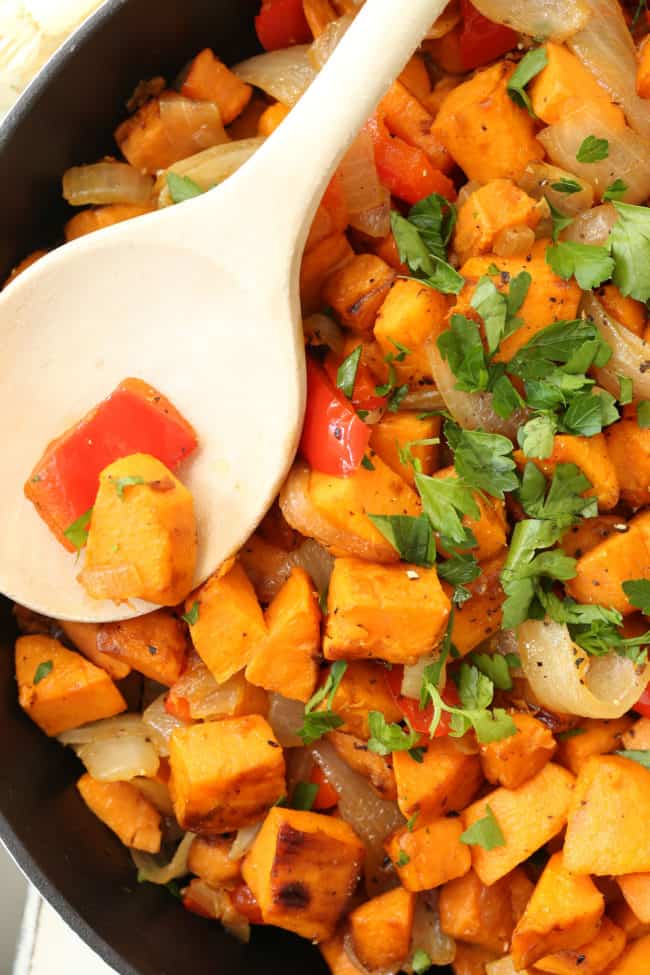 I love breakfast potatoes, and I love having breakfast for dinner!!  Especially after a long day at work when I'm not much in the mood for messing up my kitchen in a big way.  For years, I made these Easy Breakfast Potatoes (which are totally amazing), then Kyle came over for breakfast one Sunday morning and made these Breakfast Sweet Potatoes.   Now these are the only spuds I'll make for breakfast.  It's not that I don't love regular breakfast potatoes.  I absolutely do.  But these are much more healthy, so they're now my first choice.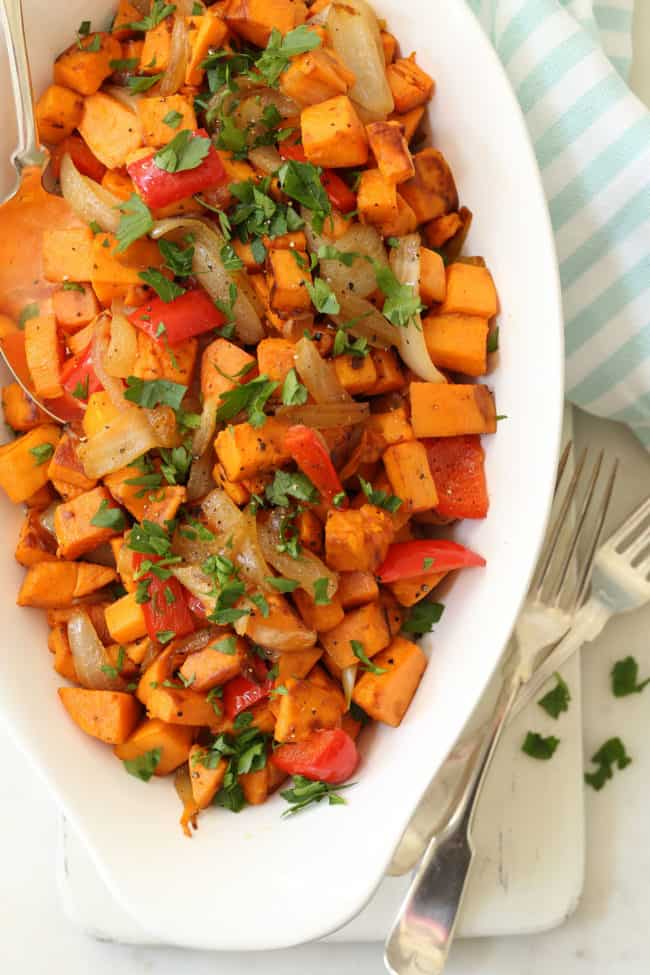 Sweet potatoes are one of the most nutritious foods on the planet. They're loaded with antioxidants, fiber, Vitamins A, Beta-carotene, B6, Potassium and Vitamin C.   Sweet potatoes are rich with  anti-inflammatory properties because they're loaded with  vitamin C, vitamin B6, beta-carotene, and manganese.   Sweet potatoes are also rich in beta-cryptoxanthin, which has been found to help ward off inflammatory diseases such as arthritis.  Being rich in vitamin C, sweet potatoes also help to maintain collagen levels in our bodies.  The carotenoids in sweet potato may help stabilize blood sugar (unlike white potatoes, which have a tendency to spike blood sugar levels).  The beta-carotene found in sweet potatoes is also an excellent nutrient for eye health and helps prevent vision loss and macular degeneration.  Sweet potatoes also have a significant amount of Vitamin B6, which is good for heart health and the nervous system.  Vitamin B6 is crucial in breaking down homocysteine levels, which contributes to hardening of the arteries and blood vessels. Vitamin B6 also helps maintain flexibility of arteries which promotes easy passage for blood circulation.
Sweet potatoes are also rich with potassium, which plays an important role in lowering blood pressure (another plus for the heart).   Potassium is an  important electrolyte that helps regulate the natural rhythm of the heart, and maintains normal function of the brain and central nervous system.  As for the surface of our bodies, the beta-carotene, vitamin E and vitamin C found in sweet potatoes all contribute to beautiful glowing complexion and healthy hair.
~ Deb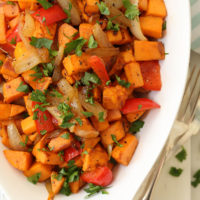 Breakfast Sweet Potatoes
Ingredients:
2-3 large sweet potatoes, peeled and cut into chunks
1 large onion, peeled and chopped
2 cloves garlic, minced
1 whole large red bell pepper, seeded and chopped
1/4 cup extra-virgin olive oil
freshly ground black pepper and sea salt to taste
garnish with flat leaf parsley
Directions:
Boil the cut potatoes for about 5 minutes.  Don't overcook the potatoes.
Remove from heat and drain well.
Heat the olive oil in a large skillet.
Add the onions and sauté until they start to turn golden.
Add the potatoes and red bell pepper and garlic and continue to cook for approximately 5 minutes or until the potatoes turn a golden brown around the edges.
Season with salt and freshly ground black pepper
Garnish with chopped parsley
Leave a Comment