Healthy Breakfast Burritos
This post may contain affiliate links.
These Healthy Breakfast Burritos are stuffed with scrambled eggs, black beans, sweet potatoes, avocado and pico de gallo. You can make a batch of these breakfast burritos ahead of time as a convenient healthy breakfast meal prep to enjoy all week long.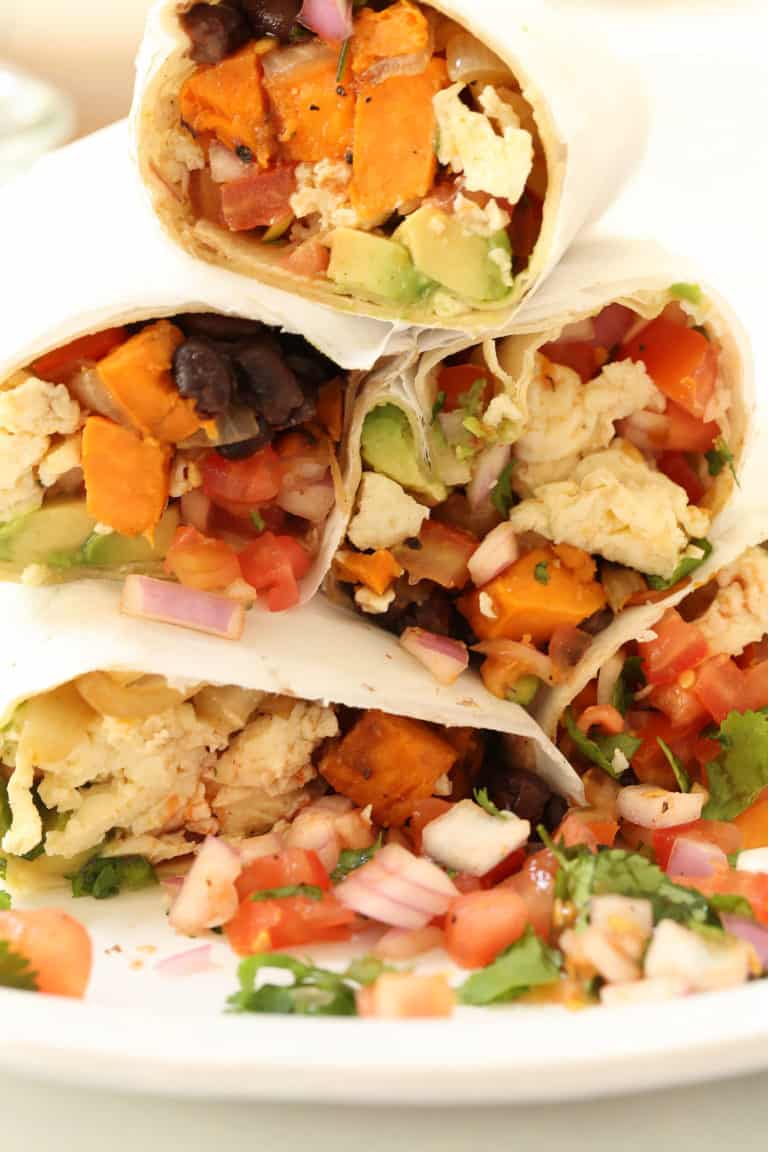 If you're looking for a healthy make ahead breakfast burrito recipe, you're going to love these vegetarian breakfast burrito! Each breakfast burrito is packed with protein, fiber, vitamins and antioxidants, and makes a great make ahead breakfast for your busy work week mornings.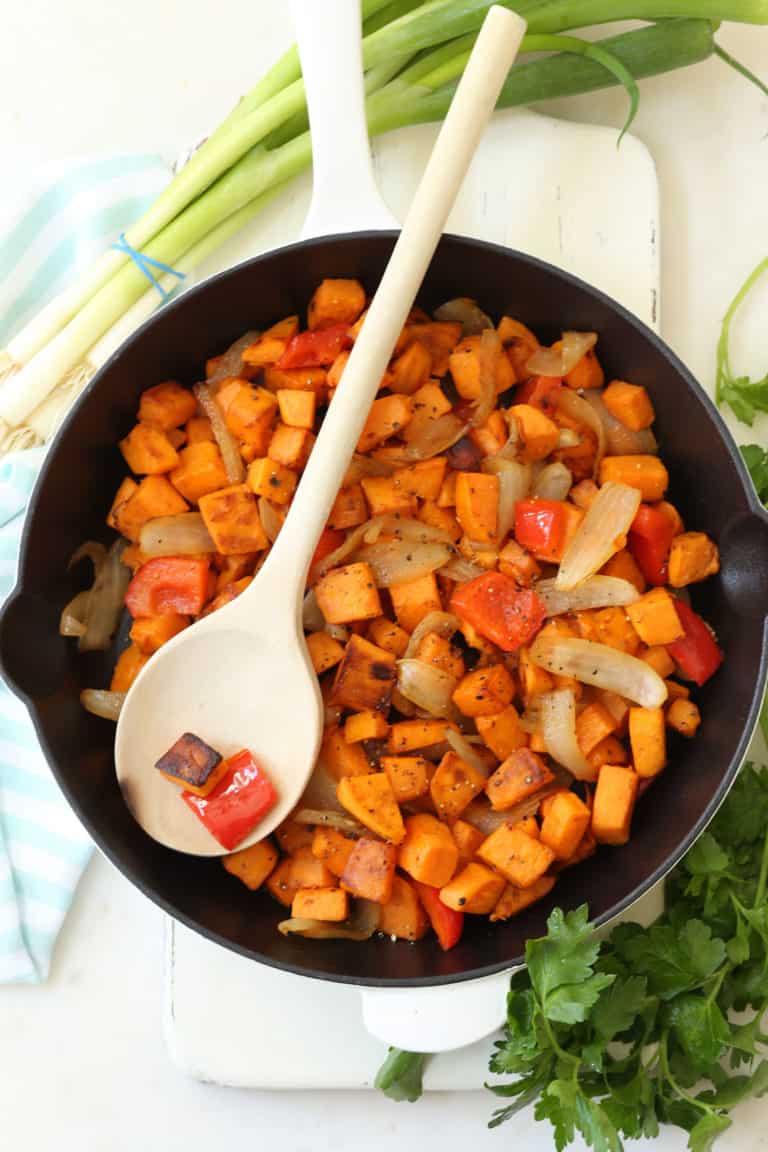 Breakfast Burrito Recipe
This is a really easy breakfast burrito recipe to pull together, and these are the breakfast burrito ingredients that you'll need…
Flour tortillas
Eggs
Black beans
Breakfast Sweet Potatoes
Seasoning (cumin and chili powder)
Avocado
Sweet potatoes
Pico de Gallo
Tomato
Purple onion
Jalapeno pepper
Cilantro
Seasoning (garlic powder, salt and pepper)
Breakfast Sweet Potatoes
Sweet potatoes
Onion
Garlic
Red bell pepper
Extra-virgin olive oil
Salt and Pepper to taste
Flat leaf parsley
How to Make a Breakfast Burrito
This is an easy vegetarian breakfast burrito recipe to make ahead for your grab-and-go morning breakfast during the week.
Tortilla: We use regular or sprouted grain tortillas for these burritos.
Scrambled Eggs: We use mostly egg whites for this recipe (so it's low cholesterol), but you can omit the two whole eggs so it's an egg white breakfast burrito instead or go with all whole eggs if you like the richer taste.
Breakfast Sweet Potatoes: There's nothing better than perfect breakfast potatoes in the morning. For this recipe, we use these Breakfast Sweet Potatoes which provide a little more nutrition than regular russets.
Black Beans: We substitute the usual meat sausage found in most burritos with heart-healthy black beans. You can use canned beans for convenience, but if you plan ahead, these Homemade Black Beans or these Homemade Pinto Beans are both great additions to this healthy breakfast burrito
Avocado: We're using avocado instead of cheese here. It's rich and creamy and provides good fat.
Pico de Gallo: We add a little fresh Mexican flavor with homemade pico de gallo to the mix.
How to Freeze Breakfast Burritos
Make the burritos, then wrap each burrito separately in plastic wrap and then again in foil.
Place the wrapped burritos in a freezer bag and store in the freezer.
To reheat, remove plastic wrap and foil from the burritos and set them aside to defrost for at least 20 minutes. Then using a conventional oven, heat burritos until heated through. If using a microwave, you can heat burritos in the microwave for approximately 2-3 minutes.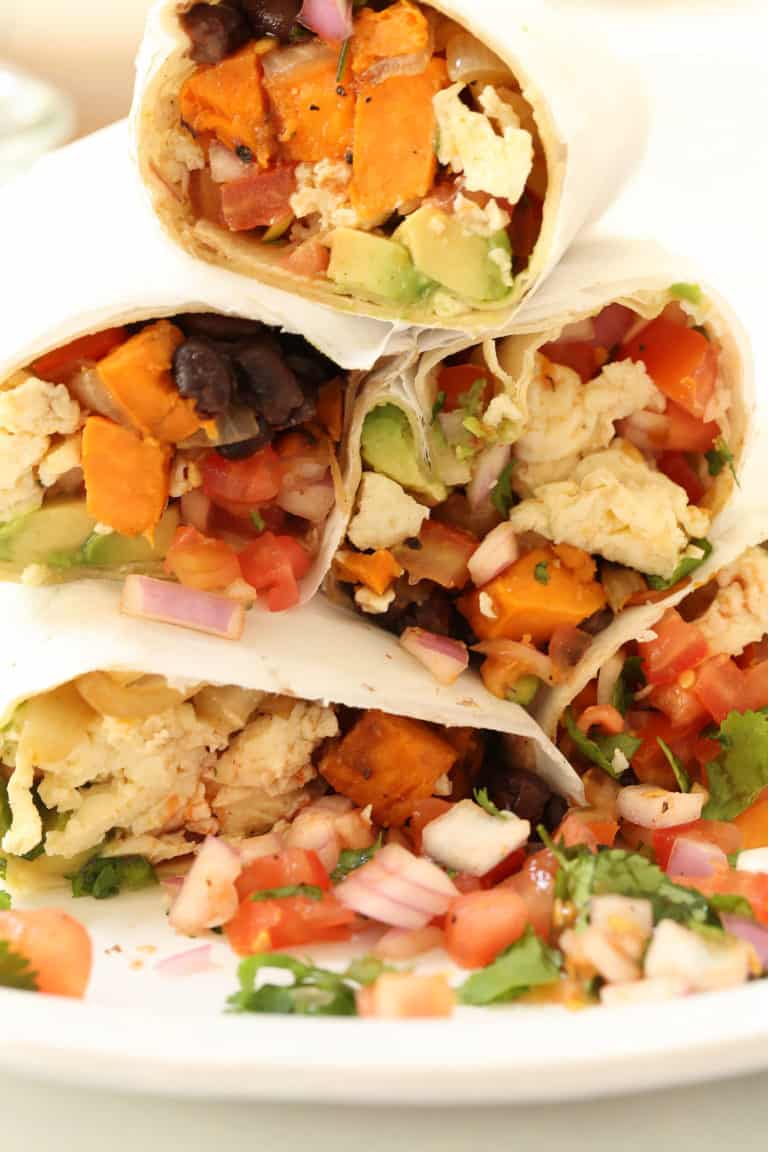 I went with sweet potatoes instead of russets for this breakfast burrito recipe because sweet potatoes pack more nutritional benefits than russets.
Sweet Potato Nutrition
Sweet potatoes rank much lower on the glycemic index than regular potatoes
They're one of the most nutritious foods on the planet
Excellent source of antioxidants, fiber, Vitamins A, Beta-carotene, B6, Potassium and Vitamin C.
Rich with anti-inflammatory properties because they're loaded with
Good source of vitamin C, vitamin B6, beta-carotene, and manganese
Since there's no meat in this healthy breakfast burrito, we're adding black beans for the added plant-based protein and iron.
Black Beans Nutrition
Black Beans are an excellent source of protein, iron, thiamin, folate, magnesium, selenium, potassium, zinc and quercetin (which is an antioxidant).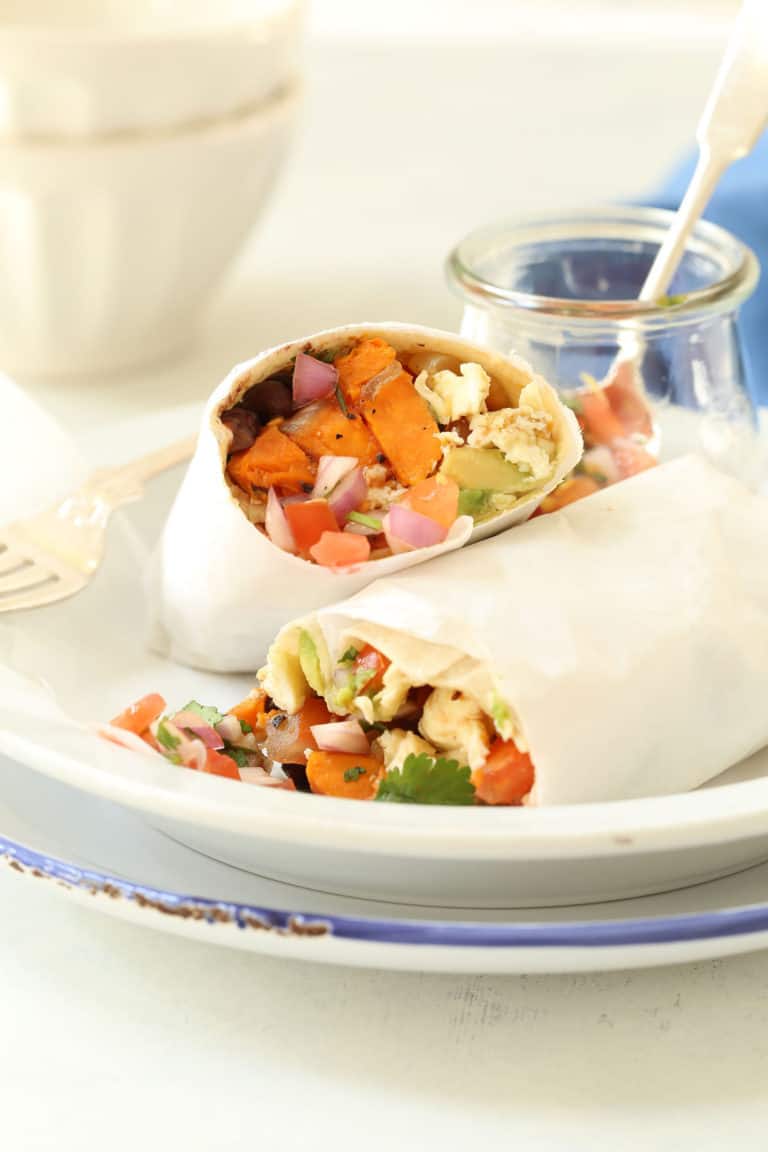 These Healthy Breakfast Burritos are a favorite healthy breakfast meal prep to make on the weekends so you can have a healthy breakfast during your busy weekday mornings.
Looking for More Healthy Breakfast Recipes to Make?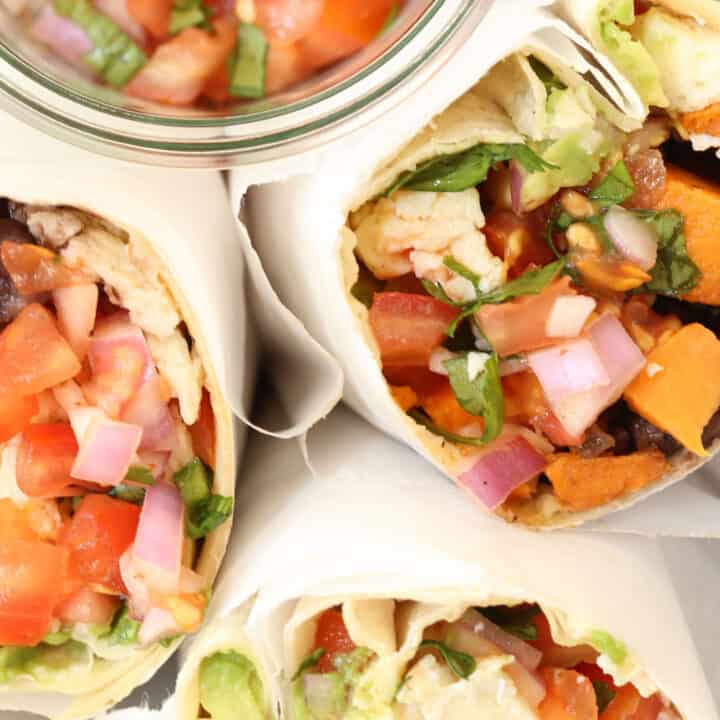 Yield: 6 servings
Healthy Breakfast Burritos
These Healthy Breakfast Burritos are stuffed with  sweet potatoes, black beans, egg whites, avocado and pico de gallo.  They're a great nutritious way to start your day!
Ingredients
6 low carb flour tortillas
Avocado
Black Beans
1- 15 oz can black beans, rinsed and drained
1/4 teaspoon cumin
1/4 teaspoon chili powder
1-1/2 tablespoons extra-virgin olive oil
Eggs
8 large free-range brown hen egg whites
2 whole free-range brown hen eggs
Pico de Gallo
1 large tomato, diced
1/2 purple onion, finely chopped
1/2 fresh jalapeno pepper, seeded and chopped
5  sprigs fresh cilantro, finely chopped
1/2 teaspoon garlic powder
1/8 teaspoon salt
1/8 teaspoon pepper
Breakfast Sweet Potatoes
2-3 large sweet potatoes, peeled and cut into chunks
1 large onion, peeled and chopped
2 cloves garlic, minced
1 whole large red bell pepper, seeded and chopped
1/4 cup extra-virgin olive oil
freshly ground black pepper and sea salt to taste
garnish with flat leaf parsley
Instructions
For the Black Beans
In a saucepan heat the black beans, cumin and chili powder over low heat just until the beans are heated through.
Remove from heat and set aside.
For the Eggs
Add the egg whites and whole eggs to a bowl and beat with a whisk or fork.
Heat the olive oil in a large skillet over medium-low heat.
Add the eggs to the skillet and cook. Fold the eggs over the middle as they cook so they stay fluffy.
Remove from heat and set aside.
Pico de Gallo
In a medium bowl, combine tomato, onion, jalapeno pepper (to taste,) cilantro and green onion.
Season with garlic powder, salt and pepper.
Stir so well blended.
Refrigerate for 30 minutes before serving.
Breakfast Sweet Potatoes
Boil the cut potatoes for about 5 minutes. Don't overcook the potatoes.
Remove from heat and drain well.
Heat the olive oil in a large skillet.
Add the onions and sauté until they start to turn golden.
Add the potatoes and red bell pepper and garlic and continue to cook for approximately 5 minutes or until the potatoes turn a golden brown around the edges.
Season with salt and freshly ground black pepper
Garnish with chopped parsley
To assemble burritos
Warm the tortillas in a skillet over low heat.
Lay the tortillas out on a clean work station.
Evenly divide the scrambled eggs, breakfast sweet potatoes, black beans, pico de gallo and avocado on each tortilla.
Season with salt and pepper, if desired. Tuck ends in, then roll into burritos.
Serve with sour cream and salsa.
Nutrition Information:
Yield:
6
Serving Size:
1
Amount Per Serving:
Calories:

521
Total Fat:

23g
Saturated Fat:

4g
Trans Fat:

0g
Unsaturated Fat:

18g
Cholesterol:

31mg
Sodium:

710mg
Carbohydrates:

67g
Fiber:

13g
Sugar:

9g
Protein:

14g
theharvestkitchen.com attempts to provide accurate information, however, this nutritional information is provided as a courtesy and is an estimate only. The nutritional information provided comes from online sources and calculations.