Breakfast Quesadilla
Yum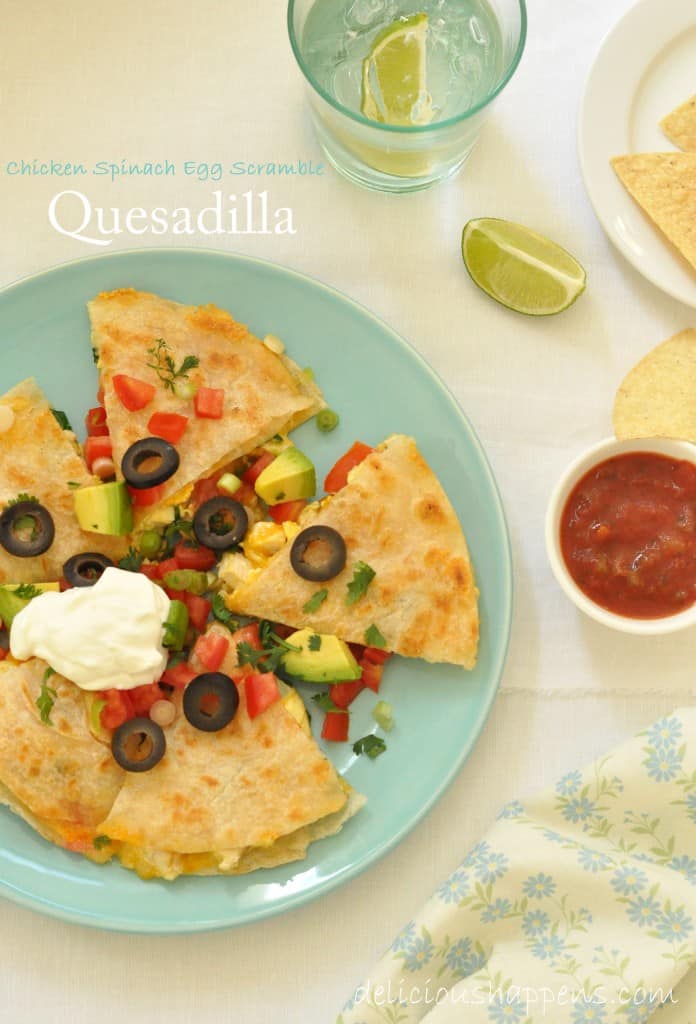 This Breakfast Quesadilla is one of my favorite quesadilla recipes.  With chicken, spinach, scrambled eggs and cheese – it's an obvious hit for  breakfast or brunch, but it also makes a great dish to serve on game day too!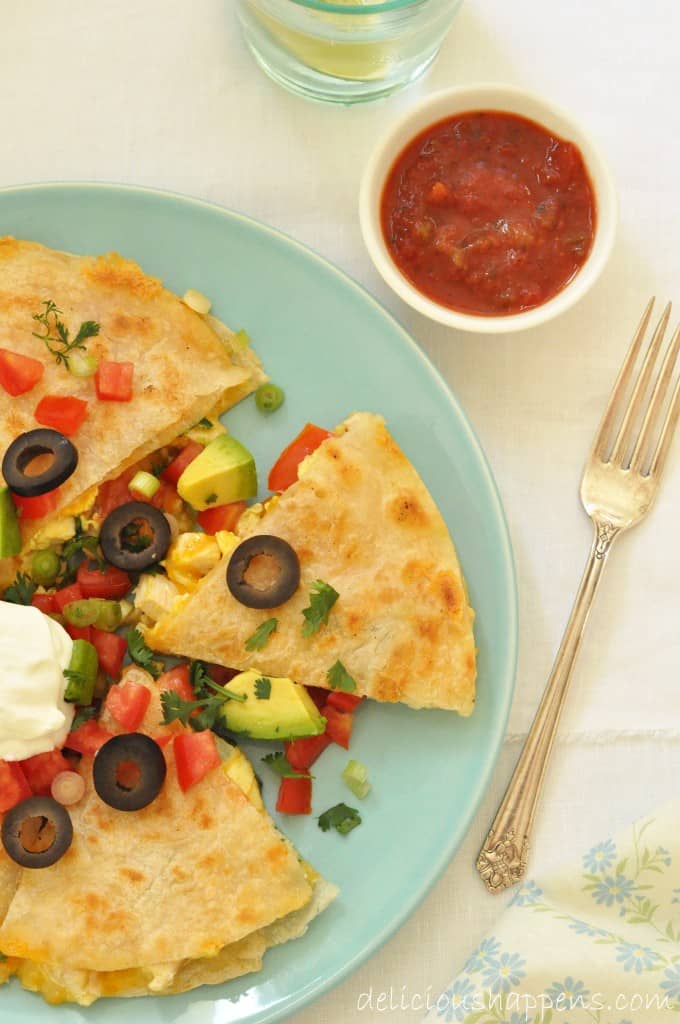 If I have leftover chicken in the fridge – this is a dish that I'll whip up for dinner as well.  Last week I had a annual check up with my doctor up in Los Angeles.  It took me 3 hours of bumper-to-bumper traffic to get there (yes my doctor is totally worth it – he's been my doctor forever!), then it took me an 1-1/2 hours to get home.  When I got home that night….this is what I made myself for dinner.
It totally hit the spot!!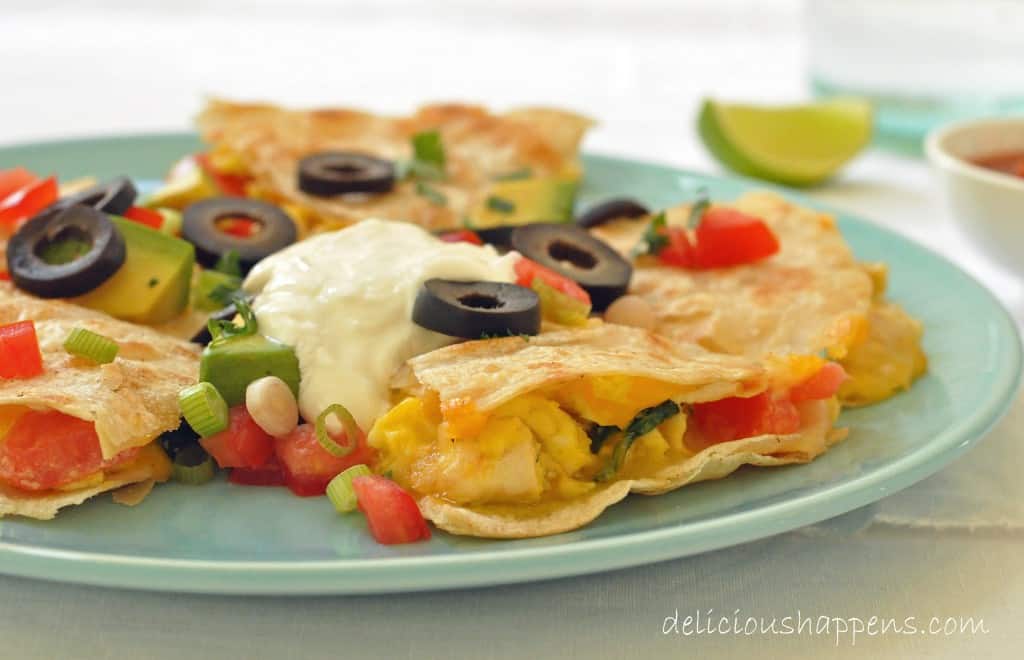 The highlight of my week last week was having dinner with Brian's mom and brother on Friday night.  If you read the post I wrote awhile back about Brian…he was a boy I knew in school who passed from glioblastoma in August.  Well, Brian's mother is amaaaazing and I feel so blessed to get to spend time with her and Brian's brother, Rob.
Did I mention that she's 90?
You'd never guess it in a million years.
And….she's writing a cookbook…full of her favorite recipes.  Buttermilk pancakes, biscuits, and stuffing.  A woman after my own heart.  I love stuffing!!  I can't wait to read it and to make her recipes!!!  She's such an inspiration to me!   Her life stories are incredible!  The woman worked at the Pentagon!!  And she went to the same high school as my dad..  I also really love her sense of humor!!  Brian was very blessed to have her as his mother!  But I'm sure he knew that!!!
Enjoy the Breakfast Quesadilla!  It's seriously good!  I'm craving one right now as I write this.
~  Deb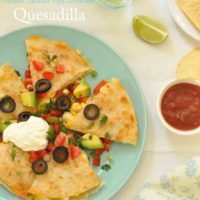 Breakfast Quesadilla
Yield: 2 servings
Total Time: 30 minutes
Ingredients:
1 skinless, boneless chicken breast
2 large free-range eggs plus 2 large free-range egg whites
1 tablespoon plus 1 teaspoon extra-virgin olive oil
1 cup baby spinach, coarsely chopped
1/2 cup tomatoes, seeded and chopped
2/3 cups shredded cheese, cheddar and Jack blend
1/4 cup sour cream
1 avocado, peeled, pitted, and chopped
1/4 cup black olives, sliced
3 green onions, sliced
2 tablespoons fresh cilantro, chopped
Serve with your favorite salsa
Directions:
For the Chicken
Preheat the broiler.
Lightly pound the chicken breast with a meat pounder. Season with salt and pepper and broil on a broiler pan for about 4-5 minutes on each side, or until the chicken is done and no longer pink on the inside. Transfer to a chopping board and cut into dice.
For the Quesadilla
Preheat the oven to 200 degrees.
In a small bowl, whisk together the eggs.
Heat the oil in a frying pan over medium heat.
Add the egg mixture to the pan and cook until the edges begin to set.
Stir with a spatula, scraping the eggs on the bottom and sides of the pan and folding them toward the center.
Add the chicken, spinach, and tomatoes, and continue cooking.
Stir frequently until the eggs are light and fluffy. Remove the pan from the heat and set aside.
Drizzle a teaspoon of olive oil in the bottom of a separate frying pan over medium heat. Place 1 tortilla in the pan and heat until warmed. The oil will make the tortilla a little crispy, which I love.
Flip the tortilla and sprinkle the bottom half with 1/3 cup cheese mixture.
Top the cheese with half of the egg mixture.
Fold the tortilla in half in the frying pan to cover the cheese and eggs.
Continue to cook until the bottom of the tortilla turns golden brown.
Flip the quesadilla and cook on the other side until it begins to turn golden brown.
Transfer to a baking sheet to keep warm while you made the second quesadilla.
Cut each quesadilla into wedges. Top with sour cream, avocado, olives, green onions, cilantro, and salsa.
Slightly adapted from Blu Jam Cafe's recipe
Leave a Comment