The Best Granola Recipe
This post may contain affiliate links.
My family calls this The Best Granola Recipe for a reason. It's loaded with cashews, pecans, almonds and sunflower seeds, and its lightly sweetened with pure maple syrup. It's perfect for breakfast or as a topping for frozen yogurt and summertime desserts (baked berries and homemade ice cream).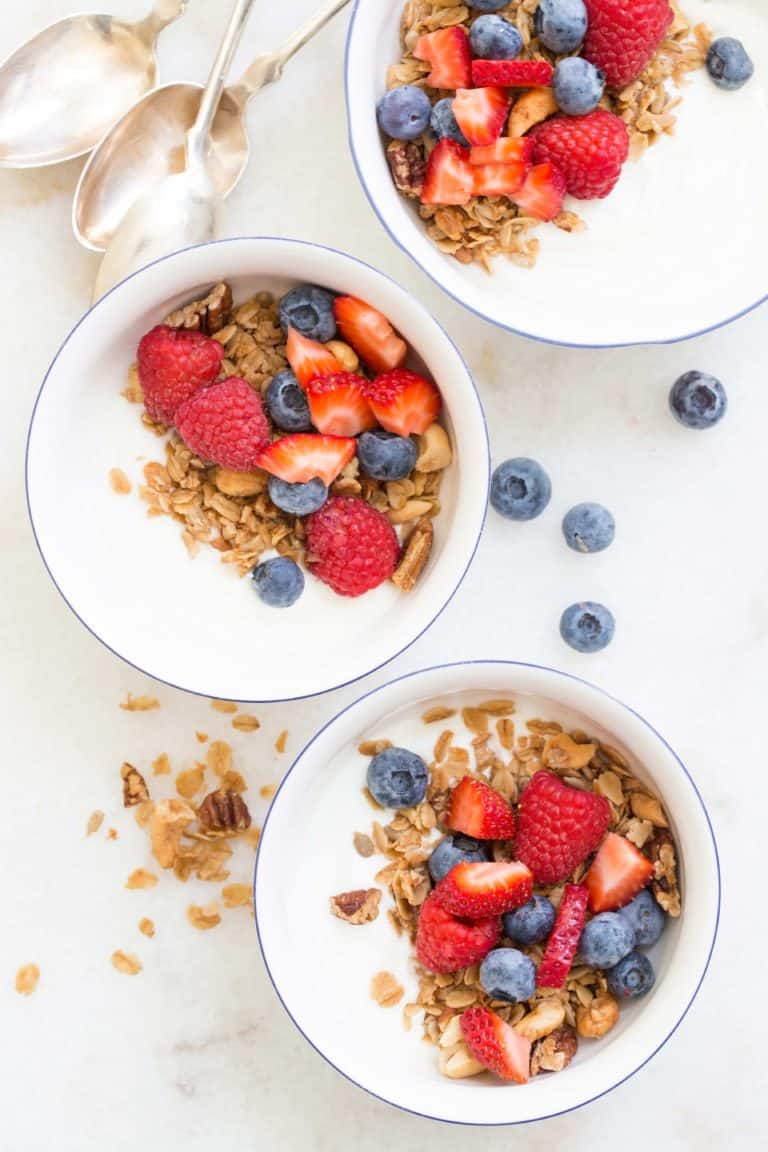 In my opinion, this is The Best Granola Recipe there is. Hands-down! It's delicate and crispy and chock-full of nuts. It's a healthy granola that's sweetened only with pure maple syrup and roasted to perfection.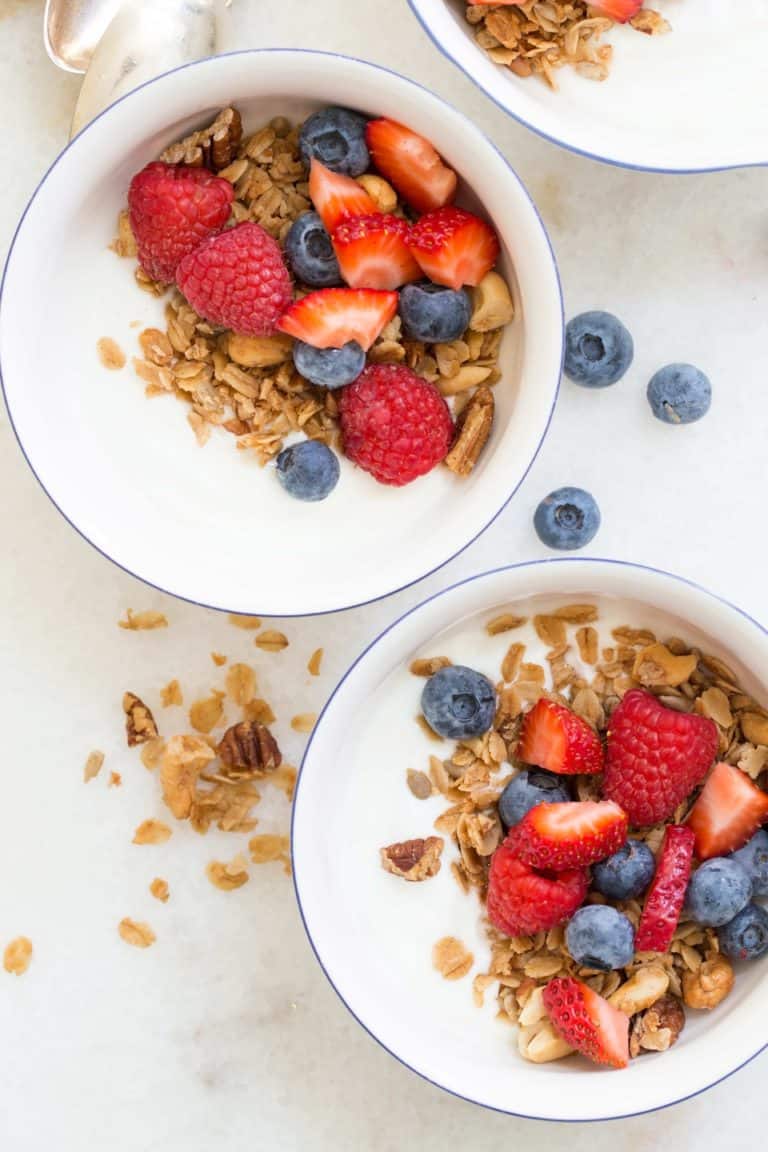 HEALTHY GRANOLA RECIPE (What you'll need)
Organic oats (not steel cut or quick cooking)
Nuts (cashews, almonds, and walnuts)
Sunflower seeds
Dried unsweetened coconut flakes, shredded
Pure maple syrup
Oil
Cinnamon
HOW TO MAKE GRANOLA
Low heat and slow baking is key. You don't want to rush the baking here. Low heat and slow baking will give your granola a delicate golden crispy texture.
Stirring every 10 minutes – also key. You'll want to set your timer in 10 minute increments reminding you to stir the granola every 10-12 minutes so it bakes evenly.
Line your cookie sheet with foil or parchment paper for easy clean up.
VARIATIONS
Use your favorite nuts (I've used cashews, pecans and almonds for this recipe)
Stir in chia seeds or hemp seeds at the very end
Stir in raisins or other dried fruit at the very end
Substitute coconut oil with canola oil if you don't have or like coconut oil
Add more cinnamon and other spices if you like
Use honey instead of pure maple syrup as your sweetener
Serve this homemade granola for breakfast with plain yogurt and berries, or serve it as a dessert with frozen yogurt and berries. It's delicate and crispy and completely addictive!!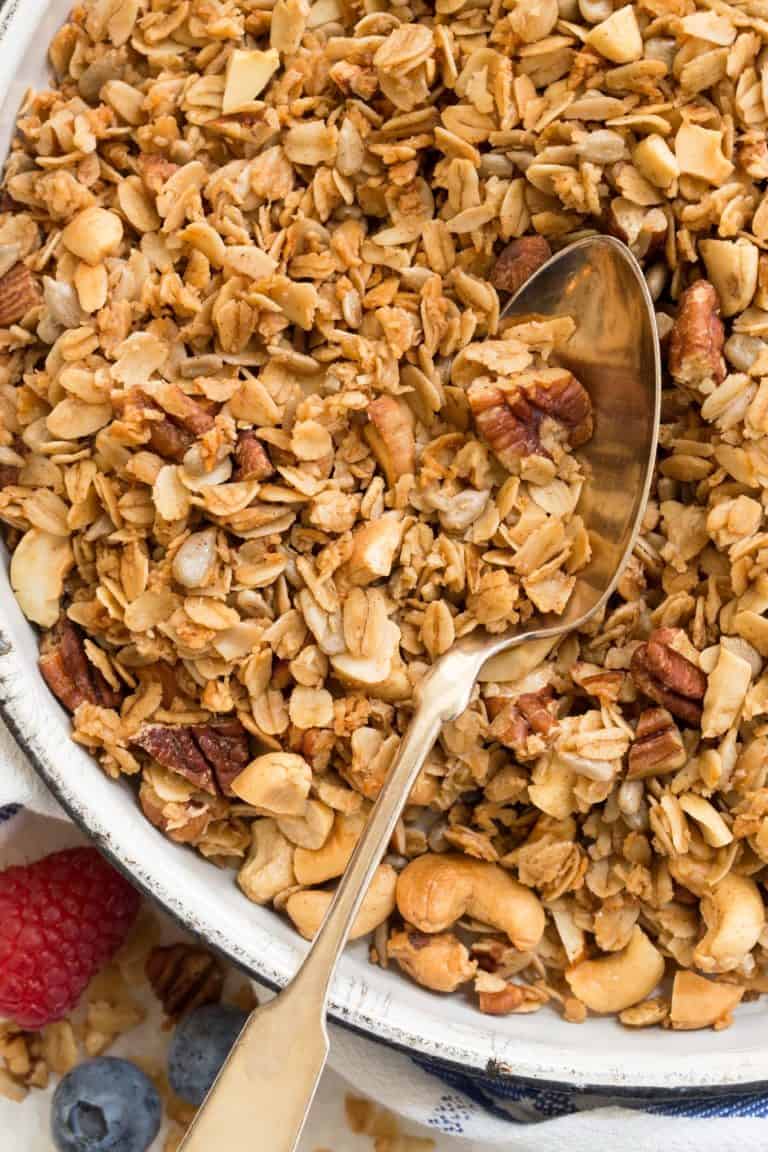 MORE BREAKFAST RECIPES YOU'LL LOVE
Originally 2013 – updated 5.2019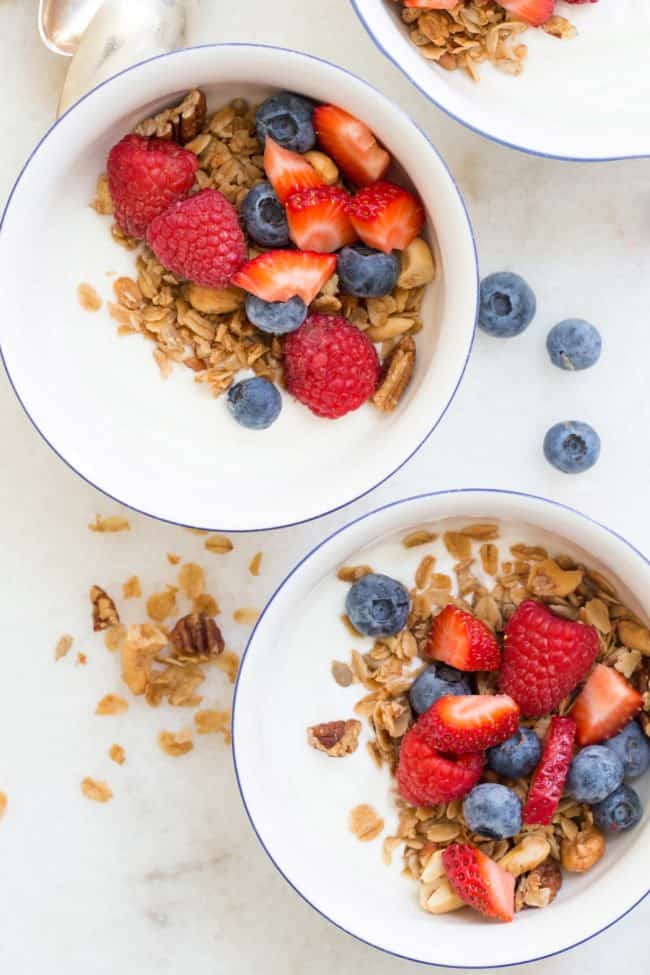 Yield: 6 - 8 servings
Best Granola Recipe
In my opinion, this is The Best Granola Recipe there is.  Hands-down!    It's delicate and crispy and chock-full of nuts.  This granola is lightly sweetened and roasted to perfection.  
Ingredients
3 cups old-fashioned rolled oats (don't use instant oats)
2-1/2 cups mixed nuts, coarsely chopped (I use cashews, almonds, and pecans)
1 cup raw sunflower seeds
1/2 cup dried unsweetened coconut flakes, shredded (I like the larger flakes)
3/4 cup pure maple syrup
1/3 cup plus 1 tablespoon coconut oil
1 teaspoon ground cinnamon
1 teaspoon pure vanilla extract
Instructions
Preheat the oven to 300 degrees.
Use 1 tablespoon canola oil to coat a large cookie sheet.
In a large bowl, mix the oats, nuts, sunflower seeds, coconut and mix well.
In a separate medium size bowl, add the maple syrup, brown sugar, cinnamon and canola oil and mix well until the sugar is dissolved.
Pour over the oats mixture and blend very well (using your fingers if necessary) so the mixture is completely moistened. Evenly spread the mixture onto the cookie sheet.
While baking - toss and stir the granola and scrape away from the sides and bottom of the sheet every 10 minutes.
Bake for approximately 45-50 minutes or until the granola is nice and crispy.