Gluten Free Pancakes
This post may contain affiliate links.
These Gluten-free Pancakes are made with coconut flour, coconut oil, pure maple syrup and chia seeds.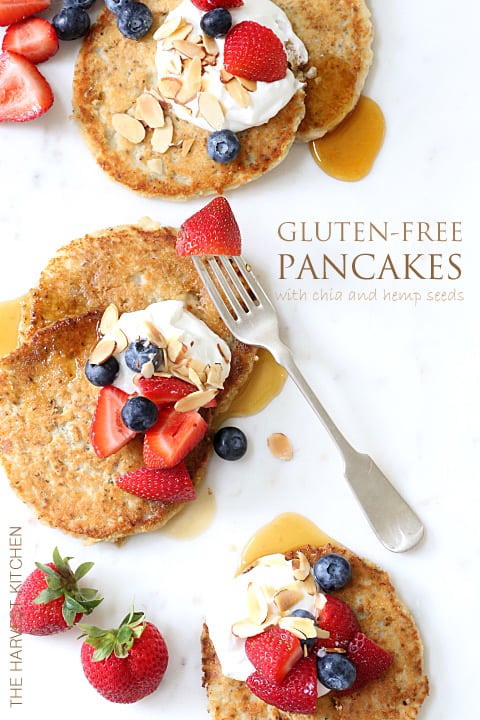 These coconut flour pancakes are so easy to make and require just a few ingredients. You can sprinkle in chia seeds or hemp seeds for the added nutritional benefits or some lemon zest for a light lemony flavor.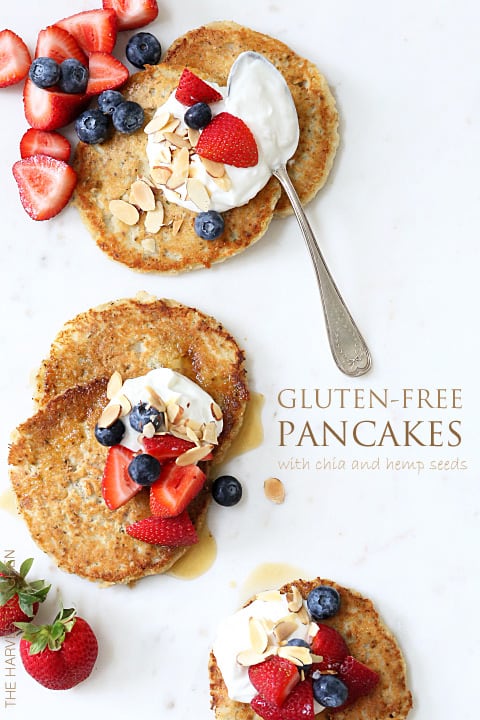 Coconut Pancakes Recipe
This healthy pancake recipe uses just a few simple ingredients.
1/4 cup coconut flour
3 large free-range eggs
2 tablespoons coconut oil
2 tablespoons maple syrup or honey
1 teaspoon baking powder
1 teaspoon pure vanilla extract
1/2 teaspoon chia seeds (optional)
1/4 teaspoon sea salt
zest of 1/2 lemon (optional)
How To Make Coconut Flour Pancakes
Whisk together ingredients
Oil and heat skillet
Pour batter into heated skillet
Cook pancakes on each side
Serve with fresh berries, yogurt, pure maple syrup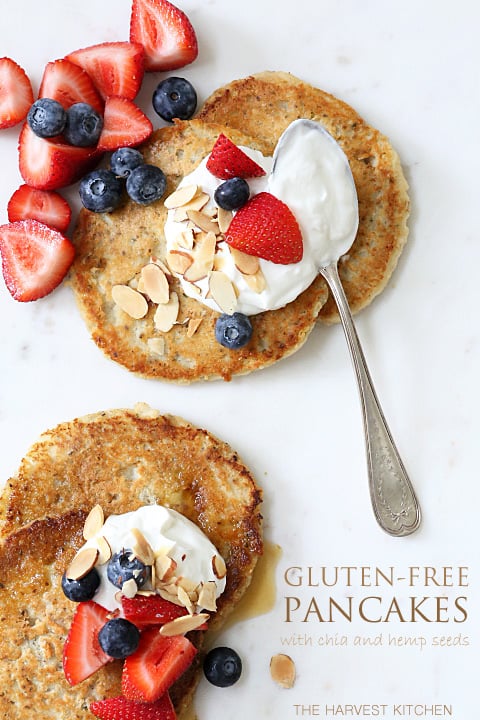 I serve these healthy pancakes with whipped plain Greek yogurt, a little maple syrup, some mixed berries and a sprinkling of toasted almonds. These Gluten-Free Pancakes are a new favorite of mine! They're soooo good!!
More Healthy Pancakes Recipes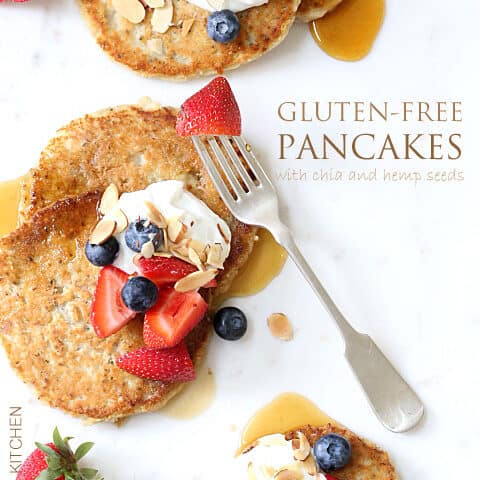 Yield: 6 - 8 pancakes
Gluten Free Pancakes
Additional Time
40 minutes
Ingredients
1/4 cup coconut flour
3 large free-range eggs
2 tablespoons coconut oil
2 tablespoons maple syrup or honey
1 teaspoon baking powder
1 teaspoon pure vanilla extract
1/2 teaspoon chia seeds (or hemp seeds)
1/4 teaspoon sea salt
zest of 1/2 lemon
coconut oil for the pan
Pure maple syrup
Fresh berries
Whipped plain Greek yogurt
Toasted Almonds
Instructions
In a medium bowl, whisk together the coconut flour, eggs, coconut oil, pure maple syrup, baking powder, pure vanilla extract, chia seeds (if using) and salt.
Add 2 tablespoons coconut oil to a skillet over medium-low heat.
After the pan is heated, add 1/4 cup of batter to the skillet and cook until bubbles start to form.
Using a spatula, flip the pancake and cook on opposite side another 2-3 minutes or until golden.
Repeat with the rest of the batter.
Serve with plenty of fruit, yogurt and pure maple syrup