Buckwheat Pancakes Recipe
This post may contain affiliate links.
Breakfast with benefits!! These tasty Buckwheat Pancakes are a good source of protein, iron, fiber and antioxidants, and this Buckwheat Pancake Recipe is an easy one to make.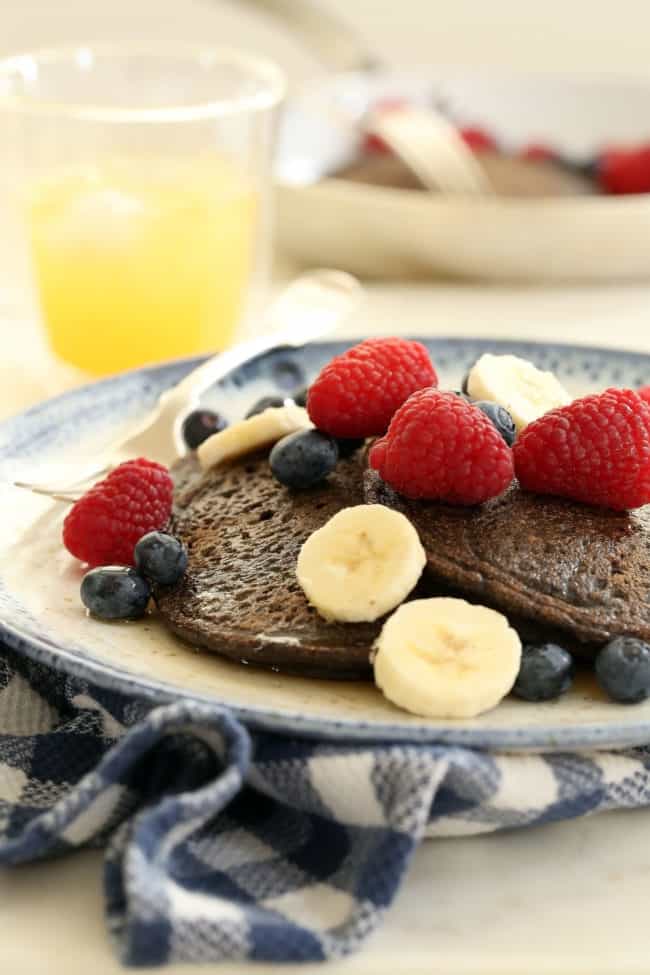 This gluten-free pancakes recipe is a super simple recipe to pull together. These gluten-free pancakes are perfect for a weekend breakfast or a healthy mid-afternoon snack.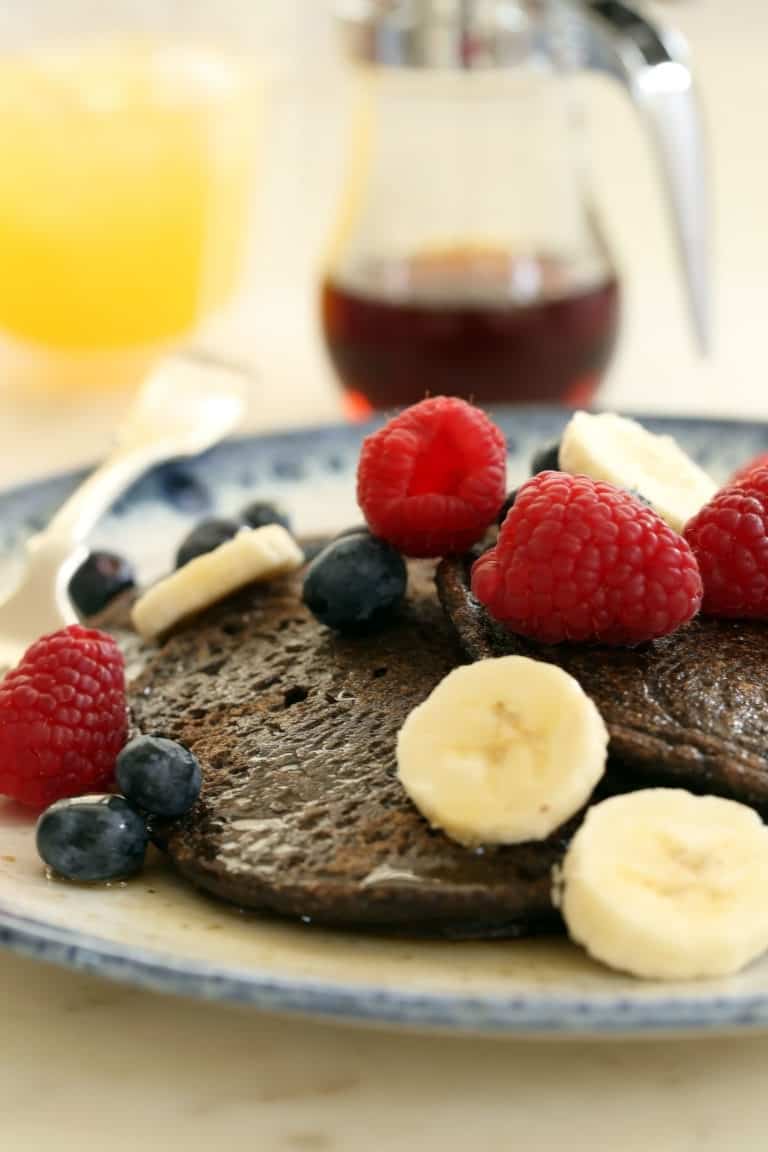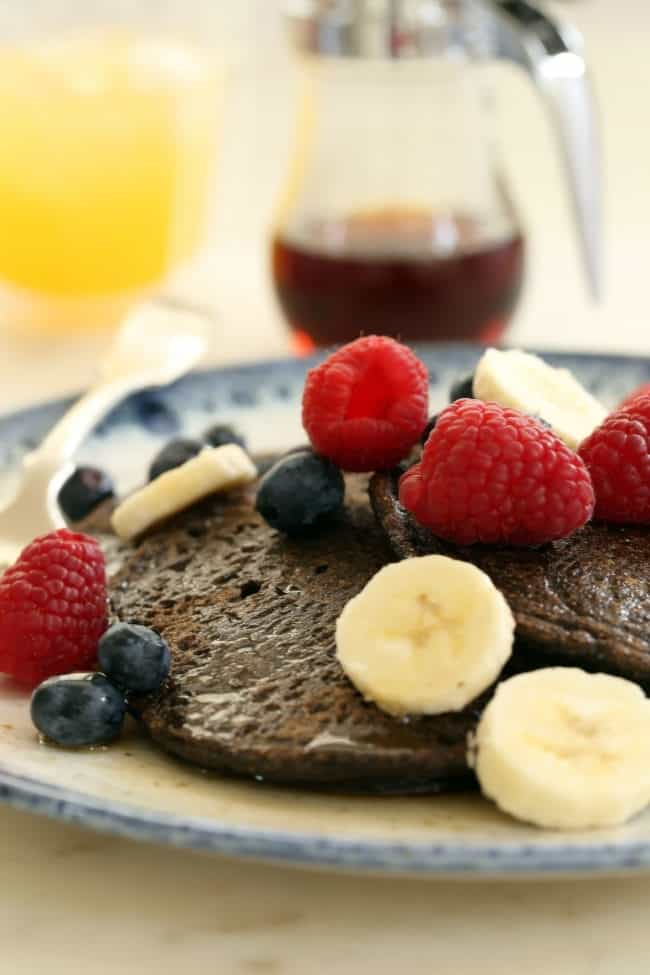 What Is Buckwheat?
Many people think of buckwheat as a whole grain, but it's actually a seed (like quinoa is). Buckwheat seeds are also known as "groats".
Is Buckwheat Good For You?
The benefits of buckwheat are many!! Buckwheat is high in fiber and it's a good source of plant protein. Buckwheat is also rich with nutrients and antioxidants (such as rutin, tannins and catechin). Rutin is a potent flavonoid, which helps to lower bad cholesterol levels in the blood and helps to keep blood from becoming sticky and clotting. The antioxidant found in rutin also help to strengthen the walls of the blood vessels including capillaries. The vasodilator properties found in rutin may also be helpful in the treatment of poor circulation, high blood pressure, varicose veins and atherosclerosis.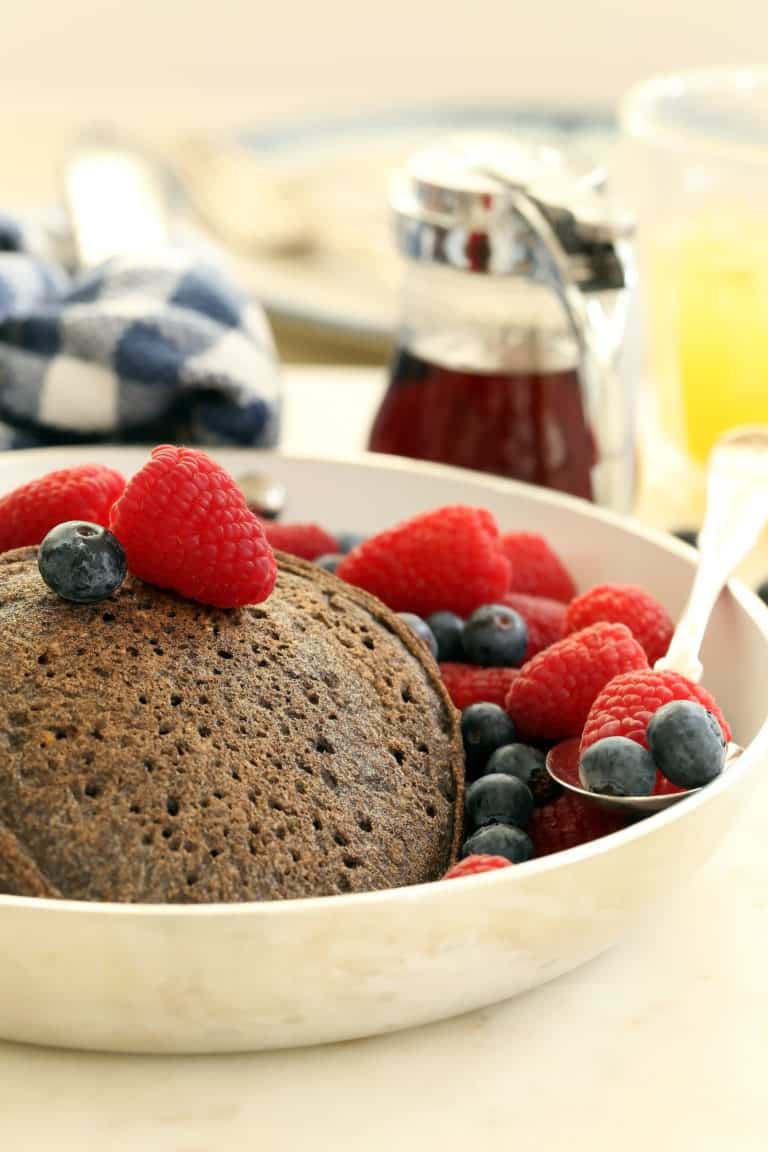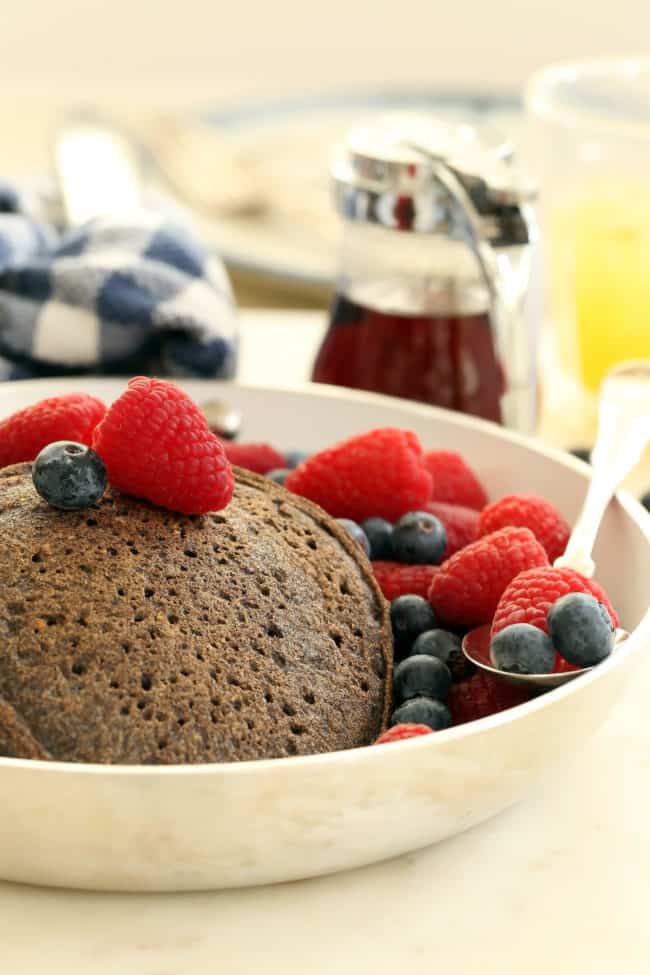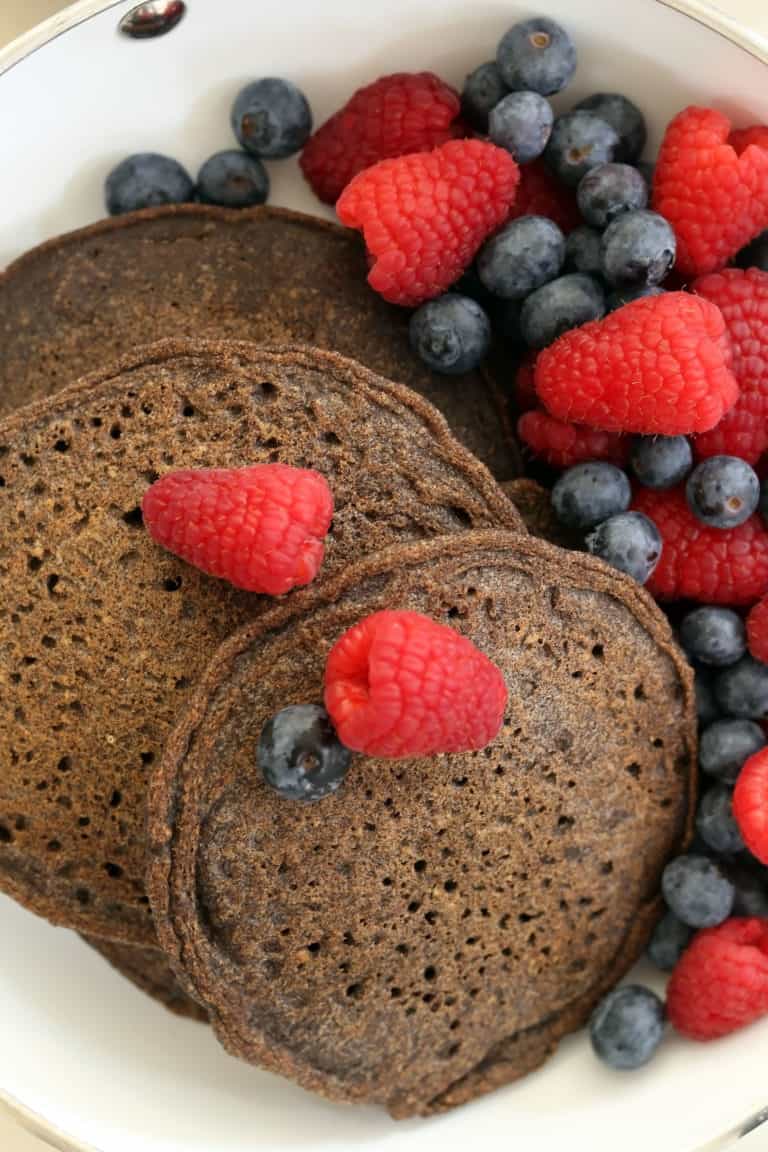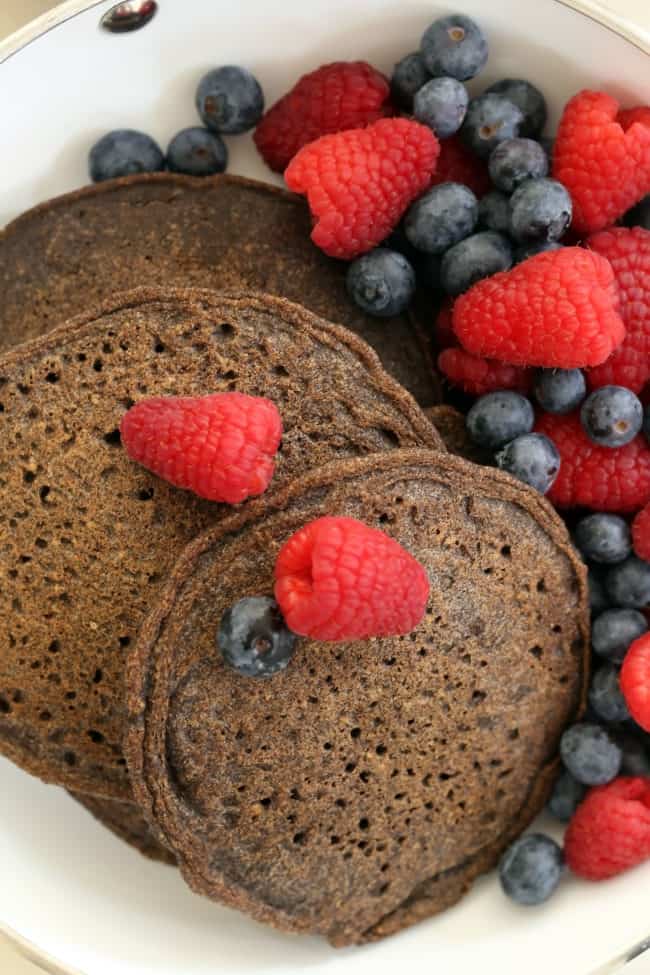 Health Benefits of Oats
Another heart-healthy ingredient in these pancakes are gluten-free oats. Oats are among the healthiest grains on the planet. They're high insoluble fiber that can help to reduce cholesterol and blood sugar levels. There are so many reasons to love oats. They help manage weight (because they help curb cravings because they take a lot time to digest), they can help reduce the risk of heart disease, they help to ward off diabetes (helping to reduce both blood sugar and insulin levels and they help to keep cholesterol in check (by lowering LDL (bad cholesterol) and elevating HDL (good cholesterol).
Gluten-free oats (oats in their purest form) are loaded with antioxidants called avenanthramides. These antioxidants are important because they help protect our cells from free radicals. Free radicals increase your risk for cancer and heart disease because they are unstable. Avenanthramides antioxidants also help to prevent inflammation in our bodies.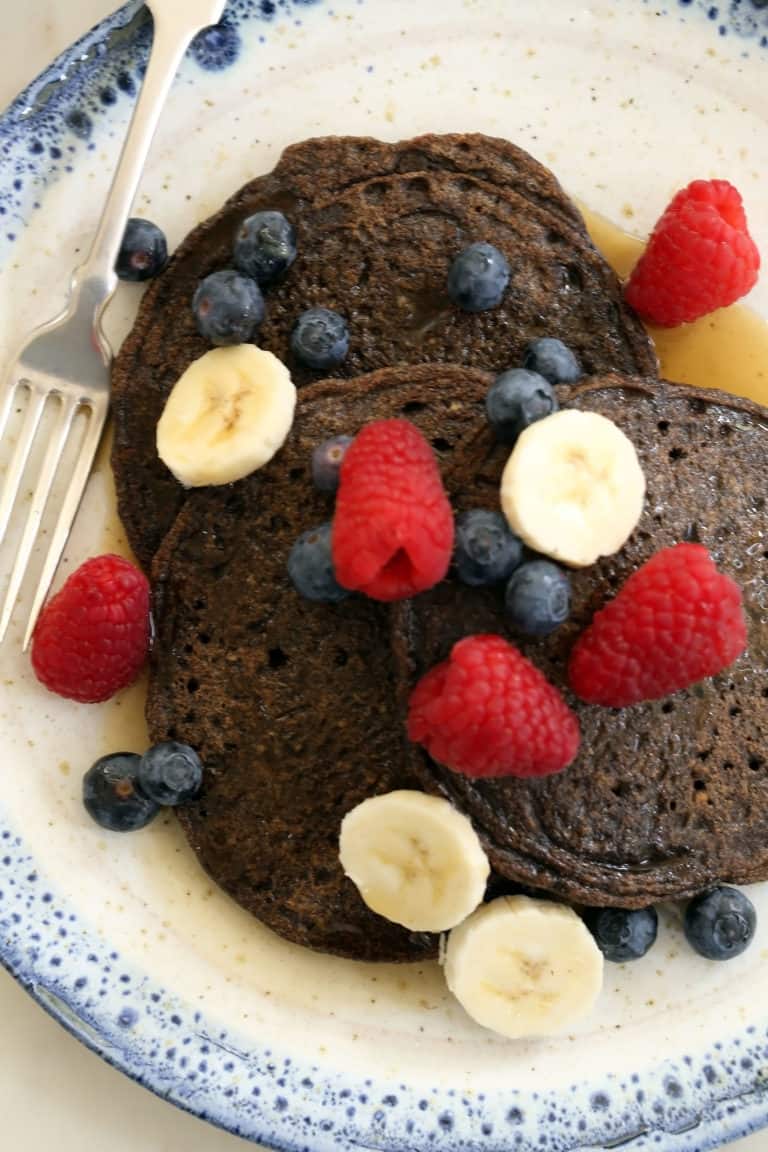 This Buckwheat Pancake Recipe is an easy one to make, and besides being delicious, they're loaded with nutritional benefits! I hope you enjoy!!
Healthy Breakfast Pancakes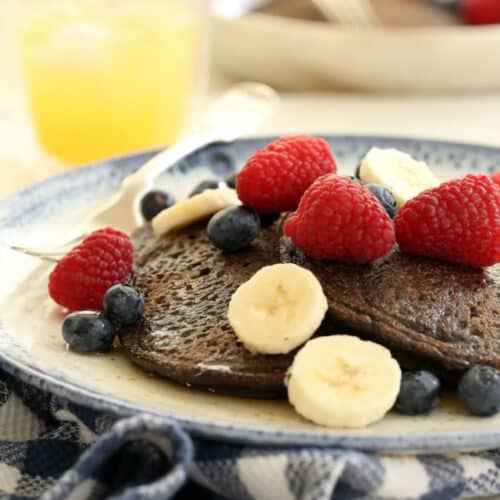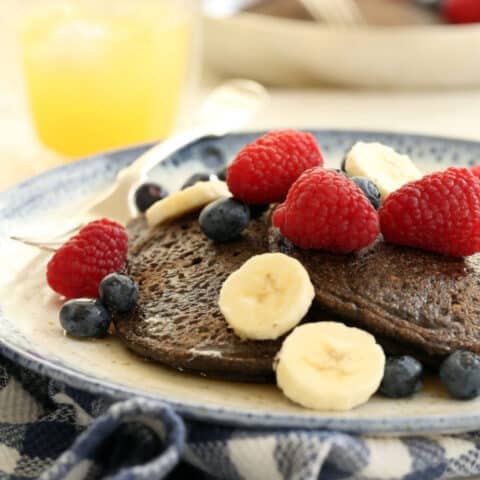 Yield: 6 servings
Buckwheat Pancakes Recipe
Breakfast with benefits!!  These tasty Buckwheat Pancakes are a good source of protein, iron, fiber and antioxidants,  and this Buckwheat Pancake Recipe is an easy one to make.
Ingredients
2/3 cup gluten-free oats (not quick-cooking)
2 tablespoons flaxseed
3/4 cup buckwheat flour
1-1/4 cup unsweetened almond milk
1 large egg and 1 egg white (free-range)
1 teaspoon pure vanilla extract
2 teaspoons baking powder
1 teaspoon sea salt
2 tablespoons pure maple syrup
1 tablespoon coconut oil, plus more for the pan
Instructions
In a blender, pulse the oats and flaxseed until its ground into a flour. Some seeds will still be intact.
Add the buckwheat flour, almond milk, egg, egg whites, vanilla extract, baking powder and salt and blend until well mixed.
Add the maple syrup and coconut oil and blend.
Brush the pan with melted coconut oil and heat over a medium-high heat.
Spoon about 2-3 tablespoons of the batter onto the griddle creating a 3-4 inch pancake. Cook the pancakes for about 3 minutes until holes appear on the surface.
Using a spatula, carefully flip the pancakes and cook on the other side for another minute.
Serve with plenty of pure maple syrup and mixed fruit such as berries and sliced bananas.