Beet Ginger Detox Juice
This post may contain affiliate links.
Delicious Beet Ginger Detox Juice is a delicious beet juice recipe made with raw beets, apple, ginger, lemon and parsley. This vibrant liver cleanse juice is loaded with antioxidants, vitamins and minerals and it will help stimulate the body's natural detoxifying process.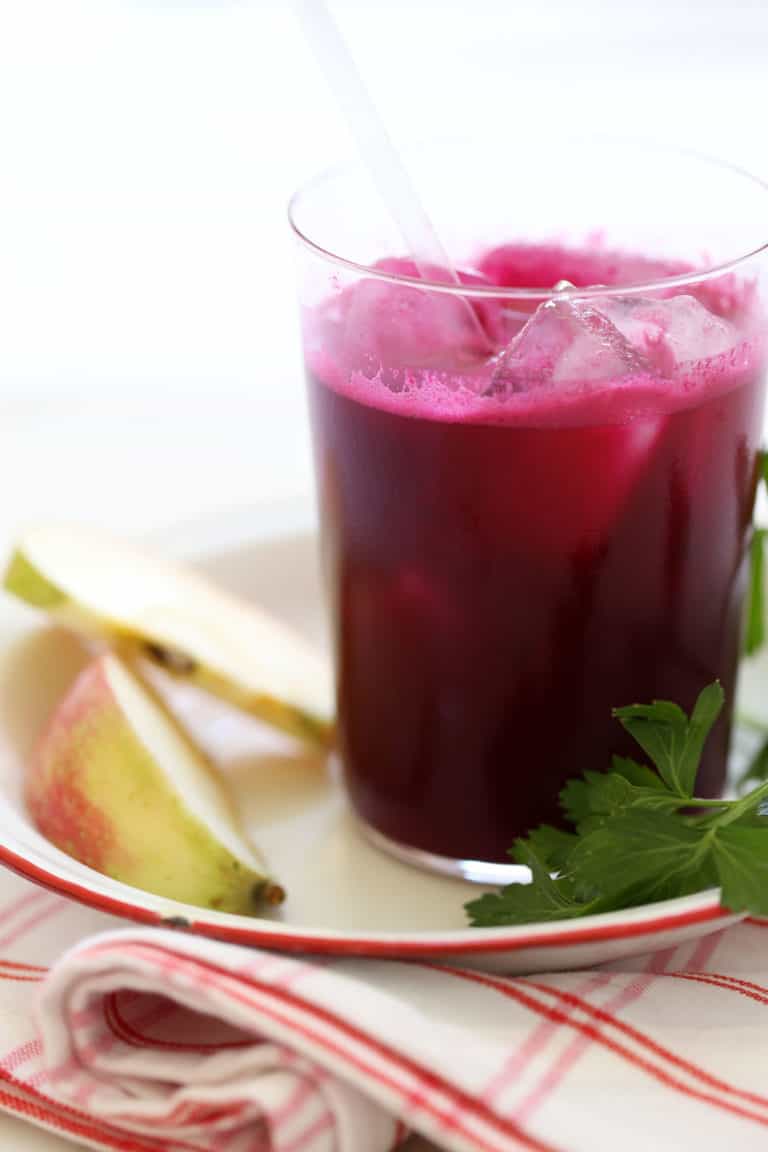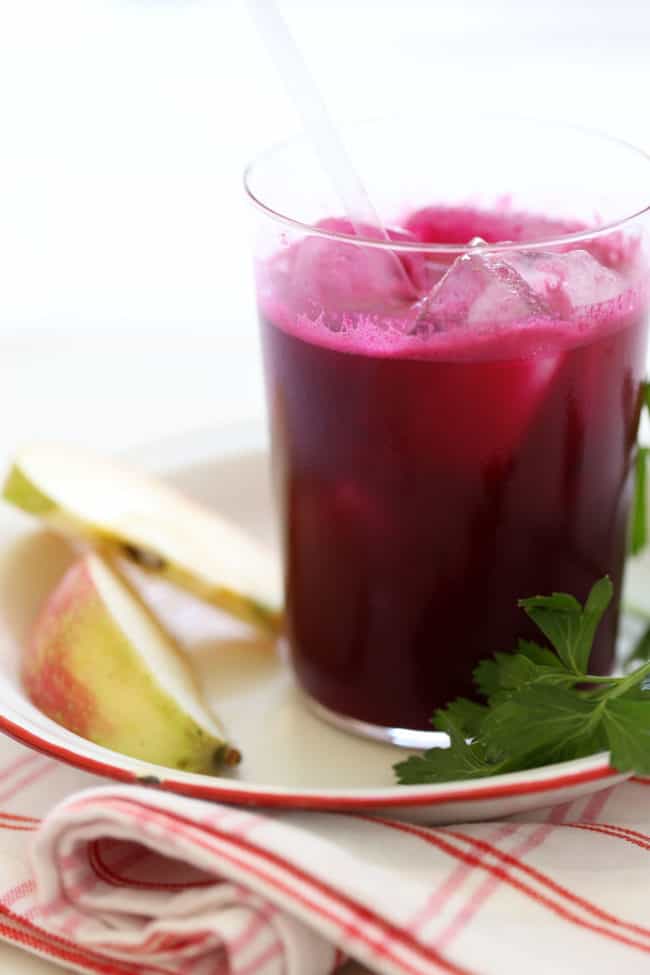 This powerful liver cleanser is a delicious way to reap the rewards of beetroot benefits. Beet juice is a powerful liver cleanser and it's high in betalains and other compounds that provide anti-inflammatory benefits. For this liver cleanse juice, we add apple, lemon, parsley and ginger for an incredible combination of flavors.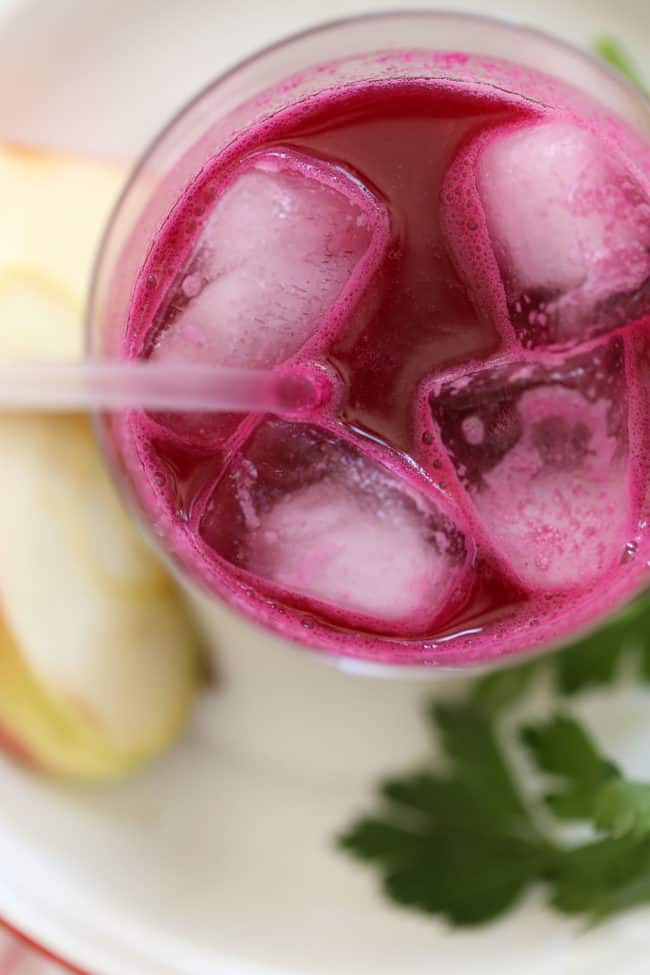 Adding homemade fresh juice to your "daily wellness plan" is an easy way to boost your immune system. This beet juice detox recipe is a favorite of mine and I make it often!
BEET JUICE RECIPE
This 5 ingredient juice cleanse recipe uses fresh organic produce.
Raw beets
Gala or Honeycrisp apples
Fresh ginger, peeled
Organic parsley
Fresh lemon
HOW TO MAKE BEET JUICE
Place all of the detox drink ingredients in the juicer and juice.
Pour over ice and enjoy.
Store in mason jars in the refrigerator.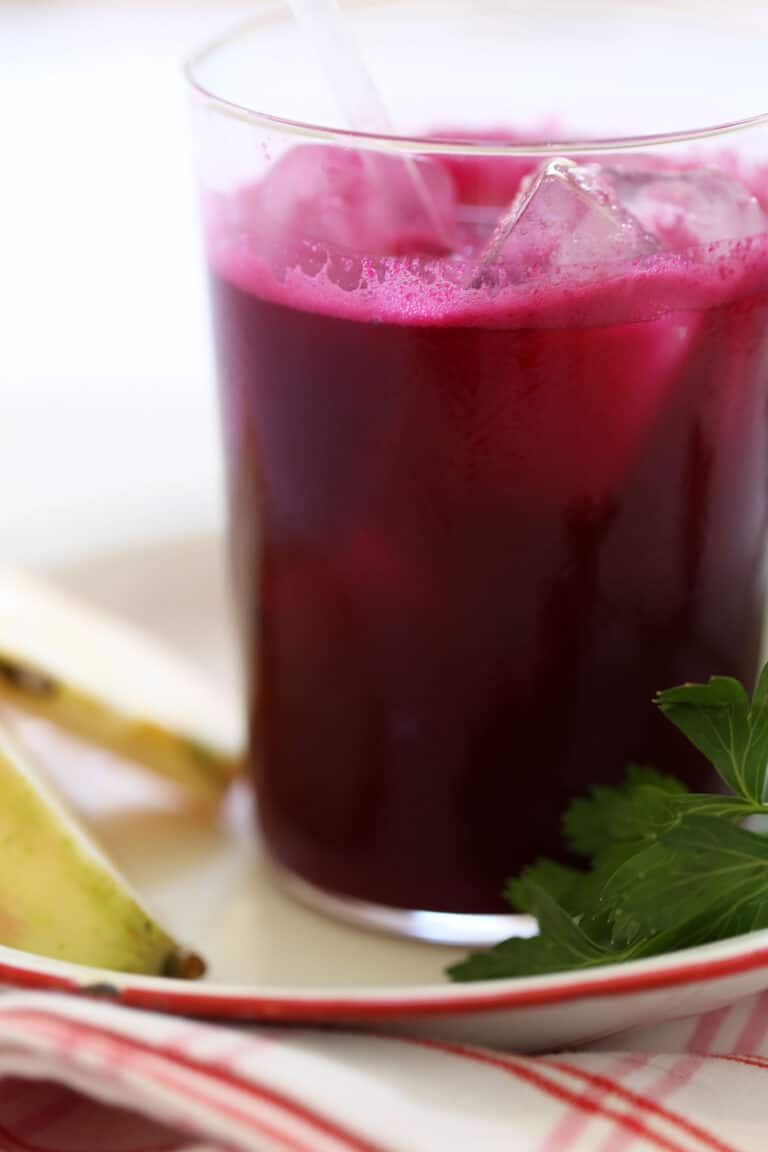 ARE BEETS GOOD FOR YOU
Yes! Beetroot benefits your whole body! Beets are rich with vitamins (folate), minerals (potassium and iron), antioxidants (vitamin C), and fiber. Betalains are the reddish pigments found in certain fruits and vegetables (like beets). These betalains are rich with phytonutrients that provide antioxidant, anti-inflammatory and detoxification benefits.
HEALTH BENEFITS OF BEET JUICE
Improves Blood Flow
Reduce Blood Pressure
Detoxifies The Liver
Helps with Iron Deficiency and Anemia
Good for Muscles (may increase muscle strength)
Treats Inflammation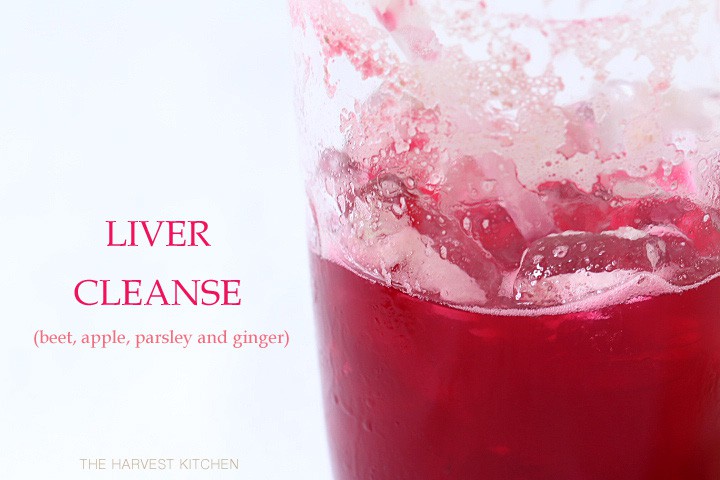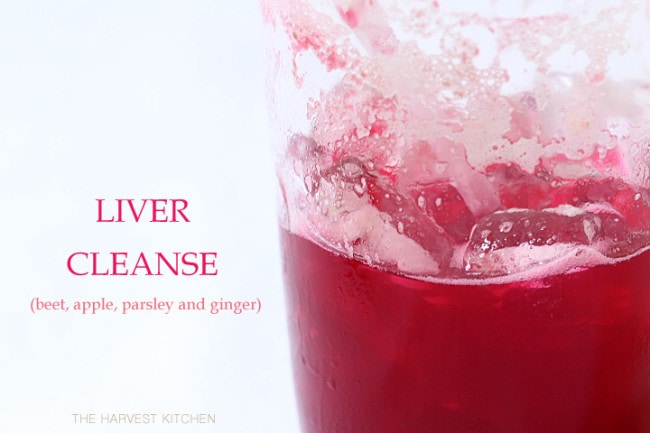 The combination of these natural ingredients makes for a powerful liver cleanse drink.
Beets: Beetroot benefits have been shown to provide antioxidant, anti-inflammatory and vascular-protective effects benefits. (1) They also contain lutein and zeaxanthin which offer support for eye health.
Apples: Heart-healthy apples provide important polyphenols (quercetin) that are rich with antioxidant properties. The apples added to this liver detox provides just the right amount of sweetness. a
Parsley: Parsley contains a substance called chlorophyll, which has been shown to detoxify, purify and rejuvenate our bodies. The anti-inflammatory properties found in parsley help build strong blood and renew tissues. You can read more here about the benefits of parsley.
Ginger: Ginger is rich with anti-inflammatory properties. You can read more here about the health benefits of ginger.
Lemon: Rich with antioxidant, anti-inflammatory, immune-boosting, alkalizing and detoxifying benefits.
BEETROOT BENEFITS FOR SKIN
Skin has two layers: the outer layer (epidermal) and inner layer (dermal) which provides strength and elasticity and nutritional support to the outer layer. Skin contains high concentrations of vitamin C and vitamin C stimulates collagen synthesis. As we age our bodies produce less collagen (the most abundant form of protein found in the body) and the lack of collagen can result in wrinkles and sagging skin. With healthy collagen levels, skin tends to be smooth and firm. You can help boost collagen levels by consuming foods that are rich with vitamin C – like beetroot, citrus and other fruits and vegetables. (2)
DETOX DRINKS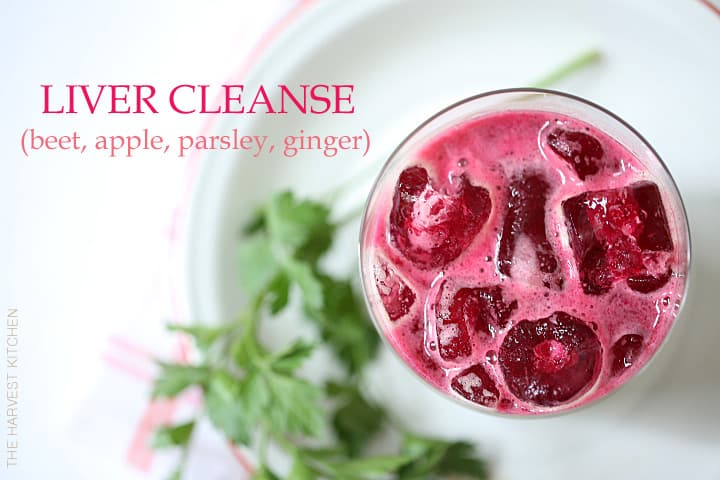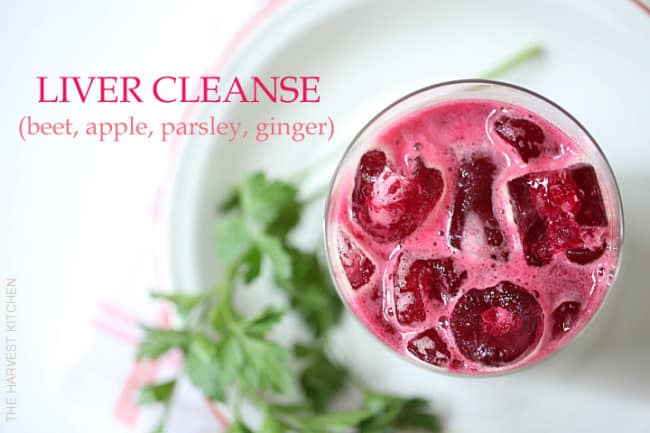 Disclaimer: Just a reminder, I'm not a nutritionist and I make no health claims. This post and all other posts on this site are for informational purposes about healthy eating only and should not be considered medical advice. You can read more about my full disclaimer.
Published 4.2019 – updated 8-2020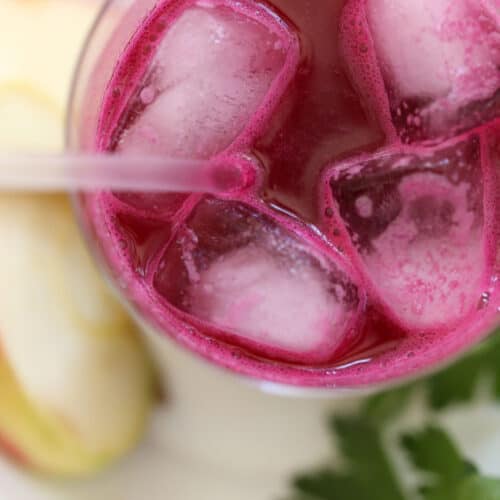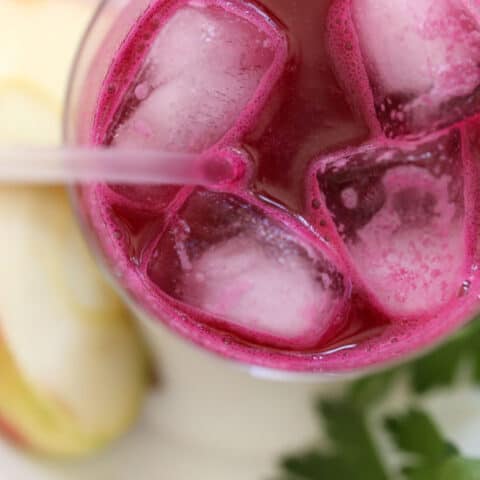 Yield: 1-2 servings
Beet Ginger Detox Juice
Juicing is a great way to incorporate fruits and vegetables into your diet. This delicious Beet Ginger Detox Juice will nourish your body and help rid it of harmful toxins.
Ingredients
2 large raw beets, peeled
3-4 large Gala or Honeycrisp apples
2 inch piece of fresh ginger, peeled
a large fistful of organic parsley
1 organic lemon, juiced
Instructions
Place all of the ingredients in the juicer and juice.