Spinach Quinoa Salad
Yum
There is so much to love about this Spinach Quinoa Salad (with sun-dried tomatoes and almonds all tossed in a light pesto vinaigrette)!  It's loaded with flavor and nutritional perks (protein & iron), and it makes a fabulous and filling lunch or dinner.  I've even been known to have it for breakfast! Love!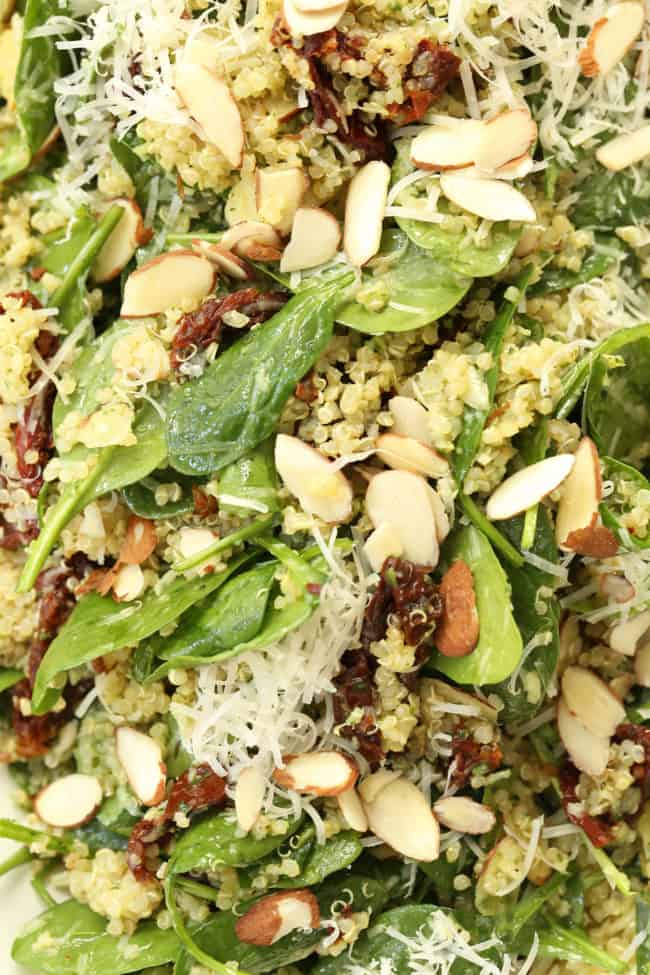 This Spinach Quinoa Salad is loaded with quinoa, baby spinach, sun-dried tomatoes, sliced almonds, and the whole shabang is tossed in a light, slightly lemony, basil pesto dressing.  The combo of flavors in this salad is completely addicting!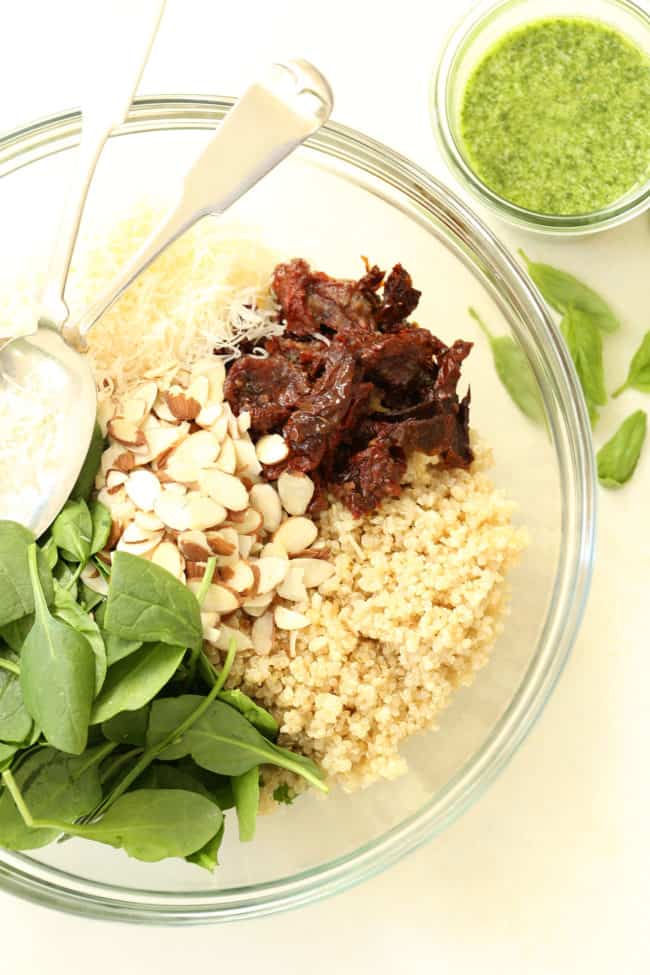 I love quinoa and prefer to use it in recipes rather than noodles or rice for a healthier and more nutritious take on things.
The inspiration for this recipe came from a penne dish served at Whole Foods. I'd find myself at lunchtime picking through the noodles to pluck out the spinach, tomatoes and almonds. So, here I've turned their penne dish into a quinoa, and I've loaded it much more generously with fresh baby spinach, and delicious sun-dried tomatoes. This is a new favorite of mine and it makes an appearance in my weekly rotation. My mom is in love with it as well!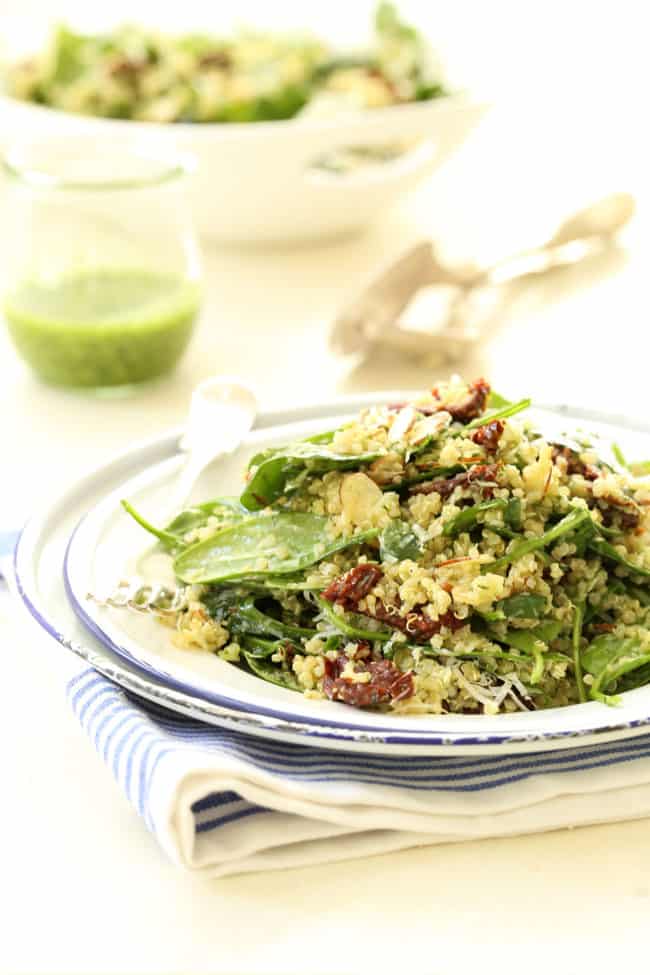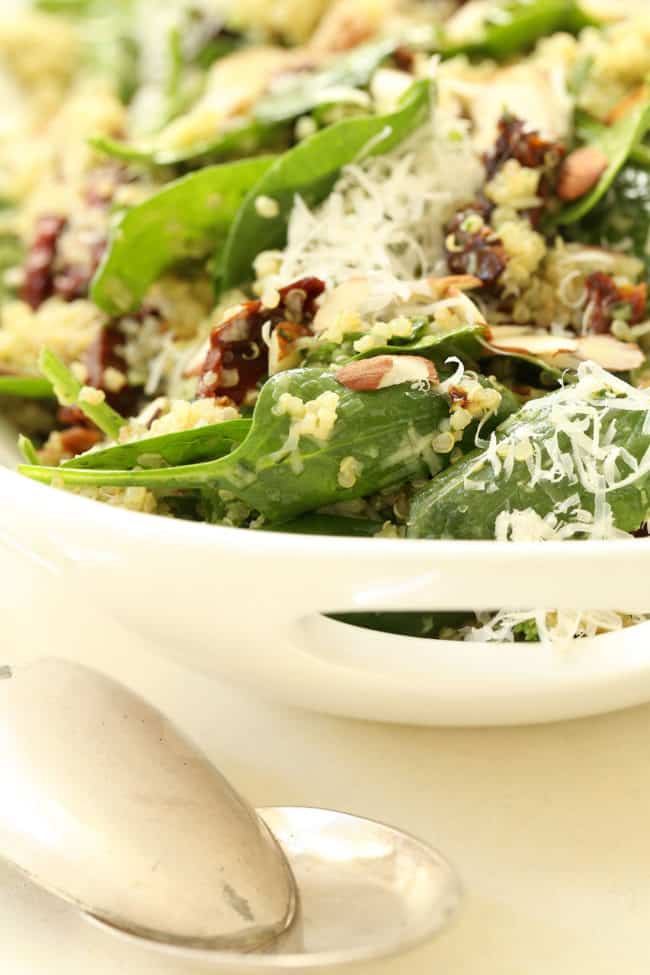 This delicious quinoa is perfect for lunch, dinner or as a side dish. Leftovers are great! The flavors only get better the next day.
This is a gluten-free, protein-packed salad that's both filling and satisfying.
~ Deb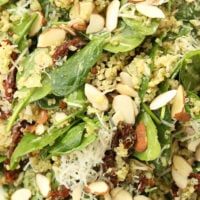 Spinach Quinoa Salad
Yield: 6 servings
Total Time: 20 minutes
Ingredients:
1-1/2 cups cooked quinoa (follow directions on package)
2 cups raw baby spinach
1/4 cup sliced raw almonds
1/3 cup sun-dried tomatoes packed in oil (drained and chopped)
1/4 cup parmesan cheese, grated
1/3 cup basil pesto (add more if you prefer)
For the Basil Pesto
1 cup loosely packed fresh basil leaves
1 clove garlic
1/4 cup grated Parmesan cheese
1/2 cup olive oil
3 tablespoons fresh lemon juice
Directions:
In a large bowl add the cooked quinoa, spinach, sun-dried tomatoes, and almonds.
Add the pesto and gently toss to distribute evenly.
Garnish with more almonds and grated parmesan cheese.
For the Basil Pesto
Combine the basil, garlic, cheese in a food processor or blender and process.
While the motor is running, and the olive oil in a slow, thin stream.
Add the lemon juice and continue to process until well blended.
Leave a Comment